Craiyon Review and Best Alternative
VanceAI has launched its AI Product Image Generator that offers AI solutions for the e-commerce industry, like generating professional backgrounds for product images.
Similar to the popular AI tool—Midjourney, Craiyon or Craiyon AI is an AI drawing or art generator tool that can create multiple types of images in just a few seconds. Craiyon AI was originally developed as Dall E mini Craiyon. Moreover, it shares some of the same developers that worked or are working on the Dall E AI that we know about.
Dall E mini Craiyon is how many people would recognize this tool, but besides the fact that Dall-E, Craiyon Dall E, and Craiyon generate art, they're not really the same. If interested, you can learn more about DALL E 2. In this guide, we will review Craiyon image generator.
What Is Craiyon?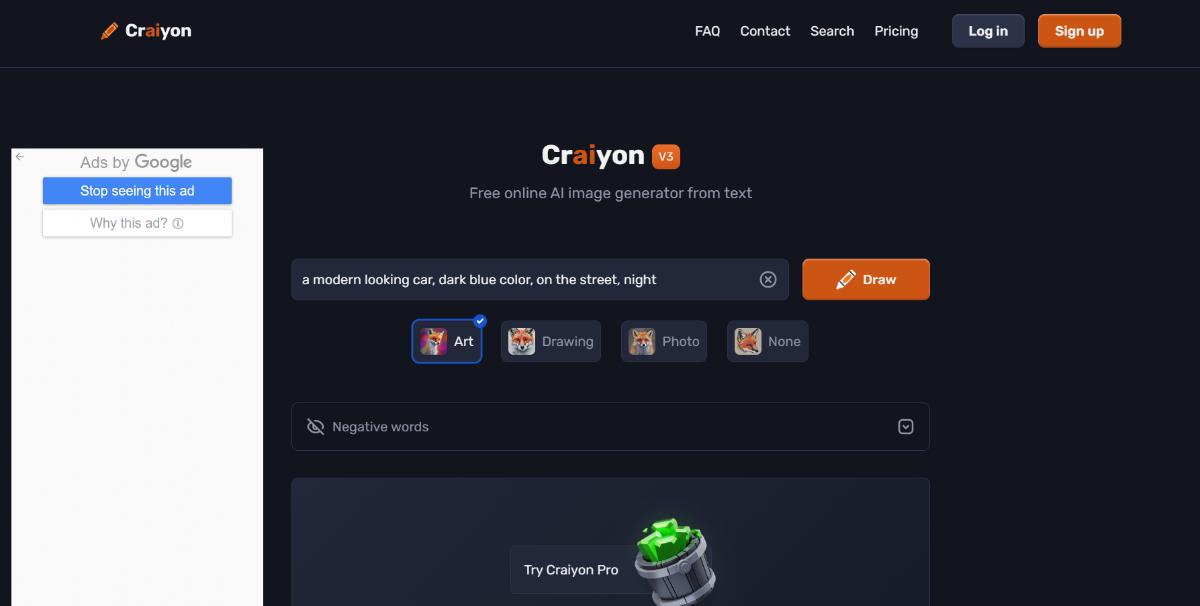 DALL E mini craiyon utilizes AI algorithms to generate drawings based on the descriptions provided by users. 
Users can input text or descriptions of the desired image they have in mind, and the Craiyon AI drawing uses its AI capabilities to interpret and create corresponding drawings or illustrations. This process combines natural language processing and image generation algorithms to generate visual representations based on textual descriptions. Same as other AI art generator online.
The tool aims to provide a unique and interactive way for users to bring their ideas to life visually. It allows users to explore their creativity by describing what they envision, and the AI-powered system responds by creating customized drawings that align with their descriptions.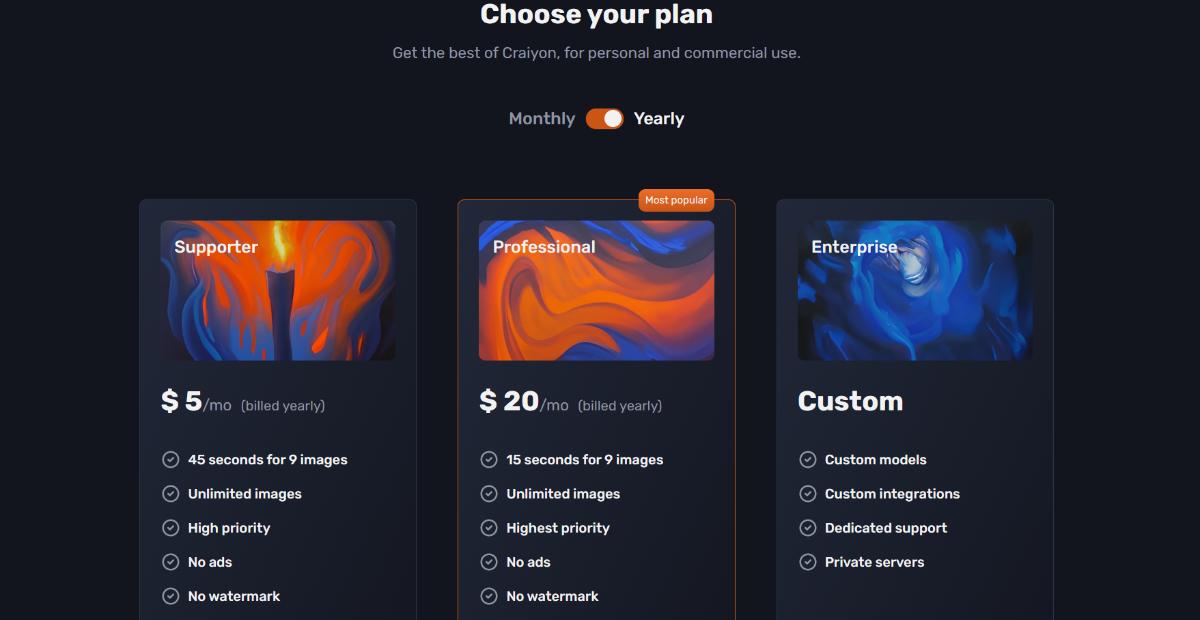 Apart from that, Craiyon Dall E also has paid subscriptions that you can purchase, in order to get some exclusive features as well as more image credits. One of the special things about this tool is that you can also inform the algorithms what you don't want in the photo. Under the "negative words" section, you can write about the things you'd like to exclude in the image. Apart from that, there comes some fancy AI Portrait Generator, making fancy selfies at a fast speed. Get to know more about it.
How to Use Craiyon?
The following images are generated by the Craiyon image generator with the free version. If you are having trouble thinking of a prompt, you can try reading: Get Art Prompts From ChatGPT to Get Fancy Drawings to help get inspired.
Blue Car City Art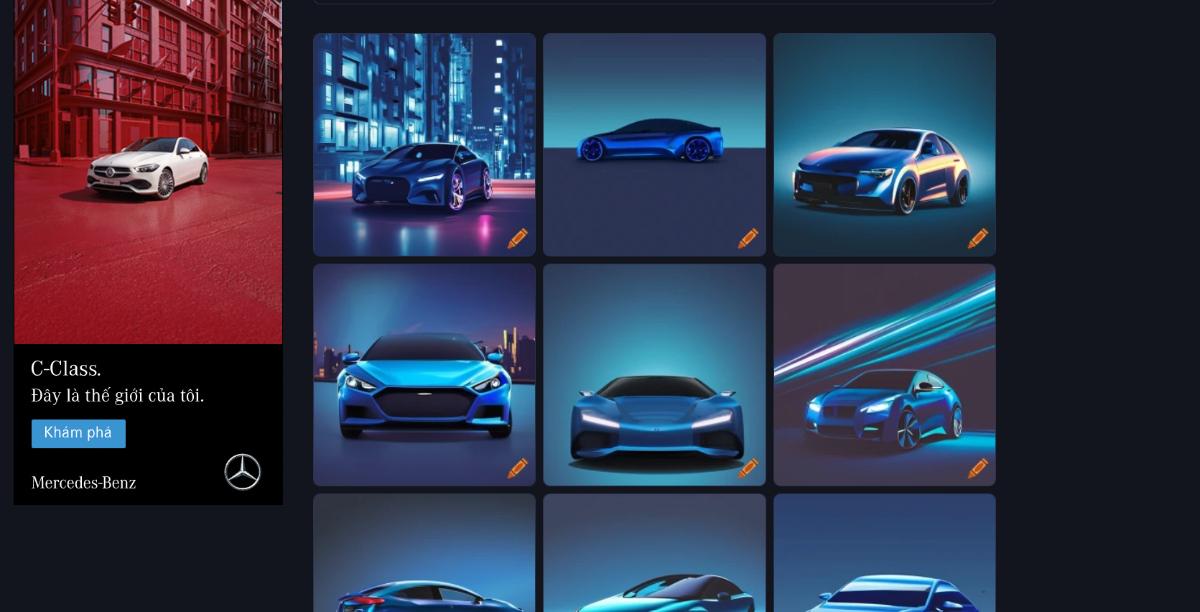 Craiyon image generator is an online tool that provides multiple results for each prompt, as you can see from the above image. It is safe to say that the tool follows the prompts closely and delivers on them with good accuracy. It is also noticeable that not all of the images are detailed and accurate, but most of them are. The first image itself, for example, is high quality and looks incredibly cool. Besides that, more people also seem to be interested in AI Face Generator. You can know more from the link.
DSLR Camera Art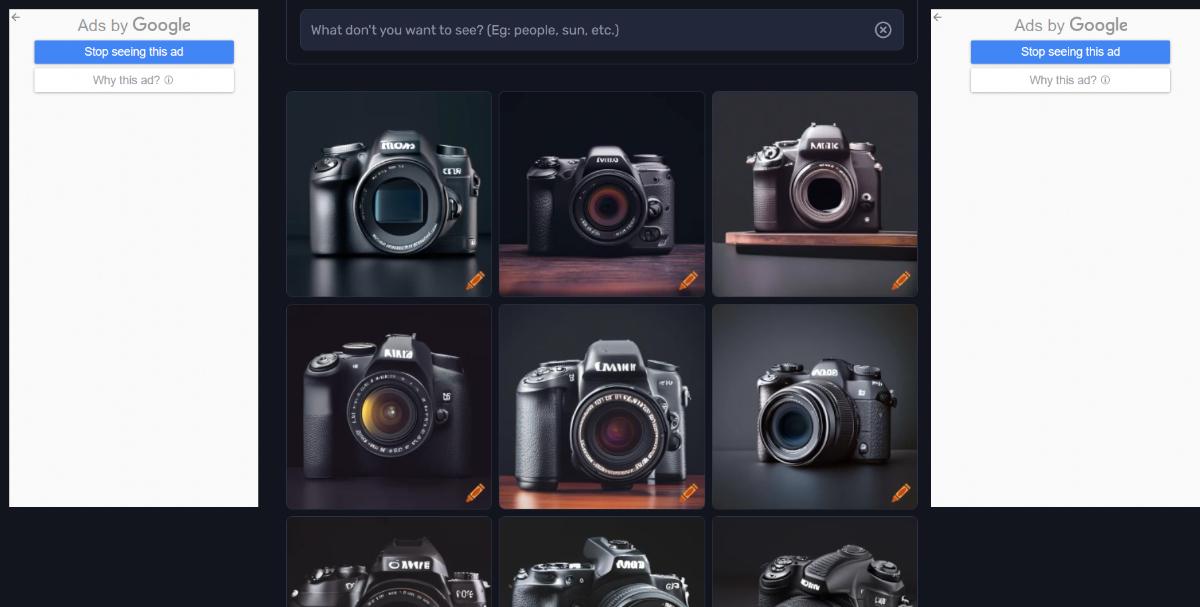 In this case too, the Craiyon Dall E tool manages to give a detailed artwork of the object. Some of the images have a pretty good aesthetic that replicate the feel of product photos. Apart from that, the tool also adds the minute details that you'd usually find in DSLR cameras, such as the different lenses along with their respective colors, the logo at the top, small icons for users, and more.
Ocean Jet Ski Visuals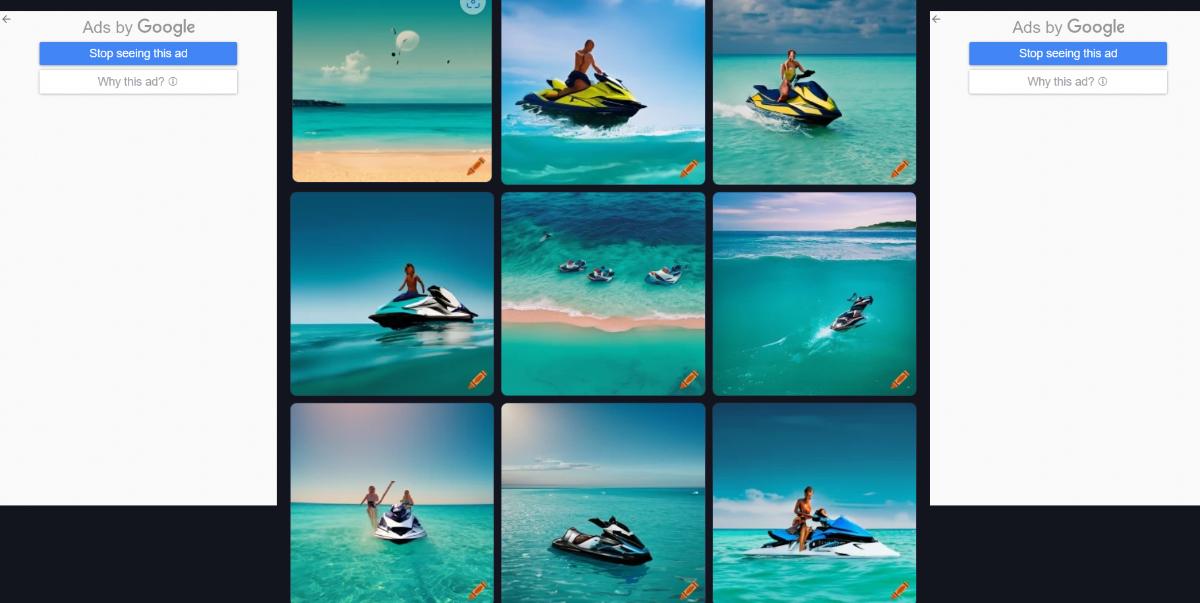 In this example, the text said that there should be a beach by the ocean along with jet skis and people on a sunny day. As we can see from the results, the tool does a good job with the presentation of the image, which means that it makes the visuals look good. However, it does confuse the original description a bit. For example, the image in the middle has a tiny section of a beach and it is stuck between water on both sides, which is off. The image on its right, however, can be used by people online. More interestingly, there are also some popular Vtuber Maker which use similar technology. Try it if you like.
African Man Portrait
The difference in this example is that we have chosen the Photo mode of the tool, as opposed to the usual Art mode. Other than these, you can also use craiyon ai drawing or None. While the tool does not fully comprehend the description of "looking sideways" in the prompt, it nonetheless provides a very accurate looking portrait. Additionally, it draws various types of faces as well. If you get interested in face change, you may like this article:Top 5 Best Deepfake Makers Recommended
Ice Mountain Art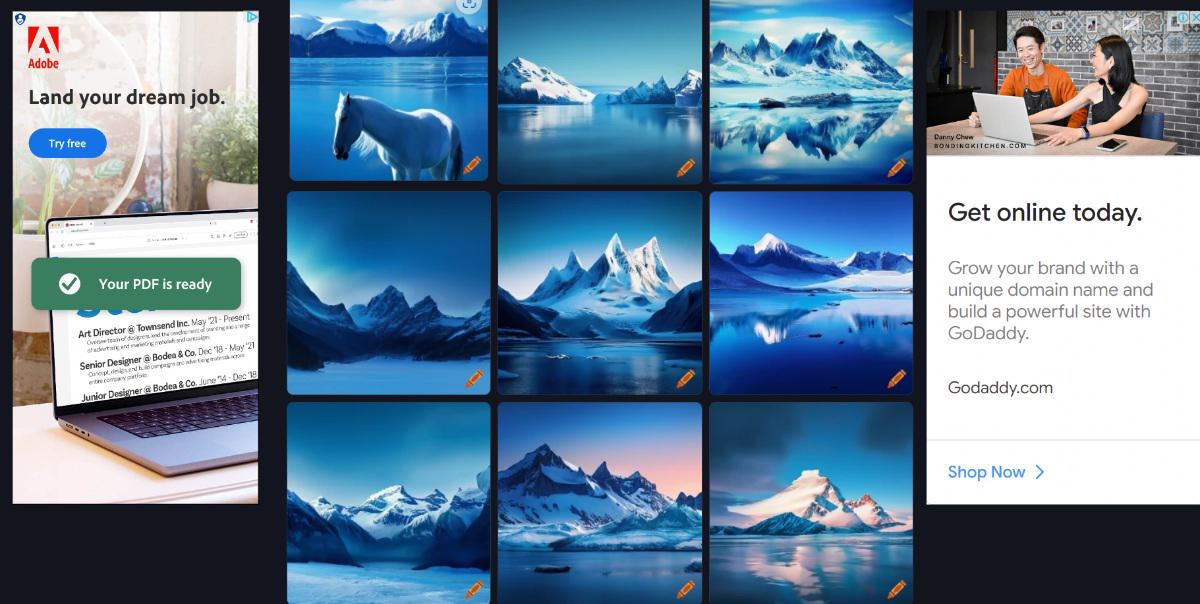 Craiyon AI drawing looks impressive and highly artistic. Some of the images produced here can easily pass as wallpapers considering that they're upscaled and enhanced further. With platforms such as VanceAI, you can do that instantly since it provides the AI drawing tool as well as image upscalers, enhancers, and more.
Best Alternative —— VanceAI Art Generator
What is VanceAI Art Generator?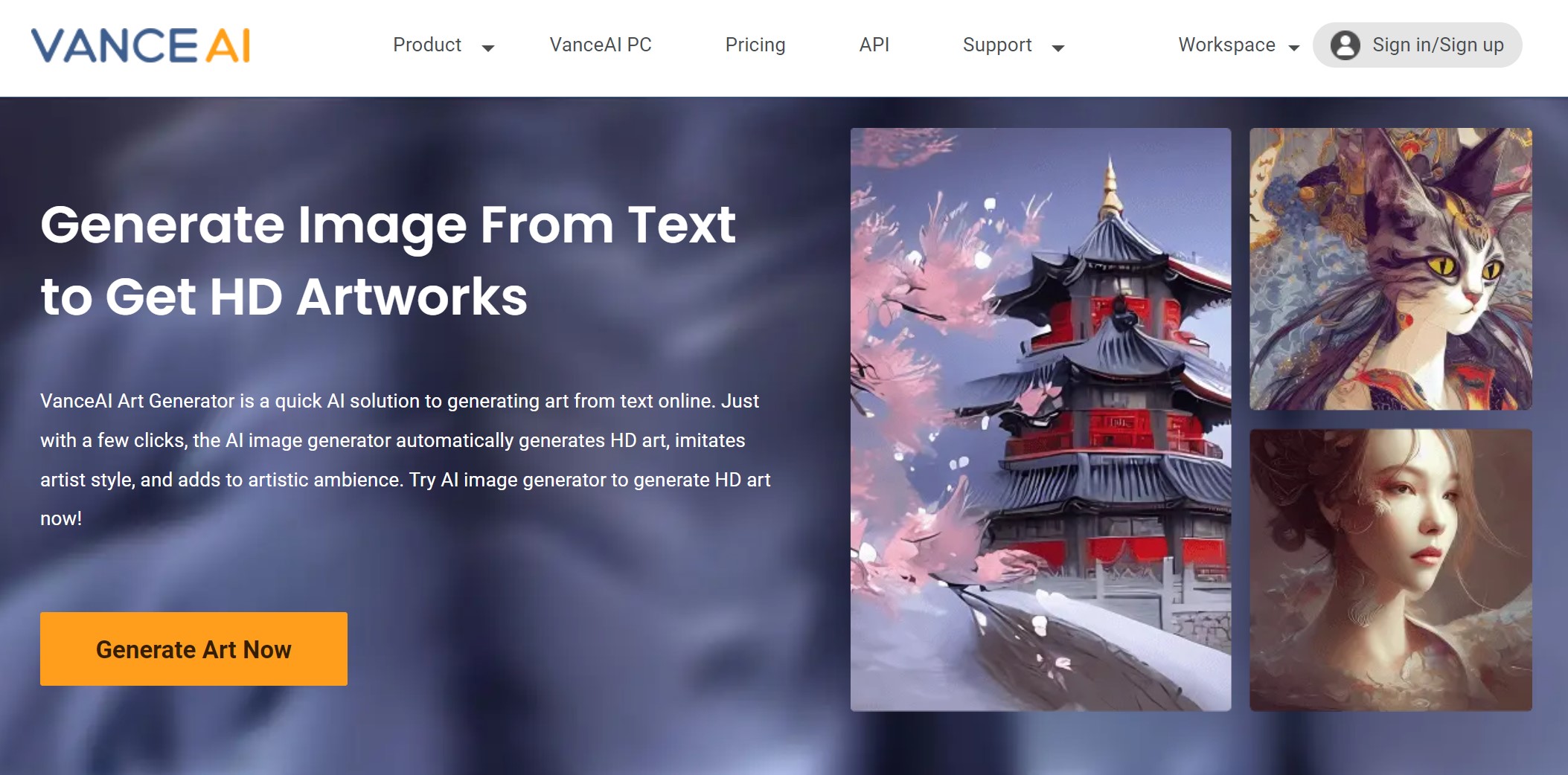 AI Image Generator is an innovative online tool that harnesses the power of artificial intelligence to generate captivating art and visuals based on text descriptions and user preferences. Renowned as one of the top art generators from text, VanceAI offers a range of impressive features to enhance the creative process.
With VanceAI Art Generator, users can provide detailed text descriptions of the desired artwork they envision. By combining the provided textual information with advanced AI algorithms, the tool transforms the descriptions into stunning visual representations. Moreover, users have the option to upload reference images that serve as guidelines for the art algorithm, ensuring that the generated images closely align with their expectations. For animation lovers, you can also try using Selfie2anime.
How to use VanceAI Art Generator?
Step 1: First, you can use the link for VanceAI Art Generator to access the tool online. Click on "Generate AI Art" to proceed to the Workspace.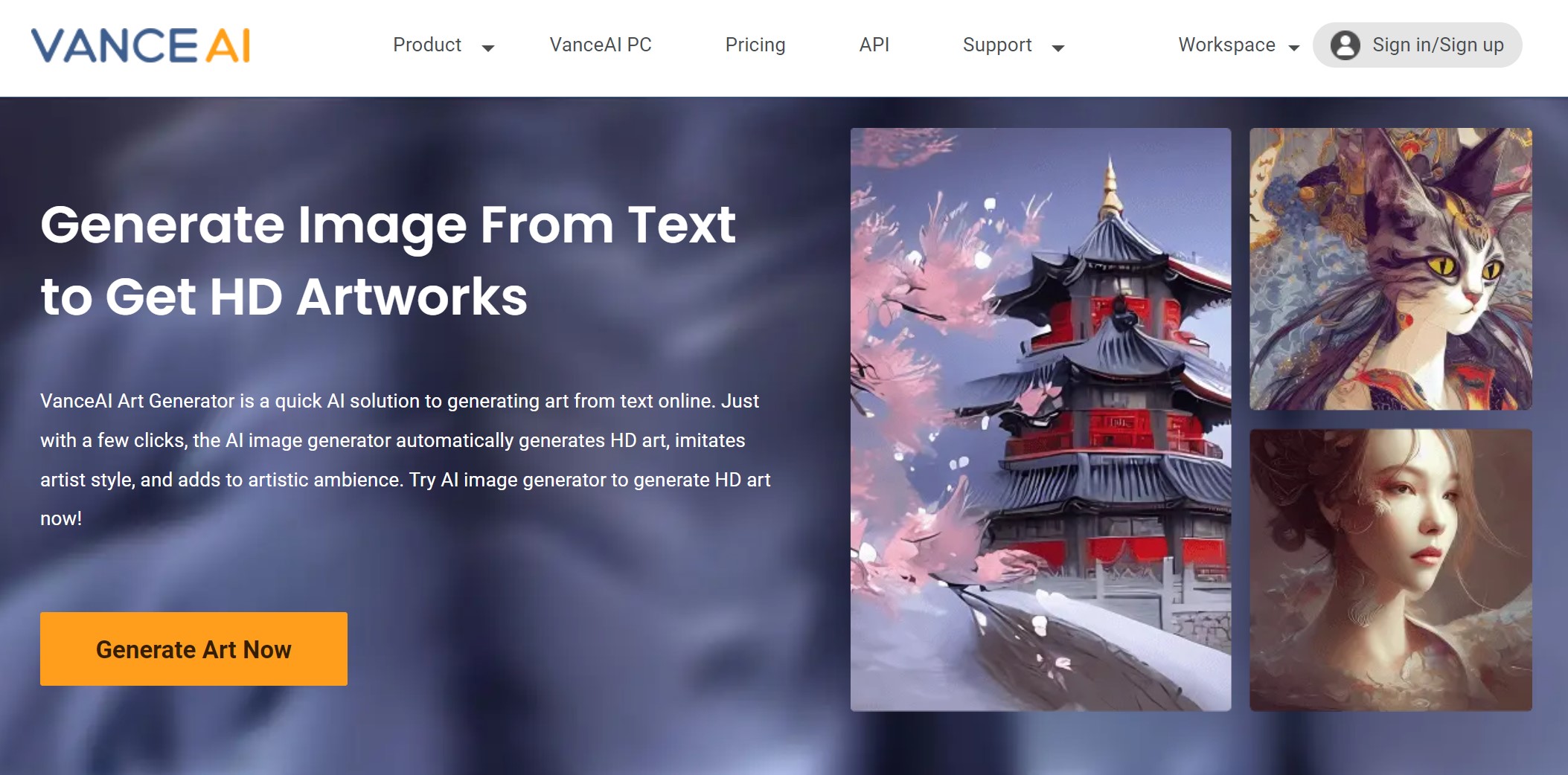 Step 2: The Workspace holds all the functionalities and features you want to use. Write down the text description and use the features on the right to further customize your image. Click on "Create" to generate art.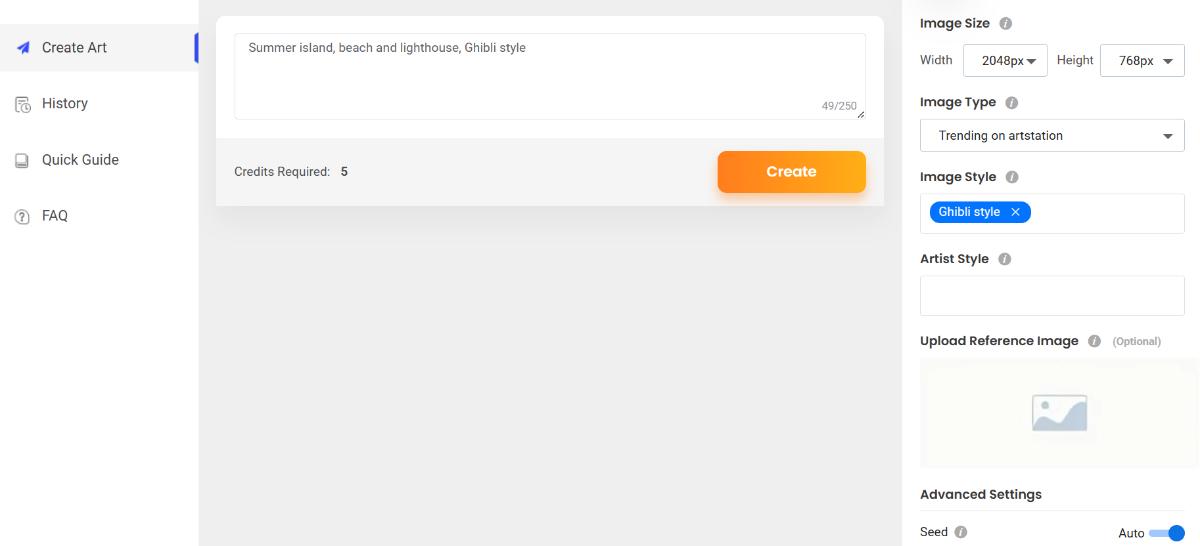 Step 3: This may take a minute or two, but after that, you will see the image produced on the screen. You can then download the image on your device.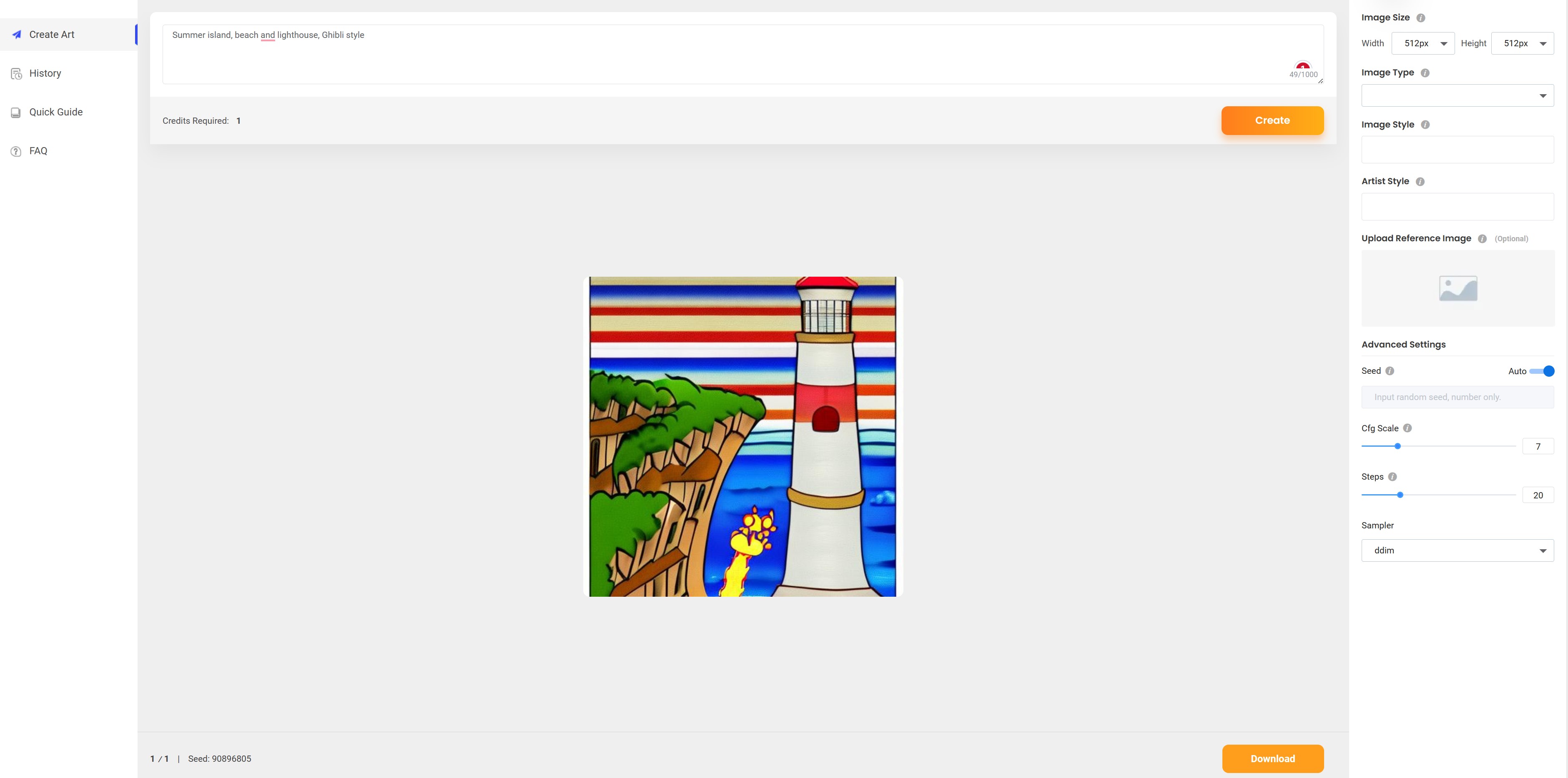 Conclusion
Craiyon AI is a great tool to have for work and personal use. It is responsive and has a capable AI algorithm working for it, allowing it to produce attractive looking results without spending too much time. It is not the quickest tool on the block, but considering that it generates nine images in each request is pretty valuable. A platform such as VanceAI can be pretty helpful with an AI image generator tool as well. If you wanna learn more about AI tools, you can also read at: NightCafe Review and Alternative.
For instance, VanceAI offers a tool called VanceAI Photo Editor, which basically has multiple editing features such as cropping, rotating, text addition, etc. in one window. Users can easily edit their generated art photos through such tools.
Do you find this post helpful?
Read More to Know Deeper: