If you are a 90s kid, the pictures from that time might often make you smile in reminiscence. I recently found some of the old photos of my childhood days, the pictures made me nostalgic. 90s nostalgia products which I found in my closet, made me want to go back to the good old times. Old photos are undoubtedly the best material for us to keep our memory alive.
Some of the photos were in a bad condition, torn out and crumbling from the sides. Online old photo restoration service provided by VanceAI Photo Restorer can amaze you if you can give it a try. This article will assist you in reverting your 90s nostalgia photos.
What is Photo of  90s Nostalgia?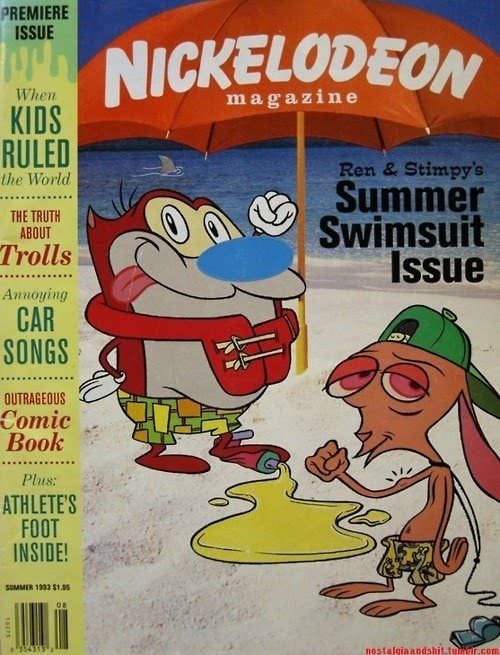 A photo of 90s nostalgia is a recollection of all the 90s nostalgia products you ought to enjoy if you were born in 90s. If you have witnessed that golden era, all the nostalgic memories will make you yearn to go back in good times.
If you ever had a 90s kids nostalgia, you might search the 90s nostalgia toys or 90s nostalgia movies and all the other nostalgia 90s items on the internet to look back at the memorable times.
Revert Photo Of  90s Nostalgia
To revert photo of 90s nostalgia means you want to get it back to its previous condition. Everyone wishes for a good recollection of memories, and photos are like the time machine which takes you back in time to reminiscence your beautiful past.
If your memories are crippled and crumbled, you would not get a chance to revisit your memories as they were before. The bad condition of your photo recollection might distract you from thinking about the good old times. It would be best to revert them back to their good condition.
You might think it as an insignificant task, but when you restore the pictures, you will know why it is so important to have a spick and span recollection of memories. Remembering the good old times with your friends and family gives you a beautiful bonding time which is beneficial for your peace of mind.
How To Revert Photo To Original?
If you are willing to revert back your photos to their original condition, VanceAI Photo Restorer from VanceAI (AI photo enhancement and editing tools) will assist you in doing that. With this online old photo restoration website, you can breathe a new life in your old pictures. All the 90s photo recollection will become good as new after restoring them. Reverting back the photos to their old condition will be like your treat to your 90s self.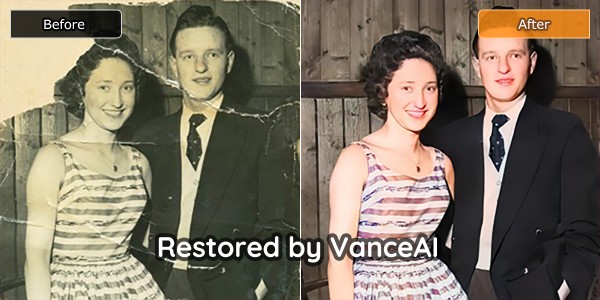 AI picture restorer allows you to revert your old memories. The online platform for editing photos has introduced this feature solely for the users who were eagerly wanting to polish their memories. Keeping such users in mind, the Photo Restorer removes scratches, spots, fractures and all the crumbling, which makes the photos as neat as a new pin.
The restoration feature not only removes the scars off of your precious photo recollection, it also enhances the quality by sharpening the color by detecting the human face with the help of AI and deep learning. If you are interested, you can try to restore your image now or download it directly from the pop-up window on the right without leaving this article.
The following step by step guide or the photo repair guide will help you restore images in detail.
Step 1: Enter the official page.
At first, you need to enter the homepage of photo restorer to engage in the process of photo restoration.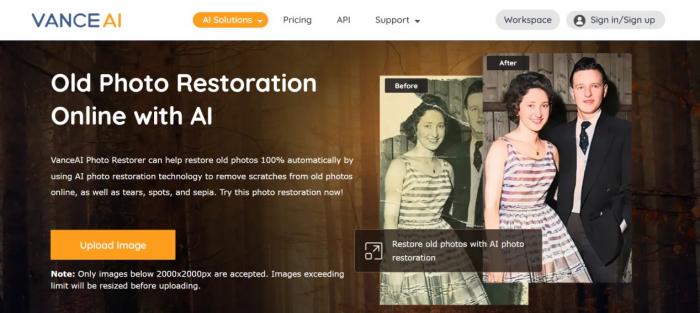 Step 2:  Upload a photo to VanceAI Workspace.
Having finished the first step, you need to press the button Upload Image to upload the target you want to restore. Then you will naturally see VanceAI Restorer Workspace below. After that, you should hit Start to Process and wait for several seconds.
Step 3: Preview and download the restored photo.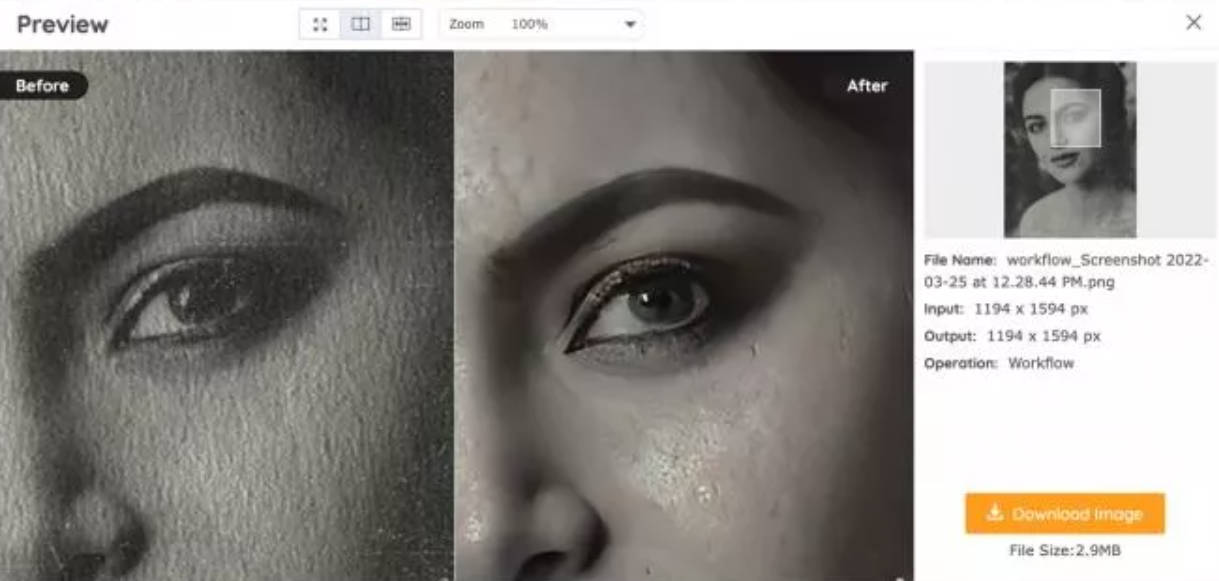 By the way, VanceAI now also launches its software version. VanceAI PC is full-featured desktop software developed by VanceAI that lets you instantly process local photos in bulk with more customization options, which will significantly simplify your workflow and boost your productivity. Free Download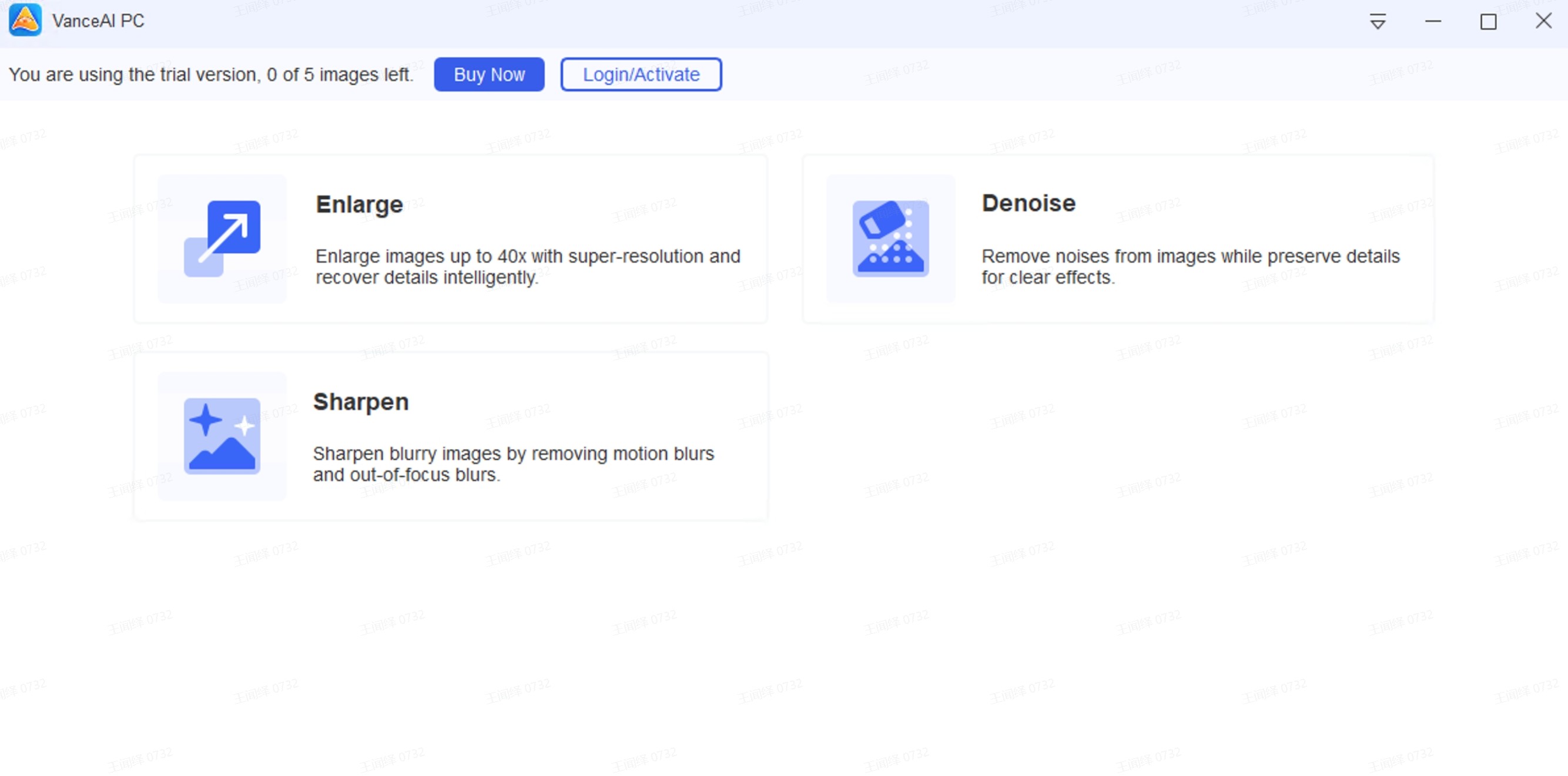 Performance Review
VanceAI Photo Restorer's performance is top-notch! Restoring the photo did not require any extra time or advanced skills. The AI Photo Restorer reverted the photo, enhanced and smoothened the features with the easiest steps.
We tried the editing tools ourselves and they are the outcomes are the most splendid thing you will ever see. If you want to gift 90s nostalgia gifts to someone, restoring their memorable photos through the AI Photo Restorer is a brilliant idea.
You can observe the most laudable outcomes of the AI Photo Restorer in the comparison below.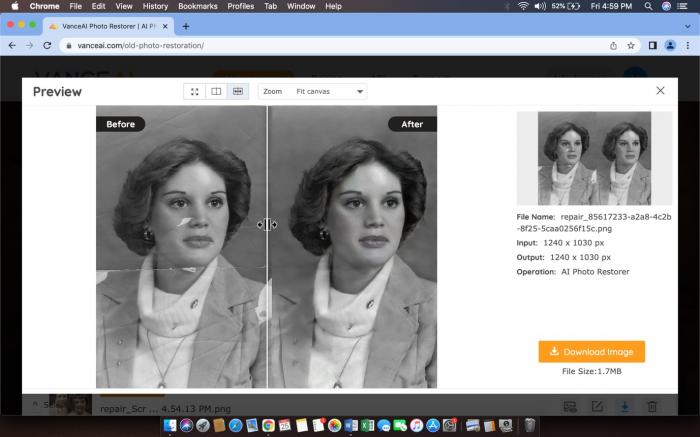 The Photo Restorer's magic made us awe-struck! The old crumpled picture is now smoothed out, clean and crisp. The scars from the image are removed without damaging the face features. Instead, the face looks creaseless and beautifully smoothed out.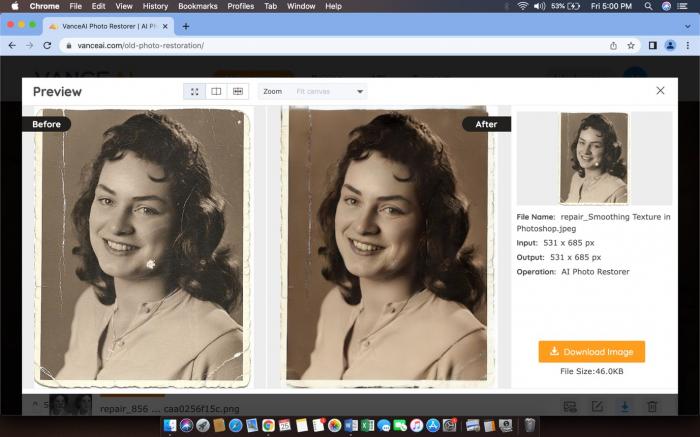 This picture looks good as new thanks to the AI Photo Restorer. It looks like the restoring tool has breathed new life in the old scratched photo. The restorer has proved to be an exceptional editing tool for old photos. It not only removed the scratches but enhanced the features, added natural color and gave the photo a crisp and beautiful effect.
Conclusion
Old photo restoration might not seem like an essential task, but it feels good to have your memories reserved. Pictures get easily crumpled but the method to restore them is now made easier thanks to VanceAI Photo Restorer.
Enjoy the restoration of photographs. Save your memories to cherish them with friends and family. Read more:How to Restore Old Picture with the Help of AI Picture Restorer
Do you find this post helpful?