This article will provide you with helpful tips and tricks for salvaging water-damaged photos. By using photo editing tools like VanceAI Photo Restorer, you can easily fix water-damaged photos.
What Causes Water Damage to a Photograph?
There are several ways your photographs can get water damaged but some of the major reasons may include, floods, spillages, and leaks. Water and humidity inflict damage upon the photo because the water molecules break down the emulsion of the image.
Some other reasons may include, humidity and moisture that are caused by water molecules floating in the air. Other factors like cooking, central heating, wet washing, and exposure to humid environments can cause water-damaged photos.
Why Choose VanceAI to Save Your Photo?
Ever wondered about restoring water-damaged photos without the expense of an expert professional photo conservator? The most advanced features of VanceAI will save your memories without any cost of conservation.
That is right, VanceAI Photo Restorer helps restore old photos by using AI technology. The process is done 100% automatically without costing the user a lot of money.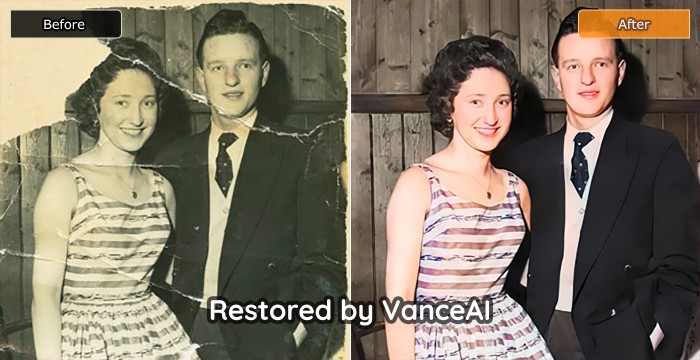 If you are interested, you can try to restore your image now or download it directly from the pop-up window on the right without leaving this article.
If you want to bring life into the restored photo, then VanceAI Photo Colorizer is your stop to transform an old and dead photo into a lively and colorful image that brings back colorful and vivid memories.
The feature of image restoration improves image quality by enhancing the features and sharpening the colors of the photo. It also detects human facial features and use face enhancement technology to make the picture look better in quality.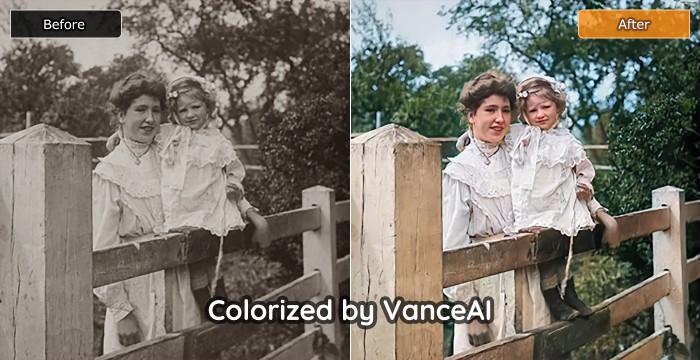 By the way, VanceAI now also launches its software version. VanceAI PC is full-featured desktop software developed by VanceAI that lets you instantly process local photos in bulk with more customization options, which will significantly simplify your workflow and boost your productivity. Free Download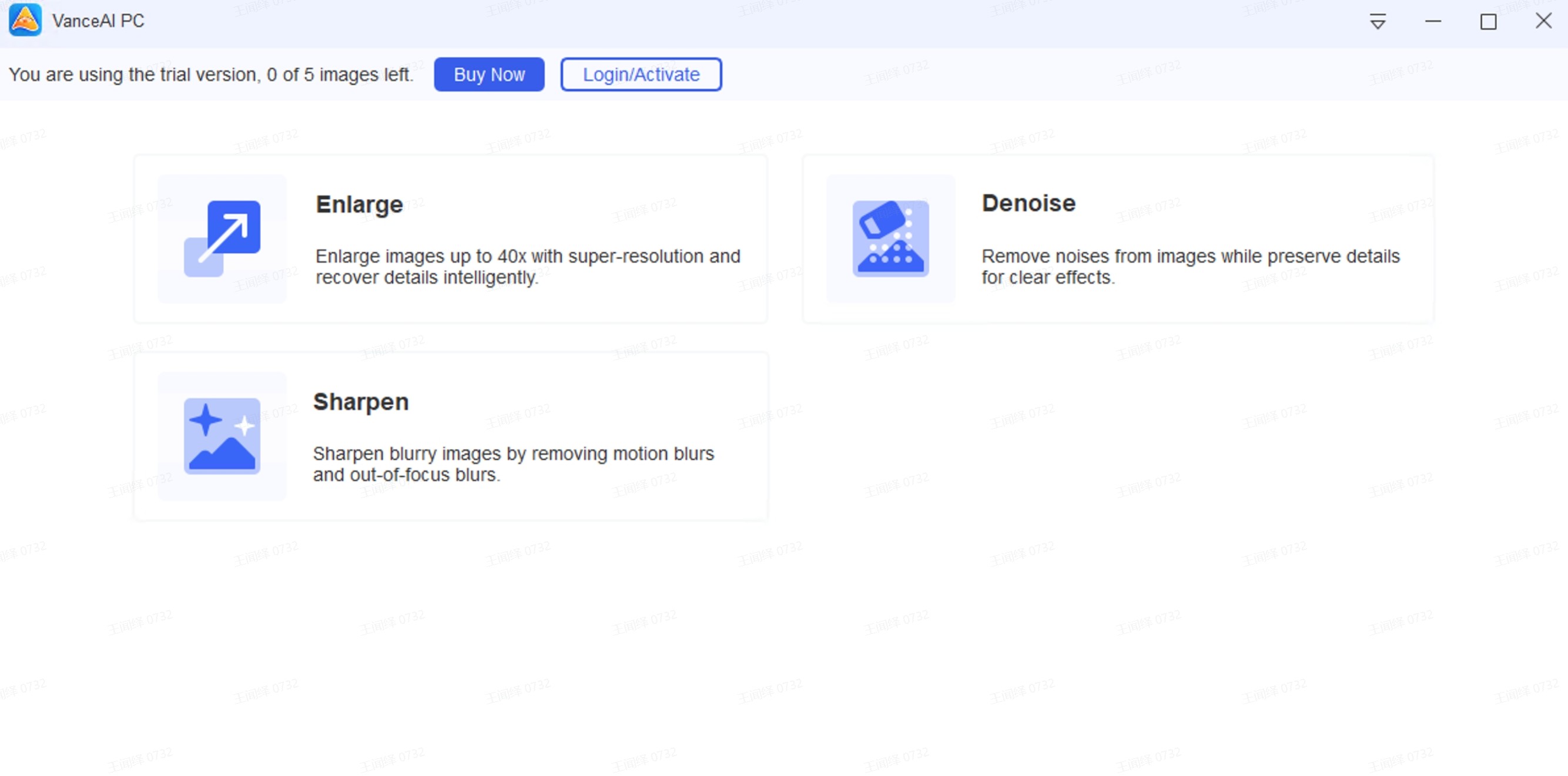 How to Use VanceAI for Old Photo Restoration Online?
Image restoration feature and image colorizer combined transforms an old and weary image into a high-quality work of art. The steps below and another detailed photo repair page will guide you on how to use these two amazing tools.
Step 1: Upload your water damaged photos
Access old photo restoration by the link and upload the water damaged photograph that you want to restore.
Step 2: process the image
 Enter VanceAI Restorer Workspace and you will see the same workspace as follows. On the Workspace, you can click Start to Process to process the image   further to get the desired photo results. You can add other steps according to the condition of the image.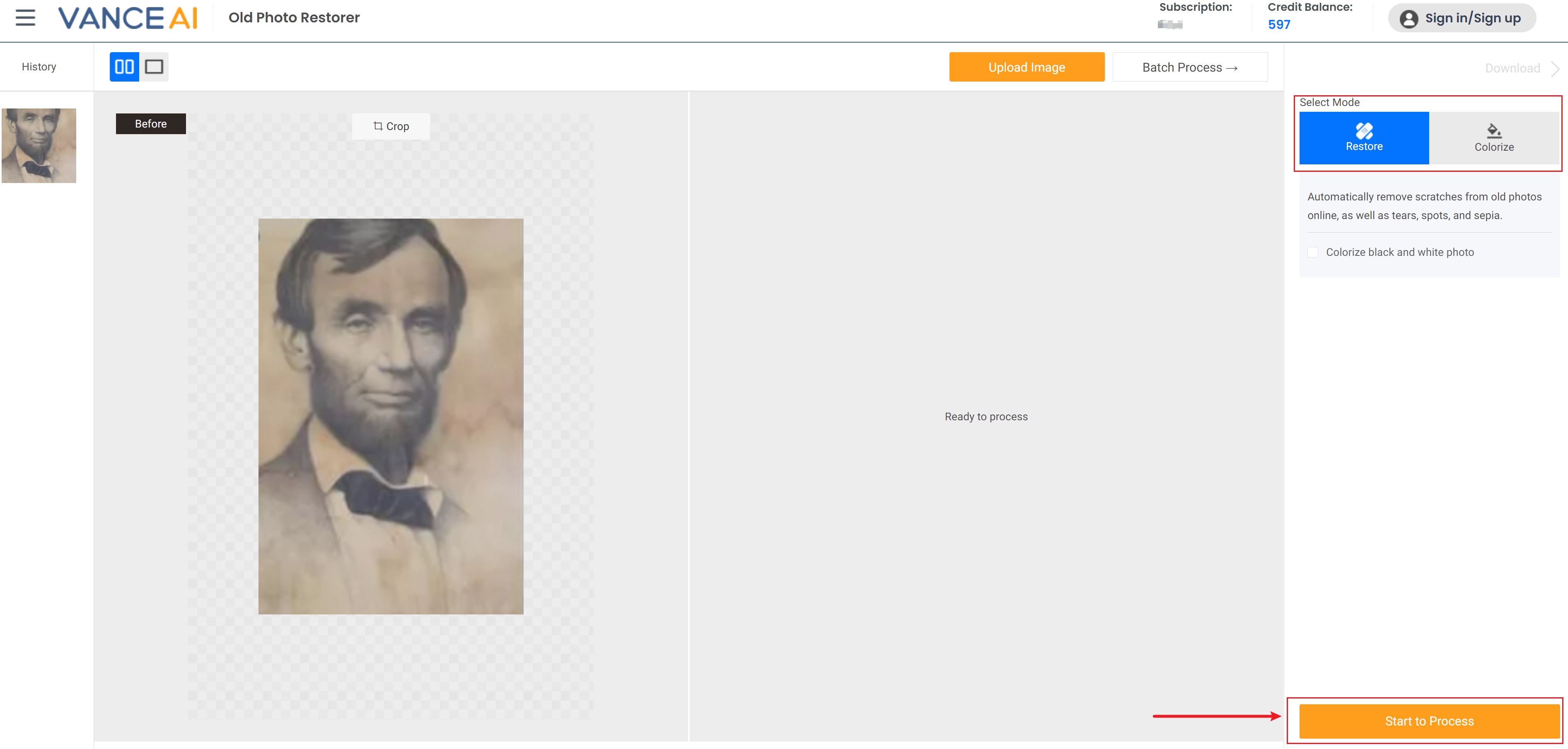 Step 3: preview and download
Preview the final outcome.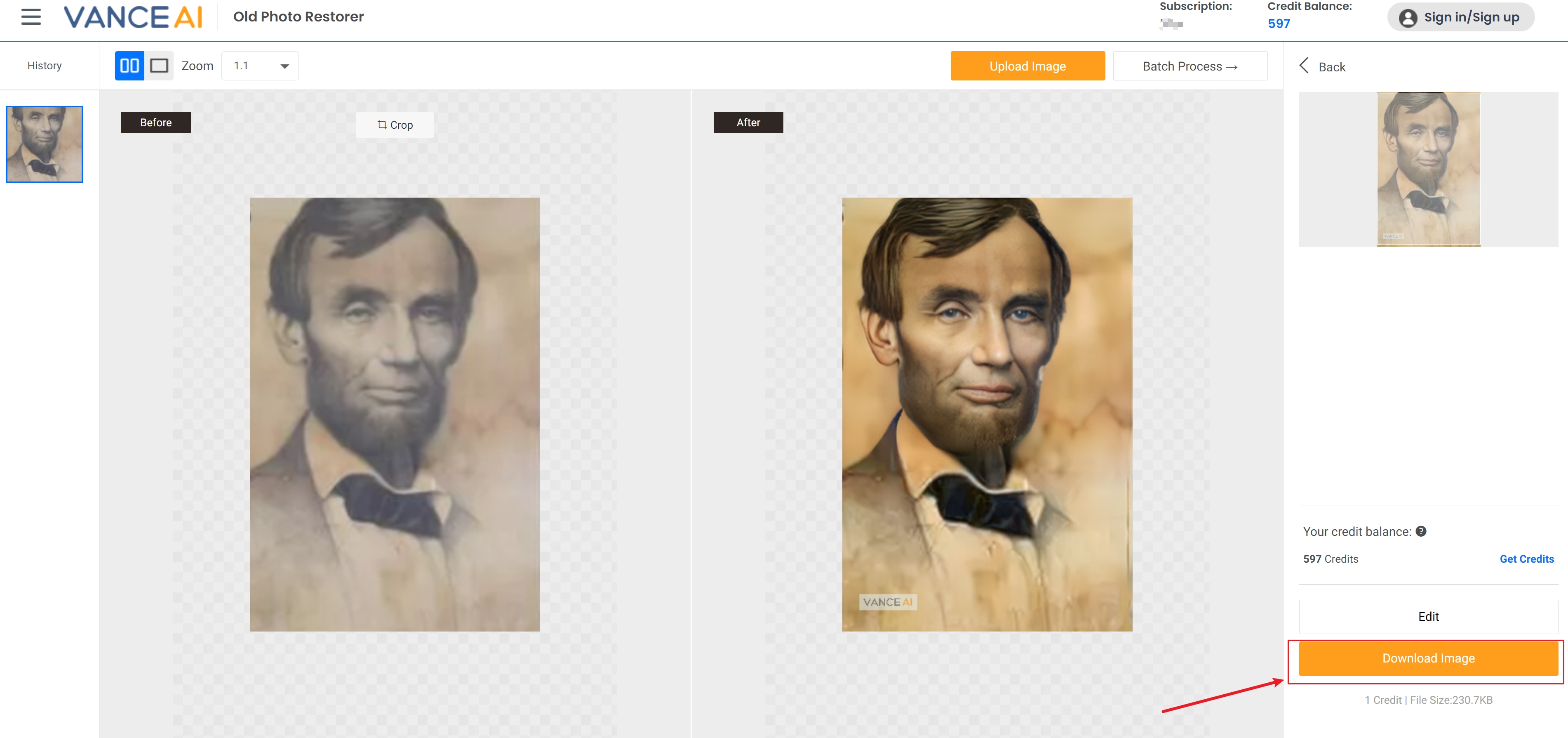 Step 4 (Optional): colorize photo with VanceAI Photo Colorizer
Download the image by signing in to the website to get access to more features, such as image colorizer.
The final outcome looks more vivid, clean and crisp. When you scan the water damaged photo, it would be best to not expect the photo to return to its original position.
Also read: How To Restore A Sun-faded Photo With VanceAI?
6 Tips For Restoring Water Damaged Photos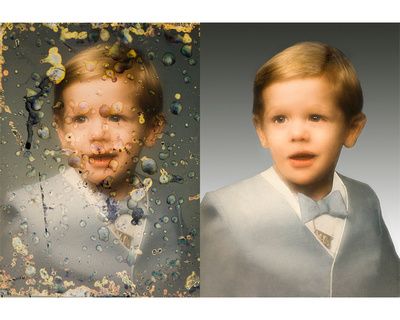 Use An Absorbent Material
To do water damaged photo restoration, you need to immediately lay down the wet photo on an absorbent cloth so that excess moisture is taken out. This will help prevent an irreversible damage to the photo. An absorbent cloth will absorb the moisture which will prevent any harm to the material of the image.
Be Extremely Cautious
While handling a wet image, you need to be extremely cautious. Wear gloves and do not rub your hands over the image. Hold it from the corners and wait for it to dry out. After it has naturally dried out, restore the image by AI old photo restoration.
Never touch the surface of the photo, this will deteriorate the condition of the already ruined image. Do not expose the photo directly towards a fan. Use indirect drying to dry out the water damaged photos.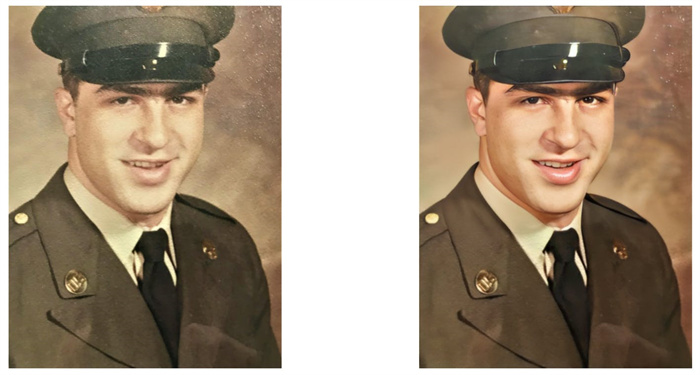 Also read: Best 10 Old Photo Archive Websites
Do Not Use A Dryer
Never use a dryer to dry a wet image. This is because the pressure of air coming out of the dryer can damage the image by ruining the material of the photo. Use a dry towel and keep the photograph on it. Change the towel every two hours. Dry it naturally to avoid any harm to the photo.
Be Patient!
We understand your frustration, but it would be best to keep your cool to prevent further devastations happening to the photograph. If your photos are sticking with each other, do not rip them apart.
Forcing them apart will damage both photos. Such damage is irreversible as wet photos that are ripped apart can never go back to their original condition. A little impatience might cause a huge damage to your memories.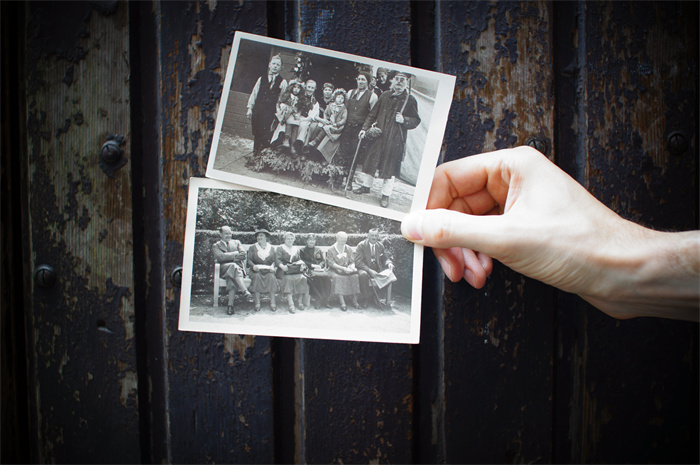 Prevent Sun's Exposure
Natural is always better, but not in the case of restoring water damaged photos. Heat from the sun can cause the image to fade and outdoor winds can be harsh on the material of the photograph.
Keeping you pictures outdoor can cause molds to form which is an irreversible damage. Always use indoor and indirect drying techniques to dry and restore water damaged photos.
Consult An Expert
Saving memories can only occur in the form of photographs. If by any chance, your photographs are ruined, you can always hire a professional photo conservator to fix your photographs.
This might sound like a big deal but photos are meant to be saved for the generations to come. You need to save them not only for yourself but for your upcoming generations as well. So, if you think a photograph can only be restored by an expert, immediately contact them and do not miss a chance to save your family memories.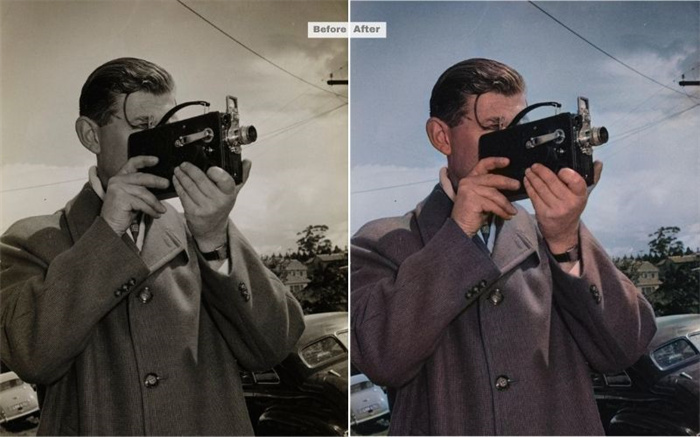 Conclusion
Saving your memories for a lifetime is a huge responsibility! This article will help you find the best technique to preserve your memories. To save the photos in soft copy, scan the images and edit them on VanceAI. Use photo colorizer and photo restorer to bring back life into your water damaged image.
Take precautions to avoid damaged photos. Use a plastic sheet or an album to preserve the pictures. Do not keep pictures in a humid environment, such as kitchens and bathrooms. Always keep the place dry where you are saving the pictures.
Do you find this post helpful?