Top 10 Best AI Art Generators
VanceAI Art Generator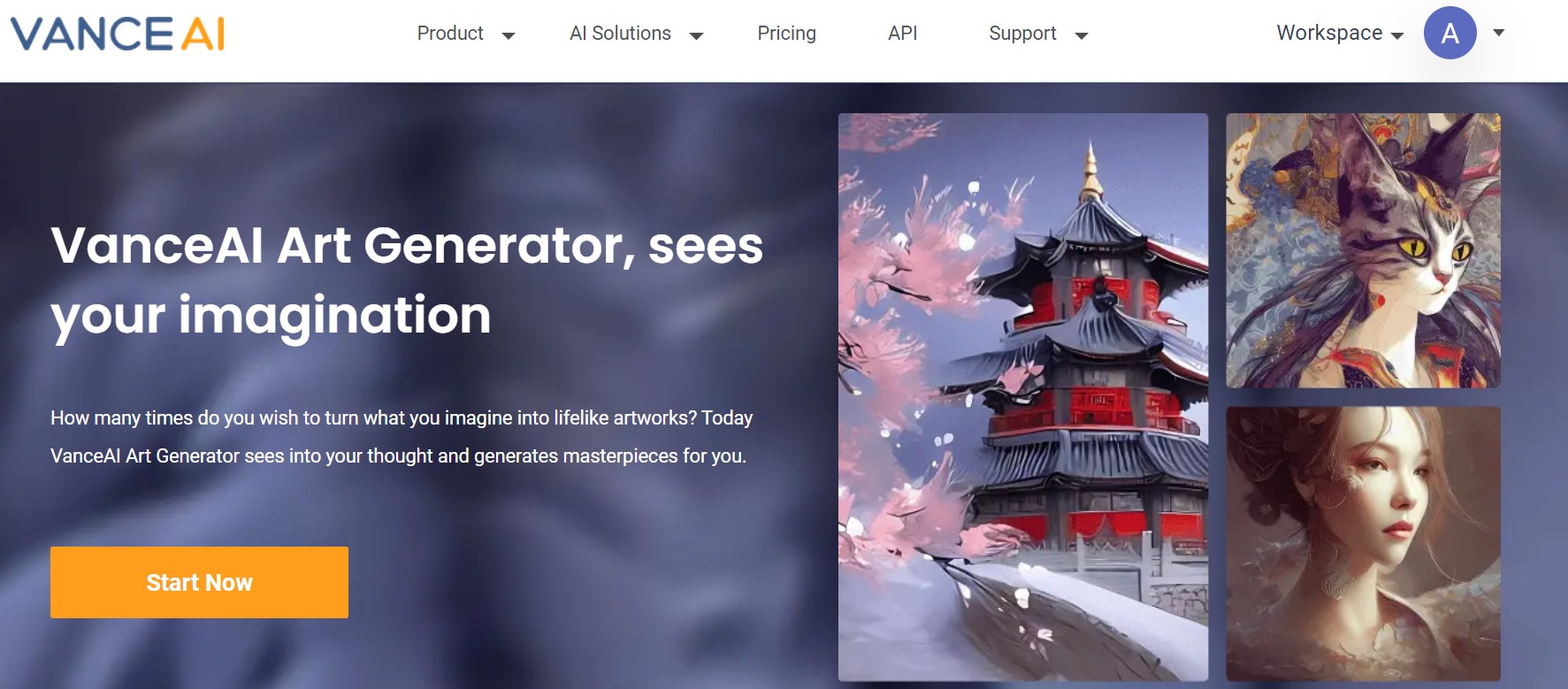 VanceAI Art Generator is a text-to-image AI art tool. AI art generator helps you generate artworks that you want. On its workspace, you just need to input prompts and select art type or style, and then VanceAI art generator will finish the rest of work for you. With our art generator, you don't have to learn any drawing skill as AI image generator will draw what you imagine in 20-40 seconds.
Pros:
Comprehensive settings
Smart enough to recognize needs like prompts, image style or type
Easy-to-use and automatic tool
Cons:
Precision of generation still needs to improve
Limited free use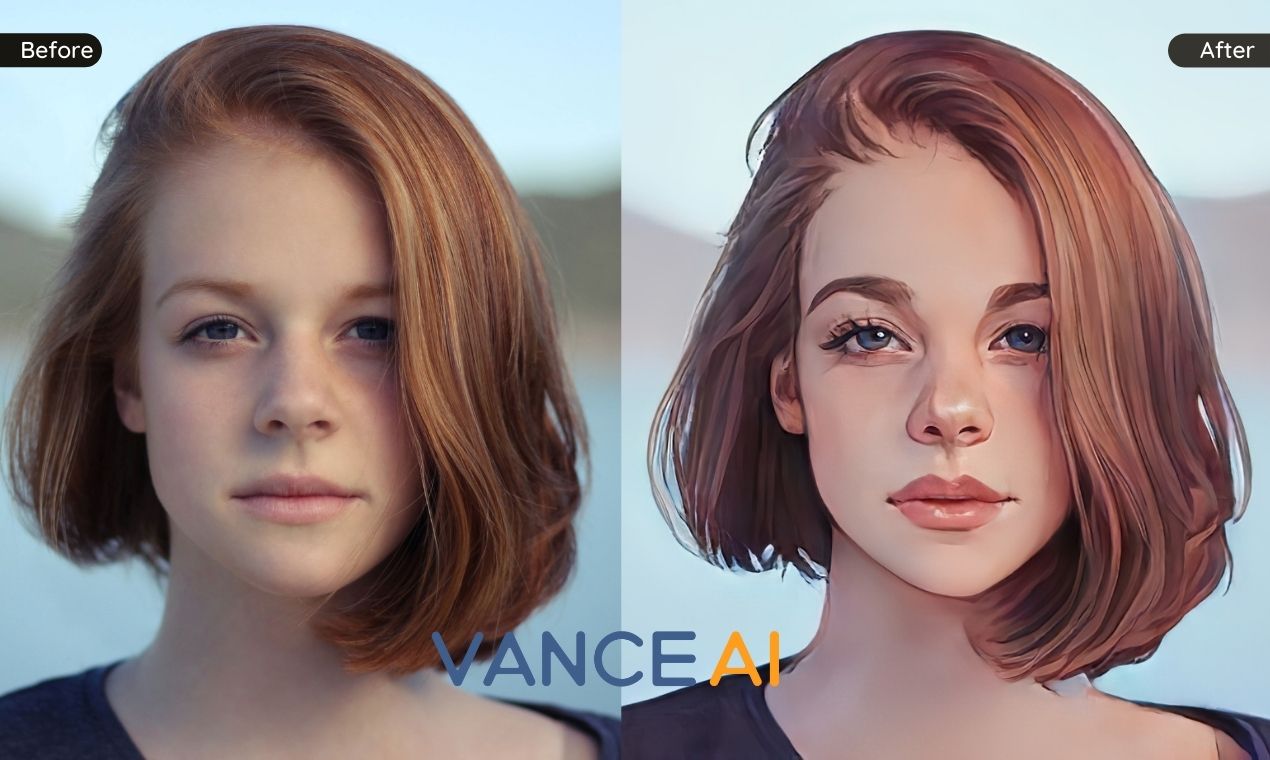 VansPortrait can turn not just portraits, but any type of photo into a sketch or anime portrait. VansPortrait allows you to turn photo into sketch and anime portraits using AI technology and advanced algorithms resulting in a beautiful outcome every time. Thanks to these advanced algorithms, you can also turn photos with multiple people, buildings, and streets into sketches and animes. It works better than a normal sketch or cartoon filter as its algorithms analyze the lines and outlines present in any photo and convert photo to line drawing online or anime tyle images with the help of AI. Check the video below to know how to use this converter.
Pros:
Photos into sketches or animes with a single click
Resembles real sketches and vivid anime
Not limited to portraits
Cons:
Limited tools with unpaid subscription
Less editing options
Doesn't support images larger than 5MB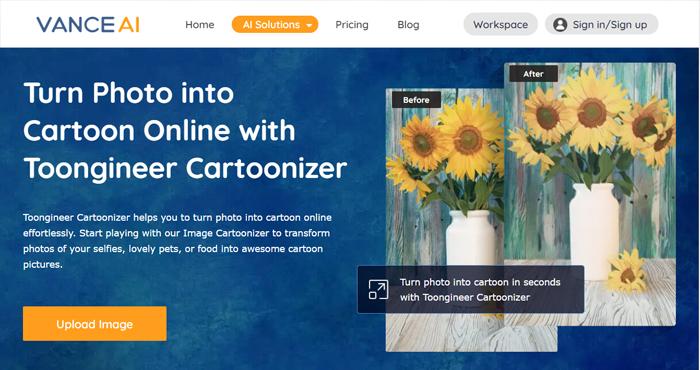 Toongineer Cartoonizer can turn your photos into cartoons with one click. Using a cartoon filter is much different from this tool because it uses advanced AI algorithms. These algorithms are trained on millions of cartoon pictures and real-world images. Using advanced algorithms, this ai art generator animates your picture effortlessly and also preserves its natural aspect. You do not need any additional skills to use this tool as its entire functionality is automated. Sit back, relax, and turn photo into cartoon online without any hassles on this platform.
Pros:
Simplify workflow
User-friendly interface
Easily generate natural and beautiful looking anime
Cons:
Limited editing tools
Repetitive edits on photos
3. AI Gahaku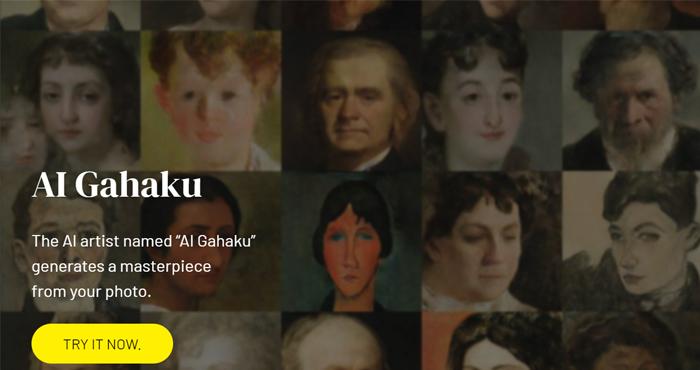 AI Gahaku is an online tool used to generate AI-powered paintings. With the help of this tool, you can turn your photos into spectacular oil paintings in seconds. To get started, choose a picture from your gallery containing a human face. AI Gahaku will quickly observe the picture and the facial features. this ai art maker will initially draw a basic picture for you and give you ten options having different painting from which you can choose. After making a choice, the resulting picture appears in a few seconds.
Pros:
Free to use
Share art directly on social media
No registration
Cons:
No more than ten styles to choose from
4. AIArtists.org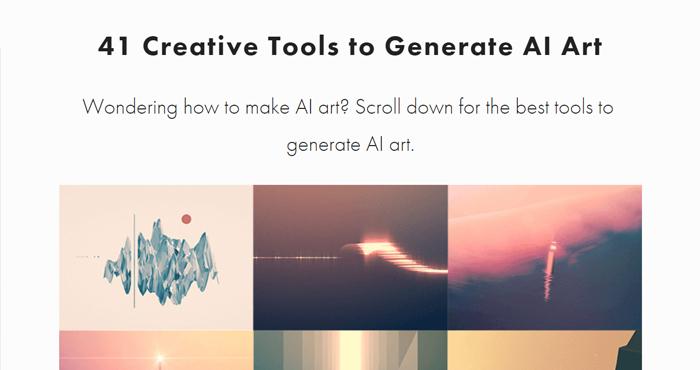 AIArtists.org is the world's largest community of artists creating art using artificial intelligence. The website contains various AI art tools such as RunwayML for videos, GANBreeder to breed two images into one, DeepArt.io to turn your photos into AI portraits, Deep Angel to remove objects and people from images, and GoArt to make your photos look like vintage portrait paintings. Some other tools included help to create paintings, music, words, and dance or other movements with the help of AI.
Pros:
Wide range of AI art generating tools
A strong community of AI artists
All information on AI art available
Cons:
Many tools have inadequate editing options
5. Deep Dream Generator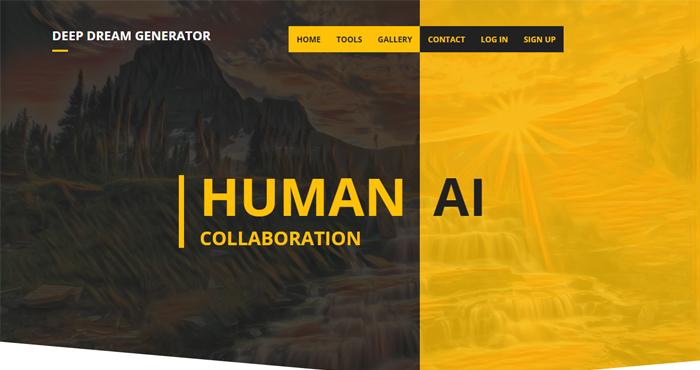 Google's Alexander Mordvinstev created DeepDream, a computer vision program that deliberately over processes an image and enhances its patterns giving it a dream-like appearance. It is seamless software. You only have to upload a picture, rendering it in seconds. To make it work, programmers created an artificial neural network (ANN), a self-learning computer system. The functionality of a human brain embodies neural networks. The resulting images are simply a representation of machine-created artwork.
Pros:
Free to use
Quick sign up and easy to get started
Automatic editing
Cons:
Subscription required for advanced editing
Repetitive patterns
6. Artbreeder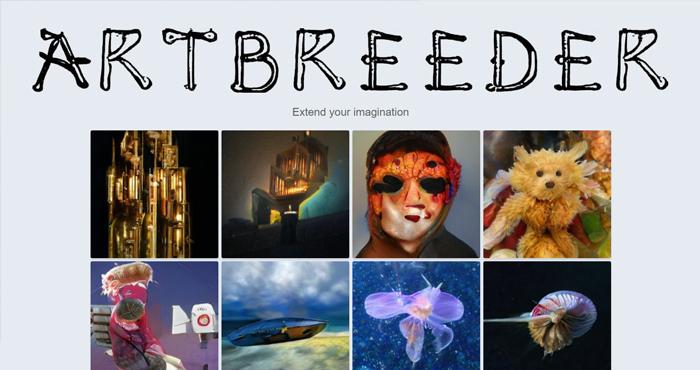 Artbreeder has managed to grab the most attention among AI art platforms. Compared with VanceAI which also acts as an image quality enhancer, Artbreeder can produce countless variations of an image with machine learning, giving you the option to make landscapes, portraits, anime figures, and much more on a single platform. It allows you to change facial features such as skin colour, hair, eyes, and nose on portraits. You can even turn your photos into animated figures. However, sometimes portraits do not turn out as expected and seem to be pretty vague. Landscapes, on the other hand, have gained better results.
Pros:
Multiple editing options
Many categories of art
Easy to use
Cons:
Traffic on the website increases image processing time to more than an hour
Free to upload only five photos per month
7. NightCafe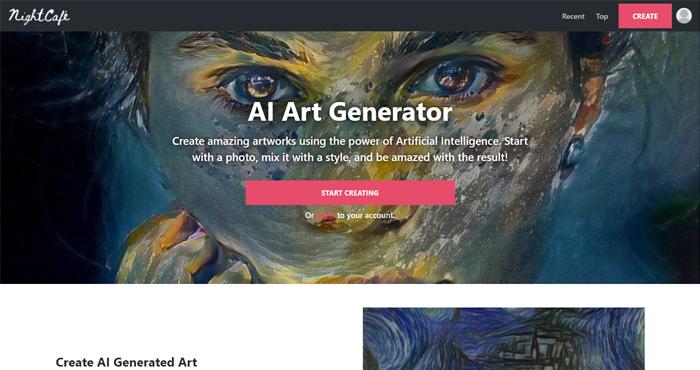 NightCafe can create many artworks using its unique editing effects like a starry night, mulberry tree, doodle, landscape, and more. This tool is available online for free and takes around 5-10 minutes to develop your image. If you end up being blown away by any of your artwork created on this website, you can pay a few bucks to get it printed like a painting and delivered to your house. It is overall a decent software to explore AI art.
Pros:
Free to use software
Hassle-free sign up
Unique artistic styles
Cons:
Longer processing time
Limited editing options
8. Deepart.io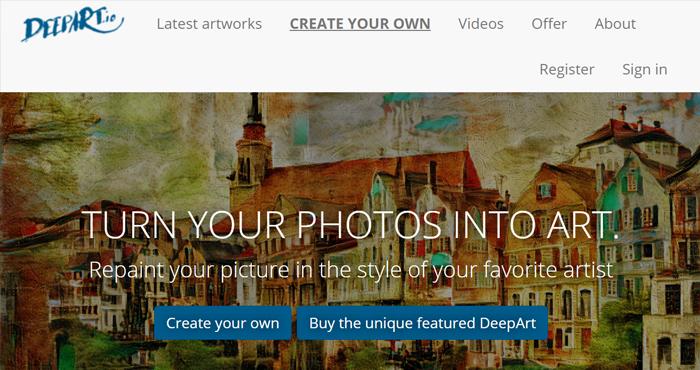 Deepart.io enables you to use the stylistic features of one image and draw the contents of another with it. While uploading, remember that your first image will define the theme of your artwork. After uploading the photos, you get to choose among some predefined styles available on the website, or you can upload your style image. The server will automatically process your image and notify you via email once it is completed. However, free usage limits your photos to the size of 500×500 pixels and increases the processing time because of a queue.
Pros:
Old and trustworthy website
Unique artwork creation
Easy to use interface
Cons:
Free users limited to 500×500 pixels
Increased waiting time to download your artwork.
9. Hotpot.ai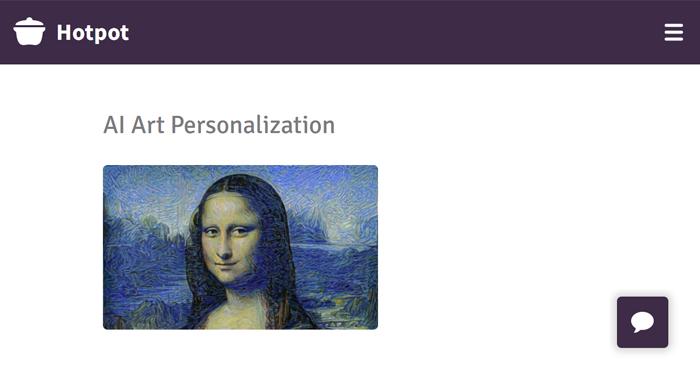 Hotpot.ai is a free web app with various editing options like colourizing black and white photos, removing background from an image, restoring old and scratched images, and auto face blurring. Its AI picture restorer removes scratches and balances the colors and saturation of the photo, making it look as good as brand new. However, the AI picture colourizer gets confused between dark colours sometimes but still delivers a decent output. There is another option to enlarge pictures and graphics, which helps you zoom into any preferred spot in your photo while maintaining the image quality. If you are not satisfied with the result, you can use some tools to make photo hd.
Pros:
Colourize black and white photos
Remove background from an image
Restore old photos
Cons:
Paid subscription and no free trial
10. Voilà AI Artist Cartoon Photo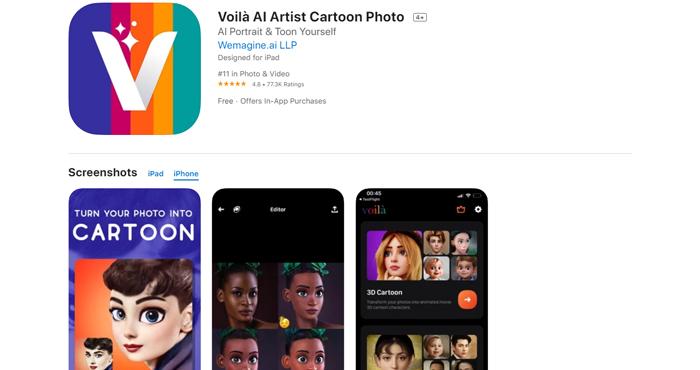 Voilà AI Artist is a photo editor app available for both IOS and Android. You can instantly capture a photo or upload one from your gallery to get started with editing. With the help of artificial intelligence, it transforms your photo into a unique looking cartoon character. This app features four image manipulation modes: 3D Cartoons, 2D Cartoons, Renaissance Paintings, and Caricatures. Once you choose one of the modes, you further get more filter options under each mode. You can render your photo after selecting your preferences, and the image will be processed in a few seconds.
Pros:
Free to use on IOS and Android
Good range of editing options
Unique characters in 3D Cartoons
Cons:
Pay to remove ads and fasten rendering process
Shares personal data with third-party partners and advertisers
FAQs
1. How to create AI art?
Generating AI art was made possible through Generative Adversarial Networks (GAN), where two Artificial Neural Networks (ANN) are trained at a time in different ways to create AI art. However, developers have built a variety of tools that helps you to create AI art easily. Most of these tools comply with the basic grounds of GAN with a few variations of their own. Or if your are interested in developing ways to create AI art yourself through the AI art generator, you might get help from this article: How to start your adventure with AI art?
2. What is the best AI art generator?
Boredhumans.com has the best set of artificial intelligence art generator. The website has 50 art generators, all capable of generating lyrics, music, paintings, designs, and words, making it a versatile space for artists and consumers. In addition, it is free to use. Also, VansPortrait is also a great tool if you want to turn photo into line drawing. Start a new experience with AI sketch converter to get AI portraits and sketches as if drawn by an artist.
Conclusion
Artificial Intelligence is witnessing steady growth, which can open up a lot of opportunities. It has removed many limitations for artists to delve deep into their art and express it freely. However, there are mixed opinions on AI art being an actual art form. AI is a computer system created by human hands along with all the AI-generating and AI image enhancer tools. It is based on machine learning and can mimic human intelligence.
On the other hand, AI has the potential to end many art-related jobs in the future. AI art generator has emerged as a new artform and co-exists with real art. VanceAI and similar tools are your best choices for automatic creation, and it developed an image upscaler to improve the quality of any AI-generated images. Also read: Convert Photos to Sketches with These 10 Amazing Tools.
Do you find this post helpful?
Yes
No