Pictures are long-term memories that we love to watch repeatedly and share with everyone around us. Therefore, no matter how fat and chubby we look, we want to have perfect, skinny, and sharp features in our every click. Many picture freaks have issues with their noses that appear too big in pictures, others are sad due to popup cheeks, and some eagerly want to reduce the size of their giant chin and forehead.
However, we are often not that fat, but the inadequate lighting and camera lens create a lot of image distortion and make us look fat-nosed or small-eyed in pictures. Is it relatable to you?
Well, No worries! Face slimming apps that can magically retouch your image make you look slim and stunning without having surgery.
The market is overwhelmed with body slimming apps that give you an awesomely skinny look but we have filtered the most reliable, easy-to-use, and user-friendly applications for you. These apps let you edit your every shot, post them on social networks, and receive unmeasurable flattering compliments.
So are you ready to crack our Top 10 Apps for Slimming Face Review? Let's go ahead!
Best 10 Apps for Slimming Face: Time To Get Slim And Smart Look
It happens with all of us; at one point, we want to look thin and reduce our weight to get a sense of satisfaction, which is not that easy in reality. Therefore, many photo enthusiasts try slim and skinny photo editors to get their desired figure, but all body slimming apps are not helpful.
While others are so advanced and offer AI image upscaler, so you can enlarge your photos without losing quality and make photo hd. Hence, you get your required edited photo with increased resolution.
Enough with the talk; let's review our top 10 Apps for Slimming Face, which will, without a doubt, prove you as your best slimming buddies!
1: Slim & Skinny -Thin Face Photo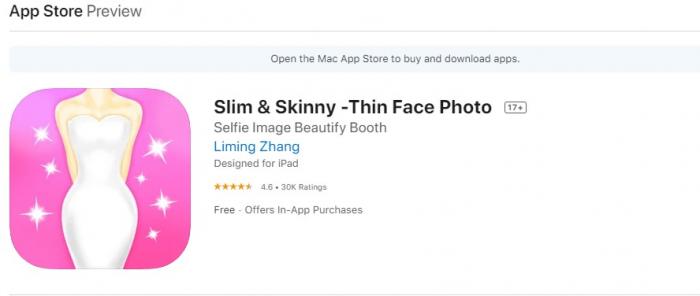 If you are photo freaking and looking for an app to create a slimming look, the Slim & Skinny app is for you! It is an excellent app for slimming the face that automatically and accurately positions the face and body. By following some simple steps, you can instantly get a perfect figure in front of you and share it with your mates through email, Facebook, Twitter, Kik, Wechat, Tumblr, etc.
You simply need to move a slider and make your head, face, and body slim. This app can remove the double chin, adjust skinny strength according to your requirement, and make you preview a before and after comparison.
One app but multiple benefits!
Pros:
Auto-detect face, head, and body
Support manual mode
Provides before and after comparison
Allows you to save creations to photo albums
Cons:
It takes a long time in face detection
2: Perfect Me -Face & Body Editor

Perfect Me - Body Editor And Face Retouch is an excellent free-editing tool that lets you seamlessly edit your photo and video. It can help you reshape body curves, higher your nose, bigger your eyes, remove wrinkles, brighten eyes and lips.
It can serve as a plastic surgery simulator to help you reshape your face and body. Moreover, this fantastic app also offers a teeth whitener, several beauty filters, and many other editing tools. It also provides beautiful face stickers, filters, background, blur, and hair color options.
Overall, it is a perfect yet free body slimming app!
Pros:
Edit face and body
Professional face smoother and editor
Offer plenty of collage layouts
Smoothen your skin and remove acne
Cons:
3: Thin Camera - Insta Face Makeup Slim Skinny Photo

This Thin Camera app offers you a fun way to make your pictures more perfect and elegant. The Thin Camera app can work with photo library pictures and pictures taken by your iPhone camera. This latest-featured app comes with four modes: 4 modes: face, head, slim body, and manual mode.
So go ahead download this app as its powerful editing features are waiting for you to try!
Pros:
An easy to use the app
User-friendly interface
Powerful editing features
Help you quickly share photos on social media
Cons:
No privacy detail is available
4: Photo Editor - Image Beauty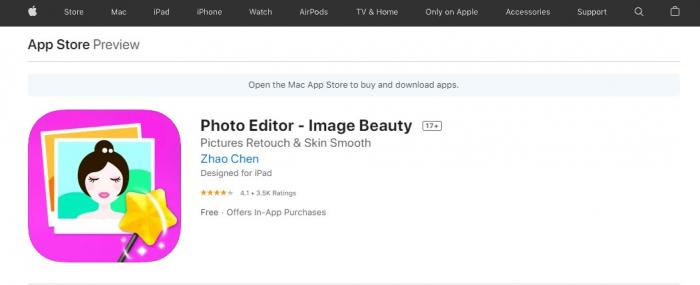 Here we have another app that can make your photo more pretty and help you look slimmer is Photo Editor. Its advanced features allow you to modify your pictures the way you want—within a few clicks, you will get your perfect look. Unlike other complex apps, here, you don't need to sit for hours and hours to get your favorite look.
You don't need skills to use this app; you can reshape, resize, slim, and enlarge any of your body parts just like a pro editor!
Pros:
Perfect for beginners
Quickly apply the instructions
All features are easy to apply
Cons:
Often, big editings become a trouble
5: Bodytune: photo body editor

Bodytune is a powerful body editor app enabling you to slim down or bulk up your body. In addition, it also allows you to balance your skin tones, refine curves, adjust the height, and much more.
So now, reshaping, losing, or gaining, or your digital self is not a big deal because the Body Tune app is always ready to serve you.
All we can say is it is the best app for slimming faces!
Pros:
Body editing has never been easier
Includes an image recognition technology
Offers 100+ high-quality six-pack abs stickers
A rich collection of tattoos design
Cons:
Ads of this app are irritating
6: Body Editor Booth Skinny & Fat

Body Editor Booth Skinny & Fat has various tools that may let you retouch your photo like a pro. You can also change your skin color with its new tools.
Using this app, you may edit your images and make yourself skinny or fat. If you don't like how one part of your body looks in a picture, you can change it until you do. Amuse your buddies by making them thin or fat.
Pros:
It contains three different body adjustment tools
Blemish tool removes acne and spots
Premium version removes all watermarks and ads
Cons:
You cannot save your photo unless you buy a premium version.
7. RetouchMe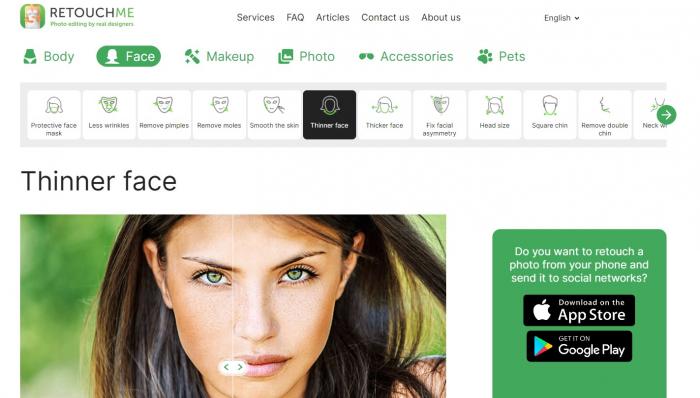 If your diet isn't as good as top models or you don't have a model-like face, you can use the RetouchMe app to trim your face.
The RetouchMe app is simple to use and provides you with a great deal of invaluable enjoyment. You can use this app to gain excellent remarks from others. Select any of your images to modify them by using Retouch face. It is a great face slimming app for android and AppStore.
Pros:
Removes 99% of aging signs from face and even hair
Perfect editor for muscle and body along with face tuning
Cons:
You cannot redo the picture
8: Fotor
Photoshop used to be a problematic tool for removing, gaining, or rearranging yourself in a photograph.
You don't have to spend time learning any sophisticated ability like shrinking or enlarging photographs, which saves your time. Using Fotor, you may get a stunning picture in a matter of seconds. Post it on social media, and you'll quickly get several likes!
Another feature of this app is an image enhancer that enhances your image quality and the body part you want; eventually, you get a fantastic, incredible, and high-quality photo after editing.
Pros:
Levels up your picture quickly
Shrink or enlarge your face and body
Free trial of color splashes feature
Cons:
Difficulty in saving the session
Challenging to use through PC
9: Photofunny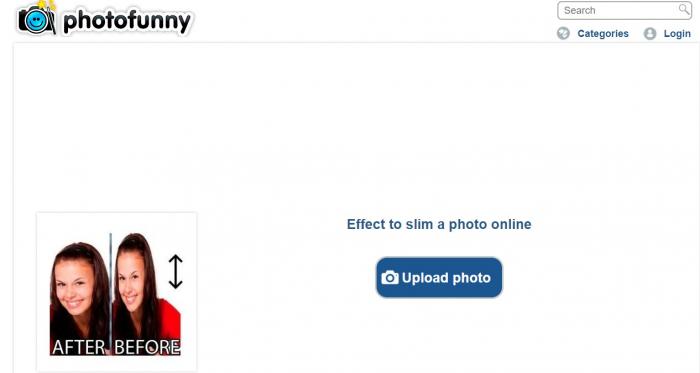 It's now possible to remove a face or a person from images online without having to install any software; you can do everything right on your mobile with the Photofunny app. Simply submit a photo, and it will appear thinner and more trim in a matter of seconds.
Pros:
No particular skills are required to use it
Offer different artistic snapshots effects
Allows you to apply funny photo effects online
Multiple photo frames and photomontages are available
Cons:
Advanced editing functions are limited
You cannot modify speech bubbles' font
10: Facetune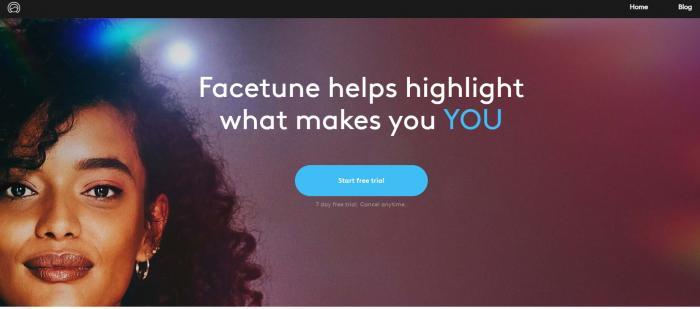 Over 100 million users use Facetune because it is no#1 selfie editing app globally. The app provides you a chance to express the best of yourself by precisely editing your selfies.
You can confidently use its creative features, edit your selfies, and share them on social apps. All in all, it is fun to show your creativity by using this excellent app.
Pros:
An excellent selfie editing app
Quickly edits your selfie videos
7-days free trial
Intelligent properties to sparkle your portrait
Offers robust and advanced editing tools
Cons:
The subscription model can put off some users
Our Summary
Editing your photos and acquiring your desired look is all fun, but it is only possible if you have suitable software and apps. This article includes Top 10 Apps for Slimming Face Review; these apps will help you take your photos to a new level and create your dream appearance.
These slimming and editing apps are unique in their features; you can download any of those apps, edit your photos, share them with everyone, and enjoy! Remember, apps are to use, not abuse! If you want to do other photo editing to your photos, you may try VanceAI.
Do you find this post helpful?
Yes
No