Online image editing has been increasingly getting more and more popular as they offer many benefits that traditional software applications do not. Earlier, online based image editors were easy to use but they didn't offer anything sophisticated enough for the experts to choose them over software applications. However, now with applications such as Fotor online and VanceAI, users can accomplish complicated tasks quite easily and quickly without needing to know how to use the tools. In this Fotor review, you will find an overview of the application, how to use the app, and more info. We will also provide you with a few really good Fotor alternatives. 
Fotor Review
This Fotor photo editor review gives an overall picture of the application and more. This review aims to help you to learn the whole Fotor and what you can do with the tool. Having known the basic knowledge on Fotor, you can know how to use Fotor to edit your pictures with the guide below. 
1. What is Fotor?
Fotor is a comprehensive image editing and enhancement application online similar to LunaPic, VanceAI, BeFunky, and more. With this application, you can undertake many editing related tasks such as cropping, resizing, exporting images in another format (mainly PNG and JPG), and more. While Fotor is primarily an online browser platform for image editing, it has also expanded to other platforms such as Windows, Mac, and mobile devices (Android and iOS).
Fotor is a highly known application designed to make your editing experience a seamless one. While users do need to do some manual adjusting when using specific tools, the overall process is mostly automatic thanks to the features present in Fotor. For instance, if you want to crop an image, you can either use the square tool to manually crop the image or simply select a ratio, such as 16:9, and simply watch as the app adjusts the image into the selected ratio.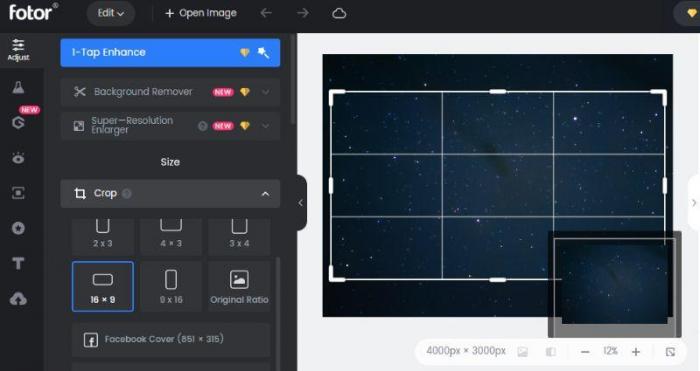 Another really useful aspect of Fotor is that it offers pretty much all of its features for free, though there is a premium account. The paid account is mainly for getting access to exclusive stock photos, a few features, and removing ads completely.
2. What can you do with Fotor?
The Fotor online application is a hub for pretty much all kinds of image editing tasks. As you must have seen from the above image as well, Fotor is filled with a wide variety of tools to help you to tackle any editing issues. You can create specific ratios and dimensions that match with social media requirements, such as Facebook covers, Instagram stories, and more. Apart from that, you can resize images, add artistic style filters over original images, add graphic elements on your images such as texts or shapes, and more.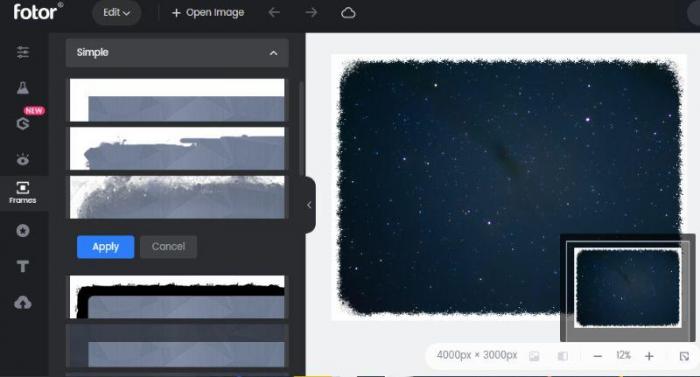 With the premium version, you can also go for more advanced tasks such as removing backgrounds, increasing the resolution of your original image, using exclusive filters and stock photos, etc. Fotor can also do most of the work automatically as it usually just requires an upload and some adjustments from the user.
3. How to use Fotor online?
Now let's quickly go through the brief steps of using the Fotor online application.
1. Access Fotor online and use the Open Image button to upload an image. You can click on any of the images below to use them as well.
2. Click on any feature that you want to use from the left sidebar and adjust the settings as per your preferences.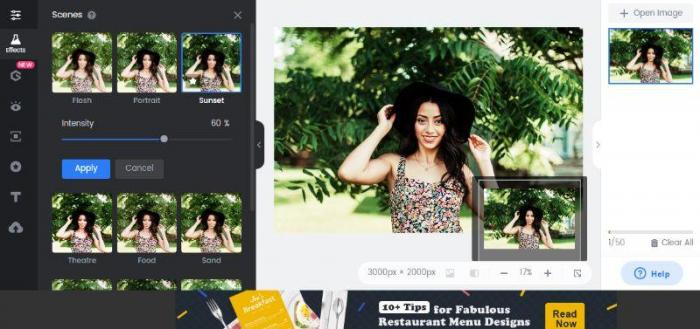 3. Use the Download button to save the image. Click on the format (JPG or PNG) you want the image in. You can also choose the image quality before hitting the Download button.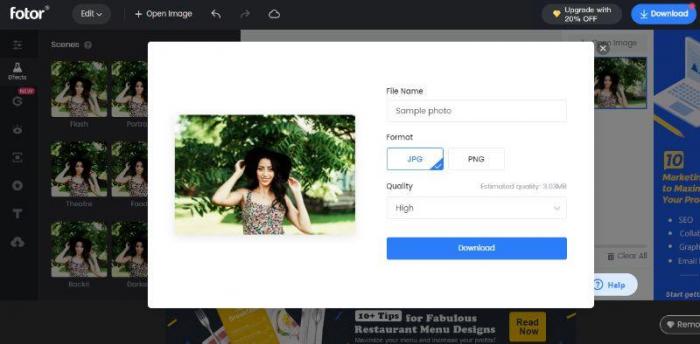 Best 5 Fotor Alternatives
Each tool has its pros and cons, so here are some alternatives to Fotor listed below. This table lists  the features of the alternatives and you can pick what you want. 
Product
Free
 AI-based product 
Concise UI
More optimization options
Focus  
VanceAI
       ⍻  (three free credits/month)
√
√(each product has a simple workspace)
√(concise UI despite more options)
solve any single problem with AI
Pixlr X
√
×
√
√
photo editing and template design
BeFunky

⍻(full functions need Upgrade)

×

 

 √(beginners may get puzzled)
×(one workspace contains too many tools)

 

 a comprehensive workspace offering more manual editing options
Canva

⍻

(free 30-day trial)
×

×(more choices in the same place)

 

√

 

offer different groups photo editing tools
Picmonkey

⍻ (

free 7-day trial)
×
require login before the use 
×
ample templates and stock photos
1. VanceAI
Price: VanceAI is an online and offline image editing product that offers three image credits per month for free. The sale price start from $3.96 (100 credits) and offer more credits plus features.
VanceAI is one of the strongest Fotor alternatives because it not only offers a high number of tools like Fotor, but it also integrates powerful AI based technology into each tool. This results in VanceAI being an automatic image editing application that can provide great results without making users spend any more time than needed. Especially when it comes to the function  of photo enhancement, the photo enhancer product will deliver best possible details and super HD output for you. It will also optimize your product photos by increasing resolution, sharpening details, correcting colors, and improving quality and make photo hd. Start today to generate ready-to-use product photos for any platform and then you will get best of your images in less than 5 seconds with 100% automatic tool related to photo enhancement.

Pros:
Over 20 products are clearly listed in Product.
Provide all possible tools you need.
Also give an interesting AI drawing tool while offering necessary tools. 
$3.96 can buy 100 credits in sales though it is not free.
Launch VanceAI software version.
 
Cons:
Sometime get unresponsive while processing images.
Offer sample images for all tools.
2. Pixlr X
Price: The Pixlr online application offers standard features for absolutely free. For more features, you can purchase the premium edition for $4.90 per month.
Pixlr is a platform where they offer you two versions of the application, Pixlr X and Pixlr E. While Pixlr X is more prevalent since it is designed for quick and easy designs, Pixlr E can appeal more to professionals who need comprehensive tools for complex projects. The editor mode is similar to Fotor and BeFunky, as you only need to apply the features present in the editor to your image.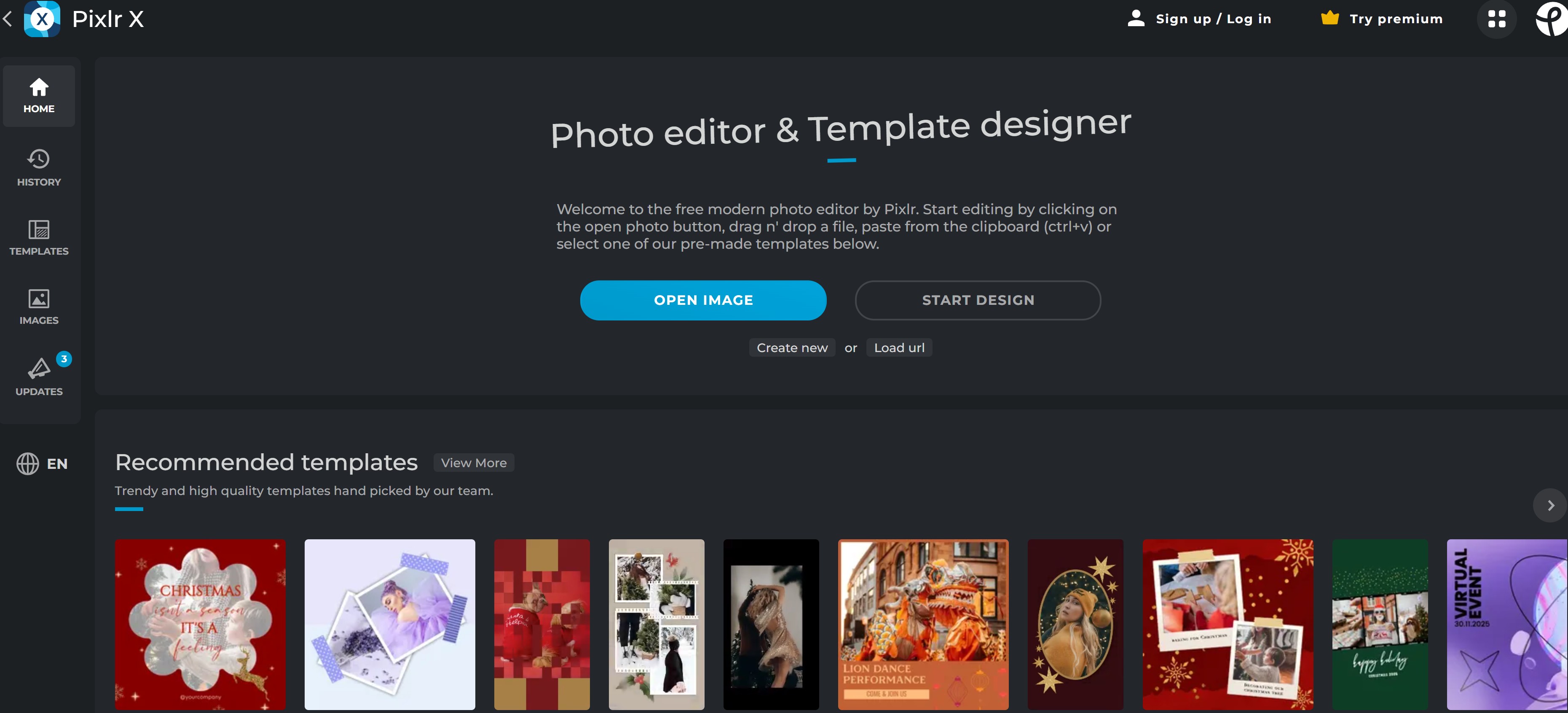 Pros:
Easy to use and concise UI.
Pixlr X is free .
Multiple photo editing tools and template design.
Cons:
Can be buggy.
Some features need improvements.
Can add more export options.
3. BeFunky
Price: BeFunky is a similar editor mode based app to Fotor with most features offered for free. To unlock the premium features, however, users need to pay $4.99 per month.
In most Fotor photo editor reviews, the app would be compared to BeFunky since they share a lot of similarities. BeFunky offers its own version of editor mode as well, wherein users can scroll and find the tool that they want to use and apply it instantly. The application also offers some artistic features so that users can be creative with their images. Click on Befunky and you will know more photo editing tips.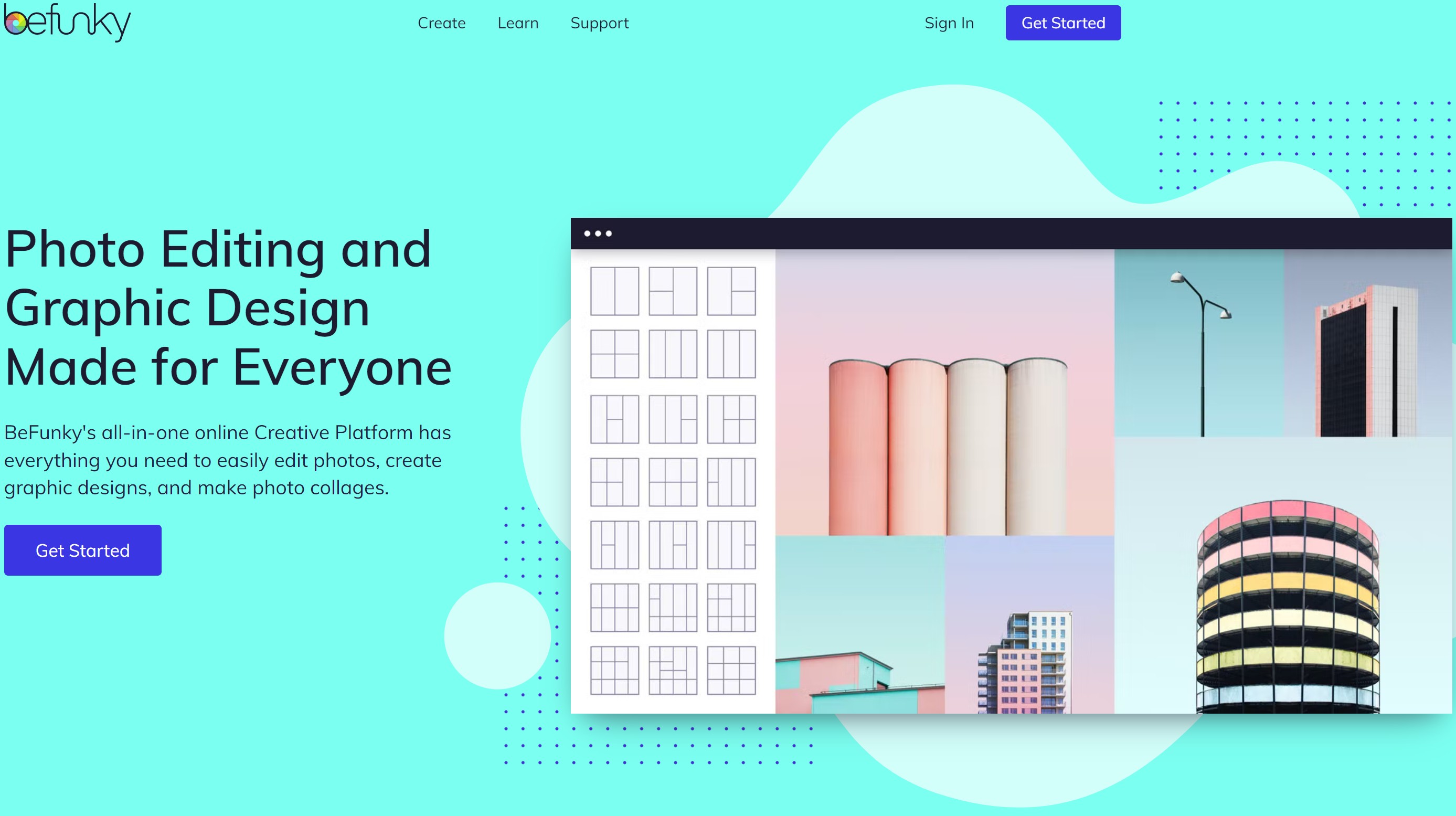 Pros:
Good design.
Offers multiple features.
Most tools are free.
Cons:
Require Upgrade to use full functions.
Takes time to learn so many tools.
4. Canva
Price: Canva has a ton of different paid options and a free version. The free version gives access to most features. The paid options start from around $5 per month.
Canva is a highly professional application that is available on desktops as well as on mobile devices. Canva, similar to Fotor, also offers a ton of options for users. You can edit an image in multiple ways, such as cropping, resizing, adding frames, and more. On top of that, you can create other kinds of visuals with Canva as well, such as presentations and videos.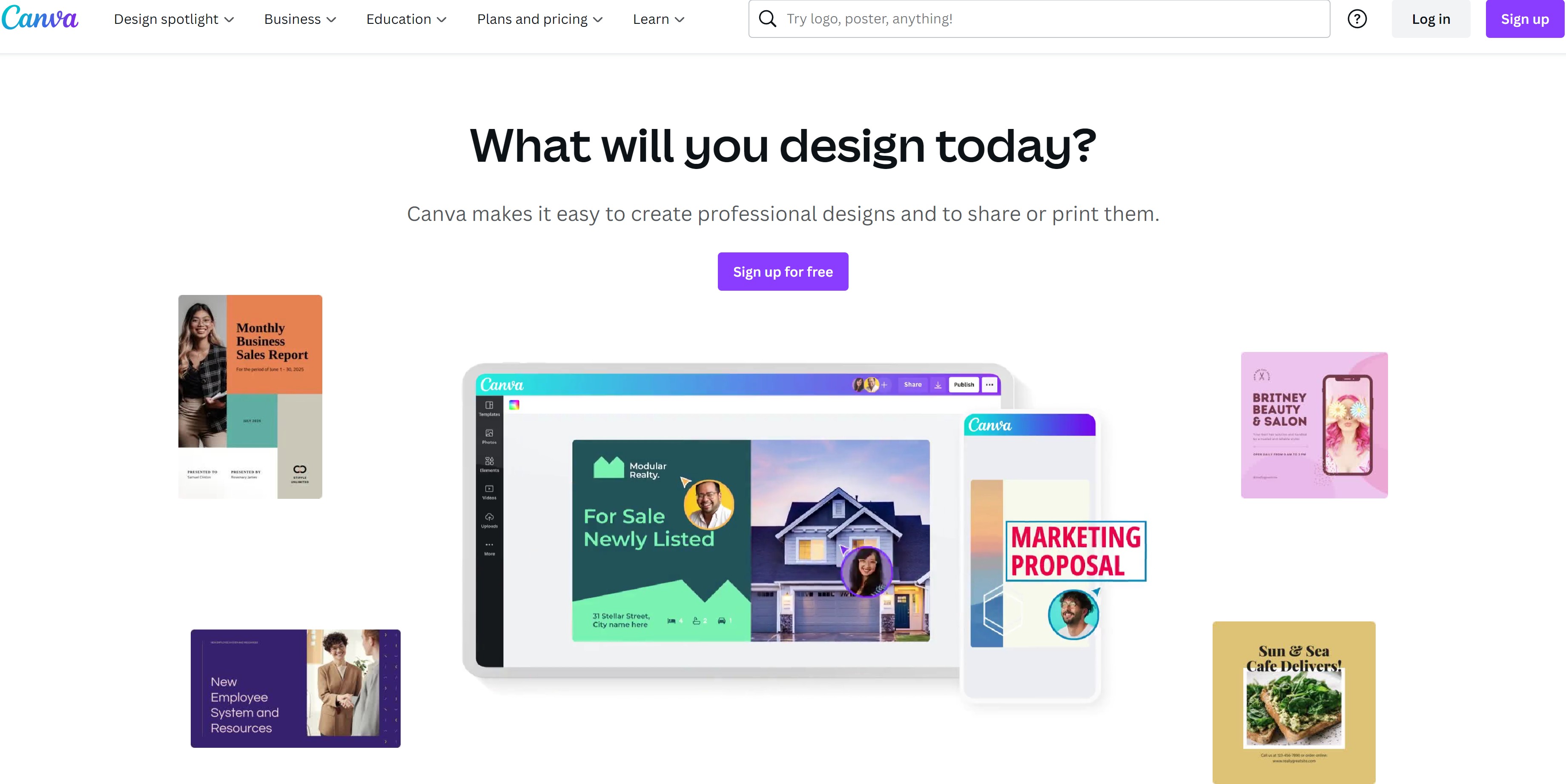 Pros:
Professional and sophisticated app.
Targeted solutions for different groups.
Offers many editing and creative options.
Cons:
The app tends to be slow on mobiles.
More choices in the same workspace seem complex.
5. Picmonkey
Price: The application offers a free trial though it is limited. The paid options begin from the Basic plan that costs $7.99 per month.
Picmonkey is a really good place for users who want to make content for social media. As one of Fotor alternatives, you can expect to have a wide range of tools with Picmonkey. You can create custom projects meant for each social media platform and create different kinds of visual elements such as invitations, logos, presentations, and more.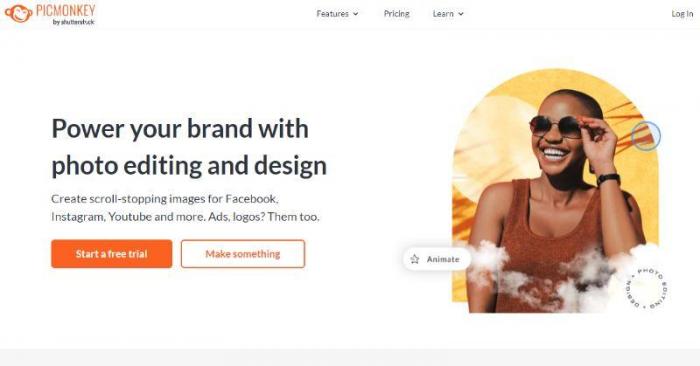 Pros:
Reliable app.
Great design.
Easy to use.
Cons:
Limited free use.
Paid options should offer more.
Sign up before the use.
Conclusion
Fotor still stands among the best online image editing applications because of multiple reasons. Fotor offers a big number of tools that users, especially content creators of all kinds, use daily. However, the limited options for exporting can deter some users from Fotor. So, users can also check out the given Fotor alternatives in order to get the ideal application for their use. Read more: Best 10 AI Photo Editors Review 2022.
Do you find this post helpful?