SEO is critical for online marketing expertise, but it is also challenging to learn. There's no getting around the fact that getting website traffic is essential if you're going to start anything at all. You must also rank well on Google for relevant keywords if you want to get natural visitors. The finest ai seo software can help you with anything from keyword research and auditing to competitor analysis and just seeing how well your website ranks. For example, image enlarger tools could turn your low-resolution Artificial intelligence has the advantage of completing tasks in a fraction of the time and with greater efficiency.
This is the case with AI SEO software, which can quickly analyze and optimize your search engine rankings. This is true regardless of whether you've worked in SEO before or not. They've been designed to be helpful to a wide range of people. Find out how AI SEO software may help your company rank and the most sophisticated tools by continuing to read this article.
How is AI going to change SEO?
AI is altering SEO, but not in the way you would expect. Our focus is on data processing techniques that allow computers to "learn" by making connections and applying what they've learned. Search engines are getting more innovative and user-friendly with artificial intelligence advances such as deep learning and natural language processing. 
Several factors are considered when displaying search results, such as your location, previous search history, preferred websites, and what other people have clicked on for a similar query. Ranking factors may vary from question to query due to advancements in artificial intelligence (AI), which learns from how users click on search results and selects the most relevant variables for each search. Even an experienced human team can't keep up with AI's ability to analyses massive quantities of data in such a short period. 
Also read: Best 10 Semrush Alternatives for SEO
AI Keyword research
The launch of RankBrain by Google was a game-changer and a first move approaching SEO driven by AI. Since then, Google has used a variety of artificial intelligence (AI)-based methods to determine the order of search results. In this way, the emphasis is now on topical authority rather than keyword research.
In the past, SEO focused on optimizing content using keywords and NLP. However, the introduction of Google AI has altered the definition of SEO. The old ranking system used keywords, but Google's RankBrain knows much more than a single term. Consequently, it can provide more relevant search results by comprehending the connections between different subjects. In a nutshell, it's learning to read and understand precisely as people do by mimicking human behaviour.
Competitive analysis
AI may help with specific problems that content marketers encounter, but it can't address all of them since machine learning algorithms are still cutting-edge and unexplored. These critical tasks may be time-consuming for marketers without automation, which is why content intelligence and competition research were among the earliest uses of AI in content marketing to take off. The use of automated software to replace conventional "press clipping" services would greatly benefit marketers. Spending less money means having more money to spend on other things.
You may save a lot of time by researching, brainstorming, and optimizing your content by looking at rival material, performance, and distribution.
AI Content optimization
It takes a lot of effort to create, promote, and keep excellent content. The same goes for collecting and evaluating data to aid in the creation and optimization process.
Human marketers' roles in content production are being transformed by AI, creating a sea change in the way marketers strategize. However, this does not imply that companies will begin using computers to write instead of people. Automating repetitive processes and making informed choices about optimizing the best content will help marketing teams save time and money.
Link building
Link Building will be made more efficient by using artificial intelligence (AI). The method of link building can't be completely automated. Still, we can use AI to complement human efforts to identify bloggers and influencers more efficiently while also improving the quality of sites we contact for link opportunities. 
Best Recommendation to Optimize Image
VanceAI Image Upscaler
VanceAI provides fantastic AI picture enhancing capabilities to help you spice up your projects. In today's technologically advanced deep learning and AI environment, You may rapidly enlarge photos online using VanceAI Image Upscaler. Images may be increased by 800% using artificial intelligence (AI) upscaling technology while preserving or enhancing the Image's characteristics and colors.
VanceAI Anime Upscaler 
Using VanceAI Anime Upscaler , you may increase the size of little anime pictures by up to 16 times. Using standard anime pictures and artificial intelligence (AI), generating 4K anime wallpapers is easy.
VanceAI PC is full-featured desktop software developed by VanceAI that lets you instantly process local photos in bulk with more customization options, which will significantly simplify your workflow and boost your productivity. Free Download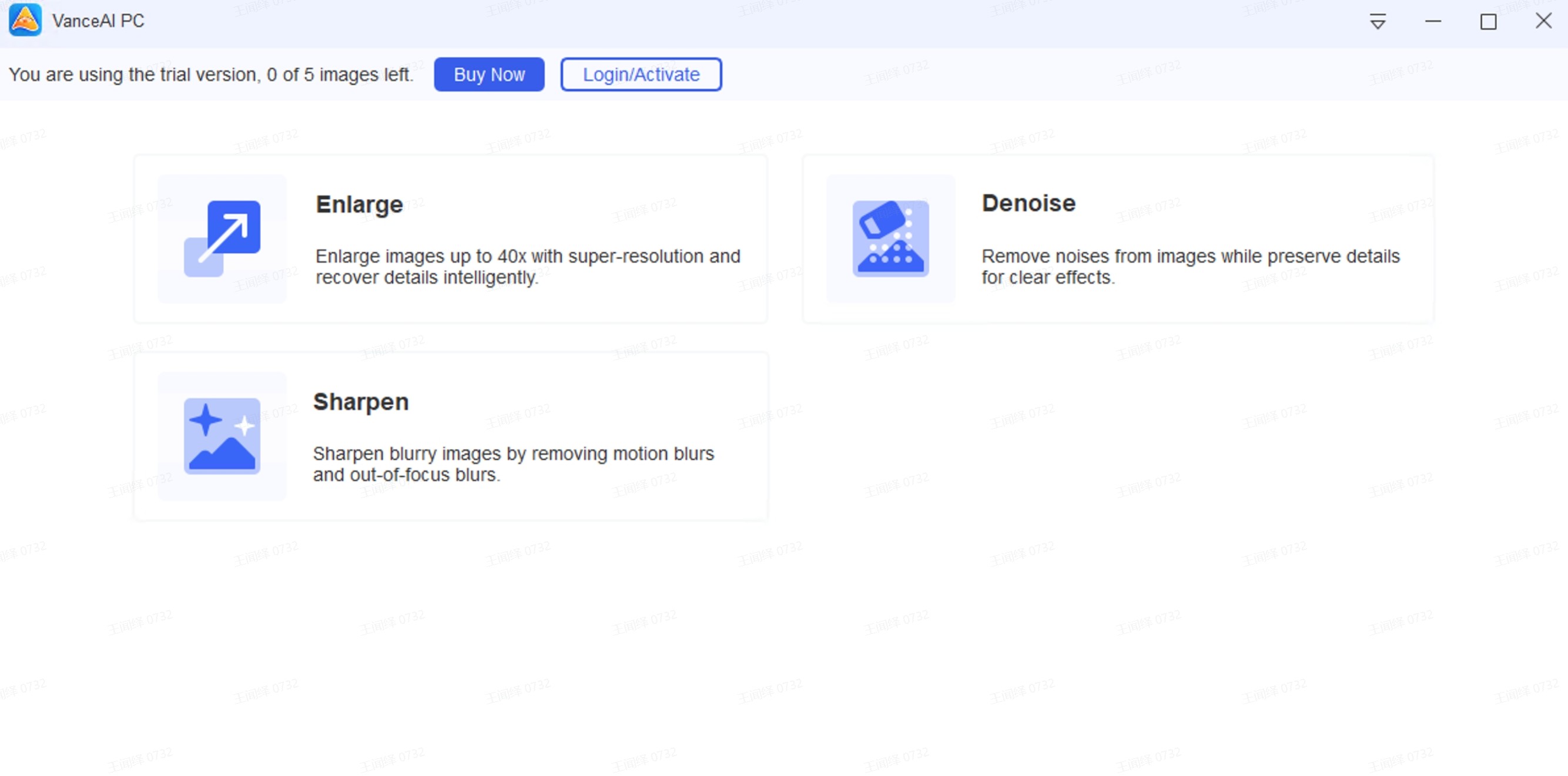 Top 5 AI SEO Tools Review
1. WordLift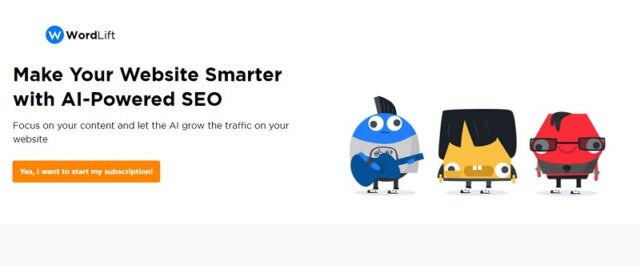 WordLift is the first semantically SEO solution to utilize linked data publication and natural language processing to automate organized data markup. It analyses material and converts it into content that search engines can understand to enhance consumer solutions that drive more organically site traffic.
 
Pros
•    Excellent for creating structured markup.
•    Suitable for developing one's vocabulary.
Cons
•    It's very pricey.
•    Not free
2. Alli AI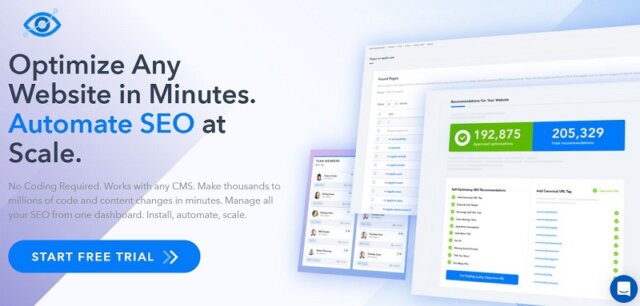 Search engine optimization tool Alli AI provides various AI-powered SEO tools to help you enhance your website's content strategy. The application makes it simple for users to boost traffic, generate high-quality backlinks, and broaden their influence in the business world. Using artificial intelligence to make better choices is the goal of this all-in-one SEO solution. Alli AI uses artificial intelligence (AI) to streamline SEO operations with a single piece of software customized for each customer and has a slick user interface. To design your SEO strategy, you'll need to look for backlinks, acquire coding, and optimize your content.
Additionally, the program monitors your traffic progress in real-time, allowing you to observe how effectively your plans are performing.
 
Pros
•    It's simple to pick up but very tough to master.
•    Fast and efficient.
•    Easy to use while working on several sites at once.
Cons
•    The user interface could use to have a few additional features to make it easier to use.
•    It's very pricey.
3. Outranking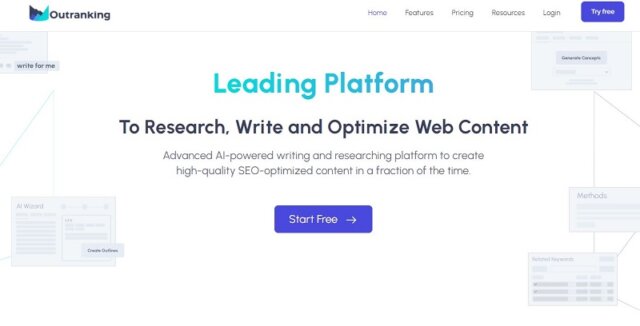 In a fraction of the time, you can use Outranking produce high-quality, SEO-optimized content using a powerful AI-powered writing and research platform. Make the most effective outlines in 15 minutes or less, and you'll outrank your competitors and generate valuable content around them. You may also depend on artificial intelligence to automate most of the writing process, including WordPress and Google Docs. Outranking can be compared to a cross between an artificially intelligent writer and a highly effective search engine optimization program.
 
Pros
•    Serves as a personal AI assistant for helping you with your writing.
•    Do a thorough study of your competition's SERPs.
Cons
•    The user interface may need to be improved in a few places.
•    Not free.
4. Frase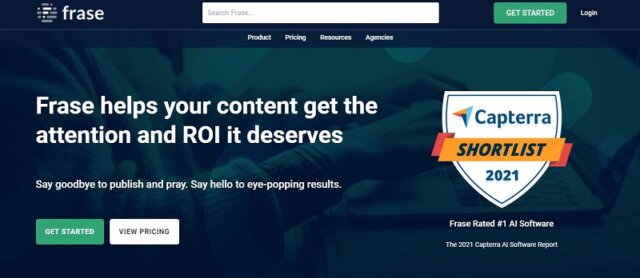 Frase is an artificial intelligence-powered SEO tool that assists you in creating content that is in line with the intentions of your target audience. Frase helps you rank on the first page of Google by helping you in writing better content. It also generates content for voice-enabled devices on its own. Frase uses artificial intelligence (AI) to answer your visitors' queries and boost SEO. Quickly changing AI-powered tools from Frase make it simple to find out what your target audience is searching for online. Afterwards, it rapidly optimizes the material that can respond to such inquiries.
 
Pros
•    Complete content production with a simple.
•    User-friendly user interface.
Cons
•    Artificial intelligence (AI) may create problems with plagiarism from time to time.
•    The quality of the assistance you get may vary significantly.
5. MarketMuse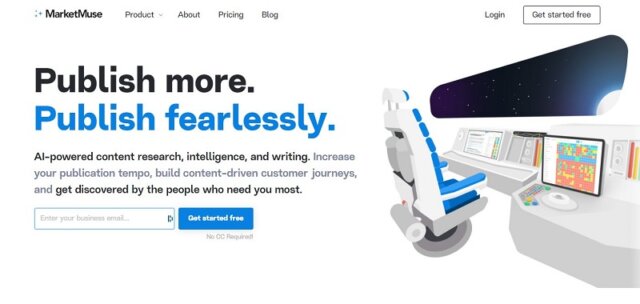 MarketMuse uses AI to automate content generation, analysis, and composition. Create customer journeys based on content and be found by the individuals who need you the most.
MarketMuse was designed to automate its time to do content research, create original content, and fine-tune existing content.
 
Pros
•    Ideas for keywords are excellent
•    A large number of beneficial options.
Cons
•    Occasionally, there are problems with dependability.
•    Paid plans may be very costly.
FAQs
What is AI SEO software?
SEO tools assist webmasters in optimizing their sites for higher rankings on search engines like Google. On-page SEO, link building, keyword rank monitoring, and technical SEO are just a few of the ways SEO tools assist webmasters in improving their sites' rankings.
In most cases, these apps are subscription-based software services available online. You should always have a few different SEO tools in your toolbox since Google's algorithm changes often. Each of these tools has a specific purpose.
What is the best AI SEO software?
There are numerous free SEO tools available. However, they lack some of the most valuable capabilities found in premium products. There are a few free tools you can use to keep tabs on your rankings and traffic when it comes to keyword research. WordLift, Can I Rank?, and Alli AI is all excellent options to consider if you're unsure where to begin.
How does AI work in SEO content optimization?
GPT-3 is the most potent language model to date, with capabilities unmatched by anything else. When given a starting phrase, GPT-2, which was published a year ago, was already able to produce believable streams of text in a variety of distinct forms. GPT-3, on the other hand, represents a significant advancement. Compared to GPT-2's 1.5 billion parameters, the model contains 175 billion. Dimensions do essential when it comes to language models.
Will SEO be automated?
There's no way to automate SEO since it's so time-consuming entirely. Be sceptical of "automated" solutions that claim to optimize your Google rankings without any additional effort on your part.
Conclusion
You don't need to know anything about SEO to take advantage of their primary selling point. Additionally, SEO traffic is always more effective than social media traffic since it generates more focused visitors. Your SEO will suffer if you don't utilize all the techniques in the book to enhance it. Through VanceAI, you will get a high-quality photo without experiencing fidddly tasks like using photoshop. AI SEO software happens to be your best buddy when it comes to moving things forward. For the most part, these tools include a free trial period, so you may try them out before committing to buying.
Do you find this post helpful?