10 Stunning Unsplash Alternatives for Breathtaking Visuals
To refresh what is Unsplash, it's a website that provides non-copyright stock photographs shared by all kinds of photographers from around the world. Unsplash has gained a lot of popularity in recent years because of the high quality of images that it provides and also its sheer quantity. Not to mention that the website has a high level of presence on the Internet, especially on search engines, and has a great website design. This website encourages creators to submit their works and allows a few editions to the images. So you can upscale them quality first with Image upscaler. With that said, there are many other sites like Unsplash where you can find absolutely stunning images. In this list, we will take a look at a bunch of alternatives to Unsplash applications. If you are not satisfied with the result, you can use some tools to make photo hd.
Best 10 Alternatives to Unsplash Review
Price: Pixabay is an Unsplash alternative that offers completely copyright-free content such as photos, music, and other kinds of content. You can still donate to your favorite contributors if you want. 
Pixabay is basically a massive online library where users can get all kinds of content, such as images, videos, music, and even sound effects. With over 2 million stock-free images, you can always find something worth using for your own projects. Not to mention that content creation becomes much easier with this application since you can get different kinds of files. The website is easy to navigate as well since you can find trending images on the homepage itself with the main keywords revealed.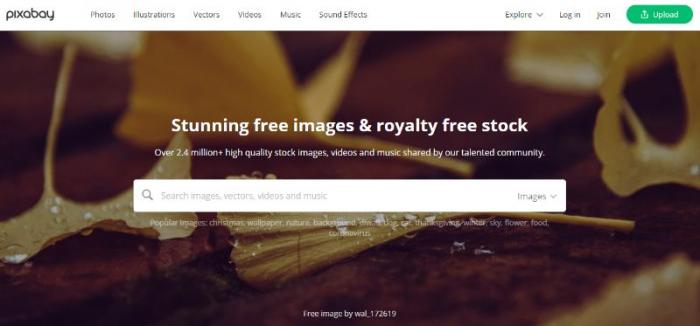 Pros:
Audio content.
An easy to use site like Unsplash.
Huge library.
Cons:
Illustrations can be better.
Some images aren't up to the mark.
Price: Burst is a free-to-use Unsplash alternative website where you can get a wide range of photos on the go. 
Burst is one of the best sites like Unsplash because it is powered by Shopify and has an amazing design where you can specifically search for niche pictures quite easily and quickly. Some images can be of low resolution, but you can always enhance photo with AI-based image enhancers. Here, you can not only get the photos and visuals you need for blogging, social media ads, websites, etc but you can also get useful business from the site's blog itself. These tips are sure to provide you with fresh, creative ideas that you can use immediately. Finally, you can become a contributor yourself with just a few steps.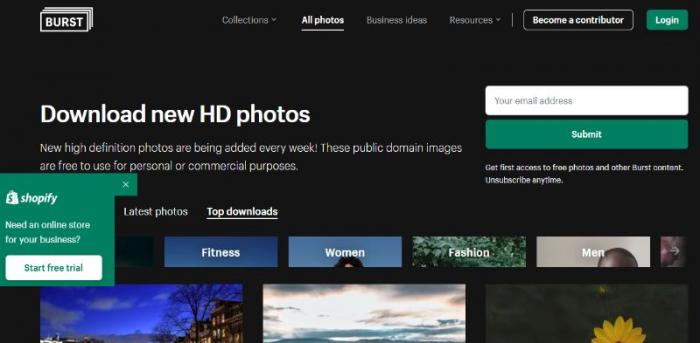 Pros:
Blog and business resources.
Shopify feature.
Great design Unsplash alternative.
Cons:
Not as huge of a library.
Can include more download options.
No specific search options.
Price: You can easily get any image for free with no copyright issues with a simple click. 
This Unsplash alternative website is somewhat similar to Pixabay in its design, considering that users have a featured image on the website daily and it makes good use of keywords to categorize images. You can click on keywords to access all the images that fall within that category. You can also hover over images to see their engagement details such as the number of views, likes, etc. With a simple, free account creation, you can start submitting photos as well and have a chance to be featured.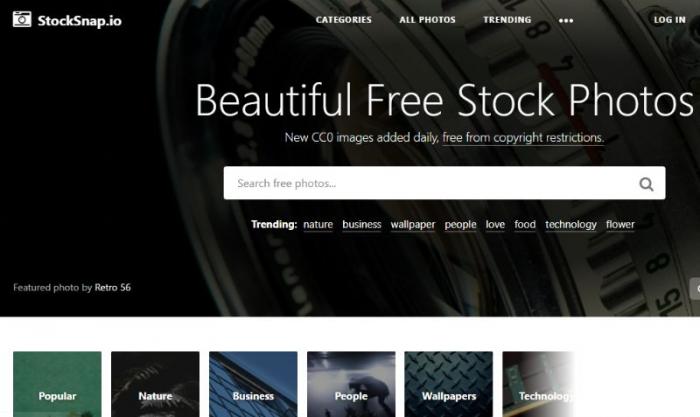 Pros:
Easy to use Unsplash alternative. 
The Trending section is useful.
Submitting photos is quick.
Cons:
Some mediocre photos.
Could have more download options.
Price: This Unsplash alternative website offers absolutely free non-copyright images for all users, which are also usable for commercial use without any payments required. 
This website has some really good designs and unique ways to search for an image. You can not only type directly into the search bar, which is the traditional way, but you can also search images as per their color palettes. If users want an aesthetic image with the color blue, they can simply click on the color. You can also search as Newest, Oldest, and Featured. You can also view the contributor's name below the images, which can help users follow their favorites.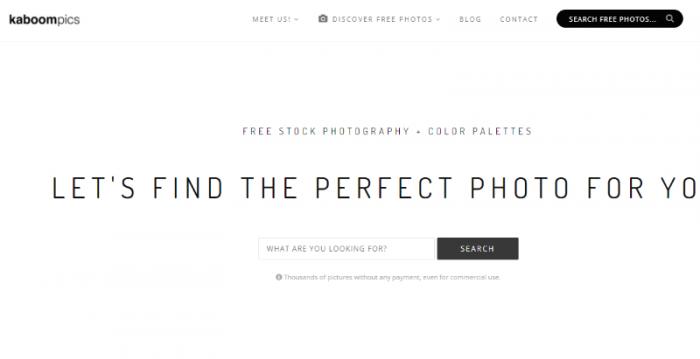 Pros:
Unique search options.
Great UI design.
Easy to use.
Cons:
Could have keywords.
This Unsplash alternative website can be slow occasionally.
Price: This website offers royalty-free images with just a click and you can certainly use them in your own projects without worry.
Although this is one of the sites like Unsplash, there are still a few things that set this website apart. For instance, the website has a unique category called "Whimsical", which has high-quality comedic content. Given how popular such content and memes in general are, users can benefit a lot from browsing through this gallery once daily. You will also find an odd GIF around the gallery. Finally, you can also find great virtual backgrounds for online meetings.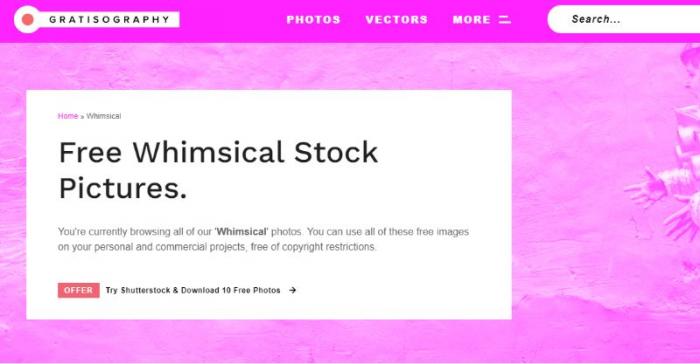 Pros:
Easy to use Unsplash alternative.
Offers vectors.
Unique content.
Cons:
Tougher to find professional photographs.
Needs more download options.
Price: Most of the images you find from this Unsplash alternative website are fully free to use with no issues regarding copyright even for commercial use. However, it has a Premium version that costs $49 and it offers exclusive images.
PicJumbo is an easy-to-use Unsplash alternative where you can scroll through countless pictures through keywords. You can also get images specific to devices such as iPhone wallpapers or even images that have space left especially for text. You can promote your product through this website as well, by signing up for special promotion packages.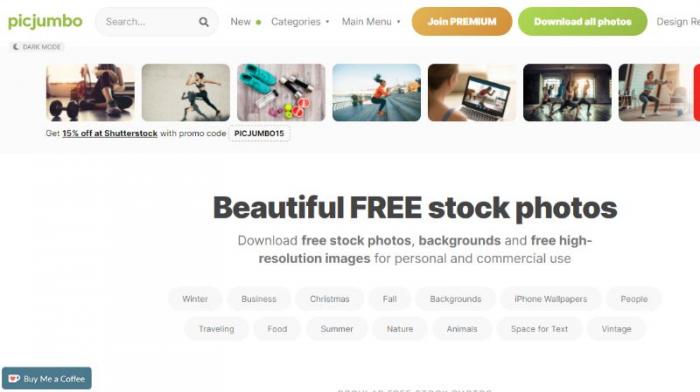 Pros:
Accurate keyword search.
Design Resources is a boost.
Cons:
The premium version is too expensive.
A few categories have fewer high-quality photos.
Price: The free version of this Unsplash alternative website offers a huge number of resources through images and features. However, for complete access, you will need to sign up for the Pro account which costs $10 per month.
With this website and application, you can have features similar to Canva wherein you can create visuals by making use of the editor. You can select specific dimensions for your image, such as Facebook Posts, Instagram Posts, social media stories, and more. Not to mention that users can also get free access to audio files that are usable for free. Finally, you can get tutorials to make the creation process easier.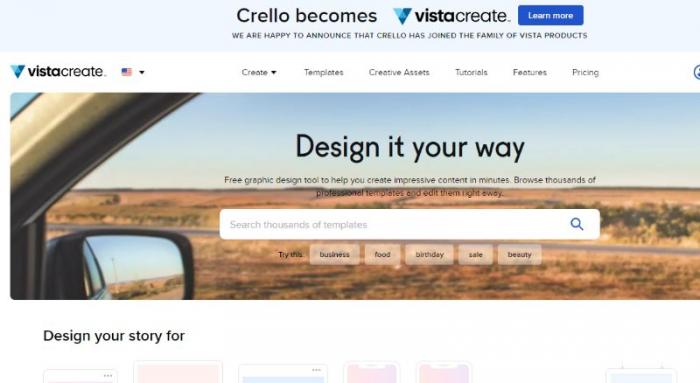 Pros:
Multiple designing options.
Good UI design.
Offer tutorials.
Cons:
Limited free use Unsplash alternative.
Not a vast library.
Price: This alternative to Unsplash is an excellent platform for users who want illustrations and icons along with great images for content creation for absolutely free. 
The main page of this Unsplash alternative website has three main divisions, wherein each showcases Icons, Illustrations, and Stock Images. You can easily put together similar-themed visuals from all of these sections for creative projects or even social media posts. Not to mention that you can download icons in multiple different formats, so there's no worry about incompatible formats. Reshot is the optimal website for creative projects thanks to its high accessibility and quality of content.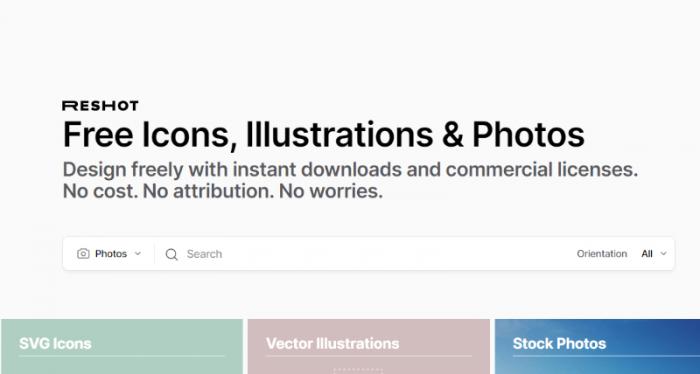 Pros:
Illustrations.
Huge collection of SVG icons.
Easy to use.
Cons:
No specific search options.
The a smaller amount of photos than usual.
Price: This is a free-to-use Unsplash alternative website where you can get images for free without copyright issues.
Although this site like Unsplash is not as detailed as the other alternatives given here, you can get many free-to-use images regardless. There can be some images that are smaller in size, but you can nevertheless use them after processing them through the VanceAI Image Upscaler application online. With the keywords given on the page, you can access specific images as well. Once you click on a keyword, you can see the image appear on the page within a small box. 
Also read: How to Effortlessly Change Resolution of Picture with VanceAI?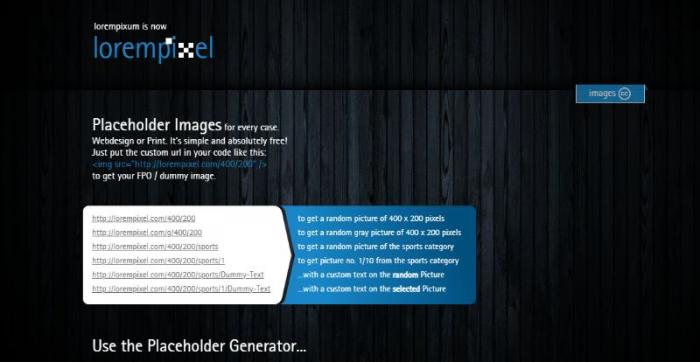 Pros:
Unique design.
Easy to use.
Cons:
Random images are not always helpful.
No search bar.
Could use more features.
Price: Stock Unlimited is an Unsplash alternative website where you can browse any amount of images. However, unlimited purchases need a paid account, starting from the price of $19. 
This huge library has many kinds of content for users to access, similar to Pixabay. With this site like Unsplash, users can get access to different kinds of vectors, audio files, fonts, and more. The website has more than a million visuals for users to browse through. You can access various kinds of content through keywords that range from people to business. The main keywords also have more specific keywords within them that users can use to get even more specific results.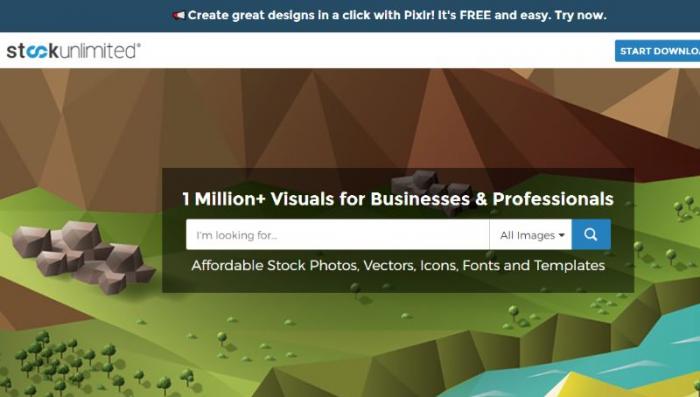 Pros:
Easy to use.
Specific search options.
Offers vectors, icons, fonts, etc.
Cons:
Can be slow.
Limited free use.
Conclusion
Visuals are undeniably the biggest selling point of your business, brand, or representation and so, it is crucial to have the best possible images working for you. Thankfully, these copyright-free websites similar to Unsplash will give you plenty of options or images to choose from. Take your time to explore each website and decide which works best for you.
Last but not least, if you are a professional photographer living for selling your artwork or you are just a beginner eager for some additional income besides your main job, then why not use photo enhancer tools to simplify your workflow and leave more valuable time for conception design.
VanceAI PC is full-featured desktop software developed by VanceAI that lets you instantly process local photos in bulk with more customization options, which will significantly simplify your workflow and boost your productivity. Free Download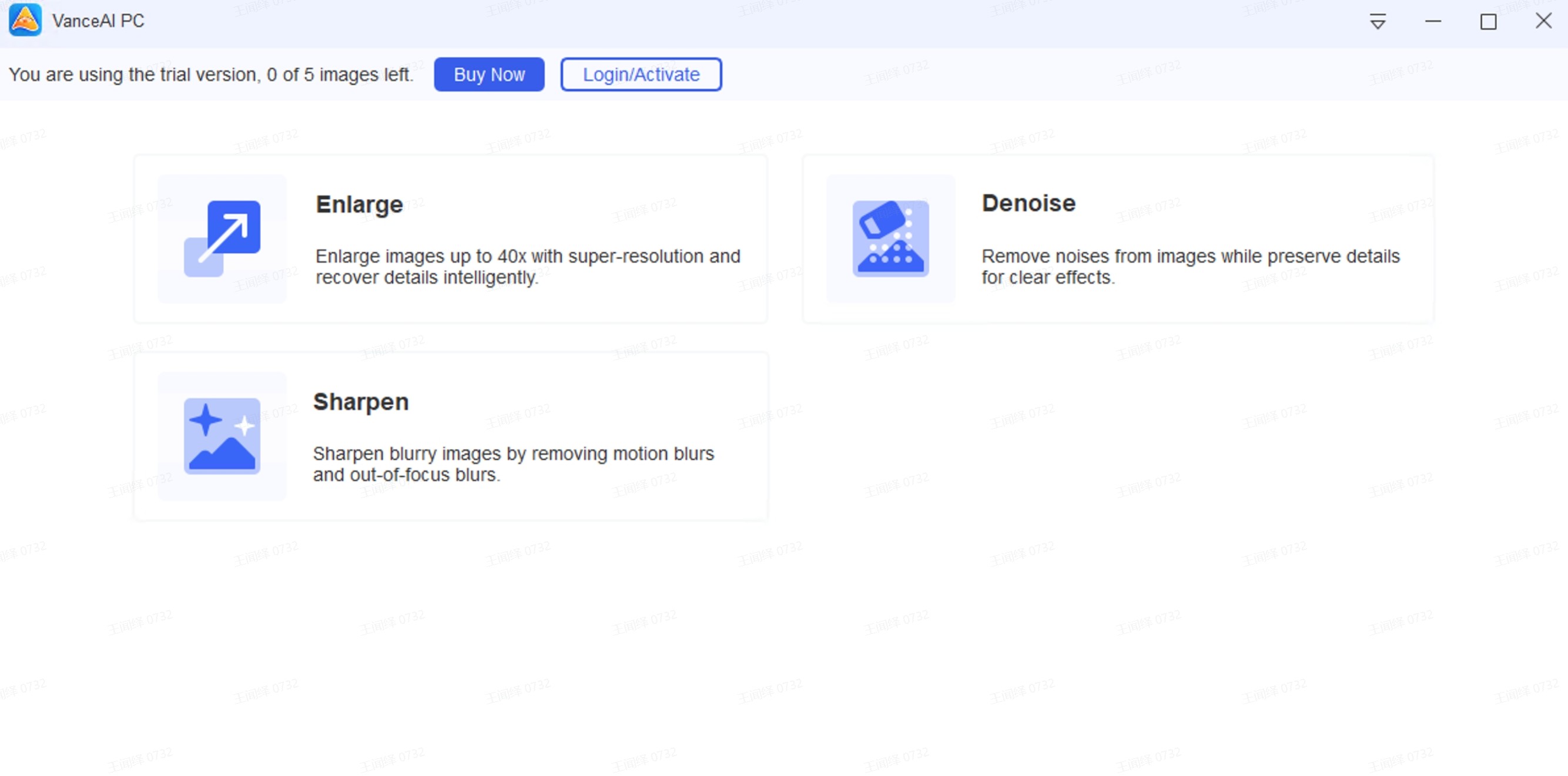 Do you find this post helpful?
Read More to Know Deeper: