We cannot miss sunset photography when talking about photography, especially outdoor and landscape photography. Sunset nature photography is a somewhat challenging type of photography but also one of the most rewarding. There is nothing much that beats the natural light of the sun and the effects it creates. In this guide, we will share some essential sunset photography tips and techniques that you can use whenever you want to engage in sunset photography. To get started with a common tip which is useful for all kinds of photography is post-processing. Making use of image enhancer tools like VanceAI can improve your already great photos further.
Best 10 Tips for Sun Photography
1. Make Use of the Rule of Thirds
The rule of the thirds is really not as complicated as it sounds. It merely suggests that the focus object in your frame should be at the third frame or grid rather than in the center. Of course, this is not a rule that absolutely must be followed, since there are chances that your composition would look much better with the sun in the center. However, the rule of the thirds does have higher chances of being the optimal choice.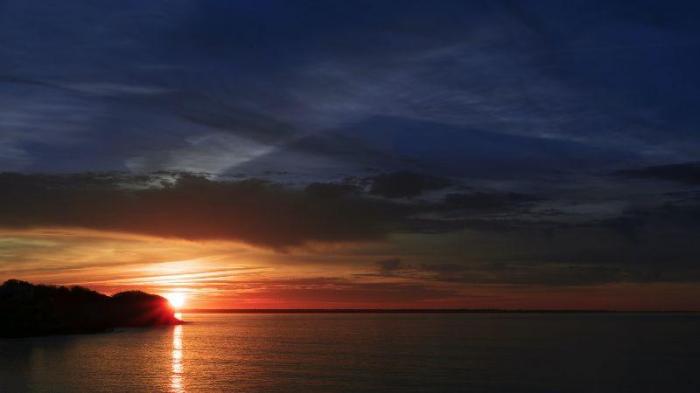 This composition has an exponentially better lighting and ambiance to it due to the rule of the thirds. If the sun were to be positioned in the center, the same effect couldn't have been achieved. Not to mention the added effect this sunset photography achieves because of the cliff.
2. Be Aware of Where the Sun is
As you probably already know, one of the aspects that makes sunset photography challenging is the time constraint. The sun doesn't keep on lowering forever, making it important for the photographer to be aware of the sun's position as well as time. When it is done right, you get a lot of options for sunset photography. Since the lightning also changes as per the sun's location and time of day, you can then experiment around with different angles and landscape point of views as well.
The lighting and the color as seen from the ocean and the sky comes across as exclusive. The reason for that is the time. It would be highly difficult to experience a scene like this at any other time during the sunset.
3. Take Caution of Lens Flare
Lens flare is not only an issue with sunset photography, but any photography that potentially involves another solid source of light. Lens flare can completely break the composition that you are going for. Luckily, there are multiple ways of combating this phenomenon. Of course, the most natural and obvious one is to have your frame away from the sun, something like a rule of thirds. If that's not possible, you can take the photo and post-process it through software apps like the AI image upscaler.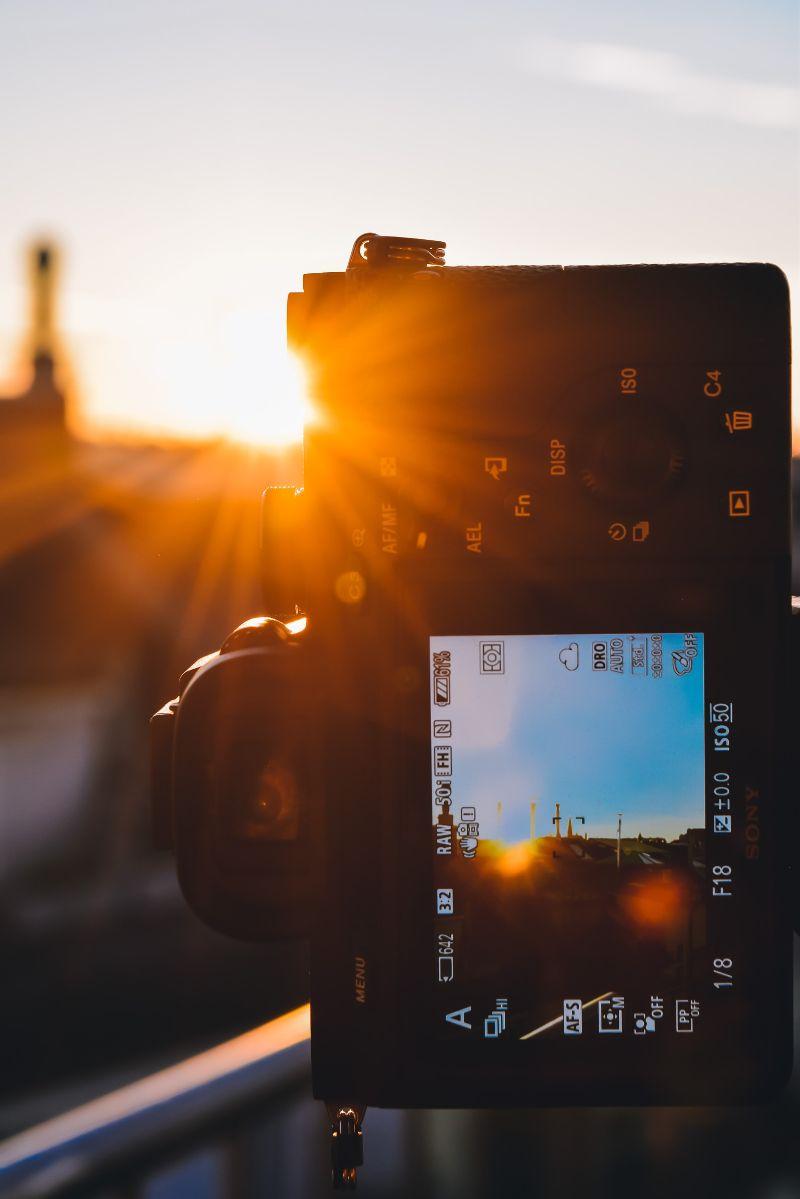 This picture is a really good demonstration of using the camera settings to minimize lens flare as much as possible. As you can see, it is possible to view the scenery through the camera much more clearly.
4. Be Punctual and Attentive
Another one of the most common but pertinent sunset photography tips is to always arrive at the chosen scene as early as possible. Not only that, it is equally important and beneficial to stay all the way till the end. The reason for this is that during sunset and sunrise, the lighting we get from the sun is rather dynamic. Therefore, as a photographer, you get plenty of different effects and scenes to capture. Not to mention that when the sun is almost down the horizon, you tend to get the most unique views of nature. Also, take multiple photos of any scenery you find attractive.
5. Be Open to Experiment
Whether the type is photography sunset, sunrise, or even indoors, experimentation is something that always counts and brings in perspectives never thought of before. This extends to having your auto settings in your camera turned off. When you take photos with all kinds of different camera settings, you are bound to come across some astonishingly good compositions, though there will be other few that look strange. You can play around with different apertures, shutter speeds, and more. You can also go around and focus on the sun completely or perhaps a scene or an object in contrast to the sun.
6. Make Use of a Tripod
A tripod is an amazingly useful tool for most types of photography, and the same applies to sunset photography as well. When it comes to most sunset photography compositions, the frame will not only have the sun but also the surrounding nature. Also, if you happen to have dynamic movements in the frame, such as the waves in the ocean or swaying trees, a tripod can be essential to capture that with utmost quality and make photo hd. Additionally, taking a timelapse of the entire sunset yields much better results with a tripod as compared to anything else.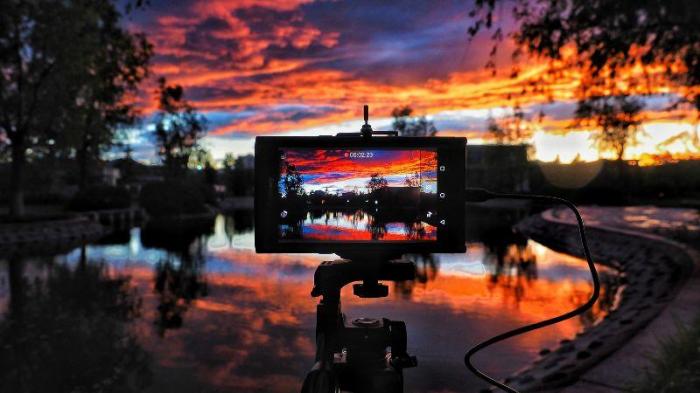 The tripod adds the much needed stability and consistency to your sunset photography.
7. Try Various Focal Lengths
For this, it is also important for you to judge the scenery and landscape before changing the focal lengths. Similar to other camera settings such as shutter speeds, ISO, and filters, there are a ton of focal lengths that you can implement for sunset images photography. If you want to capture the entire scene along with the sun, then ultra-wide angles are more suitable. Otherwise, there are also instances where your area of focus is relatively narrow. In such cases, switch the focal length from ultra-wide to something else.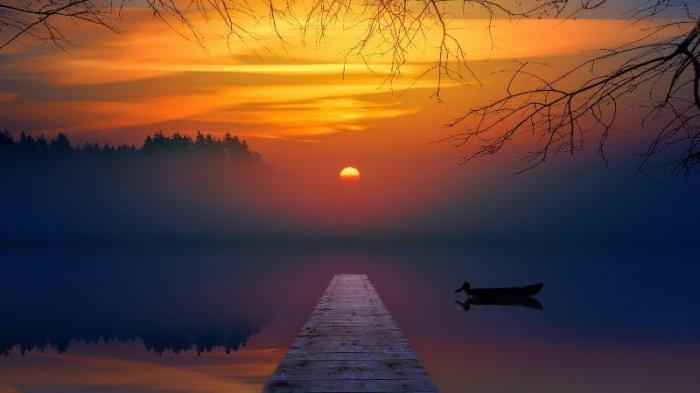 The change in focal length here creates a scene that is focused and detailed.
8. Take the Surroundings into Account
When you are engaged in any kind of photography, the bigger point of it all is to get a great picture. In case of sunset photography, the sun may be the main subject of your frame, but be open to shifting the focus on the landscape if it brings a lot to the composition. However, the key is to balance everything. Even though the landscape or the sky might look absolutely flawless, they don't work well individually as opposed to together.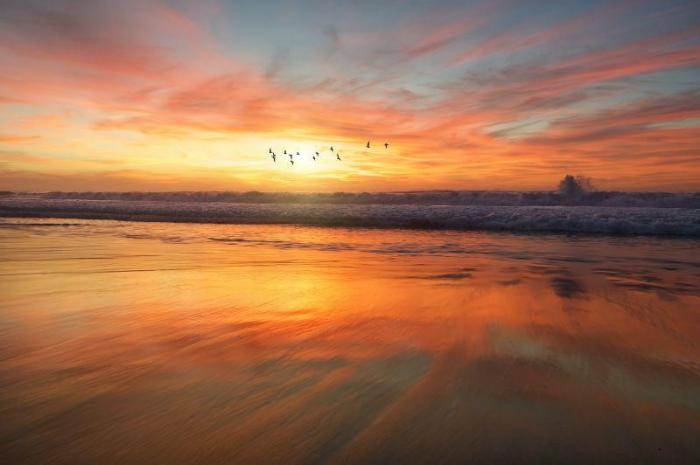 This is a highly rewarding sunset photograph to look at because it not only highlights the sunset but also the birds and the ocean, which make the composition feel alive.
9. Use Auto Exposure Lock
The auto exposure lock can be of great assistance, especially when you are trying to take photos with a lot of light, such as sunset photography. What the auto exposure lock does is that it locks or holds down the exposure levels in the frame and makes it available to use anywhere. This can be a great help to beginners who are unsure of how to go about sunset photography. Also, using this feature lets you avoid many issues that come from sunset photography. Lastly, you can utilize AI upscale image to correct and fix issues from sunset photography.
10. Turn off Auto White Balance
Photographs nowadays have many settings and aspects that you can change around with a simple click or slide of the bar. One of those aspects is the temperature of the image. The temperature dictates the overall color and feel of the visual. The cooler temperatures lead to colors close to blue whereas warmer temperatures lead to colors close to red. You can experiment with both to give an image different vibes. If you are aiming for a silhouette effect, it is better to turn up the temperature of the image.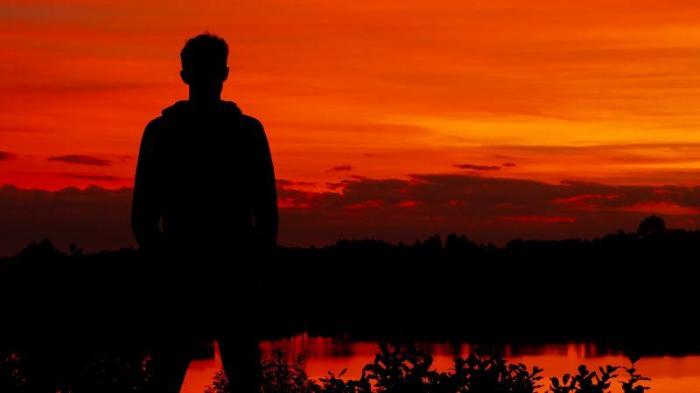 Also read: Top 10 Best Tips for Horse Photography
Conclusion
Sunset photography is a diverse kind of photography and includes many factors, such as timing, location, and different compositions. Sunset photography is challenging but also presents many opportunities for photographers to get creative. With these tips, you can get a better idea of the nature of sunset photography and how to go about it. You can also try these tips one by one to compare the outputs each time. Also, ensure that you post-process your images after capturing them through valuable software apps such as Photoshop and VanceAI.
Do you find this post helpful?
Yes
No