How to DIY Your Phone Case Sticker Pack with Best 5 Ways?
Having phone case stickers or a phone case sticker pack can be really cool since they add a personal touch to your mobile phone in a very simple and efficient way. You can not only show off your personality but also protect your phone. Of course, we are certainly aware of phone case stickers but in this guide, we want to take a different route and show you DIY phone case stickers. Also called as custom phone case stickers, they allow you to craft with an image enhancer like VanceAI, print, or simply purchase phone case stickers by yourself. Meaning, you no longer need to settle for the phone case stickers that are overly common and mainstream.
How to DIY Your Phone Case Sticker Pack with Best 5 Ways?
Price: Since this website is primarily an online shopping store for custom phone case stickers and more, there is no price for using the website. Payments only occur for purchases on the website.
Daraz is a website that has a really great collection of custom phone case stickers. It resembles most online stores so users won't have much trouble navigating through it and finding their ideal custom phone case stickers. Moreover, the website features phone case stickers and covers from all the popular brands, including Samsung, Xiaomi, Huawei, and many more. The phone case stickers also come with additional options for users. They can switch between multiple colors to add a bit of customization to their purchase. As for the stickers, you can find a decent variety of stickers that are royalty or space related. Apart from that, there comes some fancy AI Portrait Generator, making fancy selfies at a fast speed. Get to know more about it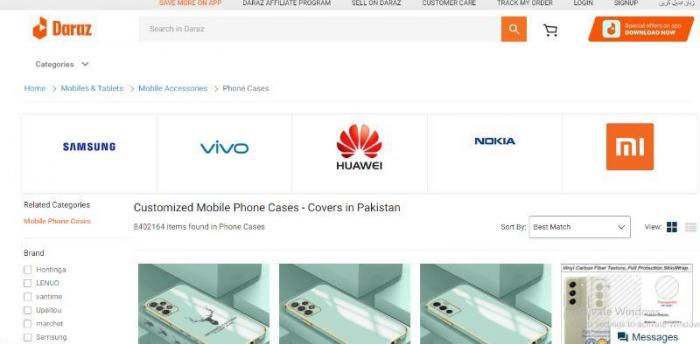 Pros:
It has many phone case stickers.
Easy to navigate.
Offers some good features.
Cons:
You can't decorate phone case by yourself.
Could add more brands.
The website can be slow at times.
Price: The printable phone case stickers online platform offers multiple paid options, depending on your order type. A typical purchase of a 4" sticker costs $4.99 and goes upwards. More interestingly, there are also some popular Vtuber Maker which use similar technology. Try it if you like.
This custom phone case stickers website offers users a lot of options when it comes to all kinds of stickers. Here, you can not only make adjustments in the type of sticker but also sizes, as its collection of stickers starts from the little size of 4 inches only. You can also order phone case stickers in bulk. A collection of 20 stickers, for example, can be ordered for about $9.99 only. To ensure better quality, it is suggested to enhance photo first. In that case, best possible details and super HD outputs can be produced for you. These stickers can be removed without residue, you can write on them with permanent markers, are waterproof, and more. Not only that but you can contact their team to make a design of your own with ease.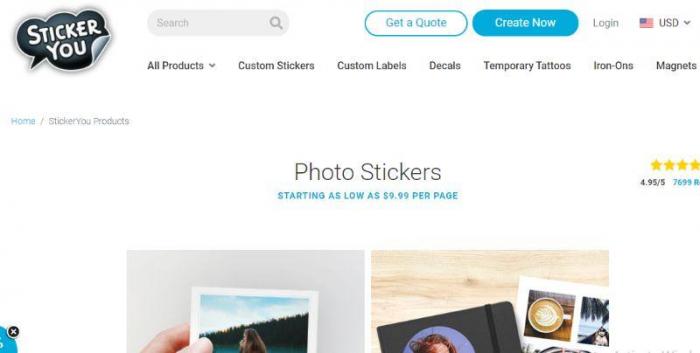 Pros:
Offers many useful features.
Detailed and customized paid options.
Smooth and efficiently working website.
Cons:
Giving orders for special designs can be tedious.
The website can add editors.
Can show some example stickers on the web pages.
Also read: Best 10 T-shirt Mockup Generators Review
Price: Similar to the previous phone case stickers website, Carstickers offers a varied set of paid plans that depend on your type of order. The smallest size offered is 3x3 inches for a price of $0.43 for each sticker. Besides that, more people also seem to be interested in AI Face Generator. You can know more from the link.
This phone case stickers website is an excellent place for anyone who would like to create a bunch of family photo case stickers and view other types of creative designs on the website. When it comes to phone case stickers, the process is easy and mostly automatic. Users only need to upload an image and adjust a few preference settings. You can then add text, add cliparts, QR code, etc. The tool will remove the background for you as well. The website also displays many examples of family photos being implemented as stickers on various objects such as mobile phones, laptops, water bottles, and more. If you have some old photos, isn't it a good way to print them on your phone to keep your memories alive? Of course, the photos would be better in high quality with an online old photo restoration processing. Moreover, you can not only choose the quantity and size, but also the material of the stickers.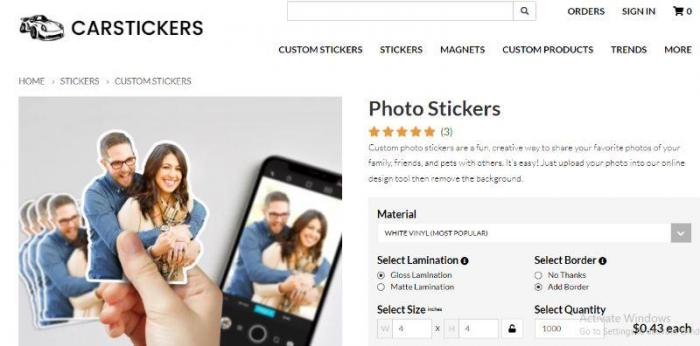 Pros:
Comprehensive website.
Offers designing and customization options on-the-go.
Great pricing system.
Cons:
The UI can be done better.
The editor can be slow.
A tutorial could be added.
Price: The Sticker Maker phone case stickers mobile application can be installed and used for free though it contains ads and in-app purchases. Those purchases usually range from $2.99 to $4.99, depending on the purchase.
This mobile phone case stickers application takes a slightly different route than other similar apps. With this app, you can make a collection out of your already existing content. This content includes photos, GIFs, and videos as well, though the videos are supposed to be really short. If your photos lack in quality or are too small, you can use the AI image upscaler first before uploading. By extension, this also means that you can upload new photos and content from your phone into the app to add them into the collection. You can then use these stickers in your chat, such as WhatsApp instantly. However, make sure that your app and WhatsApp have the latest updates. There also comes some great AI cartoon generator that makes cartoonish stickers become an easy thing.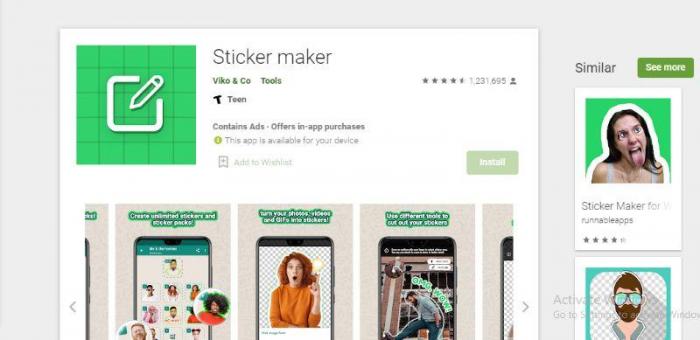 Pros:
Unique concept for stickers app.
Can add videos and GIFs.
Integrates with WhatsApp well.
Cons:
Could add support for more chat apps.
Can be buggy at times.
Can add an editor mode.
Price: The amount that you pay for the stickers depends on multiple factors. They are priced according to their shape, size, and quantity. A 2x3 singular square sticker costs $9.96.
This website is filled with design templates as you would see at the home screen itself. You can choose from any of those templates to customize your own design. These templates all have a section dedicated to your image. Once you click on any template, you can then upload an image and add text in other sections to make an overall phone case sticker.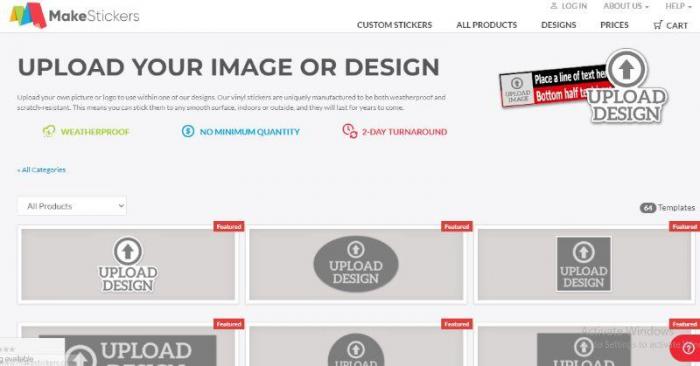 Pros:
Great templates.
Offers many options for customization.
Comprehensive pricing system.
Cons:
The website can be slow.
The editor can have more tools.
Could add search filters.
Conclusion
Phone case stickers are an amazing way to personalize your phone without having to spend excessive money. With these websites and applications, you can decorate phone cases with ease. You can also customize their sizes, quantity, and material in great detail. With an application like the VanceAI, you can enhance the quality of your photos and then upload them for making designs. Websites such as Carstickers and MakeStickers are the best if you want to order a bunch of stickers and make designs directly on the website itself. Later, you can use those stickers to make a collection out of them by using the Sticker Maker mobile application and use them on chat apps such as WhatsApp.
Do you find this post helpful?
Read More to Know Deeper: