Compressor.io Review
Compressor.io is one of the compress.io websites that automatically adjusts image size according to the user while maintaining its quality. However, it does offer different types of conversions which includes lossy and lossless both. Furthermore, Compressor.io supports multiple file formats such as JPG, PNG, SVG, WEBP, etc.
How to use Compressor.io?

1. Click on Compressor.io to reach the website where you can convert image size automatically.
2. You can select the type of conversion from the tab situated on the right hand side. Lossy indicates more compression with less quality whereas lossless will compress less but save quality and make photo hd. Click on Select Files.
3. The details of your image will appear just below the tab. Click on Download All to save the image or images from Compressor.io.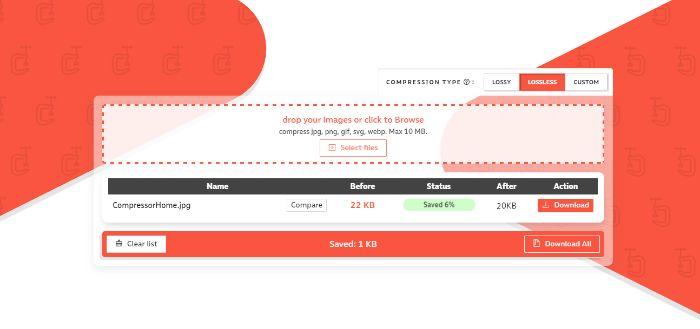 How to use VanceAI Image Compressor?
1. Use this link to access the VanceAI official website online and once you find the page VanceAI Image Compressor,click on Upload Image. You can also drop images directly.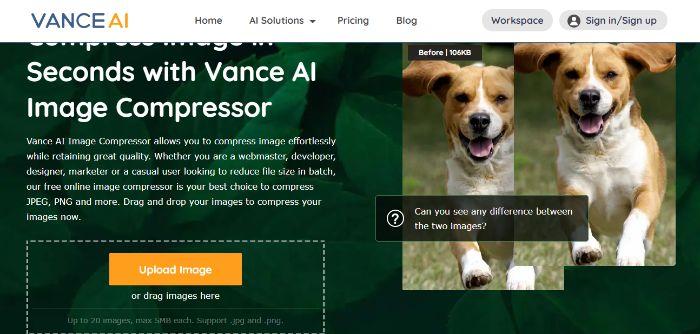 2. The application will process your image under the Processing tab open in the Workspace.
3. Go to Processed and use the Download option on the right of the image to save the image. Also read: How to Reduce Image File Size with VanceAI Image Compressor.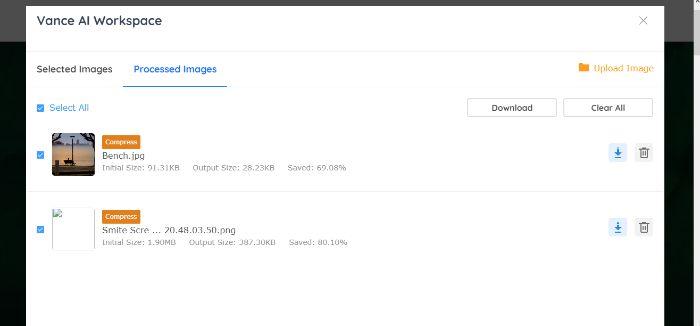 Compressor.io vs VanceAI Image Compressor
1. Compression Features

Though Compressor.io offers more features such as the options to choose the type of compression you want, VanceAI offers better performance. Apart from that, if you purchase the VanceAI subscription, you can make use of batch processing and a bunch of other features not present in Compressor.io.
Also read: Find out about the Best Tools to Compress JPEG.
2. Supported File Formats
When it comes to which tool supports more file formats, Compressor.io is the answer as it is compatible with not just JPG and PNG, but also with SVG, GIF, WEBP, etc file formats. Though you shouldn't have much issue with VanceAI's image compressor, which supports JPG and PNG, since they are the mainstream formats, you can use Compressor.io if you come across an odd format.
3. Free Credits
Compressor.io does not mention the credits it offers for free though it has a paid version that costs a minimum of $50 per year for one user. The AI Image Compressor offers 100 credits when it comes to compressing images only. Additionally, every free user is reimbursed with credits each month so you can keep using the free version for a long time.
4. Other Editing Features Like Flipping, Cropping Images and More
Both tools do not offer much for editing features unless paid for. If you have the Pro version of Compressor.io, you can set the width and height of the image beforehand. You can also set the image quality if the image is JPG, PNG, or WEBP. Now, although VanceAI Image Compressor does not offer much, you can make use of other VanceAI tools such as the image enlarger, photo colorizer, image sharpener, and more. Overall, there are more options with VanceAI.
Conclusion

Image compressing is essential for storage space saving and increasing load times for websites and similar pages. While both of these tools offer great results, the final decision boils down to user preferences and needs. VanceAI offers better quality with more features through other VanceAI tools whereas Compressor.io has better compatibility.

Do you find this post helpful?
Yes
No