These days anybody can take a picture at a moment's notice thanks to the magic of modern smartphones. But just because everybody has a camera in their pocket at all times, that doesn't necessarily mean that everybody is a professional photographer. Sure, snapping a pic is easy but taking a high-quality photo requires a bit of skill and talent. Not to mention a steady hand. Otherwise, you may find yourself with a lot of blur that ruins the people or objects you were trying to capture.
There's no need to worry, though, because it this article we're going to teach you how to make a blurry picture clear using a very special tool known as Vance AI Image Sharpener. While this tool probably won't make you a better photographer per se, it will definitely help improve the overall quality of any pictures you decide to capture. But before we jump into the tutorial section of this article, let's talk a bit about the tool itself and what it can do.
What is Vance AI Image Sharpener?
How to Make a Blurry Picture Clear with Vance AI Image Sharpener
Plans and Pricing
Final Thoughts
What is Vance AI Image Sharpener?
The Image Sharpener tool is just one of a series of products developed by Vance AI. The company specializes in photo editing and image manipulation software, as well as technologies powered by artificial intelligence. As it turns out, this is quite a potent combination that yielded some very interesting products. In addition to the image cleaner we're covering today, Vance also has AI-powered solutions capable of removing backgrounds or noise from an image, enlarge it without compromising the quality, and more.
As far as Image Sharpener, in particular, is concerned, the tool uses advanced proprietary algorithms to remove artifacts, halos, and other imperfections from images. Generally speaking, it would take a lot of painstaking work to clear an image using conventional software, not to mention quite a bit of technical expertise. But with Vance AI Sharpen you don't need to do much of anything because the process is automatic. Naturally, there are a few steps involved but they are extremely simple and intuitive. Speaking of which, let's take a closer look at how to make a blurry picture clear using the tool to sharpen image.
How to Make a Blurry Picture Clear with Vance AI Image Sharpener
1. Visit the Vance AI official website and go to the section of the top menu labeled 'Solutions'. Open the dropdown menu and select the Image Sharpener.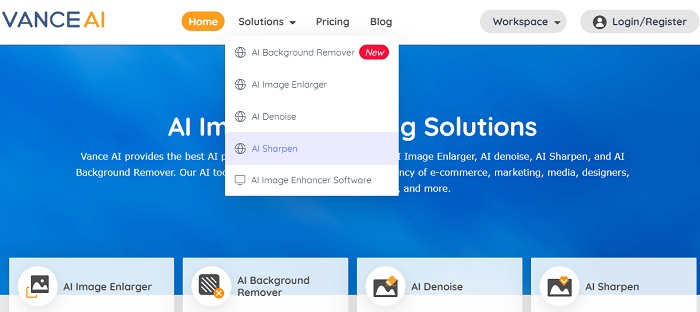 2. Next, you'll want to upload the image you want to sharpen. Hit the Upload Image button and select a picture from your computer. Or if you just want to take a quick look at how the image cleaner works, you can click the 'Sample' tab and choose one of the test images from there. Hit continue to move on to the next step.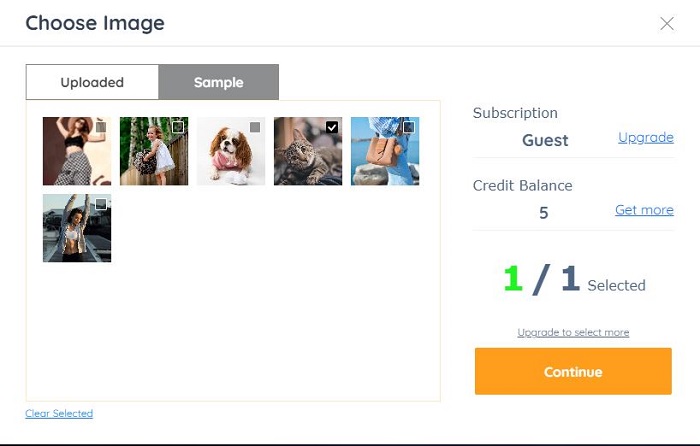 3. The tool will process your image after it was uploaded, giving you a Before and After look at the results. At this point, you can immediately download the resulting image or you can go back and modify it a bit if you're not yet happy with the results. To sharpen image online further, use the slider to adjust the new value, anywhere between 0 and 100 degrees.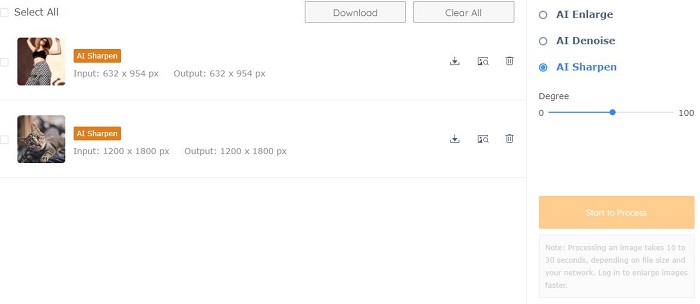 4. This step isn't necessarily part of the process but since you're learning how to make a blurry picture clear with Vance AI Image Sharpener anyway, you may want to also use the Denoise and Enlarge options to improve the quality even further if needed. But if you're happy with the quality as is, simply click the 'Download Image' button and you're all good to go.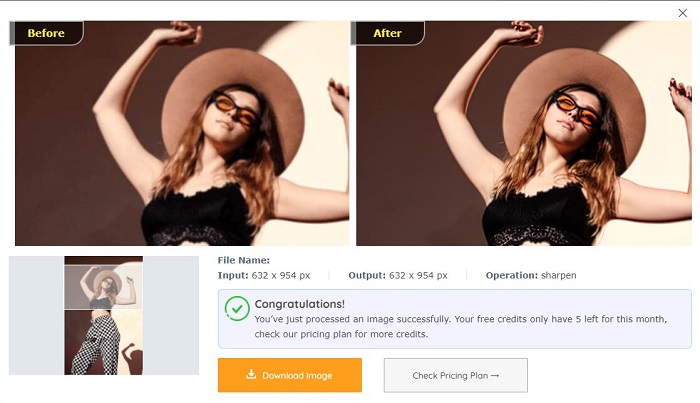 Plans and Pricing
Similar to a lot of other Vance products, AI Image Sharpener can partially be used for free for a limited time but you will need to subscribe to the service in order to unlock all the features. The payment system is pretty straightforward – you get 5 credits per month for free and each credit can be used to process a single image. Once you process a total of 5 images during any given month, you'll need to sign up either for the Basic plan or the Pro plan. The good news is that this is a shared subscription that will give you full access not just to Image Sharpener but also to some of the other Vance tools.
The Basic plan will only set you back $9.90/mo and comes with 200 monthly credits along with a variety of features. Some of the highlights include the ability to process larger images, faster processing speeds, batch processing, early access to new features, 24/5 customer service, and more.
Meanwhile, the Pro plan costs $19.90 and lets you process up to 500 images per month. The features are pretty similar to those found in the Basic plan, except for even better batch processing. Regardless of which of the two plans you choose, Vance is also throwing in a generous 14-day money-back guarantee. All in all, very good value.
Final Thoughts
Vance AI Image Sharpener offers an elegant solution to a common problem that many of us have struggled with over the years. On occasion, a picture might actually look better with a blurred background, but if that effect wasn't intentional, it can just as easily ruin the whole thing. Needless to say, things are even worse when people or objects in the foreground are the ones that are blurred. Luckily, you don't have to worry about any of that any more thanks to this easy to use image cleaner.If you want to know how to unblur an image with Vance AI, click on it to get more details.
We wholeheartedly encourage you to give Vance AI Image Sharpener a shot. We guarantee that you won't be disappointed by what the tool has to offer. It's fast, simple, and the entire process is 100% automatic. Even better, you can try it out for free to see if you like it, so what do you have to lose? Check it out today and thank us later. Click to see how to change image size.