The Lunapic photo editor is definitely one of the best image editors and enhancers that you will find online. Moreover, Lunapic is a free to use application. With the Lunapic photo editor, you can pretty much do anything. From basic tools like image cropping and rotating to sophisticated tools such as image sharpener and photo to art converter, this app has everything. However, there are some design decisions that make the Lunapic photo editor somewhat odd. With that said, let's take a closer look at the Lunapic photo editor in this Lunapic review. In addition to that, we will also give you five solid alternatives or in other words, sites like VanceAI that you can use for your image editing and enhancement needs.
Lunapic Review
1. What is the Lunapic Photo Editor?
The Lunapic photo editor is an old-school styled image editor online that offers a wide range of tools and features for users to edit and enhance their images. While almost all of the photo editors online and even software applications such as Photoshop, Luminar, etc have a modern design, the design of Lunapic comes across as older. However, the Lunapic photo editor online is definitely one of the best when it comes to editing and enhancements. It offers practical features such as resizing images, removing backgrounds, dehazing, etc and it also offers artistic features such as converting photos to historic art styles, color glitch effects, and more.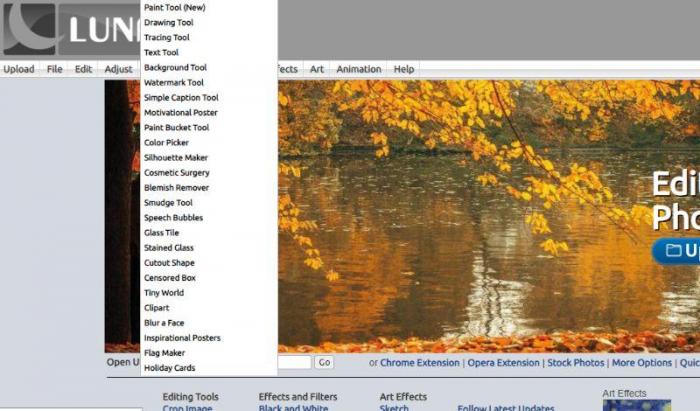 Lunapic is a website platform that doesn't require any kinds of downloads or account creation from the user. The website manages to run completely on advertisements and such, eliminating the need to charge anything from the user. This website is ideal for anyone who wants to try out new ideas limitlessly on an image editor that is sophisticated enough for higher-end projects.
2. Lunapic Features
The Lunapic online photo editor is filled with many useful features and a decent level of accessibility. When it comes to the features, you can make use of multiple image editing tools such as image croppers and automatic croppers as well. Other than that, you can also adjust the image in multiple ways such as by straightening it, rotating it, changing brightness levels, and more.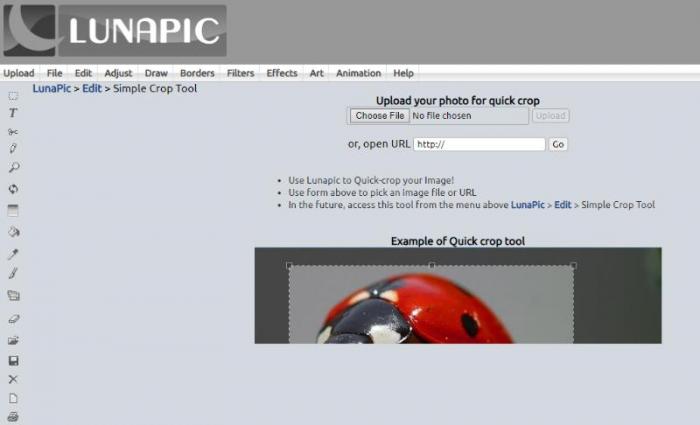 You can otherwise move on over to the creative side with filters, effects, and art styles. You can upload an image and have it themed according to a famous artist such as Van Gogh and many others. These work automatically and completely change the aesthetics of your visuals. You can also add effects on your own to give your images some polishing.
Finally, Lunapic is not only a completely free to use online resource but it also doesn't require users to make accounts or download anything. You can simply just start using the app without worries and it has placed privacy and security measures in place too. So that's the answer for 'is Lunapic safe?'. You can also use Lunapic as an extension to your Internet browser.
Also read: Top 15 Best Instagram Editing Apps Review
Best 5 Sites like Lunapic Photo Editor
| | | | | | |
| --- | --- | --- | --- | --- | --- |
| Application | Price | Quality | Features Options | Support Device | User Friendly |
| VanceAI | $9.99 per month or upwards | High | AI and Deep Learning technologies, one-click solutions, photo restoration tools | Online platform, works on all devices | Easy to use, beginner-friendly |
| Pixlr | $7.99 per month or more | High | Pixlr E and Pixlr X versions, modern design | Online platform, works on all devices | Easy to use, beginner-friendly |
| Fotor | Free to use, $2.67 to $6 per month for paid accounts | High | Basic photo editing tools, useful elements and frames | Online platform, works on all devices | Easy to use, beginner-friendly |
| Canva | Free personal account, around $5 for Pro version or other paid accounts | High | Photo editing, designing, templates, social media posts | Online platform and mobile app, works on all devices | Easy to use, beginner-friendly |
| iloveimg | Free version with limited use, around $3 for paid version | Moderate | Image conversion, resizing, compression, meme generator | Online platform, works on all devices | Easy to use, beginner-friendly |
1. VanceAI
Price: This online photo editing and quality enhancement platform offers three credits per month for free. If you want more credits and features, you can start a subscription starting from $9.99 per month or upwards.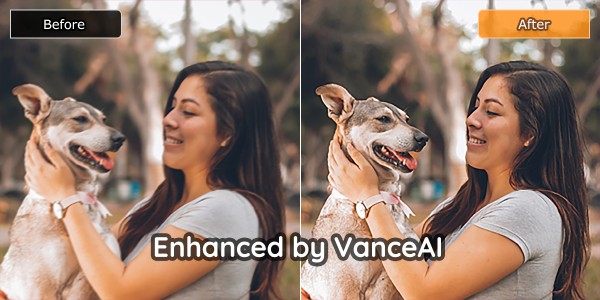 One of the best things about VanceAI, as compared to Lunapic, is that it can favor beginners or quick workers much more than most online websites. The reason for that is VanceAI being powered by AI and Deep Learning technologies and offers one-click solutions, such as VanceAI Image Enhancer. As a result, the application can pull off tasks similar to other sites but faster and with consistently good outputs. Moreover, VanceAI now launches a new photo repair page where you will know more photo restoration tools and detailed steps.
2. Pixlr
Price: You can use this online photo editor for free but they only offer a limited amount of features and tools. To get better access, you will need to pay for a minimum subscription of $7.99 per month or more.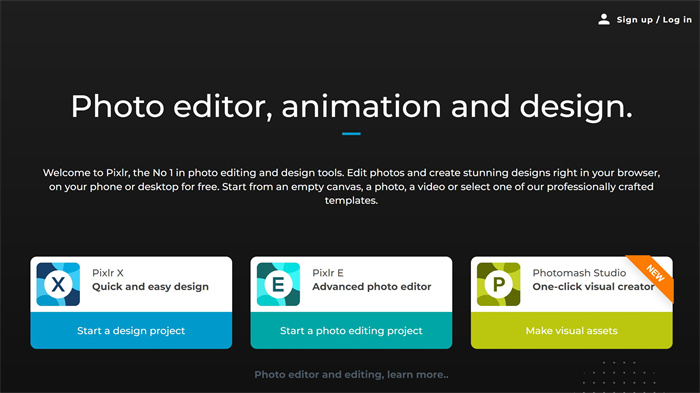 Pixlr can be ideal for any user who would like to have similar features and tools offered by Lunapic but without the old-school type of UI and app design. Pixlr is an automatic photo editor application that has the look and feel of a modern software. Not to mention that it offers two versions of its editors called Pixlr E and Pixlr X. The X version is simpler to use and less sophisticated, ideal for small-time projects whereas the E version is everything opposite.
3. Fotor
Price: Fotor is a mostly free to use online photo editing website application. It offers two paid accounts, costing $2.67 and $6 per month, depending on the plan. The paid accounts offer more features, templates, and stock photos.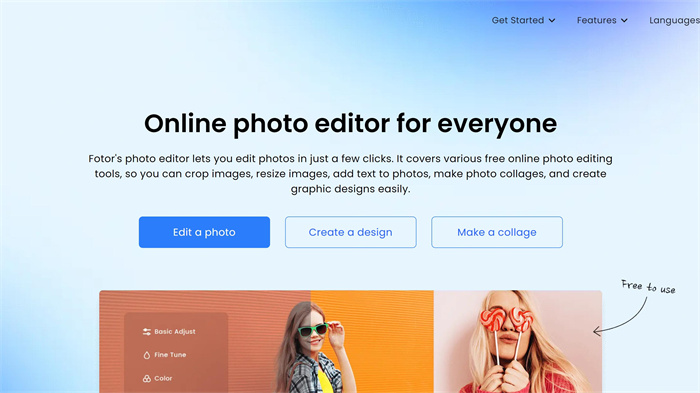 Similar to the Lunapic photo editor, Fotor offers basically all the basic photo editing tools that any user would need. You can crop, rotate, resize, and more with any image. The application is also similar to Canva in the sense that it offers useful elements and frames that you can use to create your own kind of visuals. What makes Fotor reliable and popular is the fact that it does most of the work automatically and supports a wide variety of image file formats. Unfortunately, it is not powerful enough to restore old photos, so it is a good way to bring old photos back to life by clicking the link. Try to read more about Fotor here.
4. Canva
Price: Canva offers a free personal account version that gives you access to most features except the premium content. To access that, you can purchase the Pro version for around $5 or other paid accounts.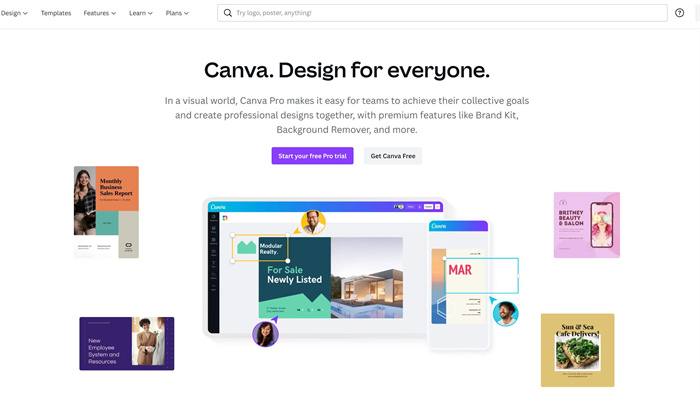 Canva is one of the most popular applications for not just photo editing but also for many other designing projects, such as presentations, templates, social media posts, and many more. It also has one of the best photo editing app designs that makes it really easy and fun for the user to navigate through. It is available on mobile devices as well. With Canva, you can upload images easily, edit them, add text, frame them, and much more quite quickly and easily. But it is not as powerful as VanceAI Photo Restorer that allows you to remove sepia, tears or severe scratches in a single click.
5. iloveimg
Price: The free version of this online platform offers limited use of the features and ads. The paid version costs around $3, removing ads and giving full access to features.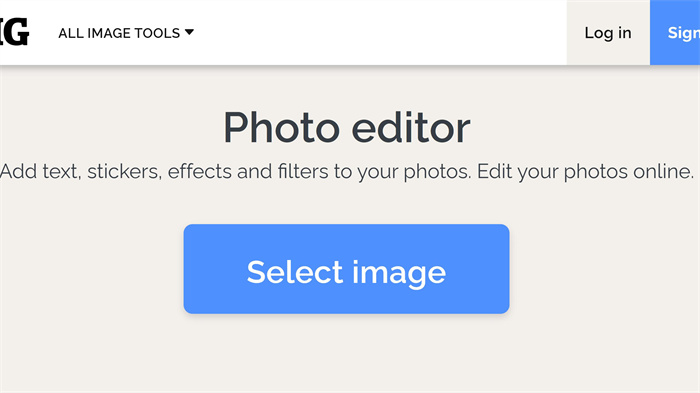 The online application offers a decent amount of features that the user can find pretty useful. You can convert an image to JPG, resize images, compress them, and more. The application itself is easy to use as well, since it only requires an upload and nothing more. The tool will process the image for you automatically. The image editor also has a meme generator, which is rather unique and fun.
Conclusion
The Lunapic photo editor is an excellent application for all kinds of image editing and enhancement. The design and UI of Lunapic can be a bit of an issue for many users though. However, with this list of the best five sites like Lunapic, you can gain access to identical features and benefits of Lunapic without having to deal with the UI. VanceAI and Fotor are pretty good alternatives to help make image high quality if you want automatic image processing whereas Canva offers a much better creative outlet through its wonderful UI and special features.
Most of the photo editors arguably are not good at old photo restoration though they do a good job of editing photos. So you might as well try AI picture restorer that likely makes your photos stand out, especially when it comes to old photos.
Do you find this post helpful?
Yes
No