Birthday parties are all fun and games until you see your pictures and notice visible wrinkles. Don't fret over them as they are a natural part of aging and one cannot get rid of them entirely.
Luckily there are many apps that you can use to remove wrinkles and little imperfections from your portraits. These wrinkle remover apps work wonders making you look attractive and youthful.
What is Wrinkle Remover?
Editing your photos isn't as hard as you think. You don't have to be an editing expert to remove some mere wrinkles and spots from your portraits. By using wrinkle remover apps you can not only eliminate unwanted creases from your face but also enhance your facial proportions to look beautiful and young no matter what your age.
Optimal 10 Online Wrinkle Remover Apps
Here is a list of the 10 best wrinkle remover apps you can use to edit your photos:
| | | | | | |
| --- | --- | --- | --- | --- | --- |
| App Name | Price | Quality | Features Options | Support Device | User Friendly |
| Facetune 2 | Free to download | High | Advanced retouching and face editing tools | iOS and Android | Easy |
| Befunky | Free to use | High | Affordable alternative to Adobe, artsy filters, customizable design templates | iOS and Android | Easy |
| VanceAI | Free to use | High | Remove blemishes from photo professionally, easy-to-use interface | Online and PC | Easy |
| Fotor | Free to use, $8.99/mo | High | Handy editing tools, photo effects, and filters | Online and PC | Easy |
| piZap | Free to use, $3.99/mo | Medium-High | Manageable editing tools, colorful stickers, impressive fonts, and stunning filters | Online and iOS, Android | Easy |
| Visage Lab | Free to use | Medium-High | Skin makeup filter, wrinkle-smoothing filter, eye makeup filter | iOS and Android | Moderate |
| Fixthephoto | $15-$20 per photo | High | Fast and instant results, DIY editing tips, discounts on over 50 pictures | Online and PC | Moderate |
| iPiccy | Free to use | Medium-High | Easy to learn and understand, semi-automatic instant touching | Online and PC | Easy |
| Pixelmator (Mac) | $39.99 | Medium-High | Simple tools for removing wrinkles, scars, and blotches, reshaping and softening different areas of the face | Mac | Easy |
| WidsMob | Free trial, One-time purchase, subscription | Medium-high | Skin editing tools, portrait enhancement, supports multiple formats | App | Easy |
1. Facetune 2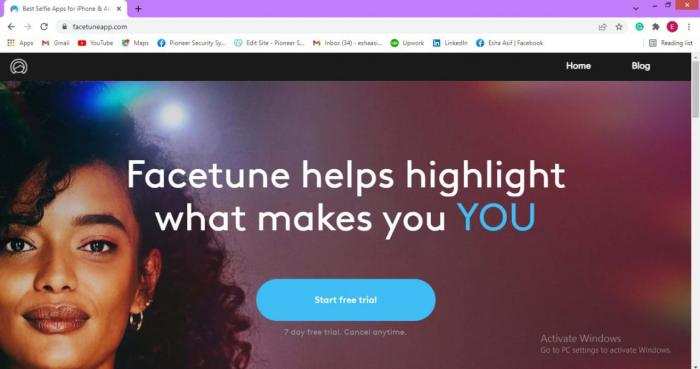 Facetune 2 claims to be the number 1 selfie editing app. It has cool features and easy editing tools. In addition to removing wrinkles and blemishes from your selfies effortlessly, you can also control the lightning, whiten your teeth or try out amazing makeup filters. Facetune gives you the confidence to share your photos on social media platforms knowing that you are displaying the best version of yourself.
You can download it for free from Appstore or Google Play. To avail of additional features and more powerful editing tools, you can also subscribe to VIP on a monthly or yearly basis.
Pros
User-friendly interface
Advanced retouching and face editing tools
Cons
Requires subscription for many features
2. Befunky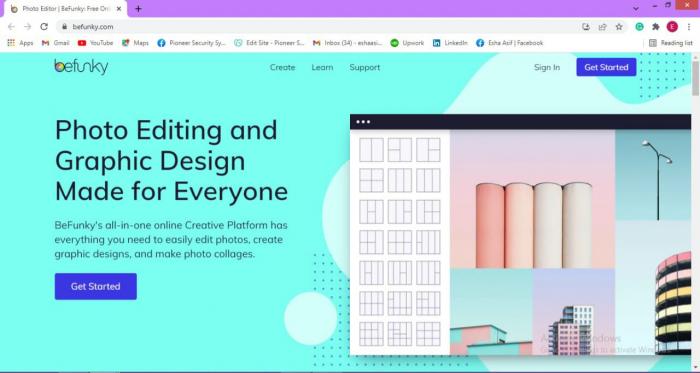 Befunky is one of the best online wrinkle removing apps. It is an all-in-one editing platform where you can not only edit your portraits but can also make collages and graphic designs. It has innovative digital media tools with easy application. You can easily crop and resize your photos, turn your photos into art by using artsy filters, remove backgrounds, get high-quality free images, customizable design templates and retouch your portraits with great precision. Click on Befunky and you will know more.
Pros
Available on both iOS and Android
Affordable alternative to Adobe
Easily add on artistic effects
Cons
No feature of comparing old image with the new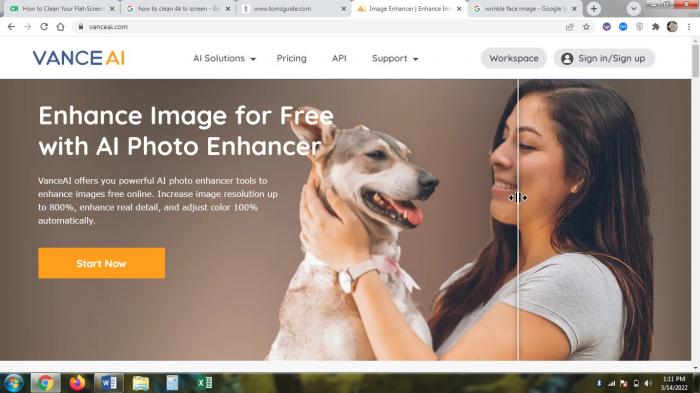 Looking for a practical wrinkle remover app? If yes, then VanceAl Portrait Retoucher is the right choice for you. Most photo editing apps have a long turnaround time but it's not the case with this app. Retouch me fixes your photos professionally in less than 15 minutes.
There is no need to be an expert in editing, the simple user interface of the blemish remover helps you remove wrinkles and discolorations from your portraits with a single click and even whitens your teeth. Get a free subscription now to have quick access to all features.
VanceAI PC is full-featured desktop software developed by VanceAI that lets you instantly process local photos in bulk with more customization options, which will significantly simplify your workflow and boost your productivity. Free Download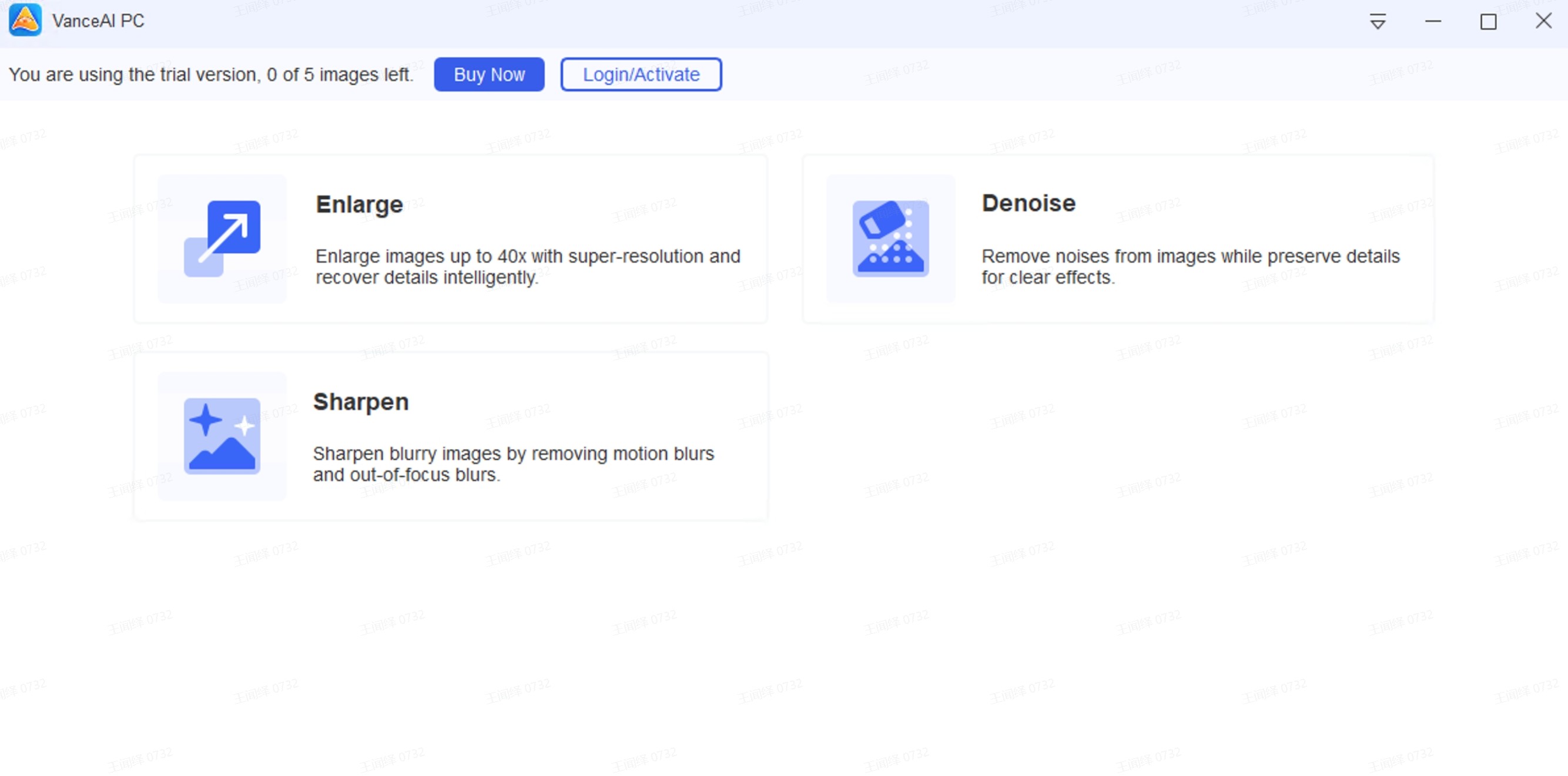 Pros
Cons
Can't edit photo manually
4. Fotor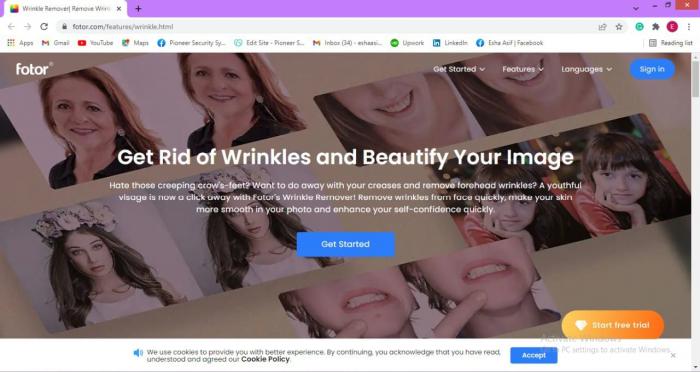 You can easily polish and beautify your portraits using Fotor's free wrinkle remover photo editor. Handy editing tools, photo effects, and filters remove wrinkles from your face instantly, make your skin smoother, and boost your self-confidence.
By using the Blemish fix, wrinkle remover, blush, weight loss, and teeth whitening tools you can convert your average pictures into the most beautiful ones.
Pros
Offers impressive features in its unlimited free trial
Supports both online and offline usage
Cons
User interface not up to the mark
5. piZap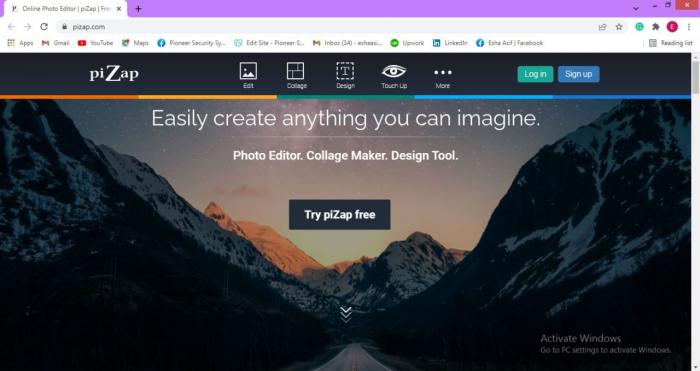 Editing your photos is easier with the piZap photo editor. You can choose from over 1000 designs to make photo collages and use manageable editing tools to remove your forehead wrinkles or scars and lacerations.
This forehead wrinkle remover app also provides thousands of colorful stickers, impressive fonts, and stunning filters. Crop your images, rotate, adjust brightness, apply futuristic filters or frames to create masterpieces.
Pros
Add text along with photos to make a scrap or a comic
Editing can be easily saved and shared on Facebook
Cons
6. Visage Lab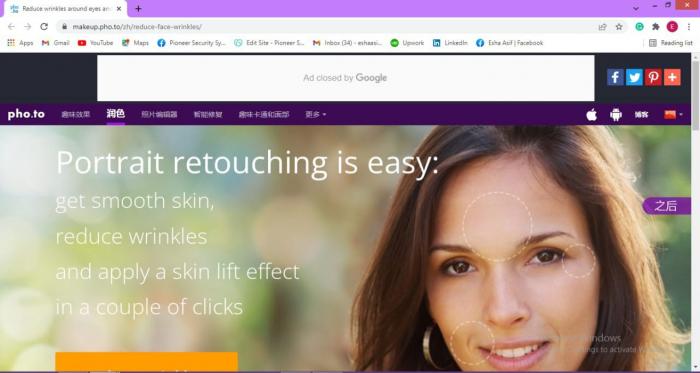 With over 30 million users Visage lab is undeniably a very famous and reliable wrinkle remover. By using Visage Lab you can easily retouch your portraits by applying a skin makeup filter, shine remover, and removing your wrinkles by a wrinkle-smoothing filter, eye makeup filter, and many more. The only con of the app is that it is a bit challenging to download the edited pictures.
Pros
Can compare the original photo with the edited one
Help add a bit makeup
Cons
7. Fixthephoto
With 17 years of experience, Fixthephoto is the most trusted professional photo editing providing services worldwide. You simply need to upload photos in the app, write your preferences as to how you want the final photo to come out and the special experts will do the rest.
The app enhances body shapes, skin texture and removes all the unwanted wrinkles and imperfections making you look like a model. Amazing features like stray hair removal and make-up correction ensure the best user experience.
Pros
Fast and instant results
Shares DIY editing tips
Discount on over 50 pictures
Cons
Costs higher than alternatives
8. iPiccy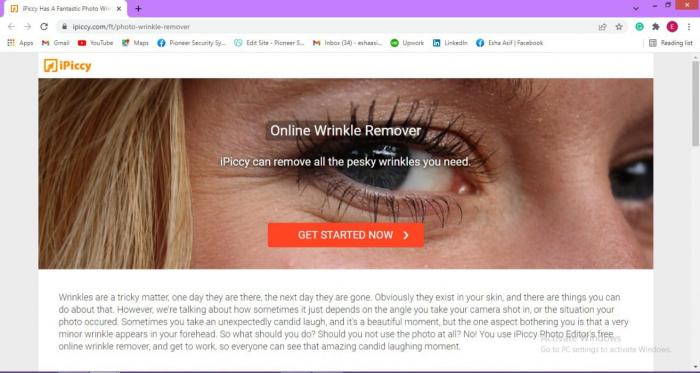 Getting rid of wrinkles is very tricky. They can ruin your pictures and make you look older than your actual age. iPiccy is the best online app to deal with your stubborn wrinkles. The iPiccy wrinkle remover is very easy to learn and understand. You can adjust the brush size to your liking and start editing your portrait right away.
Pros
Easy to use interface
Semi-automatic instant touching
Cons
9. Pixelmator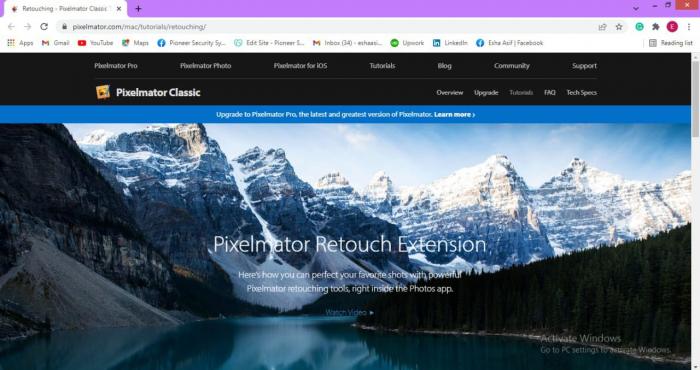 You can now retouch your favorite shots by using Pixelmator. The app is designed solely for Mac. Remove your undesirable wrinkles, scars, and blotches using simple tools. In addition to this, you can also reshape and soften different areas of the image. The Pixelmator classic is now succeeded by the new updated version called Pixelmator pro.
Pros
User friendly interface
Modifies editing on its own
Cons
10. WidsMob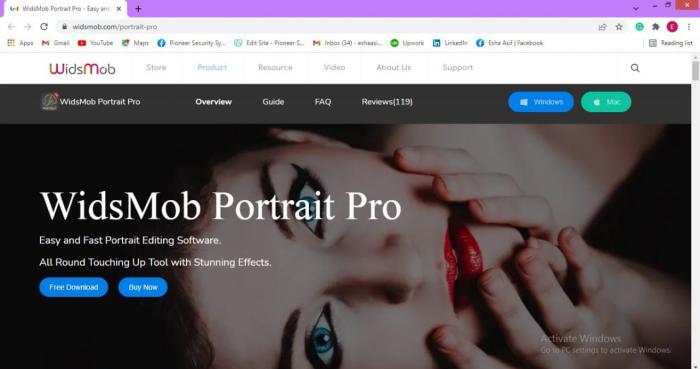 While posting your pictures on social media apps you always become conscious. You don't want your friends to find out about your little imperfections. The best way to conceal them is to use an editing app that enhances your visage and eliminates minor flaws.
WidsMob is an easy and fast portrait retouching software. It is one of the best wrinkle remover photo editors. You can smoothen, brighten and sharpen your skin by using skin editing tools. Besides, you can also do portrait enhancement by removing dark circles and blemishes.
Pros
Supports JPG, RAW, JPEG, PNG, and TIFF formats
Advanced and powerful algorithm
Share edited photos on Facebook and other social sites
Cons
May need manual editing after auto editing
FAQs
How can I remove wrinkles instantly?
Wrinkles are very stubborn and make you look old. Removing them in real life is tough but removing them from your photos is a piece of cake. By using any instant wrinkle remover app you can enhance and beautify your pictures and post them on your favorite social media platforms. For example, you can remove your wrinkles through iPiccy by following four simple steps:
1. Upload your photo to iPiccy Photo Editor
2. Open the Retouch Tab
3. Select the wrinkle remover option and choose your brush size
4. Save your work and you are done!
Conclusion
Fear of wrinkles should never stand in the way of your confidence. By using these apps you can easily remove wrinkles acne and blemishes from your portraits. Although all these apps are amazing, we recommend you use Facetune2 and VanceAl Portrait Retoucher as they are user-friendly and possess great features. Now that you know all about these remarkable apps, you can easily retouch your photos and smile confidently in your social media feeds. Read more:How To Create A Cartoon Portrait With The Best 5 Ways Online
Do you find this post helpful?
Yes
No