But when you use such pixel art generator tools, most of your photos will be pixelated. Especially if the photos are upscaled, they are likely too big to recognize details. For that purpose, we're going to introduce a tool called VanceAI Image Upscaler to increase the resolution of your artworks while making them bigger.
What is pixel art?
What we learn
Pixel art
from WIKI is that it is a form of digital art created using pixels as the only building block. It's commonly associated with low-resolution graphics from older computers and video game consoles, but it's still used by artists and game studios today. Most pixel art has limited file sizes and color palettes due to software restrictions, similar to traditional art forms like mosaics and cross-stitch. Artwork is considered pixel art when each individual pixel is deliberately placed with artistic intent. Synonyms for pixel art include "dot art" and "pixel pushing," while "spriting" is a term used to describe creating pixel art for video games. Sprinting originated from the word "sprite," which refers to a two-dimensional bitmap used in computer graphics.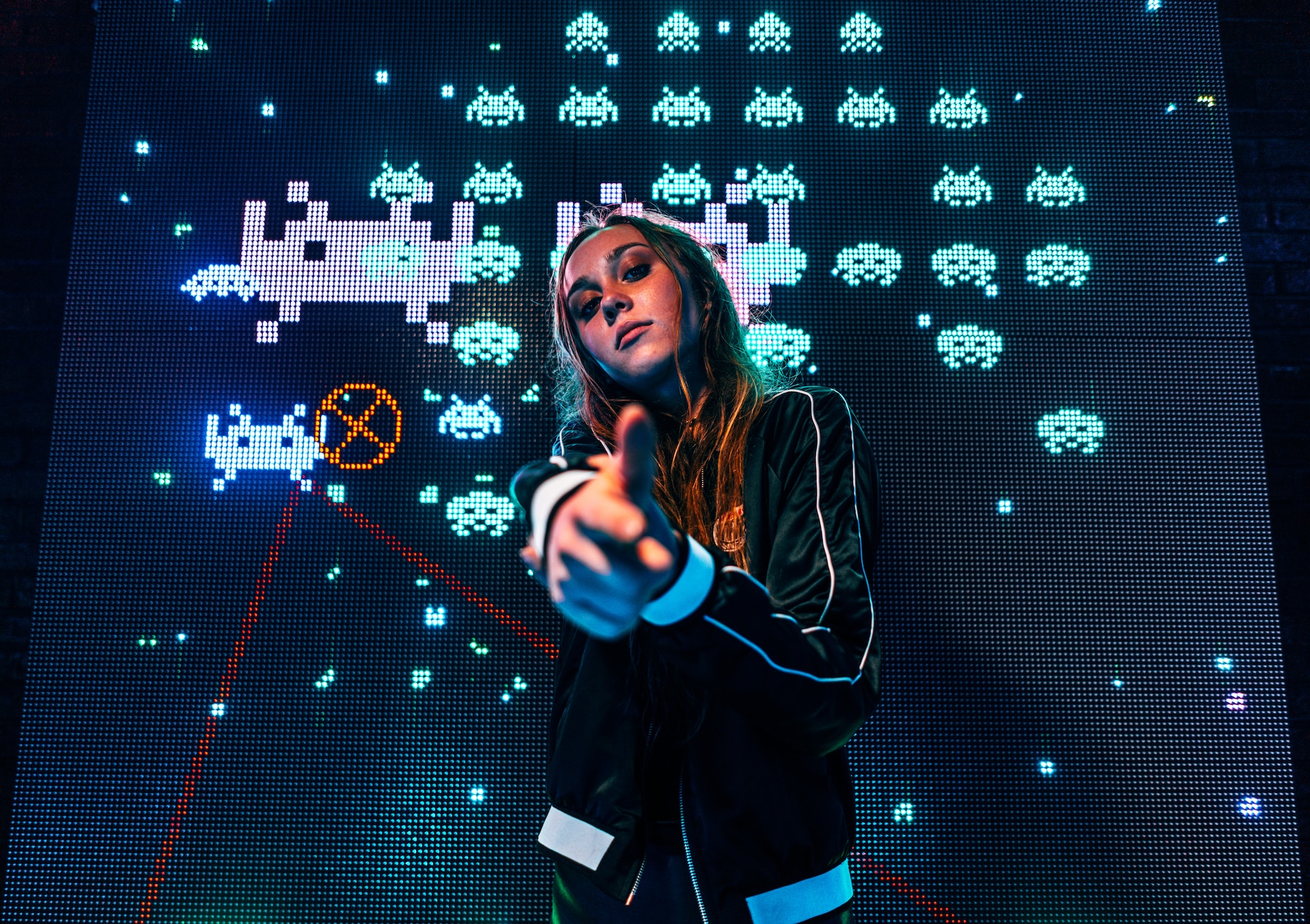 Best 10 Pixel Art Generators in 2022
Contrary to AI image enlarger tools like VanceAI Image Upscaler, some tools are specifically used to convert images to pixel art. Below is a review of the 10 best pixel art generators in 2022. Before getting a specific introduction, you can see this table first:
Price

Quality

Features Options

Support

Device

User

Friendly

VanceAI Art

Generator

$9.90/

month

(3 free

credits

/month)

High-quality artwork with HD

and pixelated output options

HD or Pixelated

Output

Web/

Software

A

Minecraft Image

Converter

Free

Can only save as .png, images

limited to 256 px in height

Import Directly into

Minecraft

Web

B

Piskel

Free

Good balance between simple

and complex, good for creating

sprites

Supports

Animations, Online

Saving Soon

Web

C

PixelMe

$9.99/

month

Automatically converts any

image into pixel art, easy to

use

Change Image

Color/Saturation,

Pixel Size

Web

A

PixelArt Maker

Free

Results are generally pretty

impressive, very easy to use

Drag-and-Drop

Conversion

Web

B

Pixelator

$29.95

Lots of sliders and filters to

play around with, great for

creating pixel art in bulk

Lots of Sliders and

Filters

Local

Software

B

Dinopixel

Free

A very simple tool, comes with

a variety of models, easy to use

Comes with Various

Models

Web

B

Pixel It

Free

Very easy to use, lets you

change block size and color

palette

Change Block

Size/Color Palette

Web

B

Aseprite

$14.99

Amazing quality, perfect for

video game design

Perfect for Video

Game Design

Local

Software

B

Adobe Photoshop

$20.99

/month

One of the best editing tools

around, countless amazing

features

Pixelates Specific

Parts of an Image

Local

Software

C
1. VanceAI Art Generator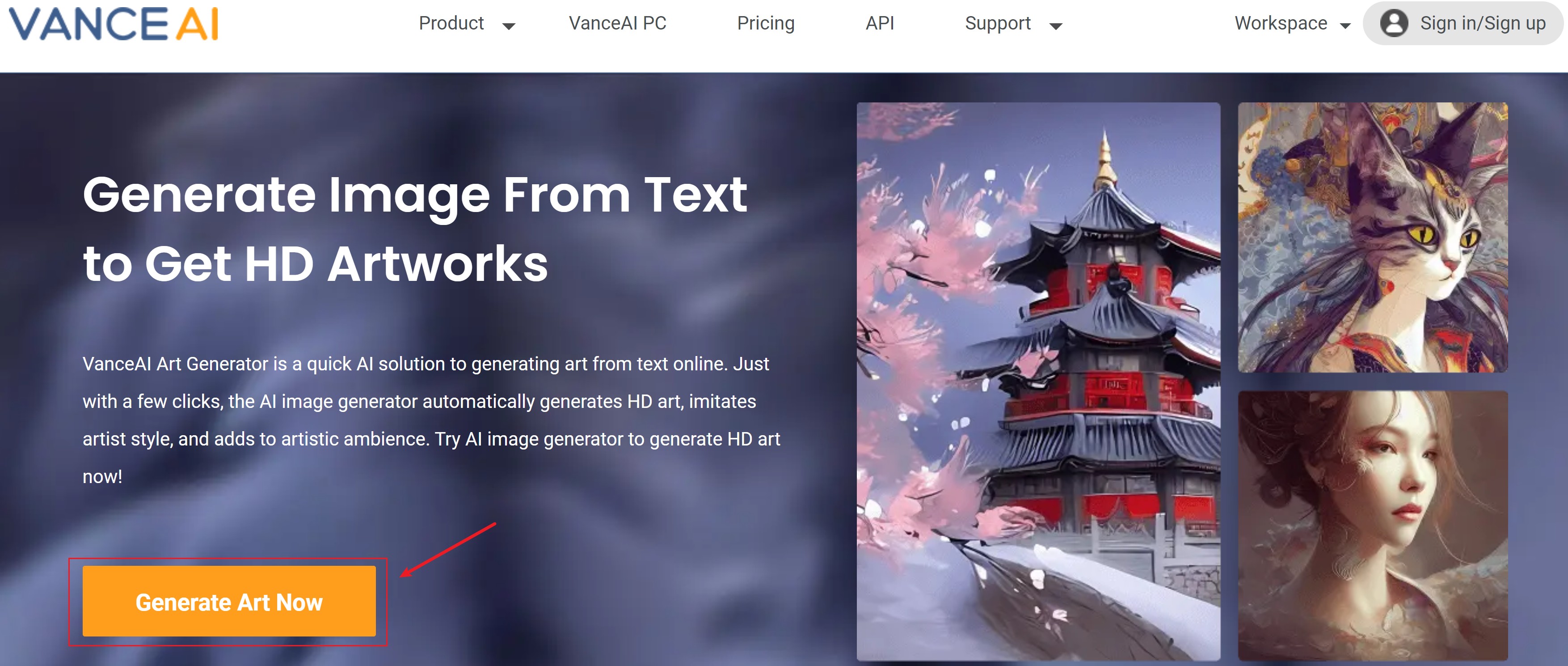 Accurately speaking, VanceAI Art Generator can be a good pixel art generator or not. That is because the art generator can also generate HD artwork given the dimensions you can choose freely. Unlike other art generators, it knows what you are thinking and turns that into reality in seconds. It is smart enough to understand your prompts and incorporate an image type or style you like into the generated artwork. If you find it too clear, you can choose low dimensions to get a pixelated effect. Or if the highest dimensions are not enough, you still can use the image upscaler from VanceAI to enlarge the resolution of artwork by up to 8x.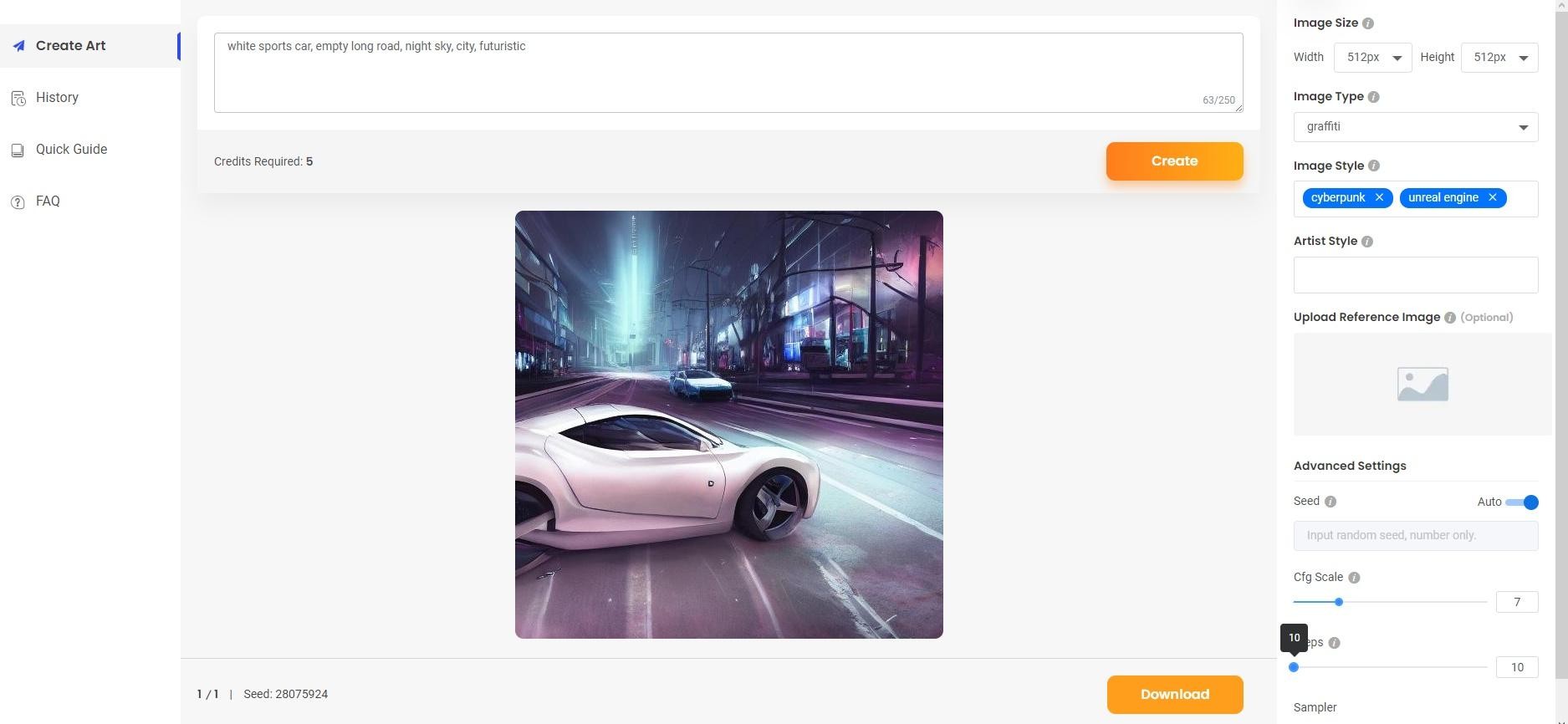 The above image is the result of AI art generator. Just input what you are thinking, and VanceAI will help you become an AI artist.
Pros:
Professional tool with lots of features
Lets you create wonderful works of art like an artist
Supports HD or pixelated output
Cons:
Requires some practice in using prompts
How to make stunning artwork with VanceAI Art Generator?
Step 1: Go to find AI Art Generator by clicking VanceAI.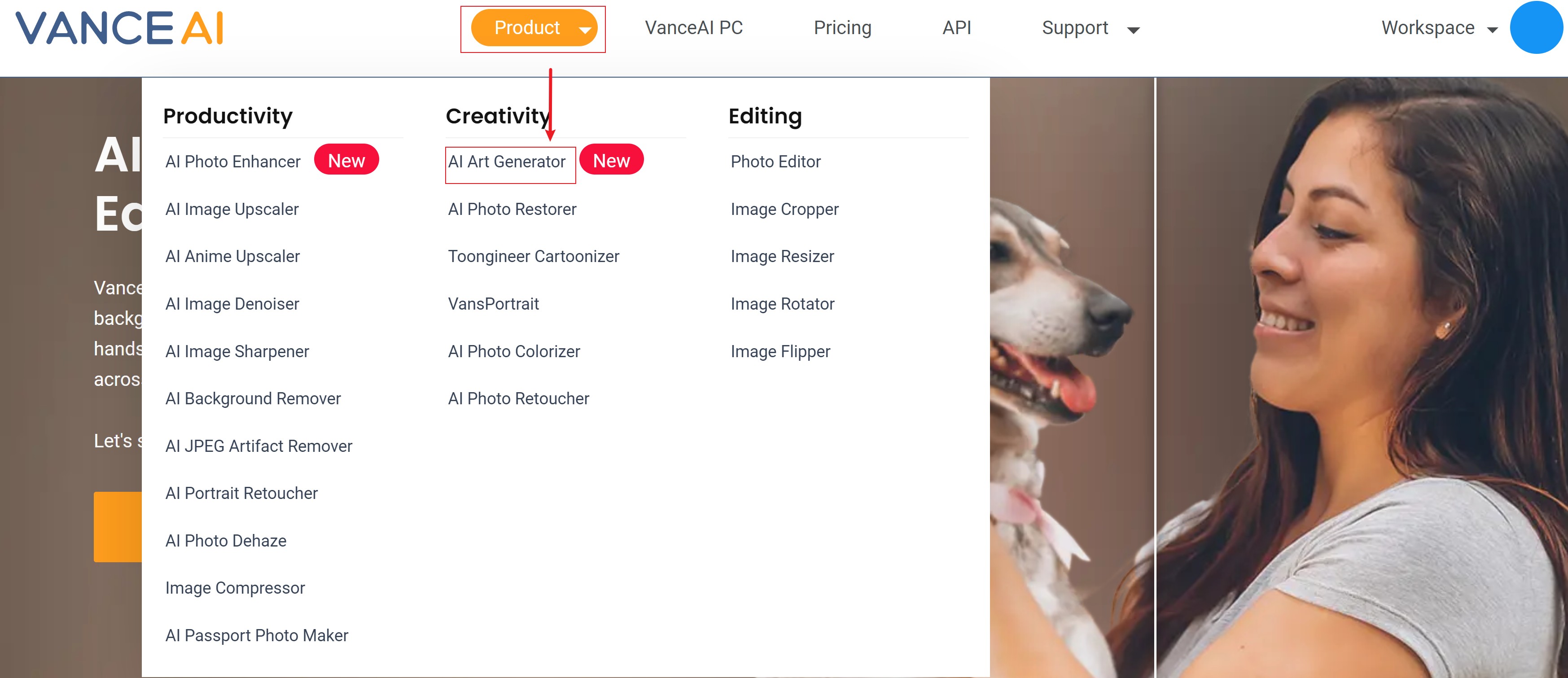 Step 2: Click on Generate Art Now.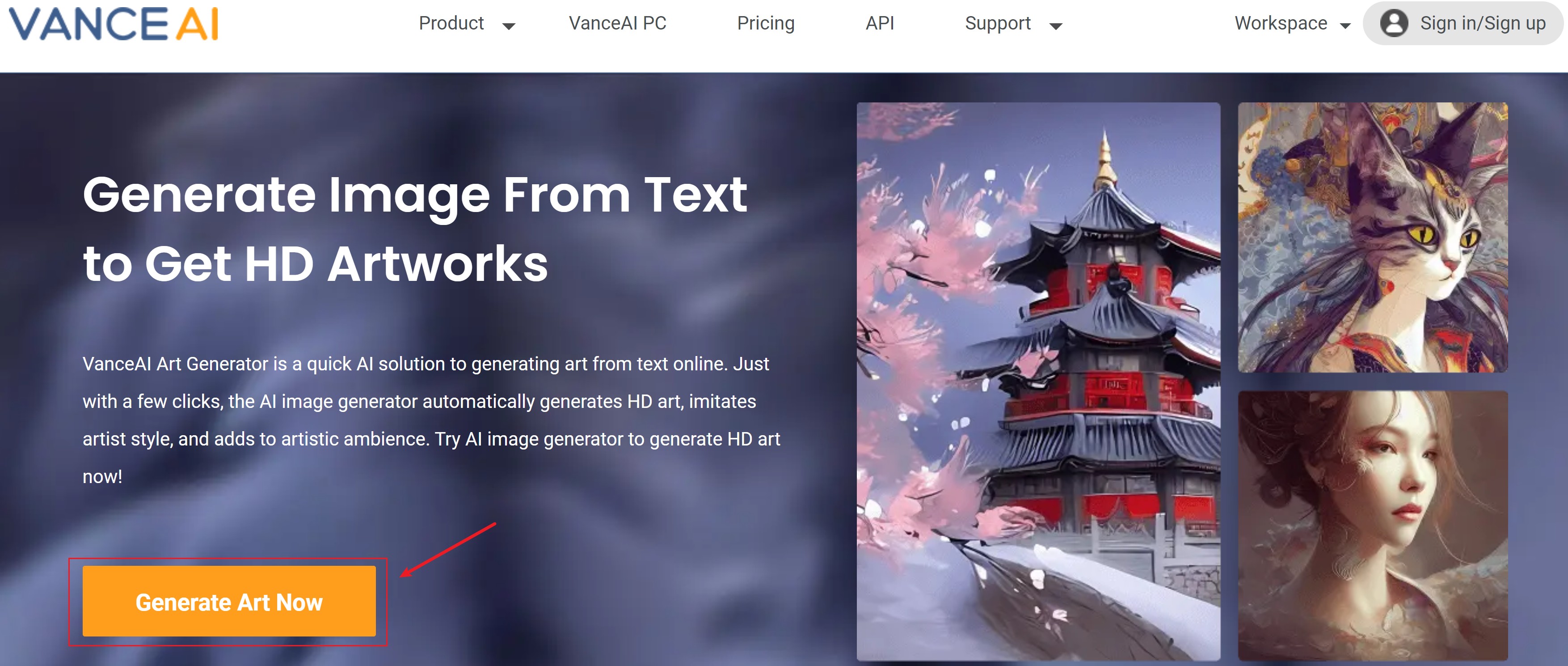 Step 3: Enter prompts and preview your artwork.
Here you can enter prompts and VanceAI Art Generator will produce what you want but you need to be extra precise and provide as many details as possible.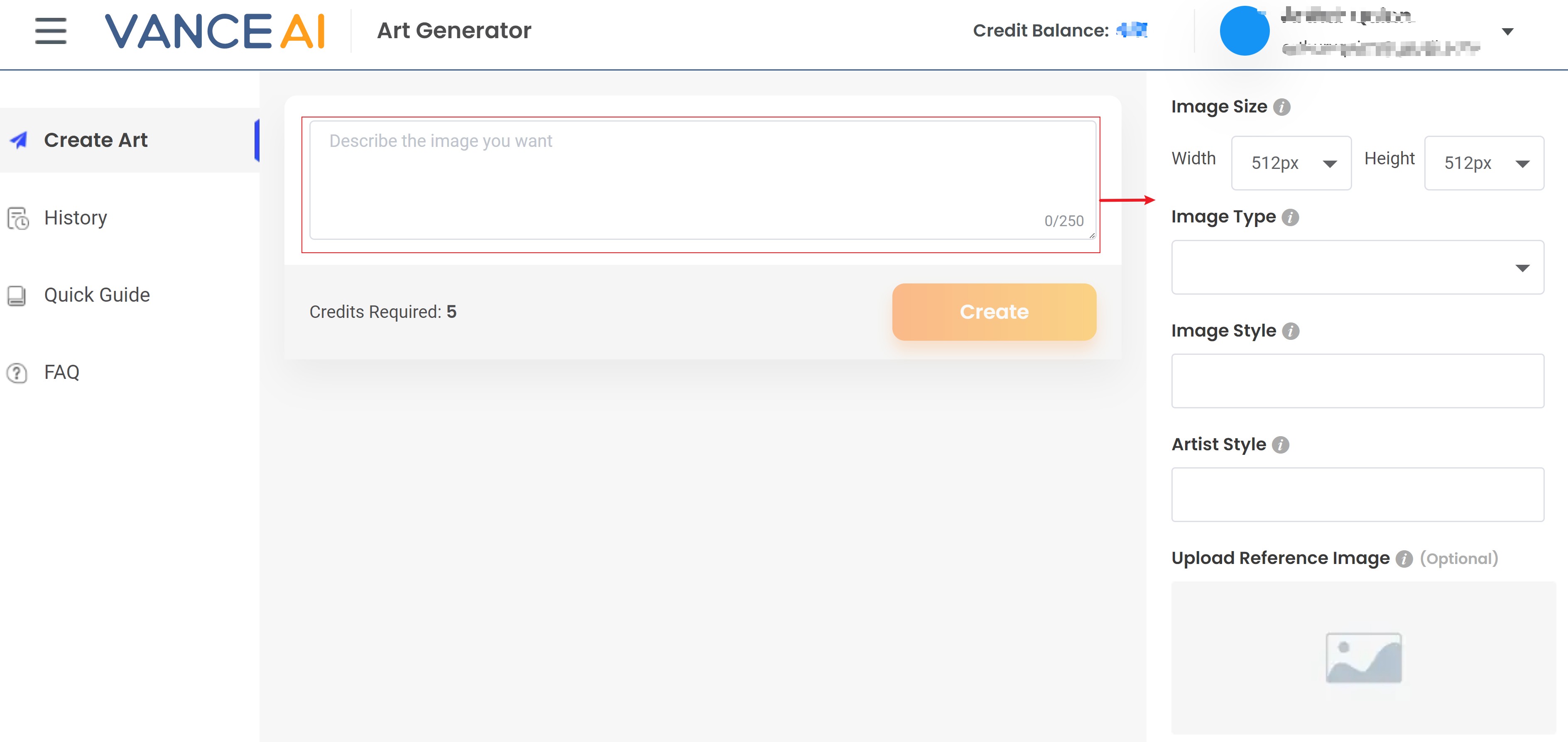 2. Minecraft Image Converter
Minecraft didn't invent pixel art but there's no doubt that the well-known video game helped popularize it. Creating art inside Minecraft is a rewarding but difficult process that generally takes a very long time. That is, unless you're using this tool. Minecraft Image Converter is a pixel art generator that lets you covert image to pixel art with ease. More importantly, the converted images can then be imported directly into Minecraft. That feature is useful only to those who play the game but the converter itself can come in handy even if you don't.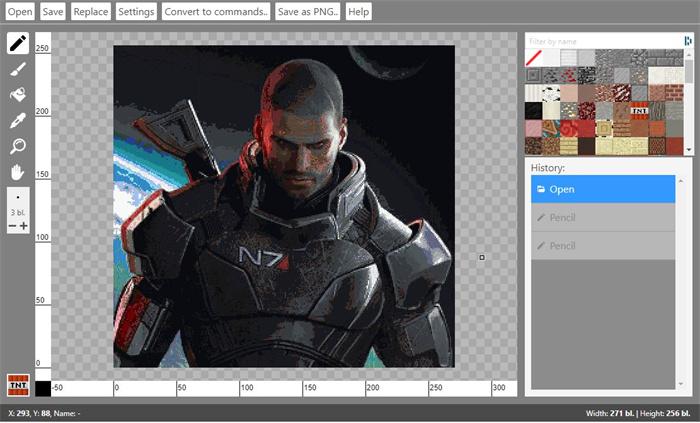 Pros:
Convert images into pixel art with just one click
Includes transparency, luminance, and other effects
Lets you import images directly into Minecraft
Cons:
Images limited to 256 px in height
Can only save as .png
Limited usability for users who don't play Minecraft
3. Piskel
Piskel is an online open-source pixel art generator designed for creating sprites. Sprites are primarily used in video game development but can have a variety of other purposes as well. The tool strikes a good balance between simple and complex, giving you plenty of useful options without feeling too overwhelming. That said, you'll probably need a bit of practice before you are able to create great looking sprites with Piskel as there are no tutorials on the main website. Piskel will no longer allow users to create accounts starting with August 1st but the editor itself isn't going away anytime soon.
Pros:
One of the best tools for creating sprites
Lots of useful features
Supports animations
Cons:
A bit difficult to learn
Doesn't play well with large images
Ability to save online will be removed soon
4. PixelMe



PixelMe is an AI pixel art maker that can convert pretty much any image you throw at it. Although it does tend to work better with portrait images that only feature a single person or character. There are a couple of neat features you can play around with, such as changing the image's color and saturation, pixel size or background. You can also create patterns using the resulting image, however, I'm not sure if you can find a use for that feature. Still, PixelMe is definitely a cool tool and worth checking out.
Pros:
Automatically converts any image into pixel art
Lets you change the size of the pixels
Very easy to use
Cons:
Doesn't work great with landscape images
Pattern feature not very useful
Not free to use for commercial purposes
Also read: Top 10 Best Pixel Art Game Characters Enlarged by AI.
5. PixelArt Maker
Another tool that lets you create pixel art with ease is PixelArt Maker. It is sort of a combination of the first two tools mentioned earlier. On one hand, you can upload any image on the site and it will automatically convert the image into pixel art. At the same time, you can also use it a blank canvas for creating pixel art from scratch. It's hard to tell if this pixel art generator uses AI to convert images because there's virtually no information on the website regarding how it works. The results are generally pretty impressive, though.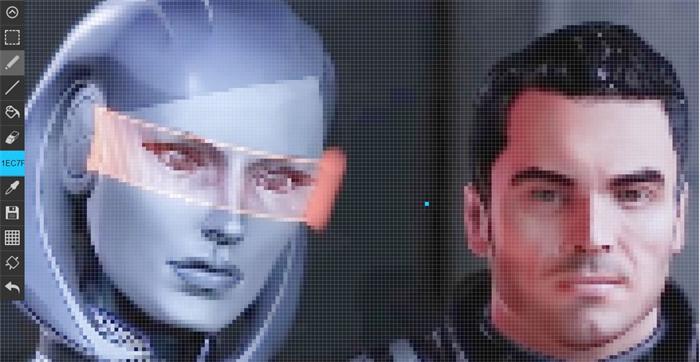 Pros:
Drag-and-drop images to convert to pixel art
Create your own pixel art from scratch
Very easy to use
Cons:
Doesn't play well with large images
It's missing a number of important features
No tutorials or any other useful information
6. Pixelator
Pixelator is another great tool that lets you convert images into pixel art, however, this one isn't available online. The fact that you have to download it can be seen as a disadvantage, but luckily the software takes less than 100 MB of space. The tool comes with a fair number of options so you may need to experiment a bit before you can find the perfect level of pixelation for your project. Otherwise, with this pixel art generator you can easily take things too far and transform the original image into a random mass of pixels that barely resembles anything.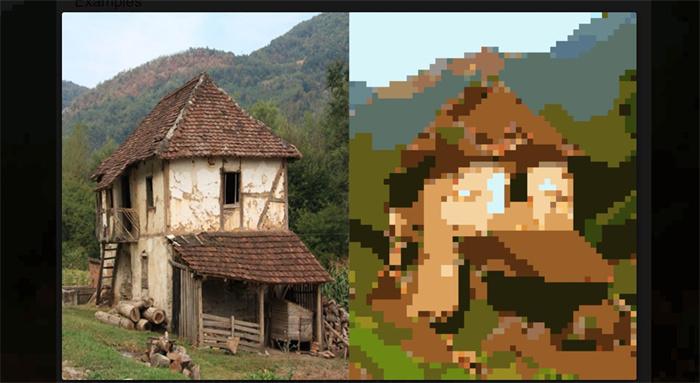 Pros:
Turns any image to pixel art
Lots of sliders and filters to play around with
Great for creating pixel art in bulk
Cons:
Requires a fair amount of experimentation
Software needs to be downloaded locally
Free version only for personal use
7. Dinopixel
Dinopixel is a pretty interesting website where you can learn to create your own pixel art drawings with relative ease. There are a bunch of different models found on the site that you can use to get the ball rolling if you're lacking artistic inspiration. If you're not, you can simply grab the pencil tool and start drawing away. Anything you draw will automatically be converted into pixel art. You also have the option to change colors, modify the dimensions of the grid and a couple of other features, but nothing too crazy. Overall, Dinopixel is a very simple tool.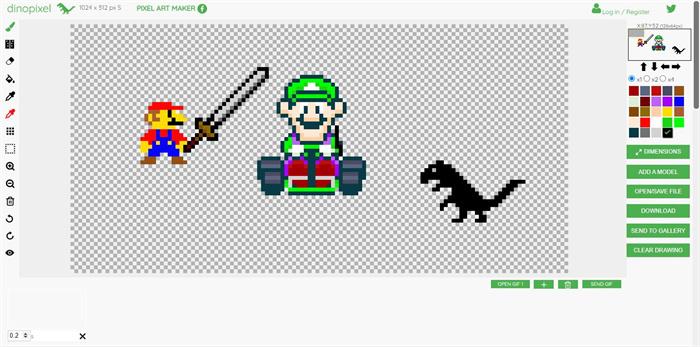 Pros:
Very easy to use
Comes with a variety of models
You can edit pixel art created by other users.
Cons:
Could use a few more editing tools
Maximum grid size is only 1280 x 1280 px
Can only save pixel art as .dino format
8. Pixel It
This next pixel art maker is a simple converter built using Javascript. Its open-source nature means that you can modify a lot of the tool's parameters by changing certain pieces of code. However, Pixel It does work well even without any modifications. In addition to converting images into pixel art, the tool also lets you use various block sizes and color pallets to edit them. There aren't a whole lot of other options here but some users might actually enjoy this level of simplicity.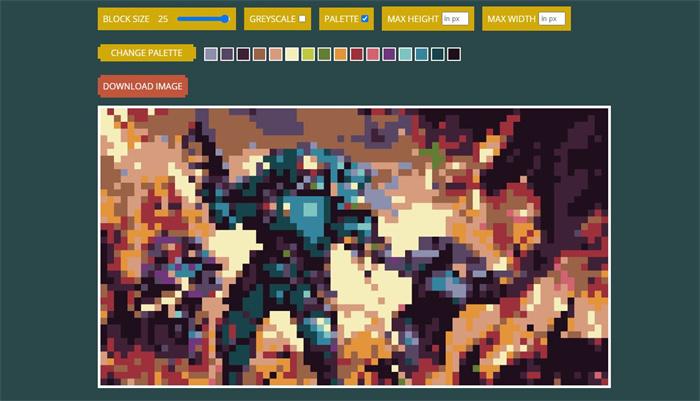 Pros:
Very easy to use
Lets you change block size
Lets you change color palette
Cons:
Possibly too simplistic for some
Resulting art can look a bit too abstract
Could use a few more editing tools
9. Aseprite
Aseprite is a piece of software that allows you to create some truly amazing sprites complete with beautiful animations. The software is perfect for indie video games and various art projects, or just for learning how 2D animation works. Of course, the downside is that Aseprite is pretty complicated and takes a while to wrap your head around. The effort is well worth it, though, because this is easily one of the best pixel art generators around.
Pros:
Amazing quality
Perfect for video game design
Available on Steam
Cons:
Requires download
Requires purchase
Trial version doesn't let you save projects
10. Adobe Photoshop
Naturally, we couldn't have a list about pixel art software without mentioning Adobe Photoshop. The software is among the best for any type of editing, including but noy limited to pixel art. A huge advantage of Photoshop over most of the other tools covered in this article is that it can pixelate only certain parts of an image. There's also a blur tool that works similarly along with an entire truckload of other features that we simply don't have time to mention in this article.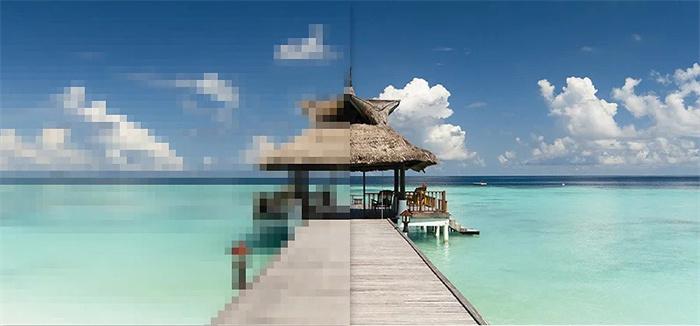 Pros:
One of the best editing tools around
Can pixelate specific parts of an image
Countless other amazing features
Cons:
Difficult to master
Expensive
Requires download
How to Retain the Quality of Artworks With VanceAI tools?
Make use of VanceAI Image Upscaler
Step1:Visit VanceAI's official website and navigate to the dropdown menu in the top bar to find the AI Image Enlarger tool. Click the Upload Image button to begin.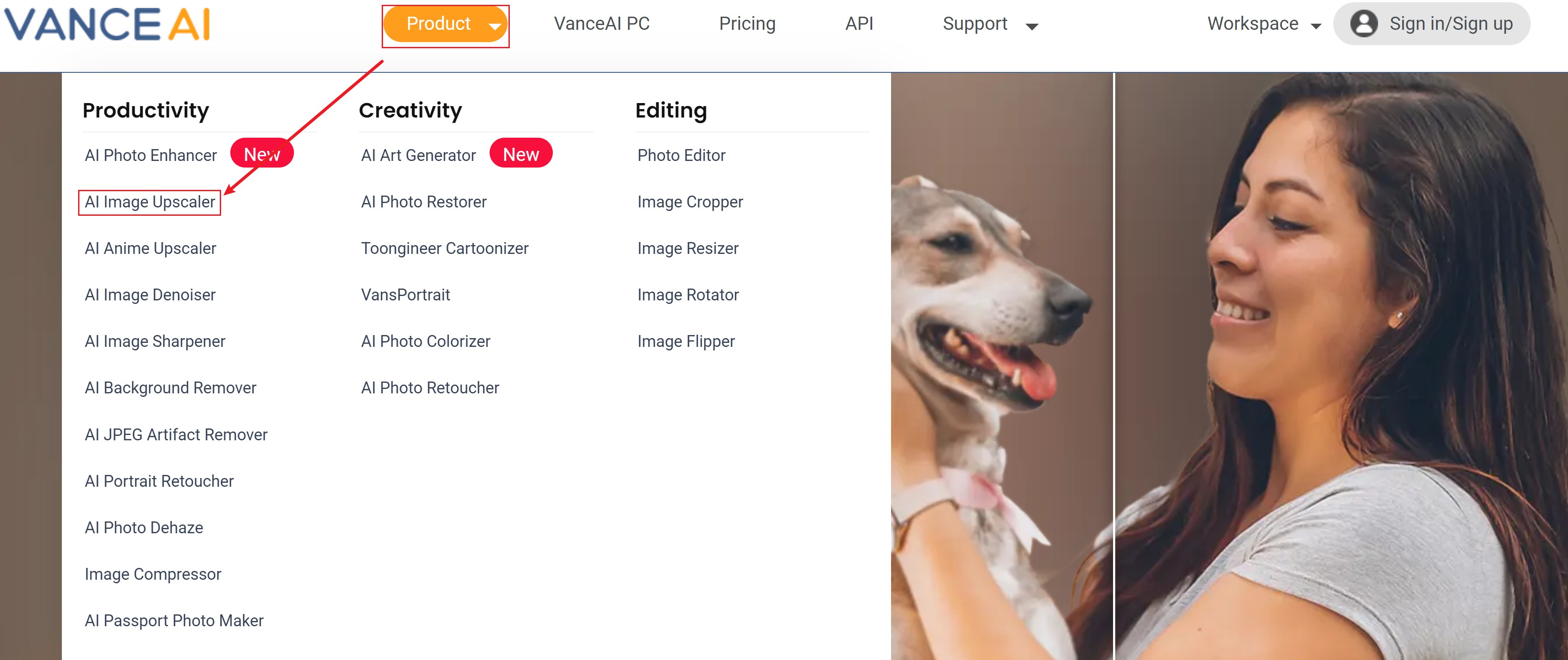 Step2:Upload an image to VanceAI by clicking anywhere in the center area or by using the drag-and-drop method. Select the amount of enlargement as well as the amount of noise suppression and blur removal.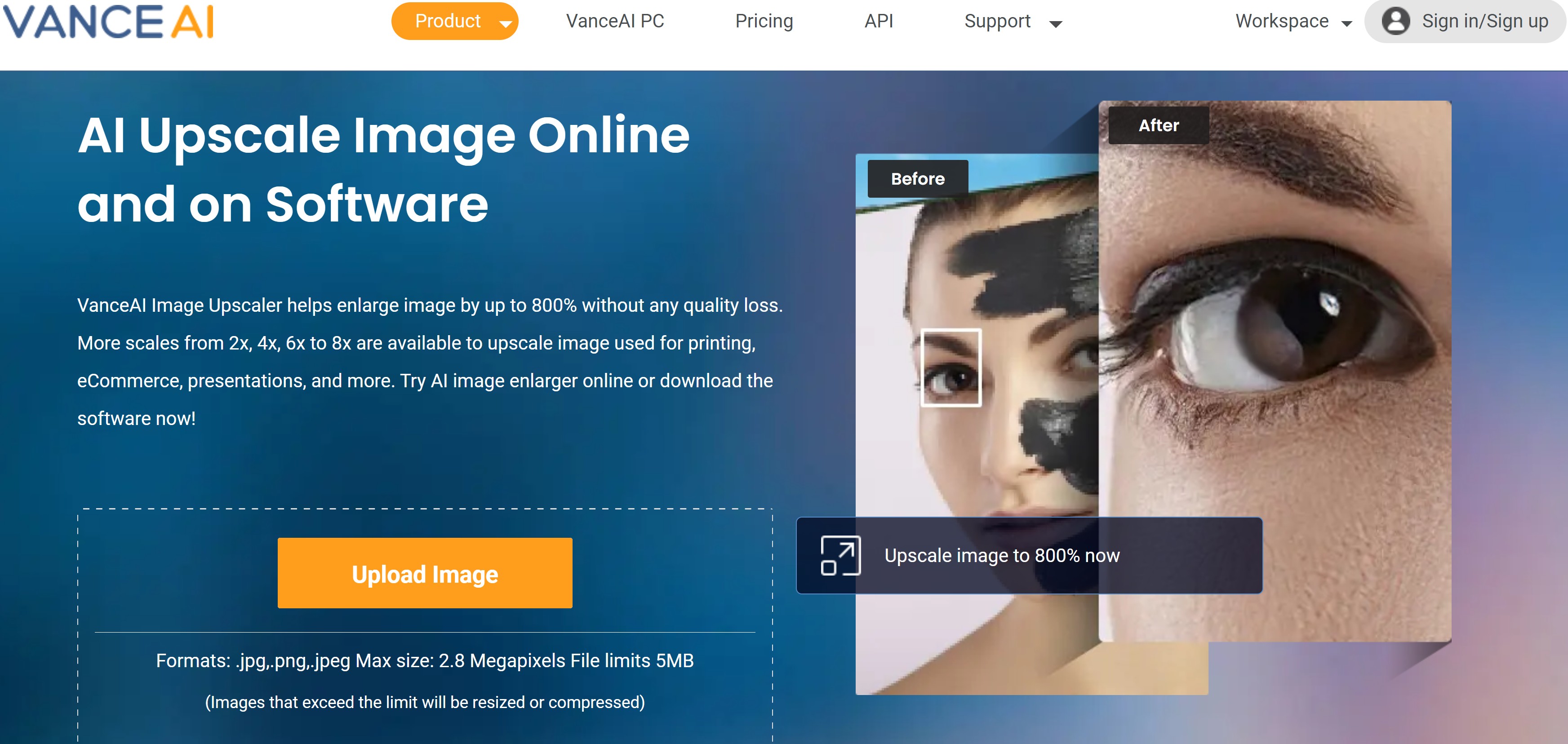 Step3:Click the Start to Process button and wait until it is complete. Finally, go to the Processed tab to download your new enlarged image.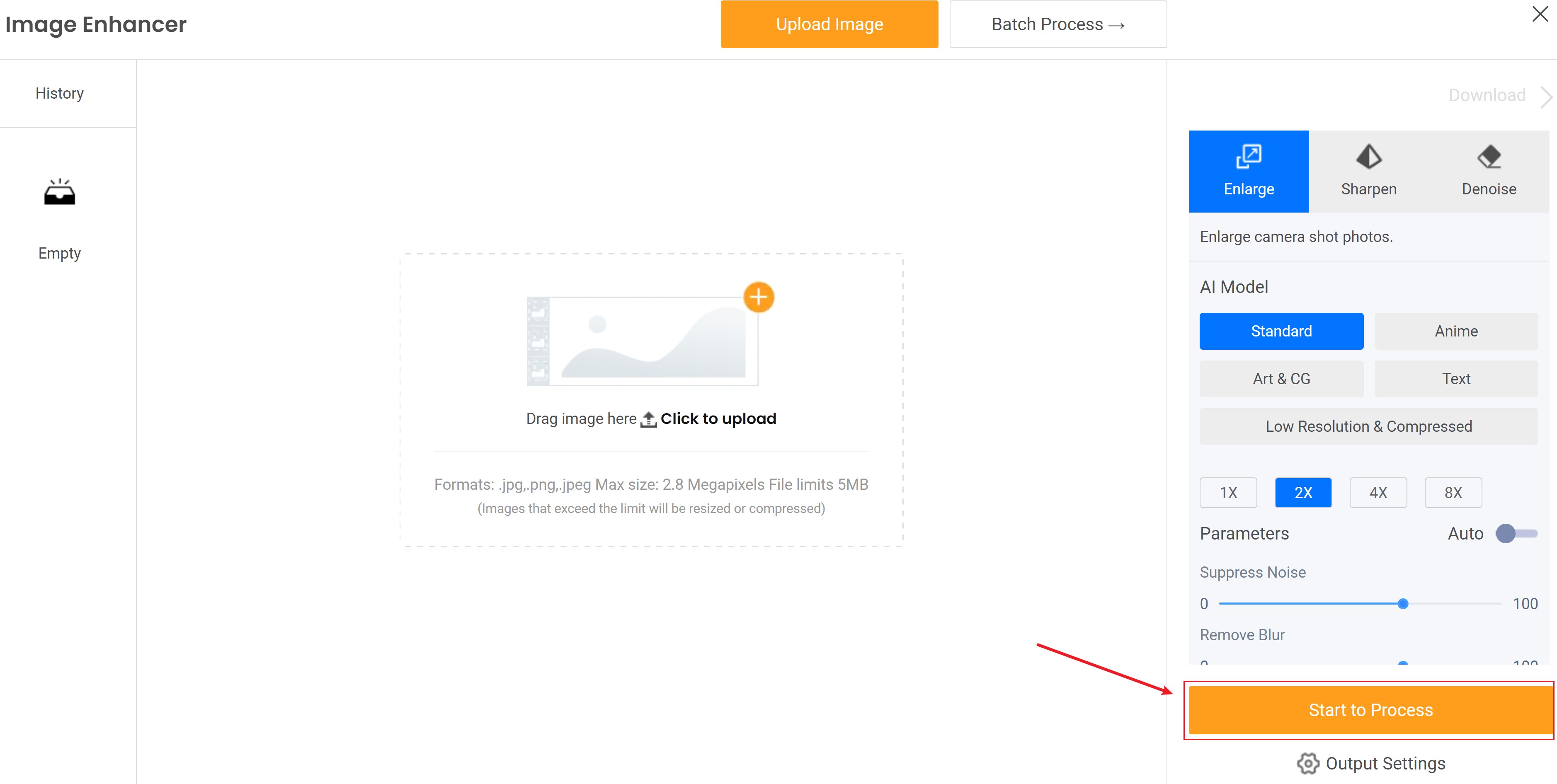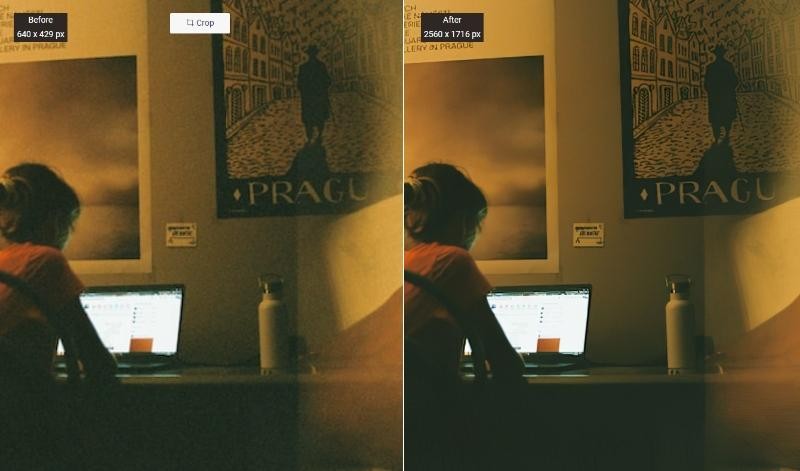 Also read: How to Depixelate Image with AI in 3 Steps.
Make use of VanceAI JPEG Artifact Remover
We all know a useful way to save the image with smaller size is to save it in JPEG format. But, it's not a perfect way to save images losslessly for it will result in JPEG artifact. So here, we'd like to recommend you a powerful tool to help you remove JPEG artwork artifacts with VanceAI JPEG Artifact Remover.
Step 1: Find AI JPEG Artifact Remover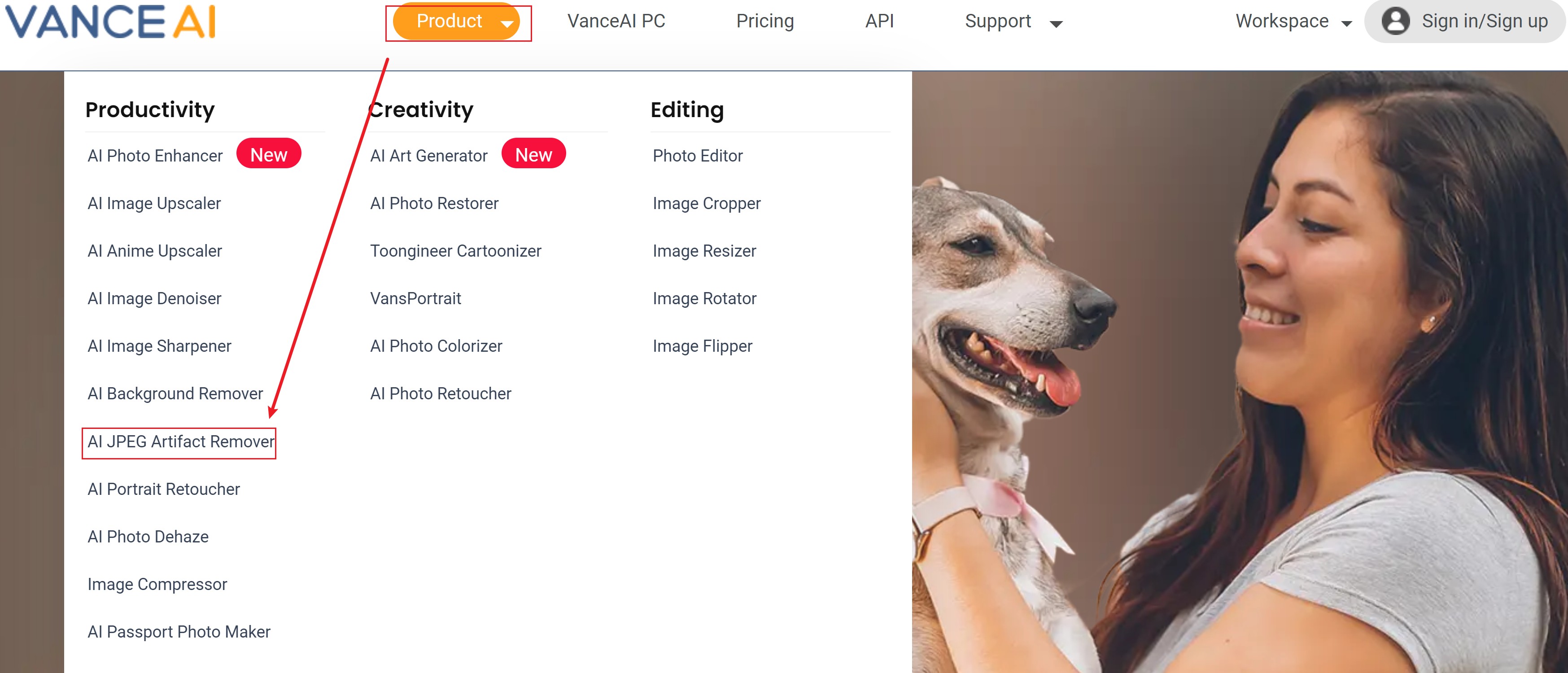 Step 2: Click on Upload Image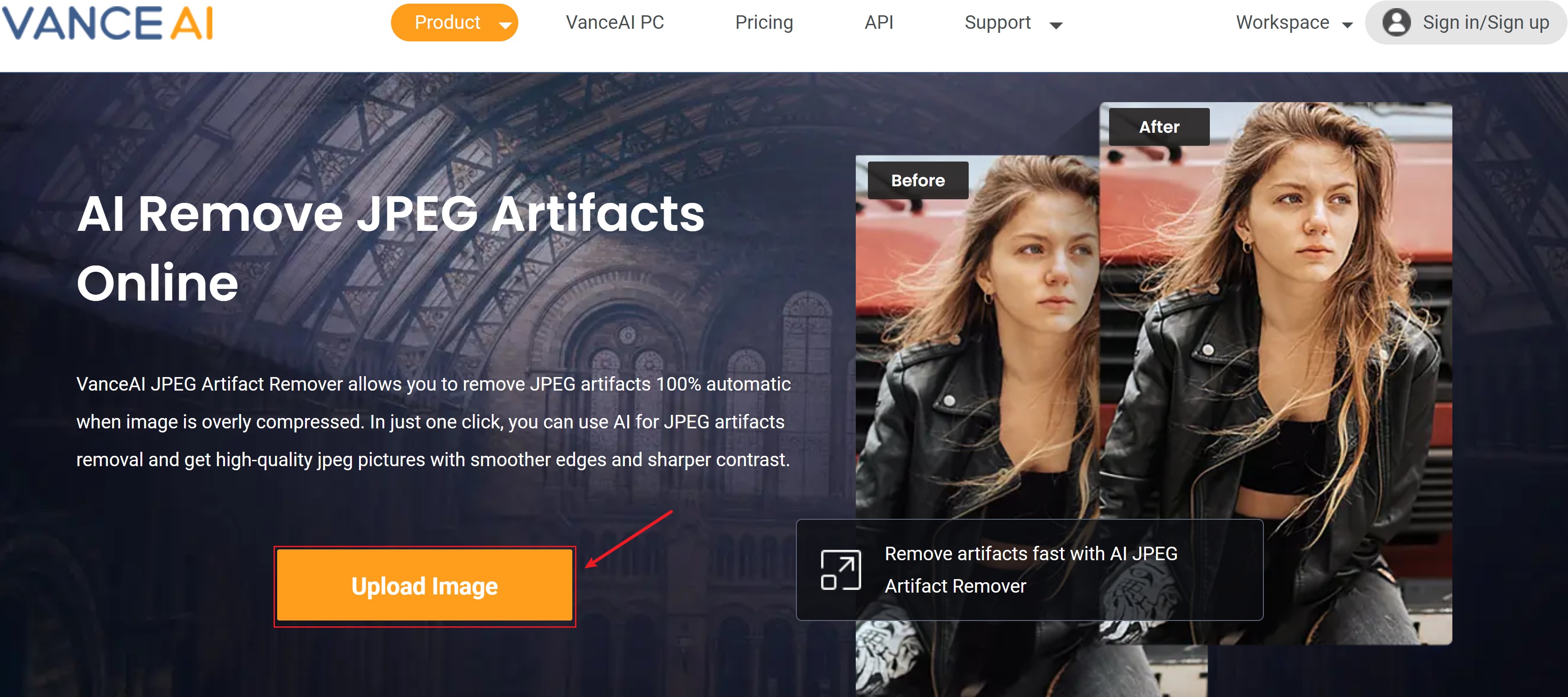 Step 3: Start to process and download your image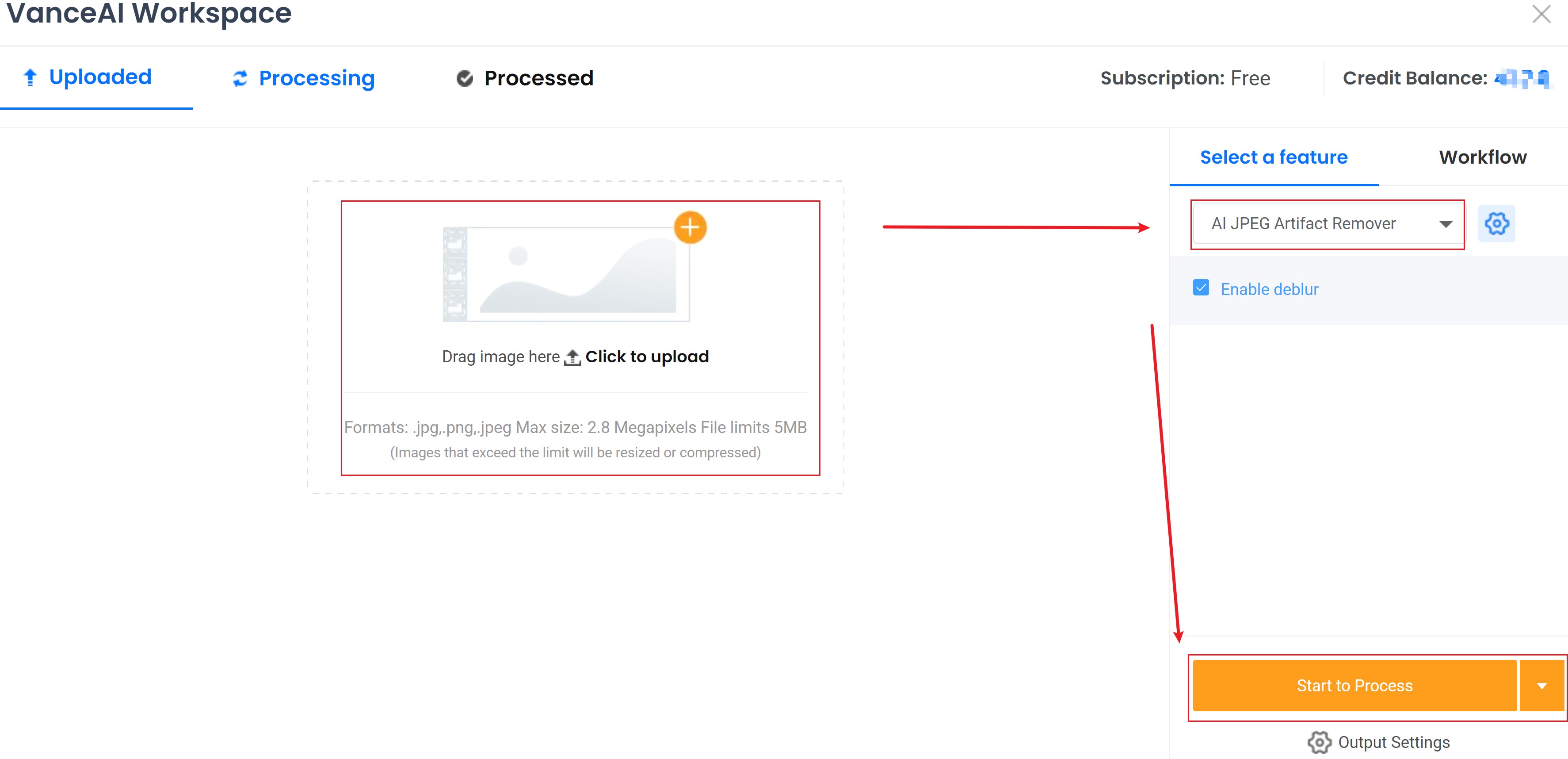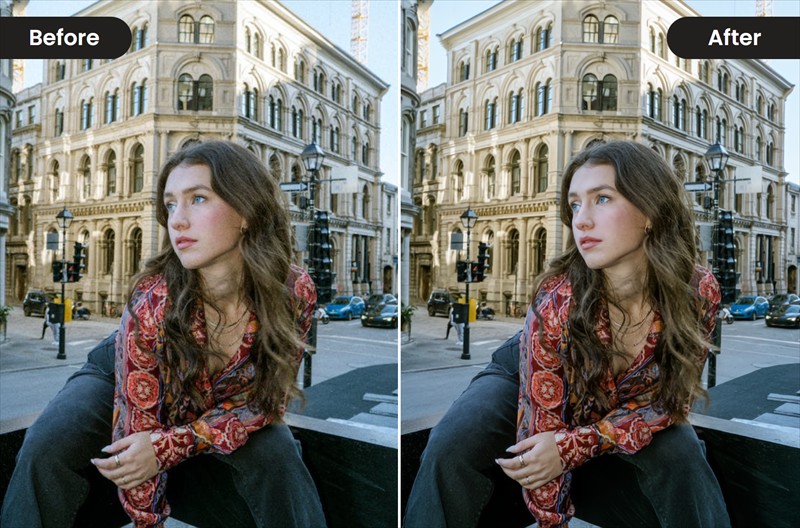 FAQs
What is Pixel Art?
Just as its name indicates, pixel art is a type of digital art where the editing takes place at the pixel level. The art style was inspired by retro video games made popular in the 80s and 90s where it was used extensively.
How to Create Pixel Art Online?
Creating pixel art online requires the use of specialized tools like the ones mentioned earlier in this article. Many of these tools simply give you the opportunity to create drawings at a pixel level but some let you convert existing images into pixel art instead.
How to Create Pixel Art in Photoshop?
The first step in photoshop is to convert your photo or parts of it into a smart object using a filter. Next, you can go to Filter -> Pixelate -> Mosaic to start the conversion. Feel free to experiment with some of the other filters as well. Finally, you can select the level of pixilation from the preview window by simply using the built-in slider.
Final Thoughts
Pixel art generators can be found everywhere these days and it's easy to see why. This type of art style is currently undergoing a renaissance thanks to the renewed prevalence of retro video games. Many people who grew up with these types of games are now working in graphics design and development so it makes sense that they're trying to bring back pixel art.
Thankfully, you don't have to be a designer or artist yourself in order to experiment with this art style because you can just use the tools mentioned in this article. Most of them are free so there's no real reason not to check them out. Or, if you want to make your photo clear by AI image upscale to see and improve its quality, you may explore more AI image enhancer tools in VanceAI. Take the instance of the image enhancer, it can be regarded as an efficient tool provided by VanceAI, which helps you to remove disgusting blurry, or noisy parts. Moreover, it also helps you finish the task of image enhancement with one single click even if you have not sophisticated skills. So the work of enhancing the image is merely a breeze if you take advantage of the tool.
Also read: Best 5 Photo Mosaic Makers Review
Do you find this post helpful?
Yes
No