Top 10 AI Red Eye Remover
No matter how high-end cameras you use to take a photograph, there will always be a light that quickly overshadows the eye with red color. This makes the picture look rather strange. If you use AI red eye remover, the photo red eye remover can quickly remove eye color by using an innovative artificial intelligence algorithm. This will make your photos look more natural and professional.
What is a Red Eye?
Red eye in photos is another light overshadowing the natural color of the eye. It can occur if the picture is taken in dim or dark light. This can be seemingly unpleasant as most of the time, everything appears to be perfect instead for the eyes.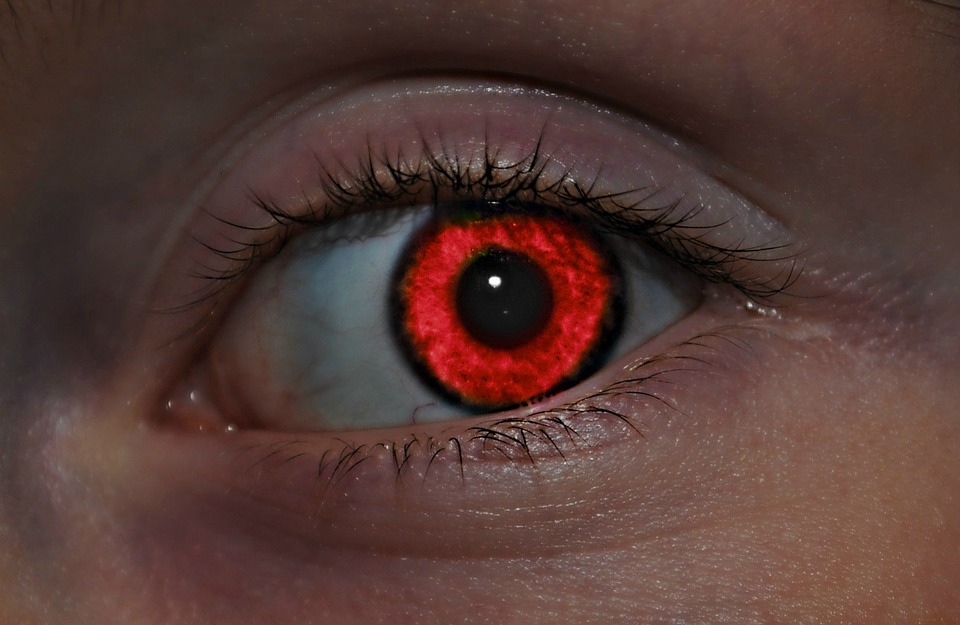 Red-eye can usually be prevented by using a flash diffuser which softens the light from the flash, making it less likely to produce red-eye. Alternatively, taking pictures with the subject's back to a bright light source will also help reduce red-eye. If red-eye does occur in a photo, there are a few ways to fix it. One way is to use photo editing software as a photo red-eye remover.
What Should We Do Before Using The Red Eye Remover Tools
Fix Interference Blemishes With VanceAI Portrait Retoucher
At present, red-eye removal software is still a relatively new tool, so some red-eye repair tools may have recognition algorithm problems. In order to improve your success rate of red-eye removal, I think it is better to provide a photo of the face with no blemishes before operating the red-eye removal operation, so as to avoid the algorithm taking into account some red blemishes on the face. You can use
VanceAI Portrait Retoucher
. It can support online repair of facial blemishes, including wrinkles, acne marks, freckles, red marks, etc.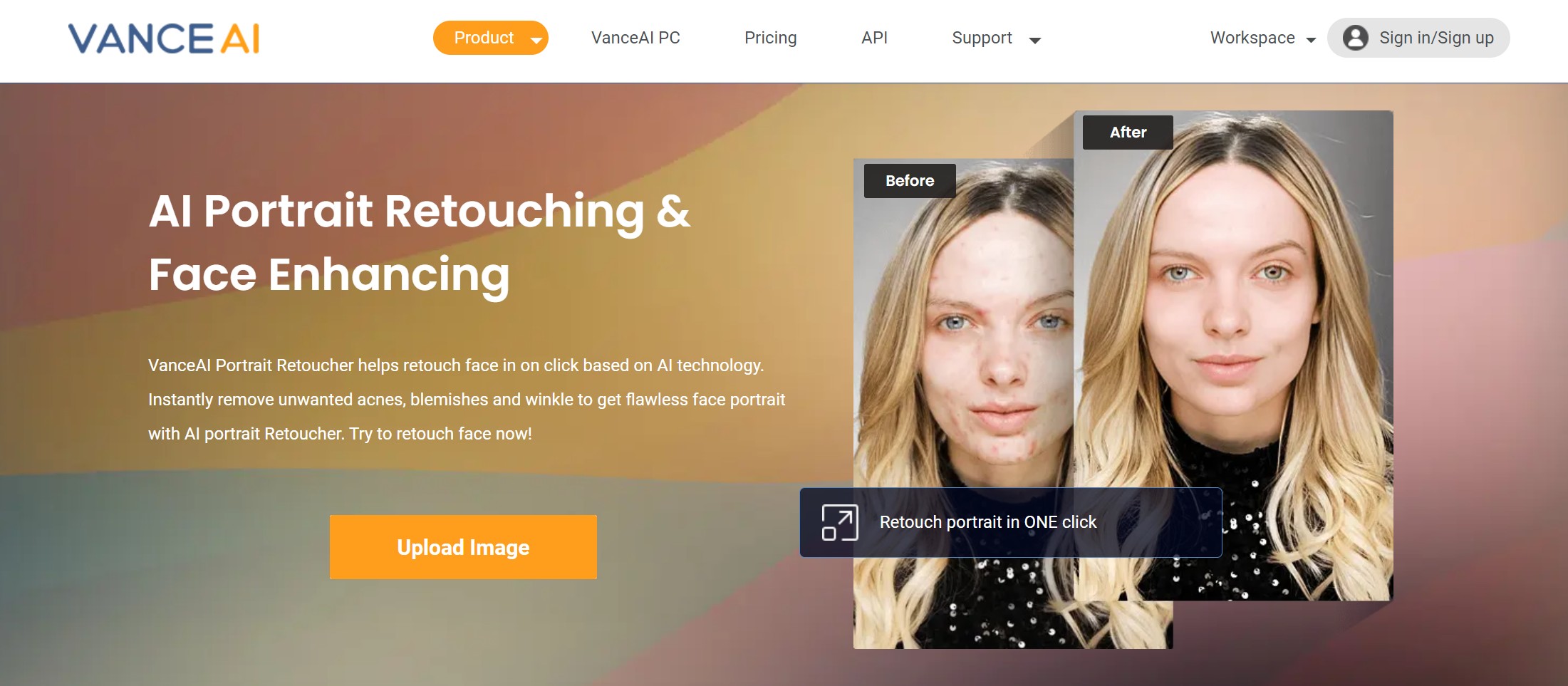 To use the automatic flash fix feature, simply upload the photo that you want to edit and click on the "start process" button. The
blemish remover
 will then analyze the photo and automatically adjust the flash settings to produce the best results. If you're not happy with the results, you can always undo the changes and try another process with 3 free credits.
Focus On Eyes Images With VanceAI Image Cropper
If you want to save the operation in the previous step, you can choose to crop the photo to get a photo that locks the eyes, so as to change the red eye, you can try
VanceAI Image Cropper
. One-click cropping of photos online, without downloading software, can be cropped online and saved locally.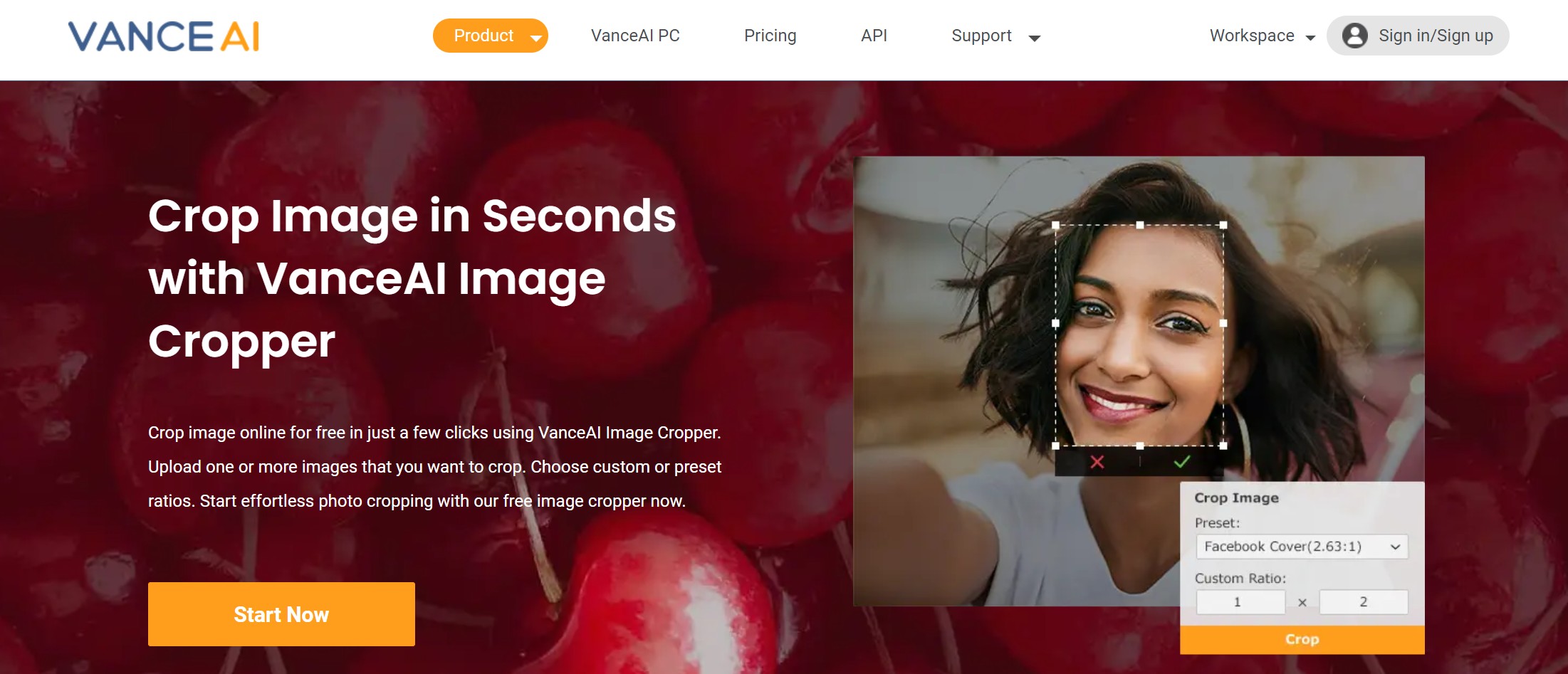 Top 10 AI Red Eye Remover Recommended
 

Price

Quality

Features Options

Support

Device

User

Friendly

Fotor

$3.33/month

or $39.99/year

4/5

A lot of features,

fast interface

Online

tool

3.5/5

Quik Remove:

Red Eye

Corrector

Free

subscription

4/5

Easy to use

iOS and

iPad

4/5

PicMonkey Eye

Color Changer

$7.99/month

or $72/year

3.5/5

Straightforward

interface, variety of

brushes

Online

tool

3.5/5

YouCam: Best

Selfie Editor

Free trial, then

$29.99/year

4/5

Funny face filters,

real-time beauty

effects

Android

and iOS

4.5/5

Pho.to Retouch

Visage

Free download

with in-app

purchases

3/5

Limited features

available

App

Store

3/5

PaintShop Pro.

$79.99 one-

time purchase

4.5/5

Wide range of

features and tools

Download

4/5

iPiccy Red Eye

Corrector

Free

3.5/5

Advanced AI

Online

tool

3/5

Face Tune App

Free trial, then

in-app purchases

4/5

Quick processing time

Android

iOS

4/5

Wids Mob

$19.99 one-

time purchase

4/5

Tweak colors with

ease, full control

over portrait editing

Mac and

Windows

4/5

Fix The Photo

Red Eye

Remover

$2 per image

4/5

Interface similar to

Photoshop

Androids

and

website

3.5/5
1. Fotor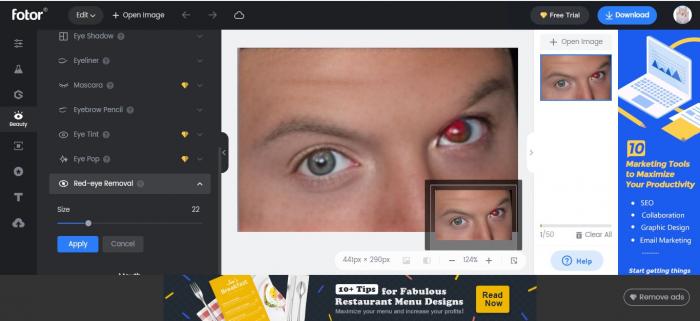 The best part about Fotor is that it is an online tool, which means you don't have to download any software and can start using it right away. It also offers a free trial, so you can try it before you buy it. In just a few clicks, you can remove the red-eye from your photos and make them look their best.
To start, simply upload the photo that you would like to edit. Fotor will automatically detect any faces in the photo and will prompt you to select the eyes that you would like to edit. Once you have selected the eyes, you can choose from a variety of filters to make them look their best.
Fotor also offers a wide range of photo editing tools, so you can adjust the brightness, contrast, saturation, and more. You can also add text or stickers to your photos, or even create a collage. Try to read more about Fotor here.
Pros
Free trial provided
Fast interface
A lot of features
Cons
Everything click needs to be made manually
Doesn't let you download without signing up
Tricky interface to understand
2. Quik Remove: Red Eye Corrector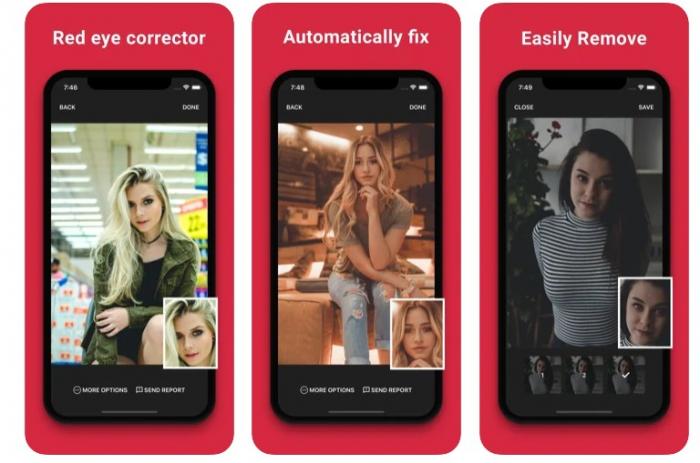 There are a few different ways to remove red eye, but one of the quickest and easiest is with Quik Remove red eye corrector for iPhone and iPad. This is a small, pen-like device that you can use to quickly and easily remove red eyes from your photos. Simply hold it up to your eye and snap a photo and the red eye will be gone.
Quik Remove is a great tool for any photographer or videographer who wants to quickly and easily remove red eye from their photos and videos. It's also a great tool for anyone who wants to improve the appearance of their eyes in photos.
If you're looking for an easy way to remove red eye from your photos, then Quik Remove is the tool for you. It's fast, easy to use, and it produces great results.
Pros
Easy to use
Free subscription
Easy interface
Cons
Only available for IOS or iPad
3. PicMonkey Eye Color Changer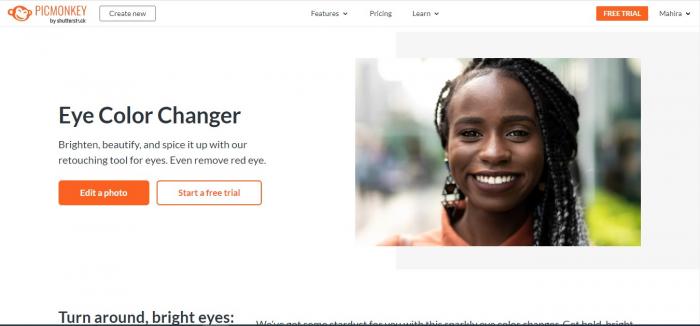 Are you curious about what your eye color would look like if it were different? With PicMonkey's Eye Color Changer, you can find out. This fun and easy-to-use tool allow you to change your red-eye color in just a few clicks. All you need to do is upload a photo of yourself, and then you can start experimenting with different colors.
This red-eye remover online offers different brush varieties alongside the size and hardness of the brush. No matter how small or big the image is, with little work, it can turn both eyes into equal colors.
Pros
Straightforward interface
Variety of brushes to choose from
Best for new learners
Cons
Needs subscription before downloading the picture
Only limited features available in the free version
4. YouCam: Best Selfie Editor
YouCam is the best red-eye remover app, with over 300 million downloads globally. Beautify your photos with YouCam Makeup's live makeup cam for a perfect look. Edit selfies with face reshaping, teeth whitening, red eye remover, and more.
YouCam is the best selfie editor with funny face filters, artistic makeup tools, real-time beauty effects, perfect photo frames that can easily equalize your eye colors. With YouCam's live makeup cam features, you can try out new looks in real time and compare your before and after looks.
Pros
2020 AI excellence awards
Available on Android and IOS
Fast interface
Cons
Premium feature requires paid subscription
5. Pho.to Retouch Visage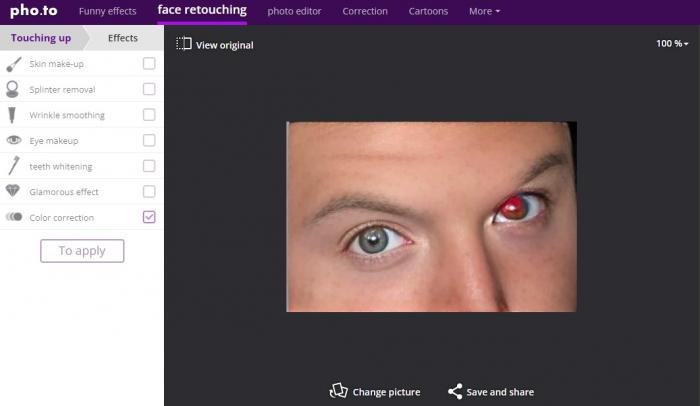 Pho.to Retouch is a handy red eye remover app that can be used to quickly and easily retouch your photos. Simply select the photo you wish to retouch, and then use the various options to adjust the brightness, contrast, saturation, and more as a red-eye corrector. Pho.to Retouch also offers a number of preset filters that can be applied to remove red eyes or to give your photo a vintage look. It is available as a free download from the App Store.
Pros
Can be used to remove red eye automatically
Share the link with friends
Upload the picture without any sign-up
Cons
Limited features available
6. Paintshop Pro.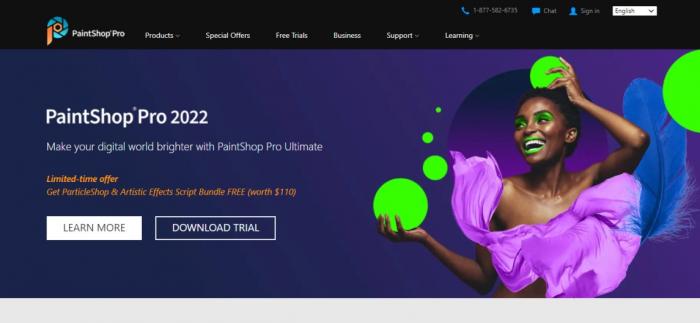 PaintShop Pro is a great program for photo editing and retouching. It offers a wide range of features and tools, making it a versatile tool for both amateur and professional photographers. The software is easy to use and comes with a variety of tutorials and help files to use the red-eye remover feature, so you can get started quickly and learn the ropes as you go.
PaintShop Pro is affordable and available as a download readily. So if you're looking for an easy-to-use photo editor with a wide range of features, PaintShop Pro is a great option.
Pros
Wide range of features and tools
Easy to use
Affordable
Available as a download
Cons
Needs 1 GB space before its ready to use
7. iPiccy Red Eye Corrector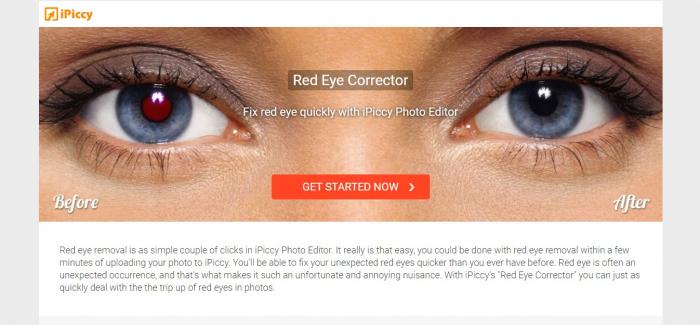 The product's key features are its portability, durability, and easy-to-use design. It is also one of the most affordable products on the market, making it a great value for your money. It takes less than a minute get done with your red eye removal from the pictures.
Pros
Free red eye remover
Shows immediate results
Advanced AI
Cons
Complicated to use for the first time
8. Face Tune App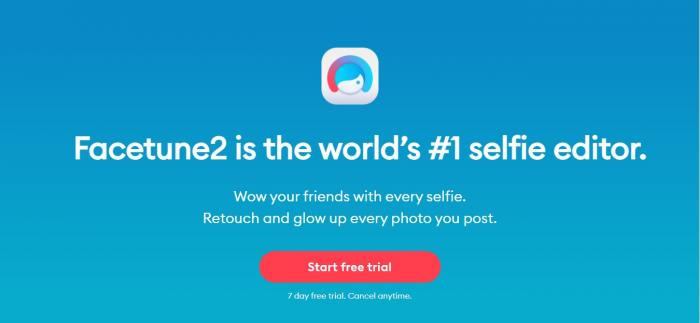 Face Tune is a red-eye remover app that can be used to make your photos look more polished and perfect. It's available for both Android and iOS devices, and it's free to download and use.
Pros
Can be used to improve the look of your photos with a few simple taps
Quick processing time
Best for immediate changes
Cons
Some features require in-app purchases
9. Wids Mob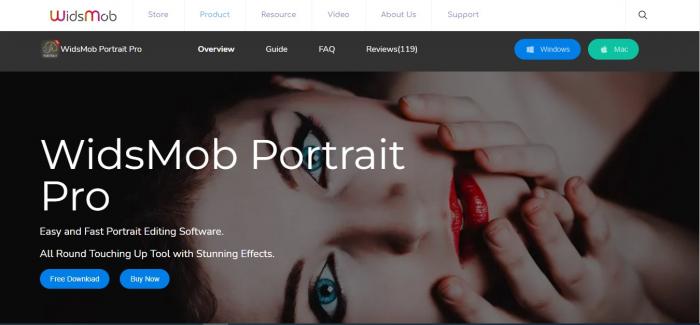 WidsMob Portrait Pro makes portrait red eye removing, and editing easy and fun. It provides one-click art styles and enhances photos with smart enhancement presets. It is the first portrait editor that lets you retouch portraits with full control. It supports RAW files from over 300 digital cameras and allows you to batch process RAW files. You can also control the skin tones, brightness, contrast and more to get the perfect portrait.
Pros
Tweak colors with ease
Best for Mac and Windows
Full control over portrait editing
Cons
10. Fix The Photo Red Eye Remover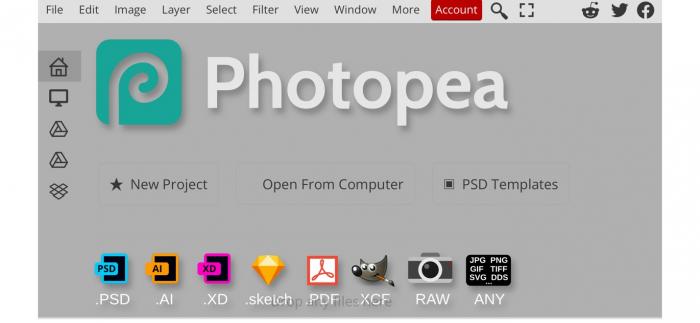 One of the easiest ways to remove red eye is to use Fix The Photo: Red Eye Remover. This photo editor has a red eye removal tool that can easily fix the problem. Simply open the photo in the editor, select the red eye removal tool, and drag it over the area with the red eye. The tool will automatically remove the red eye from the photo.
Pros
Best red eye remover
Available on androids and website
Interface similar to Photoshop
Cons
Complicated interface for first-timers
Conclusion
There are many other features that some red-eye remover offers. For instance, you can also remove white balance errors with just a single click. In addition, anyone can use these online tools to improve the brightness and contrast of photos. So, if you are looking for a powerful yet easy-to-use photo editor, a red-eye remover is a perfect choice. Read more:5 Selective Blemish Remover Tools
FAQ
Why is there a red dot in my eye?
There are a few reasons why there might be a red dot in your eye in pictures.
1. One of the most common reasons is because of the dim or dark background.
2. When your pupil is dilated, there's not enough light getting into the eye and the camera captures the red blood vessels at the back of the eye. This is more common in pictures taken with a flash.
3. Another reason may be looking directly into the camera flash that's close to the lens.
Do you find this post helpful?
Read More to Know Deeper: