Convert Photos to Sketches with These 10 Amazing Tools
A lot of people are decent at drawing but being very good at it is a talent that not many possess. If you're like me, you often find yourself wishing you could take a pencil and sketch out all the great ideas and designs floating around in your imagination. Alas, that's easier said than done for most of us. Fortunately, we live in a time when technology can help us overcome many of our shortcomings and, believe it or not, this including drawing as well. At least to a certain extent. Besides that, more people also seem to be interested in AI Face Generator. You can know more from the link.
Thanks to the magic of certain best photo to sketch software, such as VansPortrait from VanceAI, it is now possible to convert a photo to a sketch with very little effort. Although they won't make you better at drawing, these tools will allow you to take your favorite photos and transform them into something that resembles hand-made pencil sketches. Also you can enlarge output with VanceAI's ai image upscaling tool for better performance. Sounds a bit too good to be true? Don't worry because you'll be able to see the results for yourself in this article, so keep reading until the end. 
VanceAI PC is full-featured desktop software developed by VanceAI that lets you instantly process local photos in bulk with more customization options, which will significantly simplify your workflow and boost your productivity. Free Download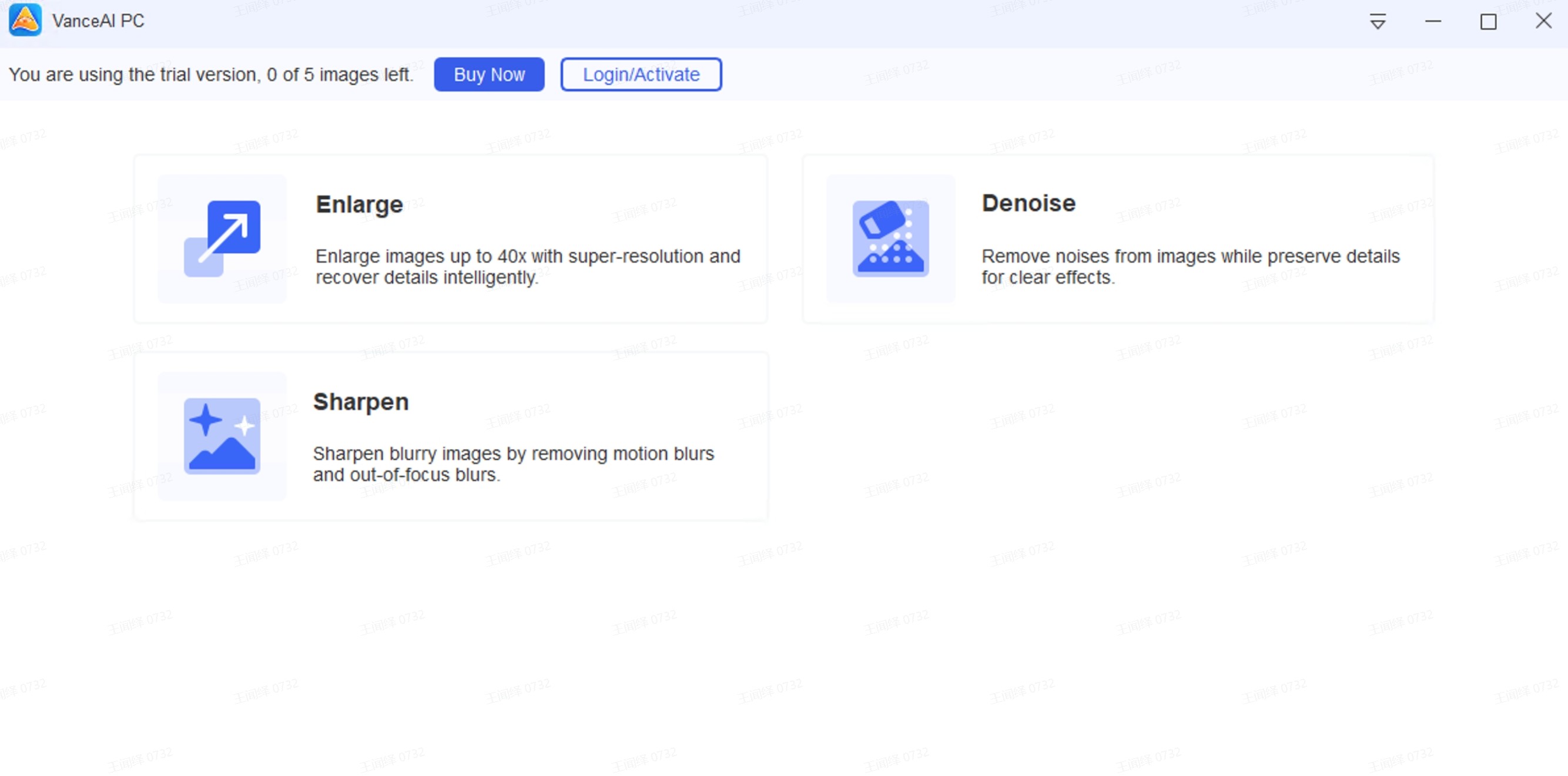 Also read: Top 10 AI Stencil Maker Review 2022.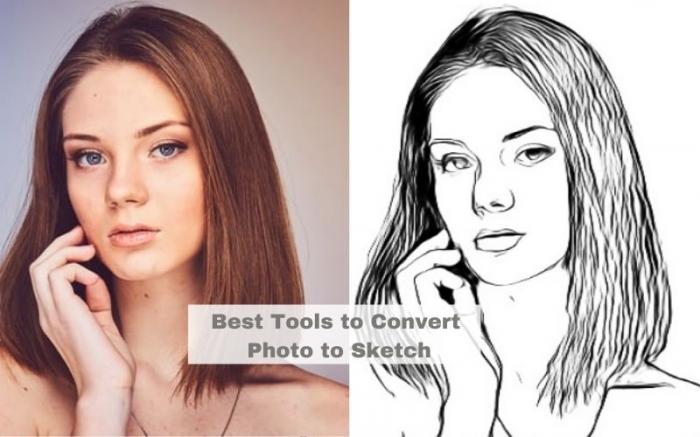 VansPortrait is a new member of VanceAI's library and is made to easily convert photo to line drawing online. Thanks to the deep learning algorithm, this AI Sketch Converter can automatically turn photos to sketch, and no manual work is involved. Just upload a photo and all the hard work can be left to this AI web tool. This online photos to sketch software may only take you no more than 5 seconds. In another way, trying cartoon styles by using an AI cartoon generator is also a great idea.
Also read: How to Sketch a Face from a Photo Like an Artist?
Part 1: Best Photo to Sketch Software on Desktop
Adobe Photoshop
Photoshop needs very little introduction at this point since it has been the premier photo editing software for both professionals and amateurs for many years now. At $20.99 per month, the program is certainly a bit expensive but also very much worth the price tag. Adobe is so confident in its product that it's even throwing in a free 7-day trial. 
Click on Photoshop and you will know more.
Also read:10 Popular Video Game Characters Recreated as Pencil Sketches.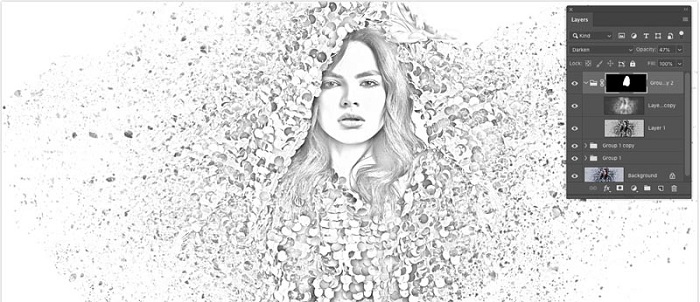 1. Go to the Adobe website to either buy Photoshop or sign up for the free trial.
2. Drag the image you want to convert into your working area and go to Filter -> Filter Gallery.
3. Inside the Sketch folder you're going to find a variety of different filters to choose the one that works best for you.
4. Use the countless other tools available in Photoshop to further modify your image if needed and then save your work once you're done.
FotoSke

 

tcher
FotoSketcher is a photo to pencil sketch converter software free download for PC that does exactly what you would expect. This isn't just a free photo to sketch software, though, as it also allows you to use many other effects like watercolor, oil painting, cartoon and so much more. And the best thing about is that it's entirely free and you don't have to worry about ads either. That said, the developers do encourage users to donate if they can so they can keep improving upon the software. Apart from that, there comes some fancy AI Portrait Generator, making fancy selfies at a fast speed. Get to know more about it.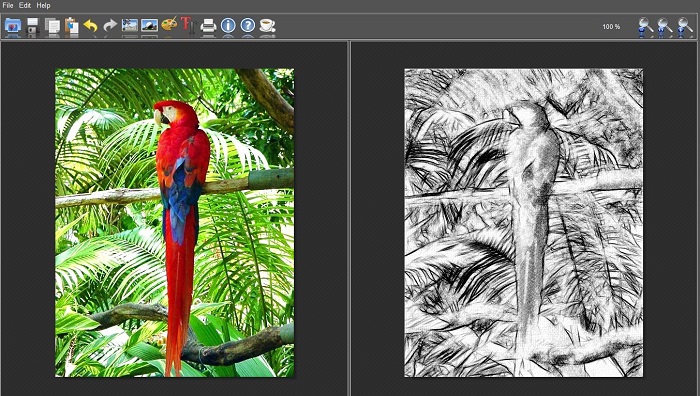 1. Go to FotoSketcher.com and visit the Download section to grab the software.
2. Load an image or use the provided sample to practice using FotoSketcher.
3. Click the Drawing Parameters option (the one that looks like a painting palette) and use the dropdown menu to select a drawing style. Some of the styles will yield better results than others so don't be afraid to experiment until you're happy with the results.
4. Use any of the other available tools if needed and click 'Drawn" once you're happy with how th image looks.
More interestingly, there are also some popular Vtuber Maker which use similar technology. Try it if you like.
SoftOrbits
SoftOrbits is a well-known company that develops a wide range of image editing software, including reliable photo to sketch software. You may use this photo to pencil sketch converter software free download for your devices first. Unfortunately, there are limits to what you can do with the free version of the software but at least it will give you a good taste of its potential capabilities. If you want to unlock the software's full set of features, you can upgrade to one of the three paid licenses, which will set you back between $6.99 and $24.99.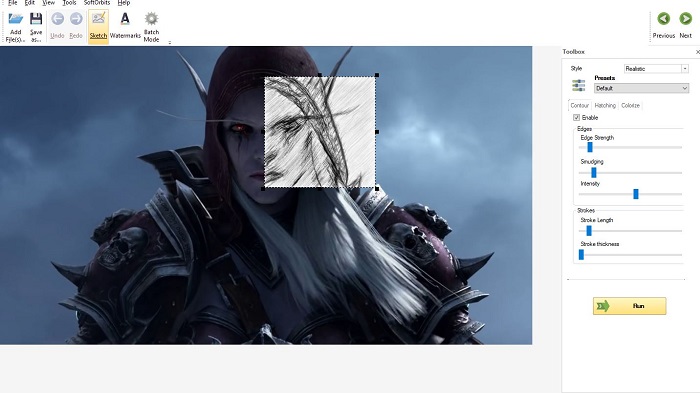 1. Visit the official website and go to the Our Products section to find the Sketch Drawer.
2. Drag-and-drop and image into the working area. Upon doing so, you will notice that a selection box appears that automatically attempts to convert everything inside it into a pencil sketch.
3. Drag the corners of the selection box until it encompasses the entire image or simply select a portion of it if that works better for you. You can further modify the selection by choosing a different present from the right-hand side menu and playing around with any of the other options found there.
4. Click the 'Run' button once you're happy with the results and save the image.
Also read: Top 10 AI Art Generators Review.
Part 2: APP to Convert Photo to Sketch
PencilSketch
Pencil Sketch is an extremely popular Android and iOS app with over 50 million downloads as of the time of this writing. The base version of this photo to sketch app is free but contains ads. You can get rid of those by upgrading to the premium tier for a few bucks, which not only removes ads but also comes with extra features.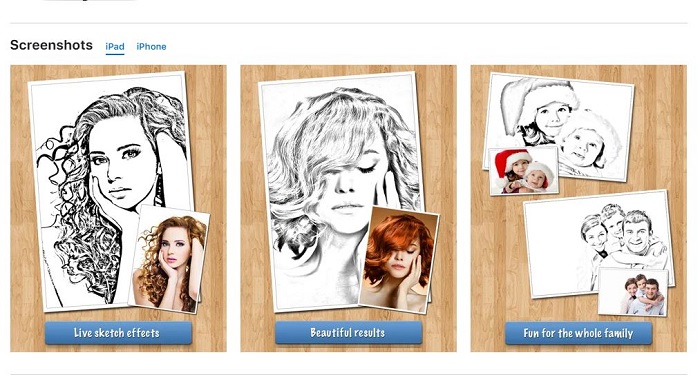 1. Install Pencil Sketch from either Google Play or iTunes, depending on your device.
2. Click the Gallery option to convert one of your existing images or the Camera option to take a new photo, which you can convert afterward.
3. Use the top menu to select one of the available styles and then click the pencil icon.
4. Make further adjustments if necessary and save the new image to your phone when you're happy with the results.
Also read: Best 5 Websites for Rose Line Drawing Ideas.
Clip2Comic
Clip2Comic is another photo to pencil sketch app, however, this one is only available on iOS. The app is free with ads but you can spend a couple of bucks to get rid of them and access various additional features.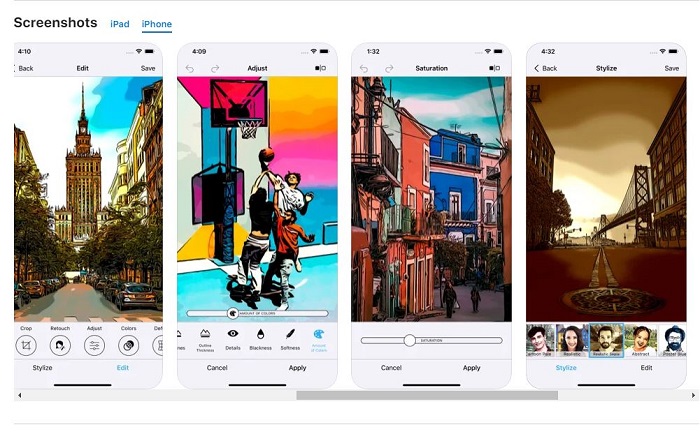 1. Go to the Apple App Store to find and install Clip2Comic.
2. The app has a very simple user interface so simply select a picture and a favorite sketching style.
3. There are lots of tools at your disposal that allow you to make adjustments and add various filters. Use them as you see fit.
4. Save the image and use the built-in buttons to share it on social media if you wish.
PhotoMania
PhotoMania is a fun little photo to sketch app that can be used on both Android and iOS devices. In addition to the photo to sketch software, the app has a wide range of other effects, designs and frames to choose from. You can use PhotoMania for free for as long as you want, however, some of the presents need to be purchased.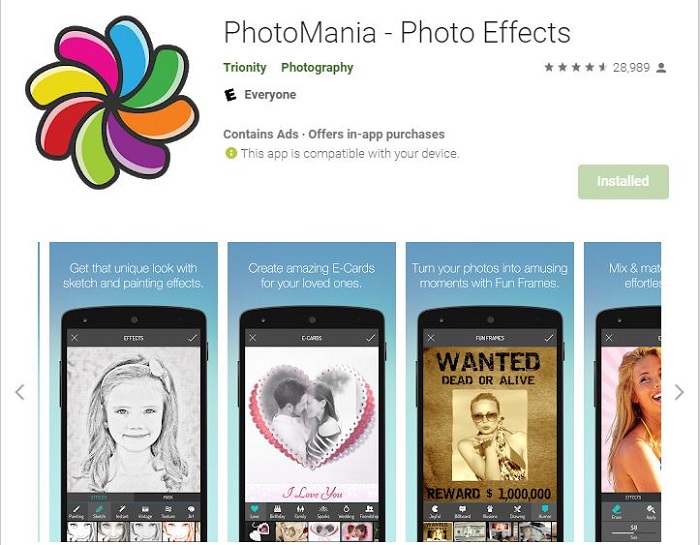 1. Go to Google Play or the Apple App Store to grab PhotoMania.
2. Click the Camera or Photo Gallery options, depending on whether you already have an image that you want to convert.
3. Select Effects -> Sketch and choose one of the available effects. Play around with some of the options if needed until you are happy with the results.
4. Save the image locally or upload it to social media using the built-in buttons.
Part 3: Online Software to Convert Photo to Pencil Sketch
Pho.to
Pho.to is a popular website that you can visit to access a bunch of interesting tools you can play around with. A lot of them revolve around improving your selfies but some of them also let you put a nice artistic touch to images. Of course, the tool we're interested in the most is the photo to sketch softerware online.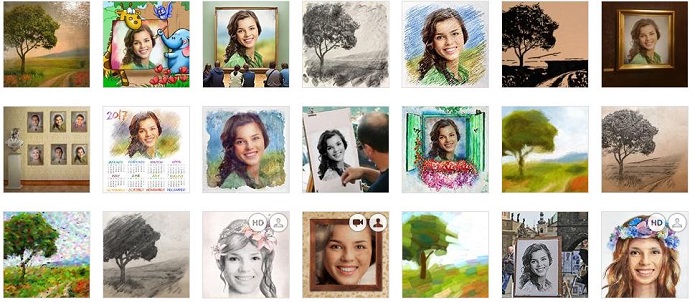 1. Go to Pho.to and scroll all the way to the bottom once you're on the homepage. There, you'll want to look for the 'Fun Effects' section of the bottom menu.
2. There are literally hundreds of image frames, effects and filters to choose from, but for the photos to sketch software, you'll want to pick the 'Art' category located in the right-hand menu. There are quite a few options here as well so pick the sketch style that works best for you.
3. Upload an image from your computer, via an URL or from your Facebook library. Wait for the website to finish processing your image  
4. Once the process is complete you can add frames, stickers and other customization options to the resulting image. Click the Save & Share button when you're ready to download the image.
Snapstouch
Another free photos to sketches software, Snapstouch is a more simplistic tool that can nevertheless yield great results. There are fewer options to choose from here and there are no over-the-top filters or effects since this is a more artistically-oriented tool.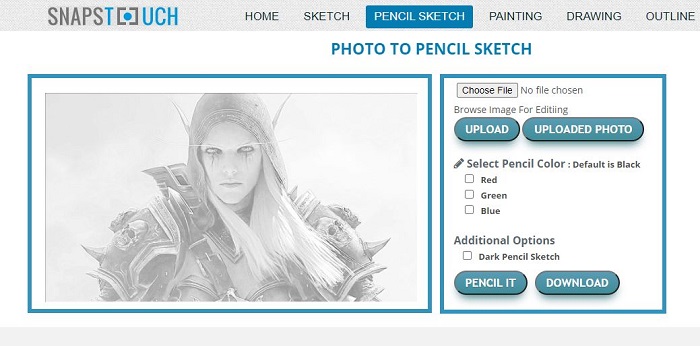 1. Visit the official website and click either the photo to pencil sketch converter or the regular sketch converter tool. We're going with the first option for this example.
2.  Click 'Choose File' to select an image from your computer and then hit the 'Upload' button.
3. Click the 'Pencil It' button if you're happy with the default options. Otherwise, feel free to play around with the colors if you want to achieve a more specific result.
4. Wait for the image to finish processing and then download it on your computer.
Picture to People
Picture to People is an online image editing suite that lets you create logos, font effects, picture frames and more. Naturally, a free photso to sketches software is available as well. In fact, there are two of them you could try.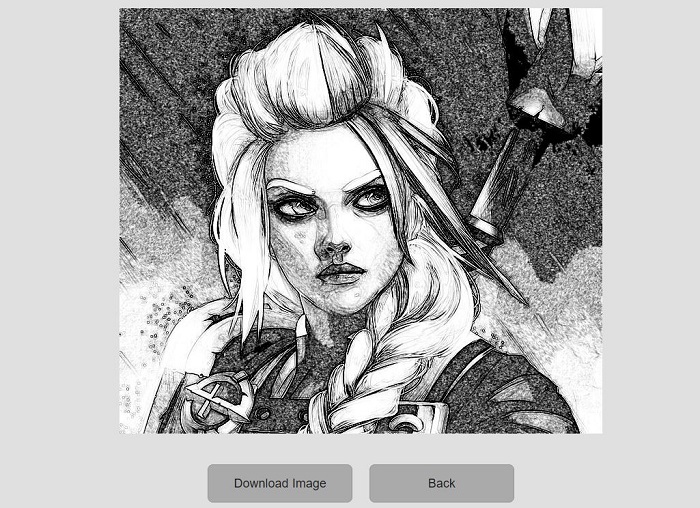 1. Start by visiting the official Picture to People website and click on the 'Photo Effects' tab in the top menu. Scroll down until you find the photo sketch tool or use the Search box to speed things up. It's worth noting that there's also a Realistic photo to pencil sketch converter.
2. Scroll past the sample images until you reach the 'Choose File' button. Upload your image.
3. Use any of the available options to customize the end result and then click 'Generate'.
4. Hit the Back button if you want to make further adjustments or Download if you're happy with the results.
Image Online
If you're looking for a quick and easy way of converting a photo to a sketch online this is your best bet. The pencil sketcher is one of the many photos to sketch software available on this website so feel free to browse around if you want to modify your photos in other ways.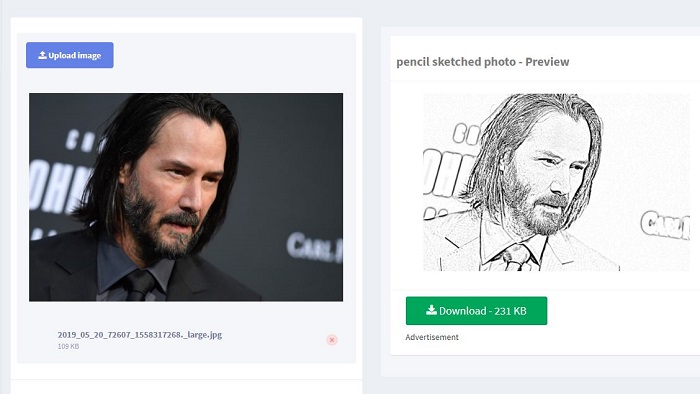 1. Go to imageonline.co and pick the 'Pencil sketch your photo' from the list on the left.
2. Upload an image from your computer.
3. Use the slider to adjust the amount of pencil shadow.
4. Download the photo once you're happy with the results.
Conclusion
Learning how to use software to convert photo to pencil sketch can be loads of fun and can lead to some very interesting results. Especially since these tools work with any kind of image, regardless of whether it contains people, objects, or natural environments. Moreover, you can make sketches not just out of realistic images but also cartoony ones, screenshots of video games, still from a fantasy movie or anime, and the list goes on. Click to know more about How to Convert Photo to Line Drawing with AI Sketcher.
As far as the tools themselves are concerned, your best bet is to try out the online photo to sketch software first since they don't require you to download anything. If you're planning to use such software to convert photo to pencil sketch on a consistent basis, however, the apps or downloadable software are probably a better choice since they tend to be more reliable while also including more features. If you're interested in tools to enlarge image without losing quality, click on Image upscaler to give it a try.
FAQs
What is photos to sketches software?
Just as its name suggests, photo to sketch software is any type of tool that lets you take a digital image and turn it into a sketch. These include online tools, photo to pencil sketch converter software free download for PC, and even an app to turn photo into sketch for your phone. A lot of these tools focus on realism, while others allow you to manipulate the resulting images to make them look more like cartoons or caricatures.
Adobe Photoshop is probably the most well-known example of photos to sketches software, albeit that's only one of the software's many capabilities. In addition to that, there are many other tools and apps that can fulfill that purpose, some of which we're going to cover in this article. Without further ado, let's start things off with the first category.
Do you find this post helpful?
Read More to Know Deeper: