While oral hygiene is key to achieving that Hollywood smile, tea, sodas, and various other foods can dull your teeth. When it comes to pictures, lighting can be the culprit behind your teeth appearing yellower than they are in real life. However, with so many smart teeth-whitening photo editor apps available, getting those pearly whites shouldn't be a problem.
Here is a list of the 10 best teeth whitening photo editor that can save you expensive dentist visits and get a picture-perfect digital smile in no time.
1. Professional Teeth Whitening Editor Recommended
VanceAI Portrait Retoucher
Price: VanceAI is an online and offline image editing and enhancement application. The free version offers three image credits per month. The paid options include a monthly plan, a yearly plan, and a "pay as you go" scheme. The monthly plan costs $9.99 per month, the yearly plan costs $4.99 per month, and the other plan gives you 600 credits for $24.99.
VanceAI Portrait Retoucher Overview
The VanceAI Portrait Retoucher is an AI based application designed to edit and enhance portrait type photos. The AI based system is meant to read through portraits in detail and provide solutions that look natural as well as efficient. Considering that VanceAI also offers other AI based image processing tools such as photo restoration, photo colorizer, photo to sketch or anime converter, and more, you can enhance your portrait in many different ways.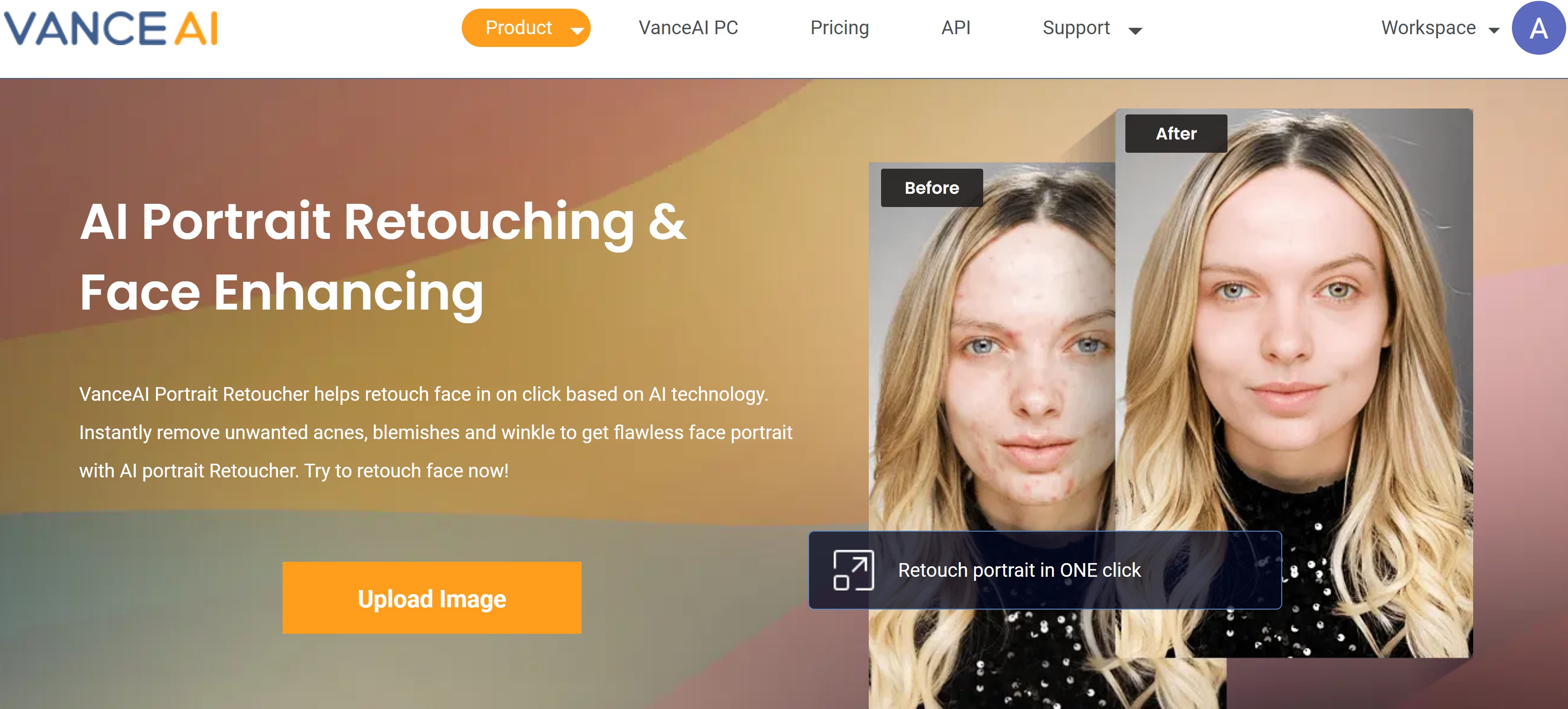 The VanceAI app is also highly accessible. It works really well online regardless of the browser you are using. The online app even works well on Opera, let alone the mainstream ones such as Chrome, Firefox, or Microsoft Edge. The offline version is a complete image editing software that contains many VanceAI tools such as image enlarger, image sharpener, and more.
VanceAI Portrait Retoucher Features
The VanceAI Portrait Retoucher is a mostly automatic tool that manages to enhance portraits on its own without much user input. However, before processing the image, users can select from two different modes for enhancing portraits. The Retouch mode is designed to focus on removing the acne, pimples, blemishes, and more from a portrait. This mode targets issues found in the portrait and eliminates them in order to get a cleaner portrait. On the other hand, the Enhance mode is focused more on further improving the quality of a portrait. This won't necessarily eliminate all the issues, but it will definitely make the image appear in a higher quality than before.
Another great feature of VanceAI Portrait Retoucher, which also applies to all of the other VanceAI tools, is that it has a really easy to use and intuitive UI design. Uploading images is quick, and with the Workspace, you can navigate and manage everything from one place. The above mentioned modes of the Portrait Retoucher can be managed from the Workspace as well. With image editing being complex, this UI design makes it possible for anyone to use this tool effectively.
Pros:
The app is well designed and offers great results.
One of the best UI designs, making it easy for everyone to use.
Offers a ton of different editing and enhancement tools.
Cons:
Really limited free use, which also involves watermark.
The Portrait Retoucher needs to be added to the software version.
2. VanceAI Performance Review
Let's take a look at a portrait that has been processed by the VanceAI Portrait Retoucher online application.
| | | | | | | | |
| --- | --- | --- | --- | --- | --- | --- | --- |
| Product | Free | User-friendliness  | Multiple languages | Multitasking |  Special advantage | Powered by AI | No "Download"  |
| VanceAI Portrait Retoucher | ×(3 free credits each month) | √(concise UI) | √(four languages) | √("Retouch" and "Enhance" models) | √ focus more on facial flaws | √(free of manual effort) | √(online) |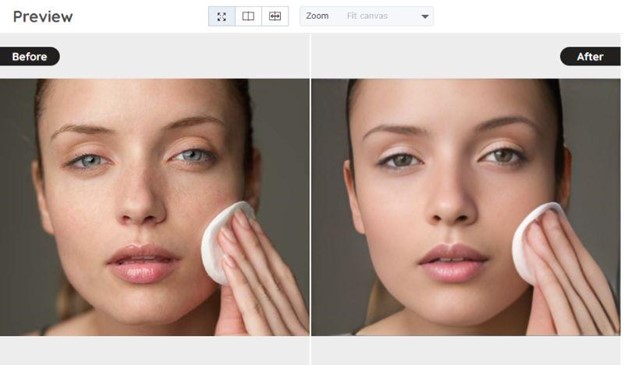 The Before image is filled with tiny spots that cover the face of the person. In comparison, the After image is much clearer and almost presents the portrait from a new perspective. The After image now has a completely different look, which looks professional as well as natural. The mode used for this image was the Retouch mode and the results definitely work accordingly. You can also use the Enhance mode and download the image more suitable for you.
With the blemish remover, you can benefit from speed, performance, and options.
3. Best 10 Teeth Whitening Photo Editors
1. Fotor

Fotor is undoubtedly one of the best teeth whitening editors for smartphones. With a good option of tools that can allow you to
beautify, resize, crop, add effects, enhance photos and whiten teeth, Fotor has a user-friendly interface that allows both amateur and advanced photo editors to generate high-quality pictures on the go.
Also, it has a lot of free stickers, borders, and grid layouts that you can use to create different projects. So, if you need an app that's free and doesn't restrict a lot of innovative features, Fotor is highly recommended. Here, you can read more about Fotor.
Pros
User-friendly interface
No previous skills are required to edit photos with it
Free collage templates
Cons
Limited features in the free version
2. PicMonkey

Picmonkey is one of the most powerful photo editors for teeth whitening. Users can easily apply whitening effects where they want them and adjust the fading to give it a natural glow using brush strokes—not the toothbrush!
While the app isn't free, users can get all premium features at a reasonable price that provides good value. Overall, PicMonkey is one of the best editors for people who want to whiten their teeth and use other photo enhancers helping you to remove disgusting blurry, or noisy parts and touch-up tools. 
Pros
Easy to use
User friendly
Lots of options
social media stickers and icons
Cons
Tacky log-in
no free trial
3. Pho.to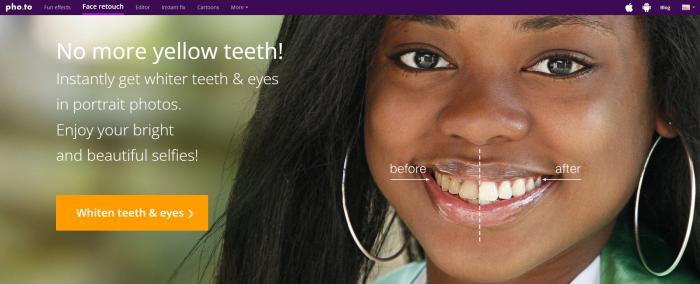 Pho.to is yet another well-liked free teeth whitening photo editor online. Being a versatile app, users can not just use it for face touch-ups but also play with fun effects, creative ecards, avatars, and cartoons.
When it comes to whitening your teeth or eyes, the app is nothing short of a magic wand. Just upload your picture, and the face retouch algorithm will do the work for you, and voila! You have a beautiful picture ready to be shared with the world.
Pros
Free photo app
User-friendly features
No watermarks or ads
Shareable across social media
Cons
Some errors in the smartphone interface
4. Teeth Whitener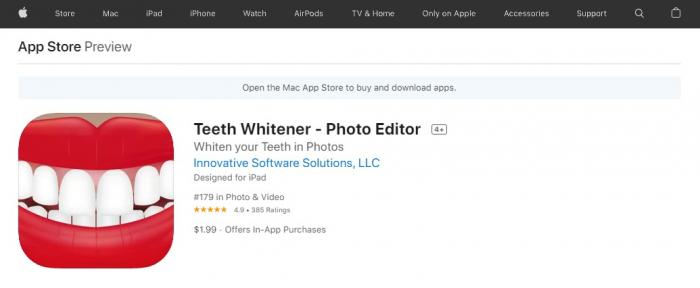 With this free-teeth whitening photo editor app, unleash your best smile and receive dozens of compliments and love reactions on your Instagram handle. Unlike several other apps, Teeth Whitener allows you to zoom in on each picture so you can erase stains or whiten the exact tooth areas. This 5-star app also allows you to adjust the brightness to your liking with a single click.
Pros
No subscription needed
Zoom in touch-ups
Smooth results
Cons
Whitening appears bluish if used on maximum
5. piZap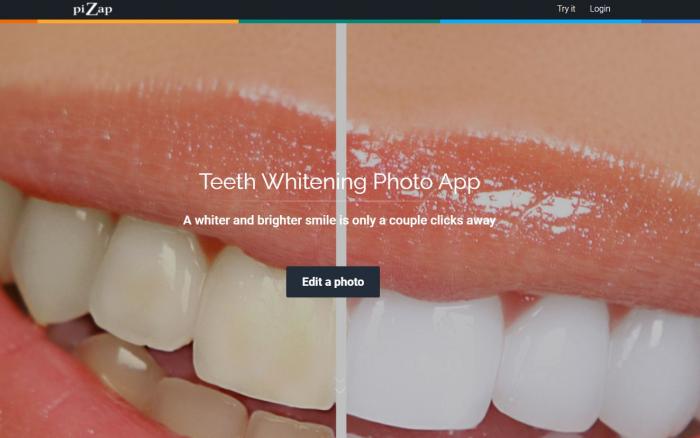 Get a perfect toothy smile on the touch of your finger through the ultimate photo editor. To touch up, zoom in, point to the area that needs to be fixed, then skim through various tones until you find the one you like. However, piZap is not just a teeth retouching app and offers many other features. The app also regularly updates new backgrounds, texts, frames, stickers, and other photo enhancer tools. They will help you finish the task of image enhancement with one single click even if you have not sophisticated skills. At the same time, it is able to enhance the resolution of your picture to a higher level within several seconds.
Pros
Easy to use
Advanced retouching tools
Regular updates
Cons
Restricted features
A lot of ads
6. Befunky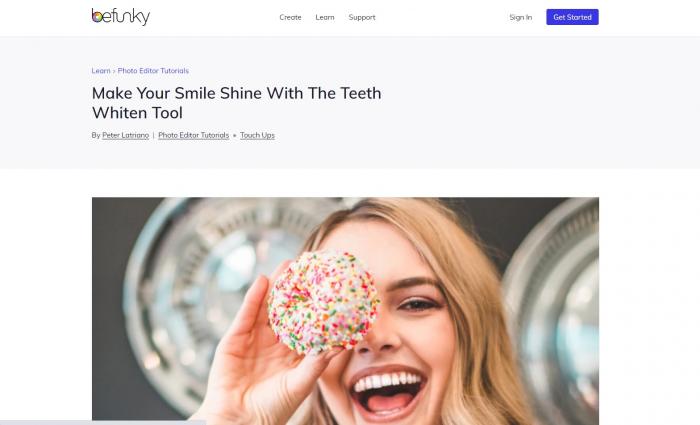 Zap your pictures for a perfect toothy grin with this top-rated online app. BeFunky not only lets you whiten your teeth, but it also has tons of features. So you get image upscaler, committed to making better images with AI easily, and other creative tools all in one place, allowing you to transform your photos into stunning works of art. Additionally, the simple app interface allows you to edit pictures, access filters, and even customize the backgrounds. And since the app is watermark-free, you can easily save and share your photos with the world.
Pros
Plenty of photo enhancement tools
No technical knowledge needed
Offers both free and pro modes
 Cons
Pro mode does not work on the iPad
7. Perfect Smile: Teeth Whitening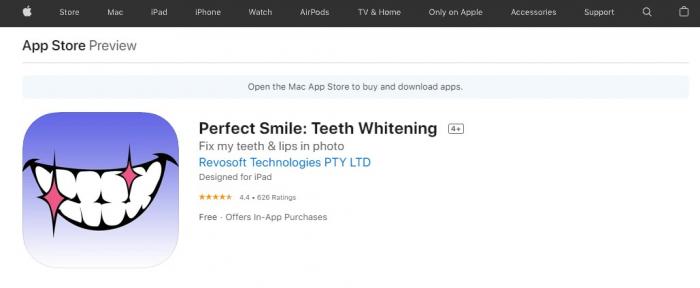 With the Perfect smile: Teeth Whitening app, you are just a millisecond away from a toothy white grin. Rightly named as the perfect smile, this app gives you white teeth without making it look overly edited. While the app is easy to use, it is only available to be used along with apple devices. Having said that, the app interface is extremely user-friendly, and even a child can get the job done in a matter of minutes.
Pros
Ease of use
Offers free trial
Cons
Picture quality could be better
8. Fix the photo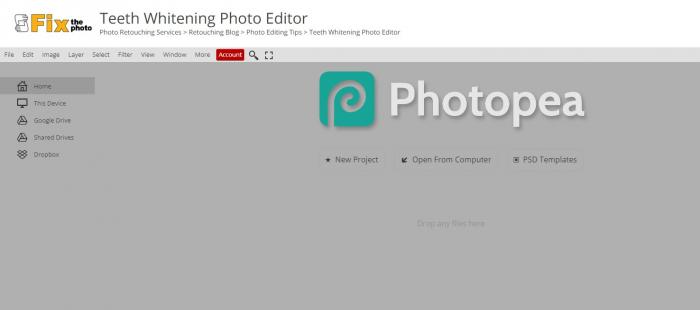 Who needs a smile fix when you can do it with a photo editor? No. You must not be a professional expert to do that anymore. With Fix, the photo gets a natural-looking pearly white that can make anyone's day. Simply upload your photo, use the Lasso tool to select the tooth area, apply adjustment layer, next decrease yellow saturation to 0. There you have it!
Pros
Easy image retouching
Hassle-free interface
Cons
Not available for smartphones
9. iPiccy

Although everyone wants to achieve that dazzling smile, using whitening strips, dentist sessions, and timing, your tooth brushing might seem a hassle. Fortunately, iPiccy lets you see yourself wearing that perfectly white smile – at least in the photos!
Not only is it super-fast—you'll have a beautiful smile within seconds. But that's not all. With the app's many other features, you can touch up your photos in 123. Upload the photo, click the retouch tab, choose whiten teeth where you can adjust the size of your brush tool, and pick the amount of fade effect you want to apply. Not only does this provide you power over the amount of whitening you want, but it also gives the image a more natural appearance.
Pros
A lot of retouch tools
Convenient interface
Cons
Only available for iOS devices
No free trial
10. Retouchme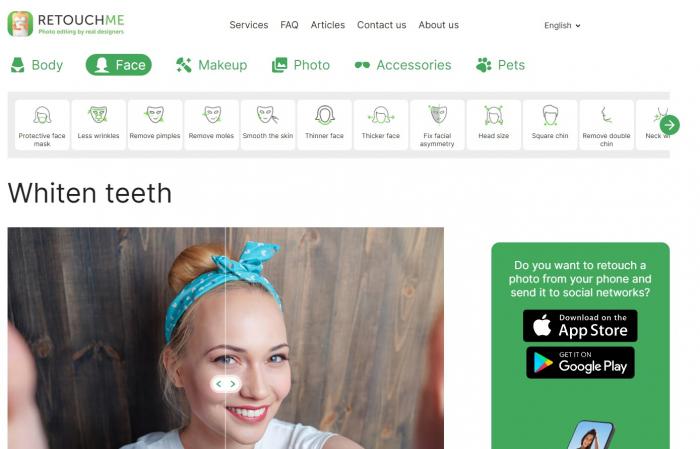 If you don't have the money to spend hundreds of dollars on professional teeth whitening but still want a great-looking smile in your pictures. We have something for you. With a 4.4 Rating on the Apple store, the Retouch me app gives you exactly what you want — a brighter, more natural-looking smile. So whether you need to get rid of any imperfections from the skin, add cool tattoos, reshape body parts, paint your hair or simply whiten your teeth — all you need is Retouchme.
Pros
Convenience
Allows personalization
Beginner-friendly
Image restoration features
Cons
Result processing takes time.
Conclusion
While hundreds of other photo editing apps claim to whiten teeth, we think these 10 apps are hands down the best whitening photo editors. We rate them based on interface, user-friendliness, and features, teeth whitening to be among one.
So, what are your thoughts on these? Have you tried any of them yet? If you haven't, we strongly advise you to do so right away! You can thank us later.  Also read: How to Fix Hazy Image with VanceAI?
Do you find this post helpful?