Are you in a situation where you need to deal with those annoying jagged image edges? Well, this guide offers a way out. Read on as we cover how to smooth edges in photoshop and online alternatives.
Whether you want to make your composite image more realistic or want to retain the natural feel of your image when you replace or remove background, smoothening the edges is the right way to achieve that. But there's a problem, - finding the right tool to achieve this can sometimes be an uphill task. As such, depending on your experience and expertise, we will cover a range of tools like VanceAI Image Sharpener that will help you not only to smooth edges but also unblur image moving forward. Firstly, the article will explain how to smooth edges in photoshop, and subsequently, we'll delve into some effective alternatives you don't want to miss out on.
Why do I need to smooth the edges of images?
We are in a digital age where no one will even break a sweat on your content if they are low quality. Sometimes, several processes can leave your image with jagged or rough edges, which diminishes its overall quality. Since the digital space is pretty competitive, it is almost impossible to stay afloat with a sub-par image. Besides, when you cut out your image background in a bid to make it more attractive and compelling, you may be left with a jagged or rough edge.
For this reason, you need to refine these edges by smoothening them and making them look appealing. This is very essential for e-commerce intents and grasping the dwindling attention span of prospects. In essence, smoothing the edges of the image will help you make it feel more natural, seamless, and appealing. If you're working on composite images as well, smooth edges can bring the best out of your effort. This is as well true if you want to create a vignette feel – smooth edges can be the missing piece you've been looking for. Check image sharpener offered by VanceAI to try!
How to smooth edges in photoshop?
While Photoshop has its fair share of limitations, it is arguably the most effective tool when it comes to creating smooth edges. To create smooth edges photoshop has a compelling range of tools that will introduce flexibility to the overall effort. Remember, it is not online, so you have to check out the software specifications and see if it will work for your PC. If it does, then let's range over different approaches on how to smooth edges in photoshop. If you are not satisfied with the result, you can use some tools to make photo hd.
Method #1: How to smooth edges in photoshop with basic adjustment
To use this method, begin by creating a proper foreground selection. The Refine Edge feature is best tailored for this. However, this may be absent in more recent photoshop versions. Nonetheless, if you have this option, the following steps can be all you need on how to smooth out edges in photoshop.
Step 1: hit the Select button and choose Mask. Besides, you can as well leverage the quick selection tool and mask.
Step 2: Using the properties channel, you can refine your selection to your taste.
Step 3: Navigate to the view mode and adjust the opacity to your preference.
Step 4: with the quick selection brush, make changes to suit the selection.
Step 5: make your adjustments more precise with the Refine edge functionality
Step 6: further refine everything using the brush tool.
There you have it, you should be left with photoshop smooth edges by now.
Method #2: Use feather edges
Step 1: mask your image and modify the setting using the properties button
Step 2: now paste your selection into another layer
Step 3: Navigate to the marquee tool and select what you'll copy and paste on the image moving forward.
Step 4: use the cursor to create a border around the picture.
Step 5: go to select, choose modify and click on the feather tool
Step 6: select a value and set your feather radius to your desired softness.
Best 3 online alternatives to photoshop to smooth edges
Considering the steep learning curve coupled with the time and data download demands, photoshop may not be a suitable pick for many. Hence, if you're perhaps looking for alternatives to how to smooth Jagged edges in photoshop, this section covers them.
Product
Free
Intuitive Interface
Multitasking
AI-based Product
No Watermark
Targeted Sharpen Model
VanceAI Image Sharpener
×
(3 credits/month for trial)
√
√
√
√
√(Four Sharpen Models)
OnlinePNGTools
×(for personal use)
×
×
×
√
×
PineTools
√
×
×
×
√
×
VanceAI Image Sharpener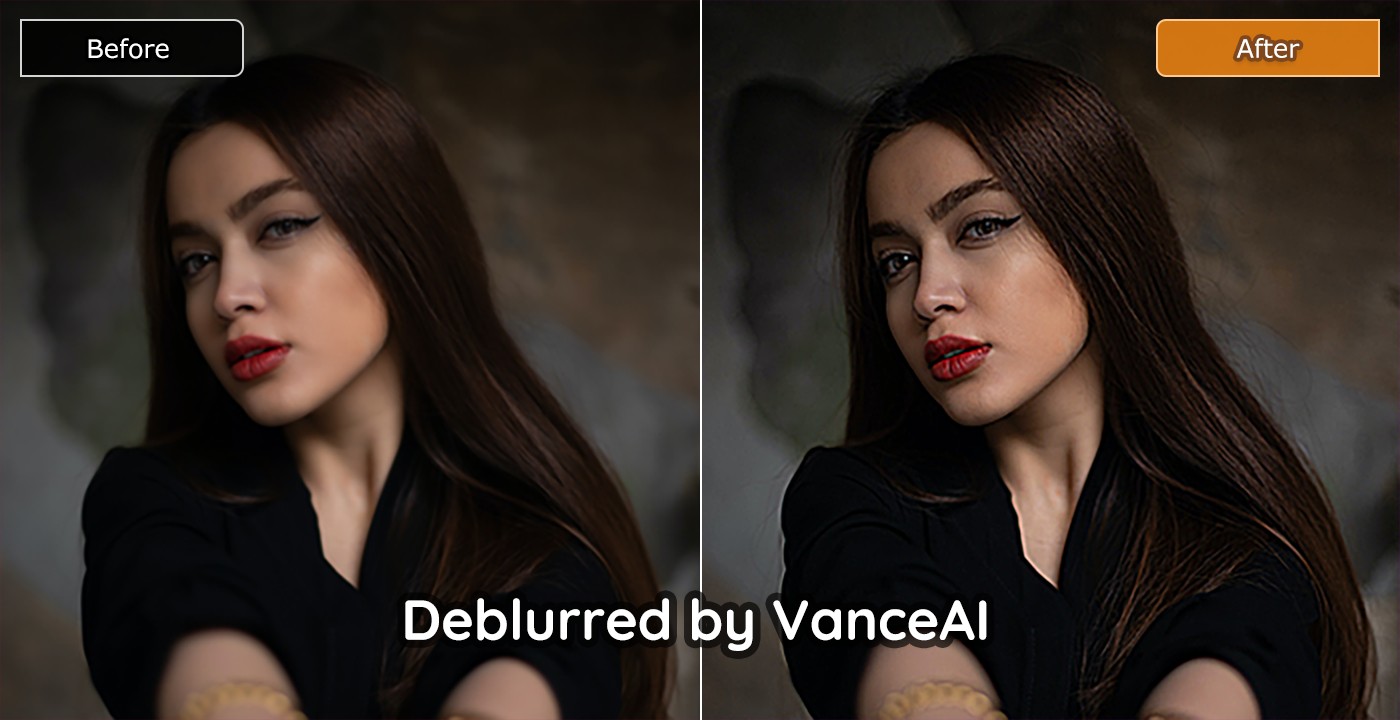 VanceAI image sharpener is a fully automated tool with AI and deep learning at the core of its operations. As such, you neither have to worry about overwhelming processes nor download costs. As an alternative to how to unblur image in photoshop, follow these steps to smooth edges on this tool.
Step 1: Visit VanceAI website and upload the image with jagged edges.
Step 2: tweak the settings indicated according to your preference. Or leave it just as it is if you're not sure. Then, hit the start to process button to unblur image online.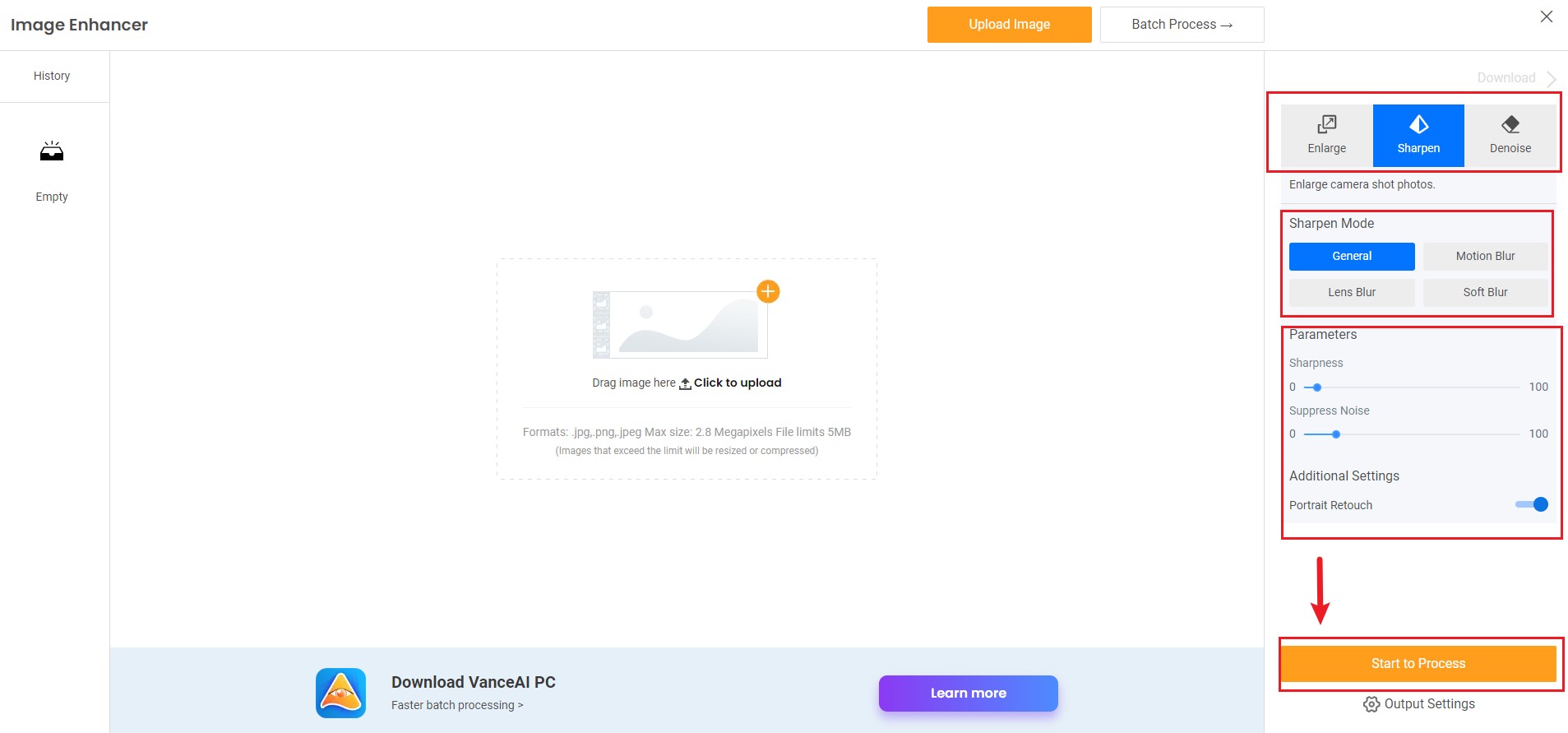 Step 3: Wait for the tool to automatically complete the process for you and download the image with smooth edges.

OnlinePNGTools
This is yet another online alternative to how to smooth edges in photoshop cc. And it works similarly to GIMP smooth edges. It is completely free as well, so you don't have to worry about any form of cost moving forward.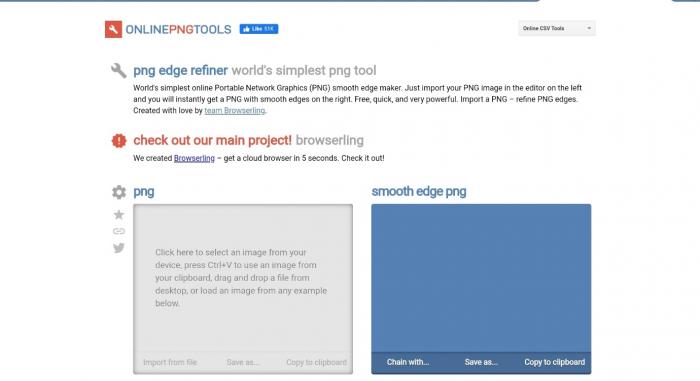 Step 1: Visit the website and using the available upload button, upload the image with rough edges.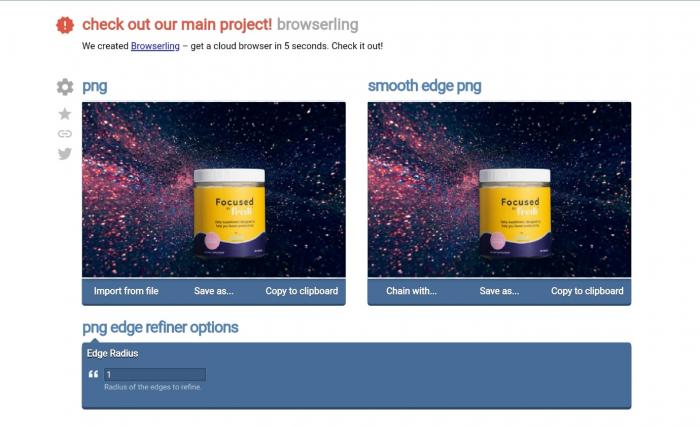 Step 2: without any click, the tool automatically smoothens the edges for you.
Step 3: Now, you can download the image with smoother edges.
PineTools
The last alternative to how to smooth edges in photoshop, Pinetools, also embodies quite an effective tool to smooth edges without any hassle. It is also straightforward, free, and typically needs just two clicks to get everything done.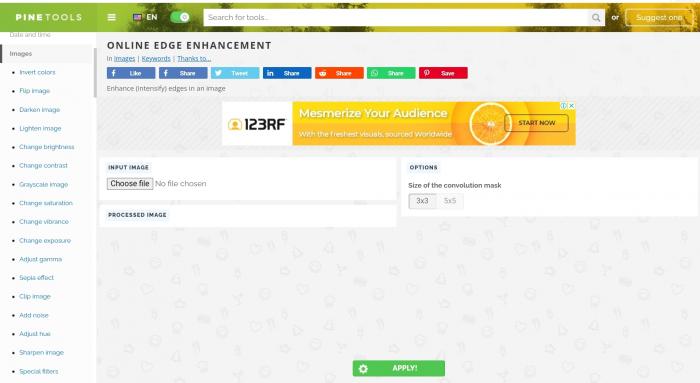 Step 1: visit the platform and upload the subject photo.
Step 2: wait for it to complete the upload and hit the apply button subsequently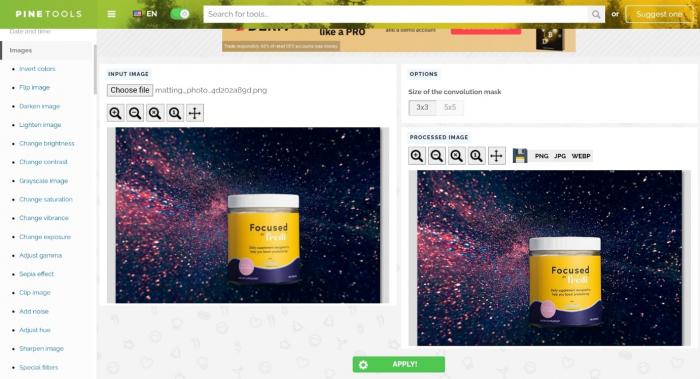 Step 3: the tool will then display a big preview so you can edit it further or download it.
Conclusion
If you've followed this guide to this point, bet you don't have to worry yourself about jagged or rough edges moving forward. This guide highlights how to smooth edges in photoshop as well as online alternatives to making AI unblur image. Hence, regardless of your preference or workflow, you definitely have something that fits your bill. Overall, you should look out for if you're looking to optimize your workflow with ease without taking anything away from quality.
Do you find this post helpful?
Yes
No