How to Reduce Noise in Your Photos (2023 Guide)
Noise in photos has been around since the first cameras were invented, and it's likely to continue to be an issue even as technology advances. A well-lit picture can be ruined by excess noise, making it look grainy or blurry to the point where you can't make out what's in the picture anymore. 
Fortunately, there are tons of great tools out there that can help you reduce the noise in your photos so they look more precise and more high-quality. This article will mention the 10 best photo noise reduction tools on the market today, so you can ensure your next photo looks its best!  When it comes to dealing with things like denoise image online, you can get its advantages by reducing noise in your photos or adding text to them. It's easy and quick to use this tool. It only takes a few minutes to enhance your image with excellent quality because of its optimized design for end-users. 
To find more powerful AI-based tools, you may visit VanceAI website and have a nice try. VanceAI now also launches its software version. VanceAI PC is full-featured desktop software developed by VanceAI that lets you instantly process local photos in bulk with more customization options, which will significantly simplify your workflow and boost your productivity. Free Download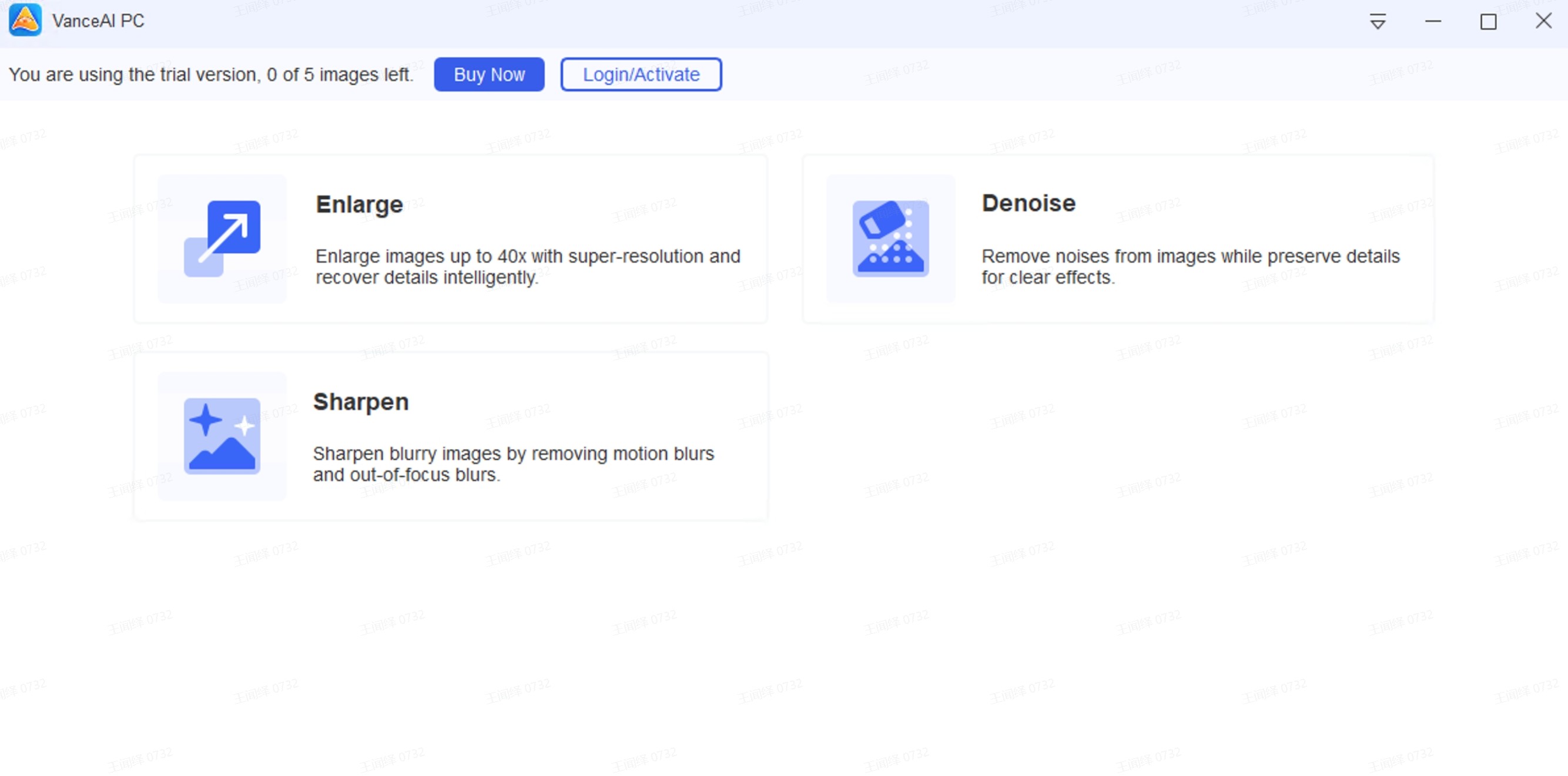 What Is Noise In Photos?
With digital cameras, noise is a phenomenon where pixels tend to become discolored or over-exposed. This often occurs in low light situations when using high ISO settings and can reduce overall image quality. In addition, moving objects in videos can create noticeable noise. 
However, several tools are designed to help users reduce noise from their photos. By reducing noise and blurring artifacts caused by excessive sharpening, you'll notice an overall improvement in image quality. Besides, unlike traditional tools which often produce blurry and even pixelated results, image denoiser tools  offered by VanceAI can enhance an image by reducing blur and recovering original details. 
Why Is There Noise In My Photos?
The effect of graininess in images is called noise. It can be caused by various factors, including camera noise, sensor noise, and random noise like the type that appears when the image has been over-sharpened, or the camera settings were incorrect.
As the resolution increases, so make the noise in your photos, and you end up with pixelated images that are hard to look at and even harder to work with. 
As the digital age has grown, so has the demand to make photo HD online. Fortunately, there are many photo editing tools available for all levels of users that reduce noise in photos automatically. 
How To Reduce Noise With Online Tools?
Choosing the right tool to reduce noise in photos can be challenging. You have many different options available, each with its benefits and drawbacks, so it's tough to know which one will give you the best results. 
To make choosing more accessible, we've narrowed down the top 10 photo noise reduction tools on the market today so you can find the perfect fit for your individual project needs. 
Read on to learn more about these products, their uses, and how they can help you reduce noise in photos!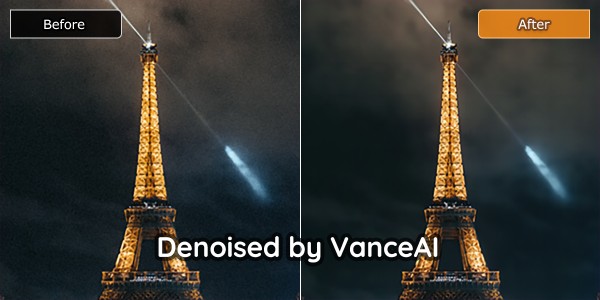 There are a lot of noise reduction tools for images available today, but no matter which one you use, it is essential to do your research before committing. That's because, when it comes to image noise removal, not all algorithms are created equal. 
VanceAI is my go-to tool for reducing noise in photos. It has a simple user interface and produces fantastic results every time. Some provide better results than others, and some even leave your images with artifacts that can be worse than what you started with.  
I've been using it in photography for years and have never had any issues with quality or performance. It will automatically remove 100% of the noise from your photos. The best part? It's free! So if you want to reduce noise in photos without breaking your budget, give VanceAI Image Denoiser a try!
Before/After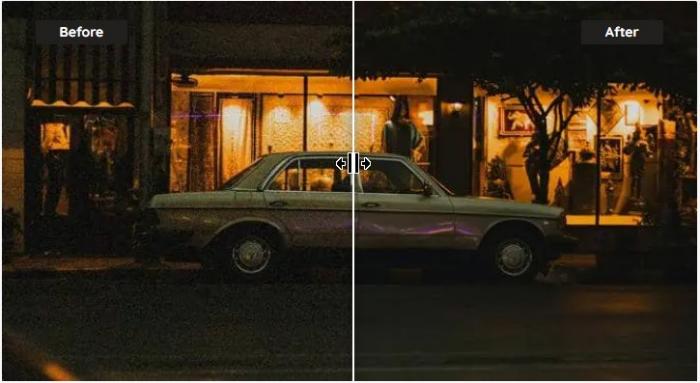 Pros:
Flexible pricing policy
Automatic processing
Easy to use
Offers great results
Cons:
The free version has many restrictions
Zoom features can be better
The free version does not have batch processing
Topaz Labs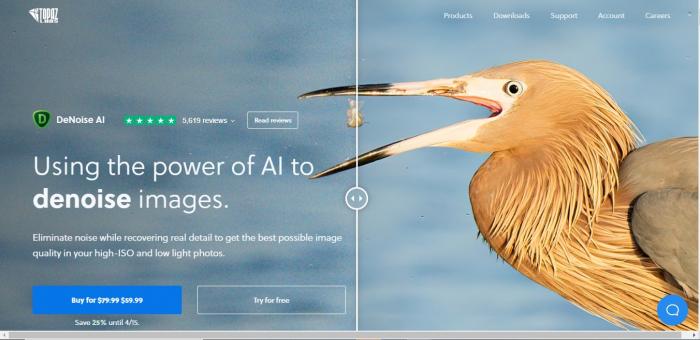 This image noise reduction tool uses artificial intelligence to improve pictures in a non-destructive manner. You don't have to be a computer science guru or a professional photographer to use Topaz DeNoise; instead, you can use it as quickly as an Instagram filter. 
It's one of those tools that is simple enough for amateurs but effective enough for pros. Just upload your photo and click on Process Image. The AI will do its thing, and then you can save your image. 
Before/After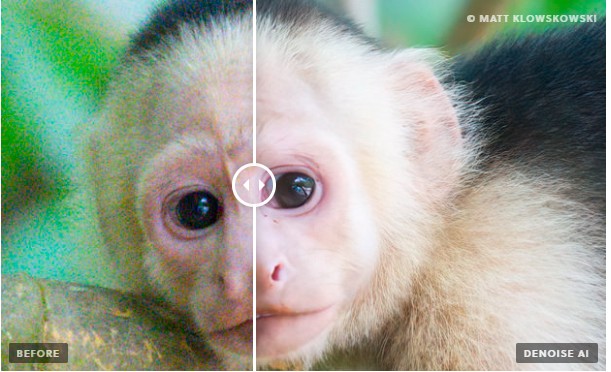 Pros:
Effective noise reduction
30-day free trial
Batch Mode
Cons:
Paid updates after one year
Raw AI Model needs to improve
AI. Image Enlarger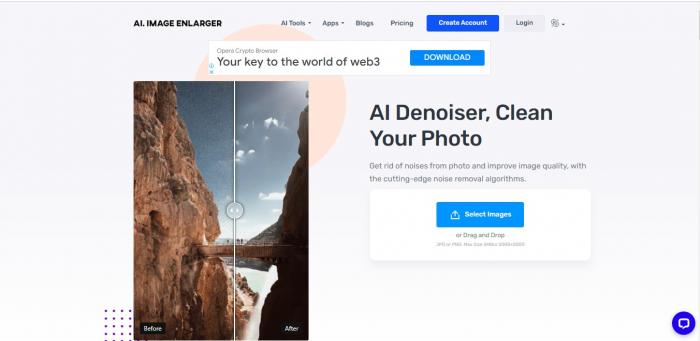 Denoiser by imgLARGER is an online tool that reduces noise in photos without compromising image quality. You can use it to smoothen grainy and pixelated areas, especially if you took your photo with a high ISO setting. The processing time of your picture depends on its file size and how badly it needs noise reduction. 
Some photos might take just a few seconds to process, while others take minutes, depending on their size and quality. In terms of file size, we recommend uploading images with dimensions under 2MB for faster processing. 
Before/After

Pros: 
Choose the level of noise reduction
Easy to use
Cons: 
Not a professional tool for denoising 
Capture One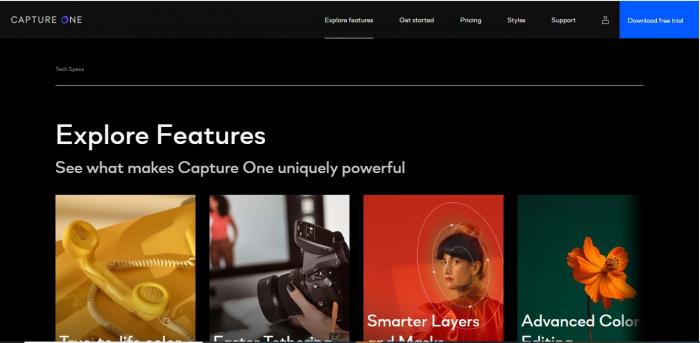 The power of this software to improve photos is growing by leaps and bounds with every day that passes. It's never been easier to take quality shots. The only problem is that a lot of these photos suffer from noise. If you're wondering how to reduce noise in images, we've found this fantastic tool.
The styles feature in Capture One lets you add instant effects to your photos. There are three styles included. Plus, you can create your styles or shop even more looks in Styles. Capture One Pro licenses can be purchased on a monthly or annual basis.
Before/After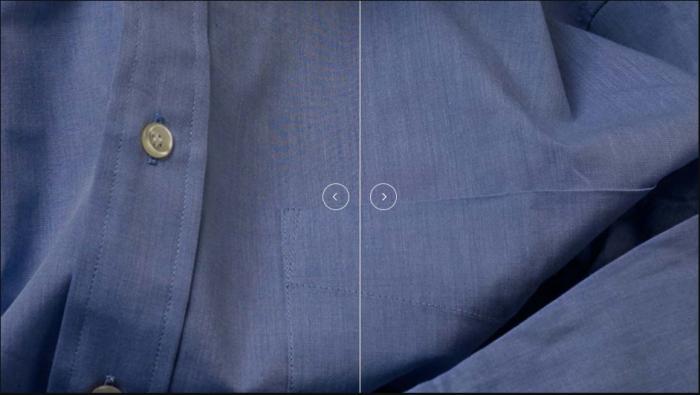 Pros:
Faster software performance
Designed to improve your productivity and workflow
Cons:
Unusual and slightly inconvenient pricing plans
SoftOrbits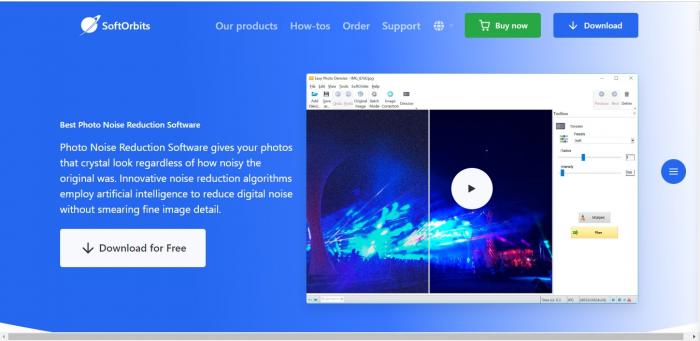 The program can easily remove color noise, luminance, chrominance, film grain, and even light leaks. It is easy to use and will do a great job of reducing photo noise without any hassle. 
Using this software, you can work on individual photos or batch process hundreds of photos at once. This noise reduction tool also has a simple interface that makes it easy to use.
Before/After
Pros
Image enhancement
Very simple to use
Processing in batches
Cons
You cannot save images in the trial version
ON1 NoNoise AI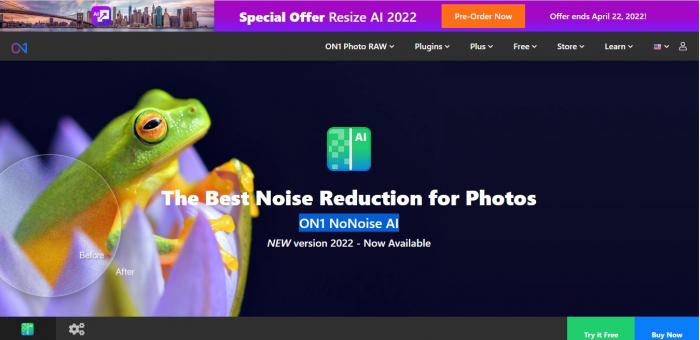 In today's fast-paced world of social media sharing, it isn't easy to find time to ensure that your images are presented at their best. Even if you have ample time in post-processing, manually removing noise can be a tedious task that distracts you from your content. 
On1 NoNoise AI is an intelligent solution that reduces noise in seconds while preserving image quality. On1's automatic noise reduction tool provides quick and effective results, offering high-quality detail without sacrificing image integrity. 
Before/After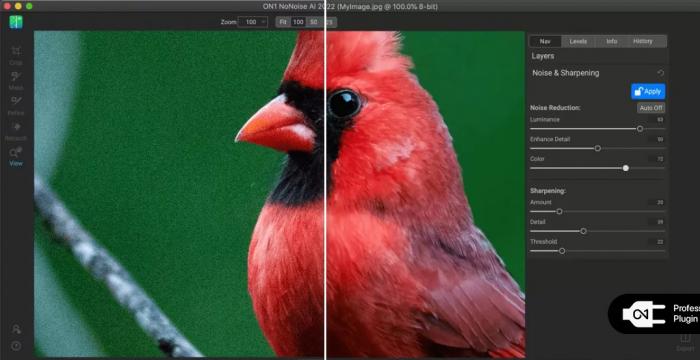 Pros:
Easy to use
Ideal for photographers 
Useful for images taken with high-resolution cameras
Cons:
Using the different functions and navigating the program takes some getting used to and requires some time to learn
Most expensive noise reduction software
Skylum Noiseless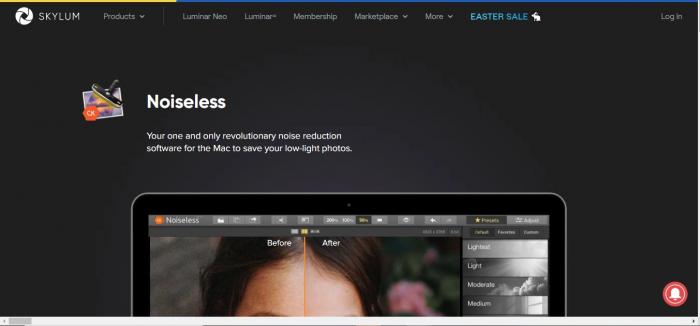 Skylum's Noiseless is built on Skylum's Noise Technology Platform. This stand-alone program can be used as a filter within Photoshop or other popular image editors. The main features of Noiseless are noise reduction and detail enhancement. 
Noiseless has more than 30 presets for different types of noise, and each preset can be adjusted to achieve the best results for your specific images. Noise reduction in photos is an essential tool for photographers, but it can also be helpful to anyone who wants to improve their pictures.
Before/After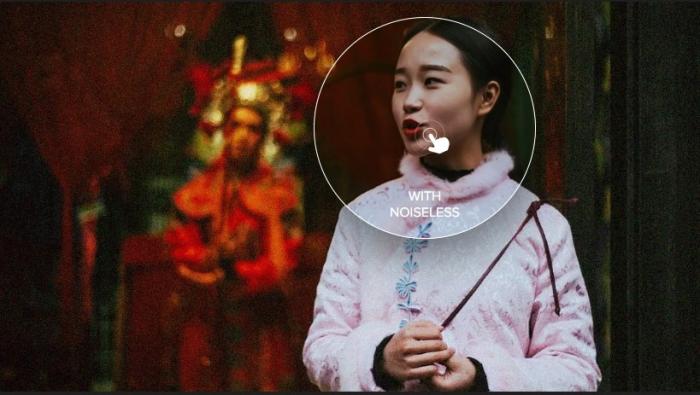 Pros:
A robust set of photo-editing features
User-friendly with its simple interface
Cons:
No keyword tagging capability
No metadata management
Neat Video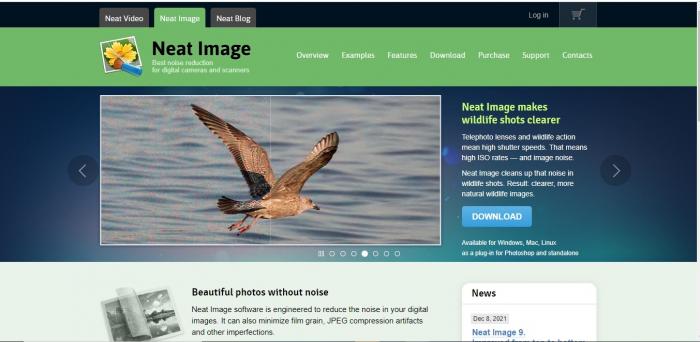 Neat Video is one of the excellent noise reduction tools out there. It's a professional tool designed for video editors who need to remove video noise from their clips. But it also works wonders on still photos, especially if you're trying to get rid of noise in a high-ISO photography. 
If you have an Adobe Creative Cloud subscription, it's worth checking out Photoshop's built-in noise reduction filter; while not as powerful as other filters, it can easily handle fundamental noise issues. 
Before/After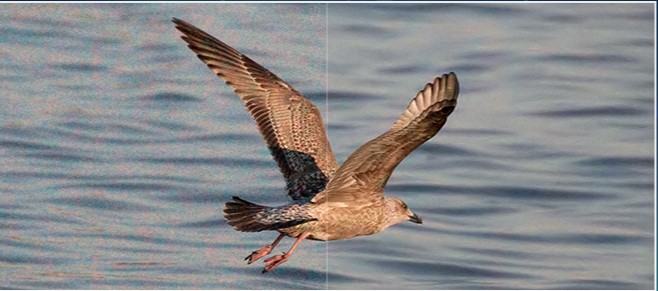 Pros:
Good noise reduction analysis
Wide variety of options
Cons:
Too much impractical information
The before/after zoom is messy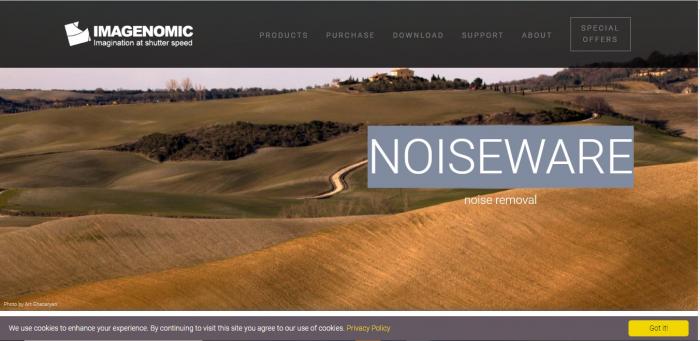 Imagenomic has developed a fast and effective way to reduce noise in photos. The program is called Noiseware, and it is available for Adobe Photoshop and Elements and stand-alone.
It reduces grain, color shifts, and other image defects without blurring edges or compromising picture detail. One benefit of Noiseware is that it doesn't permanently alter your photos; you can undo changes without harming your files. 
Before/After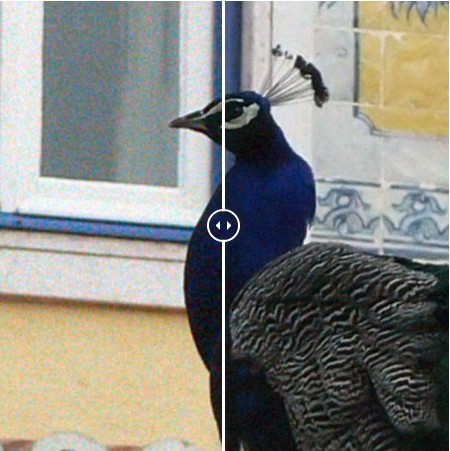 Pros:
Easy to use
It supports JPEG, TIFF, RAW, AVI, and other image formats
Cons:
Nothing special to mention
DXO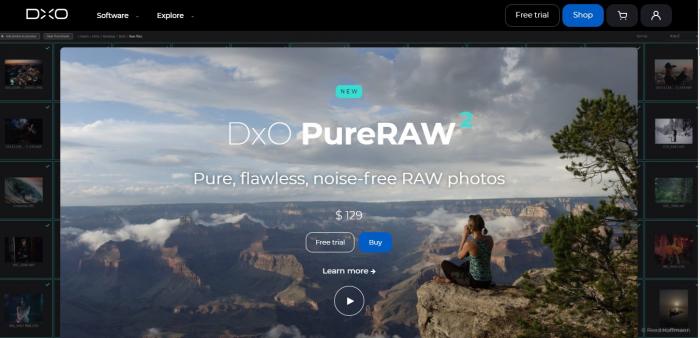 DXO helps you get rid of noise and take better pictures. It's DxO Optics Pro software does a surprisingly good job with automatic noise reduction for RAW and JPEG files, and it also has more advanced features for those who like to use Adobe Lightroom or Photoshop. 
All in all, DXO is an excellent option for anyone looking to remove noise from photos quickly. It's affordable, too: You can download a free trial version on its website.
Before/After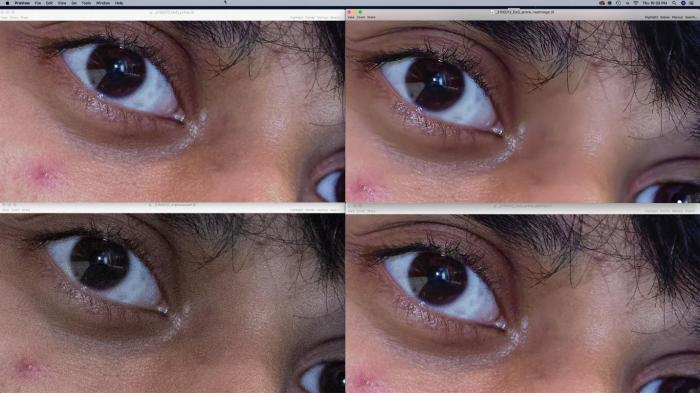 Pros:
offers solid integration with Adobe products
excellent noise reduction
Cons:
You can't edit/add EXIF data to images
It is expensive
Conclusion
Noise in digital photos can be a problem for photographers at all levels. Even cheap point-and-shoot cameras have built-in noise reduction, but it's often not strong enough to handle high ISO settings. Because of that, photo noise is especially troublesome in night photography and shots taken at high ISO.
The good news is that there are many photo noise reduction tools out there to remove unwanted artifacts from digital images. VanceAI is a helpful AI software that's able to make your photos more straightforward. 
VanceAI is an image noise reduction tool that you can use to remove noise from your photos. The VanceAI image denoiser has powerful AI algorithms, and it's fast and straightforward to use. You can feel free to try their product without any risk of losing money. Hundreds of thousands of people have used VanceAI.
You need one click, and your photo will be edited automatically without any hassle or complicated steps! Give it a try for the best noise reduction in your photos.
Do you find this post helpful?
Read More to Know Deeper: