What is AppyPie?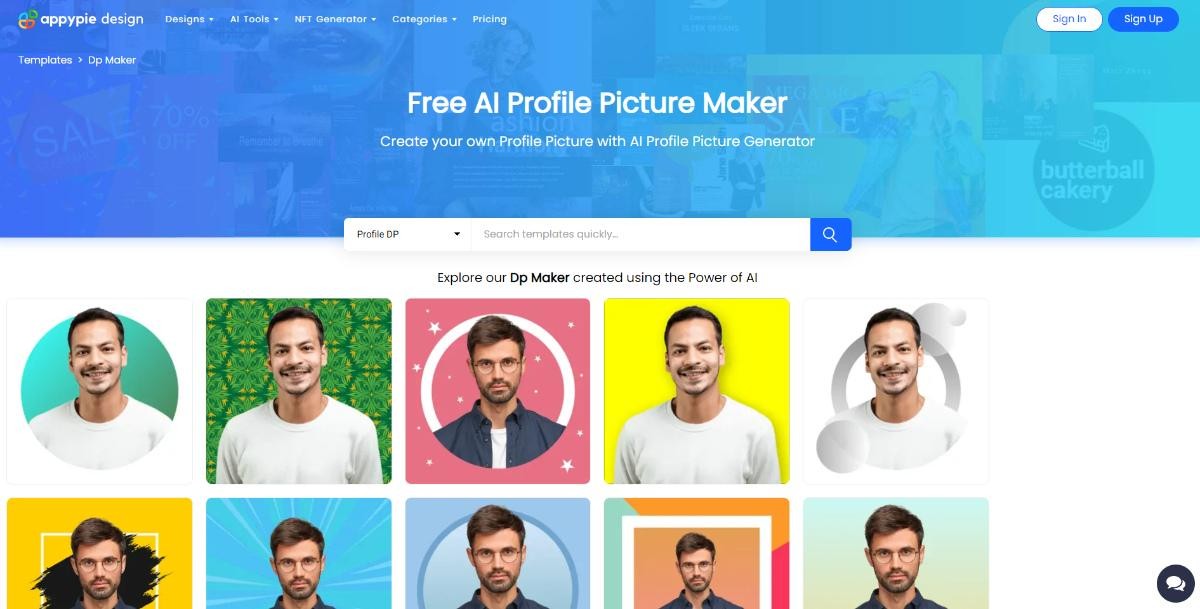 Appypie Design is a comprehensive online design platform that offers a range of tools and features to help users create visually stunning graphics and images. One of the Appypie apps or tools is the DP Maker tool, which allows users to edit profile pictures with ease and add new backgrounds to enhance their visual appeal.
With the DP Maker tool, users can effortlessly transform their profile pictures into eye-catching visuals. Whether you're looking to update your social media profile photo or create a professional avatar for your online presence, this Appypie app provides a user-friendly interface and a plethora of editing options to achieve the desired results.
If you want to know what is Appypie overall, you can consider it an online platform that offers a wide range of image editing tools besides the DP maker and these tools provide many solutions. In this Appypie review, we explore the app further. Besides that, more people also seem to be interested in AI Face Generator. You can know more from the link.
AppyPie Pricing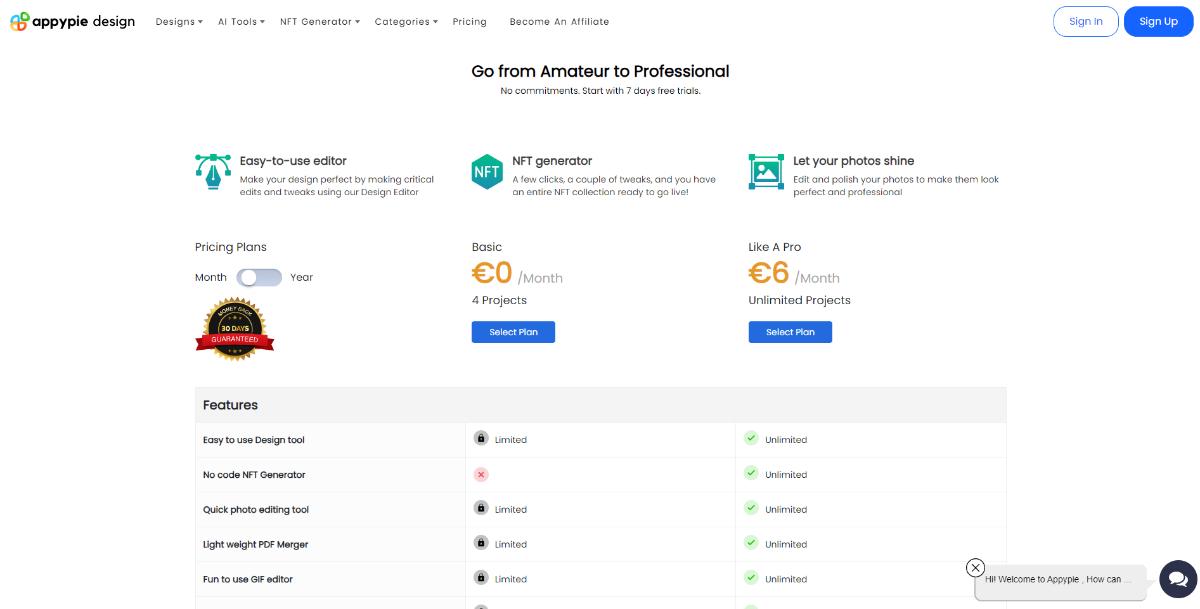 In terms of Appypie pricing, there are two pricing plans to choose from: Basic and Like A Pro. The Basic plan is available for free and provides access to 4 projects. On the other hand, the Like A Pro plan costs 6 Euros per month and offers unlimited project capabilities. Both plans come with an easy-to-use design tool, a quick photo editing tool, a lightweight PDF merger, and a fun GIF editor.
The Basic plan includes limited access to features such as a no-code NFT generator, 15 million+ free images, and data administration with a storage limit of 50 MB. So, is Appypie free? Yes, but with limited access only.
In contrast, the Like A Pro plan offers unlimited access to these features along with 320 million+ Shutterstock images. Pay-per-use access is available for NFT generation, with different options for Polygon Minting, Lazy Minting, and Ethereum Minting. Personalization features include unlimited design templates, background remover, overlays, clip arts, and more. Processing images under the Pro version will also remove watermarks.
Easy AppyPie Login (Appypie Key Features)
The Appypie login is a smooth ordeal. You can simply use your Google account to quickly login and you will find some other key features of Appypie that make your work easier.
Quick Photo Editing
Appypie provides a user-friendly and efficient photo editing tool. With this setup, you can easily enhance your images by adjusting their quality and looks in many different ways. You can also apply filters and effects to add artistic touches to your photos.
Templates and Layouts
Appypie Design offers a rich collection of pre-designed templates and layouts to jumpstart your image editing process. These Appypie features cover various categories such as social media posts, banners, posters, and more. You can customize these templates to suit your specific design requirements.
Exporting in Different Formats
The platform allows you to export your edited images in various formats, including PNG, JPG, PDF, SVG, and more. This flexibility enables you to choose the most suitable format for your intended use or further editing requirements.
How To Make An AppyPie Account?
Step 1: Use the link given to Appypie to access the homepage. From there, click on "Sign Up" in the top-right corner.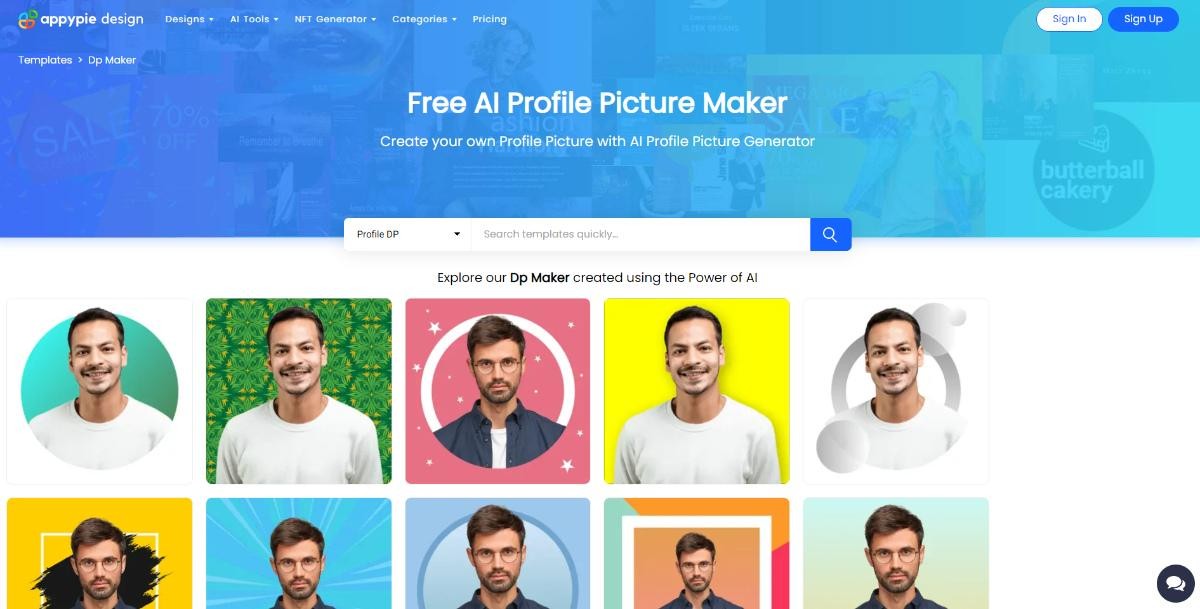 Step 2: You can use the Google sign up option or the other options given below in small icons to create an account within a few seconds only. After that, you will be redirected to another page.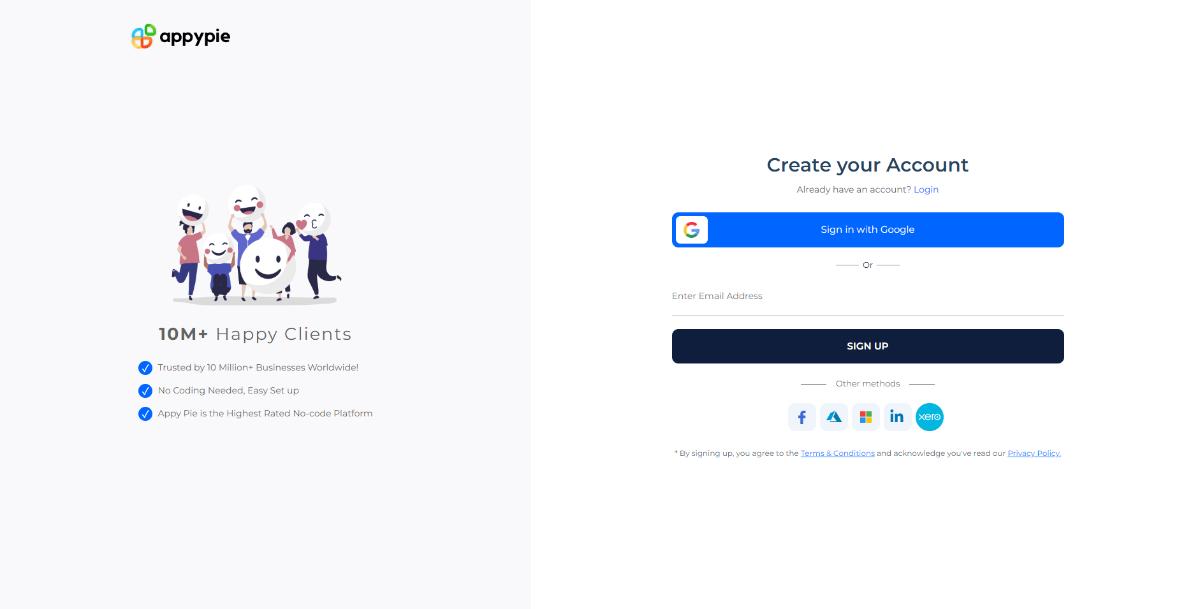 Step 3: On this page, you can choose your subscription plan and proceed to use the features provided by the platform. Apart from that, there comes some fancy AI Portrait Generator, making fancy selfies at a fast speed. Get to know more about it.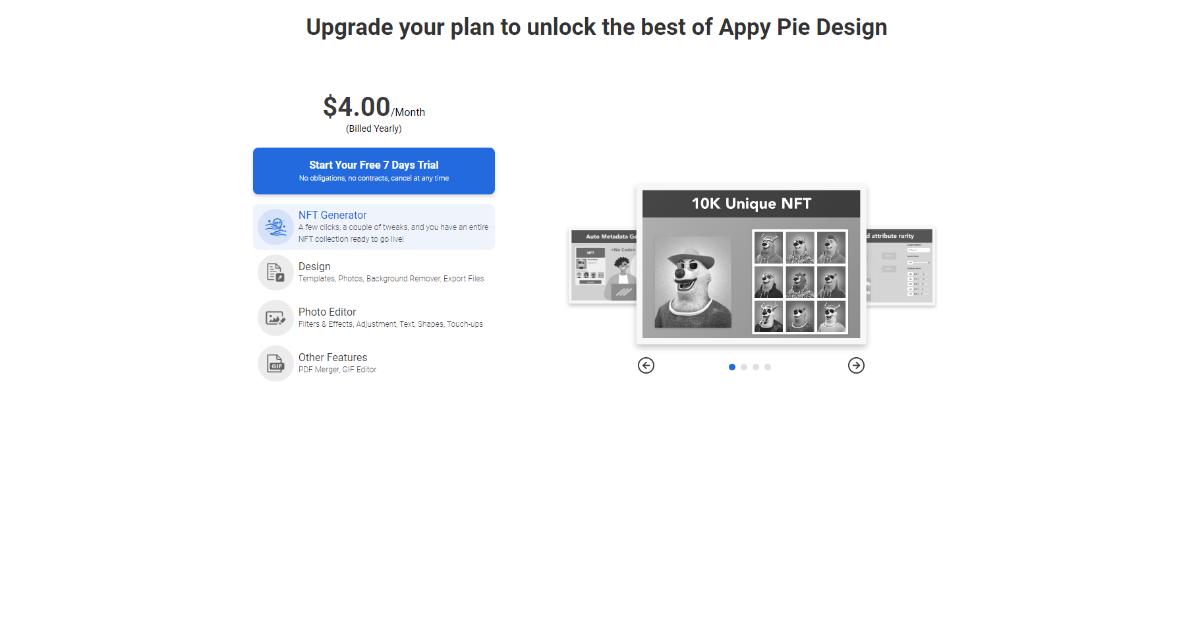 How to make a PFP on AppyPie?
Step 1: Use the link given to reach the profile picture editor page. Hover over any image and click on "Edit".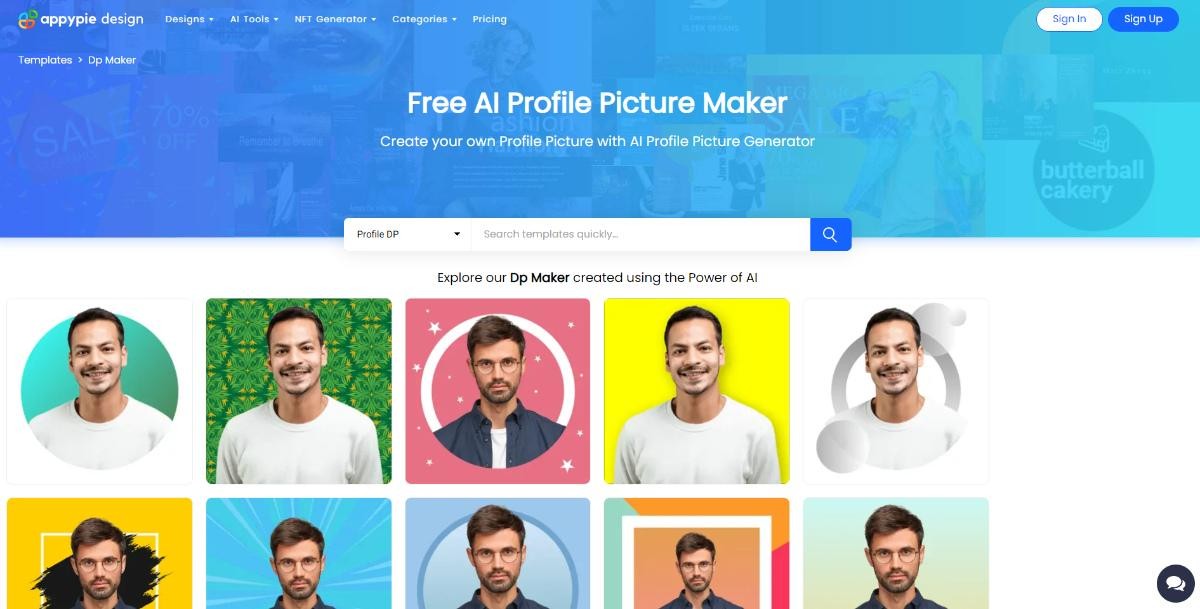 Step 2: There you will see the Upload Image button. Click on it and select the image that you want to edit.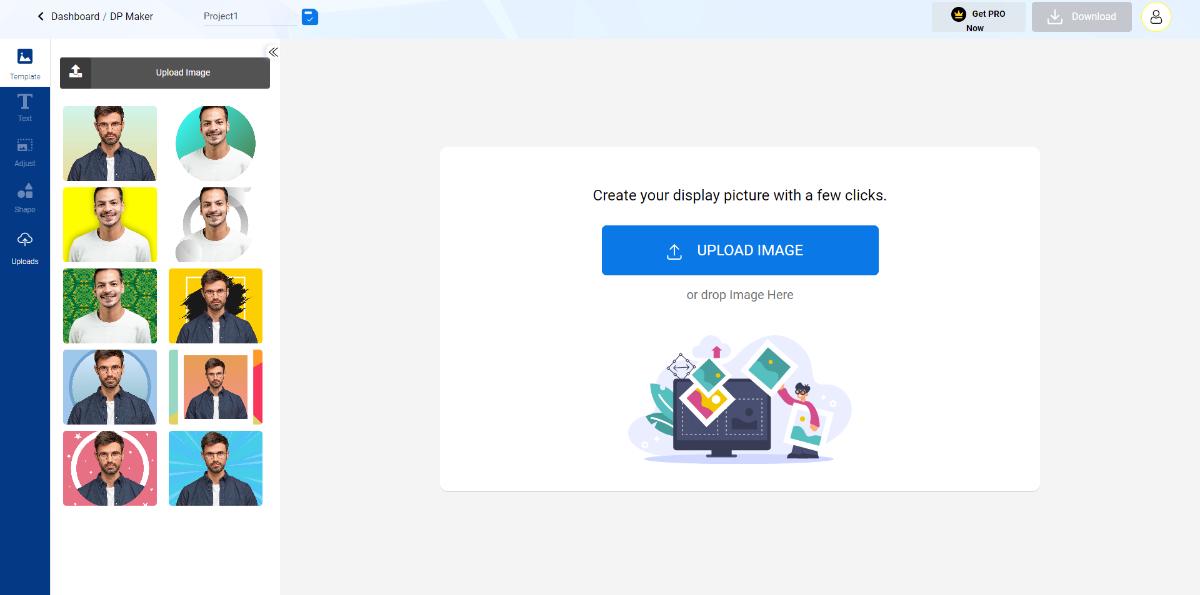 Step 3: The tool will automatically start working on the image and display an edited version of the photo. You can download the image though it will have watermark if you're using the free version.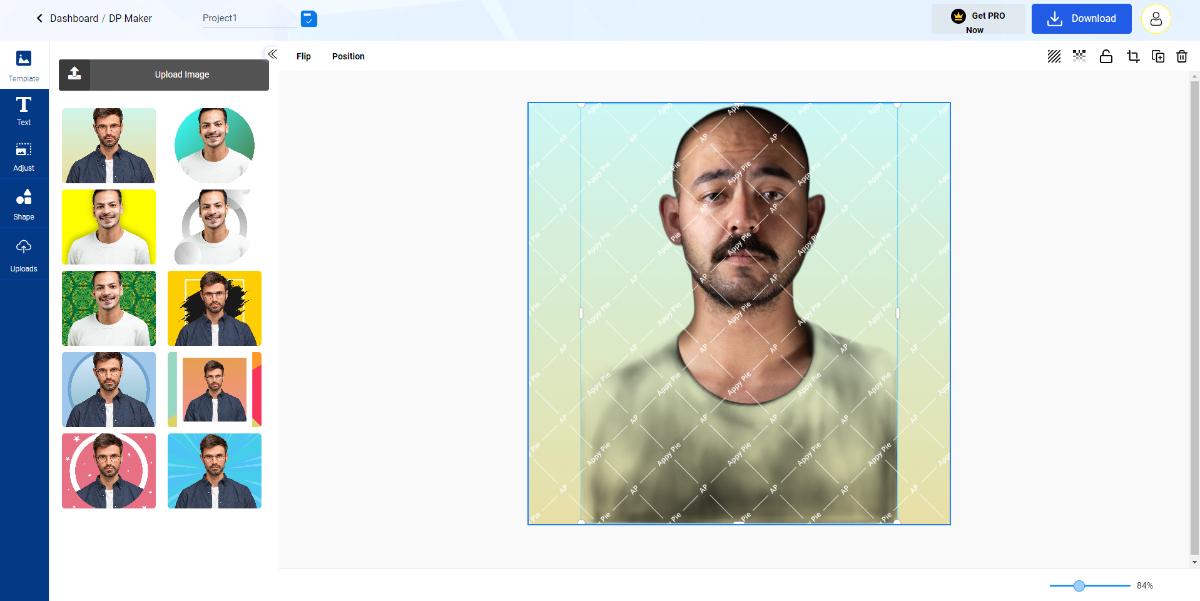 The above image is one of Appypie examples though with the wide range of tools that Appypie provides, you can edit the image more.
Best 5 AppyPie Alternatives For PFP Make
We will now look at various Appypie alternatives.
VanceAI Art Generator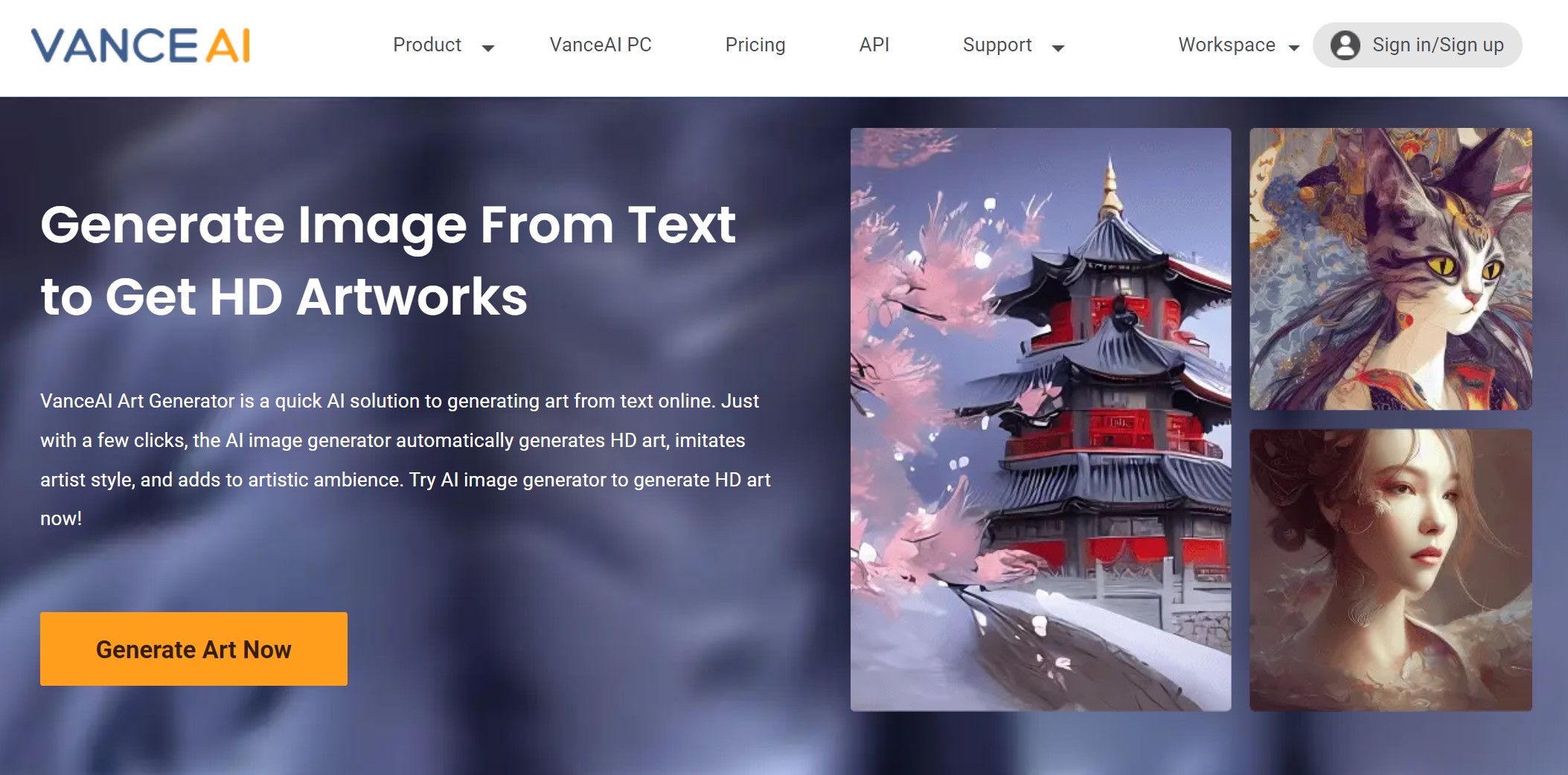 Key Features:
AI-Powered Enhancement: VanceAI Art Generator makes AI-based algorithms to transform ordinary looking images to something highly artistic, such as making a profile picture look like a watercolor painting.
Customization Settings: Users can specify various settings such as Image Type, Image Style, and Artist Style to influence the generated artwork's appearance. This allows users to have more control over the artistic output and tailor it to their preferences.
Reference Images: Users have the option to include reference images that can serve as inspiration or guidance for the AI algorithm. By incorporating reference images, users can influence the style, color palette, or composition of the generated artwork. More interestingly, there are also some popular Vtuber Maker

which use similar technology. Try it if you like.
Pros:
AI-generated art offers a unique and creative way to bring text descriptions to life visually.
Customization settings allow users to have control over the style and appearance of the generated artwork, making it more tailored to their preferences.
The inclusion of reference images can provide a starting point or inspiration for the AI algorithm, resulting in more personalized and visually appealing artwork.
Cons:
The quality and accuracy of the generated art can vary depending on the complexity of the text descriptions and the clarity of reference images provided.
Portrait AI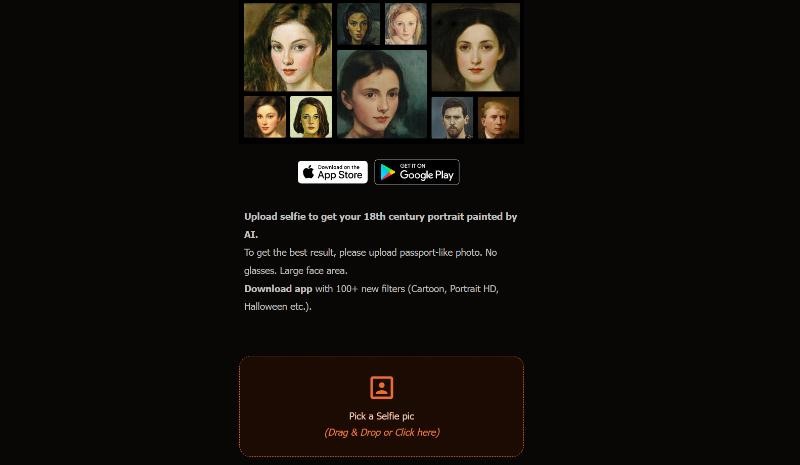 Key Features:
Beauty Effects: The tool offers a range of beauty effects that can be applied to portraits, such as skin smoothing, wrinkle reduction, teeth whitening, and eye enhancement. These effects help to enhance the overall appearance of the subject in the portrait.
Background Replacement: PortraitAI allows users to replace or modify the background of their portraits. This feature enables users to create a different atmosphere or context for the portrait by placing the subject on a new background.
Virtual Makeup: Users can apply virtual makeup to portraits using PortraitAI. This feature allows for the addition of makeup effects, giving users the ability to experiment with different looks and styles.
Pros:
AI-driven portrait enhancement improves the overall quality and appearance of portraits, enhancing facial features and correcting imperfections.
Beauty effects provide users with the ability to enhance skin tone, reduce blemishes, and refine facial attributes, resulting in more visually appealing portraits.
Cons:
The online platform is quite limited as compared to its mobile application counterpart, which offers all of the key features and more.
Fotor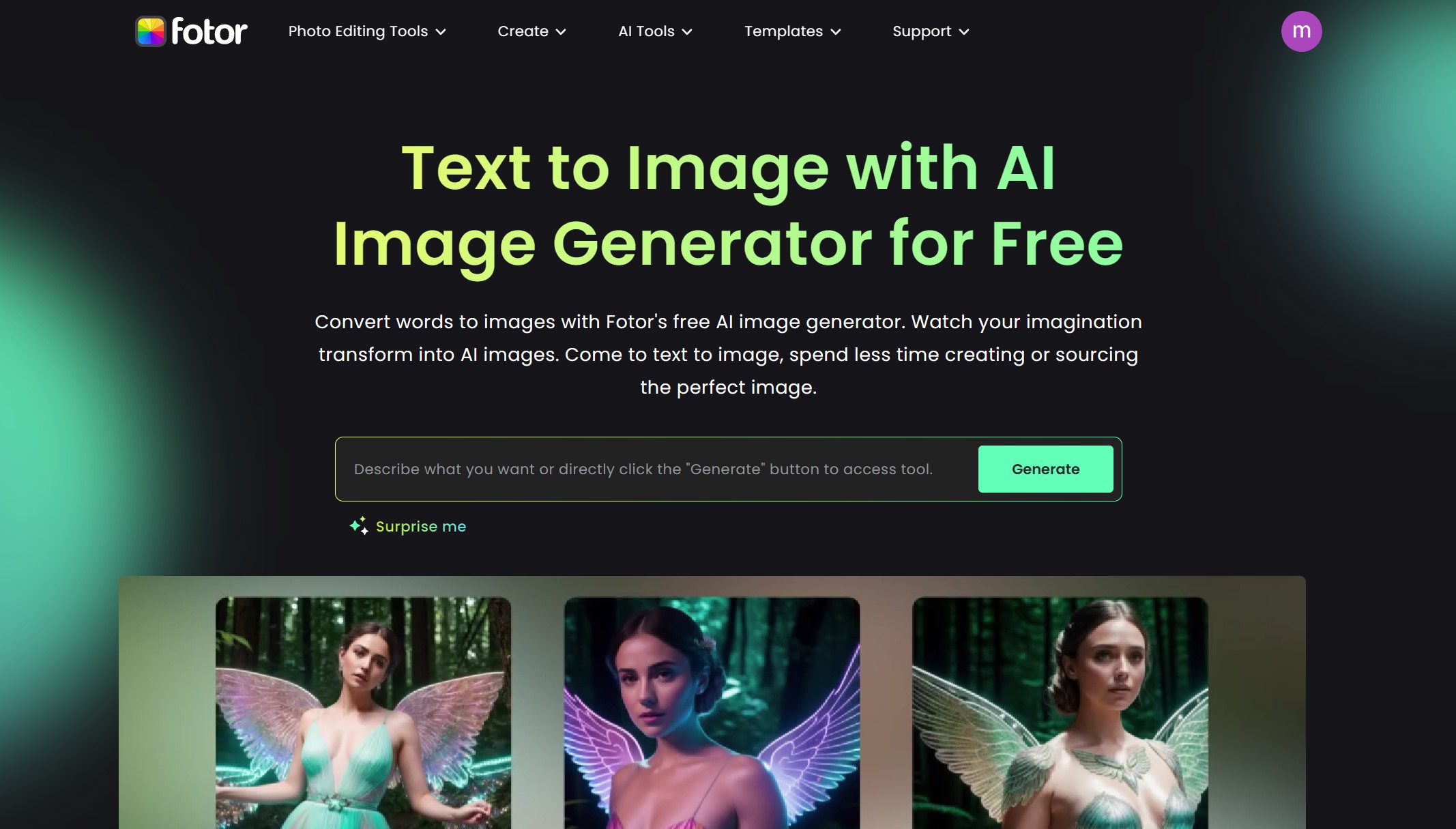 Key Features:
AI Avatar Generator: Fotor offers an AI Avatar Generator tool that allows users to create artistic and personalized avatars using AI-based features and tools. This tool can generate avatars based on facial features, styles, and customization options chosen by the user.
Design Tools and Templates: Fotor offers a variety of design tools and templates that can be used to further customize avatars or create accompanying graphics. Users can add text, shapes, and other elements to their avatars or choose from a wide range of pre-designed templates for social media, business, etc.
Pros:
Customizable avatar styles allow users to create avatars that closely match their preferences or reflect specific personas.
The availability of design tools and templates expands the creative possibilities for users, allowing for further customization and graphic creation.
Cons:
The customization options for avatars may have limitations compared to dedicated graphic design software.
PFPmaker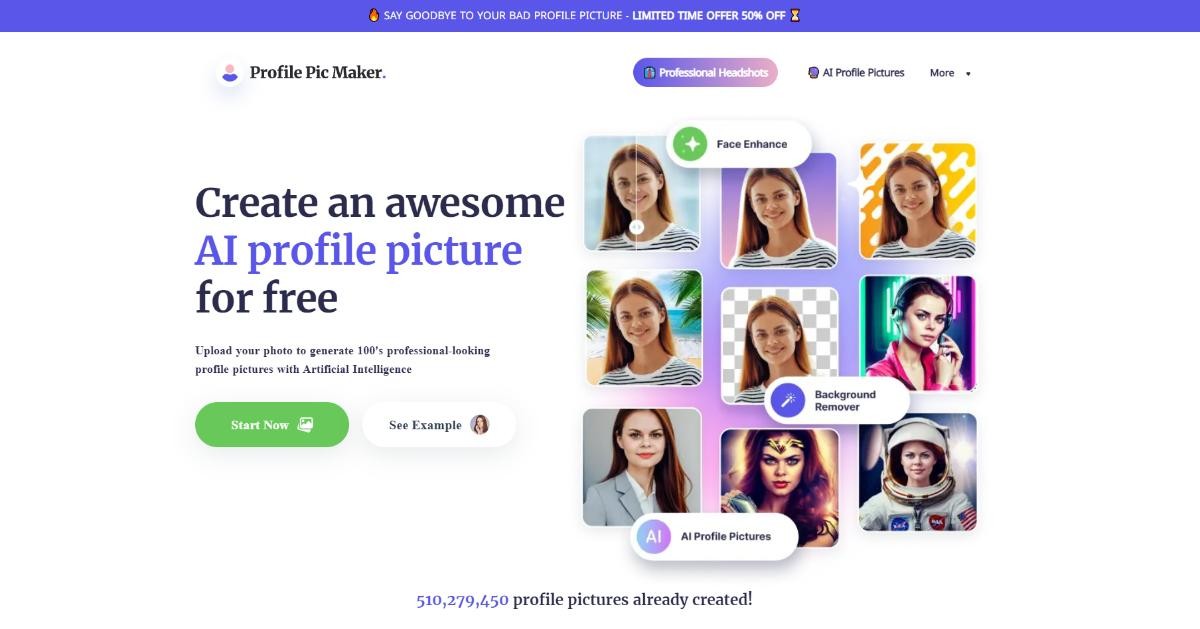 Key Features:
Photo Editing Tools: The platform offers a suite of photo editing tools to enhance and refine profile pictures. Users can adjust brightness, contrast, saturation, and other parameters to improve the overall appearance of their profile pictures. Additionally, cropping, resizing, and rotating options are available to ensure the perfect composition.
Backgrounds and Effects: PFPMaker allows users to select from a wide range of backgrounds and apply creative effects to their profile pictures. Users can choose from pre-designed backgrounds or upload their own images to create a personalized backdrop for their profile picture. Additionally, various artistic filters and effects are available to add a unique touch to the final image.
Social Media Templates: PFPMaker offers a collection of pre-designed templates specifically tailored for different social media platforms. These templates ensure that the profile picture is optimized and sized correctly for popular platforms like Facebook, Instagram, Twitter, and more.
Pros:
The images offered by PFPMaker are made for social media platforms, making the job easier for many professionals.
The UI is smooth and it is pretty easy to download images from the website.
Cons:
Without a paid account, it is difficult to find creative backgrounds or edit images with creative tools.
Picofme.io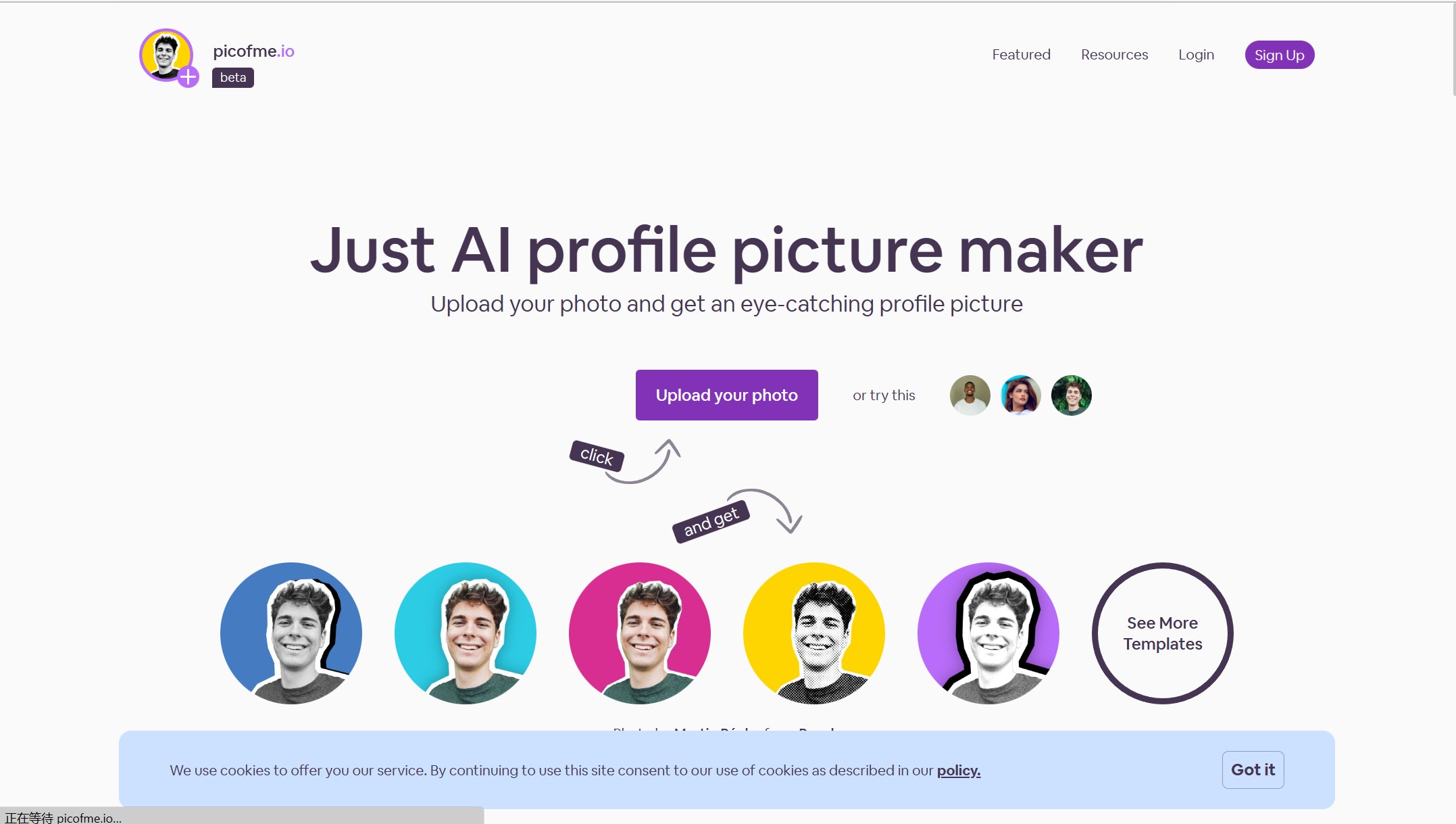 Key Features:
AI Background Removal: The app utilizes AI image background removal technology to remove the background from your uploaded photo automatically.
Variations of Backgrounds, Outlines, and Filters: picofme.io offers a selection of backgrounds, outlines, and filters to enhance your profile picture and make it more visually appealing.
Customizable Templates: Users can adjust layers and elements in the template to create their own unique profile picture.
Pros:
With just a few clicks, users can upload their photo, remove the background, select from different variations, and create an eye-catching profile picture.
The images created by the users are free to use.
Cons:
The app may not provide extensive file management features, such as organizing or storing previously edited images within the app.
Final Verdict
Appypie is an impressive platform. The Appypie app builder team can add even more tools and features to their already comprehensive website. Similar to some other Appypie alternatives, such as VanceAI and Fotor, Appypie Design is pretty affordable as well. The way the AI algorithms work in this app may sometimes not be as intuitive as the user would like. In such cases, they may find platforms such as VanceAI more comfortable to use. Fotor is a good alternative if the user wants an impressive range of tools other than a profile picture creator.
Do you find this post helpful?