Imgcreator Review and Alternatives
VanceAI has launched its AI Product Image Generator that offers AI solutions for the e-commerce industry, like generating professional backgrounds for product images.
A good idea is often the beginning of creation, and many advertisement makers are stuck on a good idea only to be limited by the design. At this time, often what you need most is an assistant who can help you bring your ideas to life. Now there is a tool--Imgcreator, which is an online platform that provides a suite of image editing tools that can be used to create and modify images. It allows advertisement makers to generate high-quality advertisement posters using artificial intelligence (AI) algorithms. Advertisement makers only need to input the keywords of the poster they want and the AI will generate the corresponding image, and provide you with a unique poster.
In addition, Imgcreator AI can be used by anyone to quickly and easily generate high-quality images for various purposes. However, there are many tools besides Imgcreator that can generate amazing images. We should have more options, so this article will introduce you to Imgcreator and other alternatives. Apart from that, there comes some fancy AI Portrait Generator, making fancy selfies at a fast speed. Get to know more about it.
Imgcreator.AI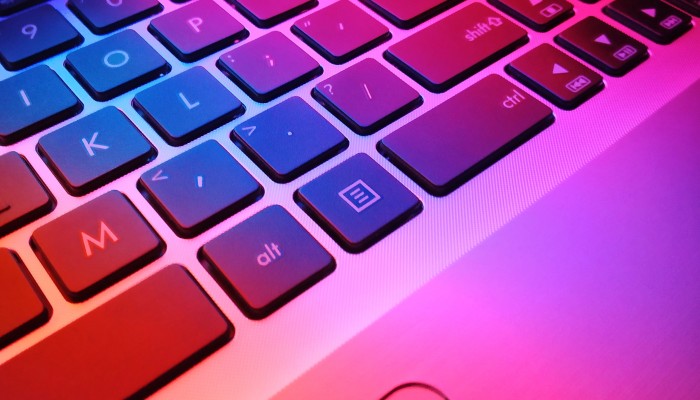 Imgcreator involves a combination of web-based tools, cloud computing, programming languages, and AI/ML algorithms to provide users with a fast, user-friendly, and effective tool for creating high-quality images and graphics, such as avatars, posters, and so on.
More knowledge: Artificial intelligence (AI) vs. machine learning (ML)
Imgcreator provides a range of templates to choose from for creating different types of images. So users can customize various aspects of the template, such as colors, fonts, and graphics, to suit their preferences. In addition, Imgcreator.ai has a library of stock images that users can choose from to enhance their designs. Therefore, you can generate various kinds of images yourself. What is amazing is that Imgcreator allows users to collaborate with others on the same project, making it useful for teams and businesses. and this feature greatly improves the efficiency of collaboration. More interestingly, there are also some popular Vtuber Maker which use similar technology. Try it if you like.
Pros and Cons
pros:
User-friendly: Imgcreator is easy to use and requires no design skills, making it accessible to anyone.

Time-saving: Users can create professional-looking designs quickly using the templates and customization options available.

Cost-effective: Imgcreator is free to use, which can save businesses and individuals money on hiring professional designers.
Cons:
Limited features: Compared to more advanced design software, Imgcreator has limited features and may not be suitable for complex design projects.

Watermarked images: The free version of Imgcreator.AI includes a watermark on images, which can be removed by subscribing to a paid plan.

Limited control: Some users may find limited control over design elements restrictive and prefer to use more advanced software for greater flexibility.
How to use Imgcreator.AI?
Real knowledge comes from practice.Now you can follow the steps to create your art.
Step 1. Click Imgcreator, then "Generate a new image".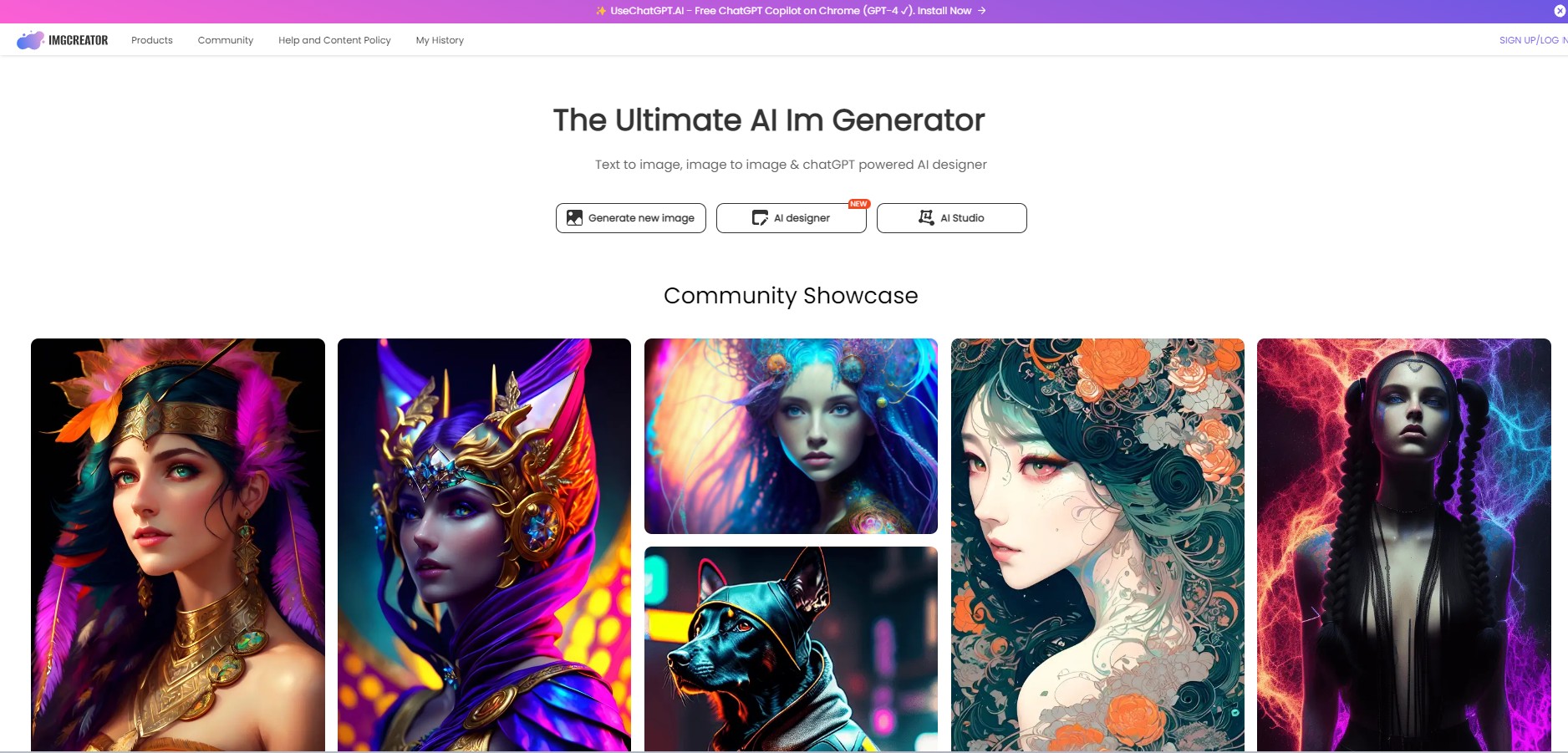 Step 2. Enter the keyword of the image in the input box, choose the art style you like and the number of images you want to generate. And click create!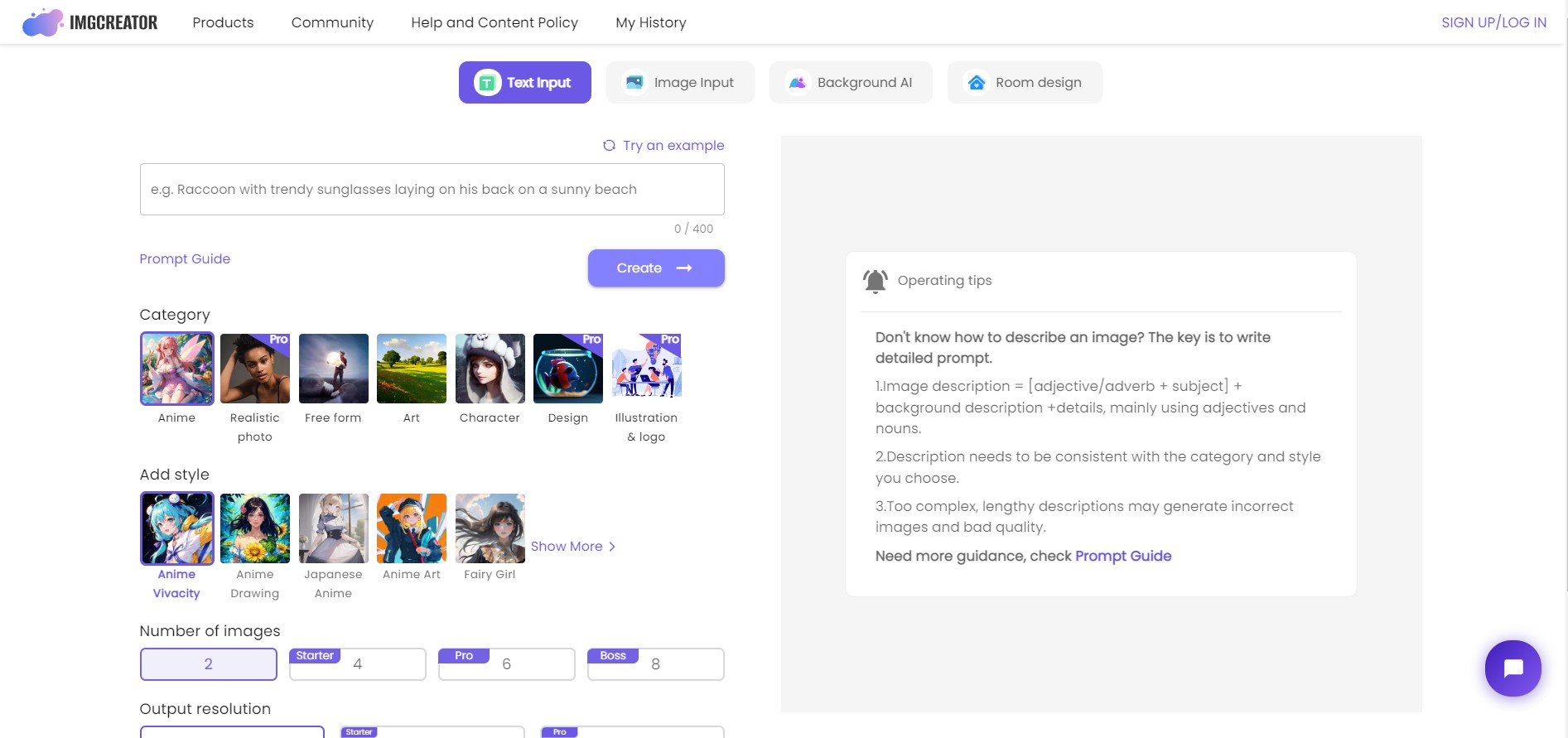 Step 3. Then you will receive several images. You can choose your favorite images and download them.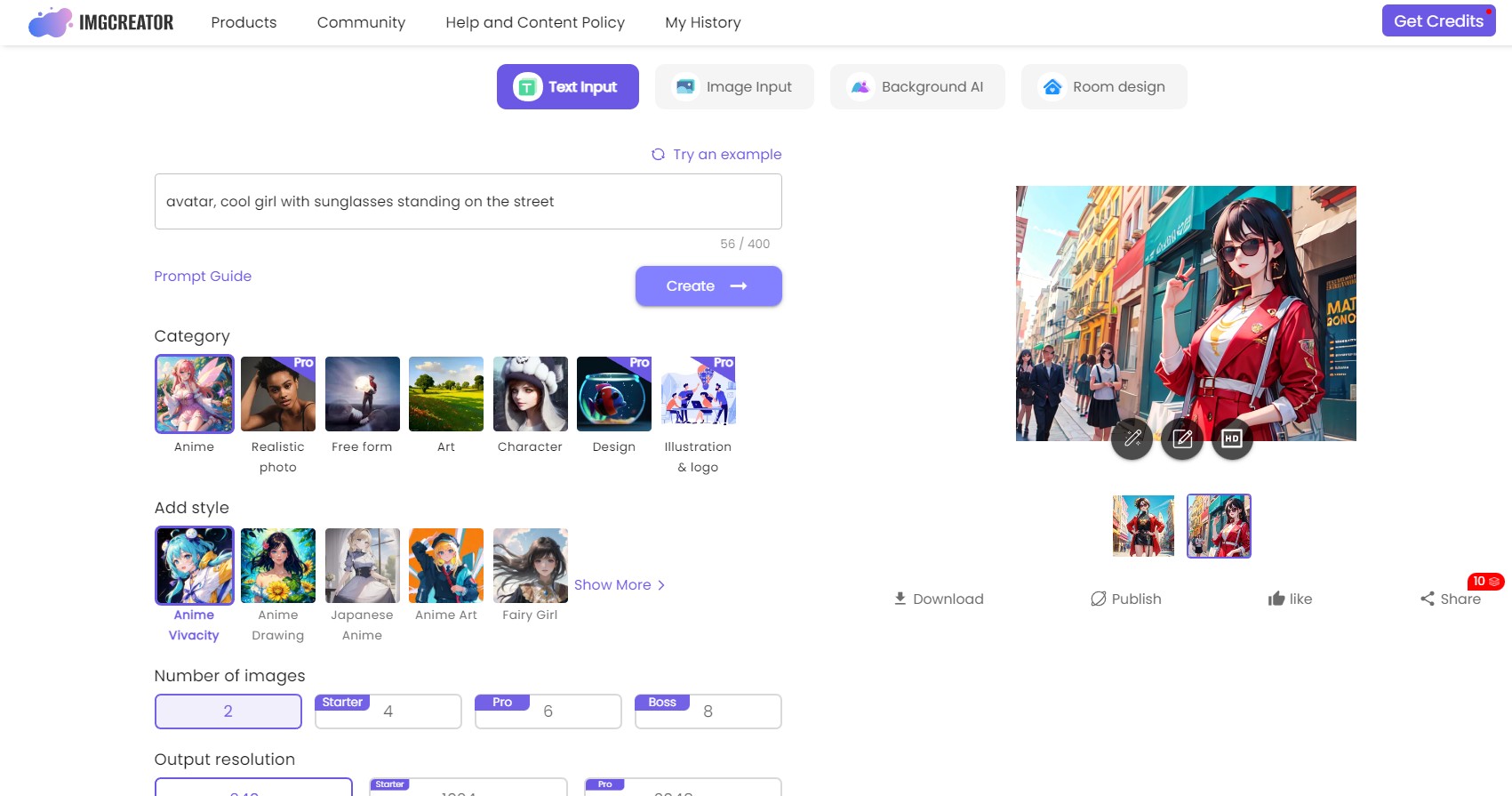 Besides that, more people also seem to be interested in AI Face Generator. You can know more from the link.
Other alternatives
In addition to Imgcreator, there are many similar tools that can generate the image you want. The following will introduce you to five products, and list their respective advantages and disadvantages. You can choose according to your personal preferences.
1. Fotor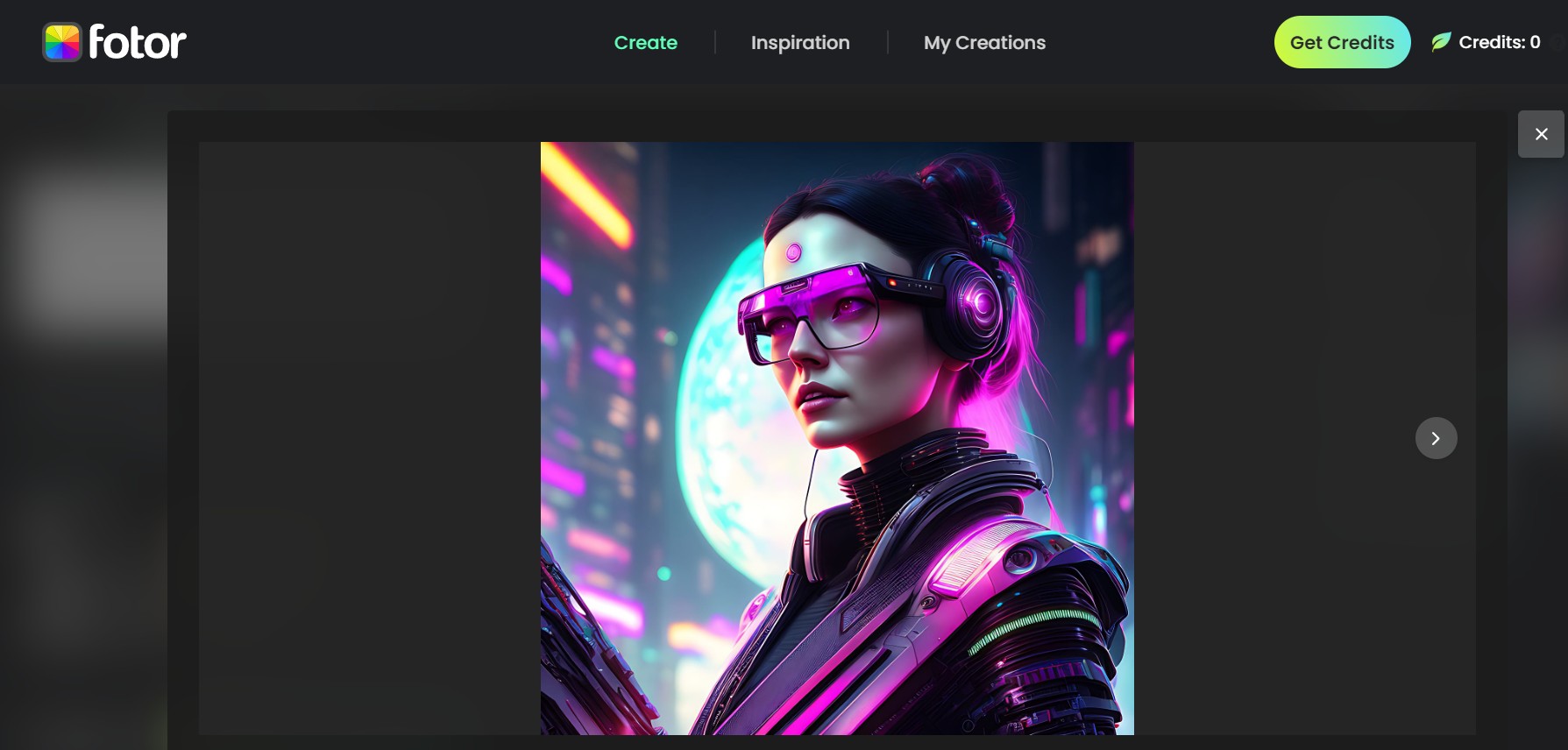 The image generated by Fotor is about mechanical cyberpunk, unreal-style.
Fotor is an online platform that offers a variety of photo editing tools. It can also create images from textual descriptions. This feature utilizes advanced machine learning algorithms to generate high-quality images based on the text inputs provided by users.
Pros:
Efficiency and time-saving

provides a range of customization options
Cons:
The generated images may sometimes lack specific details
2. Picsart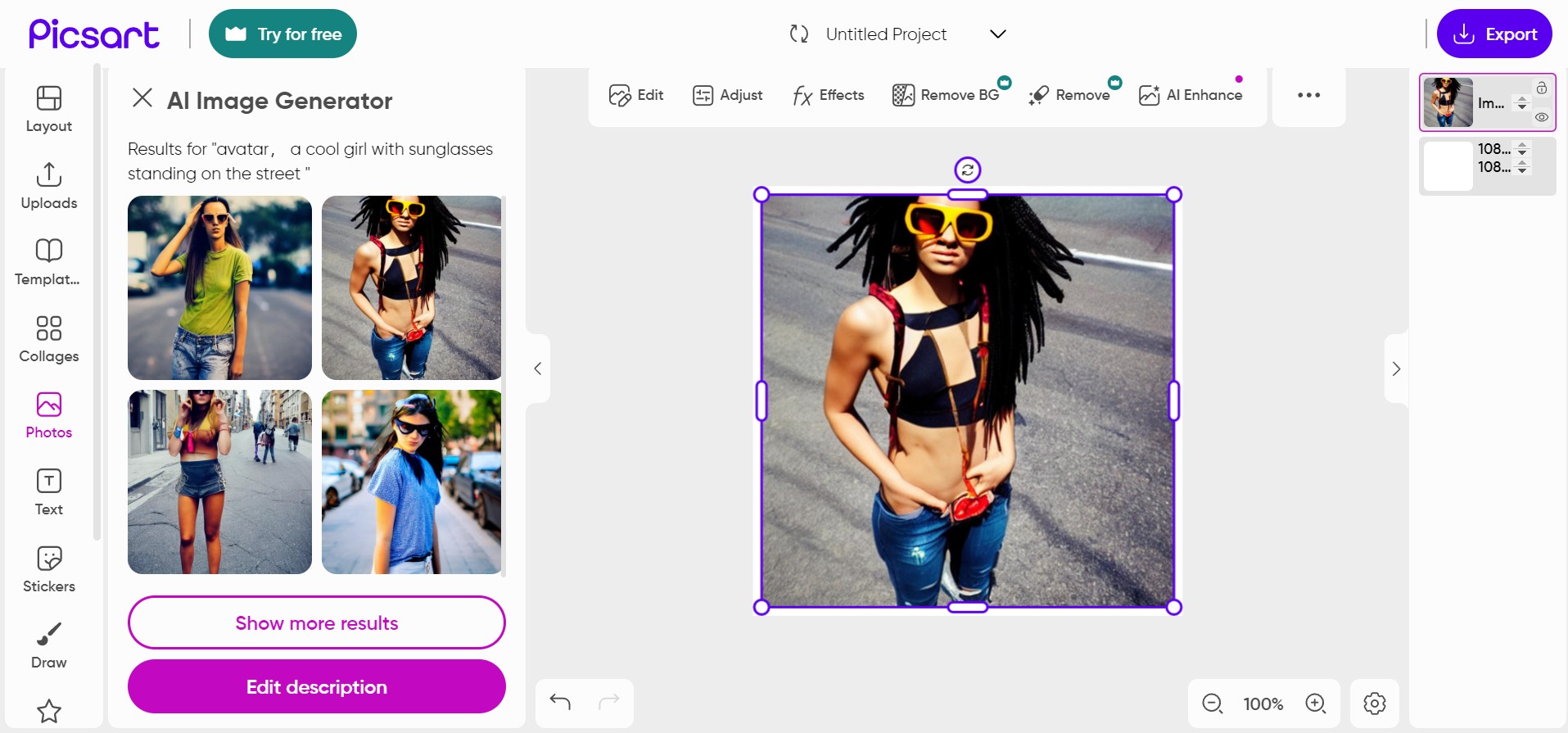 The generated image is realistic-style. It looks so cool and unique.
PicsArt is a popular mobile photo editing application and social media platform that allows users to create and share visual content with their community. The app is available for both Android and iOS devices, and offers a wide range of editing tools and features, such as filters, stickers, text overlays, and more.
Picsart also uses artificial intelligence to generate creative and unique visual effects based on user input. This feature can be used to create everything from abstract art to realistic landscapes.
Pros:
Wide range of editing tools

create stunning and original visual effects with just a few clicks
Cons:
3. Canva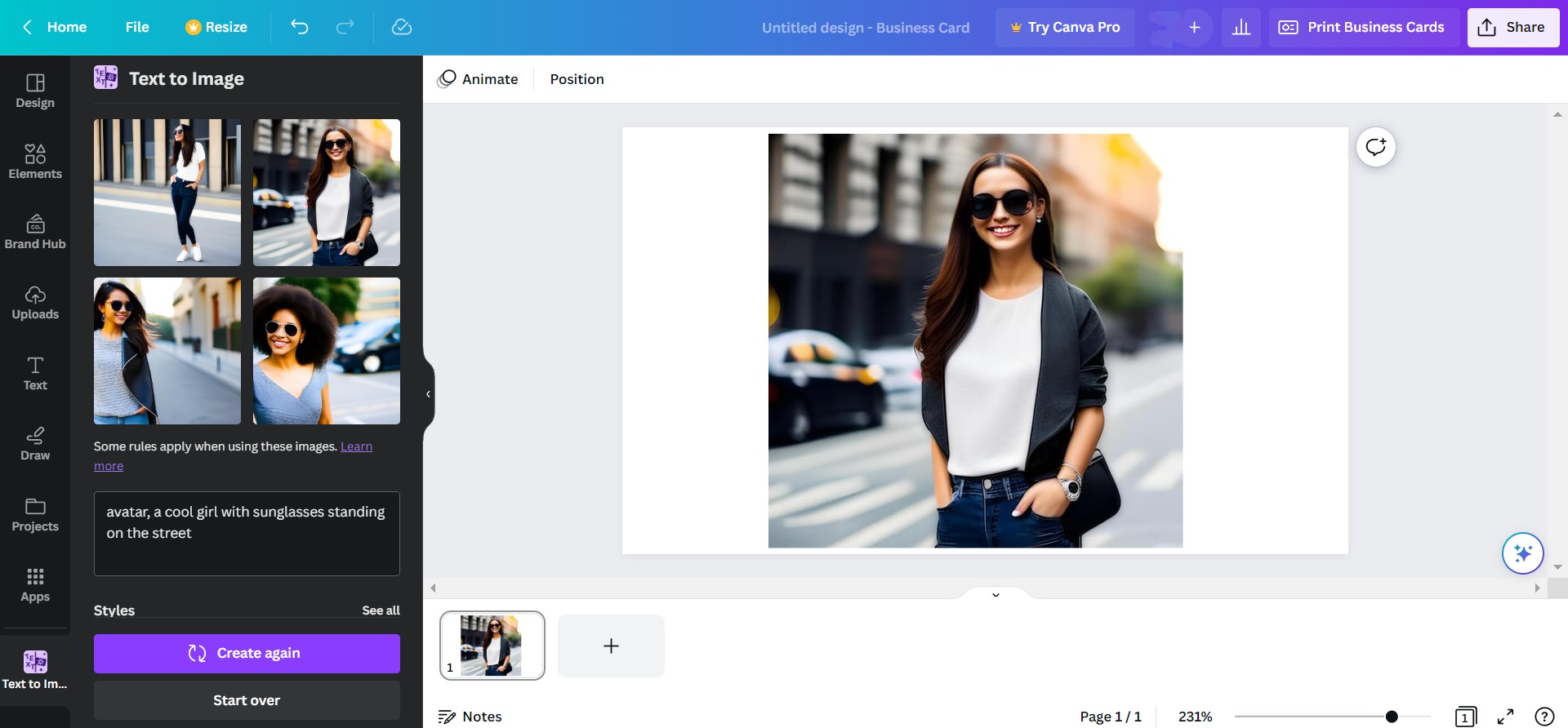 The image generated by Canva is realistic-style, which is more modern and fashionable.
Canva is an online graphic design platform that offers a wide range of tools and features for creating professional-quality designs. Canva can generate images by analyzing users' input words. Users just need to input textual descriptions and generate dreamy images within several seconds.
Pros:
intuitive and user-friendly interface

a broad range of customization options
Cons:
Challenging to use for users who lack design skills
4. Hotpot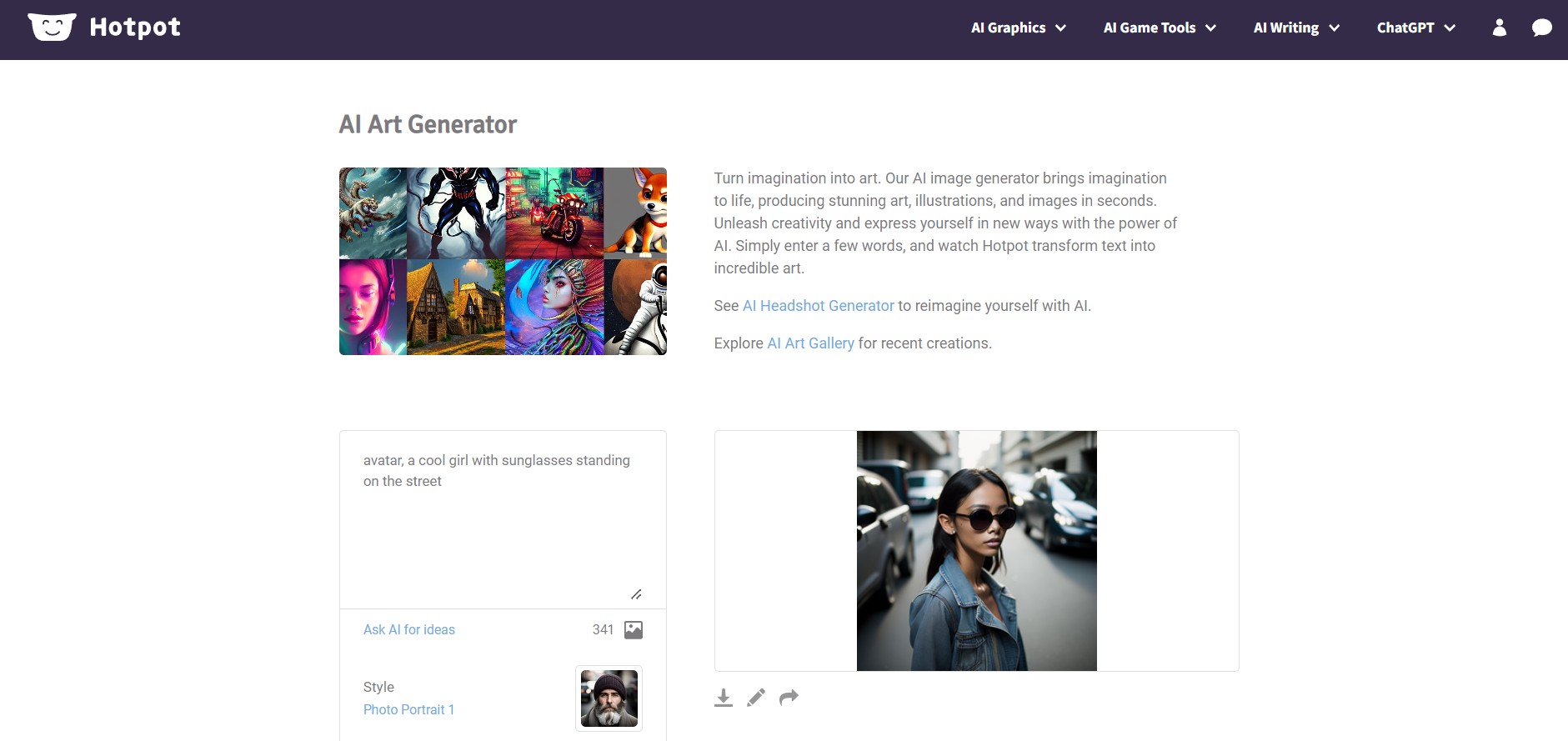 The image generated by Hotpot is a photo portrait style, which is very suitable for people seeking realistic beauty.
Hotpot is developed by Hotpot.ai. It uses deep learning algorithms to generate high-quality images from textual descriptions. Also, Hotpot can generate various styles of posters. Click to try it out!
Pros:
Speed and convenience

Variety of styles
Cons:
5. VanceAI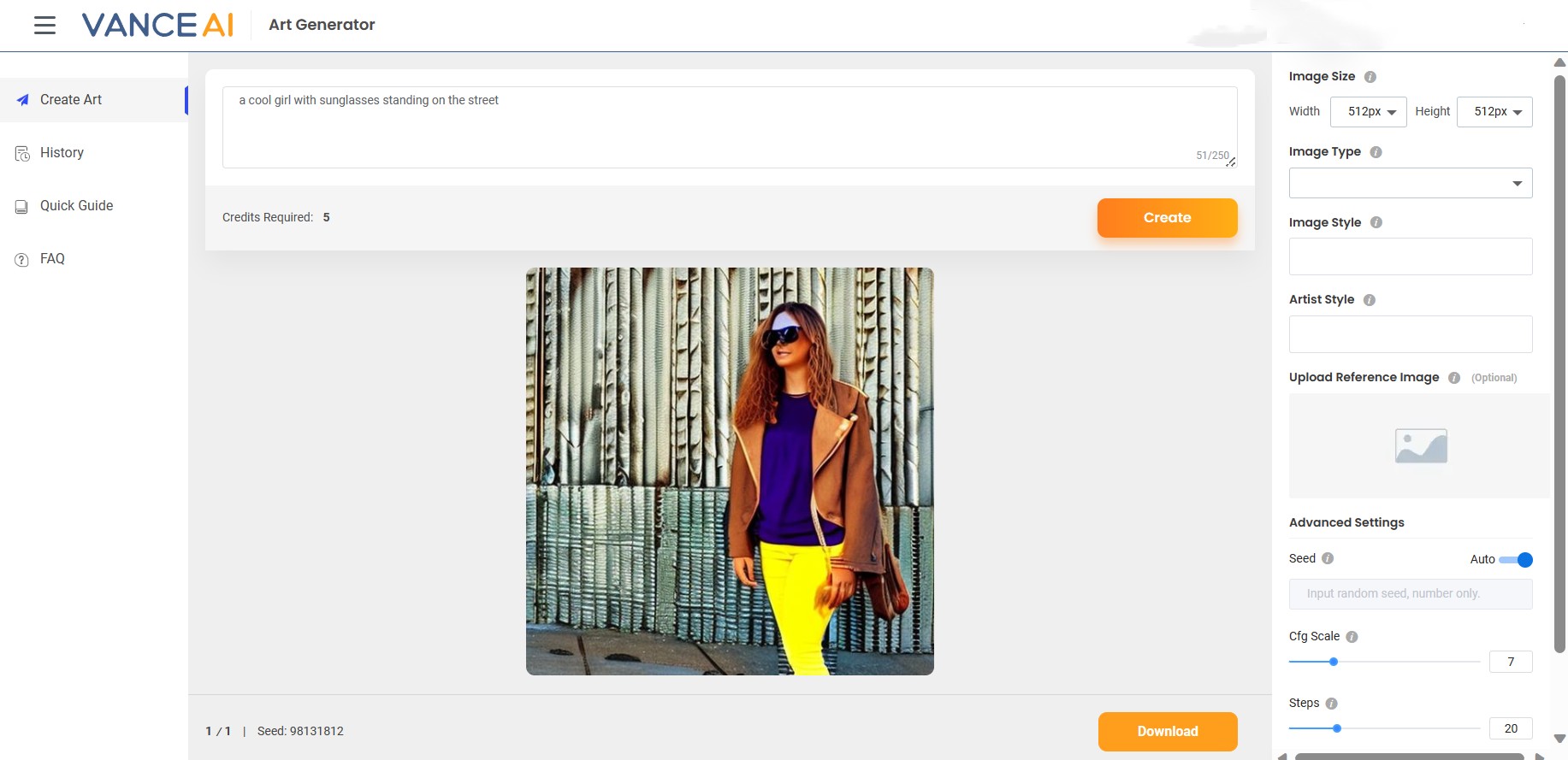 The image generated by VanceAI is in a realistic style.
It leverages advanced algorithms like neural networks and deep learning to analyze your image and apply various artistic styles and effects to it. You can choose from a range of pre-defined styles, including oil painting, watercolor, pencil sketching, and more, or even create your own custom style by adjusting the various parameters.
Pros:
Cons:
Comparing VanceAI VS Imgcreator.AI
When you're stuck on which product to choose as your first choice, we've provided you with a table that shows you the advantages and disadvantages of the products by comparing them in terms of functions, application speeds, various styles, price, usability, or user friendly. So you can easily choose the right tool to help you create your favorite avatar according to your preferences.
| | | | | | |
| --- | --- | --- | --- | --- | --- |
| Criteria | Functions | Application Speed | Various Styles | Price | Usability |
| VanceAI | Uses deep learning algorithms to generate images from text. | Fast | Offers pre-defined styles and the ability to create custom ones. | Subscription is required to access all features. | User-friendly and easy to use. |
| Imgcreator | Provides templates and stock images to create images. | Fast | Offers customization options for templates, colors, and graphics. | Free to use with watermark images or paid subscription. | User-friendly and easy to use. Good for collaboration. |
How to use VanceAI to generate creative images?
1. Enter VanceAI first, then choose AI Image Generator from the menu.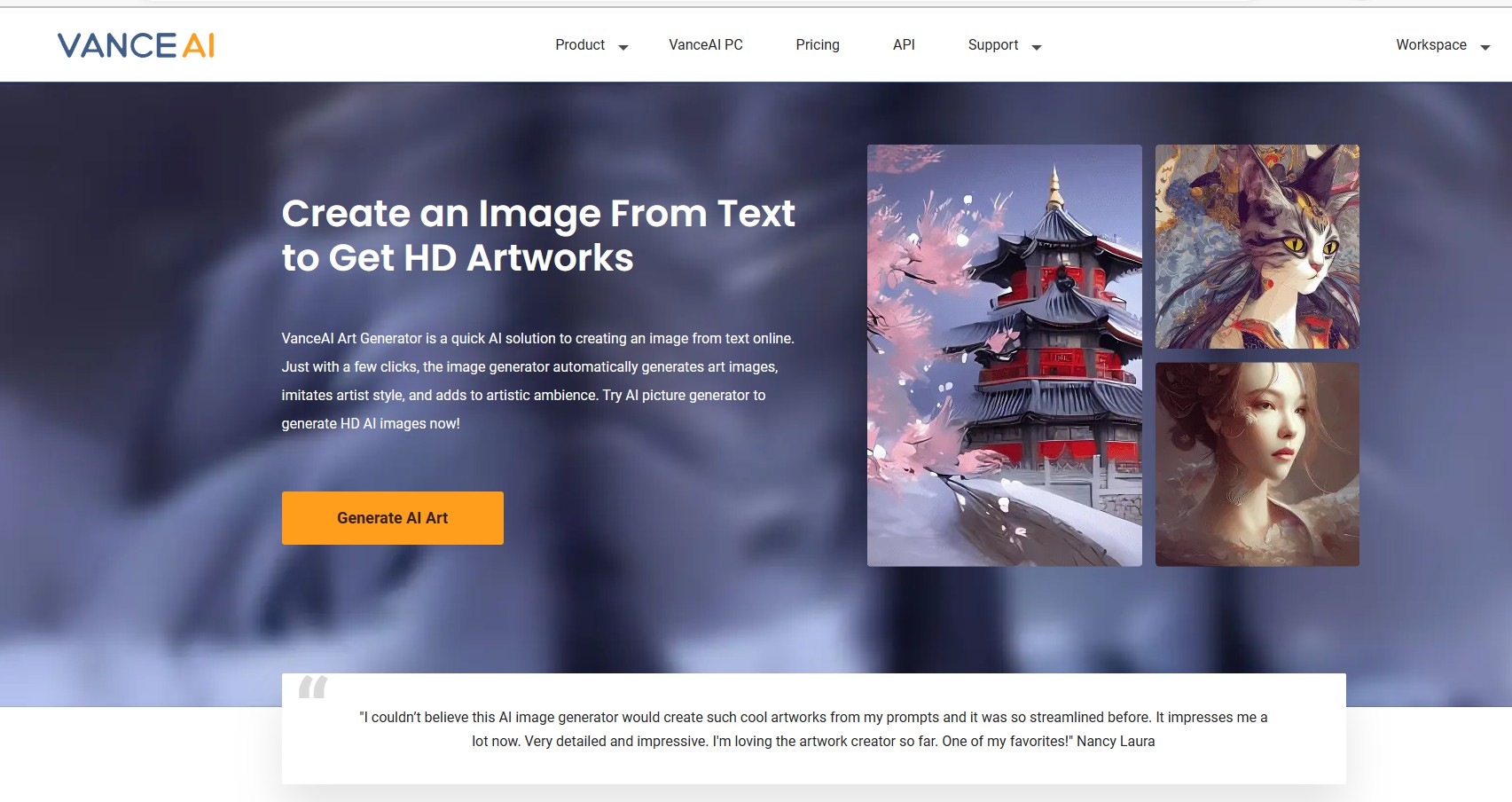 2. In the workspace. Enter the keywords you want for the avatar and select the style of it. There are many image types and styles. You also can choose your favorite image styles. By the way, if you have a reference image, you can upload it to make the generated images more perfect.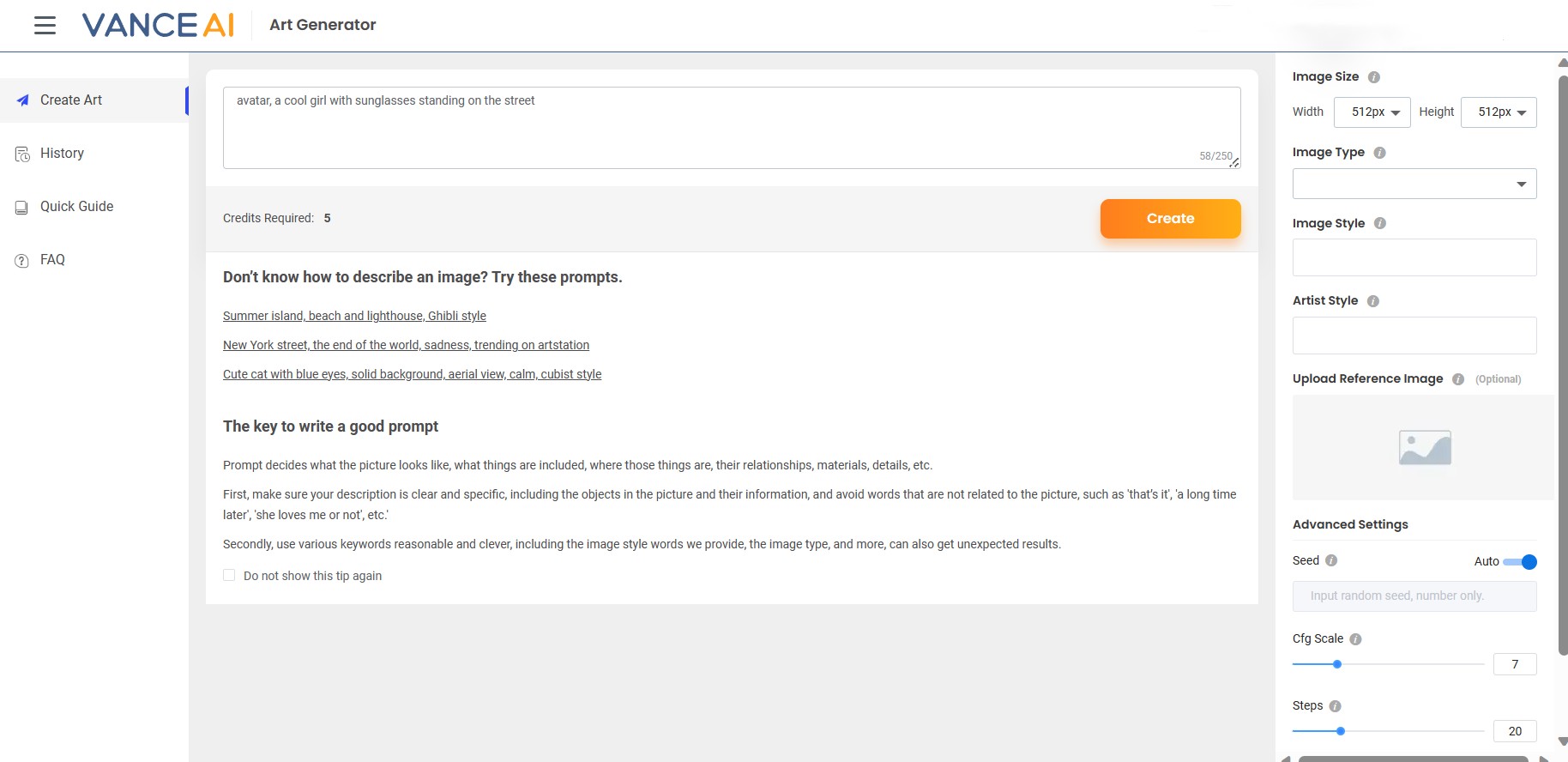 3. Finally, the images generated by AI have been finished. You can download your satisfying images.
Conclusion
By introducing Imgcreator AI and several alternatives, we believe you have gained a lot of confidence and interest in generating images by AI. Using these tools will not only help you generate unique images but also stimulate your imagination and activate your artistic mind. It is believed that whichever product will be a great helper. Having learned so much, click now to feel the charm of AI!
By the way, if you have trouble with ideas for creating images, you can refer to this article: Get Art Prompts From ChatGPT to Get Fancy Drawings.
Do you find this post helpful?
Read More to Know Deeper: