Jasper AI Reviews for Art Creation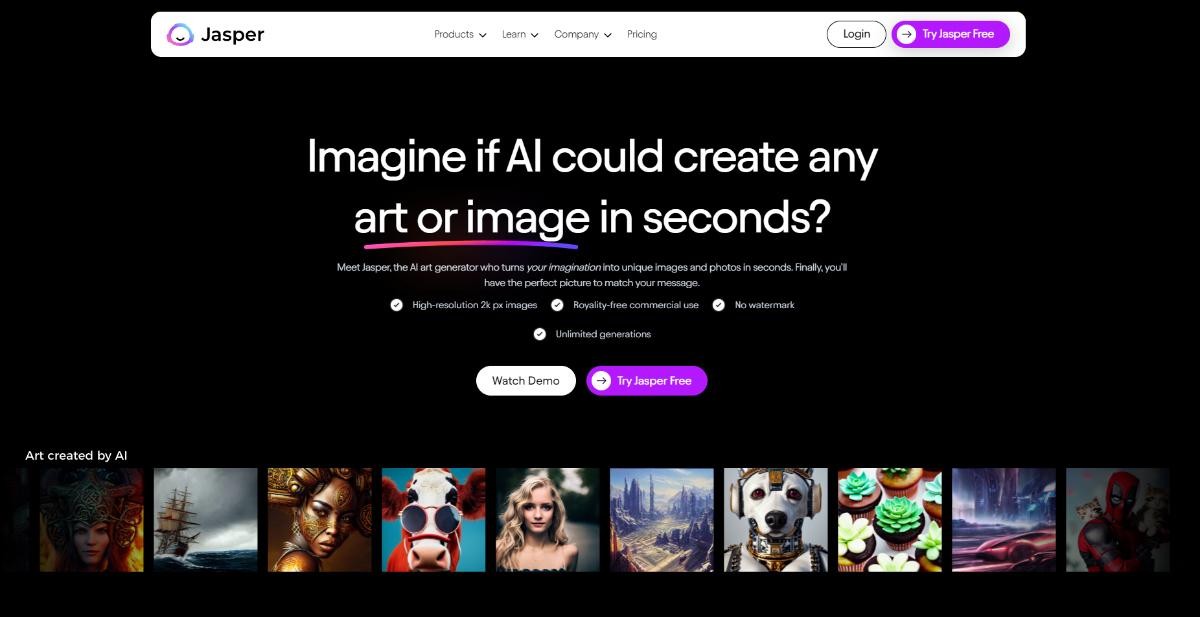 JasperAI is an innovative platform that combines conversational analytics with artistic expression. With its AI art generator tool, JasperAI empowers users to explore the realm of creativity and generate stunning artwork. By harnessing the power of artificial intelligence, this tool offers unique features and capabilities. Users can use Jasper AI art to create various kinds of images that are compelling and beneficial to their online marketing or creative efforts. More interestingly, there are also some popular Vtuber Maker which use similar technology. Try it if you like.
Key Features:
User-Friendly Interface: JasperAI offers an intuitive and user-friendly interface, making it accessible to both beginners and experienced artists.
Visual Appeal: The AI art generator produces captivating visuals, enabling users to explore creative possibilities and discover new artistic expressions.
AI-Powered Art Generation: JasperAI's art generator utilizes advanced algorithms and deep learning techniques to create visuals that are appealing and easy to generate.
Style Exploration: Users can experiment with different artistic styles, allowing for a diverse range of visual compositions and transformations.
Pros:
The platform's user-friendly interface makes it accessible to a wide range of users, fostering inclusivity and enabling anyone to engage in creative expression.
The platform offers multiple AI Jasper tools, such as the Jasper AI writing tool, which helps in overall content creation.
Cons:
The performance and output quality of the art generator may vary depending on factors such as image selection, complexity, and the specific algorithms employed.
What is Jasper AI?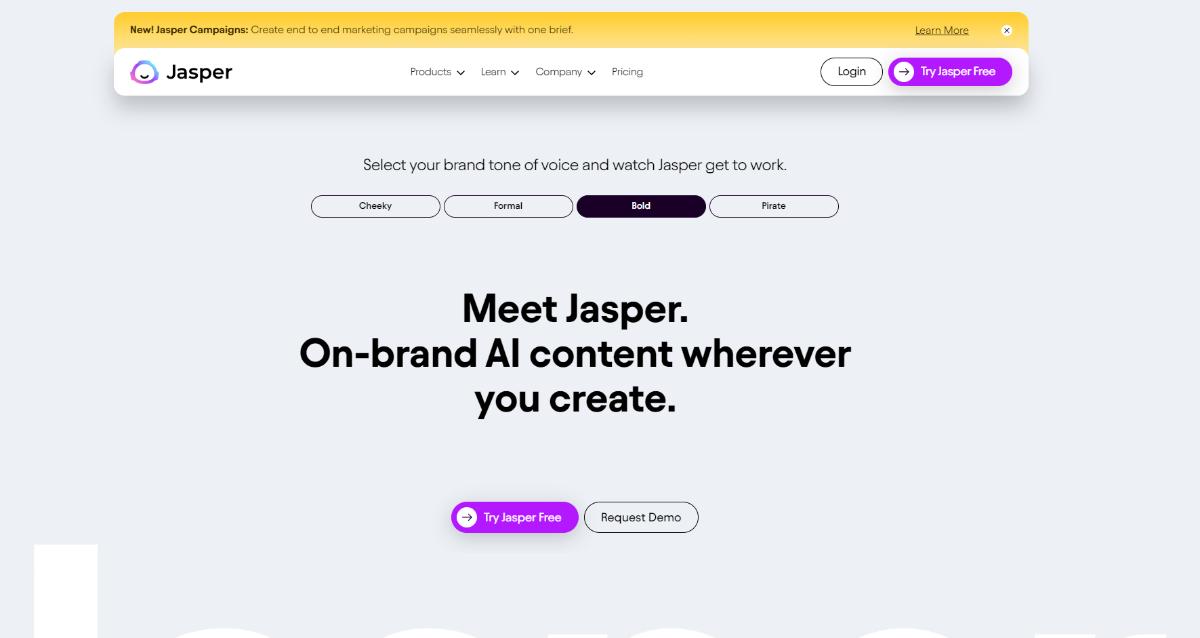 By utilizing natural language understanding and machine learning algorithms, Jasper AI enables businesses to optimize customer experience, improve operations, and drive growth. Beyond its conversational analytics capabilities, Jasper AI also offers an AI art generator tool, allowing users to explore their creativity and generate visually captivating artwork.
Key strengths of the Jasper AI platform include its advanced analytics capabilities, user-friendly interface, and the integration of AI technology into artistic expression. By combining conversational analytics with AI-generated art, Jasper AI offers a unique and diverse set of tools for businesses and individuals alike.
Jasper AI can significantly expedite the content creation process, enabling users to create content faster and more efficiently. Jasper AI's ability to personalize content based on customer segments further accelerates the content creation process. By understanding customer preferences, behaviors, and needs, content creators can tailor their messaging and develop highly relevant content. Besides that, more people also seem to be interested in AI Face Generator. You can know more from the link.
Jasper AI Writing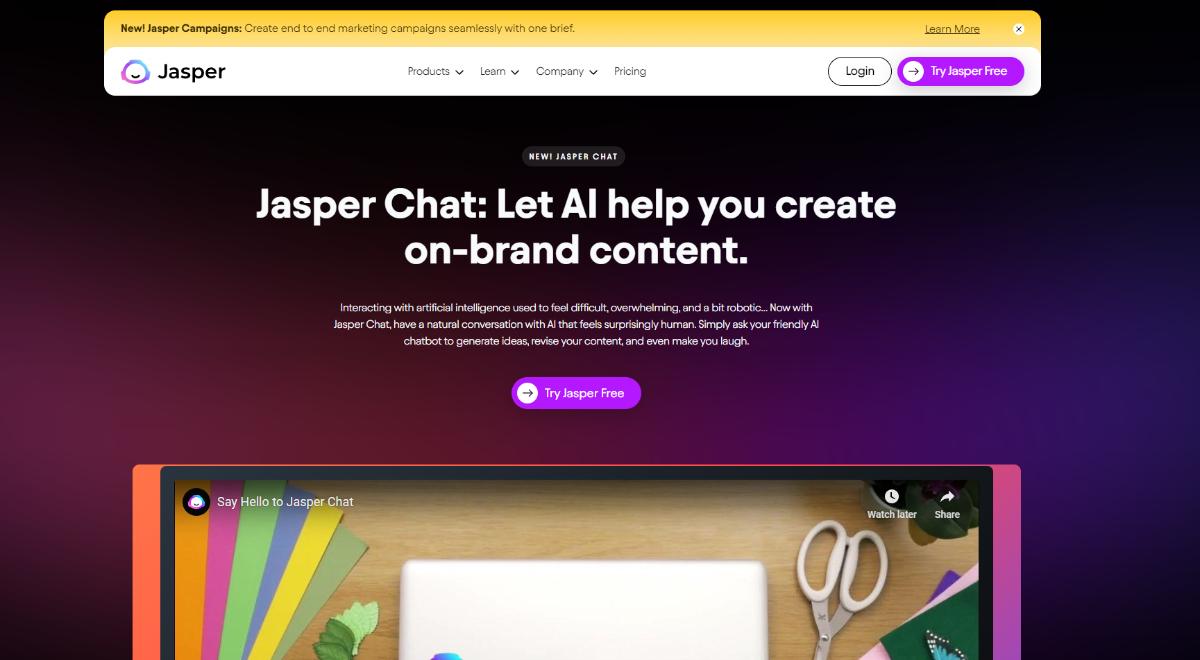 The JasperAI Copywriter tool is a powerful feature offered by Jasper AI that assists users in generating written content. This AI-powered tool utilizes advanced natural language processing (NLP) algorithms to improve text.
With the JasperAI Copywriter tool, users can quickly generate creative and persuasive copy for various purposes such as advertisements, social media posts, blog articles, and more. The JasperAI Copywriter tool offers valuable assistance in creating engaging and impactful written content.
Jasper AI Pricing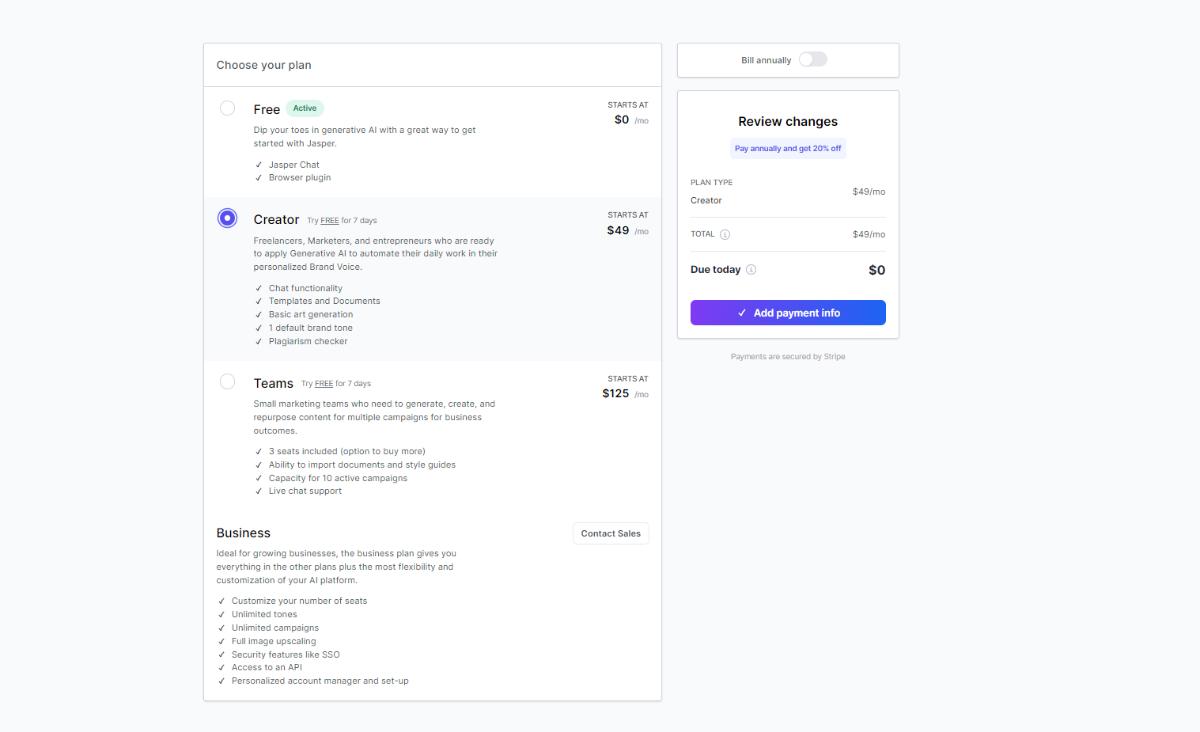 Jasper AI offers multiple subscription modes. It has a free version which grants access to the Jasper Chat and plugin. In order to access the Jasper art AI feature, you will need a paid subscription plan in place. However, you can use the paid plan's free trial of seven days first before actually getting into payments.
The Creator mode costs $49 per month while the Teams plan costs $125 per month. They both offer similar features but have some differences.
How to Make Jasper AI Free Trial?
Step 1: First, you will need to click on Jasper AI to get to the website. You can then click on the "Try Jasper for free" button to proceed ahead. You will need to do a Jasper AI login or sign up.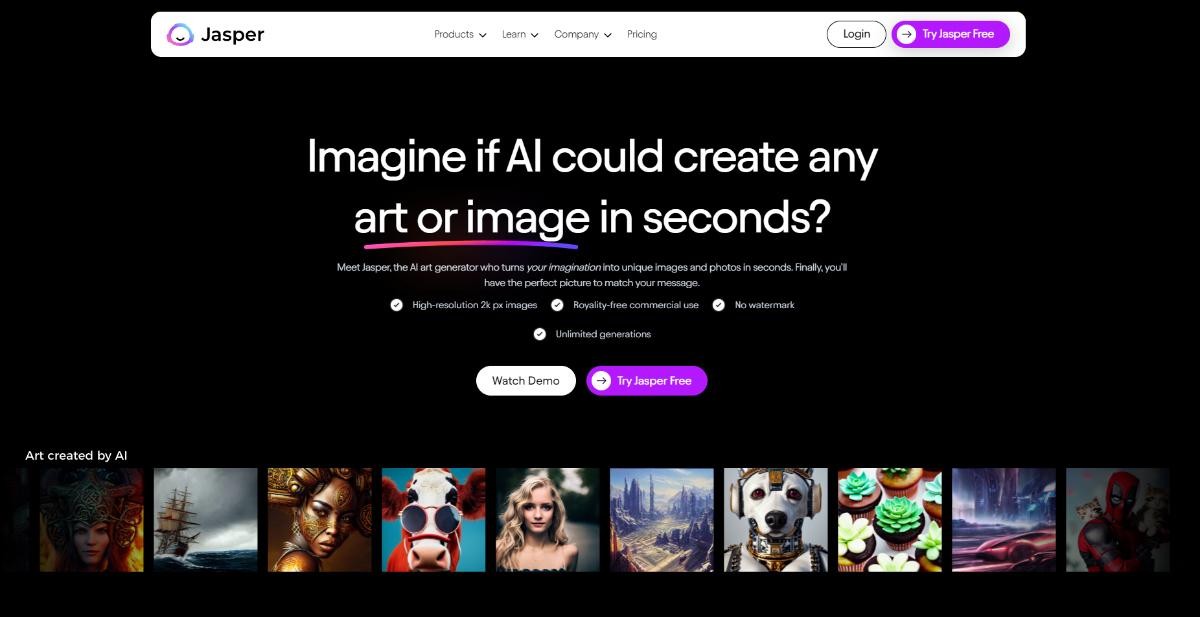 Step 2: After you login or sign up, you will enter the Jasper AI editor mode. If you're using the free version, you will need to upgrade your plan in order to access the AI art tool. Once you do that, use the AI art tool by giving a text prompt and let the tool work on the image.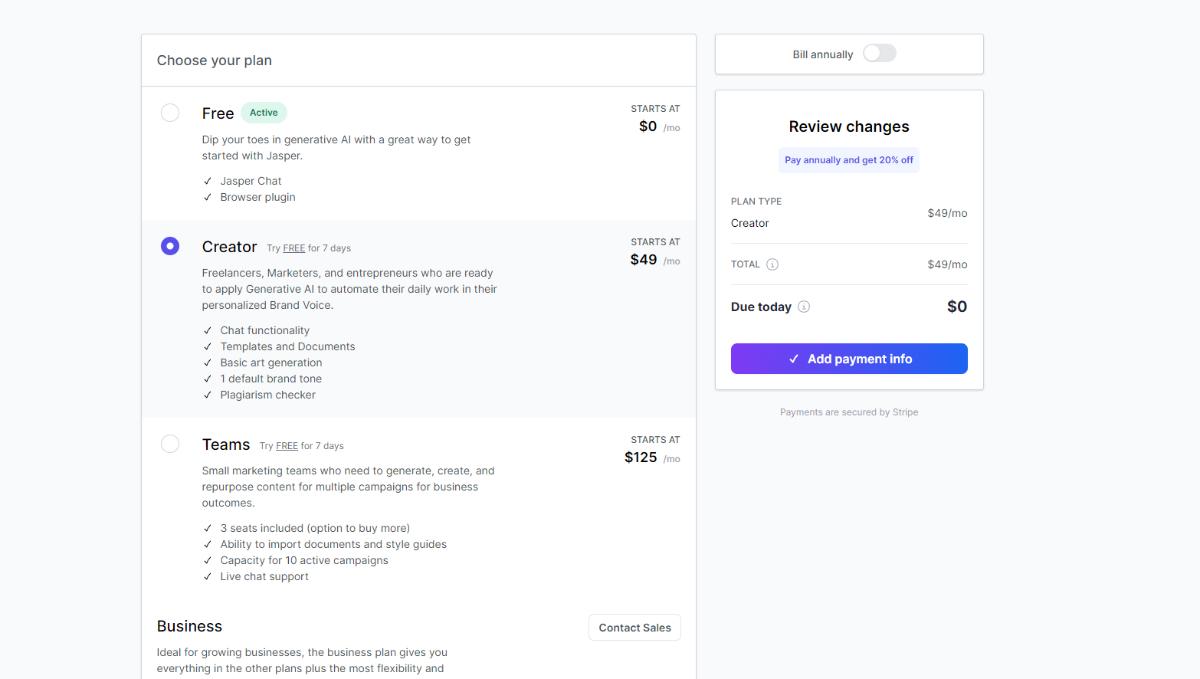 Step 3: Once you get the image ready, you can download it onto your device by using the option given there.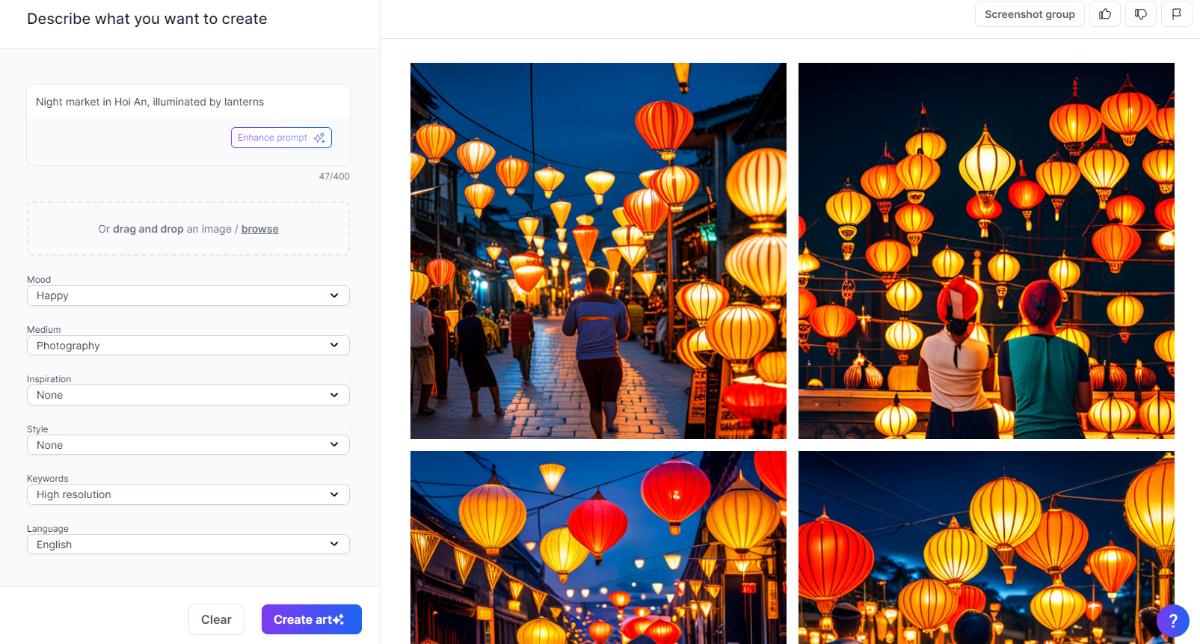 Best 5 Jasper AI Alternatives for Art Creation
VanceAI Art Generator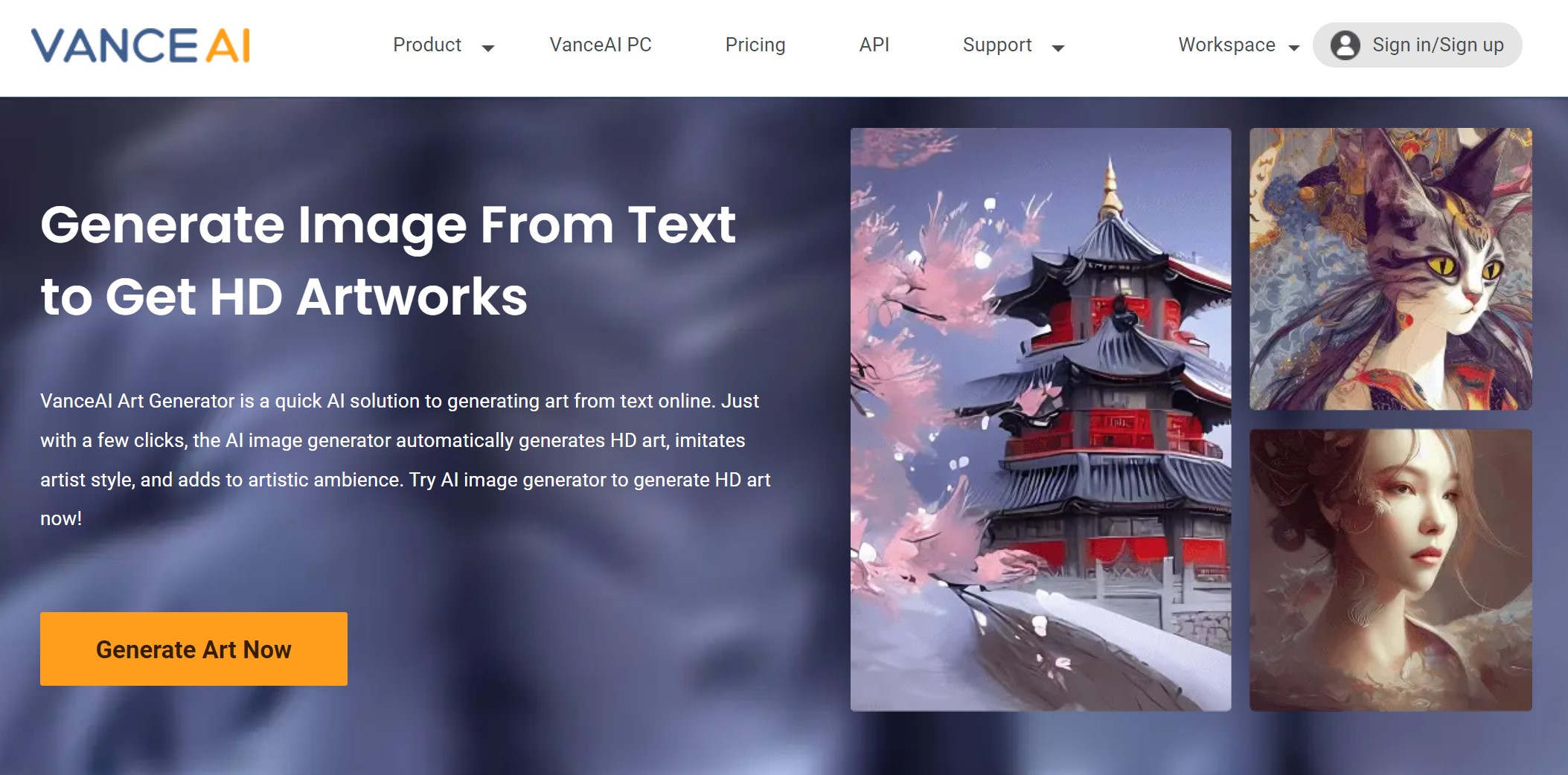 With the VanceAI Art Generator, individuals and businesses can effortlessly generate stunning and unique artwork to enhance their visual content regularly. Powered by advanced AI algorithms, this tool is a good Jasper AI alternative and it offers a range of creative possibilities while simplifying the process of creating captivating visuals. Apart from that, there comes some fancy AI Portrait Generator, making fancy selfies at a fast speed. Get to know more about it.
Key Features:
User-Friendly Interface: The VanceAI Art Generator boasts a user-friendly interface that makes it accessible to individuals with varying levels of artistic expertise. Its intuitive controls and straightforward workflow ensure a seamless experience for users.
Diverse Styles: The VanceAI Art Generator offers a diverse selection of artistic styles, allowing users to explore various aesthetics and adapt them to their visual content needs.
Time and Effort Savings: Creating compelling visual content regularly can be time-consuming and resource-intensive. However, the VanceAI Art Generator streamlines the process by automating the artistic creation process.
How to Use:
Step 1: Use the link given and access the tool online. From there, click on the button given to access the Workspace.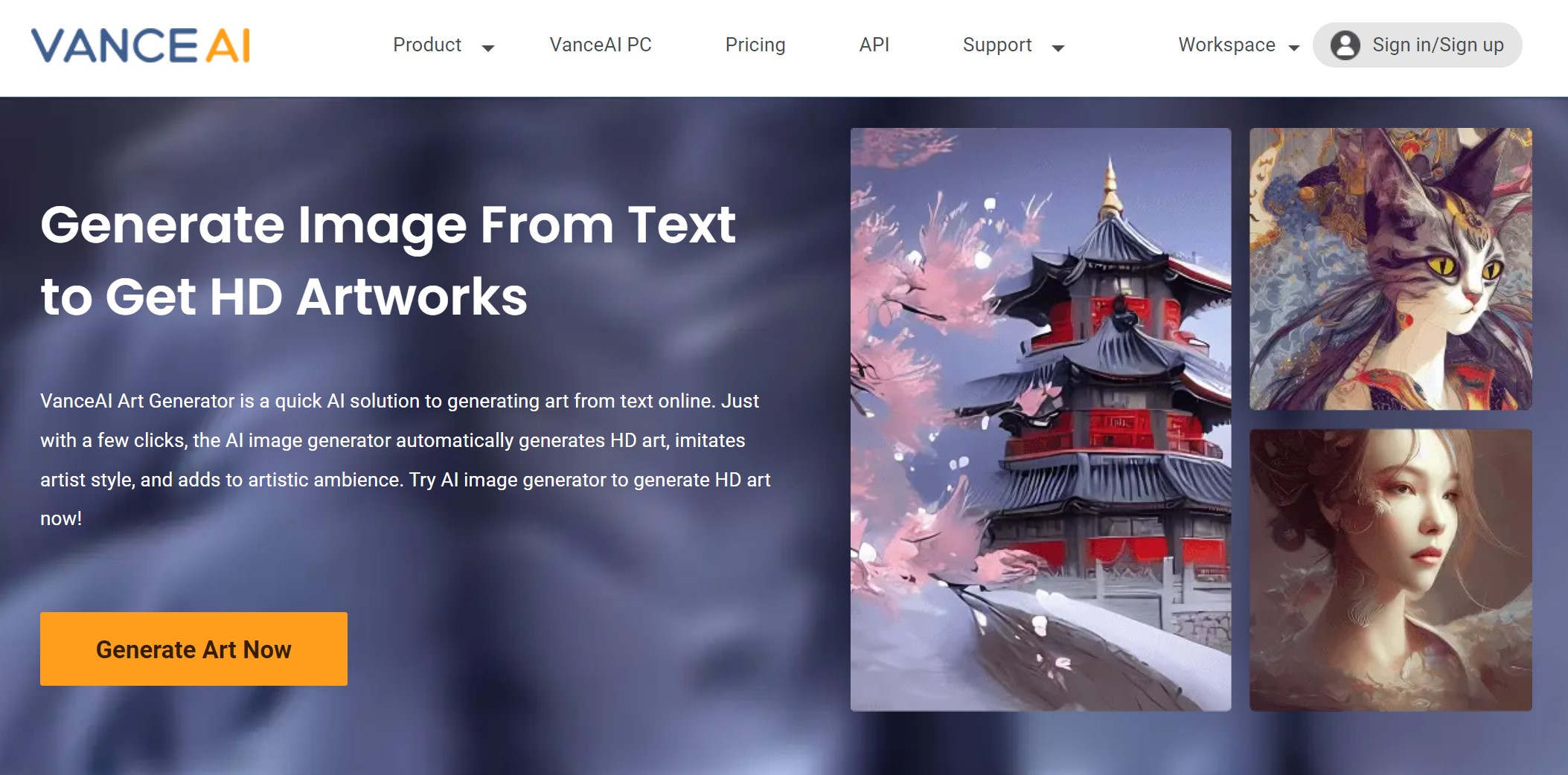 Step 2: After getting to the Workspace, you can use the features given, such as the text prompt, reference image upload, and other customization options. Click on "Create".
Step 3: The tool will take a few seconds and display the output on the screen. Use the download option to save the visual on your device.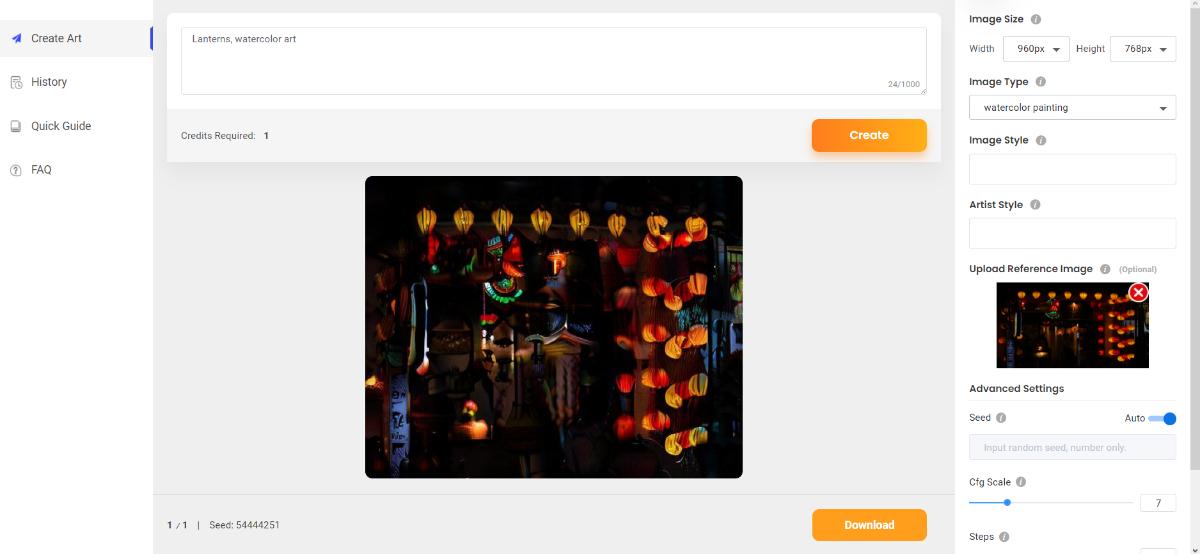 NightCafe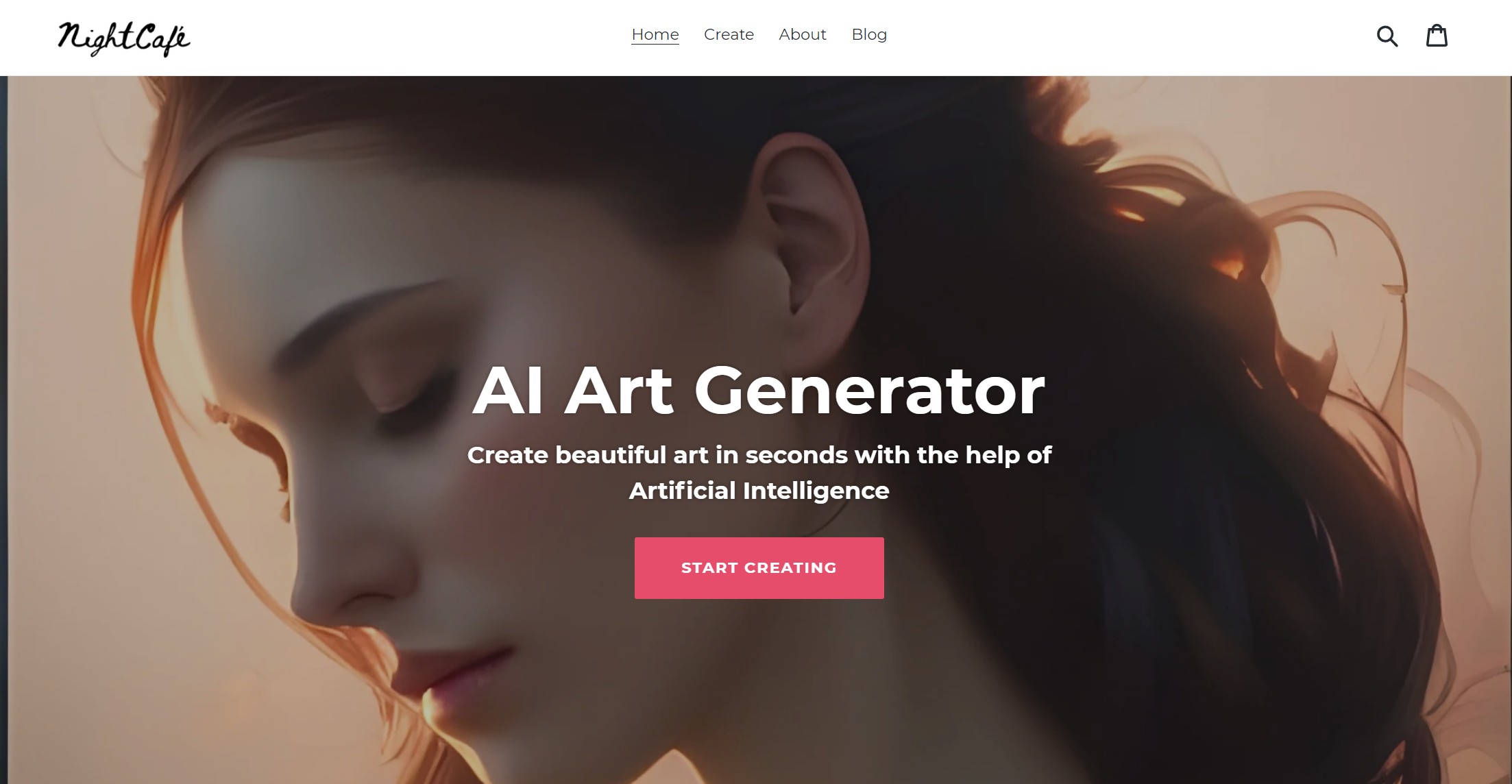 NightCafe offers users the ability to effortlessly generate mesmerizing and unique artwork, perfect for enhancing visual content regularly.
Key Features:
Easy Integration: NightCafe seamlessly integrates into the visual content creation workflow. Users can easily upload their images, apply artistic filters, and obtain the transformed artwork, all within a user-friendly interface.
Artistic Filters: NightCafe provides an array of artistic filters that users can apply to their images, instantly transforming them into stunning works of art. These filters emulate various artistic styles.
Fotor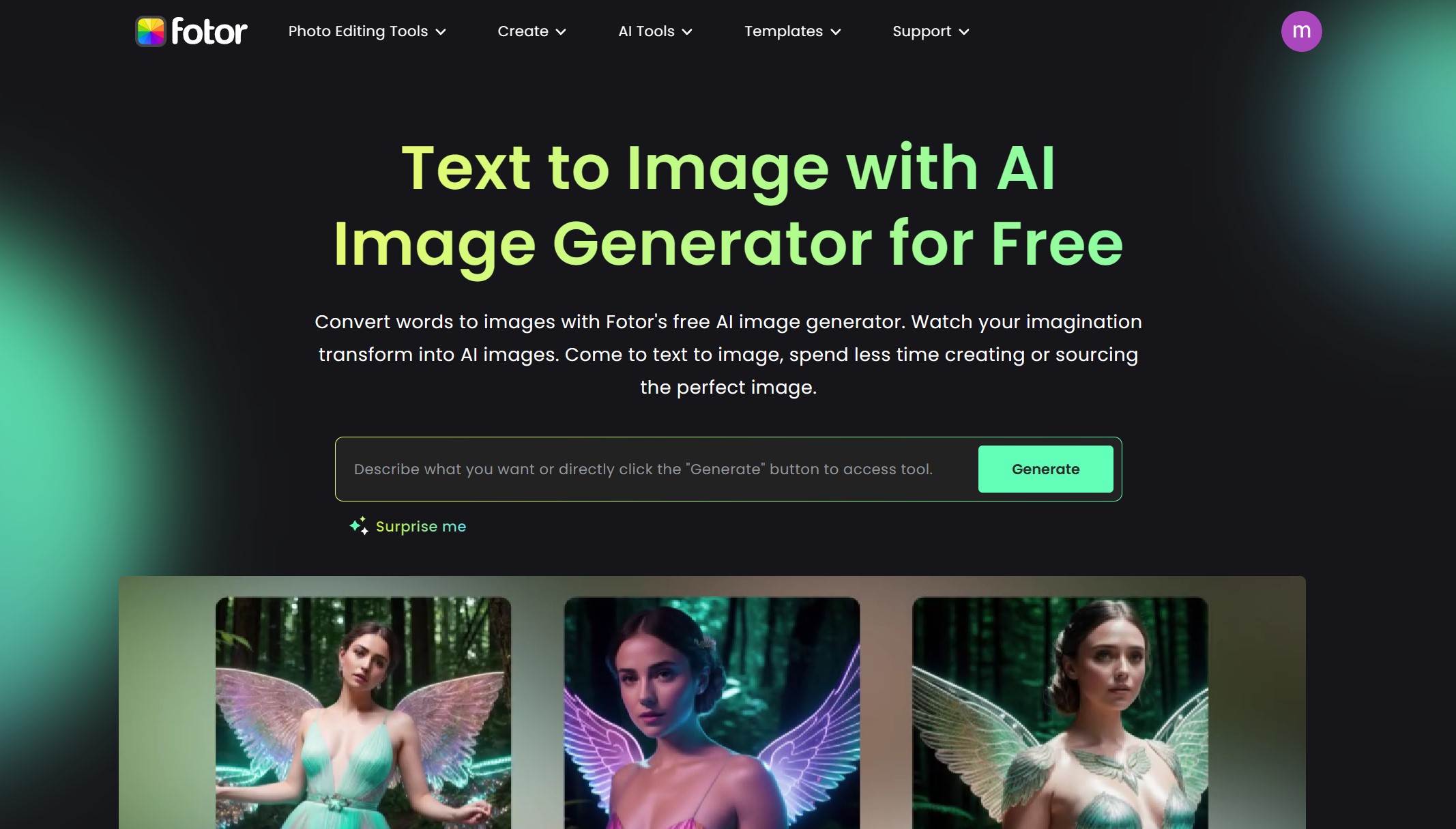 Fotor AI Art Generator is a powerful tool that helps users create captivating visual content effortlessly. With this innovative tool, you can transform your photos into stunning works of art, adding creativity and artistic flair to your visuals.
Key Features:
Easy Editing Tools: Customize and fine-tune your artwork with intuitive editing tools. Adjust brush stroke intensity, color saturation, and texture details to achieve the desired artistic effect.
Realistic Transformations: Fotor AI Art Generator applies advanced algorithms to create realistic and detailed artistic transformations. The tool preserves the essence of the original image while adding artistic elements for visually stunning results.
Instant Preview: See the artistic transformation in real-time with the instant preview feature. Receive immediate feedback and make adjustments to ensure the final artwork matches your vision.
Hotpot.AI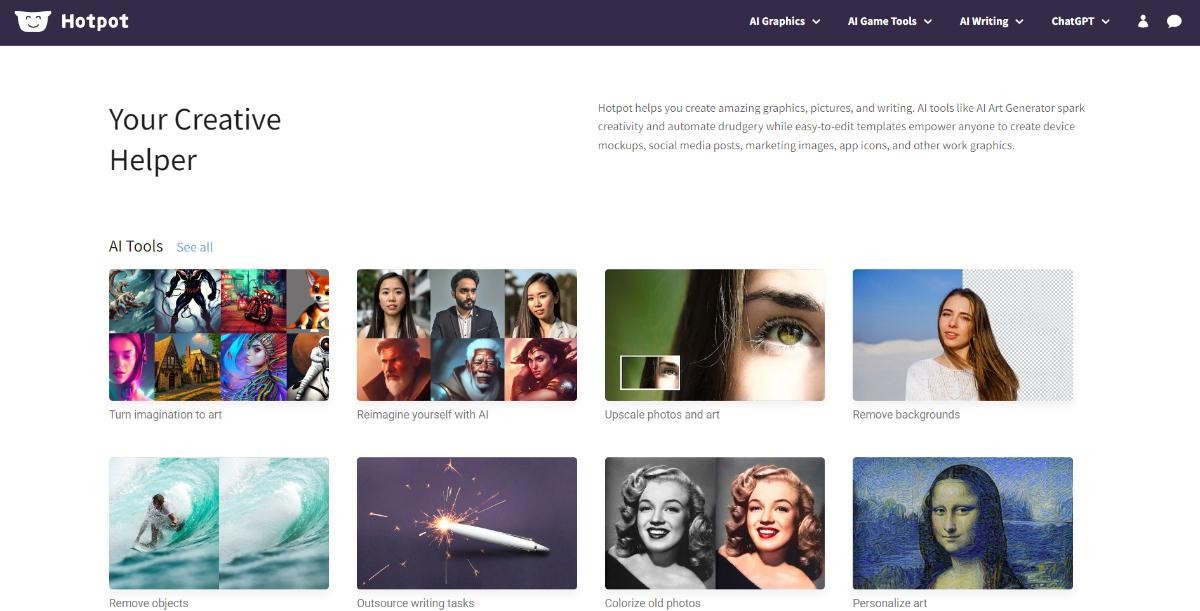 Hotpot.AI art generator tool empowers users to create visually stunning artwork effortlessly. With its wide range of artistic styles, one-click transformations, customization options, real-time preview, and user-friendly interface, Hotpot.AI is a valuable tool for content creators seeking to add artistic elements to their visual content.
Key Features:
High-Quality Artwork Output: The tool ensures high-quality output with its advanced algorithms. It intelligently applies artistic effects to your images while maintaining clarity, details, and color accuracy, resulting in stunning visual transformations.
Customizable Artistic Effects: With Hotpot.AI, you have the flexibility to customize the artistic effects applied to your images. Adjust parameters such as brush stroke intensity, color saturation, and texture details to achieve the desired artistic look and feel.
Dream by WOMBO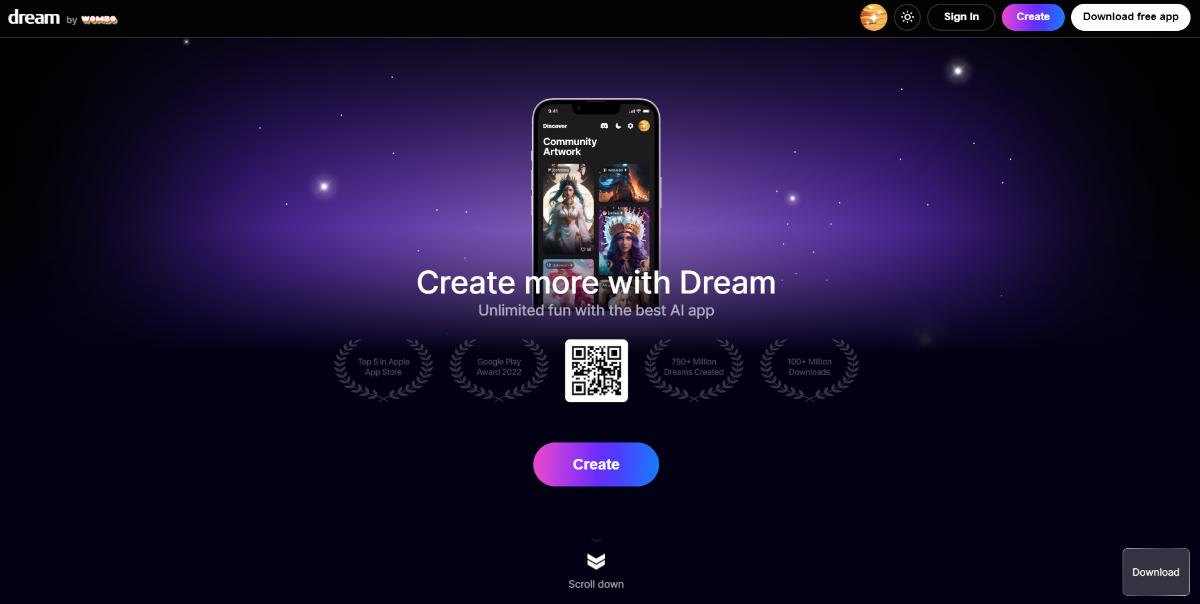 Dream by Wombo offers an exciting platform for unleashing your creativity and transforming your photos into captivating dreamlike visuals. Its AI-powered image transformations, diverse range of dream filters, intuitive editing controls, real-time visualization, and easy sharing options make it a valuable tool for content creators, artists, and more.
Key Features:
Wide Range of Dream Filters: The tool offers a diverse selection of dream filters, each providing a distinct artistic style and ambiance.
Intuitive Editing Controls: Dream by Wombo provides intuitive editing controls that allow you to fine-tune your dream images.
AI-Powered Image Transformation: Dream by Wombo utilizes advanced AI technology to perform unique and captivating image transformations.
Conclusion
Jasper AI stands as an exceptional app for content creators, offering a wealth of features and capabilities that make it a go-to tool for regular content creation. Its outstanding performance, powered by advanced AI technology, ensures high-quality results with impressive accuracy and efficiency. From the AI art generator tool to the copywriter tool, Jasper AI offers a versatile range of features that cater to various content creation needs. Whether it's creating engaging visuals for social media, designing eye-catching graphics, or generating captivating written content, Jasper AI delivers a reliable and powerful solution for content creators seeking to produce remarkable material on a regular basis.
Different from many Jasper AI reviews, this one also discusses the various alternative apps that you can try as well.
Do you find this post helpful?