What is Lensa AI?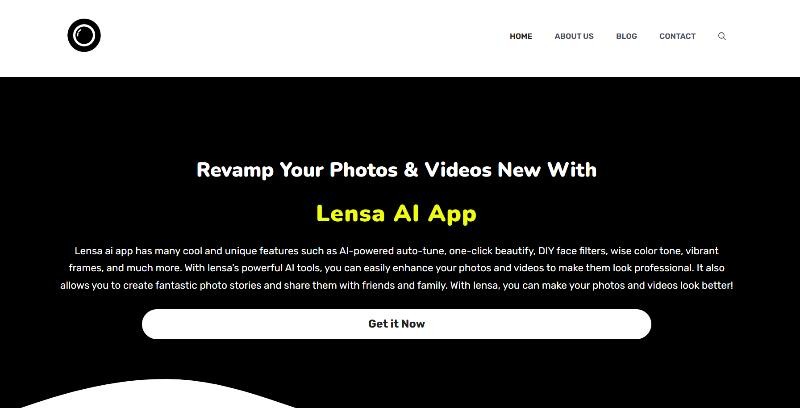 Portrait photography is highly important on the Internet and not just for social media or personal reasons, but also for professional reasons as well. Lensa AI enables photographers and enthusiasts to enhance their portrait photos quickly, easily, and with professional-quality results. It allows users to transform ordinary portraits into visually striking and captivating images, making them suitable for a variety of purposes, including social media, personal projects, professional portfolios, and more.
So, what is Lensa, exactly? Lensa AI is a valuable application that improves portraits or portrait photography through its AI-based algorithms. It provides a range of intelligent tools and features designed specifically for improving the quality, appearance, and overall impact of portrait photos. This Lensa review looks at various aspects of the applications and suggests alternatives as well.Apart from that, there comes some fancy AI Portrait Generator, making fancy selfies at a fast speed. Get to know more about it.
Lensa Review
Usability
Lensa AI has a good deal of usability and users can become familiar with the application fast enough. In terms of accessibility, Lensa scores well. It is available on mobile devices running on Android and iOS. Lensa AI automates many of the editing processes through its AI algorithms. Users can simply upload their portrait photos and let Lensa AI analyze and enhance the images automatically.
While Lensa AI offers automated enhancements, it also provides users with control and flexibility over the editing process. Users can fine-tune the adjustments to match their personal preferences and artistic vision. Lensa AI offers various adjustable parameters. Lensa AI is available as a standalone application or as a plugin for popular photo editing software. This seamless integration allows users to incorporate Lensa AI into their existing editing workflows without significant disruption. It provides a convenient and efficient way to enhance portrait photos using AI capabilities.
Pricing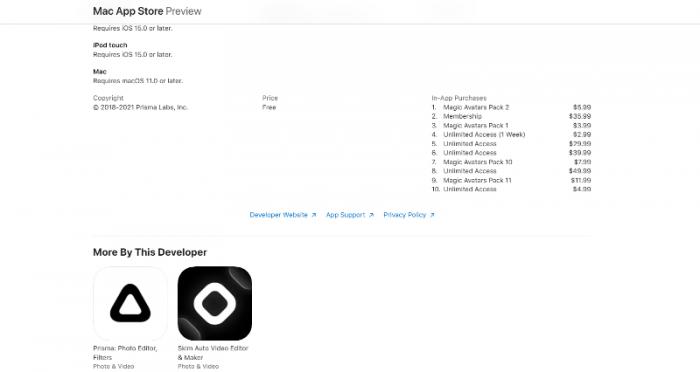 Another advantage of using Lensa is that you can get some level of access to the tool and its features for free, simply with an installation and account creation. If you do want to take things further, however, you still have many options to choose from. The lifetime access to the application would only cost around $39.99. You can choose to go slow by purchasing unlimited access for just one week, at the cost of $2.99.
The application offers other customized packs that you can purchase specifically. For instance, the application offers various Magic Avatars packs that have different costs depending on the assets or content they provide to the user.
Features
Lensa AI offers a range of artistic filters and styles that users can apply to their portraits. These filters allow for creative expression and the application of various aesthetic effects, enabling users to transform their photos with different looks and visual styles. Lensa AI offers advanced skin enhancement capabilities, allowing users to improve the appearance of skin in portraits. It can smooth out skin textures, reduce blemishes, and enhance skin tones while preserving a natural and realistic look.
Lensa AI supports batch processing, allowing users to apply enhancements to multiple photos simultaneously. This feature is especially useful for photographers and enthusiasts who need to process large sets of portrait images efficiently. Lensa AI features a user-friendly interface that is designed to be intuitive and easy to navigate. The tools and features are organized and accessible, enabling users to quickly locate and utilize the desired functionalities. More interestingly, there are also some popular Vtuber Maker which use similar technology. Try it if you like.
Pros and Cons
Pros:
User-Friendly: Lensa AI has an intuitive and user-friendly interface, making it accessible to photographers and enthusiasts of all skill levels.
Automated Enhancements: The tool automates many aspects of the editing process, utilizing AI algorithms to analyze and enhance portrait photos automatically, saving time and effort.
Skin and Eye Enhancement: Lensa AI offers advanced features for improving skin appearance and enhancing eyes in portraits, allowing users to achieve professional-quality results.
Real-Time Preview: Users can see the changes in real-time as they make adjustments, allowing them to fine-tune the enhancements and achieve the desired outcome.
Cons:
Limited Editing Scope: While Lensa AI offers several powerful features for portrait enhancement, it may have limitations in terms of broader photo editing capabilities. It primarily focuses on portrait-specific enhancements rather than providing a comprehensive suite of editing tools.
Lack of Manual Control: While Lensa AI allows users to adjust certain parameters, it may not offer the same level of granular control as manual editing software, limiting customization options for advanced users.
Cost: While Lensa AI provides a range of features and convenience, it may come with a subscription fee or cost associated with accessing certain advanced functionalities or premium features.
Customer Support
Lensa does have a fairly active team that responds to queries or complaints from time to time. You can reach them through the website by clicking on the Support tab or through the mobile application. There can be more channels of communication that are prominent and known by users. For example, many applications tend to be active on various social media, including Discord. Other than that, there can also be a community-based channel made for users to not only voice their queries but also share their artwork and more.
How to Create Avatars on Lensa AI App
It is fairly simple and straightforward to create avatars on Lensa ai app and this guide takes you through simple steps for doing so. Besides that, more people also seem to be interested in AI Face Generator. You can know more from the link.
In summary, you will need to install the software first from your respective PlayStore. Once the software is installed, you can follow the instructions and get the subscription. After that, you can get the magic avatar applied to the photo that you upload.
Here are the simple steps: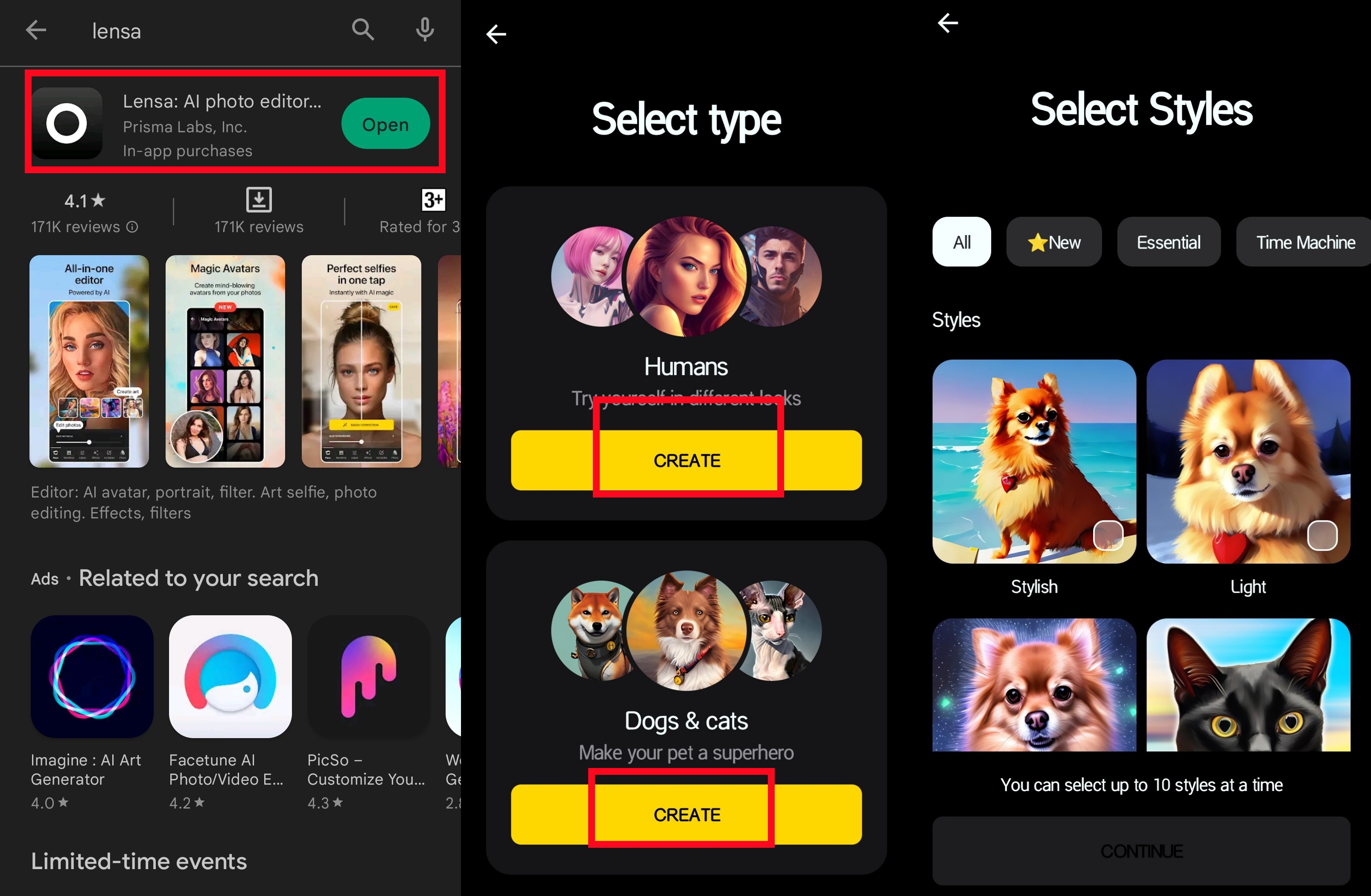 Step 1: Go to your respective PlayStore and install the Lensa AI app. Run it after installation and accept the Terms & Conditions to proceed ahead.
Step 2: You will see the Magic Avatar option pop-up when you go ahead in the application. Tap on the button and choose the option that you want from Humans and Pets. You will need to upload a few photos related to the option you choose.
Step 3: After selecting the style and picking the photos, you can go forward and do the payment for creating the Avatars. The tool will then process your request and provide you with the results in a few seconds.
Best 5 Alternatives to Lensa AI
VanceAI Art Generator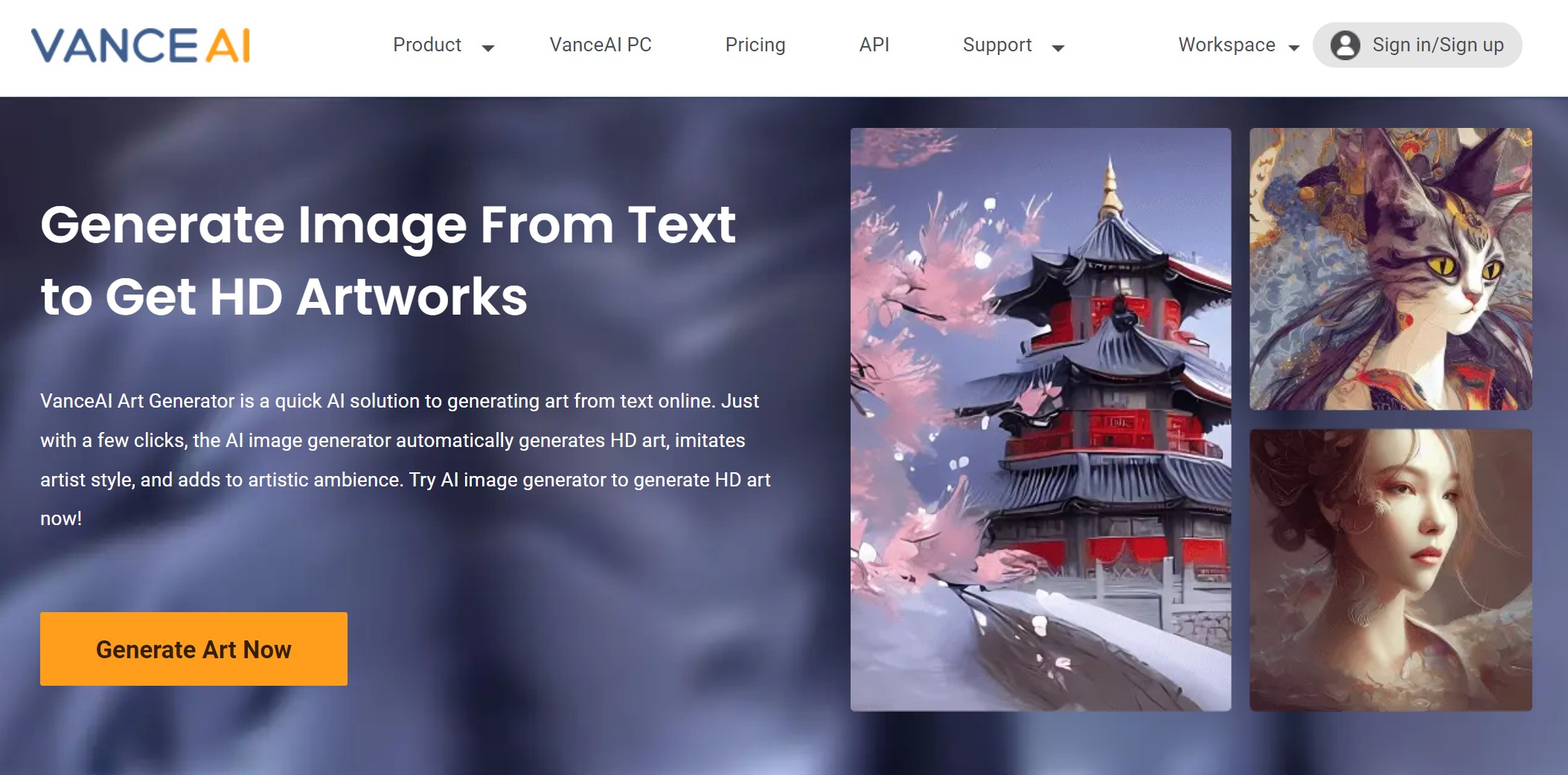 AI image generator is a tool for online generation of ai paintings based on stable diffusion technology. It is based on the text to image mode, which expresses the input text through prompts or rather the requirement of generating images to achieve AI online painting. It has excellent processing speed. It is capable of generating work in a very short period of time. And it supports resizing to output HD quality AI paintings.
How to use VanceAI Art Generator?
Step1: Click on "Generate AI Art" to enter the workspace.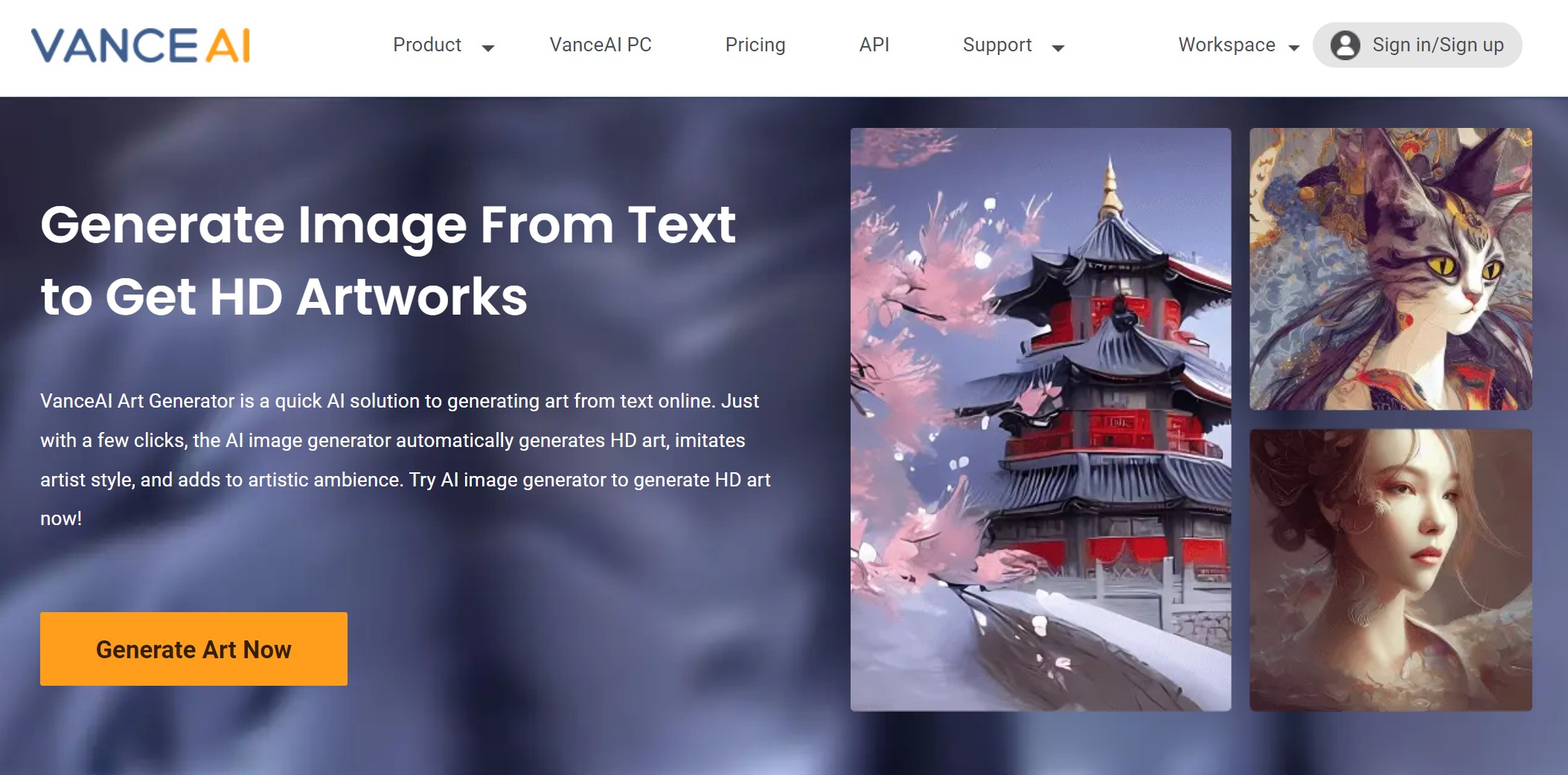 Step2: Enter your requirements for this AI painting in the prompt box and click on creat.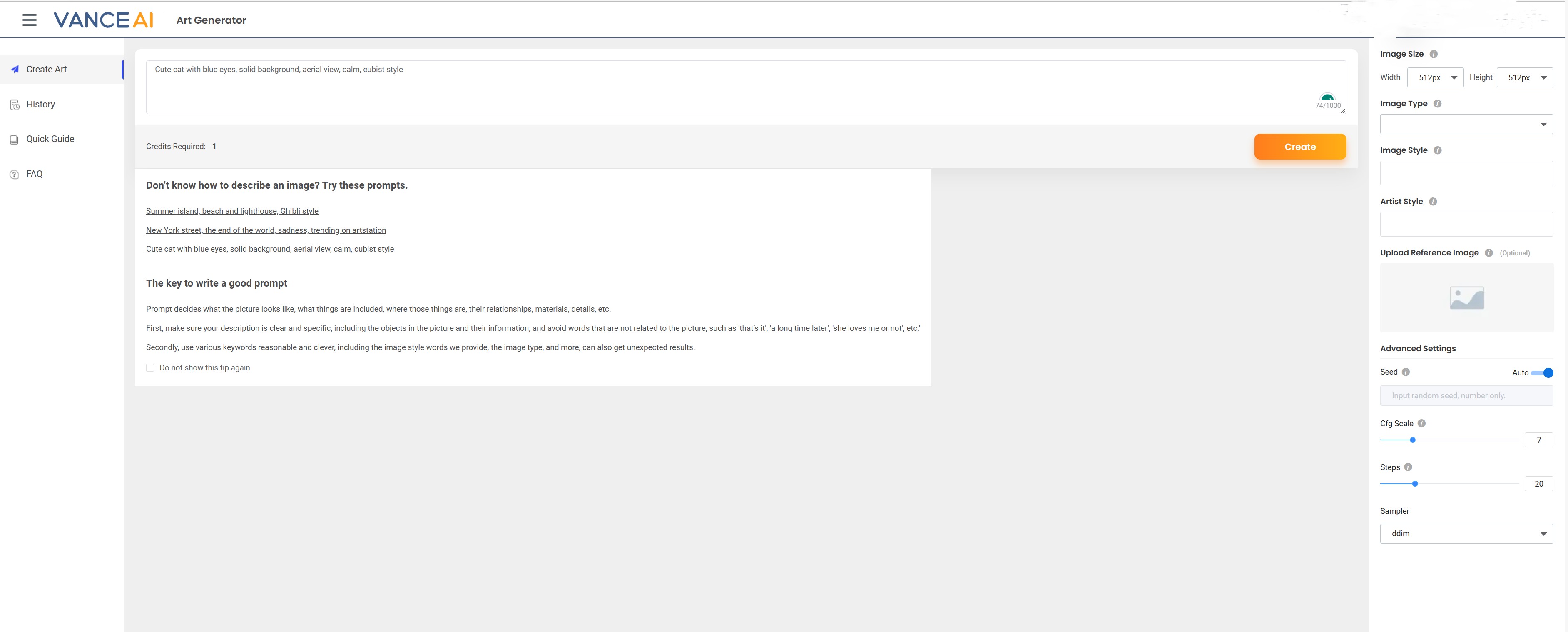 Step3 : Preview and download your AI art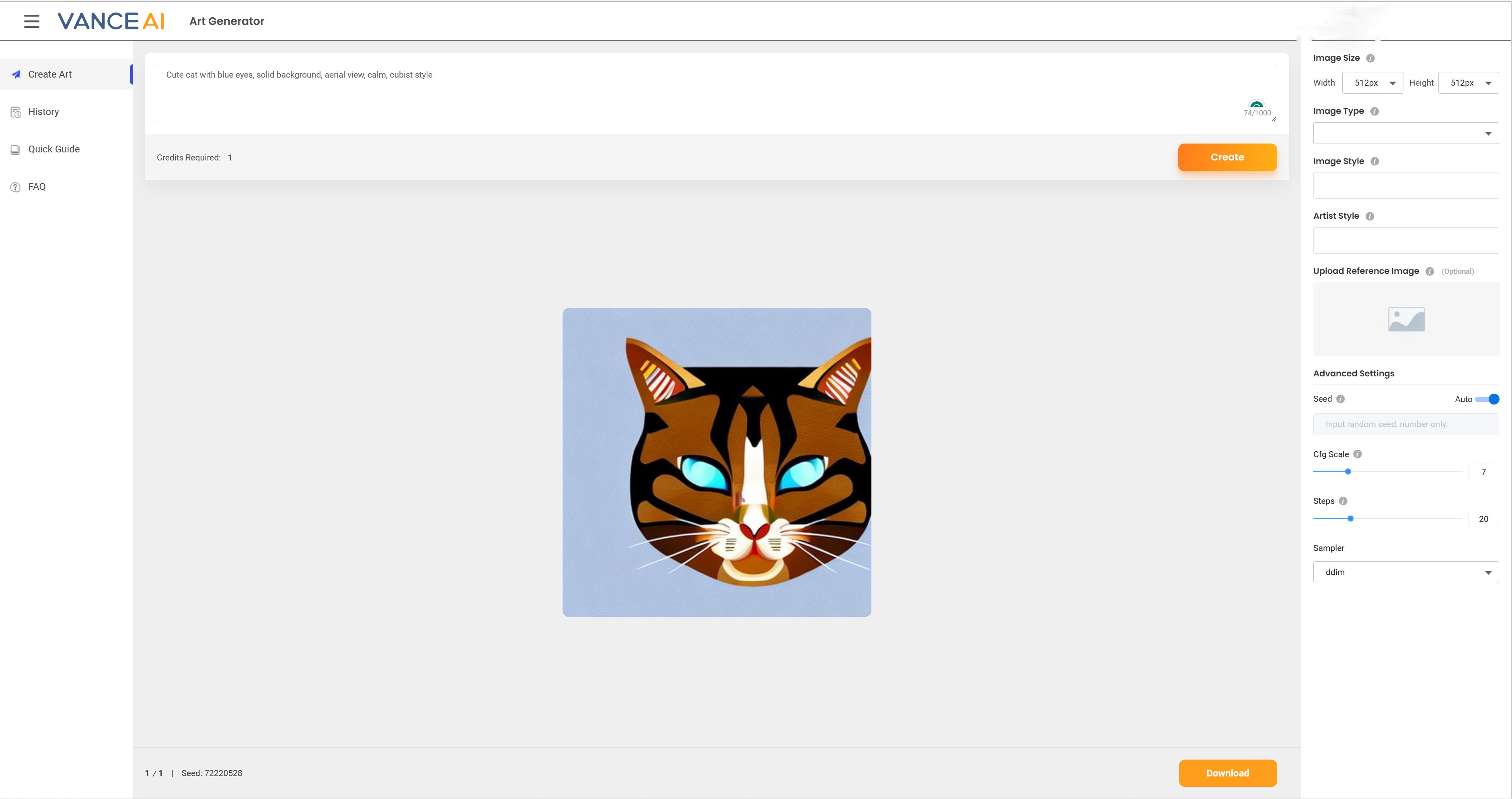 AI Avatar Generator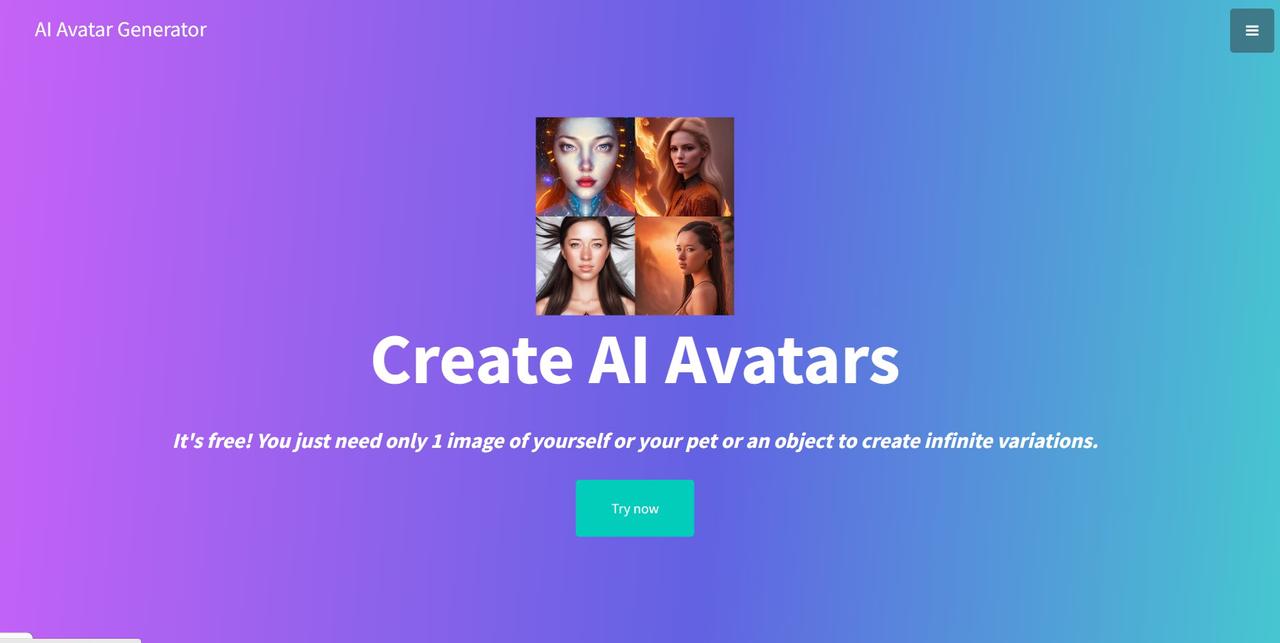 The AI Avatar Generator tool utilizes artificial intelligence algorithms to create unique and customizable digital avatars. By leveraging machine learning techniques, the tool can generate a wide variety of avatar designs based on user preferences and inputs. Users can customize various aspects of their avatar, including facial features, hairstyles, clothing, accessories, and more. The AI Avatar Generator employs sophisticated algorithms that analyze patterns and characteristics from existing avatar images to generate realistic and visually appealing representations.
Fotor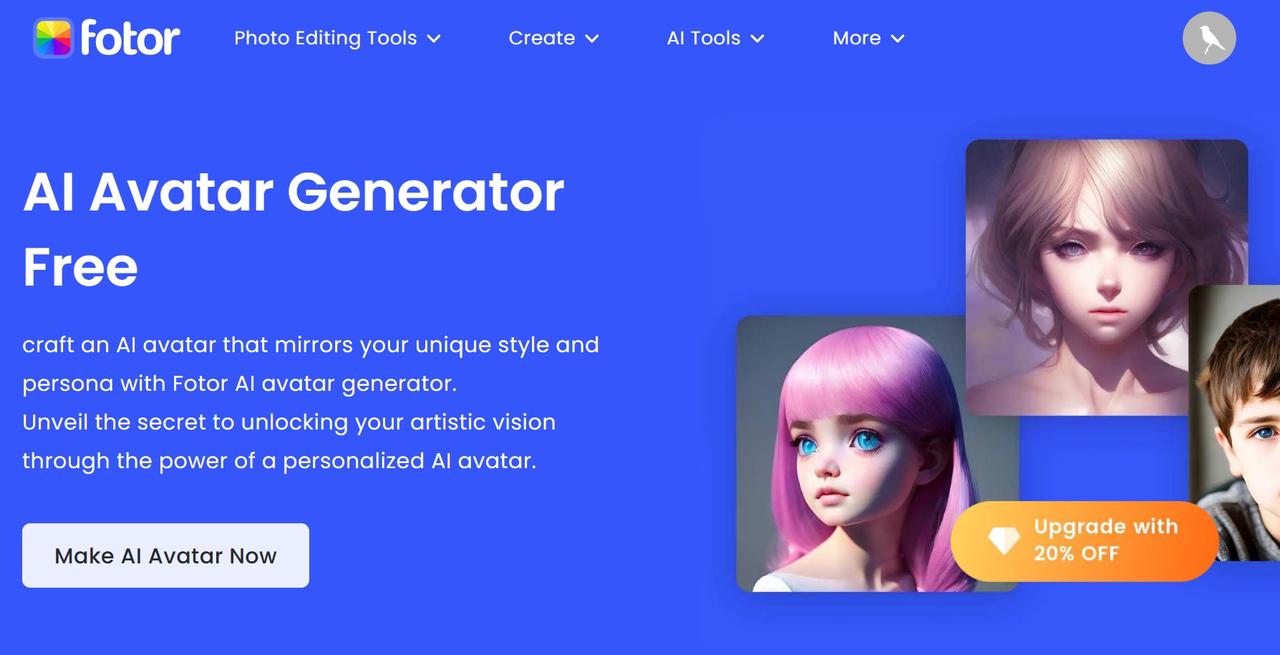 Fotor is a comprehensive online photo editing and design platform that offers a range of creative tools and features, including an avatar generator. With Fotor's avatar generator, users can easily create unique and personalized digital avatars for various online platforms and profiles. The feature provides a user-friendly interface that allows individuals to customize their avatars with a wide array of options.
Fotor's avatar generator offers a diverse collection of facial features, hairstyles, clothing styles, accessories, and more, enabling users to create avatars that reflect their unique identities and preferences.
Avatarai Me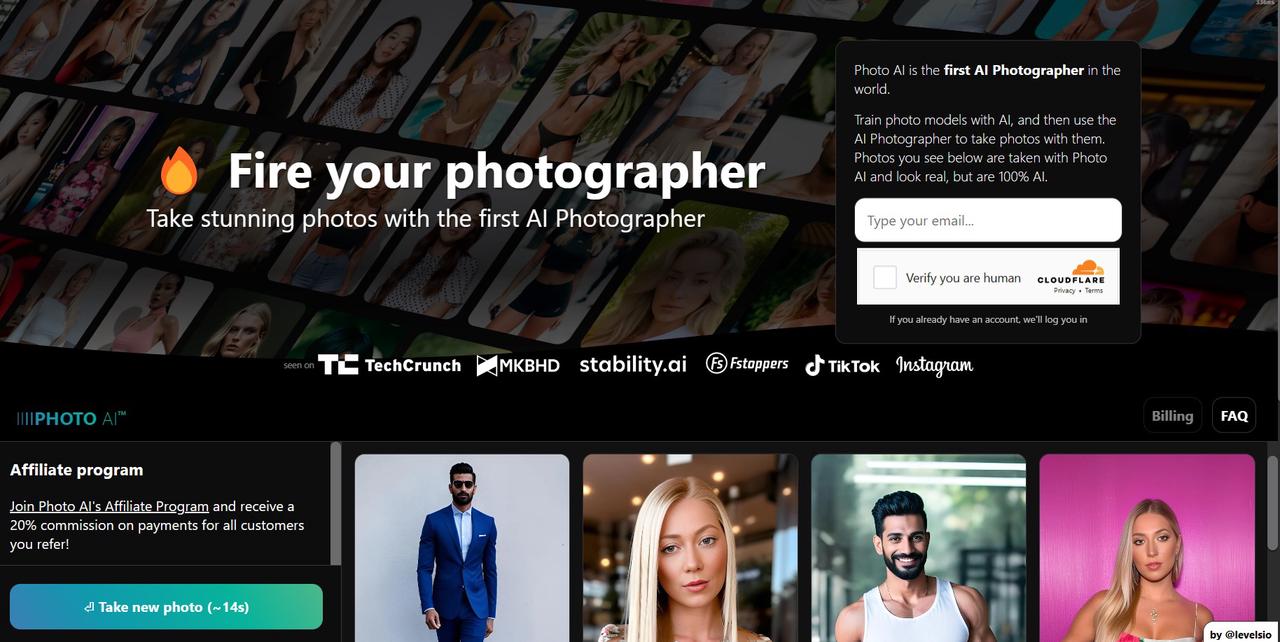 With Avatarai Me, also called Photo AI, users can transform ordinary photos into stunning portraits with various enhancements and artistic effects.
The tool employs deep learning and computer vision techniques to analyze and understand the key elements of a portrait, such as facial features, skin tones, and lighting. It then applies intelligent algorithms to enhance and modify these elements while maintaining a natural and realistic appearance.
Photo AI offers a wide range of features and capabilities for portrait editing. Users can adjust facial expressions, smoothen skin textures, enhance eye details, whiten teeth, and even change hair colors. The tool also provides options to apply makeup, add filters, and experiment with different artistic styles, allowing users to create unique and visually captivating portraits.
Picsart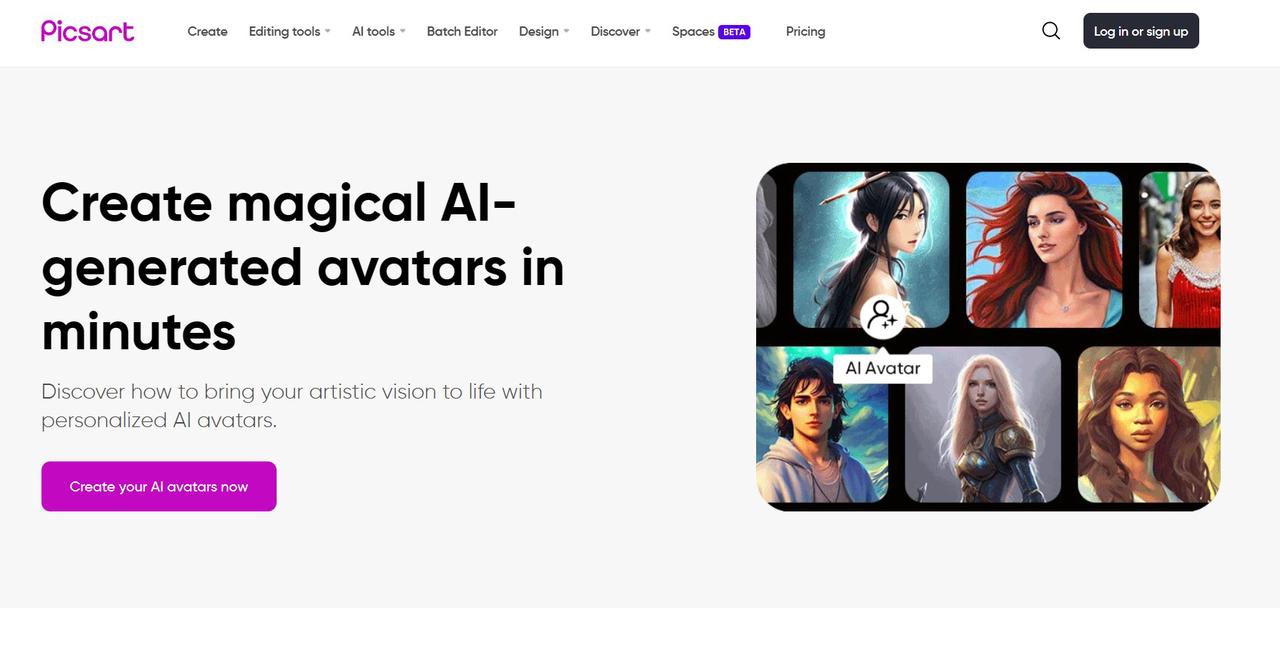 The PicsArt avatar creator tool is a feature within the popular photo editing and design app, PicsArt. It allows users to create personalized and customizable digital avatars for various purposes, such as social media profiles, gaming, and virtual identities.
With the PicsArt avatar creator tool, users can design avatars from scratch or choose from a wide selection of pre-designed elements, including facial features, hairstyles, clothing, accessories, and more. The tool provides a vast library of options, allowing users to mix and match different elements to create unique and expressive avatars.
The PicsArt avatar creator tool also integrates social sharing features, allowing users to easily share their avatars on social media platforms or with friends and family. This promotes creativity, engagement, and connectivity among users.
Starrytars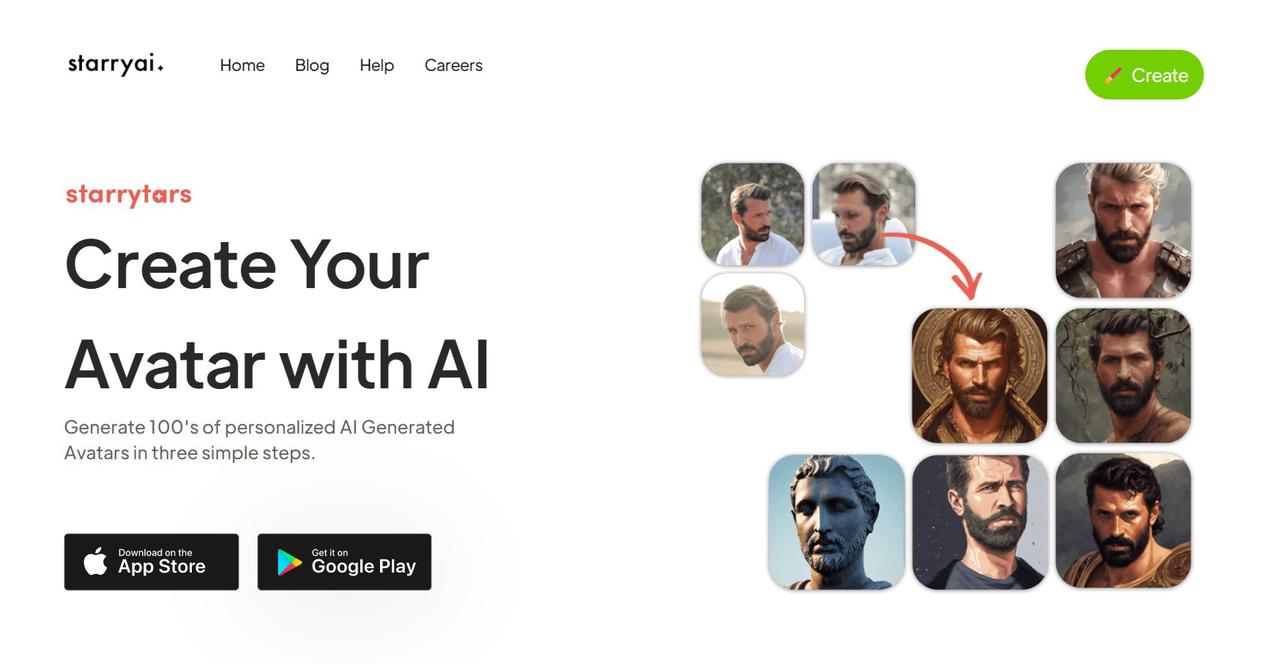 Starrytars is a mobile application running on Android and iOS. It makes use of AI-based technologies to produce artistic portraits that can be used online on various platforms. You can also use the editing tools given in the application to transform your portraits. For example, you could give a portrait of yours a sci-fi makeover or anything else that you can think of. The application has some level of free use but complete access will require you to get a subscription or purchase exclusive features.
Besides this, the platform also offers other tools such as a NFT creator, a Stable Diffusion-based image generator tool, and more, similar to VanceAI. You can access these tools from the website itself.
Conclusion
Lensa AI can significantly improve your existing portrait photos but it is also useful for creating something entirely new. Not to mention that AI tools such as these can also help users with the ideation process. You can test out various perspectives or concepts for a portrait and have them come to life through these applications. Besides Lensa AI, the other tools are highly useful as well. A tool such as Picsart can produce high-quality portraits in a matter of seconds, which can help photographers come up with ideas quicker. Hope this Lensa review may help you know what is lensa and lensa app.
Do you find this post helpful?