Best Alternatives to Selfie2anime
Are you a big fan of animes? If you are one of them, you must be deeply attracted by beautiful, colorful, cute anime characters and emotional, deep story-telling. Anime is a kind of art that evokes our emotions with more than just visual images. There are different styles of anime today. Originated from Japan, anime continues to evolve and today cartoon-style selfies are also becoming very fashionable.
Instead of watching your favorite anime characters on TV or animated works, you can take advantage of anime converter tools, such as Selfie2anime. Using advanced machine learning techniques, Selfie2anime enables you to generate an anime character based on a real person. Now, let's try it to turn yourself into an anime character. In this article, you will know better about Selfi2anime and its best alternatives including VanceAI, AI photo enhancement and editing tools, to turn a face into anime. Anime converters are also very popular around the world.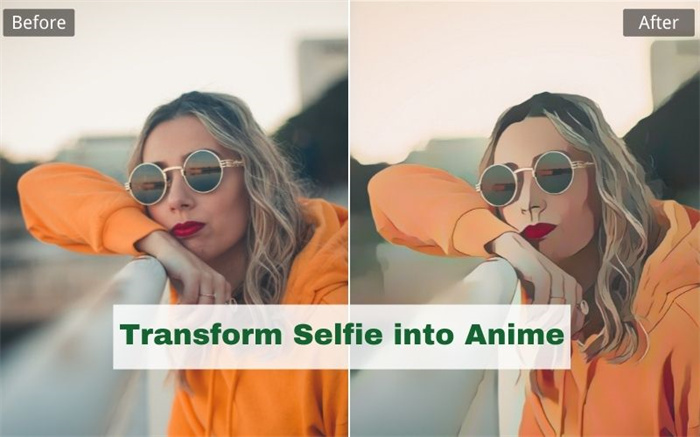 Best Alternative to Selfie2anime: VansPortrait
| | | | | | | | |
| --- | --- | --- | --- | --- | --- | --- | --- |
| Product | Free | User-friendliness  | Multiple languages | Multitasking |  Special advantage | No "Download"  | Live preview |
| Selfie2anime | √ | √ | √(two languages) | ×(only produce anime) | √(GAN) | √(online) | ×(send anime to your email) |
| VansPortrait | ×(3 free credits each month) | √(concise UI) | √(four) | √(produce sketch or cartoon picture) | √(AnimeGANv2:a novel lightweight GAN) | √(online) | √ |
VansPortrait offers you a quick way to make you look like anime. By using AnimeGANv2, it allows you to easily turn selfies into anime portraits with one click. You can really have fun with it to get amazing and cute anime portraits. This great AI cartoon generator makes cartoonish become an easy thing.
VanceAI offers rich features for creative minds, allowing you to convert your own photo to anime and even turn photo into line drawing.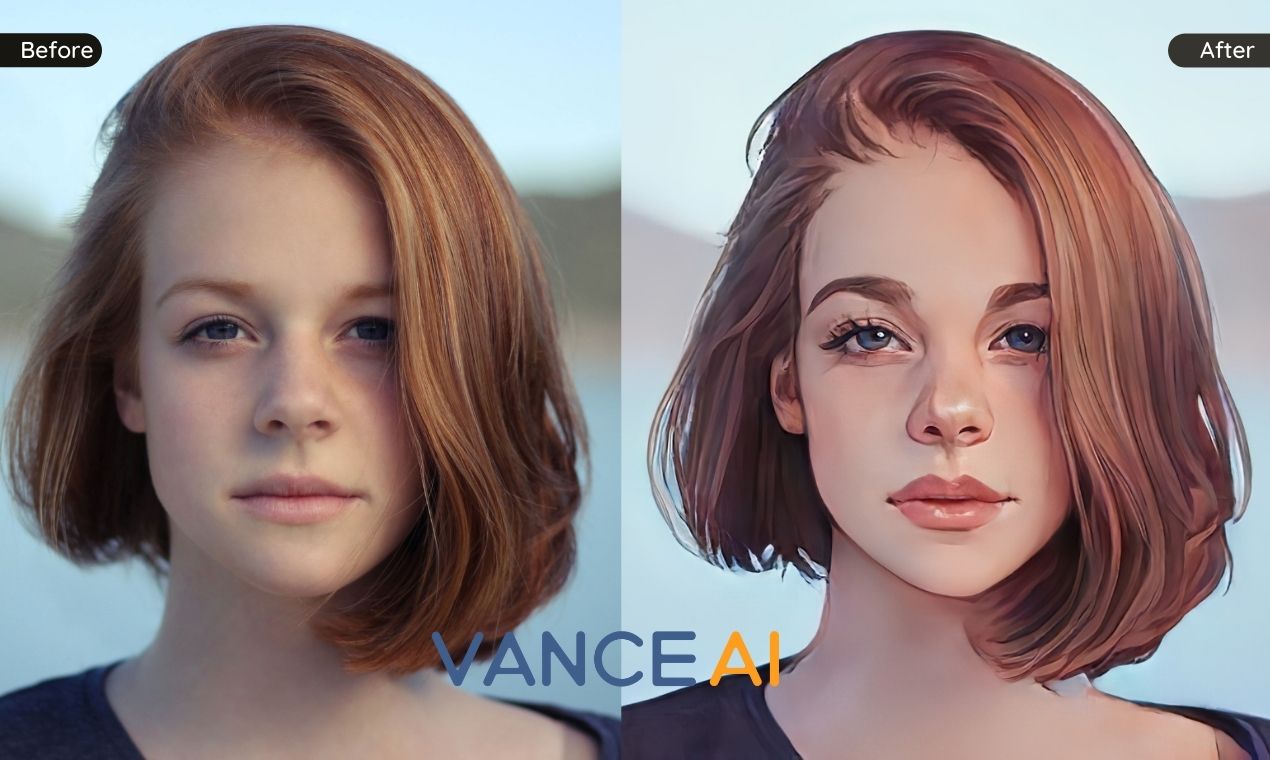 And there is support to experience the full power of VansPortrait with a trial in the pop-up space on the right side. Same as the guide as follow. (Sign up can get 3 credits/month for Free. Click on "×" can exit the mini workspace and return to where you are reading.) Also you can download the software to use. Apart from that, there comes some fancy AI Portrait Generator, making fancy selfies at a fast speed. Get to know more about it.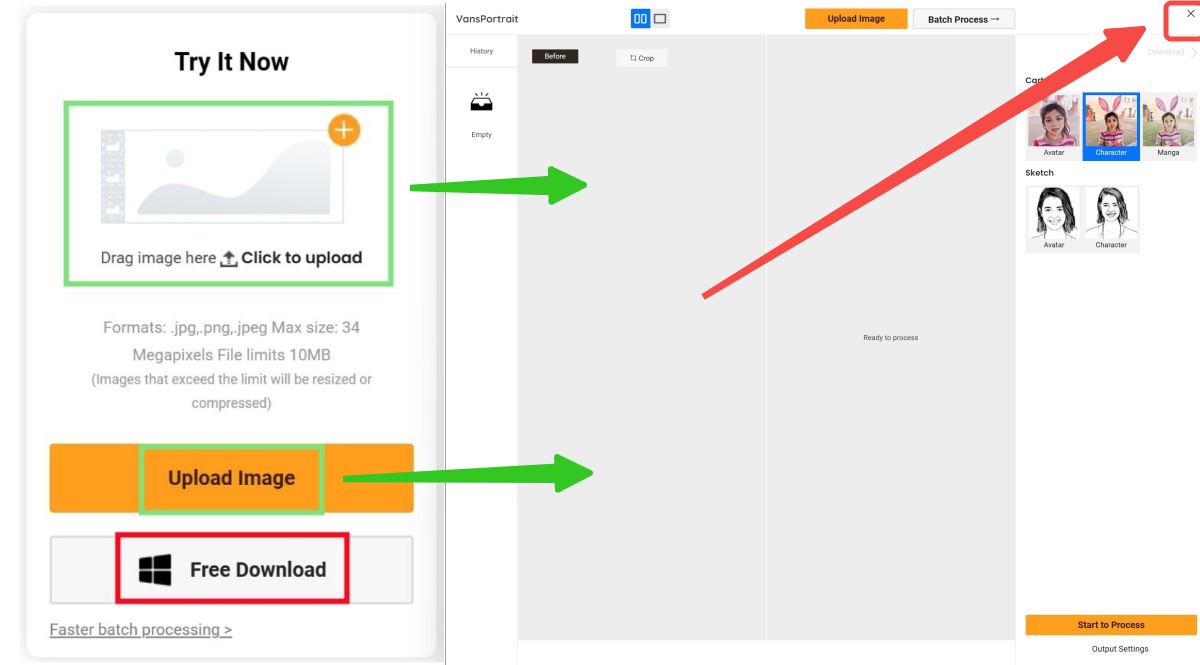 VansPortrait has been launched on Launching Next. Please check it by the link: https://www.launchingnext.com/?n=81399
What is Selfie2anime?
The whole internet is buzzing about one of the most popular web apps of today, in terms of transforming photo to anime or other kinds of art. Selfie2anime is a free web service that allows you to turn pictures into anime in a blink! It is designed as a single-page app, the interface is simple and can be accessed from the phone or computer. Of course, you must be connected to the Internet.  A great AI cartoon generator makes cartoonish become an easy thing.
When You Can Use Selfie2anime?
Selfie2anime is a powerful tool that allows you to indulge your creativity and imagination by transforming your photos into captivating anime characters. This innovative anime character generator from photo is perfect for anime enthusiasts, cosplayers, or anyone looking to add a touch of anime magic to their portraits.
You can use this anime face changer online in various exciting ways.
Firstly, it offers a fun and entertaining experience for individuals who wish to see themselves or their friends as anime characters. Secondly, it provides a fantastic opportunity for cosplayers to envision themselves as animated versions of their favorite anime characters. Additionally, if you're an artist or graphic designer, Selfie2anime can serve as an excellent reference tool for creating anime-style illustrations. With Selfie2anime, it's easy to turn photo into anime, making your creative visions come to life with a touch of anime flair.
How does Selfie2anime work?
For most users, transforming picture to anime sounds simple, but the software is based on artificial intelligence in order to generate an anime selfie. In the backstage of a photo transformation, lies an extensive process that is using machine learning techniques combined with a Generative Adversarial Network to make photo to anime. This means that a GAN is trained with thousands and thousands of photos, in order to deliver an image that will keep your face characteristics but change them into anime.
Also read: How to Enlarge Anime Image Easily with AI
 
Performance of Selfie2anime
An anime selfie is easy to obtain through Selfie2anime but unfortunately, you don't always get accurate results. So, you must keep trying. I am not completely satisfied and happy with my photos, but I will keep an eye on this software because developers promise to improve it. 
Well,  this is pretty good. This time is an anime girl selfie. For image protection reasons, I am not allowed to show the real image. More interestingly, there are also some popular Vtuber Maker which use similar technology. Try it if you like.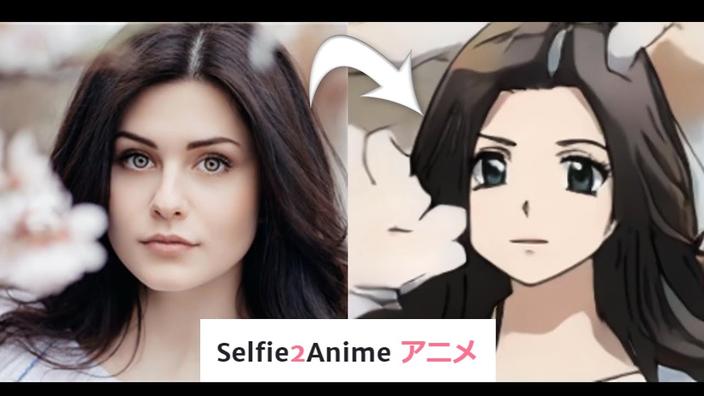 How to turn yourself into an anime character?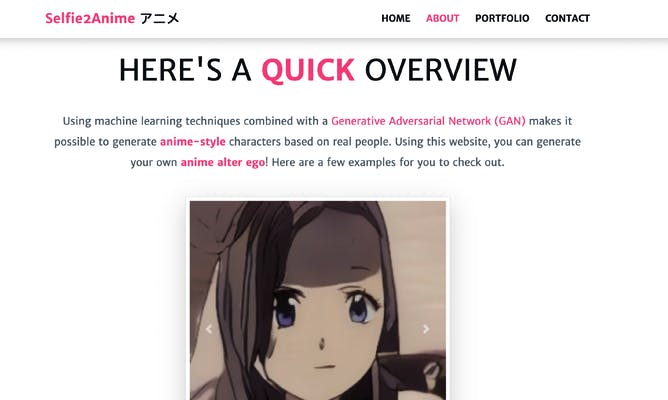 Just visit the website Selfie2anime and upload your selfie.
If your portrait is way too large, you must crop it. For this example, I used a selfie with a celebrity.  I guess that she no longer needs to be introduced.
At this point,  you must enter your email, in order to receive your anime selfie.
In a couple of seconds, you will receive an email with a link from where you can download your anime selfie. 
Click the link and you will see your selfie anime. Voilà the result.
In any case, this program still needs to evolve. At the moment I saw that out of 5 uploaded pictures, only two will have a great photo to anime transformation. Overall this is a cool program but you have to be a little patient to receive a good anime selfie. You can share your anime selfie on social platforms like Facebook, Instagram, Twitter, and so on, or you can store them for personal use.
Also read: Top 10 Best Anime Character Generator Tools Review
What's the difference between anime and cartoons?
Anime generally refers to animation made in Japan while the cartoon is a typically non-realistic or semi-realistic drawing or painting intended for satire, caricature, or humor. Anime mainly talks about life issues or things closer to human emotion and is not limited to specific groups. However, cartoons are generally made to be more comical to make people laugh. Besides that, more people also seem to be interested in AI Face Generator. You can know more from the link.
Best Alternatives to Selfie2anime
It's impossible not to have seen a selfie of a friend transformed into a manga/ anime style hasn't in your newsfeed so far. He may have used  Selfie2anime or others, such as those recommended below. 
 Selfie2Waifu
 TwinFace
 Anime Faces AI
 Anime Face Changer - Cartoon Photo Editor
 Anime Camera, Manga Comics
 Anime face changer camera effects
 Anime Face Changer
 Anime Transformation: Cartoon Face Changer
 AnimateU
Anime-conversion.online
| | | | | | | |
| --- | --- | --- | --- | --- | --- | --- |
| Product | Free | User-friendliness  | Multitasking |  AI-based Product | No "Download"  | No Watermark |
| Selfie2Waifu | √ | √ | × | √ | √(Online) | √ |
| TwinFace | √ | √ | × | × | ×(app) | √ |
| Anime Faces AI | √ | √ | × | × | ×(app) | √ |
| Anime Face Changer - Cartoon Photo Editor | √ | × | × | × | ×(app) | √ |
| Anime Camera, Manga Comics | ×(offer free trial) | ×(iPad and iPhone users only) | × | × | ×(app) | √ |
1. 

Selfie2Waifu

Through this free web service Selfie2Waifu, you can easily create an anime selfie.  You must upload a selfie or you can take one with your camera. Also, you need to ensure that you have a simple background for more great results.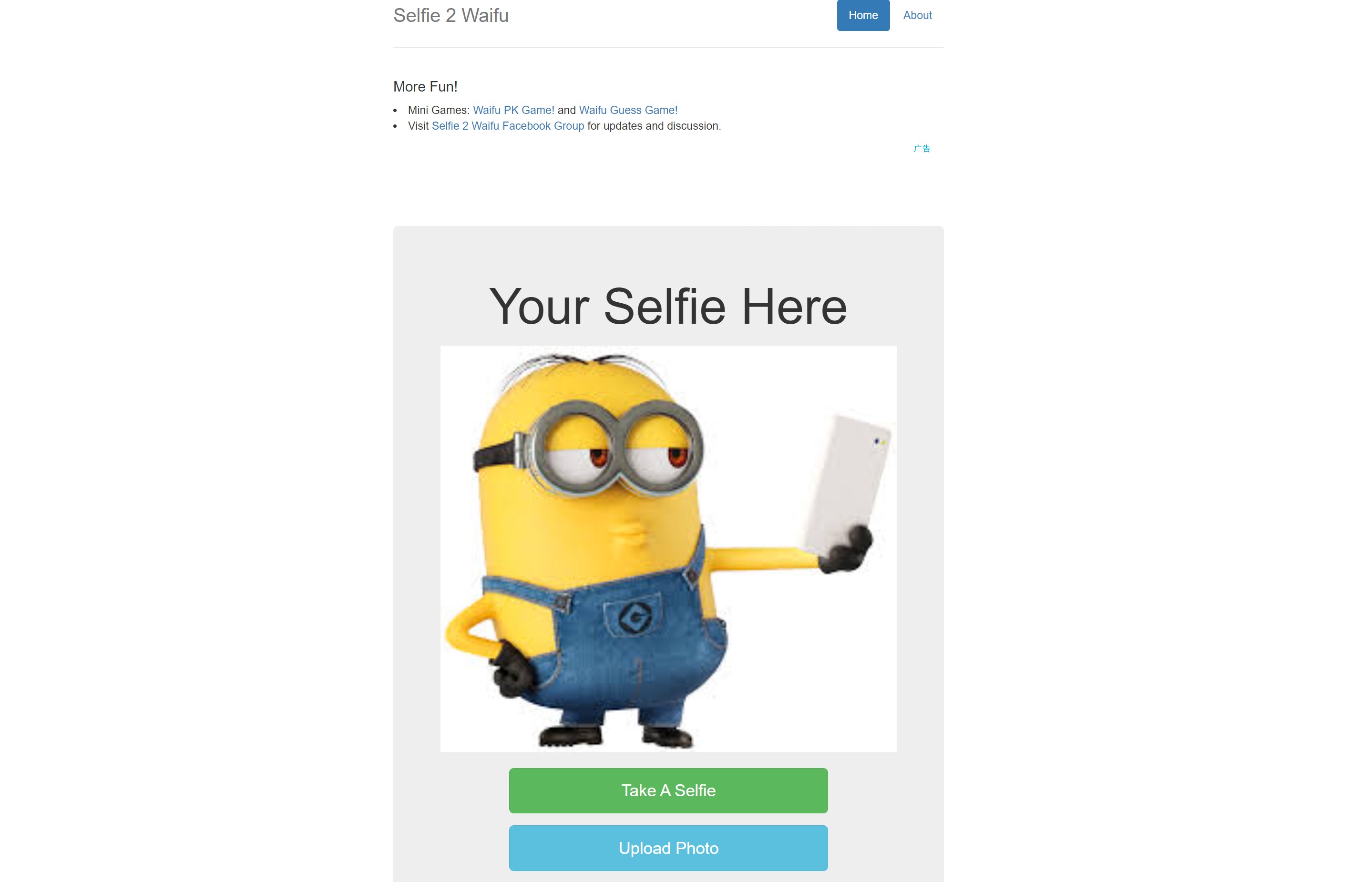 Pros:
A free online service without asking you to download any software.
It provides four languages like Chinese, English and Japanese.
Giving you immediate anime pictures by using AI-tech.
Having a concise UI.
Cons:
It has some ads due to expensive GPU computing resource.
2. TwinFace
TwinFace is a completely free phone app that can turn picture into anime in an instant. You just need to upload a selfie and the neural network magic will do the trick.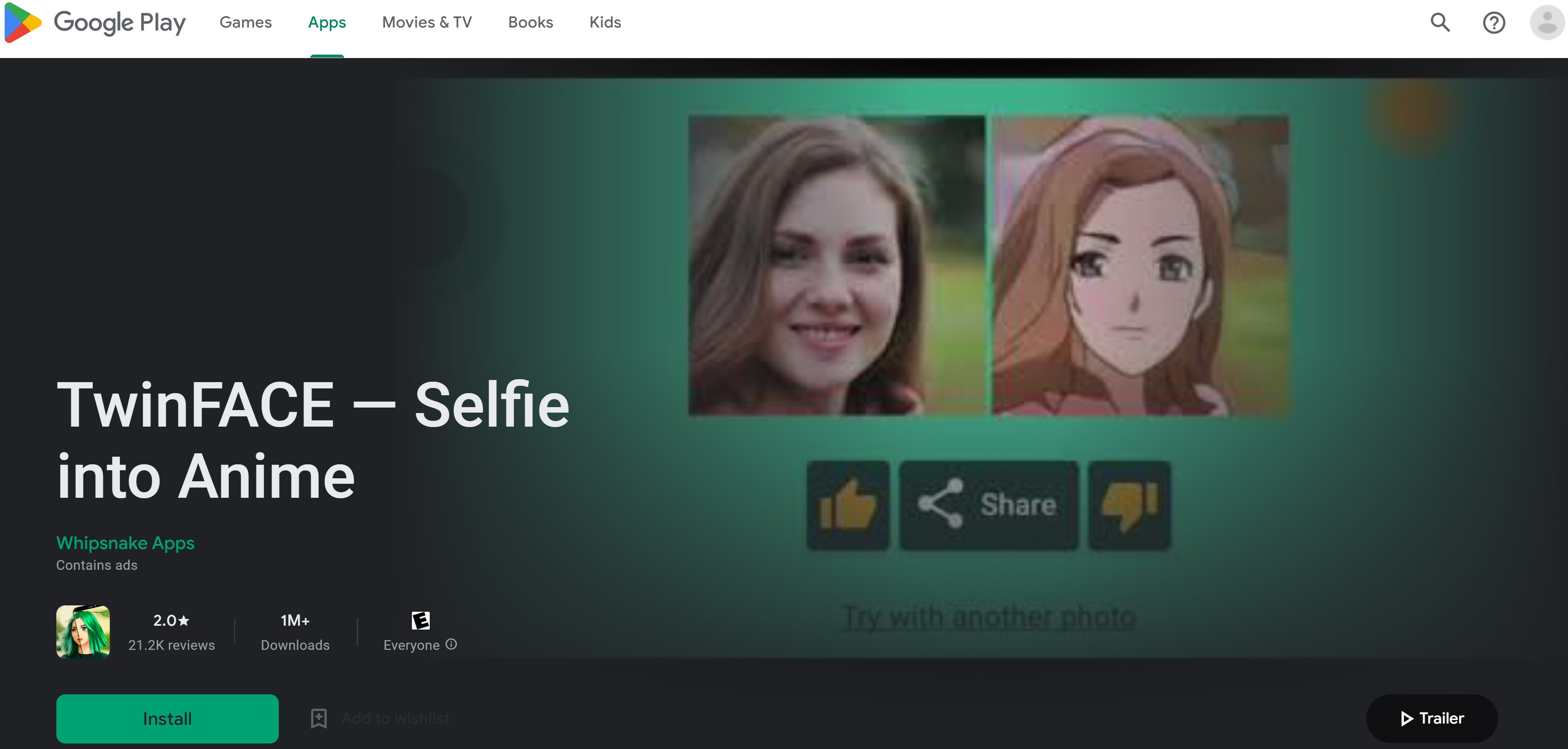 Pros:
Completely free and in English.
Creating a cute avatar just takes a few seconds.
It helps you create an anime picture based on a real selfie.
Easy-to-use steps: Just upload your photo, and then neural network magic will turn you into anime without even using any filters.
Cons:
3. Anime Faces AI
Another alternative to selfie2anime is this simple app. Turn yourself into an anime character and after you can create an anime face you can edit also.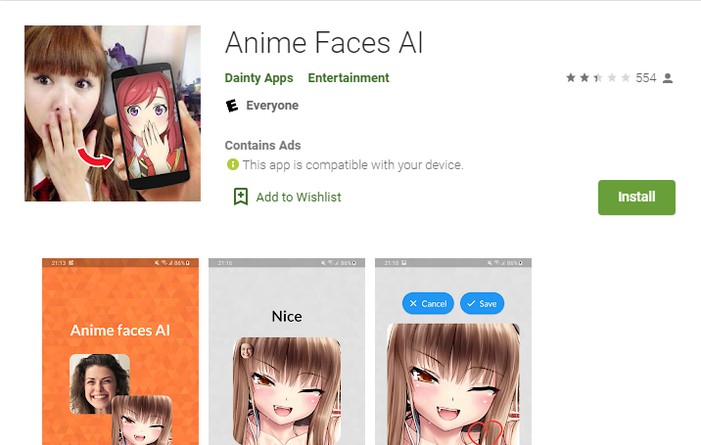 Pros:
A free tool for everyone.
Allow you to edit and share it with others.
Give you satisfying results, especially about faces.
Lack precision and no placement tool.
4. Anime Face Changer - Cartoon Photo Editor
This selfie2anime  app is compatible with Android devices. Free to use, you can generate a pretty good anime selfie. Besides, you can do some photo editing. You can get a cartoon version of yourself in order to surprise your friends.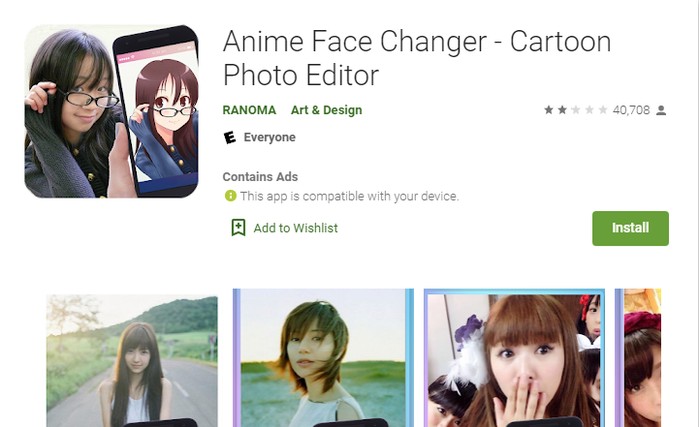 Pros:
Free to use.
Available on Android devices as well.
Allow you to edit your photos.
Diverse free features and tons of manipulation tools.
Cons:
Too many features may puzzle users.
5. Anime Camera, Manga Comics
Turn picture into anime with this free service, but this selfie2anime is dedicated to iPad and iPhone users only. You can`t use this software on your computer but you can transfer your anime selfie to your email and so on.  
This is not a free app but you can try the free trial and see if this works for you.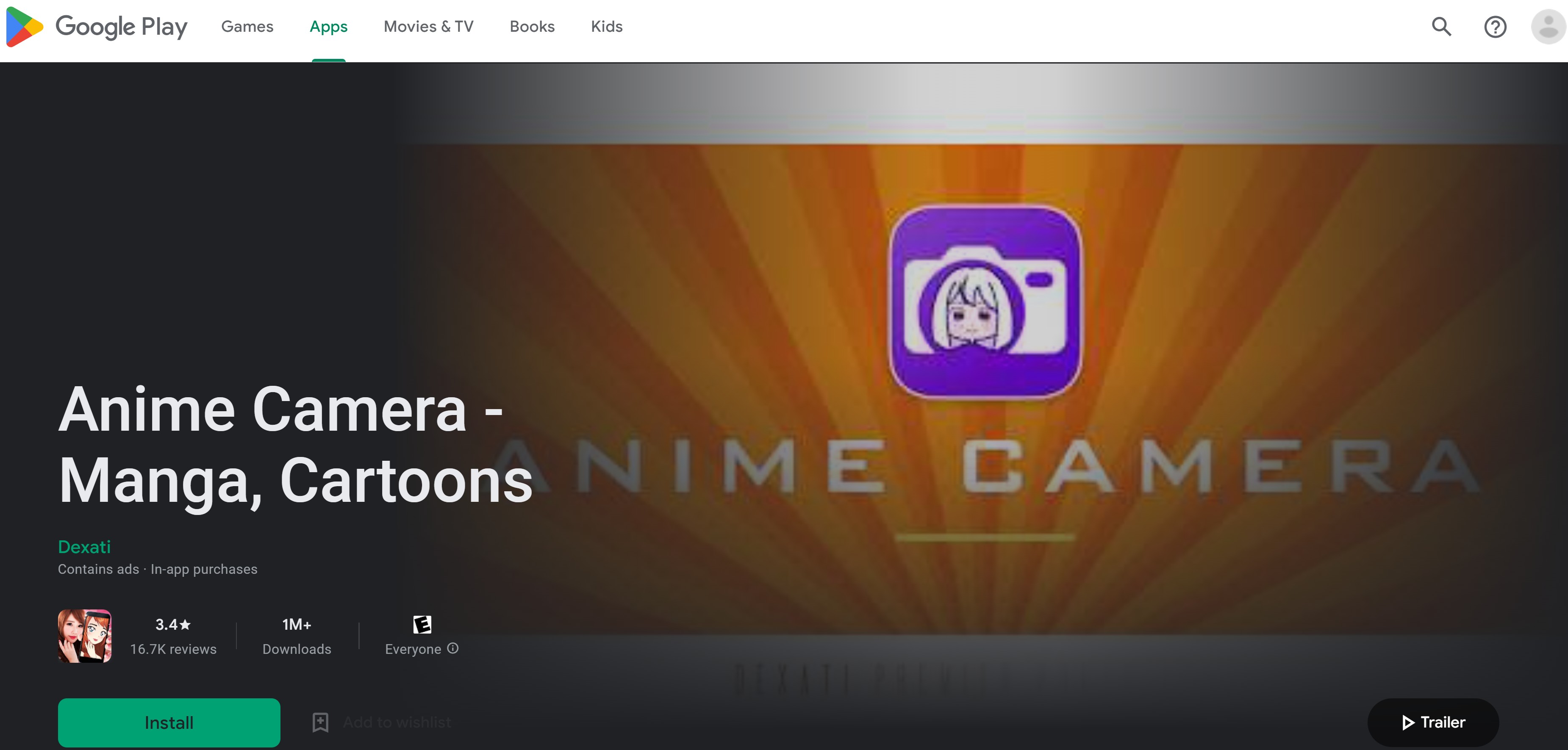 Pros:
Anime Camera create different Anime Creations with Changing Backgrounds
Cartoon Photos created can be shared with anyone.
Only available on ipad and iPhone devices.
It is not a free app despite the free trial.
6. Anime face changer camera effects
It can be used by Android users. You can turn pictures into anime in a blink. The rule is simple: upload a photo and get an anime selfie. It is generated automatically but you can make some adjustments ( eyes, background, and so on).
Also read: Face2Cartoon and Best Alternatives Review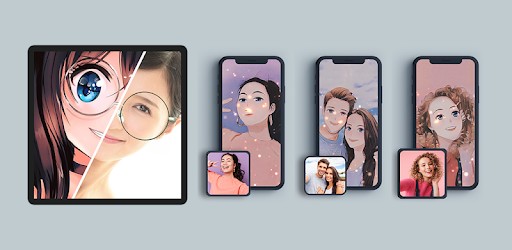 Pros:
Available selfie2anime on Android.
Quick and easy.
Supporting various adjustments.
7. Anime Face Changer
An interesting process of converting picture to anime is through this selfie2anime  app. Just upload your photo and apply an anime or cartoon effect. You can make image adjustments, add filters and stickers. You can select the eye type and color, the hairstyle, and much more.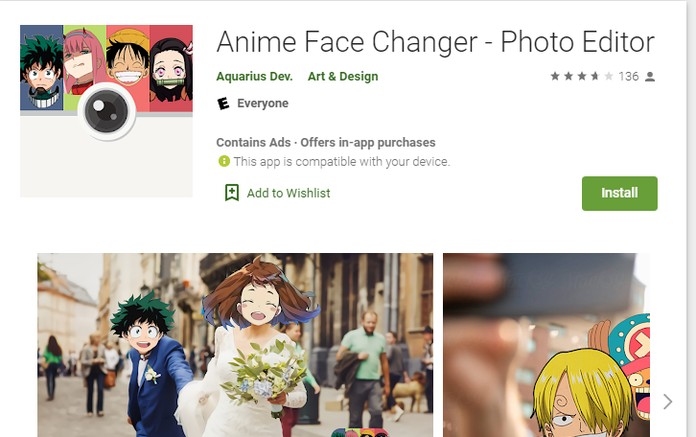 Pros:
Having diverse features, such as stickers and filters.
Having Artistic photo editing.
8. Anime Transformation: Cartoon Face Changer
An selfie2anime  app that can turn yourself into an anime character in a minute. Just take a selfie in order to turn yourself into an anime character.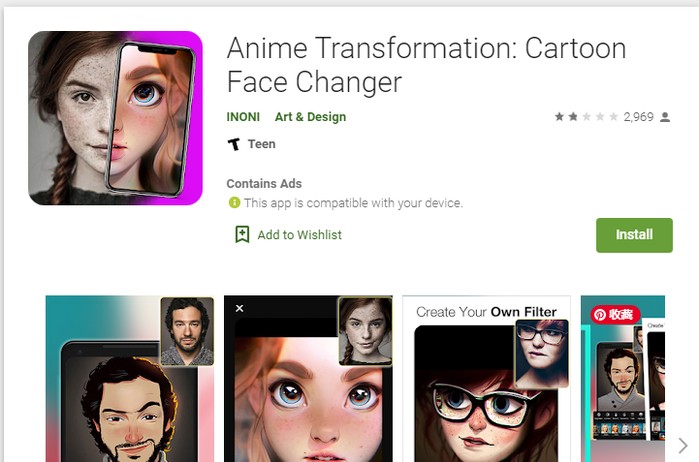 Pros:
Offer diverse features: Anime Face Maker, Cartoon Photo filters, and more.
One minute is way more long.
Having ads.
Also read: How to Create Digital Painting with Best 5 Ways Online
9. AnimateU
AnimateU is another anime selfie converter app, but this time this is dedicated to iPad and iPhone users. You can try it for free and see how AI can turn pictures into anime.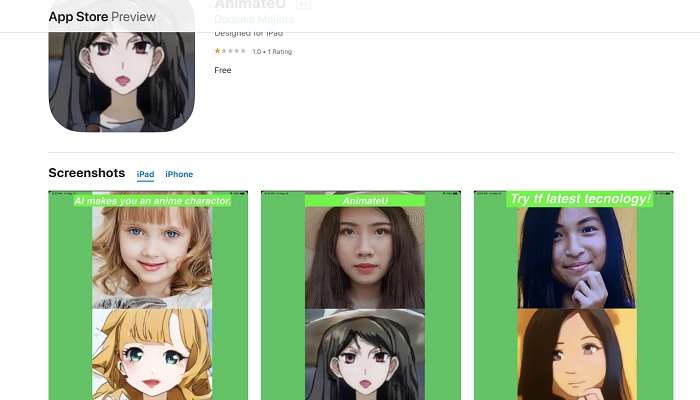 Pros:
You can try this selfie2anime for free.
Only dedicated to iPad and iPhone users.
It disappears on the Google Play store now.
10. 

Anime-conversion.online
A good alternative to Selfie2anime is this online software, but if you want to get more anime selfies, then you need to pay the price of a…coffee, meaning 3$. If not, you can upload a selfie once a day.  Besides creating an anime selfie, you can convert your favorite anime character into a real-life person.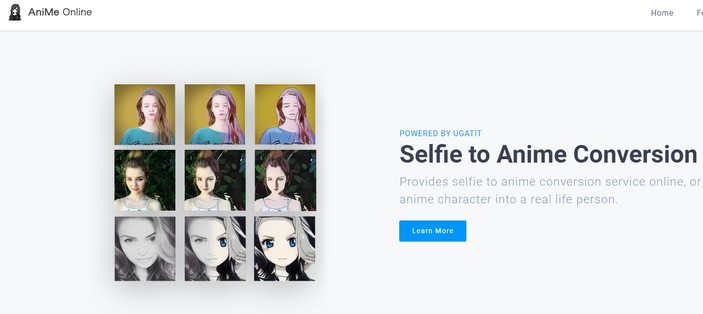 Pros:
Try to give you real-life photos
It has some ads.
It disappears on the Google Play store now.
More Selfie2anime 
 

Recommendations from VanceAI

Toongineer Cartoonizer from VanceAI is empowered to automatically and easily turn photos into cartoons. It's easy to use and just 3 steps are needed to do that. Create ultra-realistic cartoon effects with this awesome Toongineer Cartoonizer and find out something fun. Like converting superhero roles into cartoon effects or your favorite movie characters into cartoons to recreate something brand new and interesting. 

VanceAI PC is full-featured desktop software developed by VanceAI that lets you instantly process local photos in bulk with more customization options, which will significantly simplify your workflow and boost your productivity. Free Download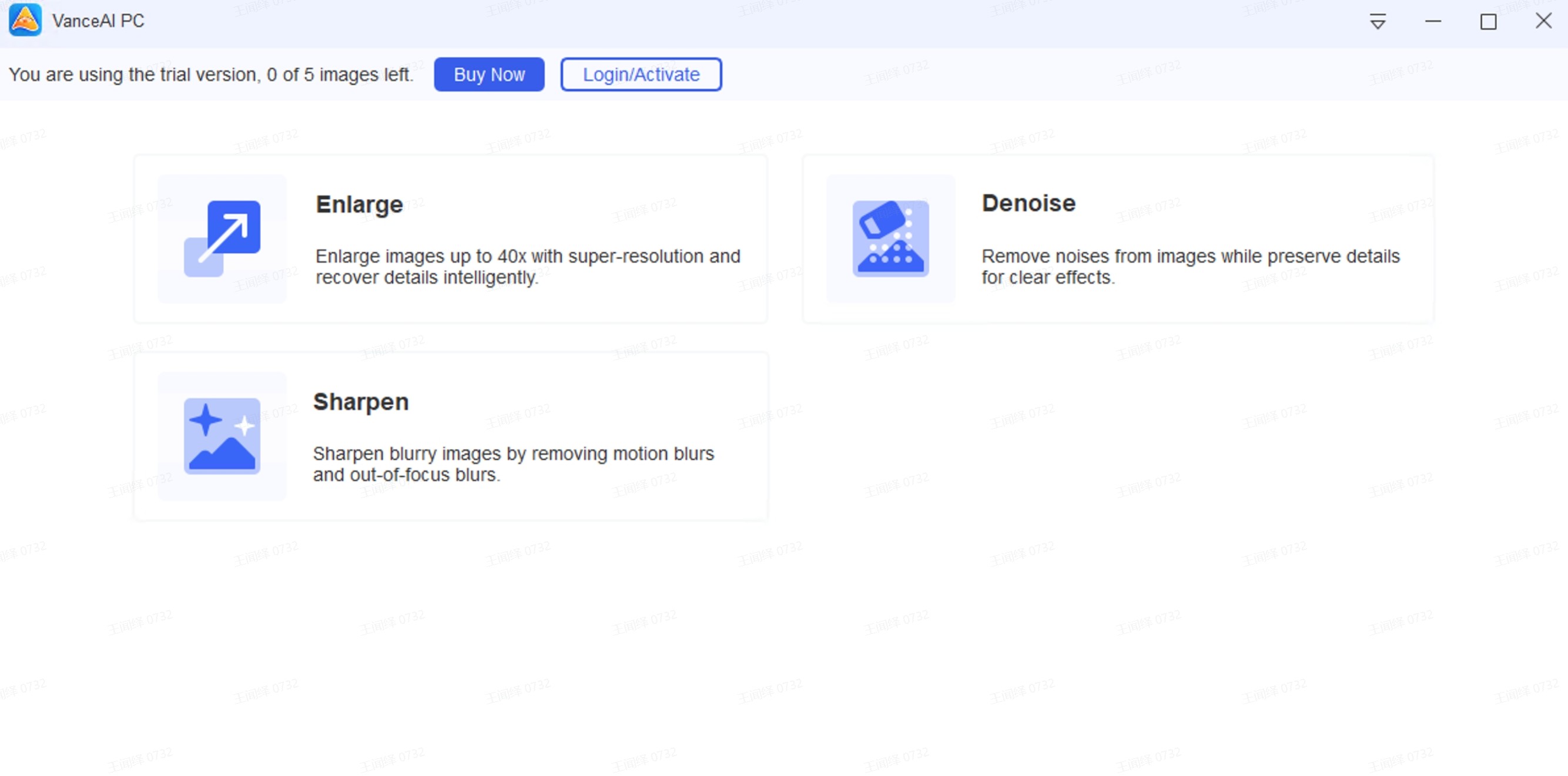 Conclusion
All programs have certain strengths, but they certainly have some shortcomings. AI-based technology certainly needs improvement, but it is to be applauded how far it has come. So far, Selfie2anime website is the best solution to turn photo into cartoon. Now, all we have to do is keep our eyes wide open to observe the evolution of AI technology. If you want to enlarge images without losing quality, you're suggested to use our VanceAI Image Upscaler and a free trial is available now.
Learn more Selfie2Anime Reviews and how users experient with selfie2Anime.
FAQ
1. How to turn face to anime?
Usually, this is a complicated process, but with the development of AI technology, you can get the anime of your picture in a few seconds. Especially, you can use some of the online selfie2anime tools to get what you want, such as Toongineer Cartoonizer and many other tools; Go and try, you will explore a new world.

2. How to turn yourself into an anime character?
Anime is more of a cute and cartoony version of ourselves. Nowadays, it's fashionable to turn our own face into the anime charcacters. Two ways are often used. First is you can take some nice pictures and upload them to some online face-to-anime tools. And the other way is to download the selfie2anime App on the app store and use the animation styles they provided.
3. Can I use Anime Faces AI to convert selfie to anime?
Yes, Anime Faces AI can convert a selfie into an anime-style portrait. It utilizes advanced AI algorithms to transform photos, giving them an authentic and captivating anime character appearance.
Do you find this post helpful?
Read More to Know Deeper: