What is Pixel Me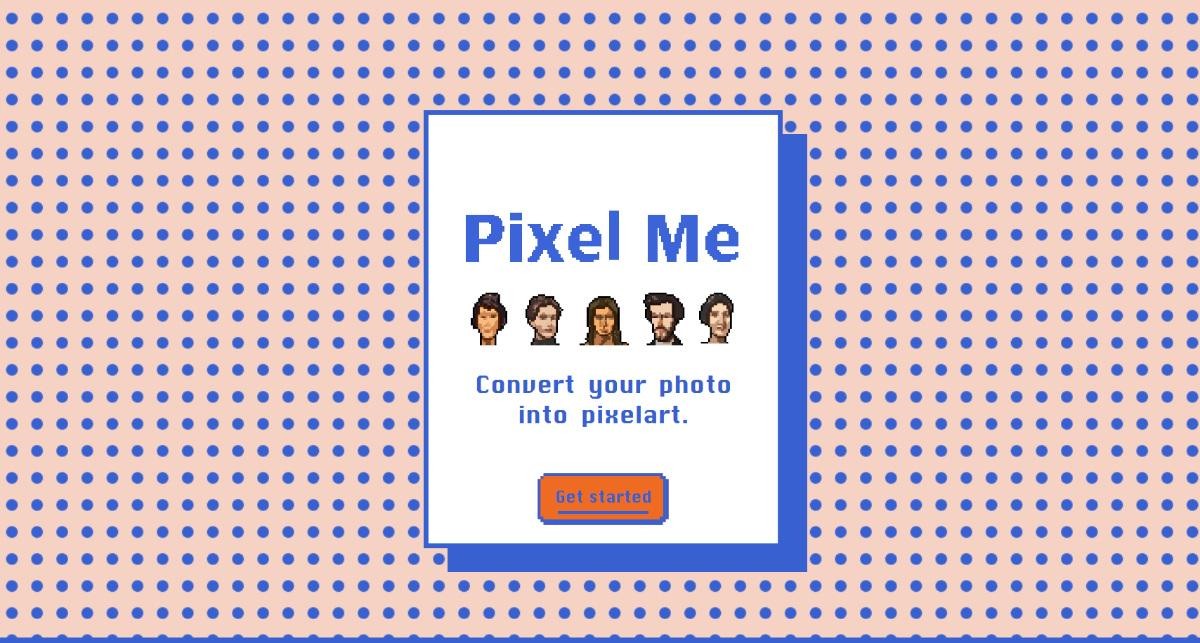 Imagine you're a casual user who loves expressing your creativity and having a unique online presence. You're tired of using regular photos as your profile pictures on social media platforms. You want something that stands out and represents your personality in a fun and artistic way. This is where you can use Pixel Me or a Pixelme alternative.
PixelMe is an online tool that allows users to transform their photos into pixel art-style profile pictures. With its 3D pixelme pixelation effects and customization options, Pixel Me provides a fun and creative way to give your profile pictures a unique and retro look. Users can go creative with this app and transform their photos into something refreshing. Individuals working in creative fields can always use Pixel Me to express themselves through artistic portraits.
In this Pixelme review, we will discuss more about the tool, how to use it, and some Pixelme alternative applications.
Key Features:
Photo to Pixel Art Conversion: Pixel Me enables users to upload their photos and convert them into pixel art-style images with a pixelated effect.
Customization Options: Users can adjust the level of pixelation, choose from various color palettes, and specify the output size to personalize their pixel art profile pictures.
Real-Time Preview: Pixel Me offers a real-time preview of the photo with different settings applied, allowing users to see the results before finalizing their profile picture.
Pros:
Creative and Unique Profile Pictures: By using Pixel Me, casual users can create profile pictures that stand out from the usual photographs, showcasing their creativity and artistic side.
Customization Flexibility: Pixel Me provides a range of customization options, allowing users to tailor the pixelation level, color palette, and output size to their preferences.
Easy to Use: The user-friendly interface of Pixel Me makes it accessible and straightforward for casual users to upload their photos and apply pixel art effects with just a few clicks.
Cons:
Limited Style Options: While Pixel Me specializes in pixel art-style profile pictures, it may not cater to users seeking other styles or effects such as cartoon avatars or abstract artwork.
How to use Pixel Me
Step 1: Click on Pixel Me to get access to the official website of the application. From there, you simply have to click on "Get Started".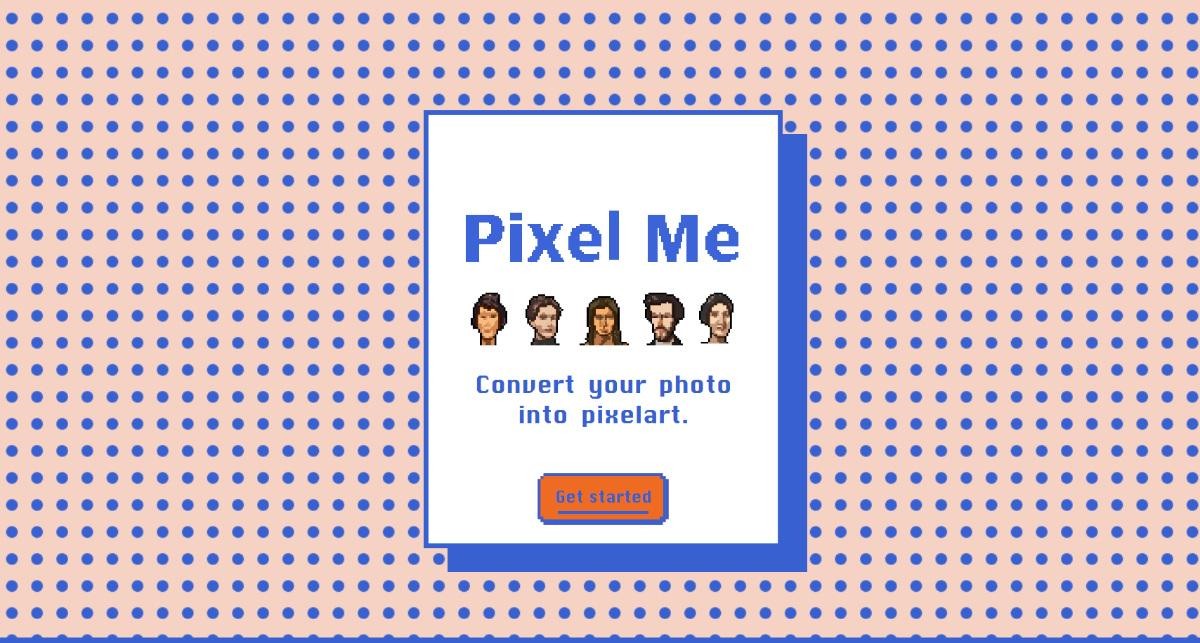 Step 2: The UI will automatically take you to the upload function of the app. Upload your photo and you can either select or unselect Landscape Mode, depending on your photo.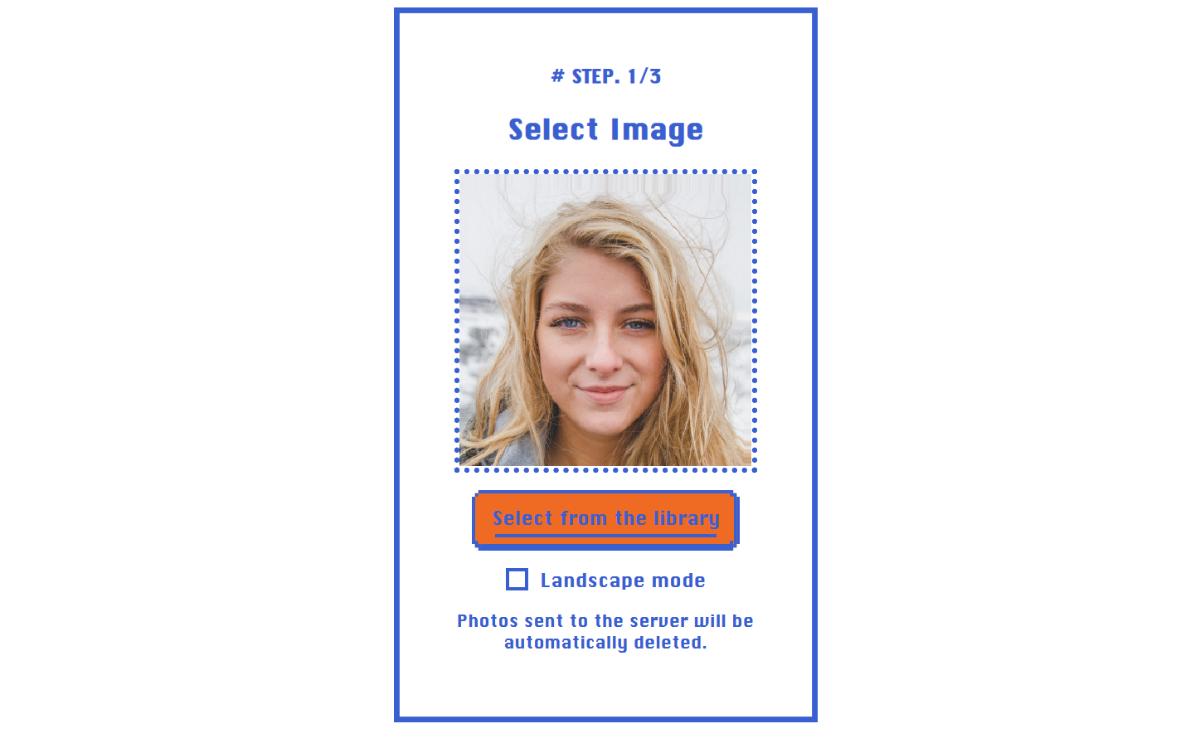 Step 3: After the image has been created, it will show up on your screen. You can then customize it further according to your preferences. Once ready, you can go down the page and click on the download icon.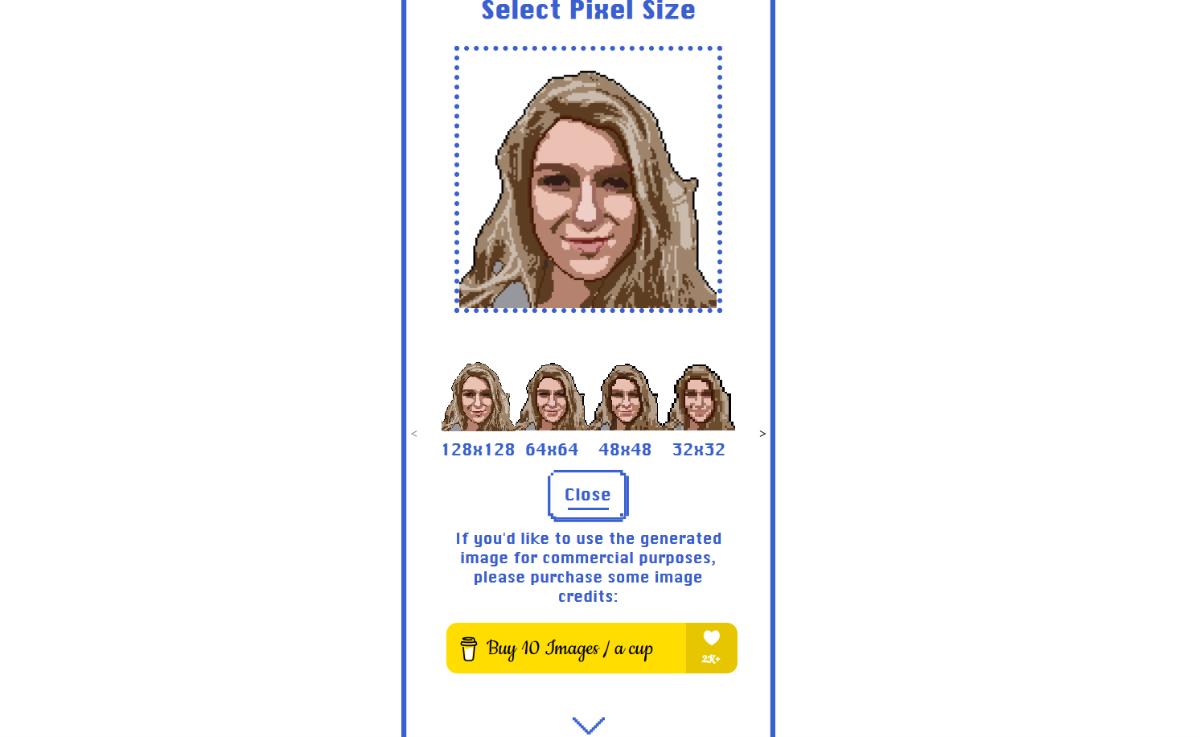 Best 9 Pixel Me Alternatives
VanceAI Art Generator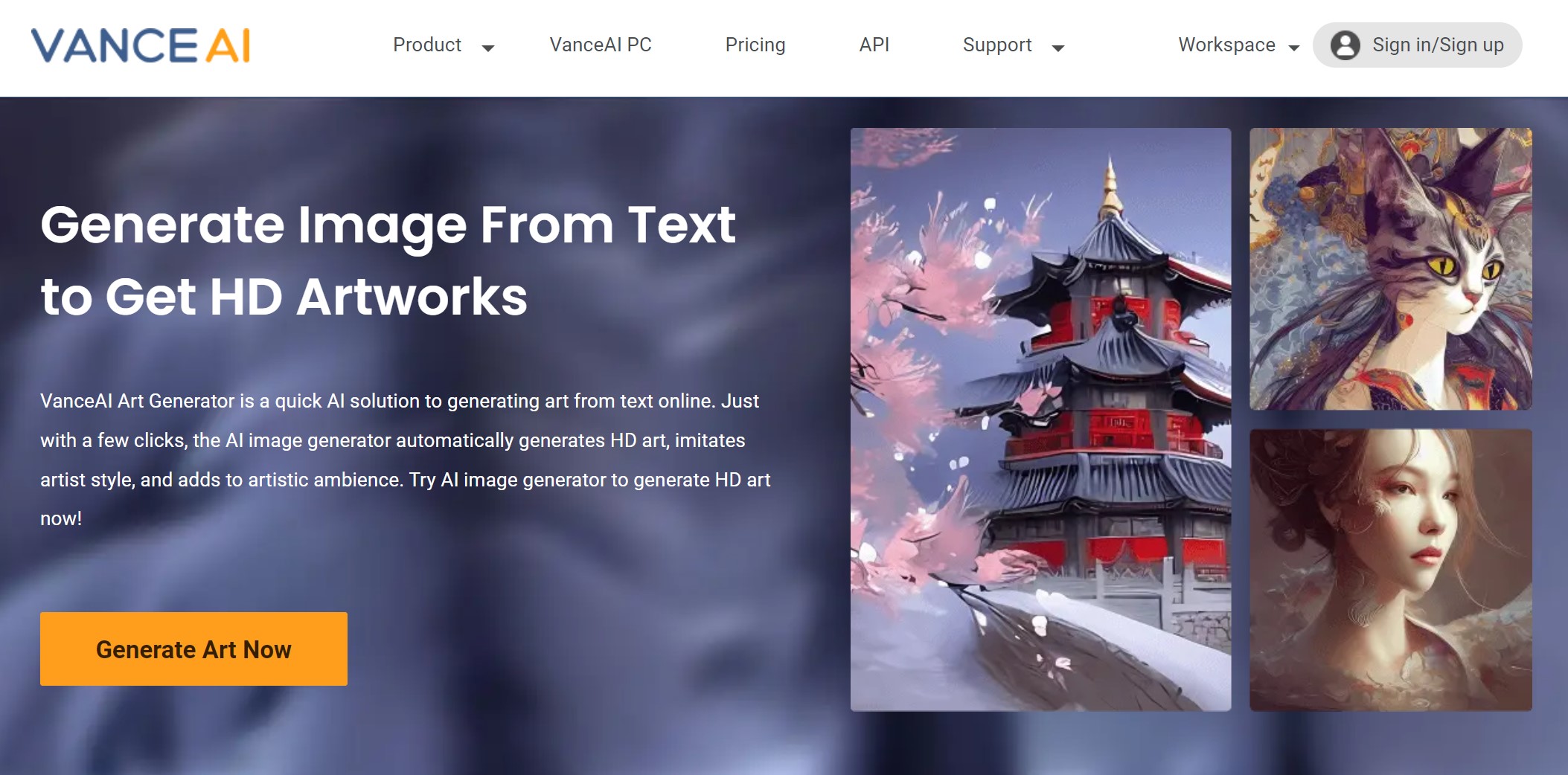 VanceAI Art Generator is not too similar to Pixel Me, but it can considered as a Pixel Me alternative regardless. The AI Art Generator takes user input in terms of text prompts and customization options to create a wide variety of visuals. It also has a feature which allows users to upload an image that they would like the algorithm to follow. So, you could upload a portrait photo and experiment with it.
Pros:
Artistic Style Transformation: VanceAI Art Generator employs AI algorithms to convert regular photos into different artistic styles, such as oil paintings, watercolor, sketches, and more.
User-Friendly & Smart Interface: The tool's intuitive interface makes it easy for users, even those with limited technical skills, to upload photos and generate artistic results effortlessly. Also, it contains all the important details and features within one window, called Workspace.
Customization: VanceAI Art Generator shines when it comes to options. Besides the text prompts, users can choose Image Type, Artist Style, Image Style, seeds, and more. You can also upload a reference image for the algorithm to follow, leading to more accurate results.
Cons:
Dependency on Image Quality: The quality of the original photo plays a significant role in the final output. Low-resolution or heavily compressed images may produce less satisfactory results.
Occasional Delay: The server, if it has many requests at the moment, may take additional time to process your image. This can slow down your productivity.
Pixelied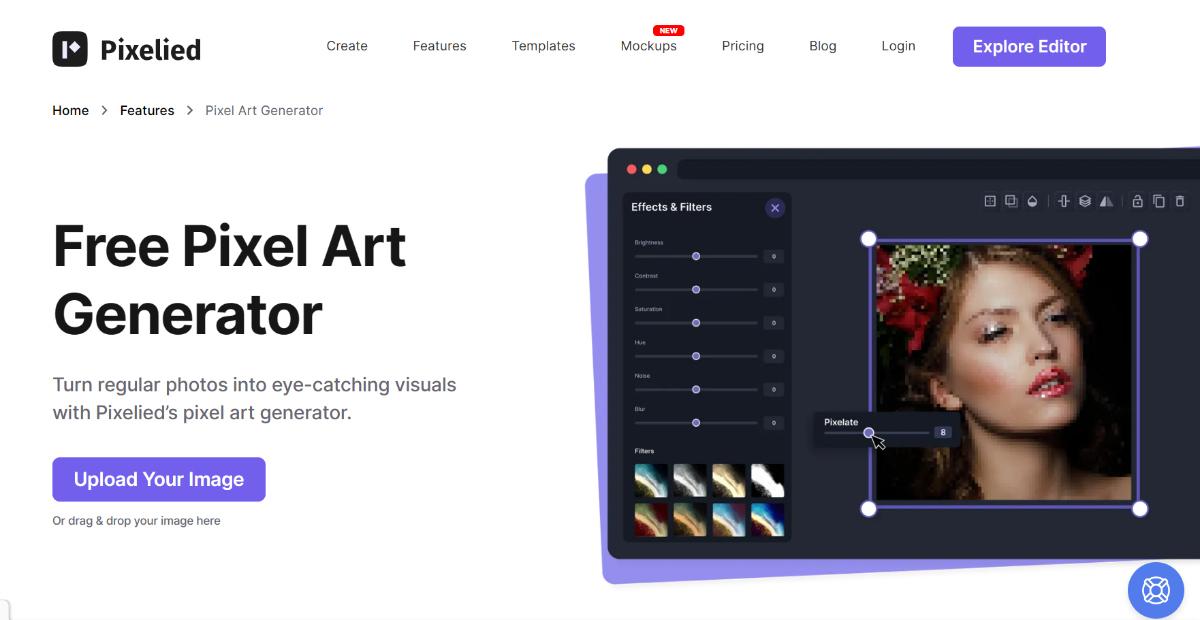 Pixelied is an online platform for photo editing and creative photo enhancement, which includes its free pixel art generator tool. It has a smooth and simple UI design that users can easily get familiar with. This app is a bit different from Pixel Me in terms of its scope. Similar to VanceAI, Pixelied can be used for more than just creating pixelated profile photos. However, with Pixel Me, users get more artistic results.
Pros:
Wide Range of Use: Pixelied is an image editing platform, therefore it can be used for many purposes and by many types of users. It has basic photo editing tools as well as some advanced features for image enhancement.
Affordable Pricing: Considering all the image editing and enhancement tools on offer, the pricing plans for the application are pretty affordable. Similar to VanceAI, you can get full access to the platform for just $4.90 per month. Meanwhile, VanceAI costs $4.95 per month.
Many Tools: The platform offers tools for image editing and enhancement. Other than that, you can also create covers or images specific for various other popular online platforms, such as YouTube, Instagram, Etsy, and more.
Cons:
Less Enhancement Options: When it comes to pixelated art creation, there aren't many options or tools that you can use to further improve the image.
Manual Editing: While the platform is still relatively easy to use, it does not really offer automatic image processing like other apps, such as VanceAI. Users will need to know the basics to use the platform.
Cartoonize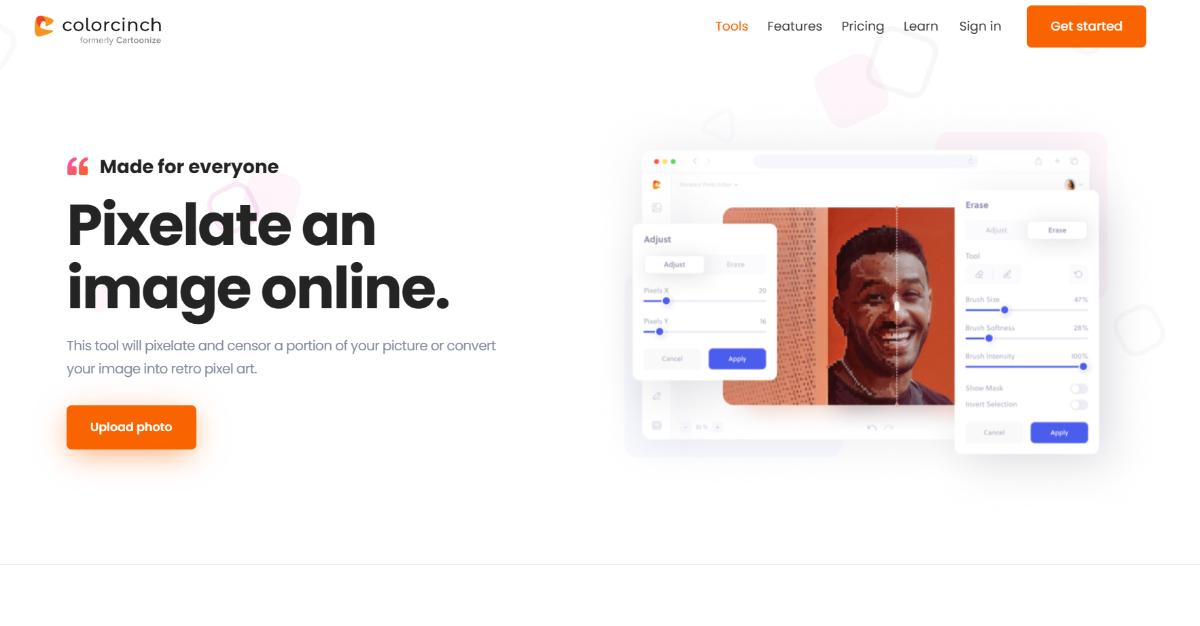 Formerly known as Cartoonize.net, Colorcinch is an online tool that allows users to transform their photos into cartoon-style images, providing a fun and creative way to give ordinary pictures a unique and artistic look. Apart from that, the platform offers many other tools that can be used for social media, websites, and more.
Pros:
Additional Photo Editing Tools: Colorcinch offers a range of photo editing tools, including cropping, resizing, adding text, and applying filters. These features allow users to enhance their images and further customize them before and after the cartoon conversion.
User-Friendly Interface: The tool offers a straightforward and intuitive interface, making it accessible for users of all skill levels to upload photos and generate cartoon-style images easily.
Cartoon Style Variety: Colorcinch provides a range of cartoon styles to choose from, allowing users to experiment with different artistic effects and find the style that best suits their preferences.
Cons:
Image Quality Dependency: The quality of the original photo can affect the final cartoon-style output. Low-resolution or heavily compressed images may result in less desirable results.
Watermark and Usage Restrictions: Free usage of Colorcinch may include watermarked images or limitations on the number of images that can be processed. Premium features and subscriptions may be required for unrestricted usage.
PortraitAI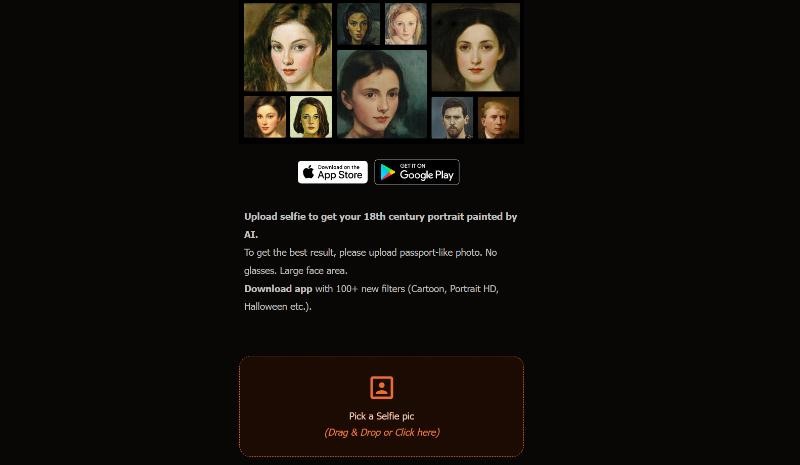 PortraitAI is a portrait photo creator application available both online and on mobile devices running on Android and iOS. It utilizes AI technology to add a creative touch to portrait photos by transforming them into 18th century-looking portraits. This unique conversion gives photos an imaginative and artistic appearance.
Pros:
Online and Mobile Accessibility: Users can access PortraitAI through the web interface or by downloading the mobile app, making it convenient for users on various platforms.
Multiple Photo Options: One advantage of using the PortraitAI app is that it generates multiple photos for each query. This means that when users upload an image for conversion, they are presented with several variations of the transformed portrait.
Cons:
Uneven Results: While the application is able to produce many variations of the same result, there can be cases where the additional photos generated are not as detailed or high-quality as expected.
Fotor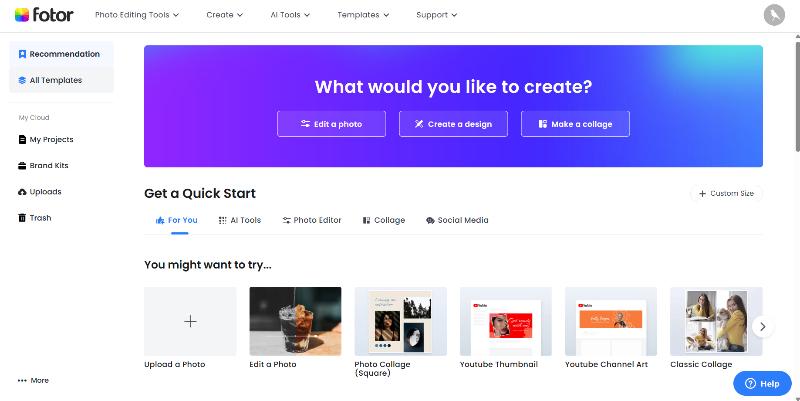 Fotor is a highly useful online photo editing tool that offers a wide range of features, including robust portrait generation capabilities. It provides users with the ability to enhance and transform portrait photos using various tools and effects.
Pros:
Portrait Retouching: Fotor offers a set of tools specifically designed for portrait retouching, allowing users to adjust skin tone, remove blemishes, smooth out wrinkles, and enhance facial features. These features help users achieve professional-looking portraits with polished and refined appearances.
Comprehensive Editing Suite: Fotor offers a diverse set of tools and features dedicated to portrait generation, allowing users to perform a wide range of edits and enhancements on a single platform.
Cons:
Limitations Compared to Specialized Software: While Fotor offers a comprehensive set of portrait editing features, it may not provide the same level of precision and advanced capabilities as specialized professional editing software.
Performance: Though pretty uncommon, the platform can have issues with lag at times, especially if you have uploaded a lot of photos that are big in size.
Pixilart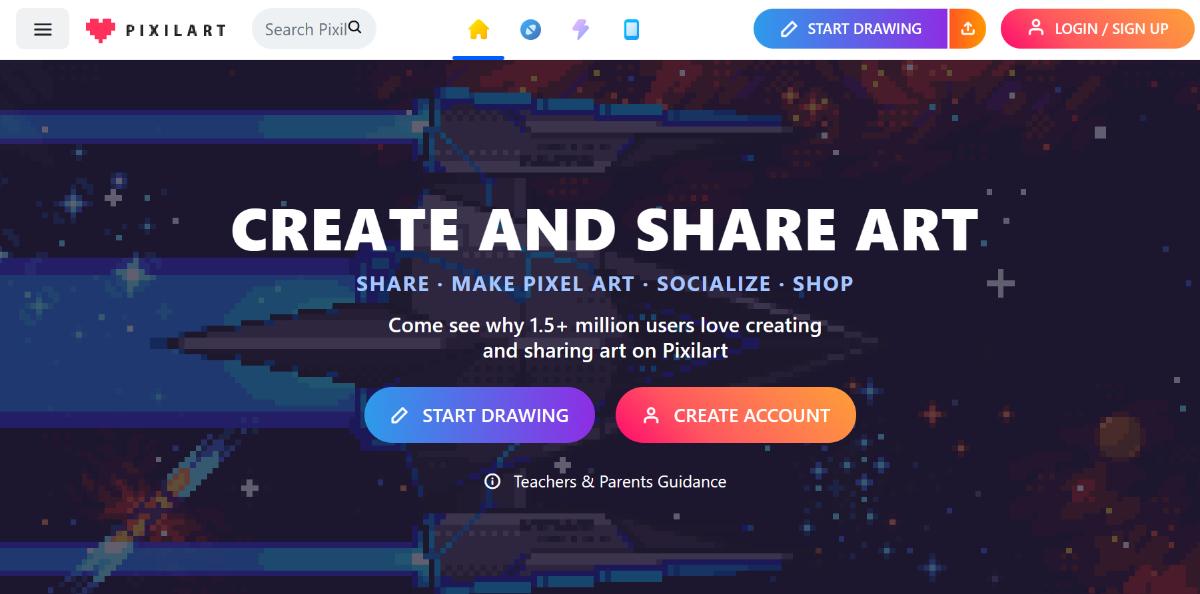 Pixilart is an online app that focuses on pixel art creation, providing users with a platform to create and share pixel-based artwork. It offers a range of tools and features specifically tailored for pixel art enthusiasts and artists.
Pros:
Pixel Art Creation: Pixilart allows users to create pixel art from scratch using a variety of drawing tools, including pixel brushes, lines, shapes, and color palettes. Users can place individual pixels to create intricate and detailed pixel art compositions.
Collaboration and Sharing: Pixilart offers a social aspect where users can collaborate with others and share their pixel art creations. Users can showcase their artwork, comment on other artists' work, and engage in the pixel art community.
Layers and Editing Tools: Pixilart includes layer support, allowing users to work on different elements of their pixel art separately. This feature enables easier editing, organizing, and modifying specific parts of the artwork without affecting the entire composition.
Cons:
Learning Curve: Pixel art creation can have a learning curve, especially for users new to the medium. Understanding the concepts of pixel art, working with limited pixel resolutions, and mastering the tools may require some time and practice.
Scriptolab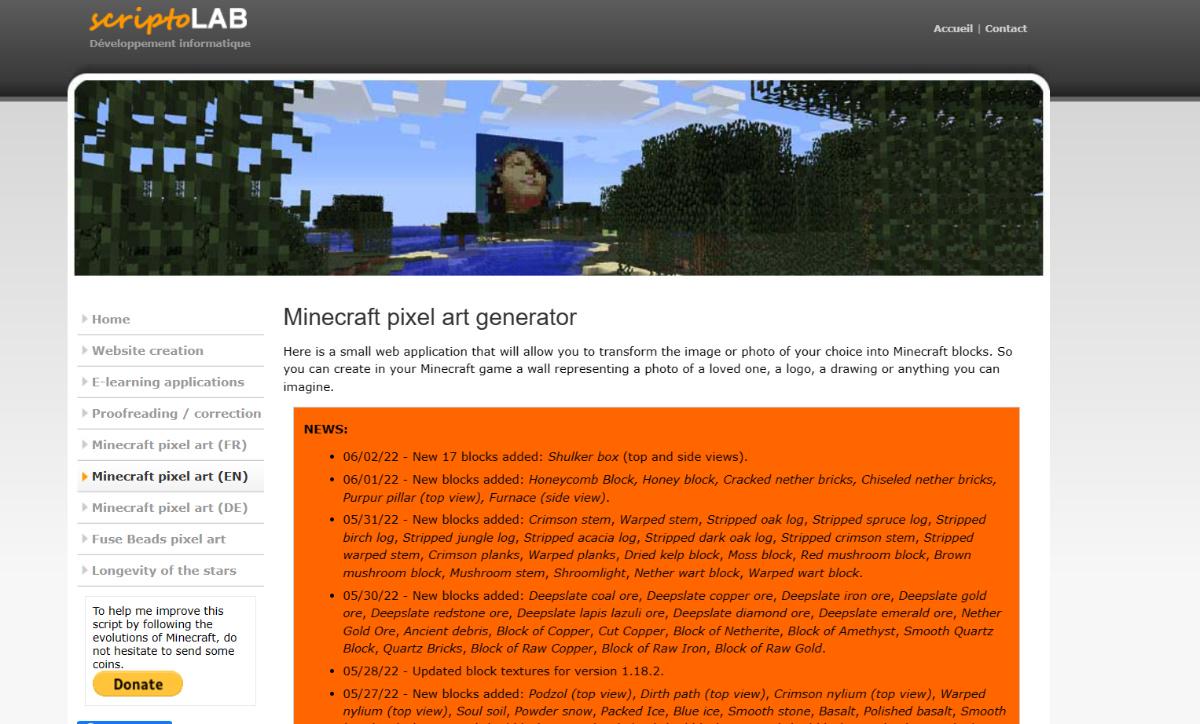 ScriptoLAB is a web application designed to transform images or photos into Minecraft pixel art representations. With this app, Minecraft players can bring their favorite images, logos, or drawings into the game world by converting them into Minecraft blocks.
Pros:
Creative Expression: ScriptoLAB provides Minecraft players with a unique way to express their creativity within the game. Users can convert personal photos, artwork, or logos into pixel art, allowing for personalized and customized creations.
Integration with Minecraft: The app seamlessly integrates with Minecraft, enabling users to import and recreate their pixel art designs within the game world. This adds an additional layer of visual customization and personalization to players' Minecraft experiences.
Cons:
Limitations of Minecraft Blocks: Due to the limited color range and block selection in Minecraft, the rendering of images may not always be satisfactory. Some photos may not translate well into pixel art, and the final result may not perfectly resemble the original image.
Niche Audience: ScriptoLAB caters specifically to Minecraft players and those interested in pixel art within the Minecraft environment. As a result, the app may have limited appeal to casual users or individuals who do not actively engage with Minecraft.
Netlify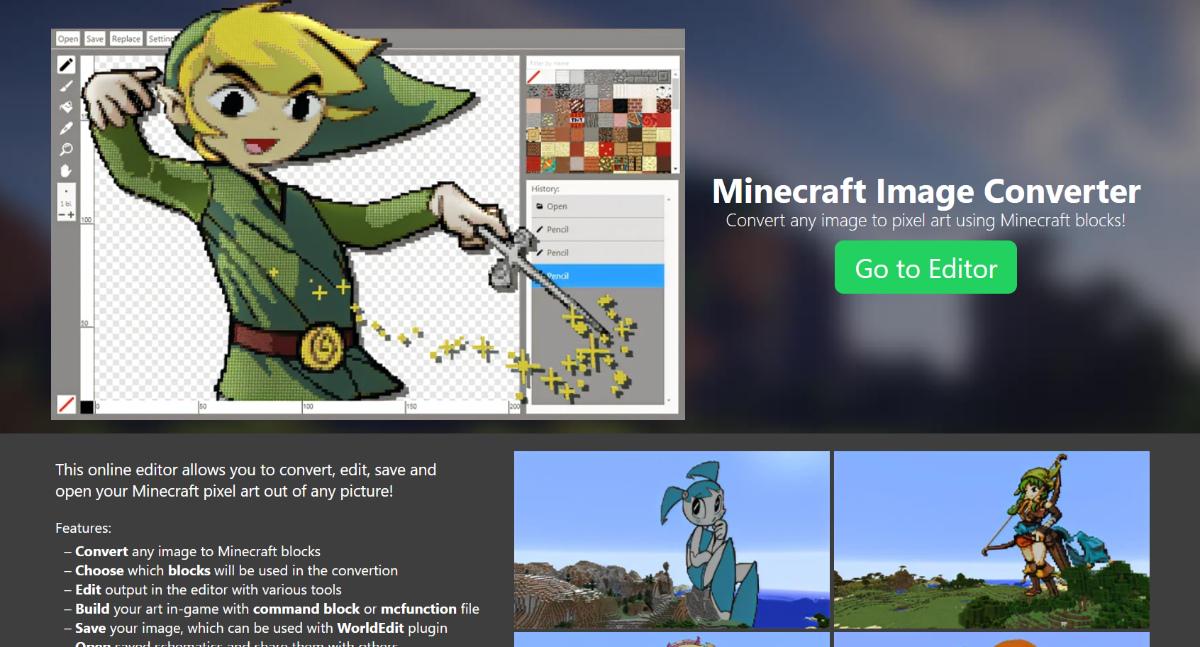 Netlify, also known as Minecraft Image Converter, is an online application designed to convert images into Minecraft pixel art representations. With this tool, users can transform their chosen images or photos into pixelated versions that resemble Minecraft blocks.
Pros:
Pixel Art Customization: Users can specify the size and resolution of the pixel art output, allowing for customization based on their preferences and the intended usage within Minecraft.
Creative Expression: The tool fosters creative expression by allowing users to transform any image or photo into Minecraft pixel art. It opens up possibilities for users to bring their own artwork, logos, or designs into the Minecraft environment.
Cons:
Complexity and Confusion: Some users may find the tool to be confusing or complicated to use, particularly if they are not familiar with the Minecraft environment or pixel art creation. The process of converting images into Minecraft pixel art may require some understanding of the tool's functionalities and settings.
Pixelicious
Pixelicious is an online image-to-pixel art converter app specifically designed for game development purposes. While Pixel Me is focused on portraits that can be used as profile pictures, this tool is geared towards gaming. The app allows users to convert their images into pixel art representations suitable for use in games.
Pros:
Automatic Image-to-Pixel Art Conversion: Pixelicious enables users to upload their images and convert them into pixel art format automatically. The app utilizes algorithms to transform the original image into a pixelated version.
Idea Generation for Character Creation: Pixelicious can be a valuable tool for generating ideas and inspiration for character creation in game development. By converting images into pixel art format, developers can explore different visual styles, pixel patterns, and color combinations.
Cons:
Unstable Server and Performance: One potential drawback of Pixelicious is the instability of its server and occasional performance issues. Users may experience instances where the app is slow to respond or, at times, not accessible at all.
Conclusion
When it comes to any sort of artistic creation, the good thing is that you can experiment with various apps and techniques. This leads to a wide variety of results and images that look different, giving you the freedom to be more creative. With Pixelme pricing being affordable, you can experiment with many portraits. The same applies to many Pixelme alternative tools discussed in this guide.
VanceAI and Fotor have their own art creator tools, though they have a broad scope and are not focused on specifics like PixelMe. You can still try them out or go for a tool like PortraitAI. Most tools are affordable and offer some level of free access anyway.
Do you find this post helpful?
Yes
No