When it comes to photo editing, users often feel the need for zooming in on a picture in order to properly assess the quality or to edit in really minute detail. Either way, a photo zoom editor is easily one of the most essential tools that users can have for editing. With that said, we will be looking into the five best photo zoomer applications that you can use for image enhancement and editing. Another great way to ensure image quality is to simply enhance and enlarge it directly by VanceAI Image Upscaler instead of using zooming features. Hence, we will be including such applications as well.
Best 5 Photo Zoom Editors Review
1. VanceAI
Price: The VanceAI application can be used three times for free. For more credits and features, you can buy a $9.90 plan that provides 200 image credits or choose other plans.
With VanceAI, you can zoom in photo after you have processed it and you can also use AI Image Enhancer feature, an image enhancer online on the VanceAI website, to enhance photo quality. By using the AI based technology designed in the tool, it will process the image quickly and thoroughly. You can then simply download the image and use it or edit it in high quality. This photo editor from VanceAI is one of the easiest to use tools online.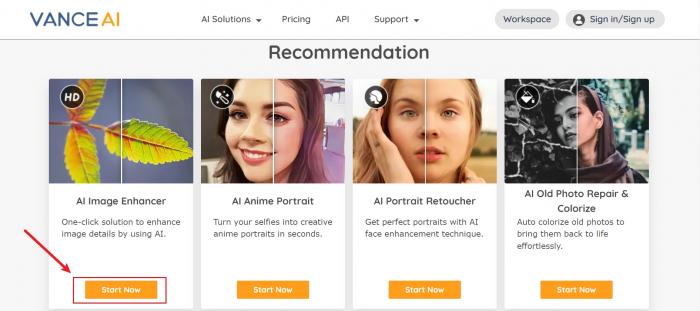 VanceAI PC is full-featured desktop software developed by VanceAI that lets you instantly process local photos in bulk with more customization options, which will significantly simplify your workflow and boost your productivity. Free Download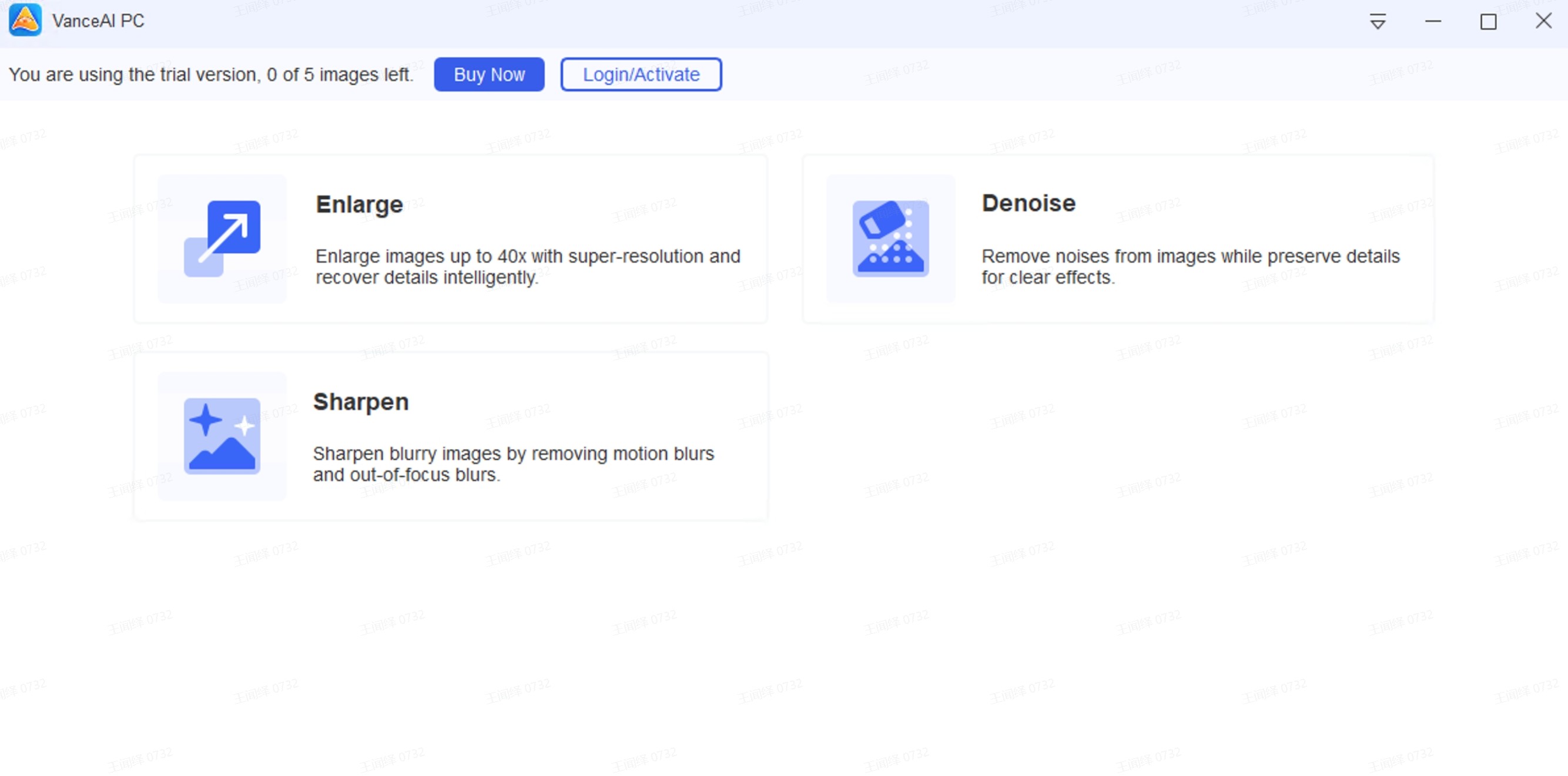 Pros:
Offers great results.
Workflows such as AI Super HD are useful.
It has an online and a software version.
Cons:
Limited free use.
Workspace can be buggy occasionally.
The photo enhancer could use bigger zoom areas on big images.
2. AI Image Enlarger
Price: The pricing system of this tool remains the same as VanceAI.
AI Image Enlarger is another picture zoom app from VanceAI. The difference between this application and the previous one is that this tool is an enhancement plus enlargement feature. Therefore, when you process an image with this tool, you can also choose by how much you want to increase the resolution of your photo. You can start from 2x and go up to 8x, while the software version can go even further. With this Image upscaler, you can create posters and zoom in on picture as well. Not to mention that all VanceAI applications, the two in this list included, delete your images within 24 hours from their server to ensure privacy.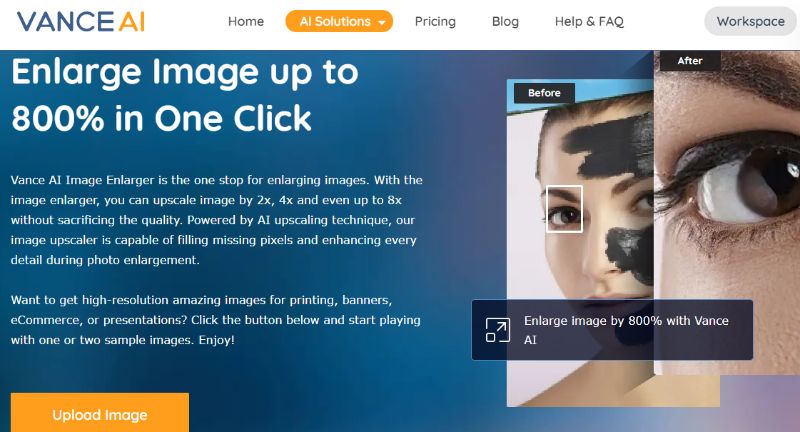 Pros:
Automatic processing and zoom.
AI Image Enlarger is available online and on software.
Easy to use.
Cons:
Zooming can be tedious if the image gets too big.
Limited free use.
Could use more than 8x limit.
3. EasyZoom
Price: Users get a 2 GB limit with standard watermark on the free version. The paid plans start at approx. $19 per month.
EasyZoom for image editing mainly acts as an app to zoom in on pictures. It has a high compatibility with various image file formats, as it supports JPG, PSD, HDR, PNM, and more. If users are to purchase higher plans, the tool then grants access to even more file formats. It also offers a great collage maker tool though it is only meant to be used for non-commercial purposes. When it comes to the images themselves, you can use annotations, share them instantly, apply watermarks of your own, and more.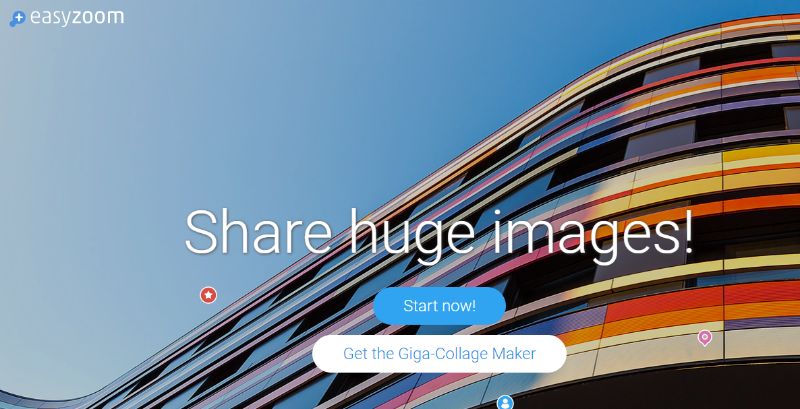 Pros:
Offers high compatibility.
Collage maker tool is a plus.
Automatic processing.
Cons:
Limited free use.
The paid options can be better.
The watermark system is locked for free users.
4. LunaPic
Price: LunaPic is an absolutely free to use photo zoom editor.
LunaPic is designed in a way that would remind users of the old image editing applications on Windows. While that is true, LunaPic is also an online image editor that basically offers everything when it comes to editing. It is on par with the sophisticated editing software applications too. Naturally, the zooming feature is also one that is offered by LunaPic. All you need to do is upload an image or paste the image URL and click on the zoom in or out button. You can then simply download the image by using the right-click on the image. Alternatively, you can use the keyboard shortcuts shown in the image.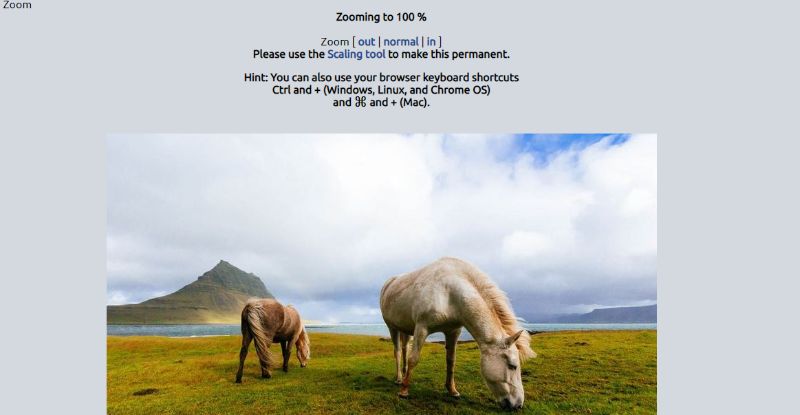 Pros:
Comprehensive editing tool.
Popular online app.
Free to use.
Cons:
The constant clicking can be tedious and slow.
UI design can be better.
Processing can take time.
5. Ultimate Image Zoomer
Price: This photo zoom editor is free to use though it does contain in-app purchases and ads.
Ultimate Image Zoomer is an easy to use app and it can really reduce the time taken to zoom in on a picture if you are a user who primarily uses a mobile device. You just need to open the image in the app and that's it. You can start zooming in and either save that or take a screenshot. It has now also introduced the grid layout, which is highly useful for photography.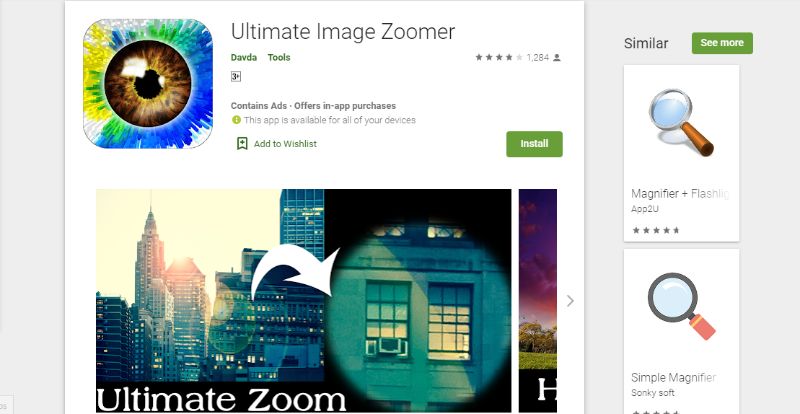 Pros:
Automatic processing.
An easy to use app.
No cost for zooming in on pictures and saving.
Cons:
Contains in-app purchases.
Has a lot of ads.
No extra features.
Conclusion
Photo editing has certainly gained a lot of options and variety recently. Even basic tasks such as zooming in on pictures have more to offer than it did before. With an AI based application such as VanceAI Image Upscaler or AI Super HD, you can do some AI image upscale works as well as zoom in on them to have a clear view. On the other hand, the mobile app mentioned is a handy tool to have on a mobile device, providing zooming in a really short time with convenience. You can make use of any of these tools mentioned in the list and use them for free, at least for a while, before deciding on purchases. Also read: How to Zoom Icon Image Without Losing Quality.
FAQs
1. How to zoom out a picture?
Zooming out a picture is pretty much the same as zooming into it. With an online editing tool such as LunaPic, for example, you can simply make use of the keyboard shortcut mentioned or click on the zooming options provided to zoom out a picture. Zooming out can be useful to view the image in a smaller frame than it usually is.
2. How to zoom in on a picture without it getting blurry?
While it is not feasible to keep zooming in on a picture and expect it to remain clear, you can still have the best possible scenario by enlarging the image itself with a tool like VanceAI. What the app does is that it duplicates the pixels of the image to maintain its quality even though it is being stretched. The tool also allows you to zoom in on the processed image. Also read: Top 10 Photo Inverters Review.
Do you find this post helpful?
Yes
No