Most e-commerce businesses and online shopping platforms suffered during the covid-19 crisis; however, Etsy is the one that still managed to enhance its sales and leverage its seller community. The original handmade goods and customized crafts, and print-on-demand Etsy are responsible for the success of this online platform.
Print on demand is the modern form of drop shipping with so many competitive offerings and is responsible for increasing the sales of so many small businesses. When you use print-on-demand service, you are basically outsourcing creative and fun designs and graphics for products like paintings, clothing, mugs, or any other item. But, it should note that the created designs and graphics are better fitting for printing, which requires a photo enhancer like VanceAI.
To ensure you get satisfying results from print-on-demand services, we have narrowed down the best 10 print-on-demand companies for Etsy with all their pros and cons so that you can choose the best for your business.
Best 10 Print on Demand Services for Etsy
 

 

Free or paid

quality

shipping service

Printful

reasonably high price

√

√

Printify

√

√

Gelato

30-day free

√

Limited product range

Custom cat

paid

high-quality

√

Print Best

App free

excellent

×
1. Printful 
Printful is undoubtedly one of the most popular and successful print-on-demand companies for Etsy. It has the most seamless integration with Etsy because it easily and automatically lists all your Printful products on your Etsy shop.
The best part about using Printful print on demand Etsy services is that they take care of all the product handling, storing, and shipping for you. You can sell hundreds and thousands of products using Printful without caring about managing your orders. If you are not satisfied with the result, you can use some tools to make photo hd.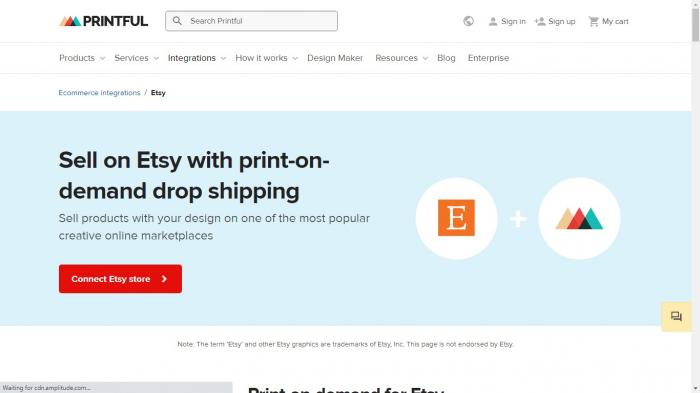 Pros
You get to control your profit margin on Printful, which helps you take control over your earnings.
Printful allows you to sell your products worldwide because the print-on-demand Etsy company has fulfillment centers in the United States and Europe.
Printful offers Etsy store owners to use their pro toolkit integrated with Etsy keyword search and SEO.
You get to choose from a wide range of product categories on Printful.
Cons
Even though Printful is an excellent print-on-demand Etsy supplier, it comes at a reasonably high price.
2. Printify
Printify is another major company selling print on demand on Etsy with a very powerful yet friendly user interface. The company has its own highly equipped warehouses and storage facilities.
Printify wins over Printful in terms of products range as you will find pet-related products and accessories and even electronics. Even though Printify doesn't have a manufacturing facility, they are partnered with many major providers to manage your orders.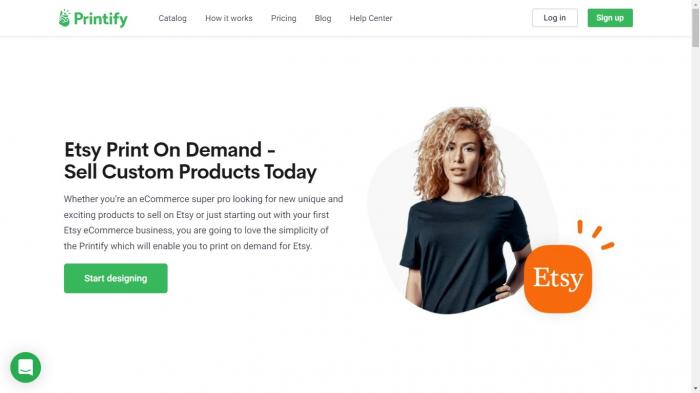 Pros
Huge products range (300+), making Printify one of the best companies selling print on demand on Etsy.
Printify has almost 90 fulfillment centers in the United States, United Kingdom, Canada, Australia, Europe, and China, which means you can sell your products wherever you want to in the world.
Printify allows very smooth Etsy integration with other online markets like Amazon and eBay.
Cons
Printify doesn't allow you to publish more than 10 images at a time and sometimes it gets hard to maintain consistency in products shipping.
3. Gelato
Gelato is a major print-on-demand Etsy supplier that outsources all its products from various manufacturers. The best part of Gelato is that they are partnered with more than 100 production facilities/units, which means they efficiently handle your products and their shipment.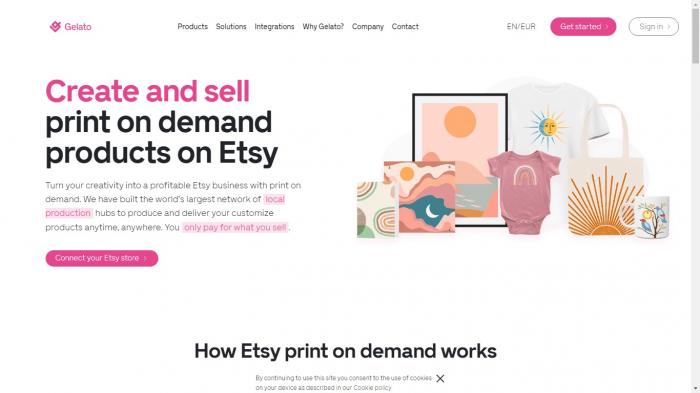 Pros
Easy and simple Etsy integration.
Efficient product storage and shipment and consistency in the quality of products.
Cons
It has a limited product range that eliminates the potential of selling new products to your Etsy store customers.
4. Custom Cat
Custom Cat is a very cool print-on-demand platform working in the United States with facilities limited to the country, which can be a problem when it comes to international shipping.
You get to experience very smooth Etsy integration and other online shopping platforms integration by using a custom cat print-on-demand provider.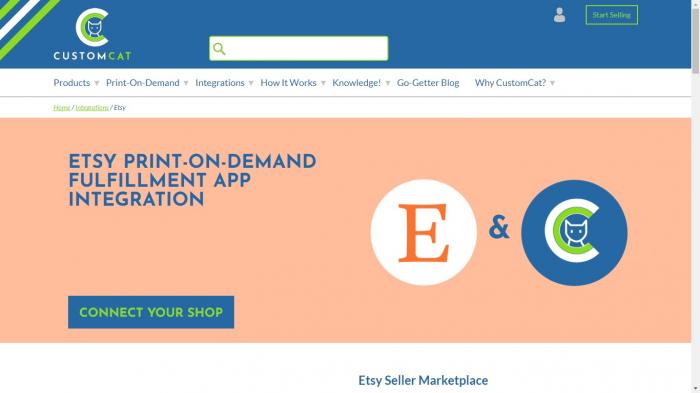 Pros
A decent range of product categories and high-quality manufacturing.
Cons
No facilities outside of the United States.
5. Print Best
Print Best is a print-on-demand company derived from SinaLite that helps entrepreneurs, designers, artists, etc., to design their products beautifully.
The print-on-demand supplier will take care of your products, and you can spend time making products on your Etsy store look appealing. You can enhance the quality of your products' pictures by using VanceAI's Image upscaler, which will increase their resolution and make people click on your products and buy them.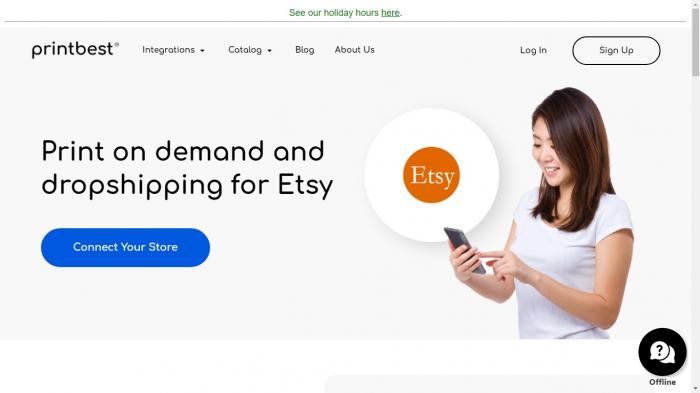 Pros
Product quality is excellent, and so is turnaround time.
Quickly process Etsy orders.
Wide range of product categories including men's, kids, women's clothing, drinkware, and other accessories.
Cons
The shipping service is not that good; sometimes it delivers wrong orders.
Also read: Best 10 T-shirt Mockup Generators Review
6. Printy6
Printy6 is an excellent print-on-demand Etsy platform that automatically syncs all your Etsy orders and fulfills them. It offers multiple platform integration, including Etsy, and the product categories on printy6 are remarkable as well. If you want to get clearer results, you can unblur image by sharpening them and giving them clarity.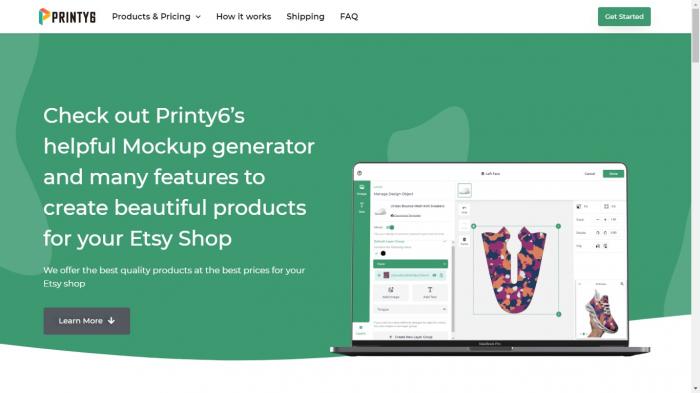 Pros
You can put your designs on hundreds and thousands of customized products.
Easy and simple user interface.
Cons
Printy6 takes a very long production and shipping time even though the quality of the products is great.
7. Shop3d
Shop3d is a 3D print manufacturing plugin that is unique and assists in the manufacturing and fulfillment of your orders. Shop 3D is a print-on-demand service company that allows you to design products of your own choice.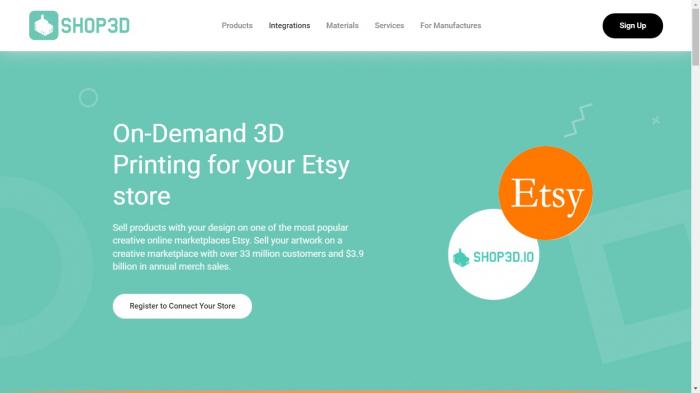 Pros
Custom branding: The drop-shipping solutions of Shop3D make it easy for customers to view all the products and services of your brand.
Shop3D is free to use, and you don't need to pay a monthly fee. It also doesn't require sign-up.
It is quick and easy to use, and it just takes a few minutes to operate and set up.
Cons
The disadvantage is that it works best for 3D printing only.
8. Shirtee
Shirtee cloud is a print-on-demand service that offers 4000 product variations to sell. The print-on-demand provider offers an easy and quick Etsy integration, and the Shirtee app helps you look over your order's status.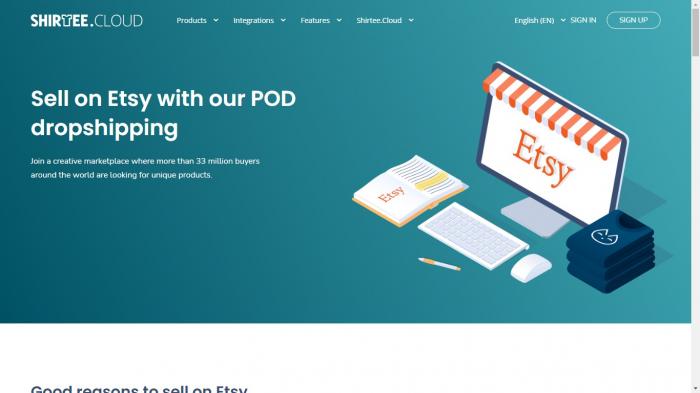 Pros
Because of its fulfillment warehouse services, it helps sell and store products at warehouses that are not produced by the shirtee.
Shirtee makes it convenient for you to look at your order status that is easily fulfilled and processed within 2-5 days through better warehouse services.
Cons
Whenever you link your account with Etsy through shirtee, you have to pay 0.18 euro per listing and a 4% fee per sale.
9. Gooten
Gooten is a major company selling print-on-demand services with a brilliant product range, including bath and body products, baby essentials, car tools, and products, and so much more.
The most amazing part about Gooten is that they work with 30+ manufacturers in different parts of the world, which makes the shipment procedure very smooth. However, Gooten integration with Etsy is not that straightforward.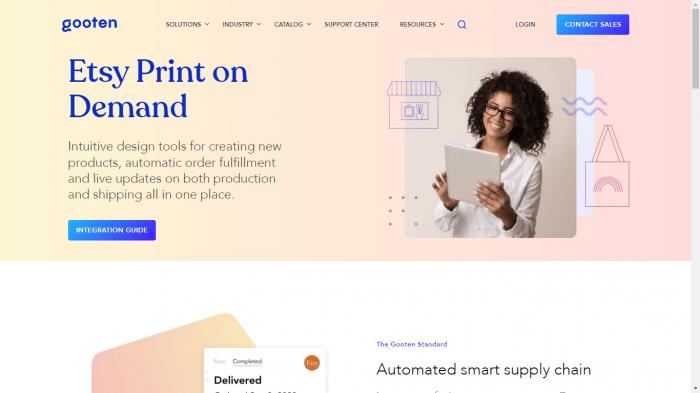 Pros
Gooten provides you the automation opportunity by syncing all the products of your stores on different platforms, including Etsy.
The product catalog is very wide and also includes health and fitness items, including yoga accessories.
Cons
You cannot publish all the images created by Gooten on your Etsy store.
You don't have the liberty to choose your product supplier on Gooten, which sometimes can be a challenge.
10. Tee Launch
Tee Launch is a very famous print-on-demand company for Shopify users; however, it also offers services for Etsy sellers and shop owners. The only catch is that you must have a Shopify account if you want to integrate Etsy with the Tee launch.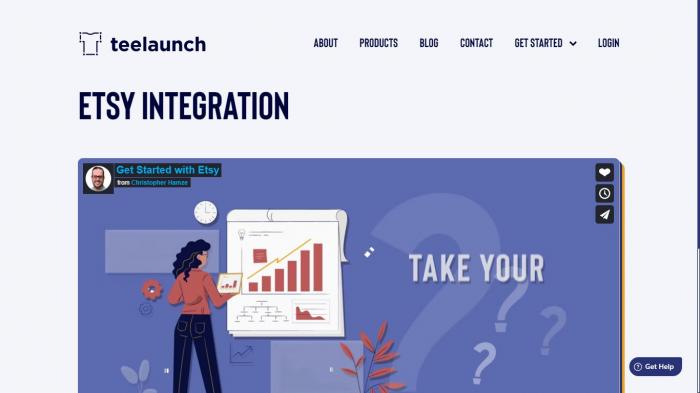 Pros
Tee launch has a wide variety of cool and customizable electronics like speakers, Bluetooth headphones, etc.
Cons
Tee launch has a limited product range, but they don't only sell tees.
You must have a presence on Shopify to use Tee Launch print-on-demand services on Etsy.
Conclusion
Etsy is an excellent platform with millions of customers, so it would be a smart move to use the best print on demand for Etsy and grow your business without even having to handle products. However, you need to get the best print-on-demand Etsy supplier to succeed.
FAQs
What print-on-demand companies work with Etsy?
There are quite a few print-on-demand companies that work with Etsy, including Printful, Printify, Gooten, etc. Some of the companies also offer white-labeled products.
How to sell print on demand on Etsy?
You only have to start using the services of a reputed print-on-demand company that works with Etsy and let them convert your designs and ideas into products while you earn profit.
Why Should You Use Print-on-Demand for Etsy?
Print on demand allows the designers to create unique and artistic products that their customers want. If you have a store on Etsy, but you don't use any print-on-demand model, it will be very hard to increase your profit considering the growing competition.
However, by integrating print on demand with Etsy, you will grab the attention of millions of customers who will happily purchase your products. Another benefit is that many print-on-demand companies will handle all the manufacturing, storing, and shipping of your orders, and you will only have to provide them with your designs. Also read: How to Print Pictures from iPhone | Best 3 Ways.
Do you find this post helpful?