One of the reasons why t-shirt mockup items are extremely appealing to a wide range of audience is that it allows people's creativity to be included without actually having them go through the taxing process of designing. Users only have to make sure of one thing and that is keeping their images as high definition as possible. Yet, sometimes some mockup generator applications are packed with some tools to help you to enhance photo. What's more is that you get to use free t-shirt mockup generator applications and still have the possibility to earn money if anyone ends up buying your designs. With such a deal that you can't deny, more and more people are looking for the best t-shirt mockup app. In this list, you will find the top ten t-shirt mockup applications for their prices, features, usability, and more.
What is Digital Print?
The term and process digital print means that of using digital content, such as digital images, and printing them directly onto substances, such as various types of clothing. Therefore, in other words, you can simply have your design present as a PDF, image, or any readable document, and have it sent over to the machine to get a digital print. It is capable of reading such documents and can make a digital print which has great quality and accuracy as compared to the document that you send. Furthemore, you can expand your design onto other substances as well by using your digital print on clothes, canvas, cards, fabric, and more.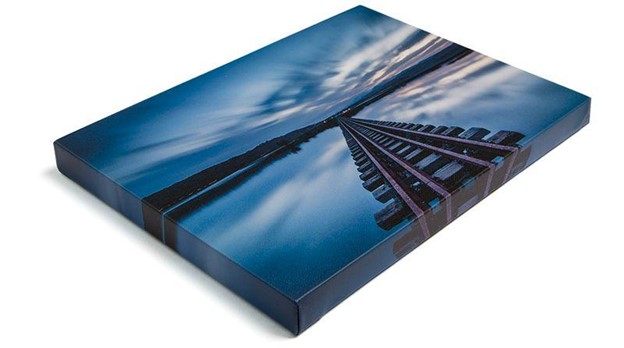 If you want to know how to print digital art print, the answer is relatively easy. You would just need an app and a scanner. Otherwise, many printing services offer digital print vs screen print as well, so you can try both. Also, you should use the VanceAI Image Upscaler in order to make your image of a higher resolution and definition before sending it over for printing.
VanceAI PC is full-featured desktop software developed by VanceAI that lets you instantly process local photos in bulk with more customization options, which will significantly simplify your workflow and boost your productivity. Free Download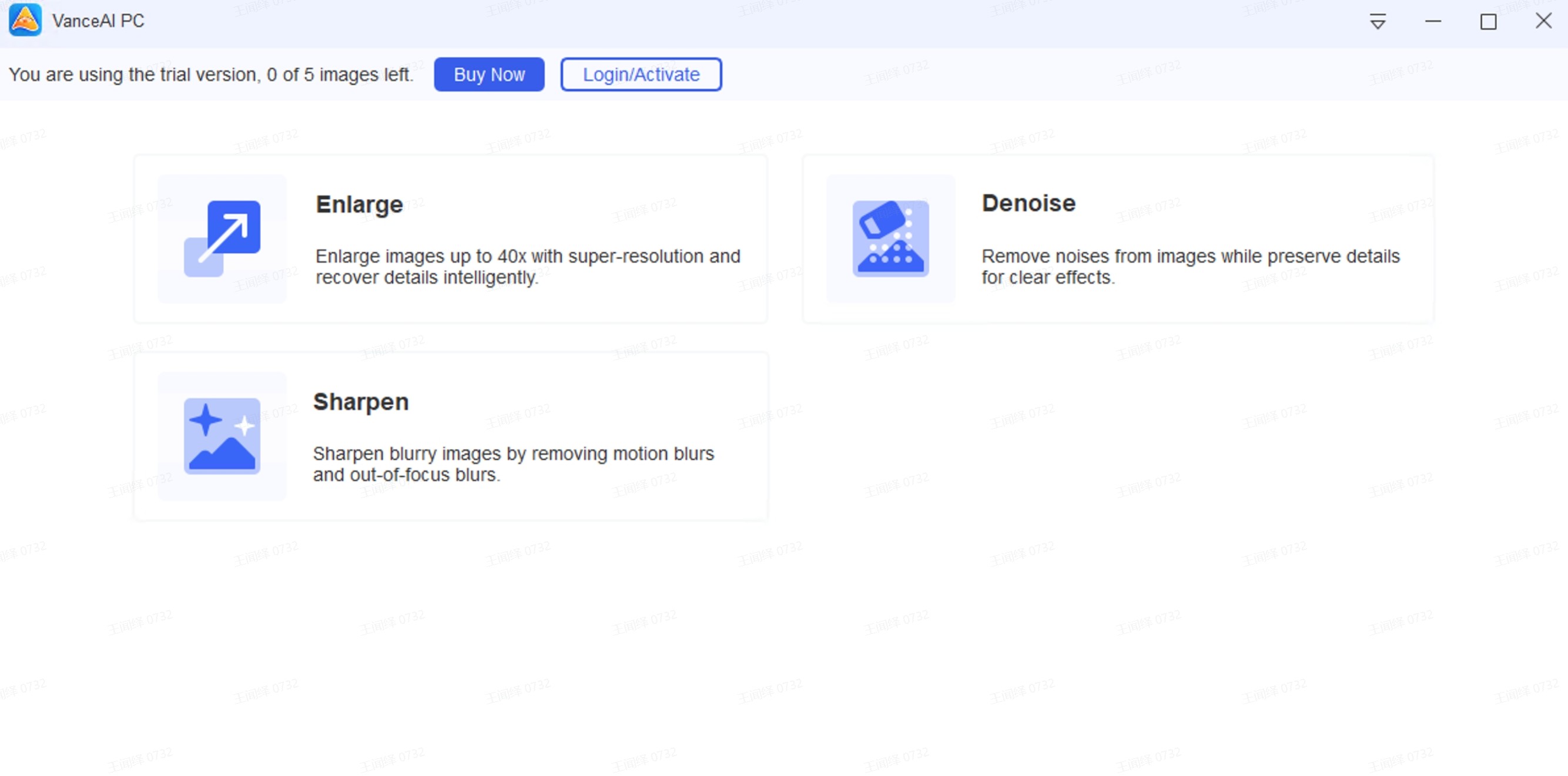 Digital Print vs Screen Print
The answer to 'how to print digital art' is simpler than for the screen print. Digital print has become increasingly popular mainly because of its ease of access and ease of use. When it comes to flexibility and short-term projects, digital print is not only economical but also faster. Not to mention that you can make more changes to your design when digital printing as compared to screen printing. Due to the nature of digital printing, you can have more on-the-go printing projects that you need delivered in a short amount of time. A digital print can also handle a wider range of colors much better than screen printing.
On the other hand, screen printing or traditional printing comes across as a better choice for projects that are systematic and uniform. If you want to print a huge quantity of material with the same design and color, screen printing proves more economical and with better results. It is important that your design contains very few colors, however. Not to mention that screen printing works on a larger number of materials as compared to digital prints. Usually, these prints contain less colors but a higher quality and
make photo hd
. Overall, the kind of printing you choose depends on a lot of factors. Factors such as quantity of order, design, colors, deadlines, and more come into play.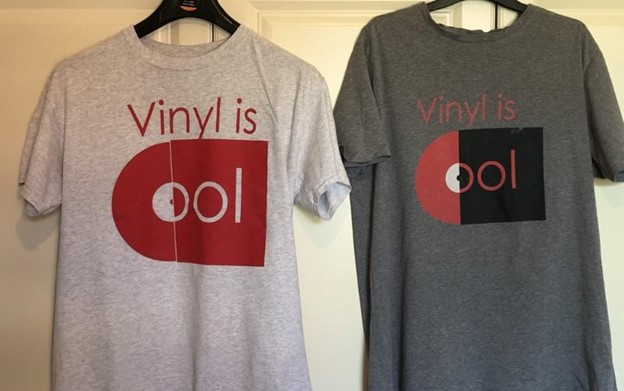 The screen printed image on the left definitely has a richer color pattern than the digital print t-shirt on the right. You can find this image here. Usually, the equation between digital print vs screen print tends to be about quality vs quantity. When it comes to screen print, you can expect better quality though you cannot print a lot of colors. On the other hand, digital print offers a lot of colors but they tend to fade away easier. This is especially true for t-shirts though you may see this happen on other materials as well. Hence, you cannot claim as one method to be superior as they both come with their pros and cons. The type of print you choose depends on your requirements.
Best 10 T-shirt Mockup Generators Review
1. Placeit
Price: Though you can browse and make t-shirt mockup free of cost, you can't make an unlimited amount. For unlimited access, you can start off with the $3.95 per month plan, if available in your region.
Placeit is an excellent platform as a clothing mockup generator because it has a great collection of designs for many different niches. You can get and view mockups related to the 80s, Independence Day, and even Gaming. It can serve as a great place for amateurs to get an idea of how to make t-shirt mockup art. They also provide users with unique search filters, such as ethnicity, age, etc. and that gives users a better idea of how to style themselves.
Pros:
A really good gallery.
Pretty well designed UI.
Responsive website.
Cons:
Paid options have limitations.
Creating mockups is a bit slow.
A few categories lack options.
2. Printful
Price: The prices for this platform depend on the project. You can design and upload your own designs on the online store but there can potentially be shipping charges if you make a sale.
Printful is a fairly popular free apparel mockup generator, which of course involves not just t-shirts, but all kinds of upper wear as well as lower wear. You can design everything from hoodies to leggings and you won't be restricted to either gender. As a result, it offers a good amount of creative freedom for users to engage in and create more innovative designs. Although it doesn't offer as many options or tools as others, there is still a lot to learn and do in this online platform. Before uploading here, it would be better to enhance your image with the online photo enhancer tool that VanceAI offers. Not to mention that it supports shipments worldwide.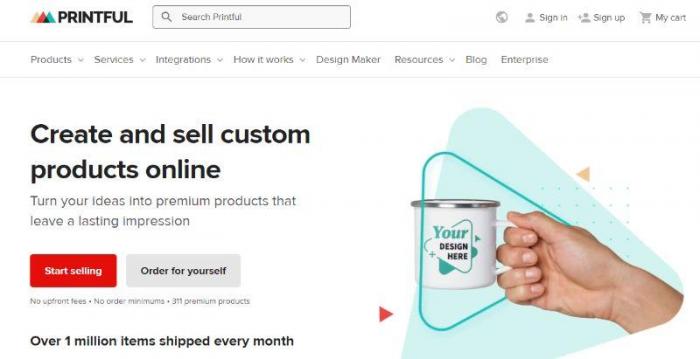 Pros:
Many types of clothes are given to design.
Worldwide shipping.
It has a good store.
Cons:
Designing isn't too convenient.
It should offer more creative tools.
Can be buggy.
Also read: Best 10 Print on Demand Services for Etsy
3. Mockup Mark
Price: You can definitely start creating with this free t-shirt mockup generator though with limited use. The two paid options are Premium and Lifetime accounts that cost $14.99 per month and $299.99 one-time payment respectively.
Mockup Mark is a smooth online platform wherein you can simply start designing without having to spend time on creating accounts or anything else. You can take a good look at the designs just by scrolling below and visiting the gallery, though a bunch of them are under premium. The website also offers a few design logos and ideas upfront for you to try out. Otherwise, you can simply upload your own by using the upload button given there itself. Also, this website is consistently active and has newer updates and features incoming, one of which includes being able to download images in PSD format.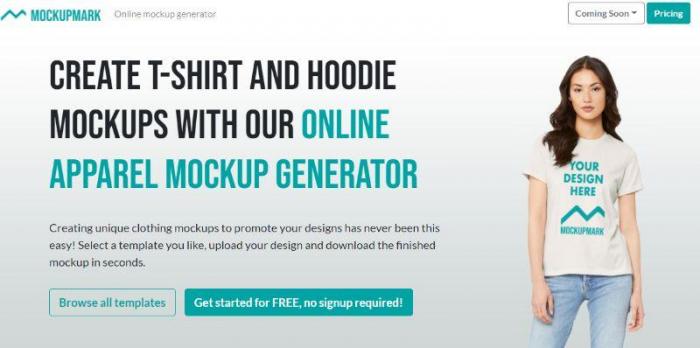 Pros:
Start designing immediately.
Good website functionality.
Lifetime subscription available.
Cons:
Very few sample designs.
Could have more types of clothes.
Could offer more designing options.
4. Smartmockups
Price: You can make use of the free t-shirt mockup generator platform though Smartmockups will only offer the basic features and mockups. For more features and unlimited usage, you can upgrade to the Pro version that costs $9 per month.
With this online application, you can not only deal with free shirt mockups, but also with mockups used in smartphones, mugs, books, and many more. Additionally, this platform deals with other tasks such as packaging, printing, social media, etc. When it comes to t-shirt mockups, you can expect a few decent features such as being able to switch t-shirt colors with just a click and also being able to add your own colors with a Pro account. You can also upload your designs and apply them on the t-shirts immediately but make sure to use an efficient image enhancer like that from VanceAI beforehand to ensure top quality of the design.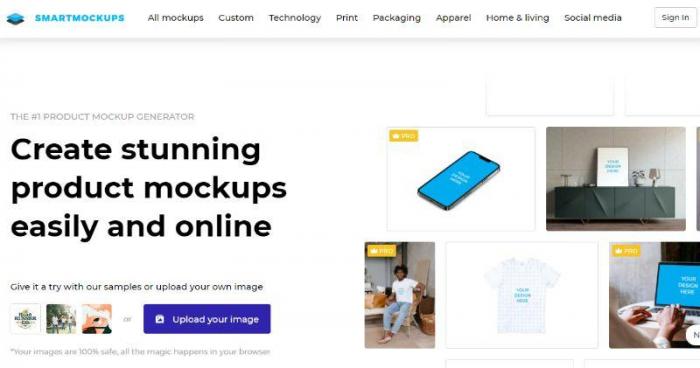 Pros:
It deals with other types of mockups too.
Good keywords system.
Good pricing system.
Cons:
It needs a better UI.
Can be buggy.
Could use more features.
5. Mockupworld
Price: You can definitely browse as well as submit your own mockup designs on the Mockupworld for absolutely free but there are no specific paid plans mentioned on the website otherwise.
This website is similar to the one before in the sense that you can indulge in not just t-shirt based mockups but also in other types of items such as electronics and also accessories. Speaking about the website, it is a simple yet responsive one where you can simply type queries and find results based on keywords. When it comes to submission, you will need to fill a form first on the website and provide the category of the item.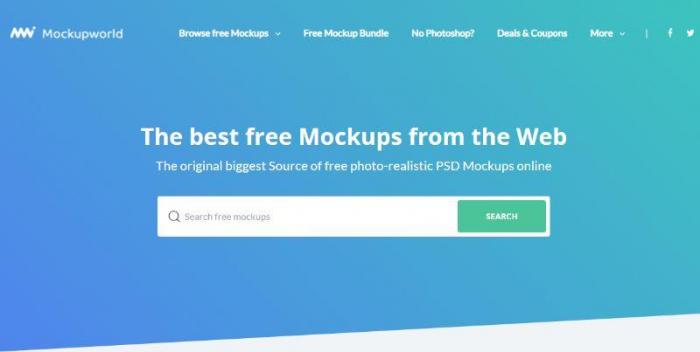 Pros:
Smooth website design.
Multiple types of mockups.
Good design.
Cons:
Could use more features.
Confusing to use.
Can add more info on the website.
6. RenderForest
Price: There are multiple paid options available when it comes to using RenderForest. The free version is for all time but with only 300 MB storage. The paid plans start from around $6 per month.
What sets this particular free shirt mockup generator apart from many other similar platforms is the fact that this application actually goes much beyond t-shirt mockup generation. These days, more and more websites prefer to integrate an API tool to expand their business. For example, VanceAI API can be integrated into a website to help its user to do photo post-processing. With RenderForest, you can engage in creating graphics, building websites, making videos, and much more. It also offers packaging and printing services similar to other products listed here. When it comes to creating mockups, you can simply upload your designs and be done. However, you can also choose to edit existing mockups and mix things up.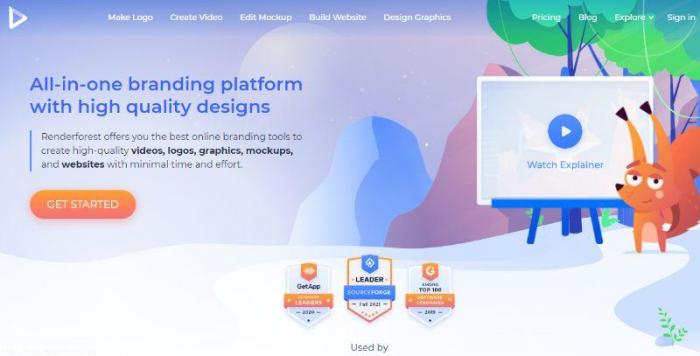 Pros:
Multi-purpose platform.
Great design.
Good pricing system.
Cons:
Confusing to use.
Can be buggy on occasion.
Can add more designs.
7. Printify
Price: Printify has multiple different plans for users as well. The free version gives you unlimited access to features though you are granted up to 5 stores only. The paid versions, starting from $24.99, offer more.
The biggest advantage of this cool online platform for mockups is that it has arguably the largest global print network, which gives you a phenomenal boost if you decide to start a store there. On the other hand, it also indicates fierce competition, which makes it important for you to use extra enhancement tools such as Image Enlarger for crystal clear designs to upload. On this website, you can also deal with other accessories such as phone cases, postcards, towels, and more.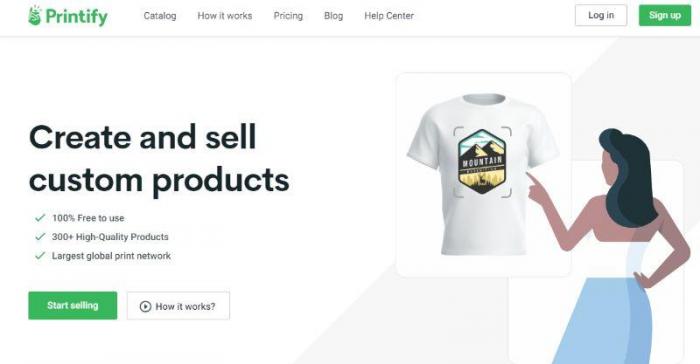 Pros:
Largest print network.
The website runs well.
Many other products to choose from.
Cons:
Pricing needs to be better.
Can add more in the kids section.
Takes time to get used to the platform.
8. Artboard Studio
Price: With the free version of this online platform, you can create unlimited mockups but by only using the free templates. For more templates and other features, you can pay $15 per month for the Professional account.
With stylish and incredibly famous brands such as PlayStation, Squarespace, Microsoft, etc known to use Artboard Studio, you can be rest assured that this online platform is definitely good enough to please the designer side of things. With a quick account creation set up, you can immediately make use of the editor that has a great amount of features and works similar to Photoshop. You can also dabble in products that are outside of t-shirts and clothes in general.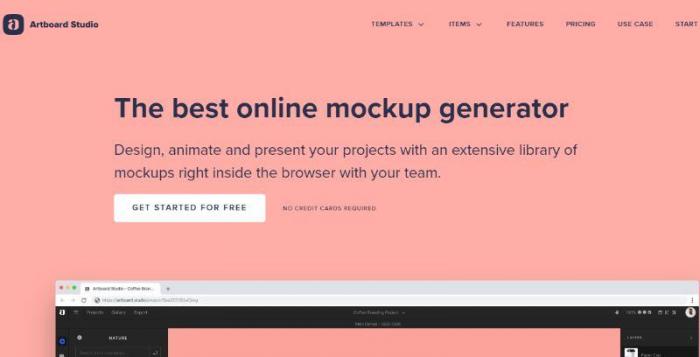 Pros:
Popular and reliable tool.
Sophisticated editor mode.
Smooth design.
Cons:
The editor can deter beginners.
Editor can be buggy sometimes.
Needs more sample designs.
9. Photific
Price: Though there is no specific price stated in the website, you can still request a demo version for free from the website itself. You can also discuss prices for the full version by contacting support.
A good thing about Photific is that it is really straightforward and simple to use as you are given a prototype window where you can add designs, modify current design, and then download the design as well. Other than that, you can also make changes to the back of a t-shirt, which surprisingly isn't as common as it should be.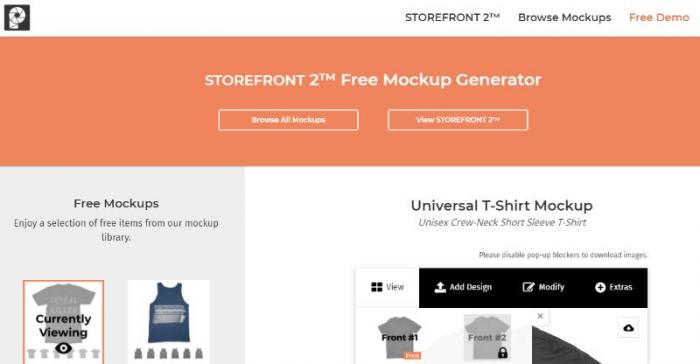 Pros:
Easy to use.
Demo version available.
Good design.
Cons:
No pricing info given.
No instant demo.
The website can be slow.
10. FreeMockup
Price: This high definition t-shirt mockup website offers both free and premium mockups. When it comes to the premium mockups, you can either pay $3.95 per month or $23.69 per year.
On this t-shirt mockup generator application——FreeMockup, you will find some presence of PlaceIt as well, since it makes use of the premium mockups from that website. You can also find mockups of various other things such as outdoor ads mockups, UI and UX mockups, branding mockups, and many more.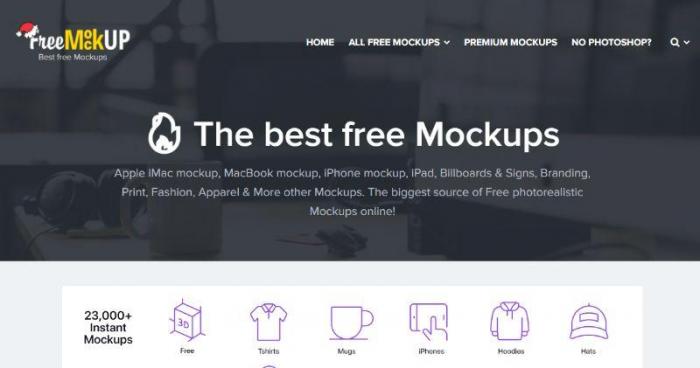 Pros:
Easy to use.
Free version offered.
Variety of mockups.
Cons:
Needs for features.
Premium versions can be better.
Needs better UI design.
Conclusion
T-shirt mockups are an amazing combination of Internet image editing and creativity. Not to mention that it can offer a lot to users through payment and business opportunities, a change to indulge in innovation, and more. This gives everyone a real incentive to participate and have their design out there for everyone. However, it is essential to make use of an AI image enlarger tool in order to ensure that your designs are of top-notch quality.
Do you find this post helpful?
Yes
No