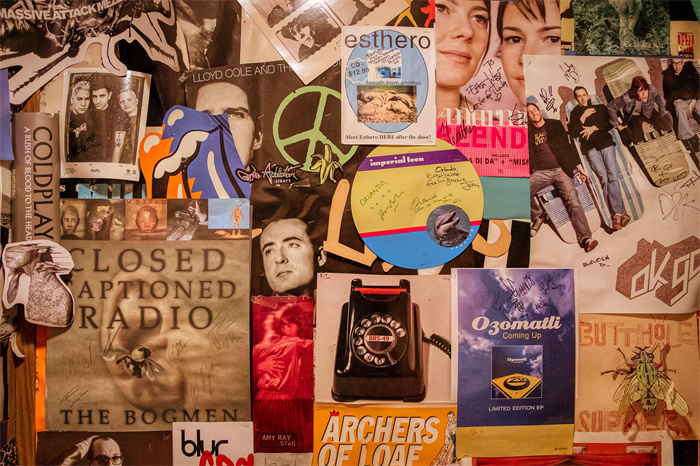 When it comes to design and creativity, fonts could be used in various ways, from logos to brochures to book covers. For several creative people, picking the appropriate font becomes more like a puzzle once they've spent all their efforts on the early study. Unlike images that can be generated as high-quality one with a VanceAI image enhancer, font choosing has an unspoken rule. Here, you'll find a list of websites that provide retro-styled text. The process of creating fonts online is rather straightforward. Only by entering the text in the font generator box may one produce a variety of different fonts. 
Why do people need retro font generators?
Web design relies heavily on the use of fonts and images. For example, if you want to design a vintage-themed page, the best way to do it is to make sure your text and images are in a vintage style. For images, you can use some old black and white photos, but if you want to add color to your images, there are many software programs available for vintage images, such as VanceAI Photo Colorizer. For fonts, our web page perception may be influenced even though people don't pay attention to how letters and characters are organized. Typography is the process of creating and managing type, and it's something that companies pay a lot of attention to.
Best 10 Retro Font Generators
| | | | | |
| --- | --- | --- | --- | --- |
| Websites | Price | Quality | Features Options | User Friendly |
| FontSpace | Free | Good | Multiple styles, save result with solid or transparent background, adjust font size, enhance photos | Moderate |
| Font Meme | Free | Moderate | Basic text effects, search and download free fonts, change font colors, edit result | Easy |
| Flaming Text | Free | Good | Vintage and 3D fonts, gradient effects, various colors, adjustable text size, PNG and HTML download, supports text line feeds | Moderate |
| Place it | Free | Good | Various templates for designing, integrated workspace, mockups for products, designs, movies and logos | Moderate |
| Fontalic | Free | Moderate | Wide selection of unique and stylish fonts for presentations, drafts, emails, newsletters, and social media posts | Easy |
| UrbanFonts | Free | Medium | Download all fonts in zip file | Moderate |
| 1001 Fonts | Free | High | Advanced filtering, commercial options | Moderate |
| Vintage Fonts Gen. | Free | Low | Copy & paste function | Good |
| Fancy Text Gen. | Free | Low | Copy & paste function | Good |
| Fonts2u | Free | Medium | Download entire font families | Poor |
1. FontSpace
Using FontSpace, you can enter text and then quickly copy it into your website from their website. Unicode-based stylesheets provide interaction with all browsers and devices. Your social media platforms and your author page may benefit from this feature. Headings and quotations may also be styled using it. With FontSpace, you can create understated social media posts and direct messages. There are a lot of options when it comes to the fonts you might want. Adding these fonts to a picture will be really helpful for you to get an amazing graphic. Before doing it, you can also enhance photo first to level up the resolution of your photos.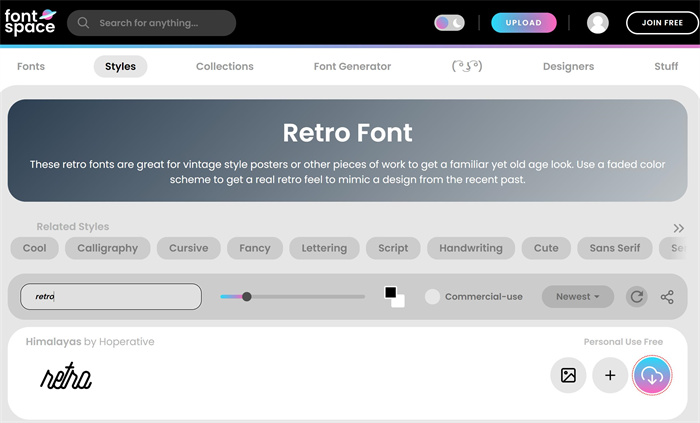 Pros:
It is free to use.
Offers different options for styles.
Allows you to save the result in solid or transparent background
Allows you to adjust the size of the fonts
Cons:
Too many ads
Line feeds are not supported
2. Font Meme
This site is a font and fonts library. For example, you can read about fonts used in logos, publications, movies, television series, and more in the "Fonts in Use" section. In the "Text Generator" area, you can use basic tools to create visuals with fonts of various styles and diverse text effects; in the "Font Collection," you may search for and download free fonts. Create a unique font based on your favorite logos and company colors with Font Meme, a free online font maker.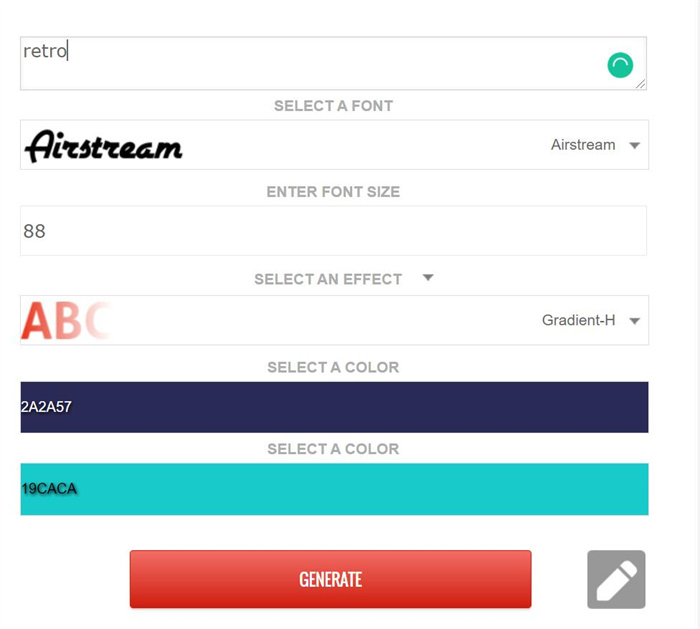 Pros:
Also allows you to edit the result
Allows you to change the colors of the fonts
Cons:
limited styles to choose from
Doesn't allow you to save the result in a solid background
Also read: Top 10 Facebook Font Generators Review
3. Flaming Text
Using Flaming Text, you can create stunning logos from a wide variety of themes. A variety of color schemes, gradient effects, and background colors would then be available for you to choose from. It's also possible to alter it yourself and get the PNG file or establish an account to receive the HTML code. You may begin by mentioning your text to generate vintage fonts. Text size may then be adjusted. You may change the text size by using the slider. Immediately below that is a dropdown menu where you can examine the many font styles available. There are a variety of fonts to choose from on the website, including 3D and Celtic fonts. At this time, you may choose to use Old English as your default language. For those who like fonts with a more vintage feel, go no further than this section. The neon appearance may be achieved in a variety of colors. Download the picture when your font is complete.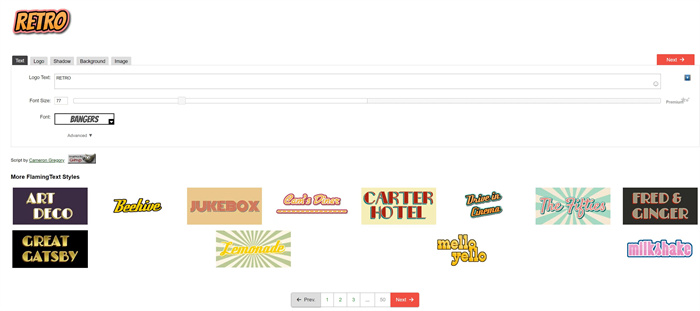 Pros:
You can edit the fonts with more features.
Supports for text line feeds.
Cons:
Not really easy to work with for beginners
4. Place it
Just like the VanceAI photo enhancer focusing on removing disgusting blurry, or noisy parts and also helping you finish the task of image enhancement with one single click even if you have not sophisticated skills, this is the quickest and simplest method to get professional-looking graphics for free on Place it. Mockups, designs, movies, and logos are all available for free in their constantly updated collection. Create stunning product images by dragging and dropping your ideas into their mockups. Everything you need to get started broadcasting on Twitch or YouTube is right there!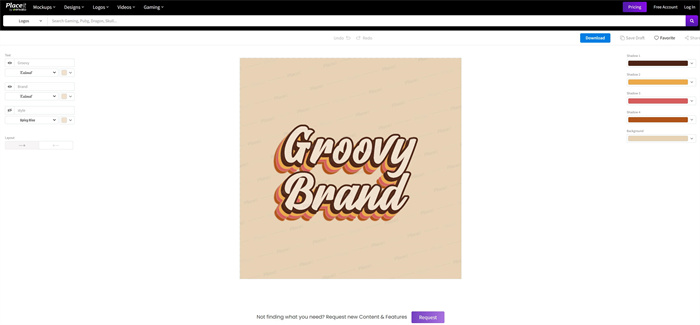 Pros:
Offers various templates for designing
Offers you an integrated workspace
Cons:
Doesn't allow you to download the result on transparent background.
Expensive
Also read: How to Enlarge Images of Retro Video Games for Clear Effects
5. Fontalic
For those times when you need to write on a wide range of topics in a unique manner, Fontalic is here to help. Fontalic is confident in its ability to provide a wide range of distinctive and stylish fonts. They offer a wide selection of fonts that are likely to be popular with you and your coworkers. Their fonts may be used for presentations, draughts, emails, newsletters, social media posts, and more with dignity and brilliance.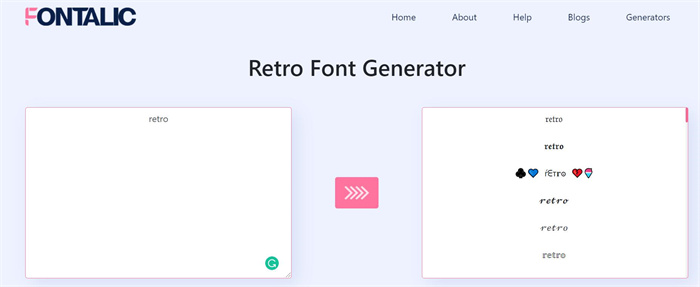 Pros:
Really easy to use
Just copy and paste without downloading
Simple UI design
Cons:
Doesn't allow you to adjust the size of the fonts
6. UrbanFonts
In addition to free fonts, UrbanFonts offers paid fonts as well as dingbats. There are more than 8,000 free fonts to choose from. Most of the fonts on this site are free. However, there are a few that need a subscription or a link to be purchased to use. If a commercial license is not obtained, certain fonts may not be embedded or have a restricted character set. Enter the text to show font kinds below to make retro-style fonts. After that, you may choose the text you want to save. Other filters are available to assist you with your search. Fit width, display creative vintage font, or reverse backgrounds are all options for seeing fonts. In the zip file, you can download all of the fonts.
Pros:
Offers you many other styles to choose
You may preview the result before downloading
Cons:
Fonts size adjustment is not allowed
Has limited retro styles
Too many ads.
7. 1001 fonts
There are a lot of fonts at 1001 fonts. For commercial usage exclusively, they offer a separate set of fonts. This site provides easy access to professional fonts. Keep an eye out for the site's "direct-marketing" name and design. Font Squirrel is a beautiful font. However, Font Squirrel doesn't have the same level of quality and make photo hd. Several high-quality free fonts may be installed quickly and easily on their site. It's easy to see what others say about a font before downloading it because of their site's popularity and a great tool. Remember to choose "Only see fonts that are free for commercial use" if you wish to browse the category selections before you begin. The method of downloading is likewise quite straightforward. Install a font, download it, unzip it, and double-click on the.otf or.ttf file.  They seem to be missing characters in some cases, yet they include the whole set when installed. If you intend on using this site often, you can create an account.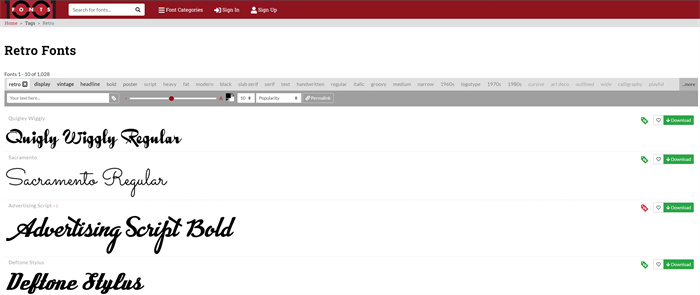 Pros:
There are a lot of retro fonts at 1001 fonts
Provides advanced filtering
Cons:
You may only download the result as .ttf 
8. Vintage fonts Generator
Regardless of the social media platform, this tool will function. You may use it as many times as you want since it's so easy. To copy and paste into your bio, captions, tales, etc., type any text in the box, and the converter will do the rest. Also, give your profile a unique flair by using a photo or two.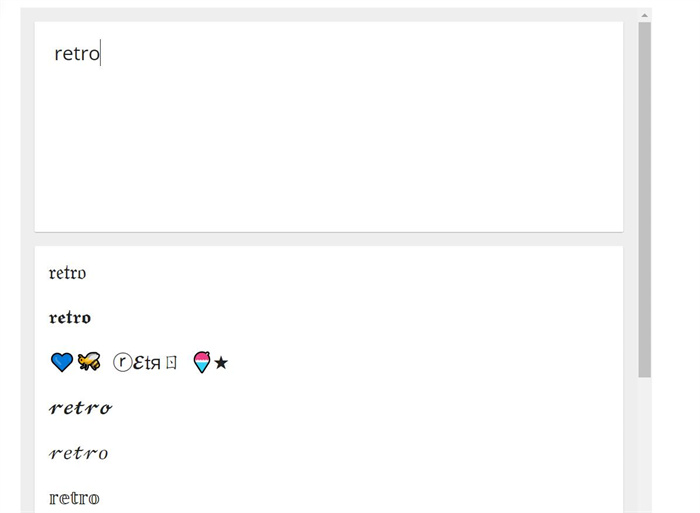 Pros:
Free and easy to use
Doesn't require downloading
Cons:
There are too many ads on the page.
9. Fancy Text Generator
Using the fancy name generator site is so easy that no one will believe it's difficult to use. Before creating this website, Their team sincerely believed that their site should be designed so that everyone could use it. For the sake of convenience, Their stylish name generator site is designed in a simple way that can be used by everyone, regardless of their level of education or experience. You may type www.generatortext.com into a search engine like Google or another web crawler, and then input any material in the "Enter Your Text" box, and this dazzling name producer site will offer you endless fantastic and appealing a la mode names at the same time. From here, you can easily re-order your favorite sharp name letters and stick them everywhere.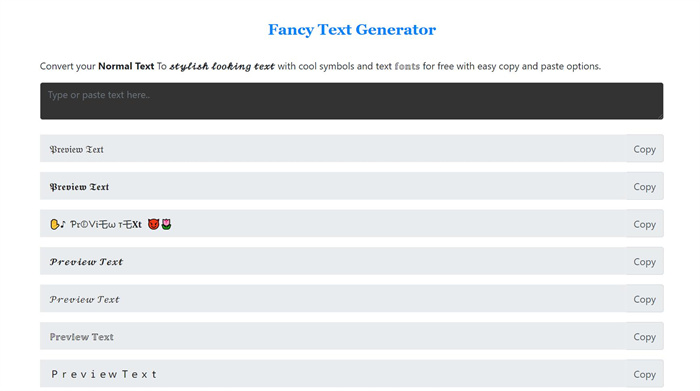 Pros:
Free and easy to use
Suitable for use in chat boxes or social media posts
Cons:
Doesn't allow to download in image format
10. Fonts2u
Like DaFont and Fonts.com, as well as 1001 Fonts, Fonts2u is a well-known font generator. You can't download all of the fonts in a single zip file. Font families may be downloaded in their entirety. However, it does not include all of Fonts2u's Fonts.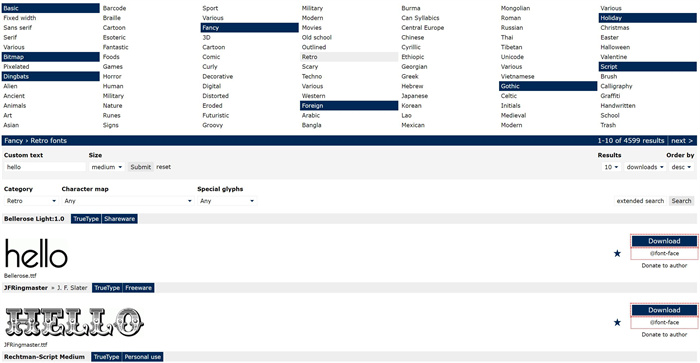 Pros:
Free to use
Offers you different elements for design
Cons:
Doesn't allow you to preview the result
Conclusion
So, this was a small aid from our side to make your pick of vintage fonts easier and less time-consuming. This collection has a lot of free retro fonts. Our goal was to make it easier for you to create the greatest artworks and choose the correct vintage fonts using this collection. It's time to keep up the good work! Anytime you're not satisfied with the quality of the produced font pictures, you can find an Image upscaler to optimize the edge details of the vintage fonts.
FAQs
1. What is a vintage font?
Because of their potential to transport your work, vintage fonts may give it a sense of timelessness and nostalgia that no other kind of font could ever provide.
2. Can you download the retro font for free?
Whatever font you discover here is a sure bet if you're looking for a free font to use professionally. Compared to other free websites, this one has a small variety, but the ones it does have are of high quality. You may get a preview of the font's appearance on the internet if you want to use it on a website.
3. What is the best font generator?
1001 fonts are one of the oldest and finest font generators.
Do you find this post helpful?