How to Get a high-quality Couple PFP?
Matching PFPs(in short for Profile Picture) are essential to create when you start on the dating site you want to join. People will want to see what you look like together, and they'll be much more likely to respond to your message if they like your matching pfp. 
If you want to get high-quality couple profile pictures  and make photo hd that will make it easier for people to decide if they wish to chat with you or not, using VanceAI's Image upscaler for upscaling images online would be better.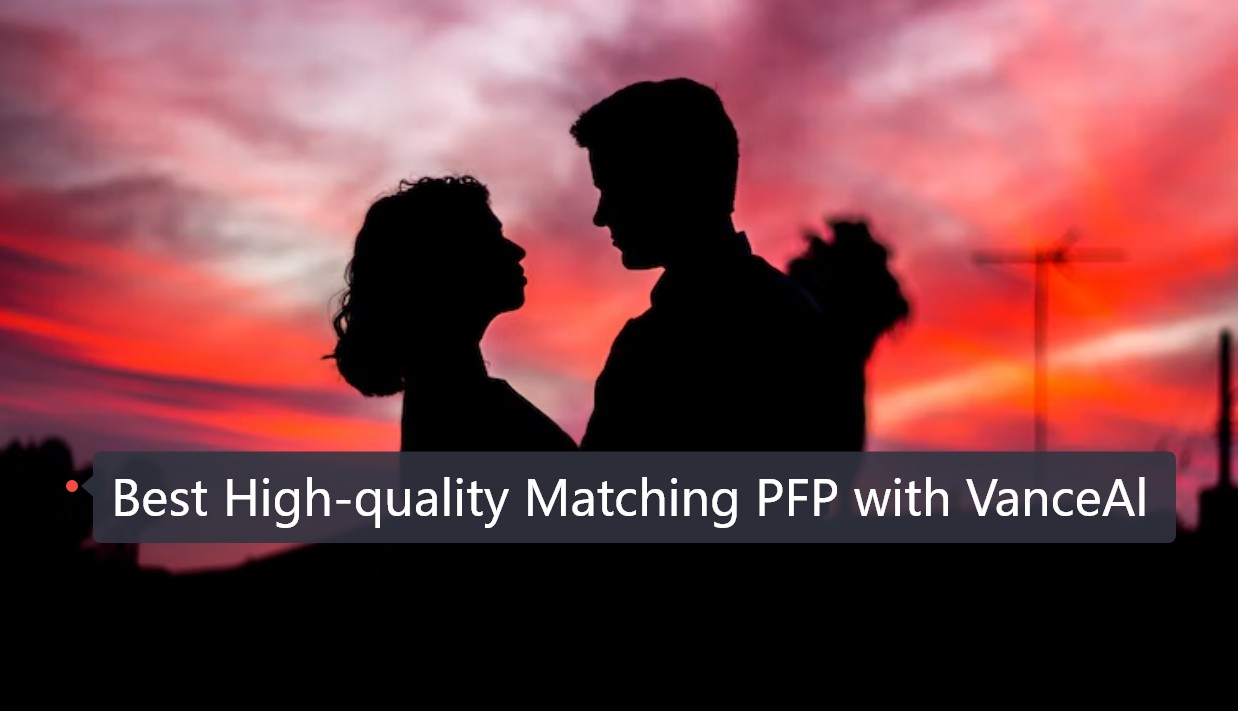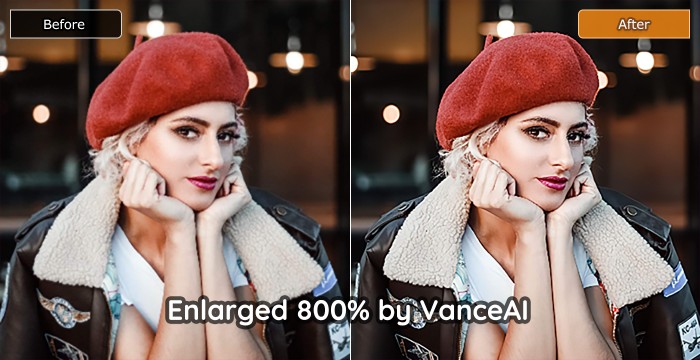 There are a lot of aesthetic pictures on social media, but not all pictures can be used as matching pfps because the pictures may not be clear enough or the resolution may not be high enough. However, if you want high-quality couple profile pictures, there is a way for you to enlarge your image with VanceAI Image Upscaler. 
You can get a high-quality picture by using AI Image Enlarger and then use it as your best couple pfp. It will help you a lot in making a high-quality matching pfp! What do you think about that? Is it easy or hard? Just follow these steps: 
1) Go to the Website and Search For VanceAI Image Upscaler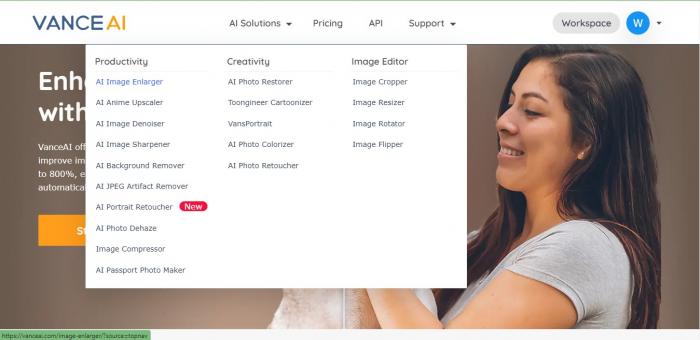 Firstly, you should find the AI image enlarger tool on the VanceAI website.
2) Upload the Photo

Once you have landed on the image enlarger tool, you can now upload your photo that you would like to enlarge or upscale.
3) Click For Processing the Image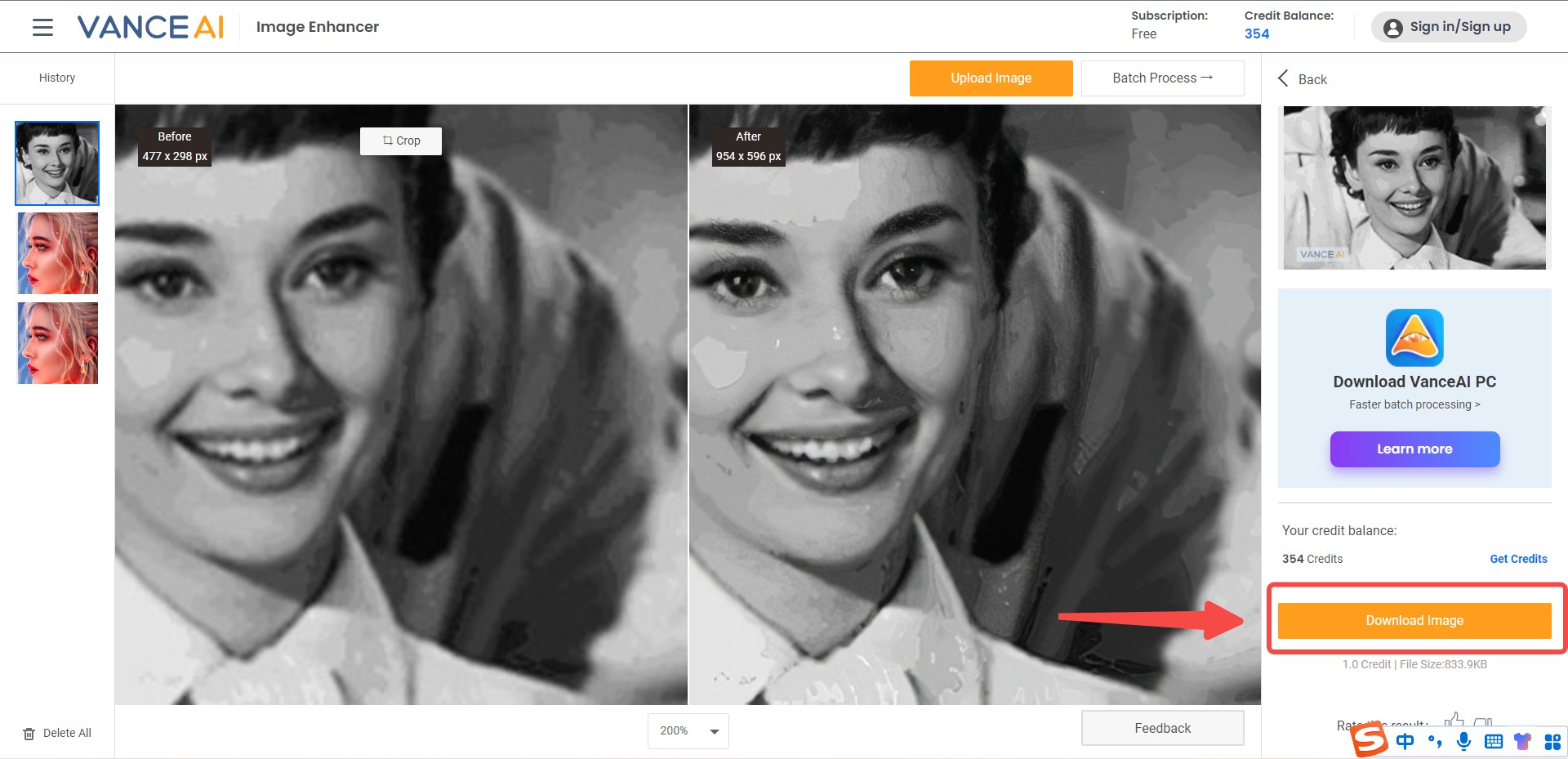 After your image has been successfully uploaded, click the processing button on the right bottom corner and wait for a few seconds until it has enlarged your photo to 500%. 
4) Download the Image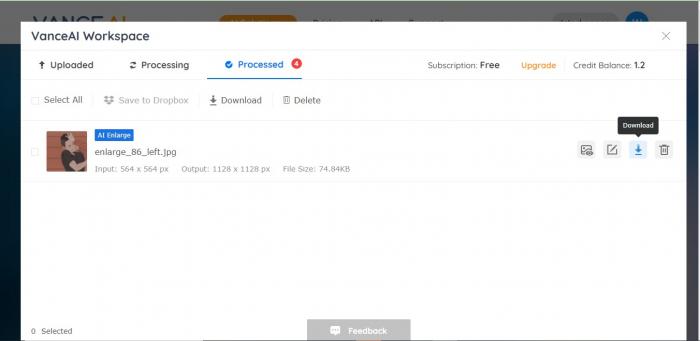 Finally, choose one which fits best for both of you and download the image. That's all! With VanceAI Image Upscaler, now you can upscale matching PFPS easily by following simple.
Suitable image upscaling model
The Anime model of VanceAI Image Upscaler is the best option for anime upscaling. This model can convert old cartoons, anime, and comics to high definition and improve the details. It is divided into 3 submodels: Anime_4x_AnimeSharp, RealEsrganStable and Upconv_7. Simply choose one and start to upscale image from animation to 2K, 4k, or 8K with this AI Image Upscaler now!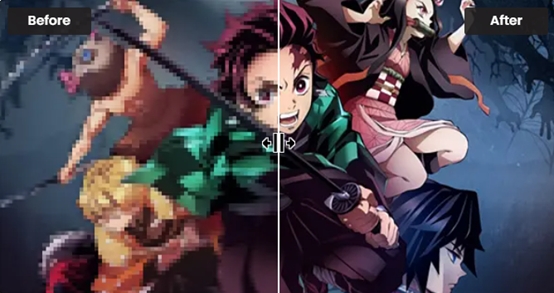 Besides anime model, there are also the standard model which enables you to upscale any kinds of images, including photos taken by camera, paintings, landscape photography, and so on. The Art &CG model, which allows you to enlarge CG, art image, drawings or paintings online and restore the original texture instantly. The Text model, which is designed to make information clearer in text images. And Low Resolution & Compressed model that can upscale low resolution and compressed pictures to HD in one click. All the matching pfp you have is available for quality upgrades on this image upscaler. If you prefer software, image upscaler software is here for you.
Before Vs. After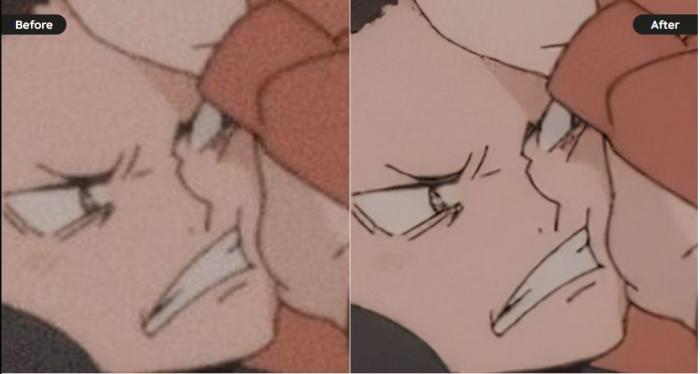 It's easy to see the difference between the two photos in the above screenshot. An upscaled and enlarged image is shown on the left without compromising quality. You can upscale images or anime online using this tool by following simple guidelines.
What is PFP? 
Short for profile pictures, pfp are personal photos that you can use on your dating profile. PFPs are an effective way to share your interests and personality. A good rule of thumb is that whatever you like doing, others will too. 
So if you're into hiking or cooking, be sure to include pictures of those activities in your couple pfp. If there's something unique about yourself or your partner that you want potential matches to know about, now's a good time to share it! 
For example, show off their cuteness if one of you has an adorable pet (or three). You can also include any special occasions coming up—if either of you have birthdays or anniversaries coming up soon, make sure they're visible in your pfp.
How To Get The Ideal Matching PFP?
Most professionals hire a professional photographer to take a couple of pictures. But if you don't have the budget to hire a professional photographer and don't want to just download someone else's photos on social media as your own matching pfp, you can check out some of the websites we have provided for you.
Here is how you can get high-quality PFPS from Pinterest.
Pinterest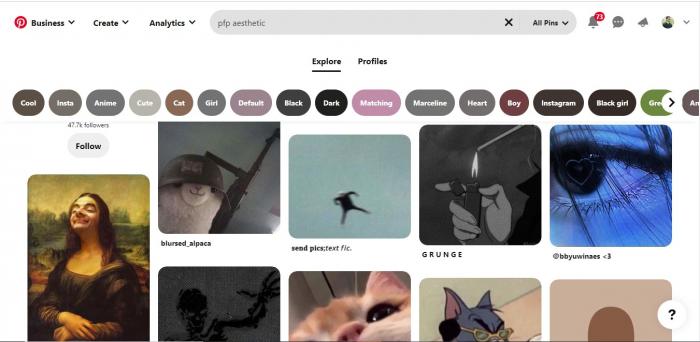 Pfps are extremely popular on Pinterest. The social media platform currently has hundreds of thousands of pinboards dedicated to pfps, and these boards have millions of followers across them. 
Pinterest makes it easy for people searching for pfps to find pages about pfps that match their interests or needs. For example, if you're interested in finding a pfp with an adorable dog on it, you can search pfp cute dog and get several results with images that fit your description. 
You can also browse through different types of pfps by looking at different categories (fashion) or tags (for example, trendy). Learn more about Pinterest.
Price: Free
Pros
Easy to download and share
Comments are optional
High-quality pfps
Cons
Problems of copyright
You can use particular images
We Heart It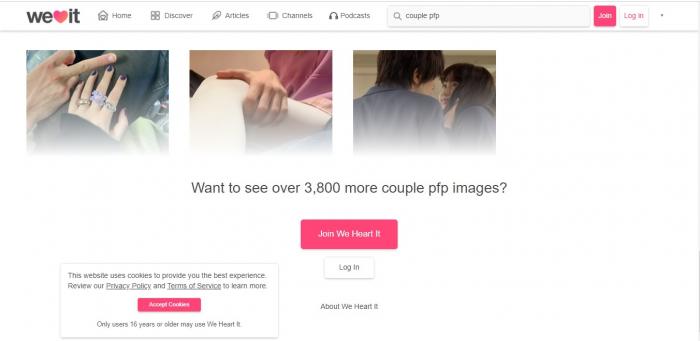 We Heart It is one of the excellent sites to go on when you need a break from studying or writing. Several pages are dedicated exclusively to drawings and photography, with millions of art pieces on each, so you'll be guaranteed to find something that interests you, including pfps. 
Also, there are adorable pictures drawn by individuals who want other people to enjoy their work! Overall, We Heart It provides a great source of inspiration and motivation.
Price: $19.99 / Year of Premium access
Pros
Easy to use
Free of charge
High-resolution pfps
Cons
More appealing to females than males
Now widely recognized
Matching PFPS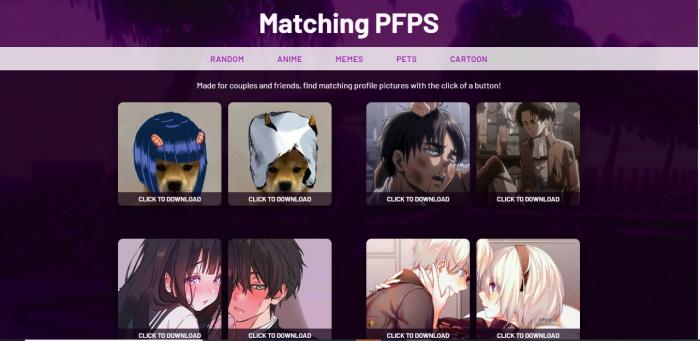 If you're getting into pfps, Matching Pfps is a great place to start. It's a website for matching users with other users based on their fetishes and preferences to ensure an enjoyable experience for everyone involved. 
The website has a wide variety of categories so that you can take your time finding people who are interested in similar things.
Price: Free, but you can donate
Pros
Anime, memes, and cartoons are available
Easy to download
Find matching profile pictures
Cons
A limited number of pfps
Now widely recognized
FAQ
Here is an faq about couple pfp.
How To Get A Clear Cute Matching Pfp For The Discord?
If you plan to get cute couple profile pictures for discord, it's essential that you have a few tips and tricks up your sleeve before posing in front of a camera. 
The following checklist can help.
1. Prepare enough time for professional pictures (1–2 hours), don't just casually snap your photo as an afterthought.
2. Choose your clothes carefully; a creative pairing can highlight aesthetic similarities.
3. Do we match well together? Matching couples' PFPs will look better than mismatched ones, even if they aren't identical. Try wearing similar color palettes or patterns to draw attention to visual similarities between partners.
Powered by deep learning, VianceAI Image Denoiser provides real-time denoising of any image or PFP in seconds with cutting-edge algorithms. In the same way, the VanceAI Image Upscaler can enhance an image or pfp online by up to 800% without sacrificing quality. 
Conclusion
If you want your couple profile pictures (or photos of yourself, if you're single) to look professional and get noticed by other high-quality singles, follow the abovementioned guidelines. 
Furthermore, make sure they are high definition; choose a background with no distracting colors; take them outdoors, and don't forget about using a photo enhancer to enhance that image. 
And remember, don't post more than two or three couple pfps if you want to leave something for people to imagine.
Do you find this post helpful?
Read More to Know Deeper: