Best 10 Remini App Alternatives: Enhance Your Photos Like a Pro
The Remini online app has become quite popular recently, it is an Android app that helps people edit their photos with enhanced features, but there are many other apps out there that can do the same thing. Such as VanceAI, can do more than what you expected.
To be specific, Remini for PC is still inaccessible, but you can enhance pictures online with VanceAI; About enhancing a photo, VanceAI Image Enhancer helps you enhance photos online and increases the details of your image in a few seconds. After enhancing an image, VanceAI also has other tools that further beautify the image, which is what Remini APP can't overcome.
In this article, we'll take a look at the other 10 Remini App Alternatives that you can download right now, no matter what kind of phone you use. Also mentioned are some free apps like Remini, which you can choose according to your needs.
Top 10 Apps Like Remini Recommendation
Before reading, here is a detailed comparison of the top 10 apps like Remini recommended for you, which can help you understand their respective outstanding advantages most intuitively. I hope it can help you better choose your favorite Remini alternatives. Let's get started!
Product

Price

Quality

Features Options

Support Device

User

Friendly

VanceAI

Enhancer

Free

trial &

Paid

AI-powered, user-

friendly

One-tap enhancement,

automatic, watermarks,

mini workspace

Online, available

for all devices

A

Befunky

Free

Good for hard copy

brochures/flyers/collages

Simple and easy-to-use

interface, limited options,

no freestyle collage option

Online, available

for all devices

A-

Letsenhan

ce.io

$0.99-$

13.99

Powerful AI, limited

customer service, pricey

Balancing light levels,

removing red-eye, filtering

packs, premium versions

Online, available

for all devices

B+

Adobe

Photoshop

Paid

Top-notch features

Enhanced color rendering,

different creative effects,

more robust features

Windows,

macOS, iOS, and

Android devices

A

AI Image

Enlarger

Paid

Easy to use, no ads,

credits not expensive

Enlarges images, crops out

unwanted parts, adds text

or effects

Online, available

for all devices

A-

Fotojet

Free

Well-mannered photo

effects

Easy to use, purchase

available for additional

features, not mobile

supported

Online, available

for all devices

B+

AVCLabs

Paid

Easy to use, background

enhancing

Enhances quality and

resolution, restores details,

automatic enhancement

Windows and

macOS devices

B+

DeepImage

Paid

Top resolution without

quality loss

Advanced image-

enhancing features, user-

friendly interface

Windows and

macOS devices

B+

Fixthephoto

Free

Easy to use, PSD

templates available

Removes skin blemishes,

smoothens skin, adjusts

facial features

Online, available

for all devices

B

Pho.to

Free

User-friendly

Removes red-eye, whitens

teeth, straightens pictures,

adds effects

Online, available

for all devices

B+
1. VanceAI Image Enhancer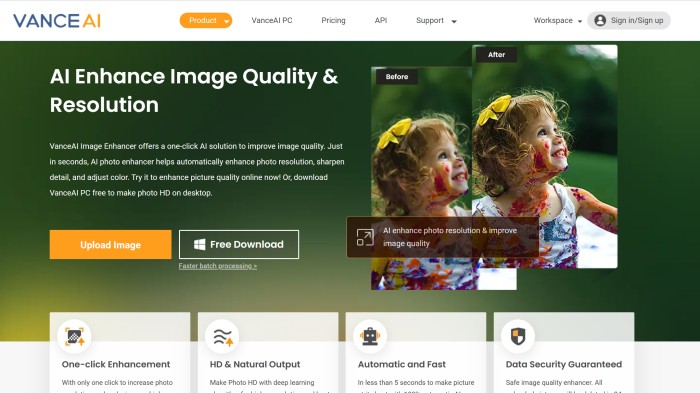 Picture enhancer, or VanceAI Image Enhancer – One tap enhancement: it is an online photo editor that helps you make stunning pictures with only one click. To be specific, this tool allows users to enhance the details of images and increase image quality while not changing the size even though they have no idea about photography. Based on a deep learning algorithm picture enhancer aims to show you the best details and make photo hd. 
Some free trial opportunities are given to users who use VanceAI Image Enhancer for the first time. After the trial, if you are satisfied, you can buy 100 credits for $4.95, or 200 credits for $6.95. More pricing can be found on VanceAI's website. You will make image high quality in a matter of seconds without dealing with an image if you make full use of the 100% automatic AI picture enhancer. 
Pros:
Powered by AI
No download required
All-automatic settings are user-friendly
Cons:
Free version produces images with watermarks
There is a pop-up of VanceAI Image Enhacner on the right side for trials. If you get interested while reading it, don't hesitate to try and discover how it can revolutionize your pic. (Sign up can get 3 credits/month for Free. Click on "×" can exit the mini workspace and return to where you are reading.) Also, you can download the software to use.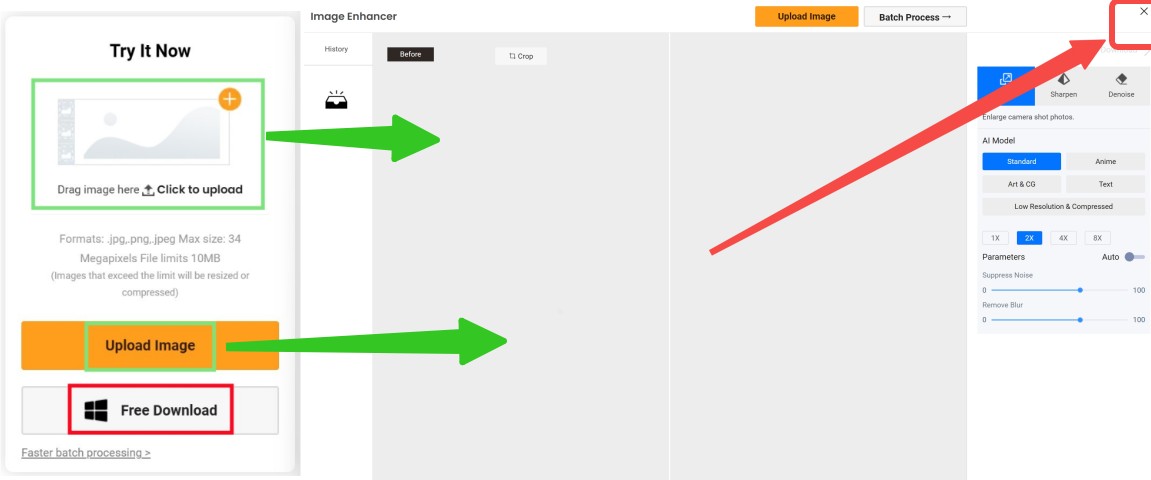 2. Befunky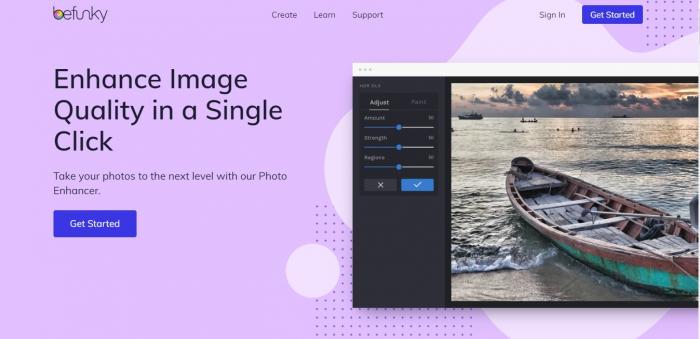 Befunky app is similar to Remini, which allows you to fine-tune your image in a simple, easy-to-use app. Its interface is intuitive and streamlined—everything is within reach at the touch of your finger. Whether you want to crop, straighten, or enhance an image, Befunky has got you covered. 
And it's free! There are countless ways to be creative with apps like Befunky. Don't miss out on this Remini app alternative if you use that as your go-to photo editing tool. Click on Befunky and you will know more.
Pros:
Better stock photos than Canva 
Great tool for hard copy brochures/flyers/collage pictures, etc.
Cons:
Limited options available in the free trial
No freestyle collage option
3. Letsenhance.io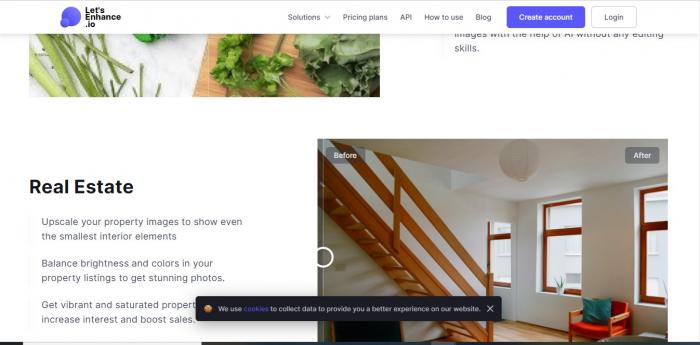 Let's Enhance is one of my favorite apps for photo editing, especially for people who aren't well-versed in using Photoshop or other complex photo editing software. Let's Enhance is one of the best apps similar to Remini. The app contains a lot of options for improving your photos, such as balancing light levels and removing red-eye from flash photography. 
The price ranges from $ 0.99 to $4.99 per filter pack, depending on what you're trying to accomplish with your photo. You can also upgrade to premium versions if you want more filters and effects; they range from $1.99-$13.99 depending on what suits your needs best!
Pros:
Have a powerful AI system
100% automatic and fast
Cons:
Mandatory login required
Price is high 
Customer service is limited
4. Adobe Photoshop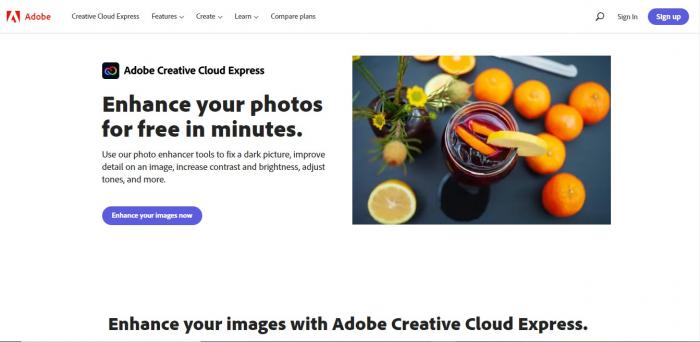 An image-enhancement feature in Adobe Photoshop Express lets you quickly adjust color and brightness. For example, if you're in a rush or are happy with your image as is, you can use these simple tools to enhance pictures for sharing on social media. 
If you're editing a photo for professional use, though, it's best to skip these features altogether—or invest time in mastering more powerful photo editing software. That said, Adobe Photoshop Express does offer more robust features than those found in free mobile apps like Instagram, WhatsApp or Snapchat. 
You can also apply different creative effects to images (and even edit video). But for serious photographers looking to make comprehensive changes to their photographs, there are other programs worth considering.
Pros:
The improved color rendering system
Top-notch features
Cons:
5. AI.Image Enlarger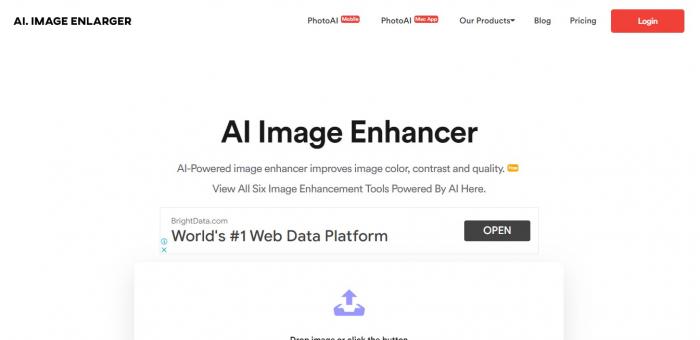 AI.Image Enlarger is one of the best apps similar to Remini. A faster and better alternative to Remini It creates a cloud-based version of your image, removing unwanted details while keeping important ones. 
This can be used for enlarging anything from pictures taken on your phone to photos from when you were much younger. You can use it to crop out any parts of a picture you don't want as well as change its overall look and feel. You can even add text or effects!
Pros:
Credits are not expensive
Easy to use
No ads
Cons:
Lengthy processes of signing up
Sometimes the output is distorted 
6. FotoJet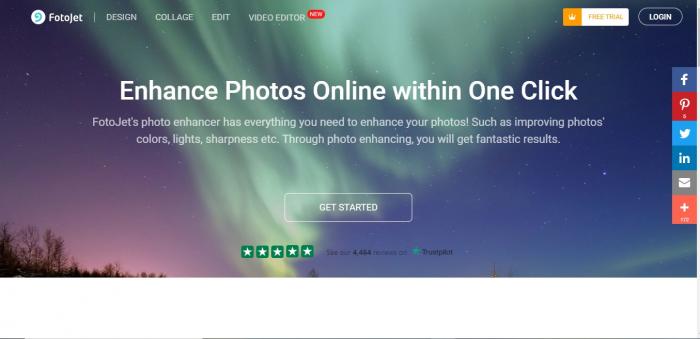 FotoJet photo editor is an application that makes it easy to edit photos and add effects. FotoJet is one of the most easy-to-use apps similar to Remini. Editing tools are easy to use, and you can apply tons of cool filters and effects to your photos. You can also perform functions such as rotating, resizing, cropping, adding text or borders, and straightening crooked images using perspective correction technology. 
This app supports different output formats such as JPG, PNG, GIF, and WebP. In addition, even though it's free now, there are some paid features available for purchase. For example, you can remove ads from your pictures for $0.99.
Pros:
Well-mannered photo effects
Easily shareable photos
Cons:
No mobile supported 
Need an easier way to customize photos
7. AVCLabs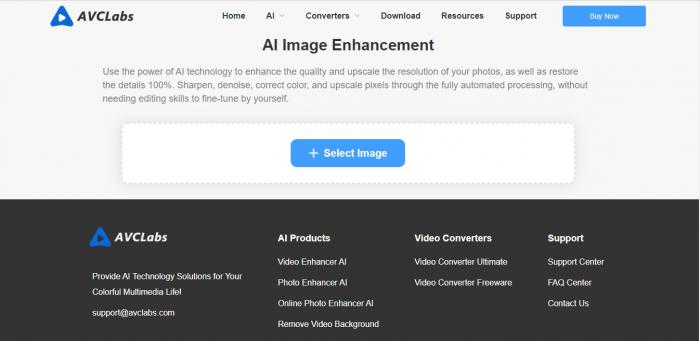 With AVCLabs, you can enhance the quality and increase the resolution of your photos as well as restore the details 100%. There are dozens of apps with similar functionality but none come close to matching it in terms of customer experience and ease of use. 
While there may be other apps out there with more filters, they don't get close to what other apps like Remini photo enhancer can do. This includes applying an automatic enhancement algorithm, allowing you complete control over changes made to your photos. If you are not satisfied with the result, you can use some tools to make photo hd.
Pros:
Color Enhancing
Easy UI to understand
Background enhancing
Cons:
Time taking
Need more options
8. DeepImage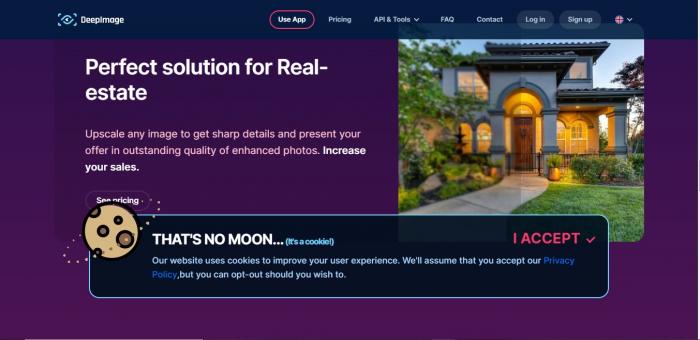 For photographers who'd like to quickly retouch their photos, Deep Image is a great app alternative. Although similar to other apps like Remini, Deep Image employs more advanced image-enhancing features than most of its competitors.
The app also has a very user-friendly interface and lets you edit your photos from within its own app or through VSCO, Photoshop, or Lightroom.
Pros:
Top resolution without quality loss
Best for e-commerce
Cons:
9. Fixthephoto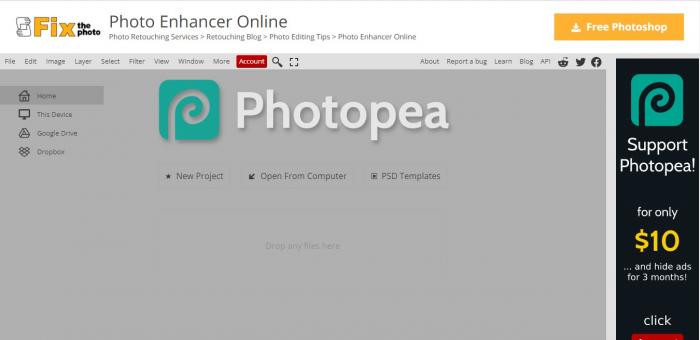 Let's face it: No one wants to be that guy or girl in photos. If you're not smiling, or have your eyes closed, a friend in a group photo blocking someone else in another picture and looking at them like they're crazy, or if you took a candid photo and something is just slightly askew—you get the point. 
Luckily, there's a website for that, Fixthephoto! It is one of the best apps like Remini photo enhancement for fixing skin blemishes in portrait photos automatically. Make the skin look smoother by removing pimples and adjusting the shape of the face online. What's more, this is a free apps like Remini with the same function.
Pros:
Easy to use
PSD templates available
Free
Cons:
Limited features available
10. Pho.to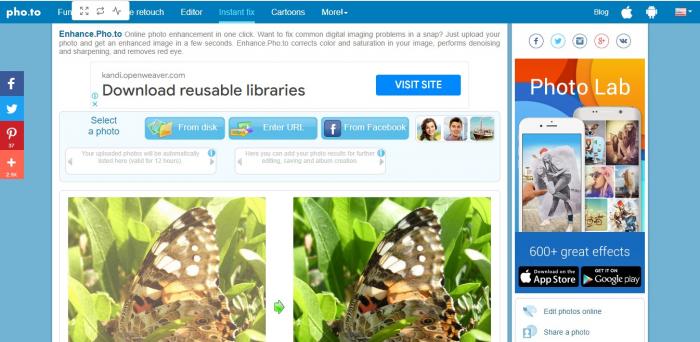 Pho.to is a free online photo editor that makes it easy to remove red-eye and whiten teeth, straighten pictures, change color tones and add effects like shadows, borders, and glow to your photos. It is quite a versatile tool that works across all devices (smartphones, tablets, and computers). This is a free apps like Remini with the same function. You can create a free account by signing up with your email id or Facebook login credentials. 
By creating an account on Pho.to you have unlimited access to their cloud storage space where all your creations are automatically saved without any hassle of backing them up anywhere else!
Pros:
Cons:
A lot of ads
Limited features
Conclusion
There are a lot of apps like Remini out there, but not all of them are good. You should take the time to find out which ones are worth your time and which ones will just waste it. We have listed the top 10 Remini App Alternatives that you can download right now, no matter what kind of phone you use. Download any of these and enjoy the benefits they offer! Let us know in the comments which app you like! Read more: Remini Online Review-A Free Picture Enhancer APP
FAQ
What
is the best picture enhancer?
Now, VanceAI Image Enhancer has emerged as the best picture enhancer. It generally helps you enhance picture quality and strengthens the details of your photo within a few seconds. Moreover, it also enables your photos to become high-resolution ones in a visual manner, though it doesn't happen in fact. While enhancing a photo, a picture enhancer from VanceAI will not alter the original size. In addition, it also supports you to enhance a large number of photos at a time in the workspace, which is a major advantage of the tool. You just need to enter the official website of VanceAI and choose VanceAI Image Enhancer. After a few seconds, you will get the enhanced effects discussed above. That is why VanceAI Image Enhancer can be considered the best picture enhancer.
Do you find this post helpful?
Read More to Know Deeper: