Still wonder why your e-commerce website cannot attract more traffic? Maybe have a check on your product images, which are vital to customers' impression of your brand. Those with low-resolution images can be seen as untrustworthy and unprofessional. How to enlarge your product image resolution without quality loss? This article will introduce you to a photo enlarger that is powerful and easy-to-use-Let's Enhance io and its best alternative VanceAI Image Enlarger.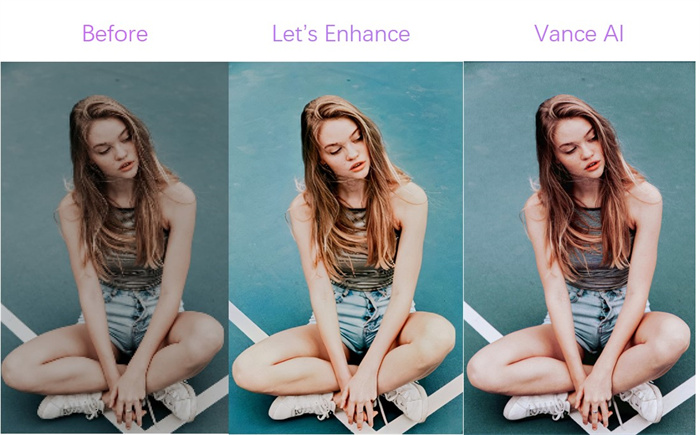 Also read: How to Increase Resolution of Image?
Let's Enhance io is an AI-powered tool to increase your image resolution automatically and quickly.
How to use Let's Enhance io?
With Let's Enhance io, it is very easy to enlarge your low-resolution images by following the steps below.
Step 1: Create a Let's Enhance account before use it
Go to the Let's Enhance website and click "Try for free" or the upload icon. A dialog box will show up that requires you to create an account with your email or Google or Facebook account.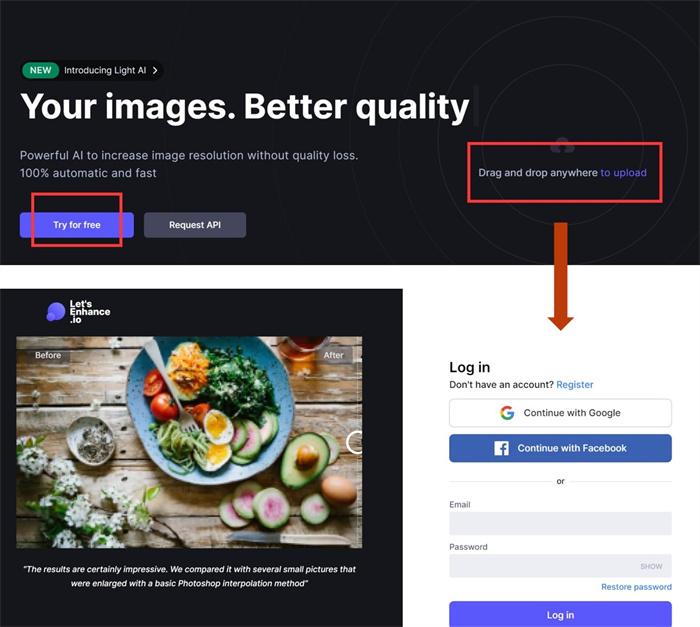 Step 2: Drop your images and import them to Let's Enhance
Click the middlebox on this website to browse and drop an image.


Step 3: Choose the upscale type and size for your image
There are three upscale types, Photo, Digital art, and Smart Enhance to meet your different requirements to enlarge low res image. "Smart Enhance" is recommended for general pictures. Besides, this tool supports you to upscale the image by 1x, 2x, 4x, 8x, 16x. Select the one you like.


Step 4: Choose other AI features (Optional)
Besides upscaling, this powerful tool also has many other AI-powered options for you to furtherly enhance the image details. You may apply them to start your processing.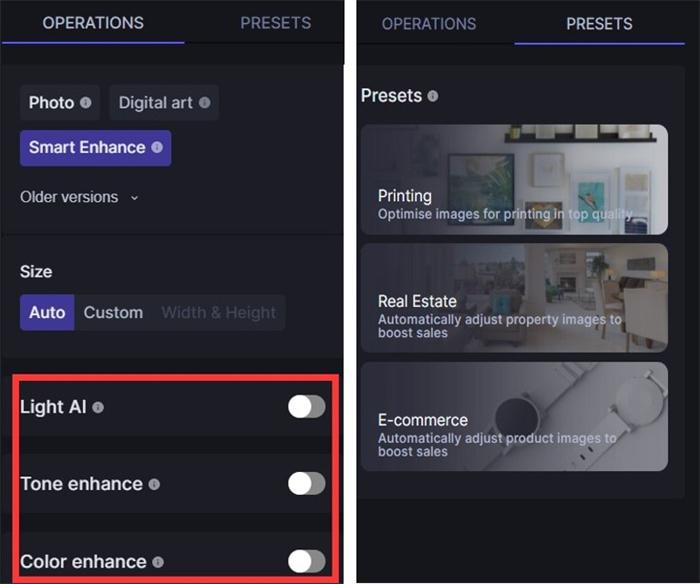 Step 5: Apply the adjustment
Hit the button "Start processing" to get your enlarged image.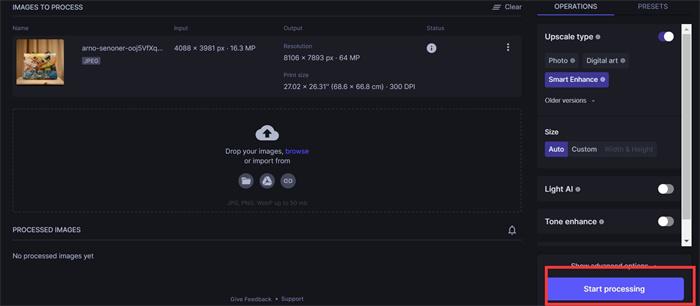 Step 6: Save the Result
Click the download icon to save the result.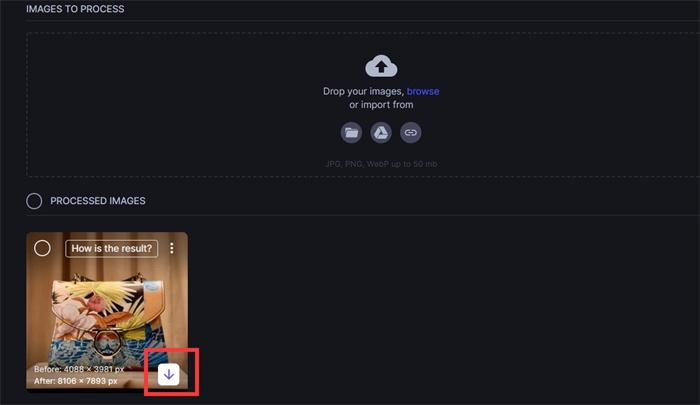 What makes Let's Enhance differently?
Compared with VanceAI, Let's Enhance mainly focuses on enlarging photos with multiple AI featured options to enhance the photo details. With advanced and unique AI algorithms, it offers users various customized solutions to meet their different requirements. Besides, its user interface is clear and simple making it quite friendly to beginners. By using it, you can enlarge your low res image in just a few clicks without quality loss.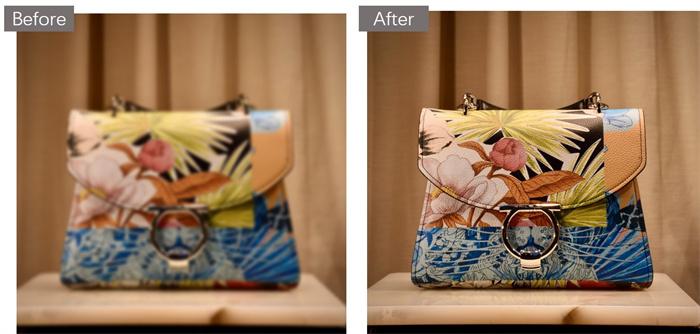 How does Let's Enhance work?
The tool is really easy to use by offering you several customized upscaling types and applications to meet your different requirements. You can enlarge your low-resolution image by 1x, 2x, 4x, 8x, and 16x without sacrificing image quality. Also, you can apply different features to your image to enhance the image details.
Best Let's Enhance.io Alternative
If you are confused with the multiple AI featured options of Let's Enhance.io, a simpler but still powerful image upscaler- AI Image Enlarger is here for you.
Also read: How to Effortlessly Change Resolution of Picture with Vance AI Image Enlarger?
How to use Vance AI Image Enlarger
Vance AI Image Enlarger allows you to get a high-quality enlarged image in only three steps, as shown below.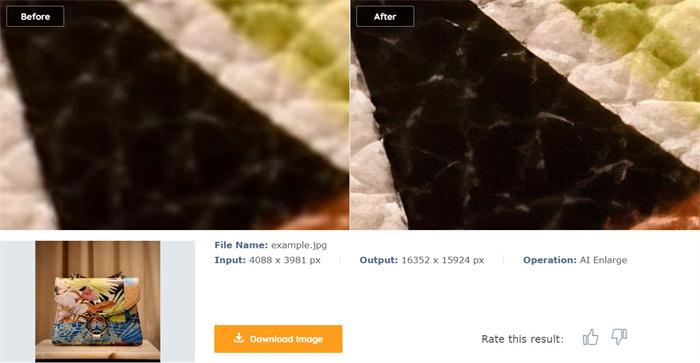 Step 1: Drag and upload your image in Vance AI's enlarge image tool
Go to the Vance AI website and choose AI Image Enlarger. Upload an image you want to enlarge.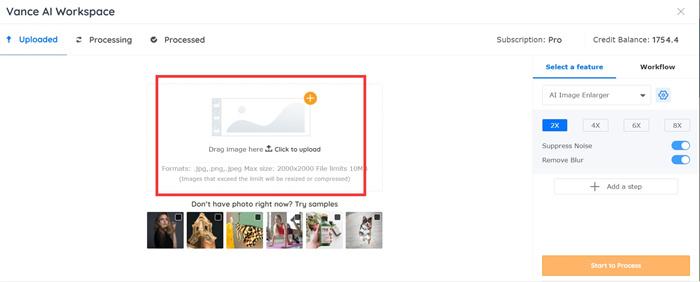 Step 2: Start Processing
Choose the size you want to achieve and click on "Start to process" to get your enlarged image.


Step 3: Save the result
You may preview the result before downloading it.

FAQs
1. Is Let's enhance free?
Let's Enhance has its own credit system. You can use Let's enhance free for 5 images at once. When you use up your let's enhance free times, you have to subscribe monthly. Charging $9, $24 and $34 respectively support to the process of 100, 300, and 500 images a month.
2. How long does Let's Enhance io take?
With powerful AI supports, it can process the image 100% automatically. Only a few seconds after applying the adjustment, you may get an enlarged image.
3. How do I make my photos 4K?
Under the "Size" option of Let's Enhance and select "Custom" to choose 4x after uploading your image. Then start to process and you can get a 4K image. Note that the Smart Enhance upscaling type does not support an upscaling size of more than x2. You may choose other types to make your photos 4K.
Conclusion

With the fast development of e-commerce, a powerful AI enlarger tool like Let's Enhance is essential for website owners to process their product images in an intelligent and convenient way. Besides increasing your image resolution, it is also useful to enhance image details with customized options to ensure image quality. As an alternative to Let's Enhance, Vance AI Image Enlarger is simpler and performs well in upscaling. Even if you have little knowledge of photography, you can still obtain an impressive high-quality image by using it in just a few clicks.