E-commerce platforms still in their infancy often say goodbye to low-resolution images. The developing e-commerce platforms have to post a large amount of product images on websites as they roll out new products including affordable clothes and shoes from time to time. Although the mobile phone is usually used as a quick fix to deal with such a huge task, it leads to low resolution images after images are enlarged in most cases. But luckily, VanceAI Image Upscaler, the best alternative to Let's Enhance, may be a panacea for a batch of low-resolution images with a single click
What is Let's Enhance?
Let's Enhance is an AI-powered tool to increase your image resolution automatically and quickly. The tool is really easy to use by offering you several customized upscaling types and applications to meet your different requirements. You can enlarge your low-resolution image by 1x, 2x, 4x, 8x, and 16x without sacrificing image quality. Also, you can apply different features to your image to enhance the image details.
How to use Let's Enhance?
Step 1: Create a Let's Enhance Account
Go to the Let's Enhance website and click"Try for free"or the upload icon. A dialog box will show up that requires you to create an account with your email or Google or Facebook account.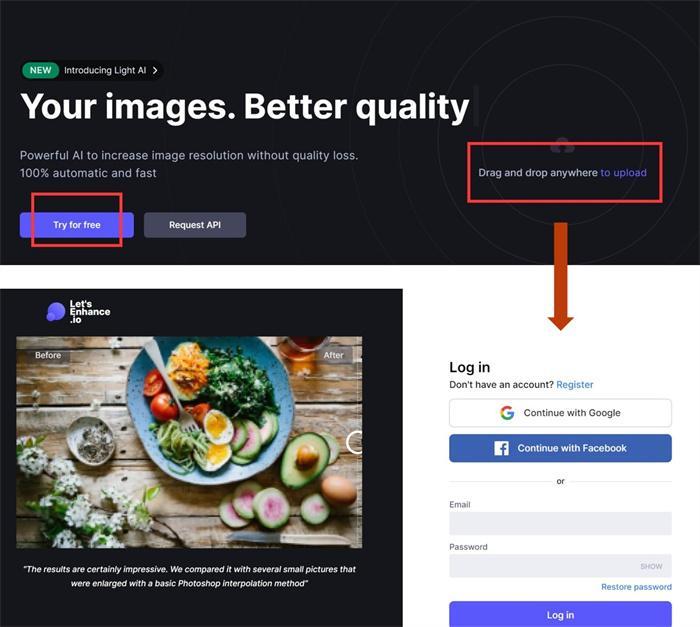 Step 2: Upload an Image
You can drop your image and import it to Let's Enhance. And then click the middle box on this website to browse and drop an image.

Step 3: Enhance the Image
There are three upscale types, Photo, Digital art, and Smart Enhance to meet your different requirements to enlarge low res image."Smart Enhance"is recommended for general pictures. Besides, this tool supports you to upscale the image by 1x, 2x, 4x, 8x, 16x. Select the one you like. Afterwards, you can click the button Start processing.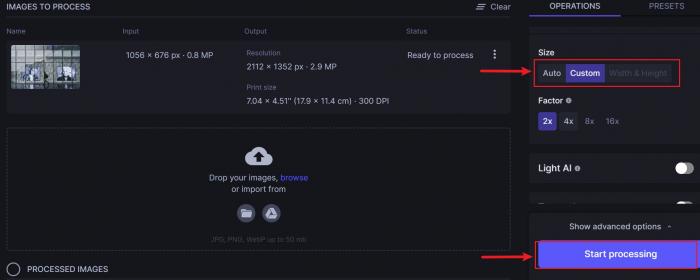 Step 4: Download the Enhanced Image
After hitting the button"Start processing"to get your enlarged image. You need to click the download icon to save the result.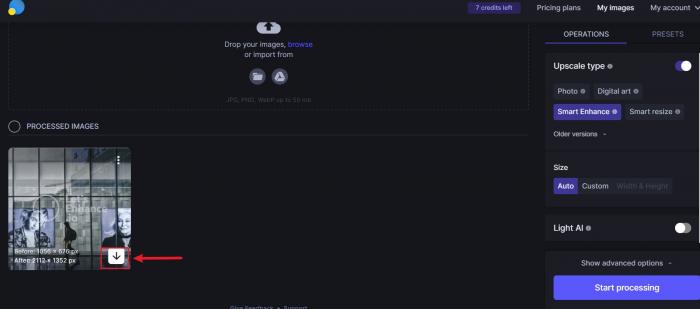 Best Let's Enhance Alternative
VanceAI Image Upscaler is absolutely your desired option to enhance the resolution of your images. If you want to get rid of the intricate AI featured choices Let's Enhance offers, the image enlarger will be good for you. With just one click, you can turn low resolution images into high resolution ones. Let's enjoy the magic of the image enlarger by following the simple steps below.
How to use VanceAI Image Upscaler
Step 1: Go to VanceAI Website
At first, you need to enter the website VanceAI for image optimization. Then you can see Workspace on the right of the navigation bar. You may just click VanceAI Workspace here.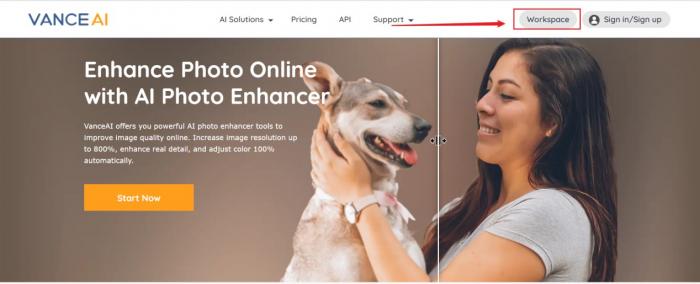 Step 2: Upload an Image
Now you should select AI Image Enlarger among features. It will maximize your images while maintaining the original quality. After that, you can drag your image to the central box to upload your image. The tool is able to enlarge your images online from 2x, 4x, 6x to 8x while keeping their original clarity.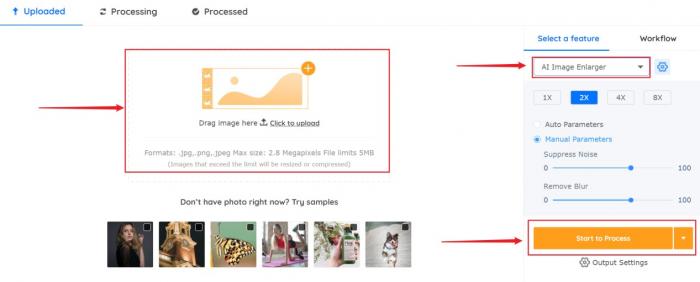 Step 3: Preview and Download the Result
You can download your picture from the Image Enlarger interface within a few seconds. Press the button Preview, you may compare the effect of the original picture with that of the processed one. For instance, the pictures of the two persons in the screen are a little big vague and blurry. In contrast, they seem to be easier to be recognized in the After picture with the aid of the AI Image Enlarger.
Of course, you can also directly download the enlarged result. Preview options are used to just make sure that the processed image satisfies your need. Finally you can press Download Image to get your desired result. VanceAI Image Upscaler will give you the perfect picture with high definition despite the enlarged output.

Why choose VanceAI Image Upscaler?
The two images below about the same cardboard box have been upscalled by Let's Enhance, respectively. It is not difficult for you to choose VanceAI Image Upscaler as your best option by comparing the two results. For one thing, the enhanced image by VanceAI technology has achieved a higher resolution than that by Let's Enhance. While ensuring high-quality images, VanceAI Image Upscaler also focuses on enhancing photo contrast and details by sharpening, denoising and upscalling targeted images. That is why the Image Enlarger is more likely to produce more stunning results. For another, in terms of usage, Let's Enhance involves more steps though it indeed has many features. But VanceAI Image Upscaler can achieve the same or even better result with simpler steps.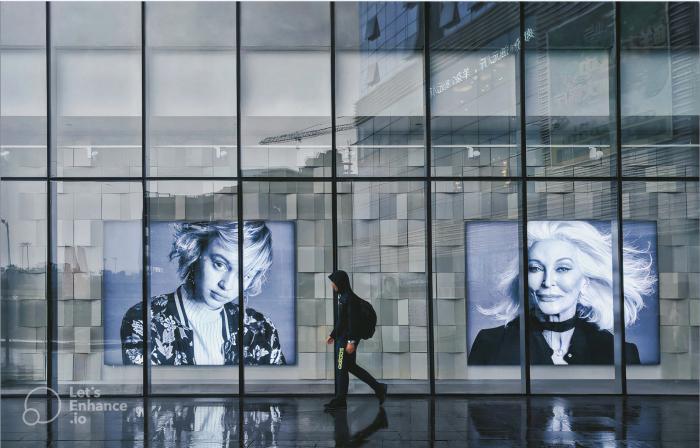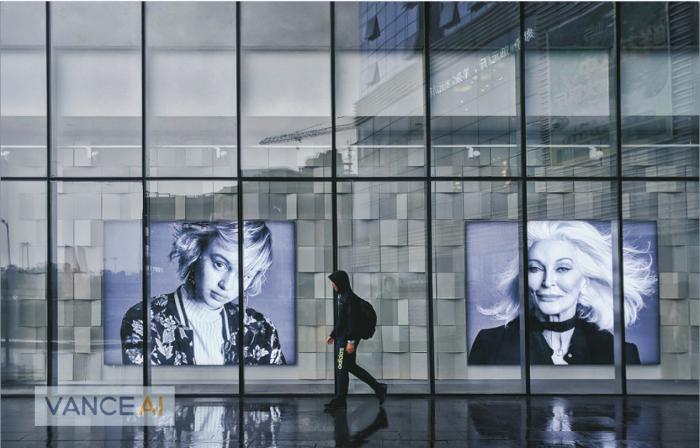 FAQs
1. Is Let's Enhance free?
Let's Enhance has its own credit system. You can use Let's enhance free for 5 images at once. When you use up your let's enhance free times, you have to subscribe monthly. Charging $9, $24 and $34 respectively support to the process of 100, 300, and 500 images a month.
2. How long does Let's Enhance take?
With powerful AI supports, it can process the image 100% automatically. Only a few seconds after applying the adjustment, you may get an enlarged image.
3. How do I make my photos 4K?
Under the "Size" option of Let's Enhance and select "Custom" to choose 4x after uploading your image. Then start to process and you can get a 4K image. Note that the Smart Enhance upscaling type does not support an upscaling size of more than x2. You may choose other types to make your photos 4K.
Conclusion
With the rapid development of e-commerce, a powerful AI enlarger tool like Let's Enhance is essential for website owners to process their product images in an intelligent and convenient way. As an alternative to Let's Enhance, VanceAI Image Upscaler is apparently simpler and involves more functions. Even if you have little knowledge of photography, you can still obtain an impressive high definition image by using it with just a few clicks.
Do you find this post helpful?
Yes
No