The new-coming AI Photo Colorizer from VanceAI is designed to colorize old photos, specifically black and white photos. This AI Photo Colorizer can add color naturally and consistently after being trained with millions of sample photos. Try to colorize photo with VanceAI and give the old photos a completely new look.
How to Change Color in Photoshop?
Photoshop from Adobe is one of the most popular image editing tools for its intricate design and near-flawless performance. However, it is also notorious for being one of the most difficult and confusing pieces of software. In this segment, you will see how to change the color of an image. You'd obviously first need to launch your software and have the image ready on the application.
1. Create a layer from the Layer menu on the tab. It will make the image editable.
2. There will be a special Black & White adjustment layer which you can use to convert the image to a coloured one. Just use the settings to adjust as you like.
3. You can also use paint brushes to simply colour onto the parts that you want colored. Just press-hold and drag the cursor over.
After editing, you only need to save the image from the application. Photoshop supports many image file formats so though you can change color of png online, you can also opt for Photoshop. This tool is still a professional one nonetheless and it can surely take some time to learn it. Photoshop offers multiple ways of colorizing an image consequently making it more feature-heavy as well as complicated. Regardless, it is a solid software that's worth getting into.
10 Best Color Changers List
1.
Algorithmia
Price: Algorithmia offers its color changer tool for free to use. You can purchase their Enterprise packages for extra features anyway. The bills are calculated per process but there is a complete package for $299 as well.
Compatibility: The applications from Algorithmia are both online and offline. The colourizer tool is usable online for free on browsers. You can also sign up and get a demo software if preferred.
Features:
The online tool lets you upload images either by pasting URL links into the textbox or from your device.
It is made by Computer Vision and AI technology, both used with the focus on scoping out objects from images.
The process to colourize images is automatic and doesn't need additional work from users.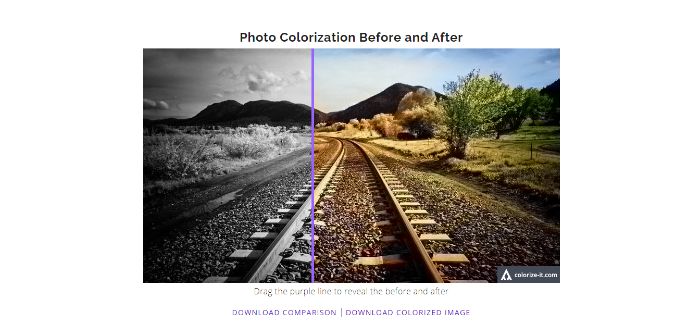 How to use:
1. Visit the site through the link given above on the name.
2. Upload an image by pasting a link or from the device and click on Colorize It.
3. You can then click on Download Colorized Image below the image to download.
Pros:
Easy to use.
Automatic process.
Cons:
Doesn't have any features.
Price: Colourise is fully free to use. Furthermore, it does not require any downloads or sign-ups either.
Compatibility: Colourise will work online on browsers and works fine on mobile browsers too.
Features:
This application uses advanced algorithms and technologies such as artificial intelligence and deep learning to ensure top quality images for users.
You can easily upload images by drag and drop or uploading by locating from the device. Other than that, it automatically resizes resolutions that do not meet its limits, which can be helpful in some cases.
Thanks to its technology, this tool automatically colors images for you.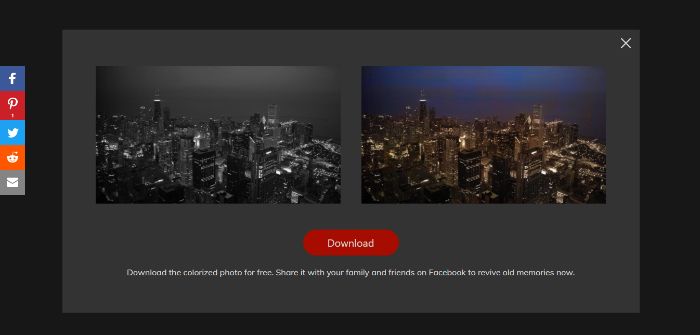 How to use:
1. Once you reach its home page by clicking on the link given, click on the Start Now button.
2. You will see a box that asks you to upload an image. After you upload, the tool will process the image and show you the output.
3. Click on the Download button below the image to save it to your device. You can also share them on social media if you want.
Pros:
The tool is precise.
Responsive and easy UI.
Cons:
3.
LunaPic
Price: LunaPic is completely free to use.
Compatibility: You can use this color changer application online on browsers.
Features:
LunaPic is basically designed as a desktop software usable through a website. You will find multiple ways to change image color in this application.
You can edit specific parts of an image and undo any changes that you did not like.
You can edit your images with many classic artistic filters, same for black and white images.
You can share your work on social media directly from LunaPic.
How to use:
1. Click on Upload from the top left bar on the page and use the button to upload an image.
2. The application will open the image. Go to Filters and choose Color Gradient.
3. Select the two gradient colours and Apply. Scroll below and click on Save to download the image.
Pros:
A whole list of features.
Artistic filters.
Cons:
It doesn't change color in full detail.
Also read: Top 10 Pictures to Coloring Pages Tools Review
4.
AKVIS
Price: Akvis software works on a free trial so you can use it for free if you are looking to immediately change colours else you can buy it starting from $75.
Compatibility: It is a software application that supports Windows and Mac Operating Systems.
Features:
It is a light software but still has considerable features packed in it.
You can manually set the colour markers which help in finely detailed images.
You can share your work on the Internet from the application itself.
There is a sketch feature and a colour library that takes colours as seen from the environment for a more natural aesthetic.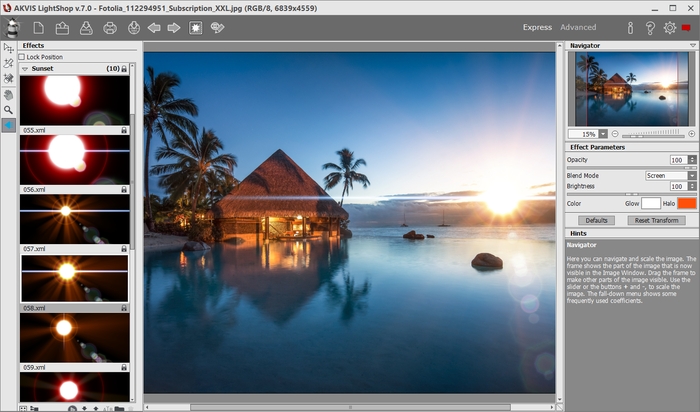 How to use:
1. Launch the application and choose Open Image to upload the image.
2. Use the brush and mark the areas that you want to colour.
3. Click on the Run option from the upper tab and then choose Save Image As to download the image.
Pros:
Free to use temporarily.
Light software and has good features.
Cons:
It is confusing to use and the UI is cluttered.
5.
Hotpot
Price: Hotpot can be used for free.
Compatibility: This color changer online application works on browsers.
Features:
It features many popular online tools besides the colorizer such as background remover, art personalization tool, etc.
You can alternatively use its image restoration tool to specifically colorize old colourless photos.
You can contribute difficult photos to the website to help its tool improve.
It works on AI so the process to change colours is automatic.
How to use:
1. Scroll down and click on the Upload button to upload an image.
2. Set the bar to any numerical value you see fit.
3. Wait for it to process and then click on Download below the image to save the image.
Pros:
One of the easiest to use and quickest as well.
The tool is really accurate.
Cons:
The Colorization Factor settings don't change the output much.
6.
ImageColorizer
Price: You can change image color upto 8 times at once for free or purchase a Premium or Professional pack that cost $6 per month and $19 per month respectively.
Compatibility: Image Colorizer has an online and software tool. The software tool supports Windows and MacOS.
Features:
The application supports upto 3000x3000 image resolutions, upto 5 MB image size, and jpg, jpeg, and png image formats.
The application will change image color automatically.
Drag and drop of files is possible.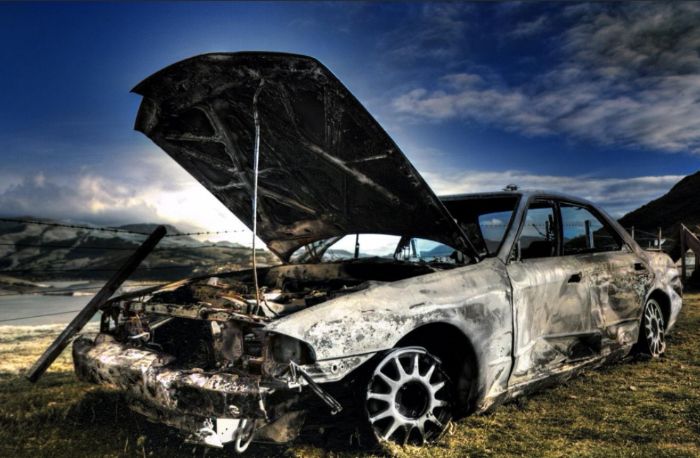 How to use:
1. When you reach the website, you will see two green buttons below the images. Choose Image Colorizer.
2. This will take you to the upload page wherein you just need to click on the box or drag and drop an image to proceed.
3. The application will soon show your original image below, click on Start and then click on Download to view and save the output image.
Pros:
Powerful online tool.
Offers a colorizer and an enhancer.
Cons:
7.
Playback
Price: This is a free to use color changer tool.
Compatibility: It is an online tool that works on browsers.
Features:
Automatic image processing due to deep learning techniques.
Deletes images after a while since upload to maintain user privacy and security.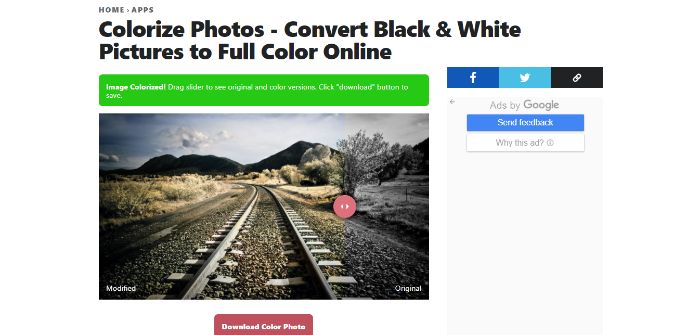 How to use:
1. First, scroll down and click on the Upload Photo button in blue.
2. Wait for the application to process the image. Once it is done, it will display the output.
3. Click on Download Color Photo to save the image.
Pros:
Simple process.
Shows a comparison before you download the image.
Cons:
The quality is not really up there.
8.
MyHeritage
Price: MyHeritage can change image color for free. For extra features, you can opt to make a premium account.
Compatibility: It works online on browsers.
Features:
It powers one of the finest deep learning algorithms in order to colorize old photos.
It is also an automatic color changer tool that requires no downloads from the user.
Though you need to sign up for free first, it is quick and it asks so for user security.
It offers other features related to family lineage.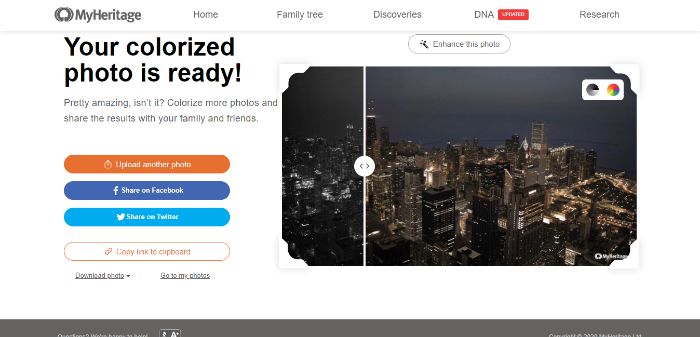 How to use:
1. Visit the website by using the link given and click on Upload Photo once there.
2. It will open up a prompt to sign up which you can, by using Facebook, Google, or their website all for free.
3. The tool will process your image and display output. Select Download Photo written to the left bottom side to save the image.
Pros:
It is free and offers different kinds of features.
Users can instantly share their images on social media.
Cons:
A sign up is required to use it.
9.
DeepAI
Price: DeepAI is a free to use API of which you can view documentations on its page, if you are techie yourself.
Compatibility: It works online on browsers.
Features:
It can work on normal black and white images and old family photos as well.
It also offers colorization of videos with frame by frame edits.
As the name says, it uses Deep Learning methods to automate the entire process.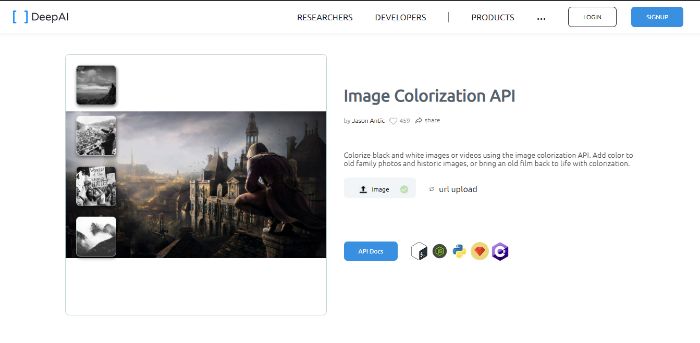 How to use:
1. Visit the page by clicking on the link given.
2. Select a file or paste a URL link through the options given.
3. Once the application has processed the image, right-click on the image to save it.
Pros:
The tool is remarkable at colorizing images.
It works smoothly.
Cons:
10.
ColorizeImages
Price: The app has a limited amount of free uses. You can upgrade it later through the application itself.
Compatibility: It works on Android Operating Systems.
Features:
Though a paid feature, you can get access to editing options.
You can share your output image directly from the application.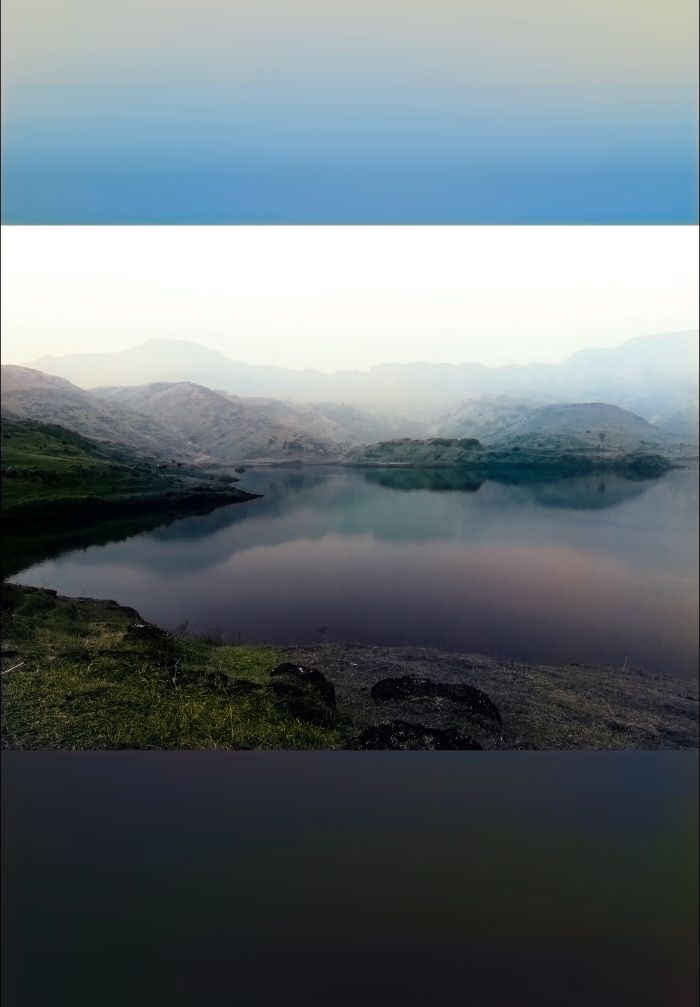 How to use:
1. Launch the application and tap on the upload icon.
2. Choose any image you want and proceed.
3. The application will process the image and display the output.
Pros:
Cons:
Free for a limited amount of uses.
Conclusion
These tools are available online and as pieces of software, so they cater to your convenience. Additionally, most of them are free to use as well. It is astonishing to see such comprehensive applications, capable of pulling off the most difficult of conversions, yet be so easily accessible for all kinds of users. You can use any of these tools to do the job, however, DeepAI, Colourise.com, and Algorithmia were particularly a stand-out considering all aspects. Want to find more details about colorizing photos, click and read our another article How to Recolor an Image with VanceAI.
Do you find this post helpful?
Yes
No