Chinese ancient paintings are a uniquely structured piece of art. Almost all of the ancient painting mentioned in this article consists of lifelike features and expressions. The people who find interest in Chinese ancient paintings will find this article helpful.
Using AI photo enhancer will make your artwork and paintings high-quality and make photo hd. This will be done by maximizing image resolution and enhancing facial features in the painting. Find helpful steps in this article for editing your art.
Restore Old Masterworks With VanceAI Photo Restorer
You can now restore old photos easily without the hassle of complicated editing procedures. VanceAI Photo Restorer brings the user ease and comfort by restoring photos in less than ten seconds, automatically.
The old photo restoration feature allows the user to remove scratches, spots, fractures and sepia from the photos with the help of AI technology. When the user has recovered the old photo and restored it from VanceAI, they can use another feature called, image colorizer to add color to the image.
To bring life into an image, vivid and sharp colors are extremely important. VanceAI Photo Colorizer allows the user to add colors and sharpness to an image to make it look lively. You can colorize ancient Chinese watercolor paintings with the help of image colorizer.
The following video and steps will guide you on how to use the photo restoration feature in less than five steps.
Step 1
Go on the VanceAI Photo Restorer feature page, then click on Upload Image.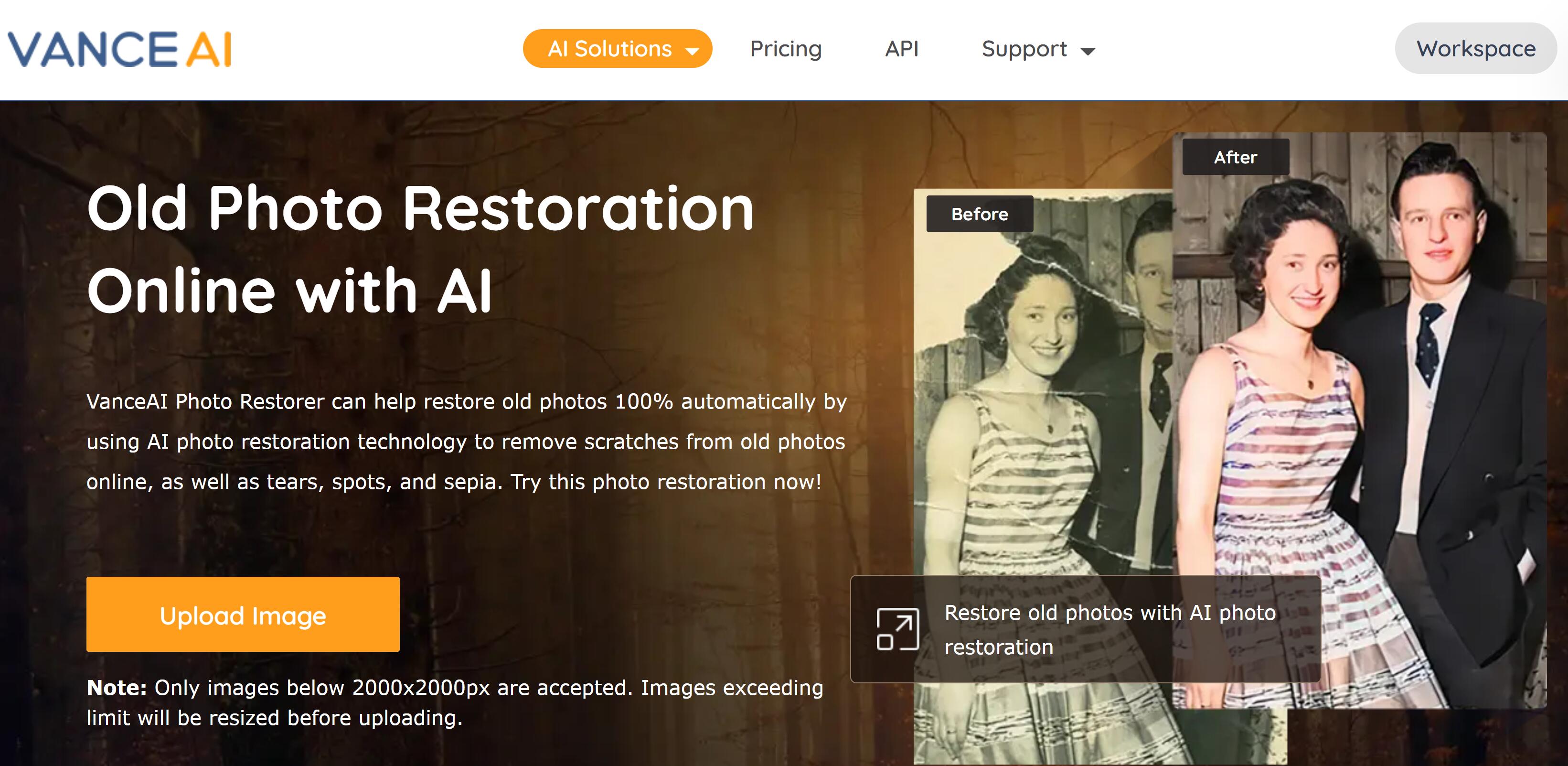 Step 2
Process the image, you can add additional steps according to the photo's editing requirement. Learning how to use AI tools to finish photo repair is likely to produce better results.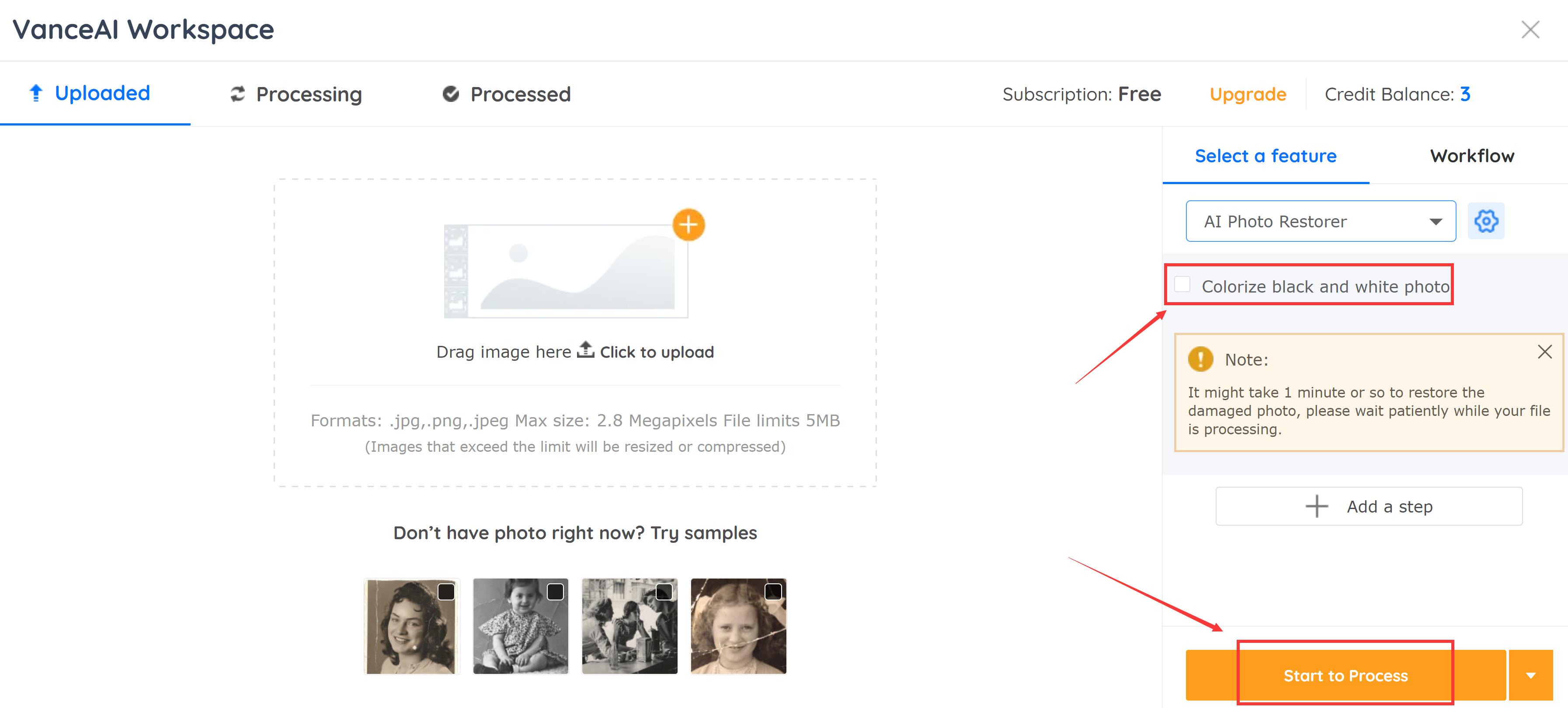 Step 3
Preview the final outcome of the restored ancient famous Chinese paintings.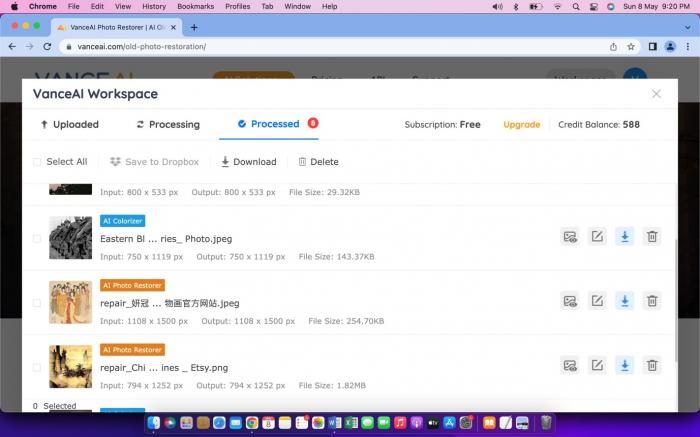 Step 4
Sign in to download the final result. You can edit and restore other ancient Chinese paintings, such as ancient Chinese scroll paintings.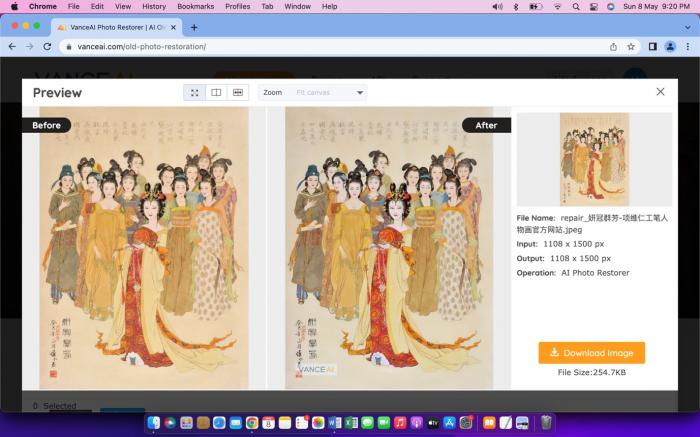 If you are interested, you can try to restore your image now or download it directly from the pop-up window on the right without leaving this article.
The final results show extraordinary editing skills of AI picture restorer. You can use other features to enhance the art work, such as image enhancer tools to increase image resolution and adjust color of the ancient famous Chinese paintings.
Best 10 Ancient Chinese Paintings
One thing about the following ancient Chinese paintings is that, all of them exude originality, uniqueness and charm. Every painter has done an excellent job at painting the now-called best ancient Chinese paintings. Read about the Chinese paintings below and find your favorite one.
One Hundred Horses
The painting "one hundred horses" is beautifully crafted by Lang Shining in the Qing Dynasty. This exceptional painting consists of hundred horses with unique postures who accurately imitate real life horses. The painting is collected by the National Palace Museum situated in Taipei.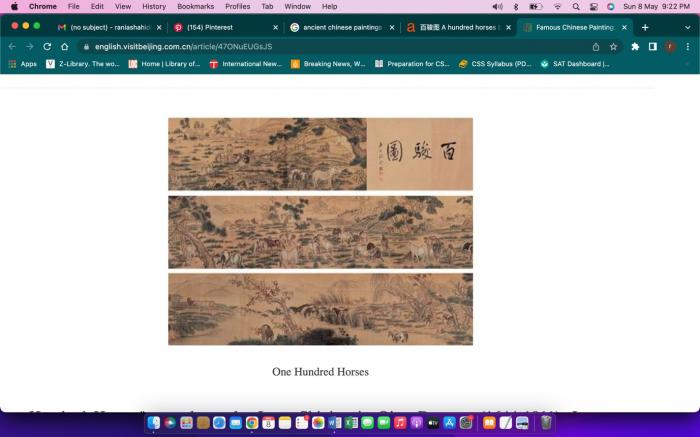 Nymph Of The Luo River
The painting by Gu Kaizhi is drawn on a large silk scroll. The artist belonged to the Eastern Jin Dynasty. The painting illustrates the romantic poem by Cao Zhi who was a poet during the times of the Three Kingdoms.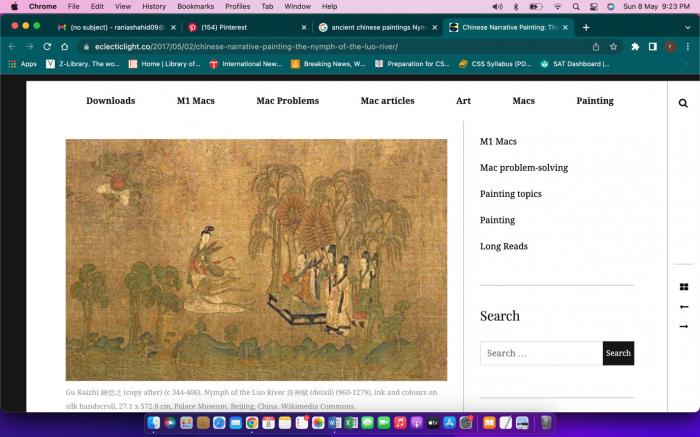 Noble Ladies In Tang Dynasty
Zhang Xuan and Zhou Fang of Tang Dynasty painted a serial of art work which depicted noble women of the Tang Dynasty. The painting showed the condition of the beautiful dignified and noble ladies, their peaceful, leisurely and lonely lives.
A Thousand Li Of Rivers And Mountains
Wang Ximang of the Northern Song Dynasty painted this piece of art. This painting is considered to be the most famous and greatest landscape painting of ancient China. The painting is part of the Palace Museum in Beijing.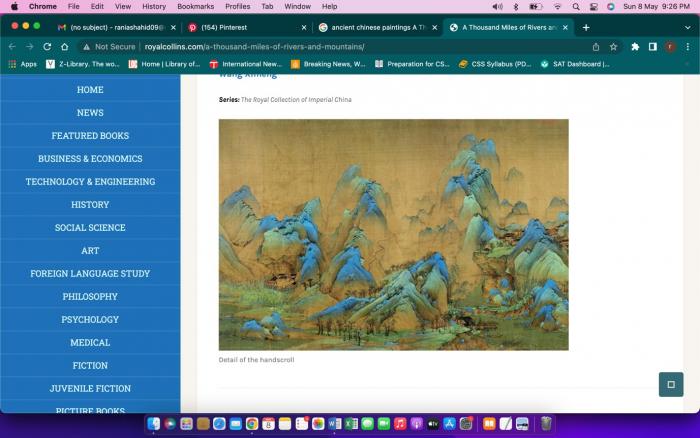 Riverside Sea At Qingming Festival
The painting is done on a large silk scroll. This piece of ancient art shows scenery of the capital city of Bainjing during the Qingming Festival. The Riverside Sea is declared national treasure and is showcased at the Palace Museum in Beijing.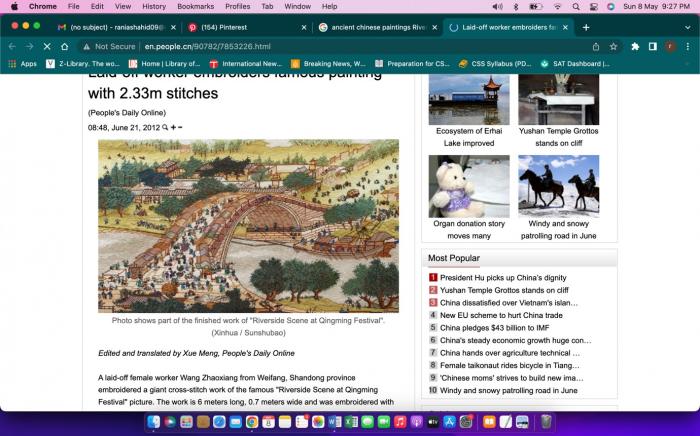 Dwelling In The Fuchun Mountains
The painting "Dwelling in the Fuchun Mountains" is done by ink. It is considered the most exceptional landscape painting done with black ink. One historical fact about the painting is that it was split in two pieces because of a fire. Both pieces are kept in separate places.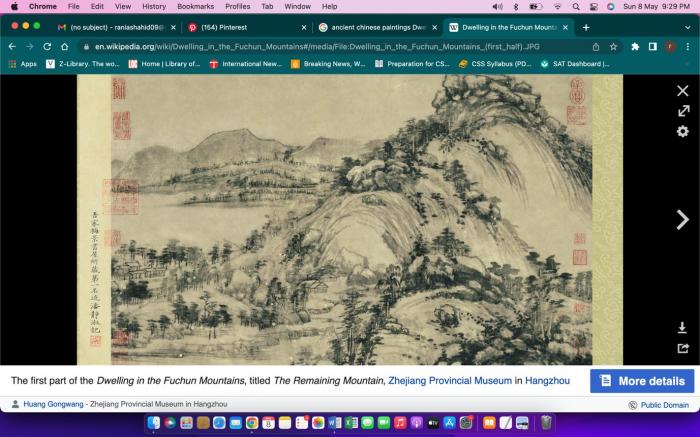 Spring Morning In The Han Palace
The painting is done meticulously and carefully on silk. Different characters in this painting are closely related to real life facial expressions. The painting is done on a dark and vivid background. Spring Mountain in the Han Palace is kept at the National Palace Museum in Taipei.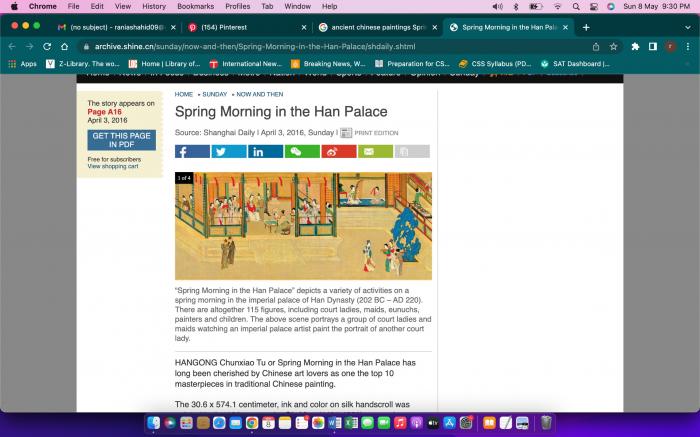 Emperor Taizhong Receiving The Tibetan Envoy
The painting was done by Yan Liben of the Tang Dynasty. This painting showed an amiable encounter between two dynasties, Tang and Tubo, in 641. The historical painting is one of a kind and is preserved at the Palace Museum in Beijing.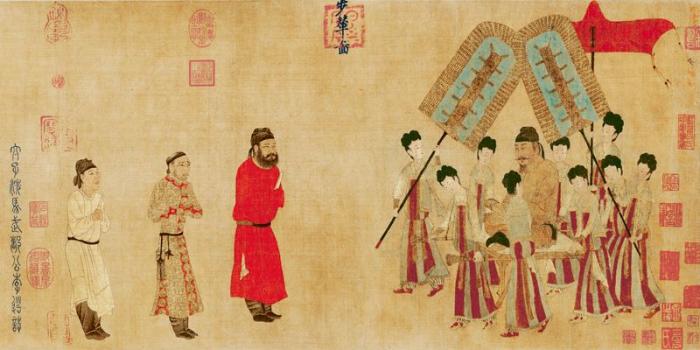 Five Oxen
A well-known Prime Minister of the Tang Dynasty, Han Huang painted "Five Oxen." The painting is considered an exceptionally unique painting of an animal in the history of China's art.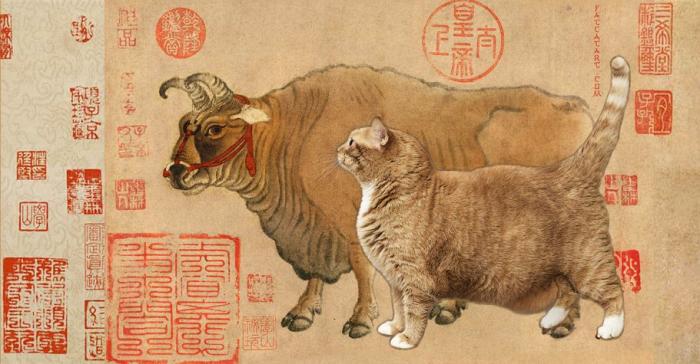 Han Xizai Gives A Night Banquet
The painting demonstrated Han's banquet. The piece of art is uniquely distinctive as it is divided into five portions to demonstrate the Han's banquet. It is considered as one of the most famous ancient Chinese paintings. The artist, Gu Hong Zhong painted it on a massive silk scroll. This painting is preserved at the Palace Museum in Beijing.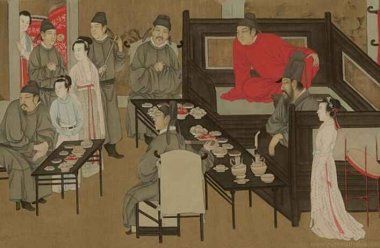 FAQ
Q. What are the 5 elements of Chinese painting?
We have heard of these elements before, earth, fire, water, wood metal and earth. All of these elements are essential part of Chinese art, especially paintings. The most famous Chinese painting technique uses the combination of ink and water, which creates endless possibilities for artistic expression.
If we observe with a different perspective, there are five basic elements used to create art. These include, line, shape, color, texture and space. Ancient Chinese paintings combined the basic elements with their art elements and created exceptionally beautiful historic paintings.
No doubt these paintings are unique in their own way, but ancient paintings tend to fade after a lot of exposure. If you want to hang a painting on your living room's wall, use photo enhancer to increase image resolution so that the painting quality looks clean and crisp for your room's wall.
Conclusion
The article contains information related to ancient Chinese paintings. If you are interested in historical art then you must read this article to increase your knowledge. Chinese ancient paintings can be replicated for your house walls. You just need to save it from the internet and enhance the image using ai photo enhancer or upscale the painting images online with AI image enlarger.
Or, you can use AI old photo restoration to restore ancient artwork and paintings. After restoring the old and scratched photos, use image colorizer to bring back life to the paintings by adding colors and sharpness to the artwork.
All of these features combined will transform the painting into a beautiful, clean and crisp art piece. Using AI image enhancer will make it a high-quality painting that can be hung on your room's wall. Hanging these ancient Chinese paintings will show your magnificent taste in art and historical paintings.
Do you find this post helpful?
Yes
No