What is Picsart?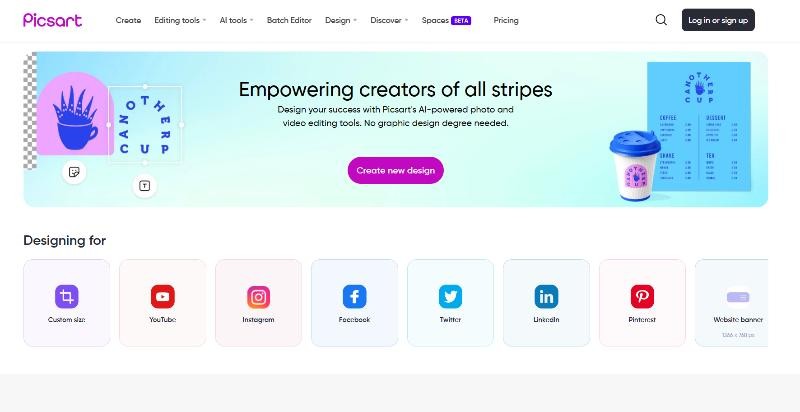 PicsArt is a well-known image editing and graphic design platform that provides a good set of tools and features for making and improving photos. It is available as both a mobile app and a desktop software, catering to a wide range of users, from casual photo enthusiasts to professional artists.
The PicsArt editor can be useful for a wide range of users, but one specific example would be a social media influencer or content creator. Social media influencers often need to create visually appealing and engaging content to attract and retain their audience. Picsart has pretty much all the tools, from overlays to filters, that an influencer or a content creator would need to make their visuals stand-out.
In addition to its editing tools, the PicsArt app also offers various artistic effects and AI-powered features. Users can apply digital brushes, add artistic overlays, create double exposures, and experiment with advanced tools like dispersion or glitch effects. The app also incorporates AI-driven technologies for features like background removal, object recognition, and smart photo enhancements.
Pons and Cons
It is essential to know about a tool's pros and cons in order to make an informed decision about subscriptions and more. With that said, let's go through some of the same for Picsart online.
Pros:
Tons of Tools: PicsArt has a large set of editing tools and features, allowing users to enhance their photos, apply filters, adjust colors, add text, create collages, and more. It provides a comprehensive set of tools to bring creativity to images.
Artistic effects and overlays: The app includes various artistic effects, overlays, and brushes that enable users to add unique and creative elements to their photos. These features allow for experimentation and artistic expression.
Community-Inspired Presence: PicsArt has an active and growing number of users where people can share their creations, discover inspiring artwork, and connect with other artists. This community aspect can provide inspiration and opportunities for collaboration.
User-friendly interface: PicsArt is designed with a user-friendly interface, making it accessible to users of all skill levels. The intuitive controls and organized layout make it easy to navigate through the app and access the desired features.
Cons:
Subscription limitations: While many basic features are available for free, some advanced tools and content require a premium subscription. This can be a limitation for users who want access to the full range of features without additional cost.
Learning curve for complex features: While the app is user-friendly overall, certain advanced features and tools may have a learning curve, which can throw off beginners wanting to get into graphic design.
Performance on lower-end devices: PicsArt's extensive features and effects may require significant processing power, which can lead to slower performance on lower-end devices or older smartphones.
Pricing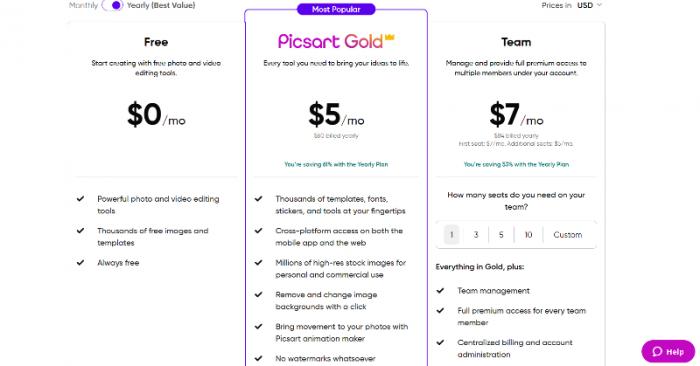 Picsart does have a generous free version wherein users are given good access to the tools offered by the app along with many templates and free images. Moving on to the paid versions, if you decide to subscribe to the yearly plans, you can get pretty good deals. As you can see on the screen, the Picsart Gold plan only costs $5 per month, which would be $60 yearly. This plan would also give you access to better and more features. If you have a team, you can go for the Team subscription plan instead.
The platform has monthly plans too, which are naturally more expensive than the yearly plans, but are better suited for those who would first want to try out the platform before going for a long-term purchase.
How to use PicsArt?
Follow these simple steps to use Picsart online and get results easily. In this case, we will be using the image enhancer tool from the platform.
Step 1: You can use the link given for Picsart to get to the website. From there, you can choose the tool of your choice from the tabs above. For this example, we will go for AI Tools > AI Enhance.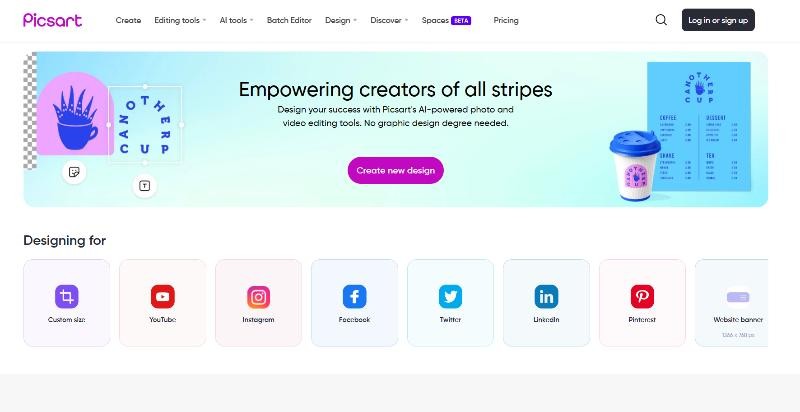 Step 2: Click on the AI Enhance option and it will take you to the page. Click on "Enhance your photo" and upload the image of your choice.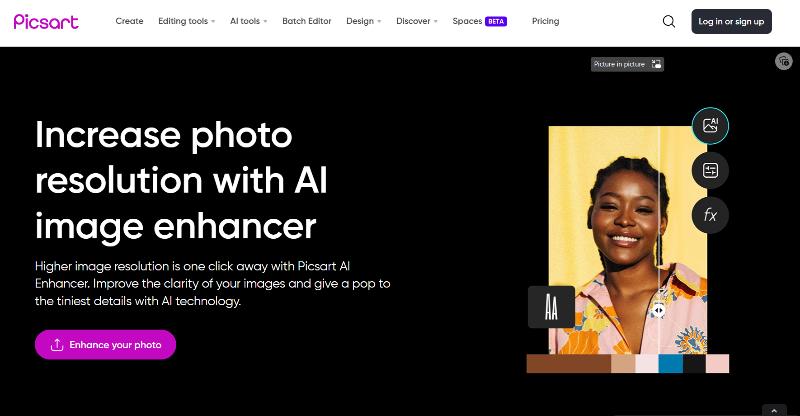 Step 3: Within a few seconds, the tool will enhance the photo and show you the progress as well. On the left tab, you can see the kind of improvements that the tool has made to the photo. After processing, you can download the image on your device, though the image may have a watermark.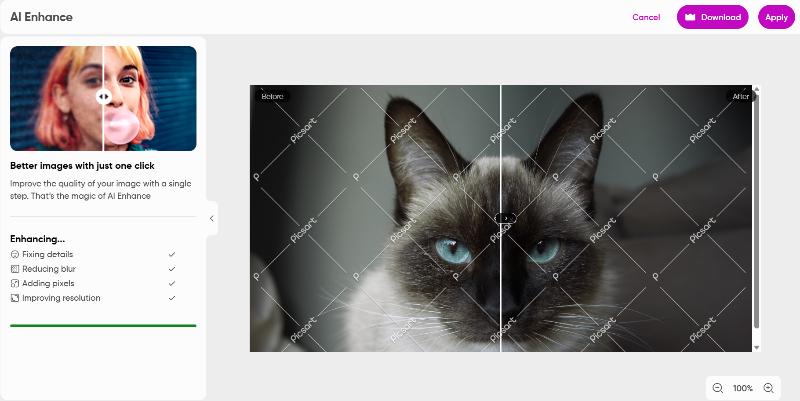 Best 4 Alternatives to Picsart
VanceAI Photo Editor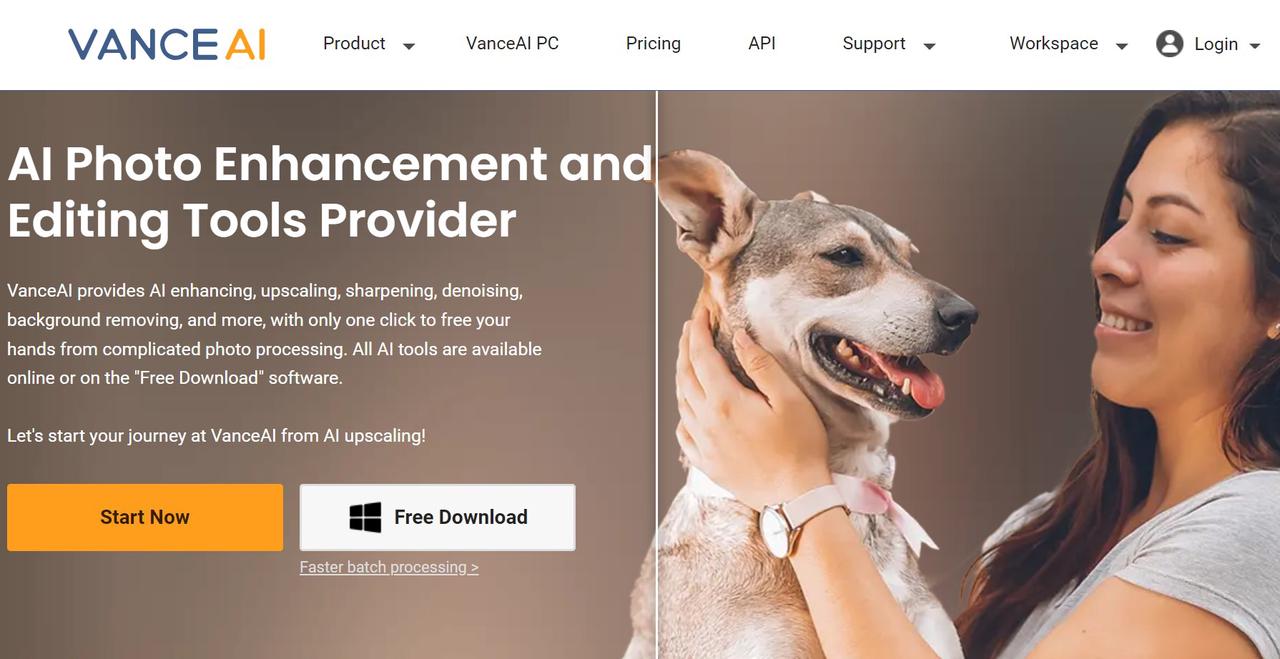 VanceAI specializes in AI-powered enhancements and transformations. It excels in utilizing advanced algorithms for specific improvements like background removal, image upscaling, and noise reduction. While VanceAI doesn't have a community aspect, it offers a straightforward interface and simplifies complex AI processes for users.
VanceAI Photo Editor and PicsArt are both popular platforms for photo editing and enhancement, but they have different focuses and strengths. PicsArt offers a comprehensive set of editing tools, artistic effects, and a vibrant community. Users can access a wide range of editing capabilities, apply artistic filters, and collaborate with other artists.
Adobe Photoshop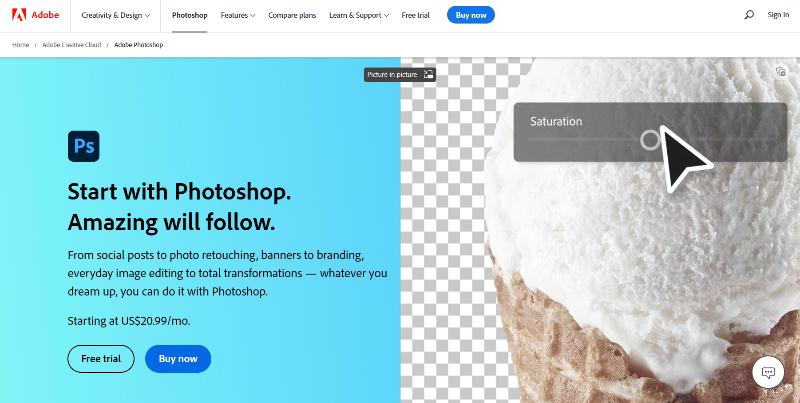 Adobe Photoshop and Picsart have similarities in the sense that they are both photo editors and help users in changing the looks of their photos. However, the way they go about it is different and so is their supposed target audience.
When we talk about Photoshop, the product is typically meant for experienced professionals who require advanced tools from their software so that they can create visuals from scratch. Moreover, users have to learn how to use the tools provided by Photoshop, which means that there is a steep learning curve that users have to go through. Photoshop's capabilities as a photo editing software are immense. However, it is not suitable for casual photo editing since it is a manual tool and takes time.
Picsart and VanceAI too in many ways, are tools that do not have a learning curve since they're using AI technology to do the processing automatically. Users simply have to visit their site, upload the image, and that's pretty much it. They offer quick solutions to common image editing issues, such as image enhancement, background removal, image upscaling, AI art creation, and more. Moreover, Picsart is available on mobile devices as well.
Photopea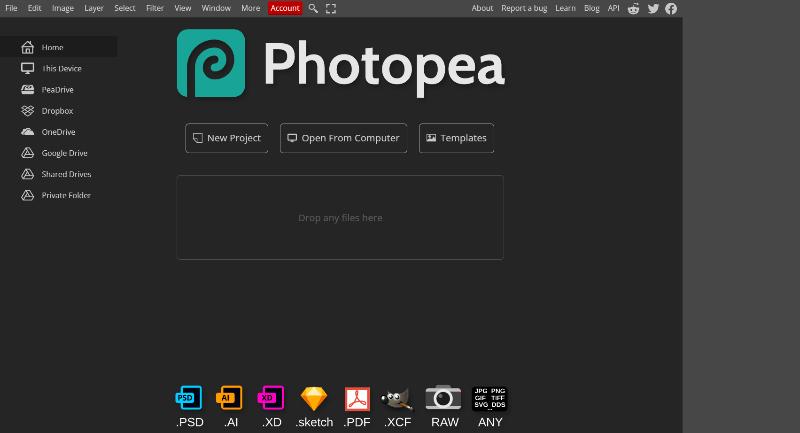 Photopea might remind you of apps such as GIMP or Photoshop as its UI has similarities to them. It offers a wide range of professional-grade editing tools and features, including layers, masks, brushes, advanced selection tools, and more. Photopea supports a variety of file formats, making it a versatile choice for users who work with different types of images. It provides a powerful editing experience similar to Photoshop but in a web-based environment.
PicsArt simplifies the editing process, providing intuitive controls, templates, and creative elements for enhancing photos, creating collages, and adding artistic touches. It emphasizes convenience and accessibility, allowing users to edit photos on the go using their mobile devices.
Pixlr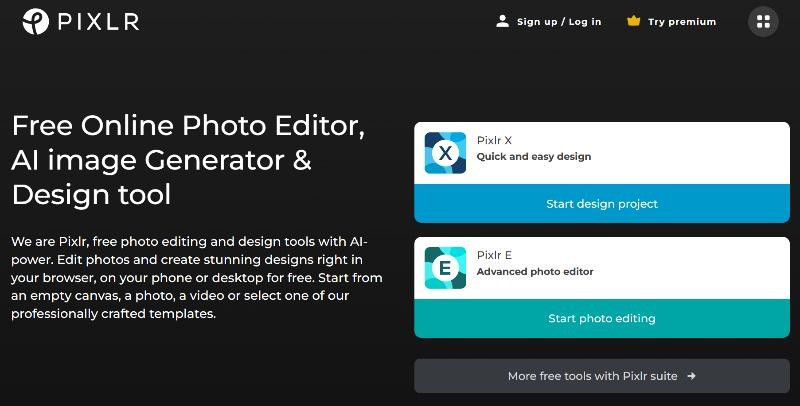 Pixlr is an online photo editing tool that provides a range of editing features and effects. It offers a clean and intuitive interface, making it easy for users to navigate and perform basic to intermediate photo edits. Pixlr provides tools for cropping, resizing, adjusting colors, applying filters, and adding text overlays. It also offers advanced features such as layers and masks, giving users more control over their editing process. Pixlr is a convenient choice for users who want quick and straightforward photo editing.
FAQs
1. How to screenshot Picsart?
Since Picsart is available on mobile devices and browsers, you can screenshot your work on both using different methods. If you're on mobile, you can simply screenshot your work on Picsart by swiping your screen, as you'd normally screenshot anything on your mobile phone. As for desktop, you can use a specific screenshot tool, such as Snipping Tool, or the tool provided in your OS by default. Dedicated tools such as Snipping Tool allow you to crop specific parts of the image, which can be helpful in cropping out exactly what you want,
2. How to blur on Picsart?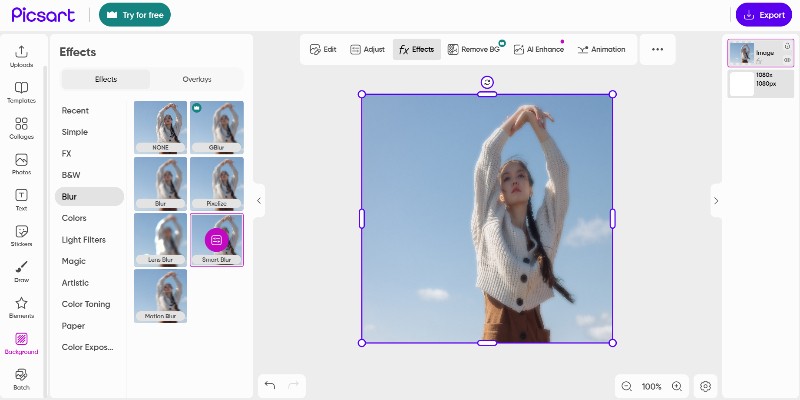 Adding blur to an image on Picsart is simple. In order to add blur to an image, you can first go the website and click on the "Create" option. This will take you to the editor mode, as you can see on the image above. Once there, you can either upload an image or go to the "Photos" section to use a sample photo. Next, click on the photo and choose "Effects" on top. Go to "Blur" and choose the type of blur that you want to apply to the image. Export the image to save it on your device.
Final Verdict
The Picsart edit tool is simple to use and effective. One of the best things about the Picsart editing experience is that you have enough options to choose from and it can definitely be a solution for common image editing issues. When it comes to the alternative tools, VanceAI stands as another similar platform that can provide many solutions under one name. Picsart also has a free version that users can try out, though the results have watermarks. Overall, the platform has good performance along with an easy to use UI and responsive website. It can still provide some more features and tools, however.
Do you find this post helpful?
Yes
No