High quality photos are popular among professionals and casual users alike because such photos have many uses, such as for businesses and brands. However, many individuals may struggle with utilizing photo editing software applications and other factors for online photo enhancement. This guide will provide a review for BeFunky and information on some of the top online AI-based photo editing applications, such as VanceAI Image Enhancer and Fotor. Additionally, the guide includes instructions on how to improve the quality of a photo to high-definition, so that you have an easier time when dealing with photo editing and similar.
BeFunky review
BeFunky is a highly intuitive and useful photo editing application available online. As you may have seen from other BeFunky reviews, this platform is commonly praised for its features and easy to use design, which is definitely true. The interface is intuitive and straightforward, making it accessible to users of all skill levels. The editing tools are also quite robust, allowing you to make a wide range of adjustments to your photos, including cropping, resizing, adjusting brightness and contrast, and applying various filters and effects. Not to mention that if you want to apply artistic filters and effects to your photo, you simply have to click on them. The app does everything else automatically.
Overall, the platform does seem to have a good mixture of automatic photo editing in terms of basic stuff like cropping, resizing, etc. with the artistic side of photo editing that includes effects and filters. However, it does not fully excel in all areas, as there are other platforms such as VanceAI and Fotor that offer multiple photo editing solutions at simpler usage. Moreover, the highly advanced effects are only unlocked through paid subscriptions, which means that users cannot take full advantage of the artistic side of the platform.
Regardless, BeFunky stands as one of the best online-based photo editing platforms.
What is BeFunky?
The BeFunky photo editor is a web-based photo editing and graphic design tool that allows users to enhance and customize their photos and images. It offers a wide range of editing tools, including cropping, resizing, adjusting brightness and contrast, and applying various filters and effects. BeFunky also includes a graphic design feature that allows users to create collages, add text, and design unique graphics. The BeFunky image editor is available for free, but it also has a paid version that offers additional features and tools.
What can you do with BeFunky?
There is a lot you can do with the BeFunky editor. Here are some of the most prominent features:
Basic editing: You can crop, resize, adjust brightness and contrast, and apply different types of filters and more to your images.
Extra editing: You can make different types of images such as collages, add text, and add special graphical elements using the app's design feature.
Photo enhancement: You can use the app's enhancement features to remove blemishes, wrinkles, and other similar effects from your images.
Artistic effects: Although limited, you can apply various artistic effects to your photos, such as effects, sketching, and painting based filters.
Text and stickers: You can add text and stickers to your photos and designs.
Photo frames: You can add frames to your photos to give them a unique look.
Background removal: With BeFunky you can remove the background from your photo, making it transparent and allowing you to edit the image further.
How to use Befunky photo editor?
Step 1: Use the link given to the site and it will take you to the homepage of the application online. Click on 'Get Started' and 'Edit Photo' to get to the editor mode.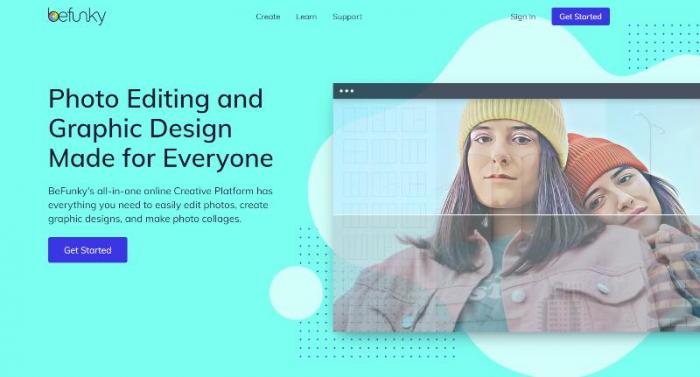 Step 2: Use the 'Open' option on the upper tab to upload an image from your device. You can also use other means to upload an image. Next, click on the Image Enhancer option to improve image details.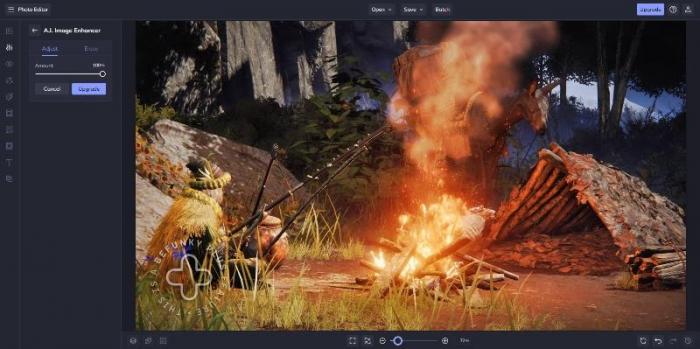 Step 3: You will see the image being processed and the final image will be displayed there itself. Use the download options to save the image.
Considering the nature of BeFunky and how it works, we will now be getting into BeFunky alternative tools that you will find useful as well.
Best BeFunky Alternatives : Our Picks
Best powerful: VanceAI Image Enhancer

Why it made the cut:
When it comes to branding and social media, you first need high quality photos. VanceAI Image Enhancer incorporates highly efficient photo editing and enhancement algorithms that are capable of improving many kinds of images, mainly artistic, anime, text based, and more. When using this tool, you can even select the kind of image that you're enhancing in the Workspace. Moreover, you are also able to adjust the level of sharpness you want in the final image.
Key features
1. VanceAI offers multiple photo editing tools and any of the tools can be used together with the feature called Workflow. This boosts productivity and makes it possible to enhance images in multiple ways.
2. VanceAI Image Enhancer is one of the few tools that can enhance images without upscaling them. This can be useful for further enhancement where you already have the image in perfect resolution.
3. A VanceAI subscription starts at just $4.95 per month, which is a great alternative to other online photo editing tools that may cost more.
Pros
1. It offers automatic processing with good results.
2. Highly accessible, especially with features such as VanceAI JA.
3. New features and tools can be seen pretty regularly.
Cons
1. Can support more image file formats.
2. VanceAI PC could have more tools.
How to get high-quality photos with VanceAI Image Enhancer?
Step1: Use the link given to get access to the website. From there, click on Upload Image to get started.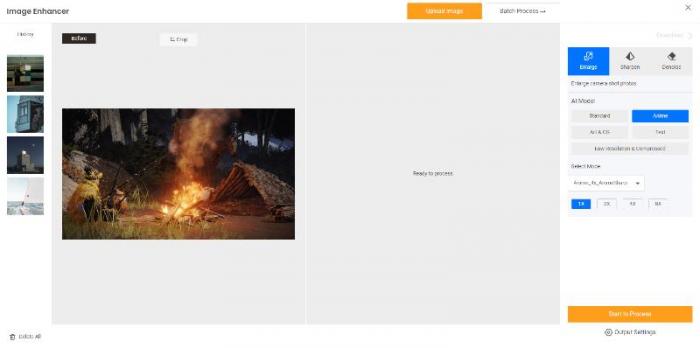 Step2: Upload an image on VanceAI Enhancer Workspace and choose preferences. Click on Start to Process to proceed ahead.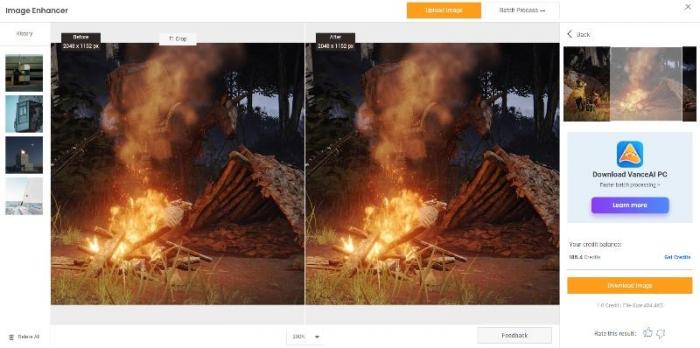 Step3: After a few seconds, you will see the enhanced photo on the screen. Use the Download Image option to save the image.
Best convenient: Let's Enhance

Why it made the cut:
It is designed to improve the resolution and overall quality of an image in a matter of seconds. The tool uses a technique called Super Resolution, which uses AI to analyze the details of an image and then generate a higher resolution version of the same image. The tool is easy to use, you just need to upload an image, select the desired level of enhancement, and the AI will automatically process the image and create a high-resolution version. This can be useful for improving photos and more.
Key features
1. Super Resolution is the main feature of Let's Enhance, which utilizes AI to analyze an image and generate a higher resolution version of the same image.
2. Let's Enhance also includes a noise reduction feature that can help to reduce unwanted grain or speckles in an image.
3. Let's Enhance allows users to process multiple images at once, which can save time and effort when working with a large number of images.
Pros
1. The application offers good results in most cases.
2. Since it makes use of AI based design, it is easy and quick to use.
3. Similar to VanceAI, you can also take advantage of batch processing to increase output.
Cons
1. It does not offer many photo editing options overall.
2. There are hardly any manual editing options.
How to get high-quality photos with Let's Enhance?
Step1: Click on the link given to get to the page. Click on the upload function to go ahead.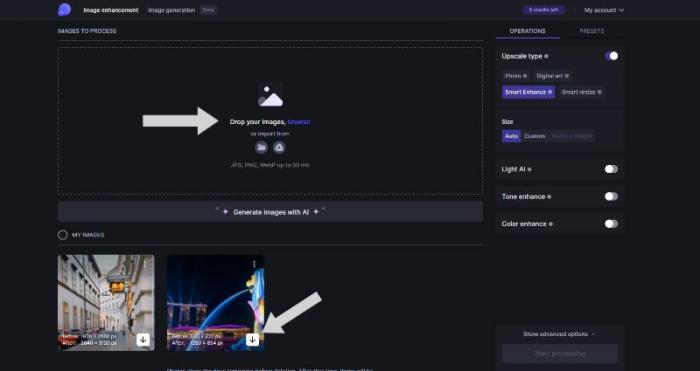 Step2: Use the box to upload an image and choose the settings on the right. Start processing.
Step3: Download the image from the prompt given at the bottom.
Best comprehensive: Fotor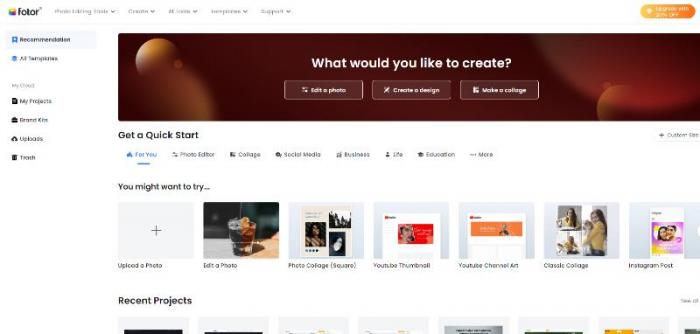 Why it made the cut:
Fotor is a photo editing app that provides a range of editing tools to enhance and modify images. It includes features such as basic adjustments like crop, resize, and color correction, as well as advanced editing tools like portrait retouching, text, stickers, and frames. The app also provides a variety of filters and effects to enhance the overall look of an image, and it allows users to save and share their edited images directly from the app.
Key features
1. Fotor is an all-round application that offers a lot of basic and advanced editing tools to the user though they can be manual as well.
2. Fotor provides a variety of filters and effects that can be applied to images, which can enhance the overall look of an image.
3. It is an active and popular platform that sees regular updates as well.
Pros
1. Fotor offers one of the largest number of tools and options for photo editing to users online.
2. Fotor also provides a variety of templates for users to create their designs, flyers, posters, and other designs in a simple and easy way.
Cons
1. Some features of Fotor have a paywall, hence they cannot be used for free.
2. The platform itself can sometimes be buggy.
How to get high-quality photos with Fotor?
Step1: Use the link and click on the Edit Photo option.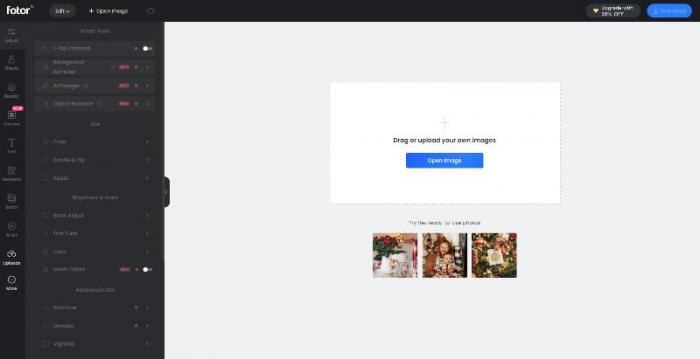 Step2: Upload the image and run the tool to enhance the photo.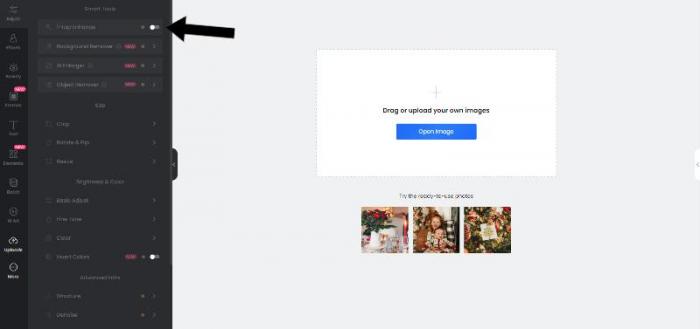 Step3: Download the image.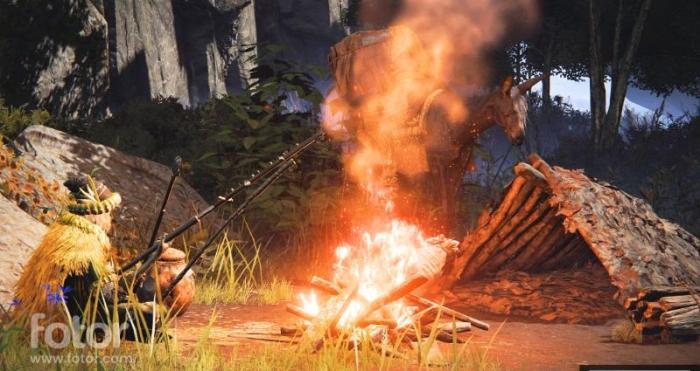 Best Affordable:Improve Photo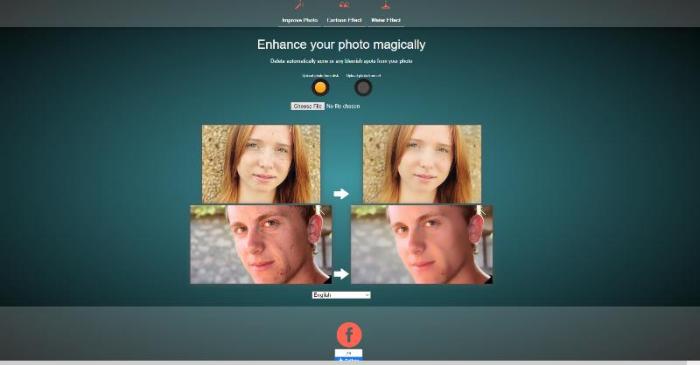 Why it made the cut:
In order to print photos of a person or self, for example, you can easily use Improve Photo as it automatically enhances the face in the portrait. It makes use of algorithms so that users have an easy time getting the best portraits possible.
Key features
1. Offers multiple ways of uploading images, including links.
2. Offers face enhancement and other features like applying a cartoon effect.
Pros
1. The UI design is really simple and makes the tool easy to use.
2. You can also upload images through links.
Cons
1. Does not offer any extra features.
2. Takes time to process images.
How to get high-quality photos with Improve Photo?
Step1: Click on the link given and access the tool online.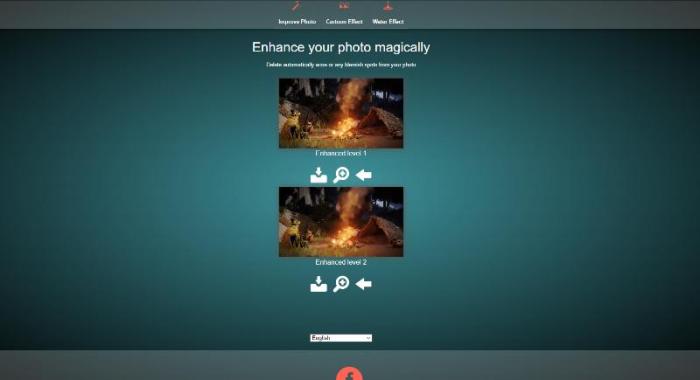 Step2: Upload an image from your system or paste a link. The tool will start enhancing the image.
Step3: Click on the Download icon to save the image.
Best professional: Remini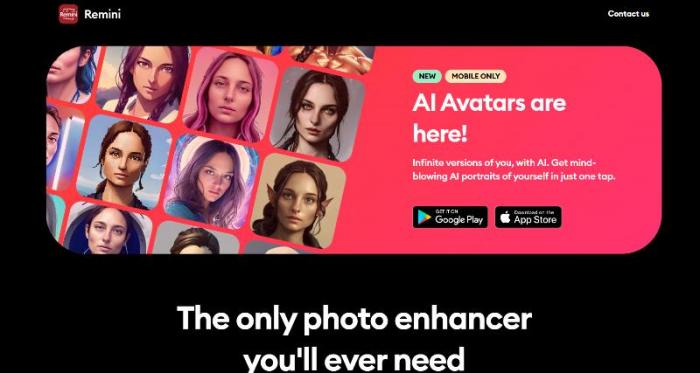 Why it made the cut:
One of the main features of Remini is its ability to enhance low-resolution images by increasing the resolution and improving the overall quality of the image. The app uses AI algorithms to analyze the image and generate a higher resolution version of the same image. Remini is available for both iOS and Android devices and it's free to download. However, some features may require in-app purchases or a subscription plan to access.
Key features
1. Remini allows users to save and share their edited images directly from the app, which can be convenient for those who want to share their images with others.
2. Remini includes basic editing tools such as crop, rotate, and color adjustment, allowing users to make quick and easy adjustments to their images.
3. Being available on the web and mobile gives it another layer of accessibility.
Pros
1. The app offers many features and tools that enable users to edit freely.
2. It offers batch processing similar to other tools on this list.
Cons
1. It does not offer as many photo editing tools and has watermark results.
2. Some tools can be confusing to use on mobile phones.
How to use Remini?
Step 1: Use the link given above to access the webpage of the application. From there, you will find the web version.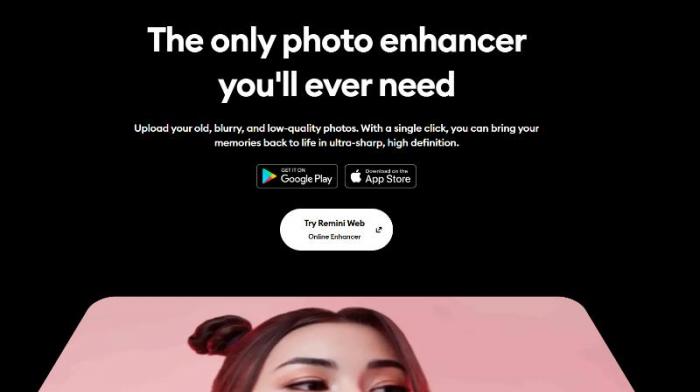 Step 2: Upload an image or drop it directly there. The tool will enhance the photo and show you the result.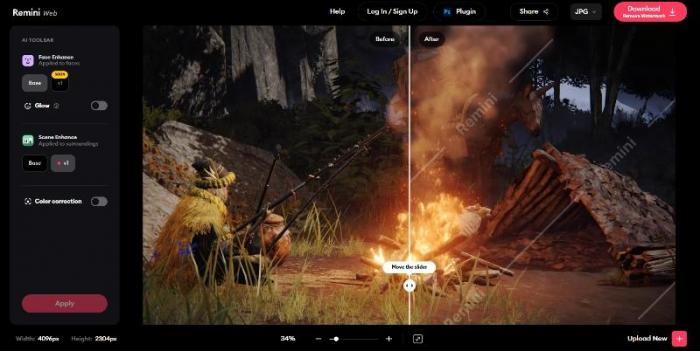 Step 3: Download the image using the Download button. You will need a subscription to remove the watermark.
Conclusion
High quality photos, prints, wallpapers, and more can be very useful for a variety of purposes, such as displaying photos in your home or office, creating physical photo albums, or giving as gifts. High quality photos can also be used for professional or commercial purposes, such as in advertising, marketing, or art.
AI photo editing tools, such as VanceAI, Fotor, and Remini, can make it easy to create high-quality prints and more by enhancing and improving the images. These tools use AI technology to analyze and enhance images, providing users with high-quality and natural-looking results. This can include features such as increasing the resolution of an image, removing noise and blur, and making basic adjustments such as cropping and color correction.
Do you find this post helpful?
Yes
No