Do you want to make cool transition photos or videos of your friends to surprise them? Then photo morphing is the right answer you are looking for. You can easily combine a number of photos and morph one photo into another to create cool transitions in photos, videos, gifs, etc.
However, the photo morphing process isn't as tough as you might think. Several advanced apps have made this a piece of the cake. In this article, we have listed some amazing photo morph tools highly recommended by users all over the world.
What Is Photo Morph?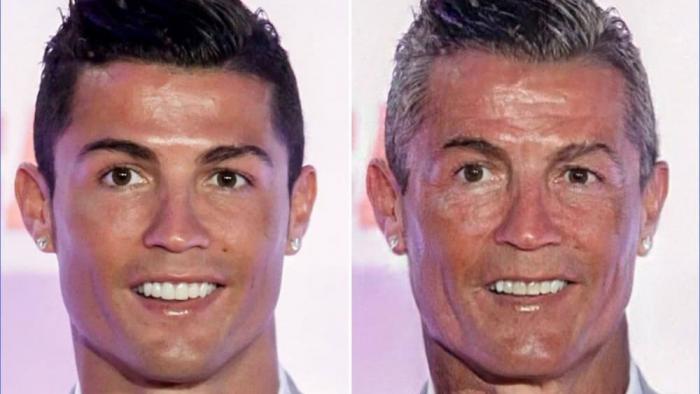 Photo morphing is an advanced technique by which you can edit your face and make cool photo morph transition images, videos, gifs, etc. By this, you can display incremental changes to highlight the key differences and growth between the two pictures through warping and dissolving techniques.
Best 9 Tools You Need For Photo Morph
Product

Price

Quality

Features

Support

Device

User

Friendly

Face Morph

Free

Easy to use; Quick and

efficient; Watermark sign

on pictures, videos, and

gifs

Automatic face detection;

Filters to photos; Creating

funny videos, gifs, and

memes

Android

and iOS

4.5/5

Morphy

Free

Easy to use; Artificial eye

blinking effect seems

weird; Only iPad

compatible

Creating cool photo morph

transition photos and

videos; Fun time-lapse

videos; Transforming

pictures into animals or

celebrities

iPad

4/5

Morph Age

$59.99

Easy user interface;

Output in various

formats; Only compatible

with Mac

Creating morphing and

warping videos; Defining

facial features; Inserting

smooth transitions

Mac

4.2/5

FaceApp

Free

High-quality results;

Some trouble with the

angle of rotation of

subjects; Some

redundant features

Remove wrinkles and

blemishes; Add volume to

hair; Gender-switching

videos; Filters to photos

and videos

Android

and iOS

4.7/5

Beauty

Face Plus

Free

Easy to use; Excessive

ads; No undo button

Five functions; Morphing

pictures into animals;

Changing facial features

like eyes, nose, or lips

Android

and iOS

3.8/5

Face Swap

Free

Realistic results; Only

works when photo

angles are similar; Lacks

precision and no

placement tool

Swapping faces and

morphing them into animals

or celebrities; Editing facial

features; Adding filters to

photos

Android

and iOS

4.3/5

Morpheus

Photo

Morpher

$99.95

You can morph an

unlimited number of

pictures into one

another; Get results in

various formats like

JPEG, PNG, TIFF, etc.;

Only works on Windows

Morphing one photo or

object into another in a

blink of an eye; Upload to

popular sites like Youtube

Windows

4.8/5

B612

Free

Easy to use; 20-second

time duration for videos;

Sometimes users

experience lagging issues

Filters to photos; Creating

specialized ones; Making

funny gifs; Specialized AR

effects

Android

and iOS

4.6/5

Zooface

Free

Free and easy use;

Contains too many ads;

Minor bugs

Morphing image into

animals; Modifying animal

features to match the

image; Showing animal

spirit

All

devices

4/5
Many photo morphing tools on the internet can get your job just right. Below are the best 9 photo morph tools that can make your life easier:
1. Face Morph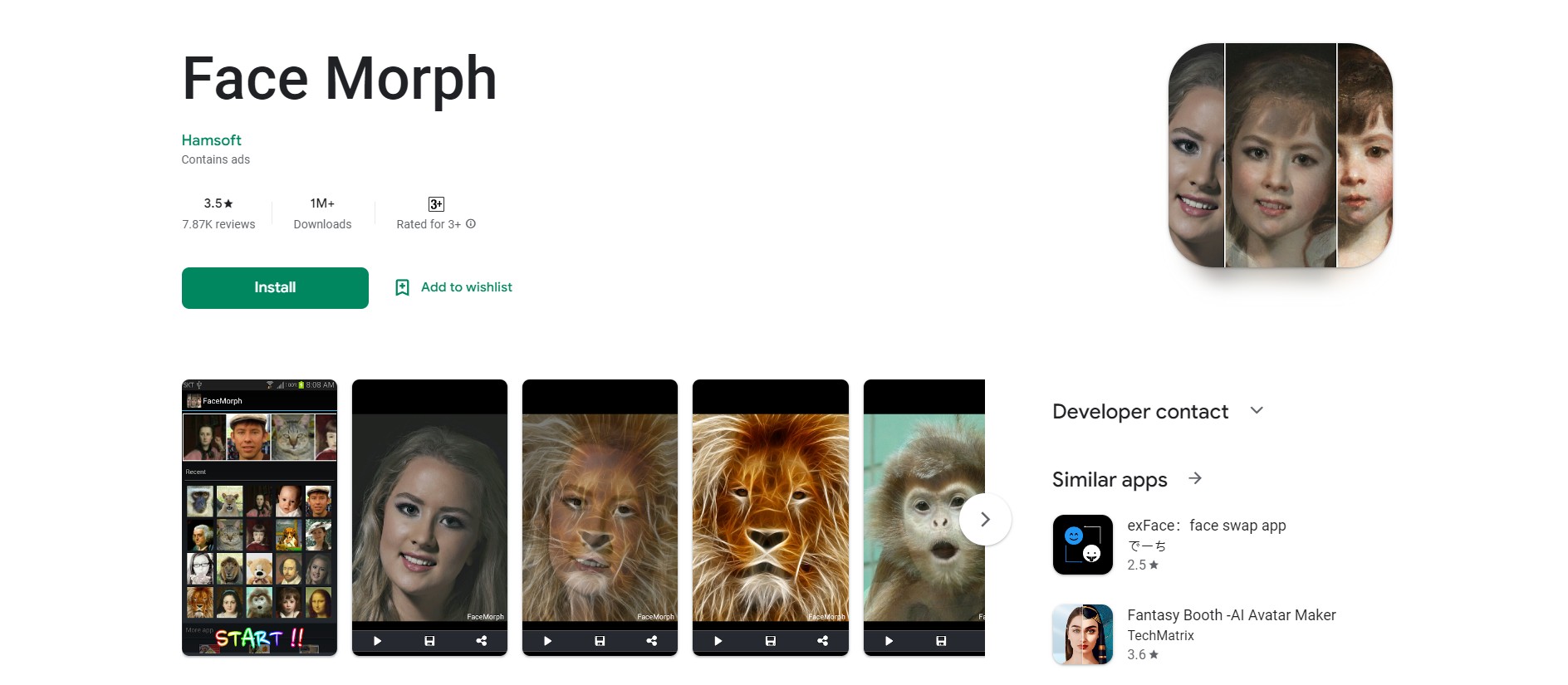 Face Morph is a really easy and fast face morphing app. Using automatic face detection, it seamlessly morph one photo into another. You can change facial features according to your preferences and add different filters to the photos. Along with creating pictures, you can make funny videos, gifs, and memes using the app.
Pros
Available on Android and iOS
Quick and easy
No ads
Cons
Pictures, videos, and gifs have a watermark sign
Price
2. Morphy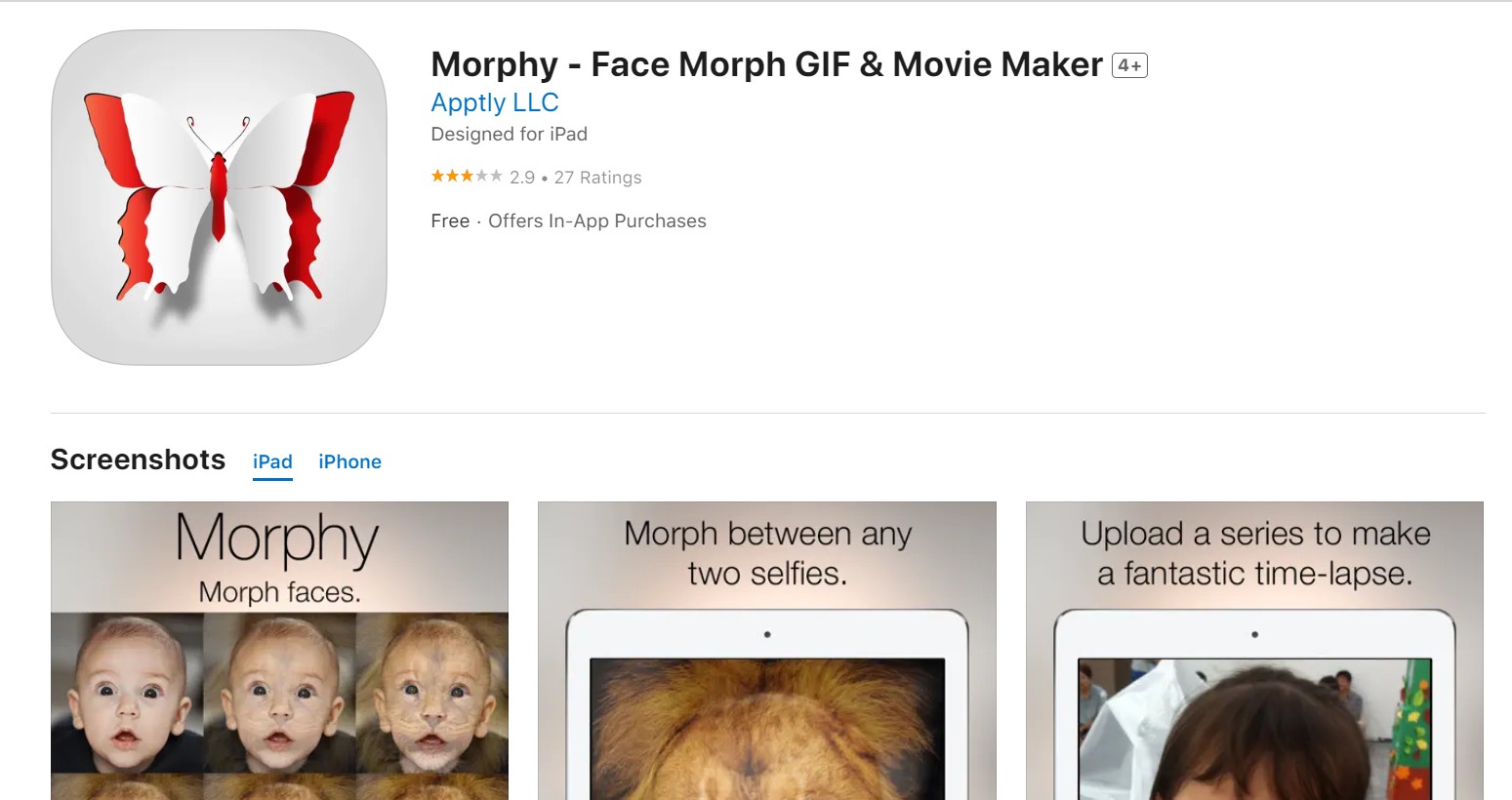 Creating cool photo morph transition photos and videos is now easier by using Morphy. You can make a fun time-lapse video for your baby, transform your friend's picture into an animal or turn into a celebrity. Morphy is easy and free to use.
Pros
Free
A new image search feature
Cons
The artificial eye blinking effect seems weird
Is only iPad compatible
Price
3. Morph Age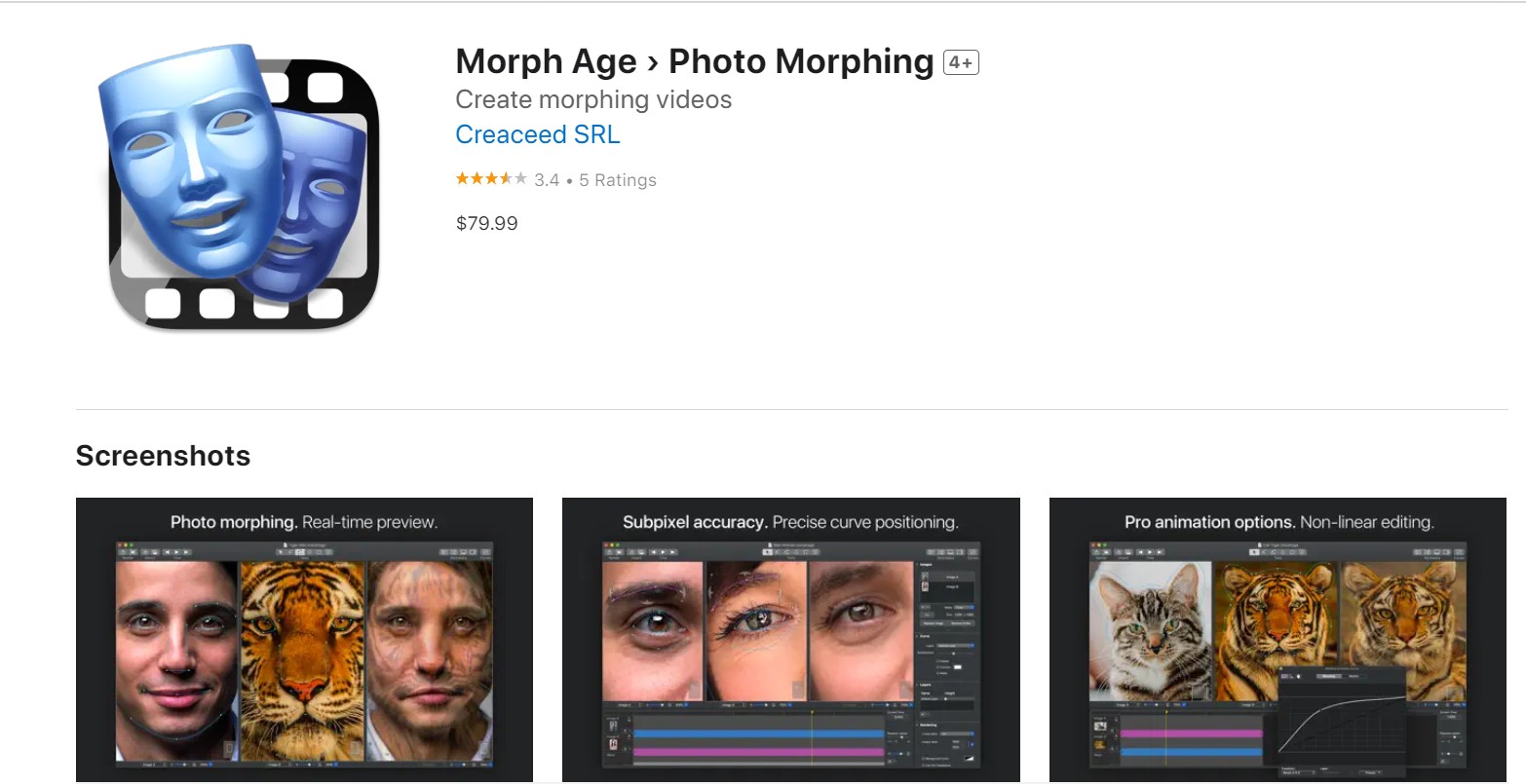 If you are a macOS user then Morph Age is the right choice for you. By using this app, you can create morphing and warping videos easily in seconds. The app uses powerful tools to define facial features and insert smooth transitions in-between. Correct Face location detection and fullscreen editing and previewing are indeed the plus points.
Pros
Easy user interface
Output in various formats
Cons
Price
4. FaceApp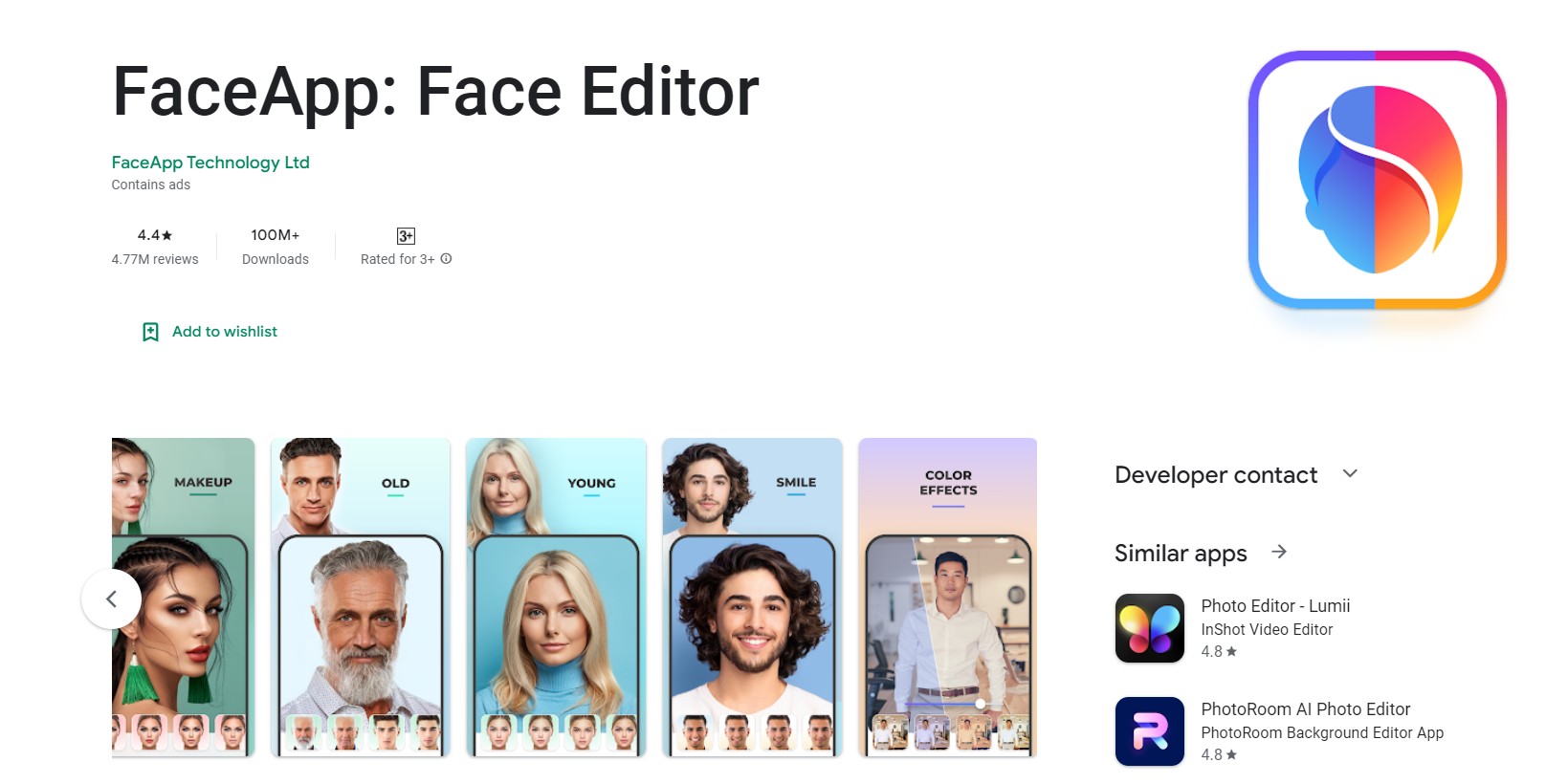 、
FaceApp is one of the best photo morph apps out there. With over 500 downloads, the app has become quite popular among customers. The photo editor can remove wrinkles, blemishes, add volume to your hair, add eye lenses and fun filters like mustache, and beard to your photos. You can add various filters to your videos and make creative gender-switching videos. The app is free and easy to use.
Pros
High-quality results
Available on both android and ios devices
Cons
Some trouble is reported with the angle of rotation of subjects
Some features are redundant
Price
5. Beauty Face Plus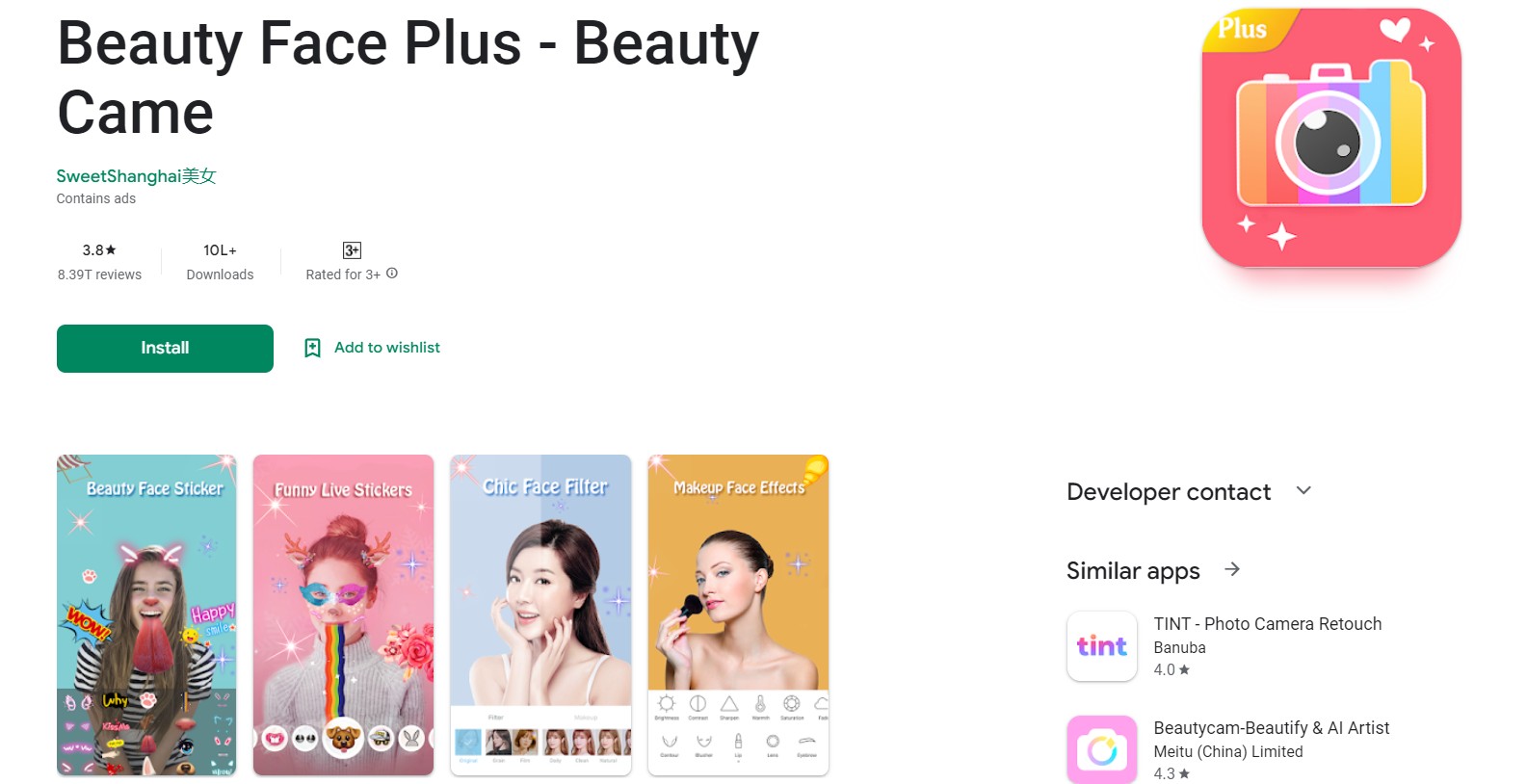 Want to morph your picture into an animal? Beauty Face Plus can never go wrong in this niche. The app uses five functions, face-off, face morph, part face, split effect, and face blend. It allows you to change certain features of the face like eyes, nose, or lips while keeping the rest of the picture as is. With 40 plus animal eyes and faces, you can make exciting pictures and videos for yourself. The app is free and easy to use.
Pros
Easy to use
Available on both android and ios devices
Cons
Excessive ads
Does not have an undo button
Price
6. Face Swap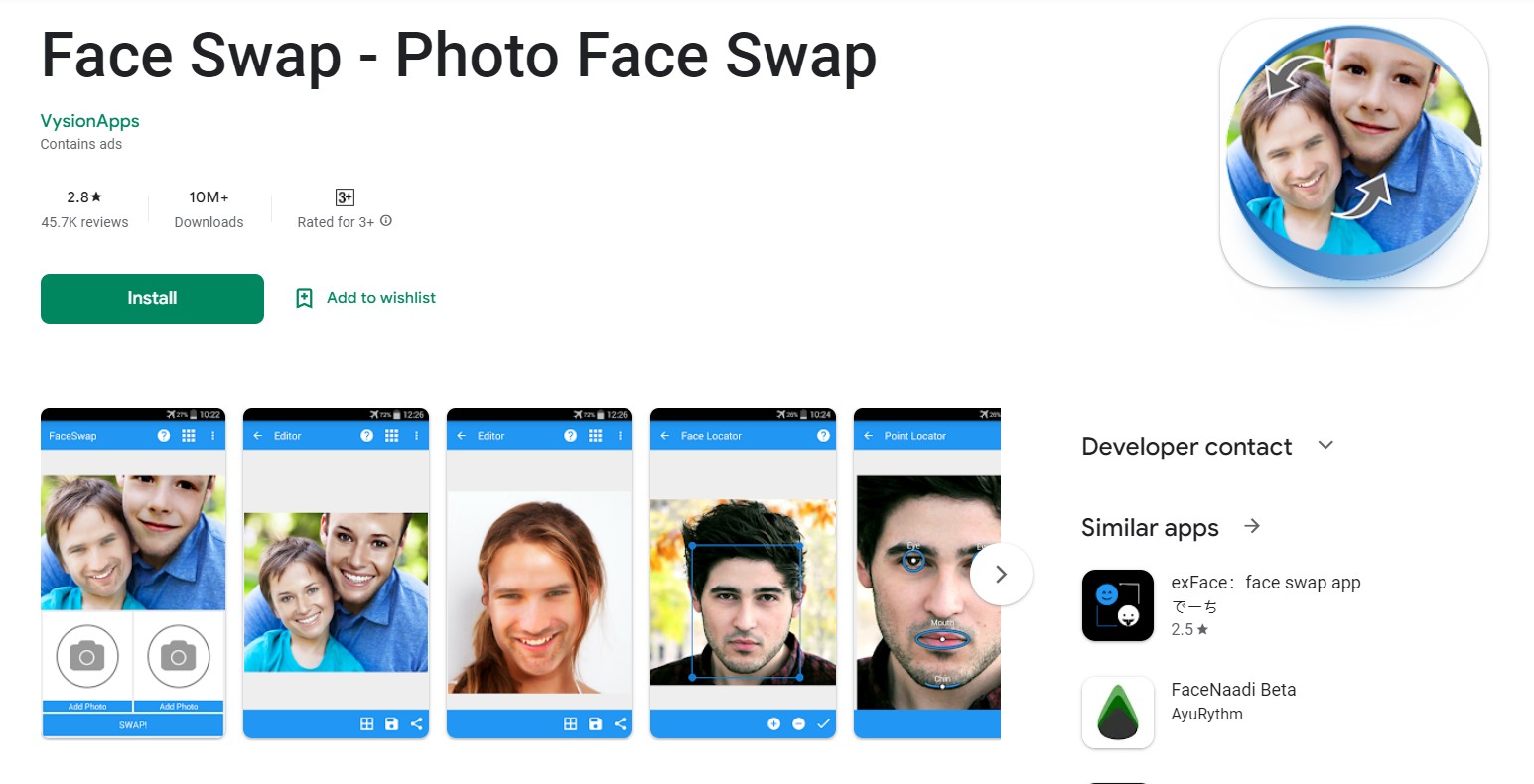 Face Swap is an amazing photo morph app allowing users to swap faces and morph them into animals or celebrities. You can edit facial features or add various filters to your photos. The app is available for both Android and iOS.
Pros
Cons
Only works when the photo angles are similar
Lacks precision and no placement tool
7. Morpheus Photo Morpher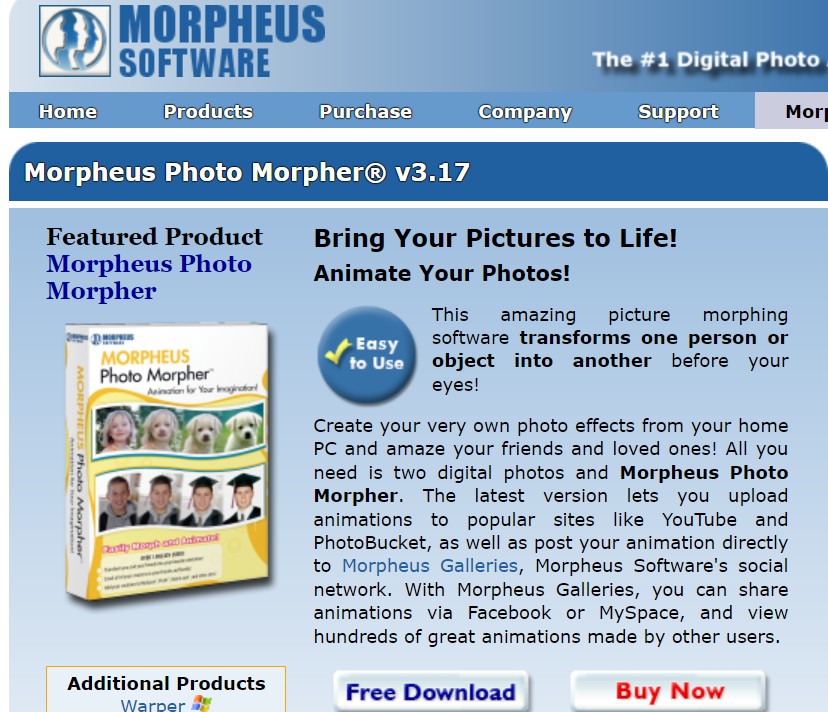 Morpheus Photo Morpher is the premium photo morphing software and claims to be the number 1 digital photo animation software. The app can morph one photo or object into another in a blink of an eye. The latest update helps you upload the morphed photos or videos to popular sites like Youtube. To this date, there has been a whopping number of over 6 million downloads proving Morpheus one of the most famous and reliable photo morph tools among customers.
Pros
You can morph an unlimited number of pictures into one another
Get results in various formats like JPEG, PNG, TIFF, etc.
Cons
Price
8. B612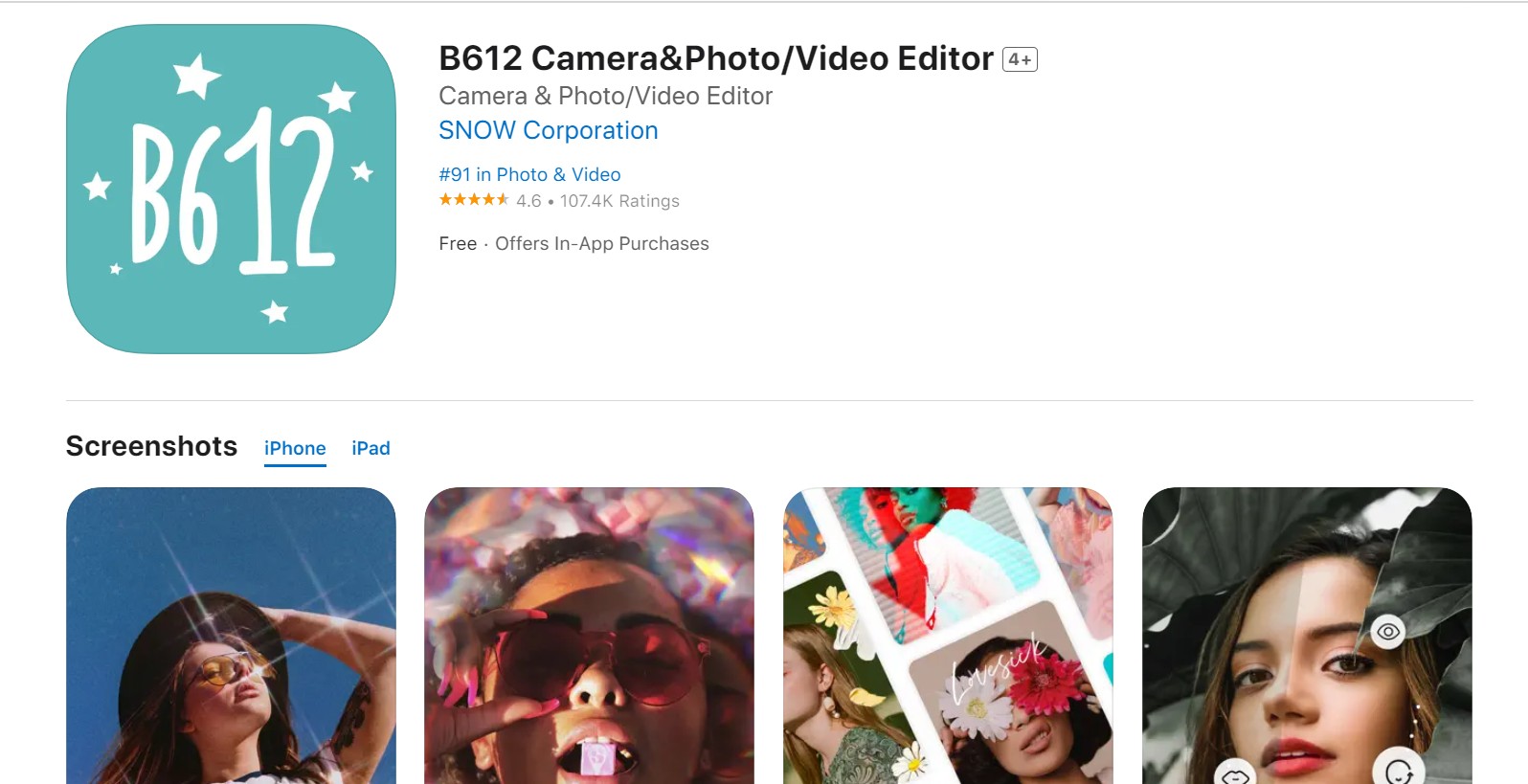 If you want an all-in-one camera and photo morph app, B612 is here to make your life easier. You can use several filters already in the app or create some specialized ones according to your choice. The gif bouncy feature helps you to make funny gifs and specialized AR effects add to the quality of videos and pictures enhancing the overall user experience. It's available on all Android and iOS devices.
Pros
Cons
20 second time duration for videos
Sometimes users experience lagging issues
Price
9. Zooface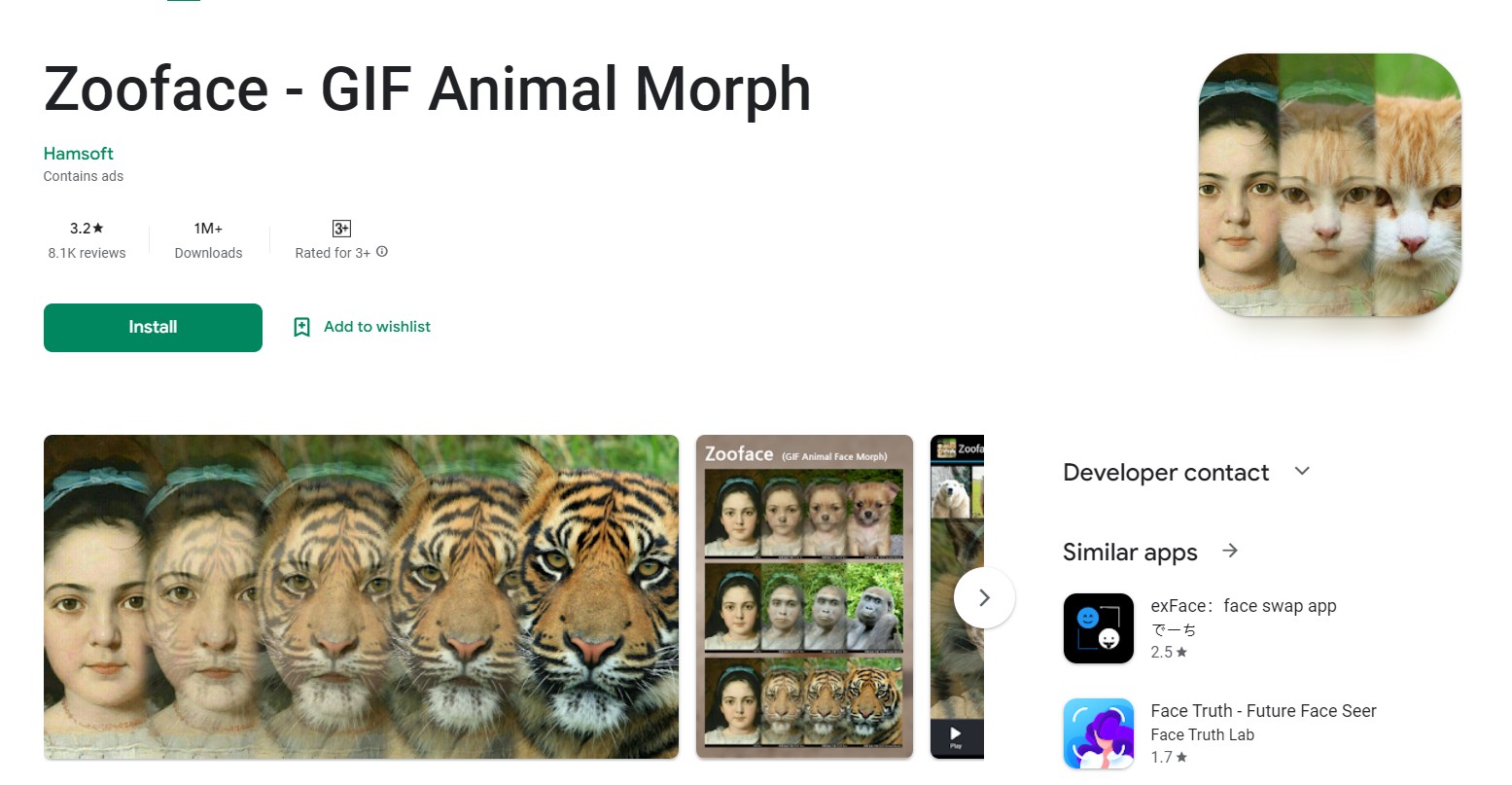 The Zooface allows you to morph your image into animals. The amazing thing is that even if the animal features do not match yours, the app modifies them in such a way to match your image. Interestingly, the app also shows you your animal spirit and allows you to make cool gifs.
Pros
Free and easy use
Available on all devices
Cons
Contains too many ads
Minor bugs
Price
What You Can Do Before Photo Morph
Choose Photo
The algorithm of photo morph software often operates according to the distribution and characteristics of facial features. The more enlarged and clear the facial features photo, the easier it is for the algorithm system to capture, so as to perform more accurate calculations for more suitable facial features. Match the photo morph of your facial features. Therefore, please try to choose a frontal photo of the face so the facial features are clear.
Get A High-Resolution Photo With VanceAI Image Upscaler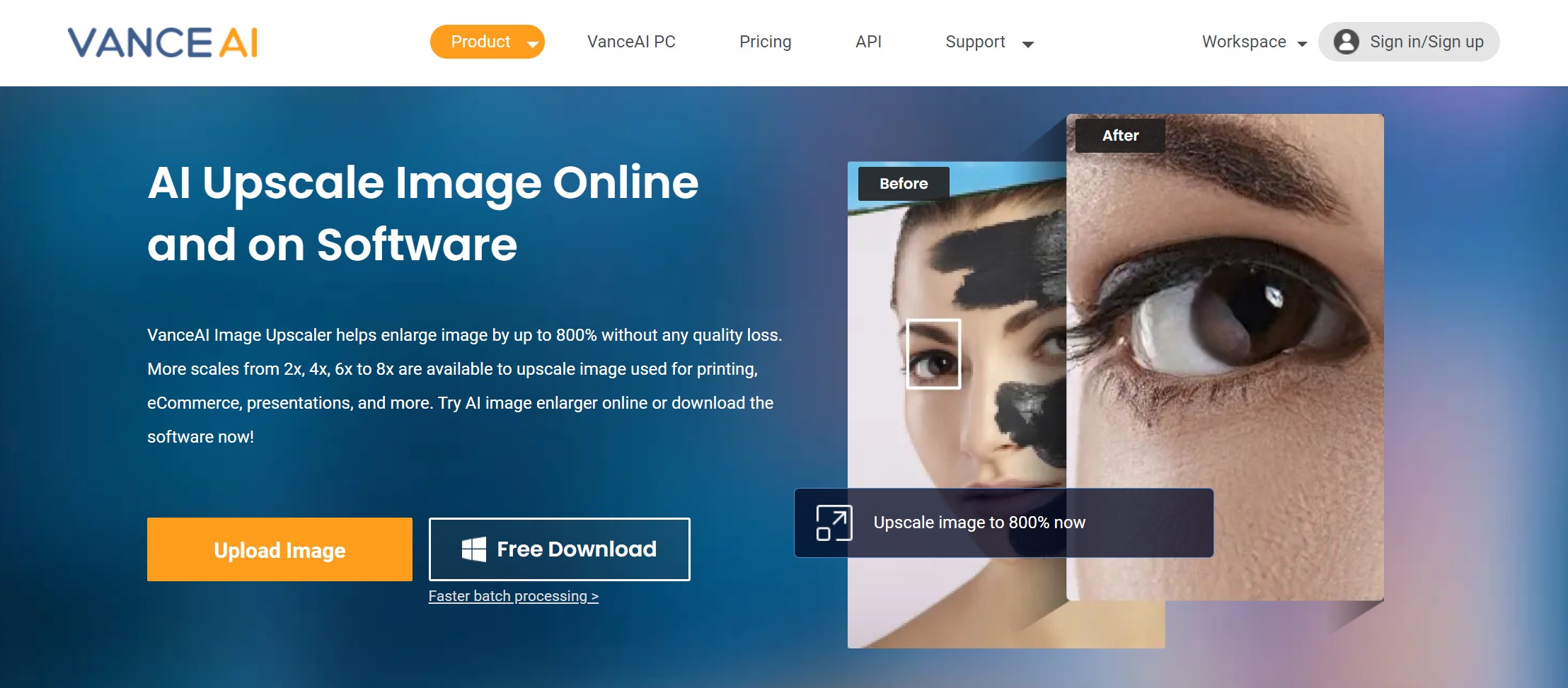 Low-resolution photos often make the face-changing algorithm system unable to recognize the face or the recognized outline is missing. In order to avoid this situation, I strongly recommend that you improve the clarity of your photo before doing a photo morph. Owing to technology, photo editing has become a matter of a single click. You don't have to be an expert editor to use complex AI tools. VanceAI Image Upscaler can get this job done for you in an instant.
The AI-supported Image upscaler levels up the image resolution by 800%, increasing the quality of images. Additionally, you can enlarge the images up to 8x with premium quality results along with removing noise and enhancing little details and textures.
FAQs
Q1:How do you make one photo morph into another?
If you are using Zooface, you can easily morph a photo into another by following the below steps:
Touch 'Start Zooface'
Select a face photo and the animal photo
Watch Zooface morph the two of them together
Download the result and share it with your friends
Q2:how to do multiple faces
You can use FaceApp to do multiple faces.
Take a picture of your self or select the picture you wish to edit.
Tap on "Layouts" at the bottom right.
In the options listed, select "Collage" as your layout.
Select the plus button (+).
Now next to your picture, select the plus button (+) again and choose a new picture.
If you wish to add even multiple faces, hit the plus button (+) again to add more pictures.
Once the multiple faces are added on FaceApp, now you can choose the style you wish the pictures to be.
Conclusion
Photo morphing is the most common effect used in motion pictures and various animations. In this article, we have mentioned the 10 best photo morph apps recommended by users all around the world so why don't you start making cool photos, videos, and gifs using these apps and edit them with the AI upscale image and Photo Enhancer.
Do you find this post helpful?
Yes
No