Finding or receiving email addresses is one of the most crucial aspects of marketing and business overall. Even though most of us have social media, we still consider emails to be a professional and efficient way of communicating. When it comes to searching for email addresses, Hunter.io is definitely a famous and reliable application used by many. However, we should also look into Hunter.io alternative tools or Hunter.io competitors to get an overview of what these applications can offer. With that said, we will see what is Hunter.io and a list of the 10 best Hunter.io email finder alternatives. Regardless of the app, it is beneficial to have a competent photo enhancer always. In this case, an AI image upscaler is surely worth checking out.
VanceAI PC is full-featured desktop software developed by VanceAI that lets you instantly process local photos in bulk with more customization options, which will significantly simplify your workflow and boost your productivity. If you are not satisfied with the result, you can use some tools to make photo hd.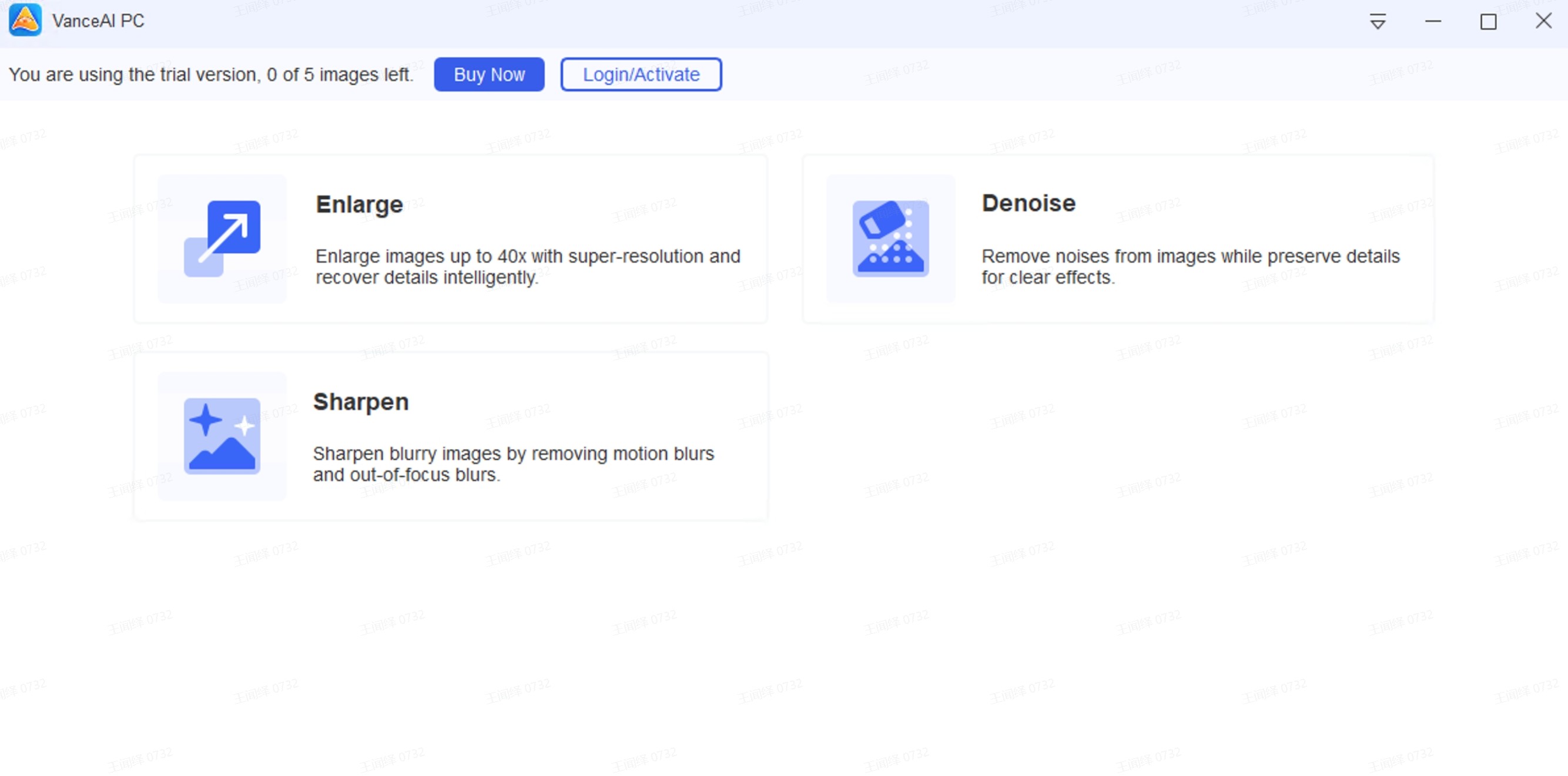 What is Hunter.io?
Hunter.io is an online email finder service that is pretty reliable and consistent, especially when looking at the Hunterio reviews. This service has been available for quite a while now. Moreover, Hunter.io can also be used as an API and on Chrome as an extension. It offers a free version and a bunch of paid plans. The free version gives you access to up to 25 searches and 50 email verifications per month. If you are not a regular user, you can simply make do with the free version itself. The paid versions give you more searches and access to premium features such as campaign and priority support. The Hunter.io pricing system is simple.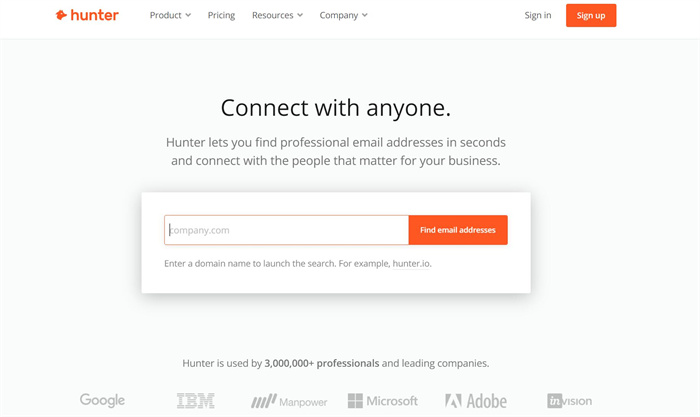 How to use Hunter.io?
A good aspect of this application is that it is easy to use and pretty straightforward. So, let's get into the easy steps of how to use Hunter.io.
First, use this

link

to get access to the website tool of Hunter.io. From there, you can see the text box where you can search for a domain name. So, put down an entry.

Once you have selected or typed down the domain name, click on the orange email finder option to start the search. It will take just a minute.

You will then see the results on your screen.
Top 10 Alternatives Tools to Hunter.io Review
1.

Mailshunt
Price: Mailshunt is usable for free online but with limitations. The paid versions give you access to more features and more searches overall. The paid plans start from the Standard account that costs $19 per month.
When considering Hunter.io vs mailhunt, there are quite a few similarities that arise and some differences as well. Both of these applications are usable online as well as on Chrome as an extension. They are similar when it comes to their website UI design as well. The differences are in features. This tool offers batch processing whereas Hunter.io offers priority support and campaign features.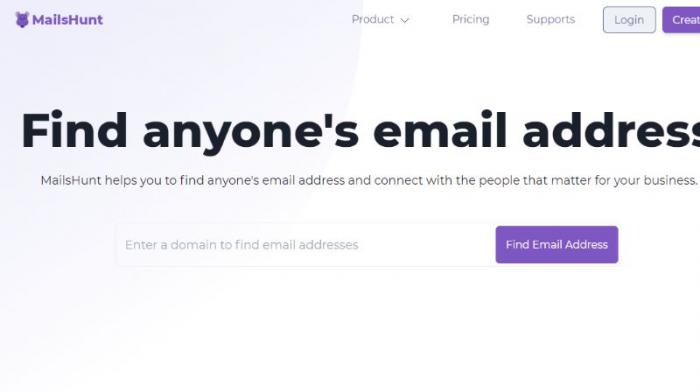 Pros:
Chrome extension.
Quick to find results.
Batch processing.
Cons:
Limited free use.
Could have more features.
Standard edition is a bit limited.
2.

Snov.io
Price: You can run searches for free with certain limitations. The paid plans start from $39 per month, which is geared towards individuals. Higher packages are aimed towards larger groups.
This hunter.io alternative application is really useful for marketing and business as it can streamline your tasks quite efficiently. It has many features that can help you reach new audiences and interact with them. Although it does not have as many features as Hunter.io, it can be a great tool for just email lead generation with budget spending. The free version offers around 50 free searches per month, which can be enough for absolute beginners or if you just want to use the application once in a while.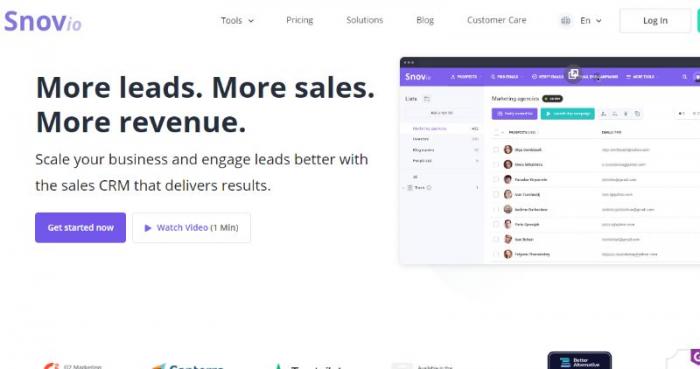 Pros:
Good UI design.
Free version offers enough.
Responsive tool.
Cons:
Could have more features.
Paid plans are on the expensive side.
Website can be buggy.
3.

Anymail Finder
Price: With the free version of this Hunter.io alternative, you get 90 credits for verified email addresses and unlimited for unverified email. Moreover, remaining free credits roll over when you subscribe to any paid accounts, starting from $49.
This online application has a really good pricing system, as it only charges for the email addresses that are actually verified. Thus, you will have efficient usage. Other than that, it can also save a lot of time through its bulk search feature. Moreover, it offers tutorials on various aspects of the tool, which can be useful for beginners. Lastly, you can also request the API version of this tool from the website.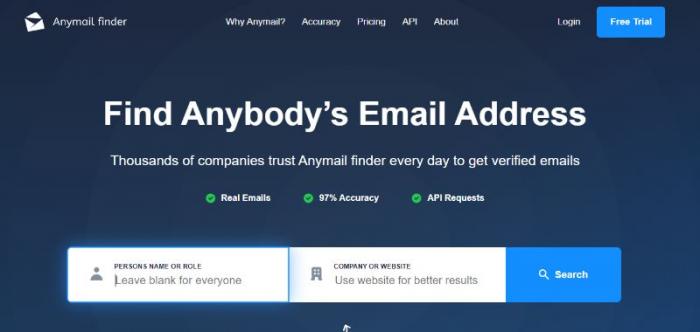 Pros:
Efficient pricing.
API version available.
Good design.
Cons:
Doesn't have many features.
Results can be off sometimes.
Can take time for results.
4.

FindEmailAddress
Price: You will receive up to 20 credits for free to search and find email addresses. For more features and search capabilities, you can start by purchasing the Basic account for $29.99 per month.
The best part about this application is its ease of use and custom paid plans. It provides much needed flexibility to users. You can simply access the website and start searching from the search bar given. Other than that, this application also offers bulk search features. You can also export your search results and have them integrated into your own software. Not to mention that you always get remaining credits rollover each month.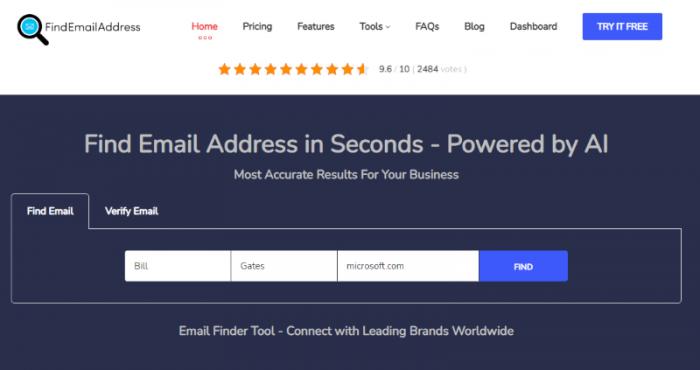 Pros:
Custom paid plans.
Exportable search results.
Search from website.
Cons:
Can take time to give results.
Free version is limited.
5.

Skrapp
Price: This online application costs $39 for a thousand email id searches per month that is usable by up to 2 users.
Skrapp is a really simple online tool for searching email addresses at a quick pace and getting the essential information on the email address. You can then copy those details with just a click and then use it somewhere else. It will also inform you if the email id is verified or not. Moreover, you can initiate a bulk search as well. You can use this tool as an extension and also find a bunch of video tutorials regarding the application and how it can be used.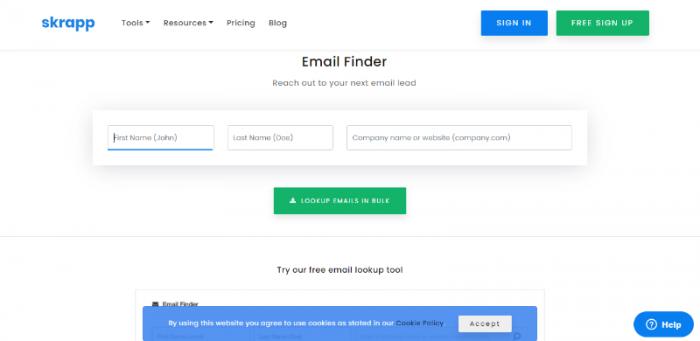 Pros:
Easy to use.
Website search works well.
Extension available.
Cons:
A bit expensive.
Lacks in features.
Can take time for results.
6.

FindEmails
Price: The Basic account costs $29 per month and provides up to 1000 searches, including export features, API support and installation, and more.
You can make use of this Hunter.io alternative if you prefer more options on how to use the tool. With this application, you can get access to its features online as well as on API. Not to mention that this tool is also available as a Google Chrome extension. It also offers good export features and email support. This tool is a good starting point for beginners as it has reliable features. Needless to say, you can also verify email addresses with this tool. With a remarkable success rate of 98%, this is a highly competent email id finder tool you can have in your library.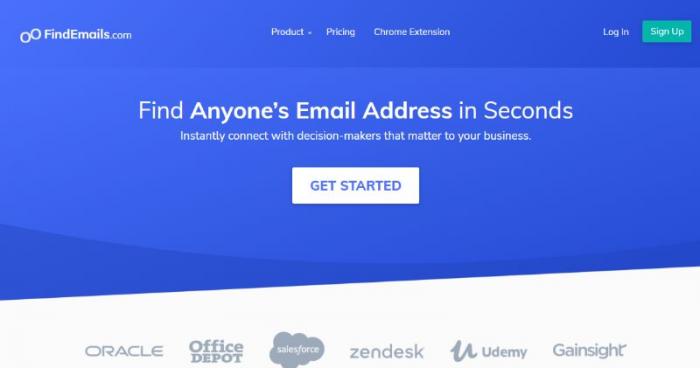 Pros:
Offers API.
Usable online and as an extension.
Reliable results.
Cons:
Website can be slow sometimes.
API access takes time.
7.

VoilaNorbert
Price: You can get up to 50 leads or searches for absolutely free when you start using this application. The paid plans start from the Valet package costing $49 per month and grants up to 1000 searches per month.
This application has all the basic features you'd expect from a standard email id finder tool, such as bulk search, API documentation, etc. However, with this tool, you can also find it easier to connect with people through its useful features such as enriching contacts, reaching out to potential marketing opportunities, and more. Not to mention that you won't get charged for duplicate emails and it has a really great success rate of 98%, which makes it reliable and efficient for making contacts.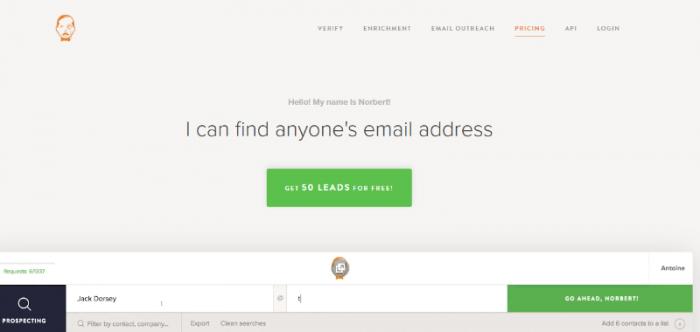 Pros:
Great features.
Offers bulk search online.
No charges for duplicate emails.
Cons:
Not suitable for beginners.
More on the expensive side.
8.

Minelead
Price: With this Hunter.io alternative, you can get up to 100 searches for absolutely free plus the access to the browser extension and API. You can get the paid version at a minimum of $15 per month with more searches and features.
This application is designed to be highly imaginative and efficient for users. You can start using this application without needing to give card details and can just start using the free version immediately. Other than that, you can have the main dashboard wherein you can export your data with a click, access the huge database for email addresses, real-time email id finder, and more. Not to mention that you can access this tool via the Chrome extension or you can simply request the API version from the website itself.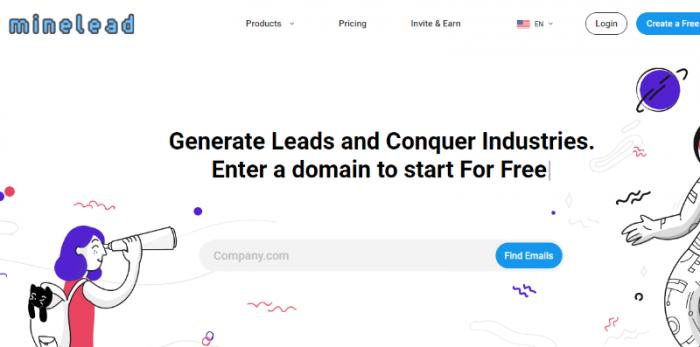 Pros:
Has many good features.
Can use the free version immediately.
Extension and API available.

Cons:
Exporting takes time.
Can be slow for results.
The Invite & Earn feature is a bit tedious.
9.

NinjaOutreach
Price: You can get a free trial of this application from the website. The paid options depend on the user. Instead of rigid paid plans, you can alternatively chat or message the team and customize a paid package made specifically for you.
When directly compared to Hunter.io, NinjaOutreach comes across as a different kind of email id finder website and application. The reason for this is that this application is primarily targeted towards Instagram and YouTube. Additionally, you can use this tool to find influencers besides the traditional business accounts and emails. This gives the application a more modern twist compared to other Hunter.io alternative tools and features. This application can be perfect for social media marketers and other influencers.
Pros:
Flexible paid plans.
Has newer features.
Usable online.
Cons:
The website can be slow.
Not meant for users specifically looking for email-related features.
Can target more social media platforms.
10.

Clearout
Price: You can immediately sign up for a free account without needing to fill in any card details and receive 100 free credits. You can pay for additional credits, where the lowest bracket costs $21 for 3000 credits.
A feature that this tool provides which is rare is phone verification along with the usual email id verification. With this tool, you can verify phone numbers from more than 240 countries, which is an absolutely huge number. You can also make use of this application for running campaigns as it lets you predict how successful a campaign will be with a 'confidence' meter.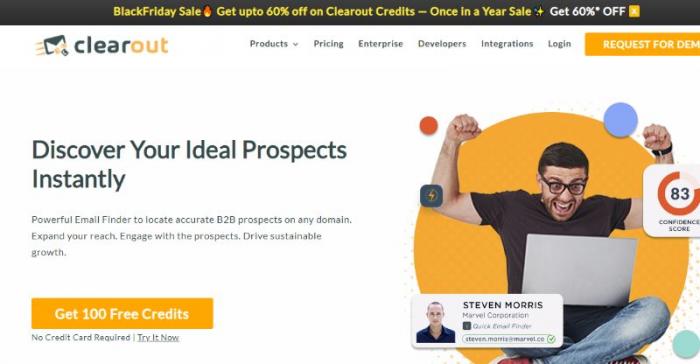 Pros:
Cons:
Conclusion
Email marketing is a really huge part of digital marketing, even with all the attention given to social media. Emails are seen as completely professional modes of communication, and with great visuals you can put forth the best image to potential customers, partners, etc. You can use this image colorizer to enhance your images and make them sharper. On the other hand, you can also use NinjaOutreach and VanceAI Photo Colorizer together to create great impressions on social media and get leads.
Also read: 5 Best Branding Tips & Best Branding Examples for Small Businesses
Do you find this post helpful?
Yes
No