The term 'gaming youtuber' and even gaming has gained a tremendous amount of popularity all over Youtube as well as over the Internet. Naturally, the video nature of Youtube goes extremely well with video games, being a graphical medium itself. In fact, gaming is easily one of the most popular types of content on Youtube. You can build a channel as well but it does require you to get the basics right. Your channel needs to look flawless, so use tools like this AI image upscaler to revitalize your wallpapers and logos.
VanceAI PC is full-featured desktop software developed by VanceAI that lets you instantly process local photos in bulk with more customization options, which will significantly simplify your workflow and boost your productivity. Free Download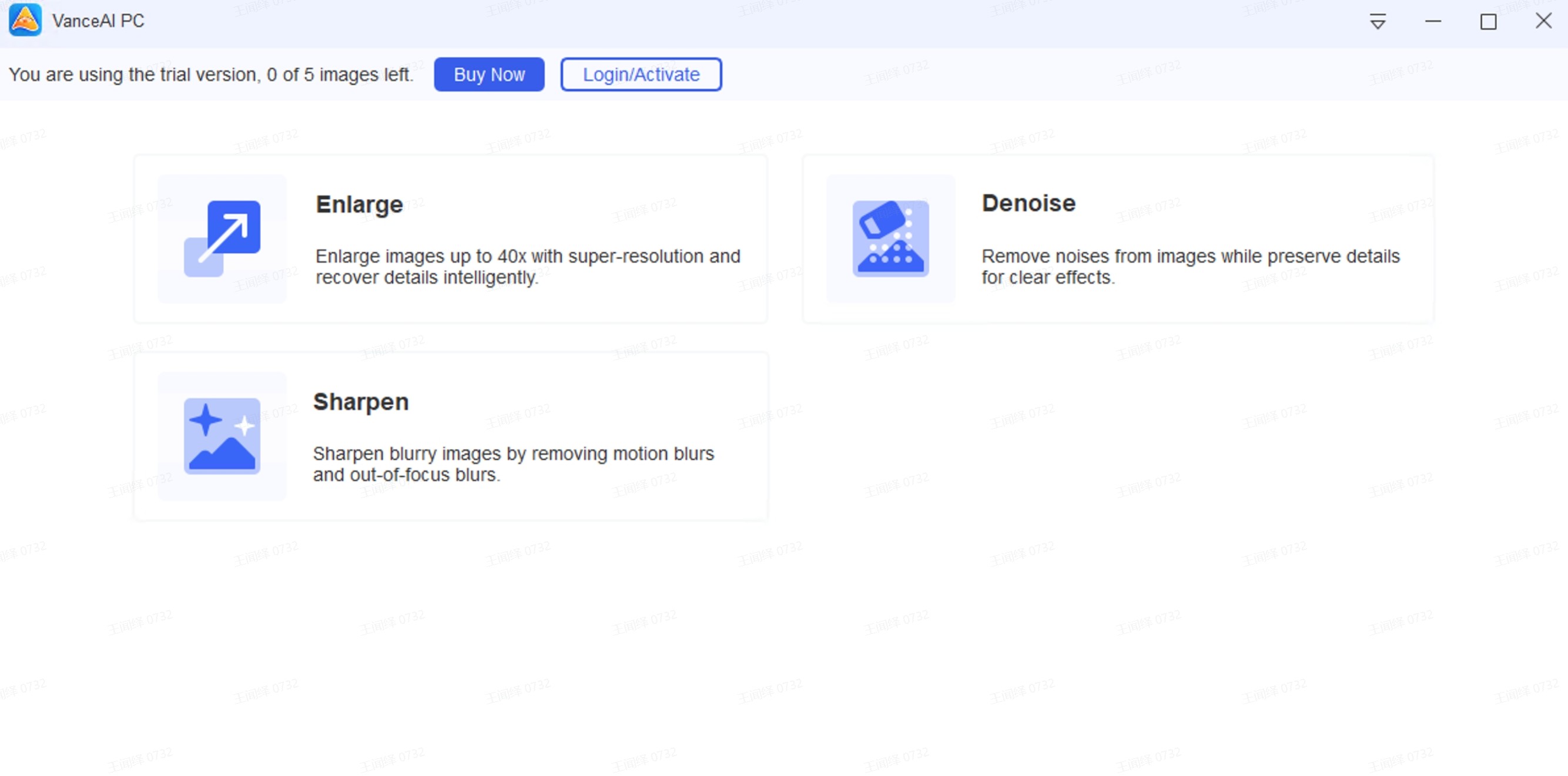 Watching these entertaining and often artful pieces of software started as a mere hobby for most people, but now it has become something more than that. People build communities over games and especially over gaming youtuber channels. So, we will be giving you the top 20 gaming youtuber channels that have gained the highest following or have made an incredible impact on the whole gamers on Youtube scene.
How to become a gaming Youtuber?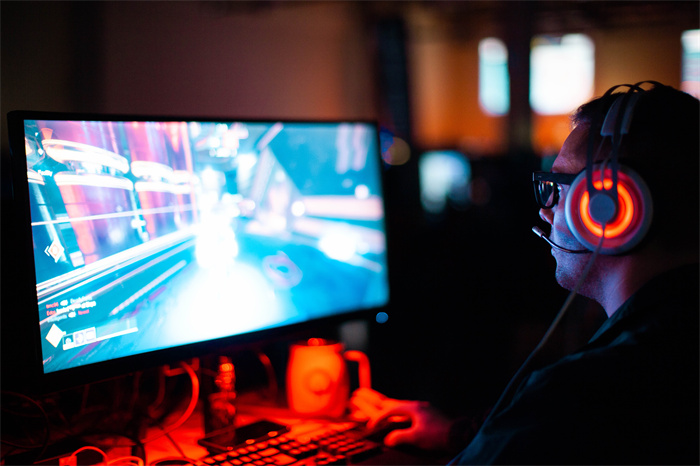 Any thoughts about becoming a gaming Youtuber yourself? Or is it possible to become a gaming Youtuber? The answer is an absolute YES! You can become a gaming Youtuber with a good system, a basic understanding of Youtube, and patience. You don't need an expensive PC, just a decent one to run a few popular games and preferably a mic to talk to your audience. Next, understand that images and keywords matter on Youtube as well. It is best to use expert tools committed to enhancing photos like image enhancer from VanceAI and learn how using keywords can work in SEO. Finally, be dedicated and work on your videos with a creative mindset.
Top 20 Gaming Youtubers Review
here is a simple compare of 10 of 20, hope this can help you briefly know before reading the following.
 

Quality of Content

Features and Options

Supported

Devices

User-

Friendliness

PewDiePie

Highly entertaining,

diversified content, loyal

fanbase

Diverse content, Let's Play videos,

Meme Review, philosophical topics

PC,

mobile

Easy to

navigate,

engaging

content

MrBeast

Grandiose challenges,

philanthropy, unique

content, notable

collaborations

Stunts and challenge videos,

philanthropy content, Squid Game-

inspired videos

PC,

mobile

Easy to

navigate,

unique

content

JuegaGerman

Comedic skits,

popularity in Youtube

Shorts area, depiction of

avid gamer lifestyle

Comedic skits, Minecraft

gameplay, Youtube Shorts videos

PC,

mobile

Engaging

content,

language

barrier for

non-Spanish

speakers

elrubiusOMG

Top video-making skills

and wit, well-edited

memes, humorous

content

Well-edited memes, Let's Play

videos, reactions

PC,

mobile

Easy to

navigate,

humorous

content

Fernanfloo

Comedic effects through

editing and memes,

animation skills, popular

in Mexico

Editing and memes, animation,

1v1 gameplay videos

PC,

mobile

Easy to

navigate,

unique

content

VEGETTA777

Introduces new games,

creative Minecraft ideas,

traditional Let's Play

videos

Let's Play videos, experimenting

with new and unknown games,

creative Minecraft ideas

PC,

mobile

Easy to

navigate,

variety of

content

SSSniperWolf

Content appeals to

gamers and non-

gamers, popular for

reacting to TikTok

videos and cosplay

Reaction videos, Fortnite

gameplay, cosplay

PC,

mobile

Easy to

navigate,

engaging

content

Markiplier

Hilarious reactions to

horror games, comedic

skits, diverse content,

curiosity towards all

games

Horror game commentary,

comedic skits, pop culture

commentary

PC,

mobile

Easy to

navigate,

engaging

content

jacksepticeye

Diverse content,

commentary on popular

games, nostalgia

playlist, real-life videos

Popular and trending game

commentary, Nostalgia playlist,

real-life videos

PC,

mobile

Easy to

navigate,

engaging

content

Total Gaming

Hindi commentary,

popular multiplayer

games, recent interest

in Outriders, additional

commentary on

gameplay

Hindi commentary, Garena Free

Fire gameplay, GTA V and

Assassin's Creed: Valhalla videos

PC,

mobile

Engaging

content,

language

barrier for

non
1. PewDiePie
PewDiePie is next to impossible to have a conversation about the biggest gaming YouTubers without mentioning the biggest gaming YouTuber of all time. Starting small with the 'Let's Play' type of gaming videos, this Youtuber rose to immense fame through his humor and highly entertaining videos. His gaming channel now has diversified further, going beyond the scope of gaming and onto philosophical topics such as stoicism and discussions about popular Greek thinkers. Another famous type of content that he provides is called 'Meme Review' where he brings up trending memes and offers his hilarious views on them. Needless to say, PewDiePie is a sensation and has a loyal fanbase.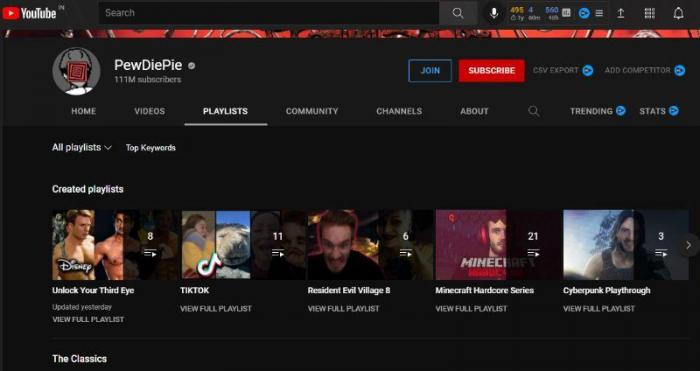 2. MrBeast
While MrBeast can be considered a gaming YouTuber, it is not his main niche or area of content. MrBeast is now mostly known for his stunts and challenge videos involving huge amounts of money, which typically feature the most notable faces on Youtube, such as Logan Paul, Dream, and many others. Another popular type of content from his channel is related to his philanthropy. He has a ton of creative videos of him gifting others expensive cars, food, cash, and on one occasion, an entire island. There are few to no channels on Youtube that match his level of grandeur when it comes to challenges and altruistic nature. Recently, he also created his own version of Squid Game with influencers, inspired by the viral TV show of the same name.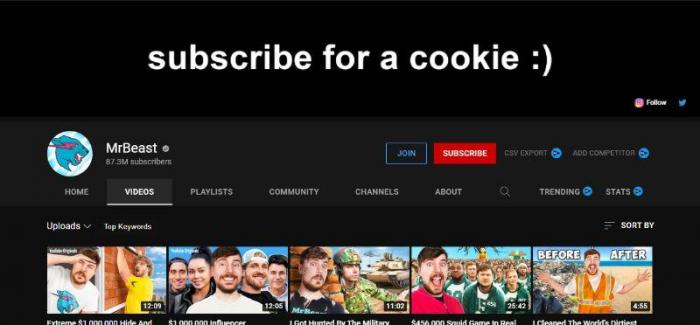 3. JuegaGerman
As the name suggests, thE gaming YouTuber JuegaGerman hails from Chile and makes videos in his native language for the most part. While this may deter the majority of English speaking audience, it hasn't stopped him from becoming one of the biggest YouTubers gamers. Having been in the Youtube scene for years now, his content has gone through changes as well. He not only makes videos of him playing popular titles such as Minecraft, The Last of Us, Far Cry 5, etc. but he also makes comedic skits about gamers themselves, often depicting the lifestyle of an avid gamer. He is also gaining popularity in the Youtube Shorts area.
4. elrubiusOMG
Having solid gaming content is already a strong contender in regards to getting views and attention but when you mix that with memes that land, elrubiusOMG is definitely one of the best combinations you could have. What makes rubies one of the top gaming YouTubers is precisely the combination of his top video-making skills and wit. A huge part of his videos contains well-edited memes that are simply too good to ignore. He also does a lot of 'Let's Play' type of videos in addition to reactions as well. This is a gaming channel where you can expect many creative videos related to video games but always have that humor you're looking for.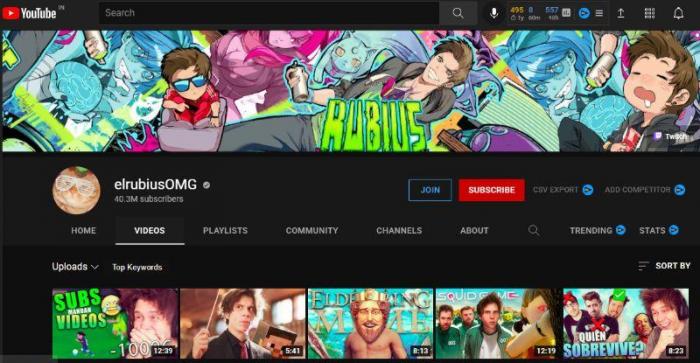 5. Fernanfloo
Fernanfloo is a gaming Youtuber of many skills. Similar to the previous two entries in this list, Fernanfloo is also someone who hails from a non-English background, particularly El Salvador, but has a huge following nonetheless. When it comes to gaming, he is someone who deals heavily with editing and memes. He often records his gameplay and edits his face onto video game characters for comedic effects. For an easy way to make oneself a character, VansPortrait can be a great choice. However, he is also really skilled at animation and there are quite a few videos on his channel showcasing his talent, most notably the Dragon Ball Z animation videos. He is an immensely popular figure in Mexico and continues to dive into new projects, his latest video features a 1v1 in the game of Rocket League with commentary.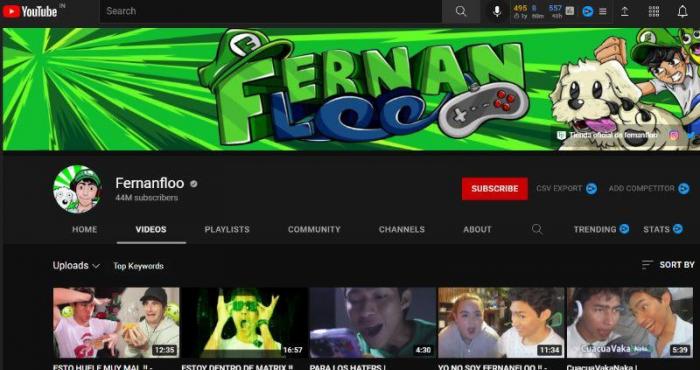 6. VEGETTA777
This gaming Youtuber VEGETTA777 can be a great choice for anyone who wants to be introduced to great new games every once in a while. Though he has different kinds of videos on his channel, his primary content remains the traditional Let's Play videos wherein he invites other players as well. However, the great part about this gaming channel is that he experiments with many new or rather unknown games such as SMITE. On a more regular basis, you will find him playing Minecraft or Among Us, though Minecraft is where he brings out a lot of creative ideas.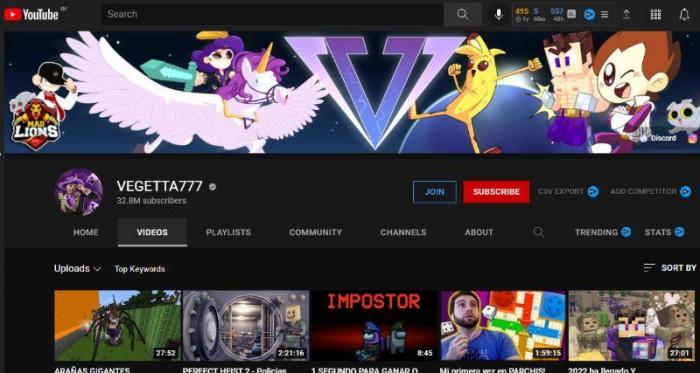 Also read: How to Make Fortnite Thumbnails Free Online?
7. SSSniperWolf
Also popularly known as Lia, this gaming Youtuber is really popular because of making content that can appeal to gamers as well as non-gamers. SSSniperWolf posts a lot of videos of her reacting to all kinds of TikTok videos and she even recreates some of those herself. When it comes to gaming, she most notably plays Fortnite. Some of the videos she reacts to tend to contain sensitive subject matter, which opens up an opportunity for her to share her viewpoints with her audience. Lia also engages in cosplay and posts simple yet relatable videos on her channel.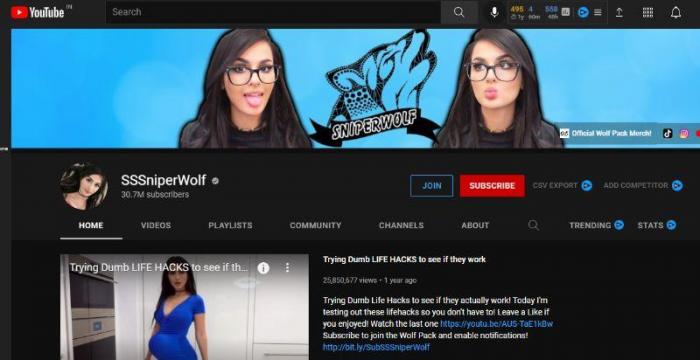 8. Markiplier
Markiplier has been one of the top gaming YouTubers on the platform for years now. His primary type of content involves him playing many kinds of horror games, most notably the Five Nights at Freddy's series, and providing hilarious reactions to the game. He also does a bunch of comedic skits that mostly revolve around games but also include a touch of pop culture. Other than that, he also runs a podcast and does a good number of commentary videos. He is a curious gamer who doesn't hesitate to feature any game that he finds interesting.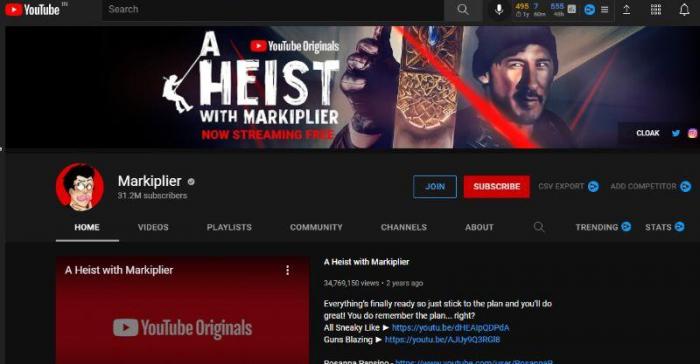 9. jacksepticeye
jacksepticeye, along with the likes of Markiplier and PewDiePie, is one of the oldest gaming YouTubers. He hit a mark when he was mentioned by PewDiePie in one of his videos and has never stopped growing since then. He plays and comments on many popular and trending games such as Resident Evil: Village and Hitman 3. A particularly popular playlist of his is the Nostalgia playlist which looks back at the best video games from the past. Nowadays, he has diversified his channel into including real-life videos such as reacting to Irish TV shows, since he is from Ireland as well. Most recently, he made a video with Markiplier as well.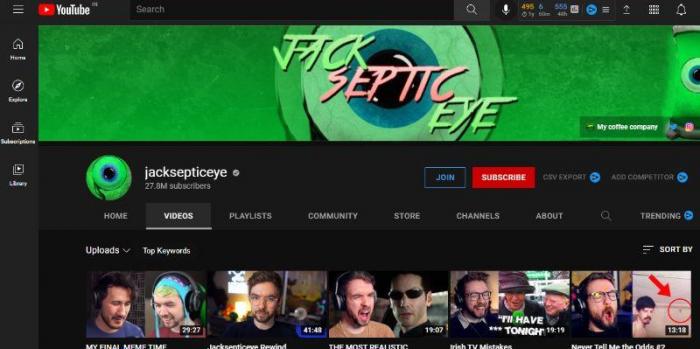 10. Total Gaming
Total Gaming is another huge gaming channel all the way from India, who does Hindi commentary for the most part. He usually plays popular multiplayer games available on desktop as well as on mobile. His main game is Garena Free Fire and he has also recently gotten into Outriders as well. Other than that, you can also find a bunch of GTA V and Assassin's Creed: Valhalla videos on his channel featuring his commentary in addition to the gameplay.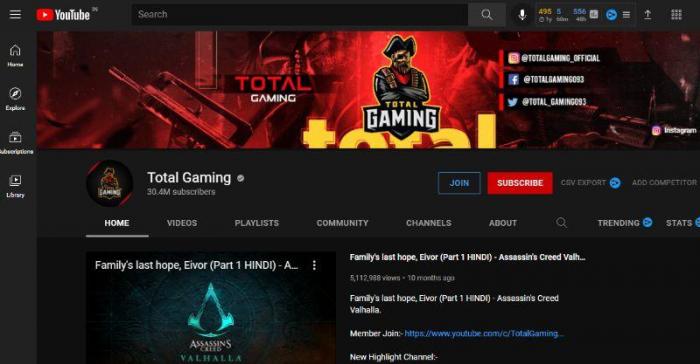 11. Mikecrack
Mikecrack is an incredibly talented gaming Youtuber who makes great use of his yellow mascot character for pretty much every video. He mainly plays Minecraft but has the occasional video of Among Us and Undertale. Other than gaming, he is also really good at computer animation and uses it to liven up his gaming videos. Most people convert photos to line drawing online and start animating from there. He also has a talent for music, often reacting to similar content and creating music parodies himself. He was listed among the top influencers of the year 2020 by Forbes Spain as well.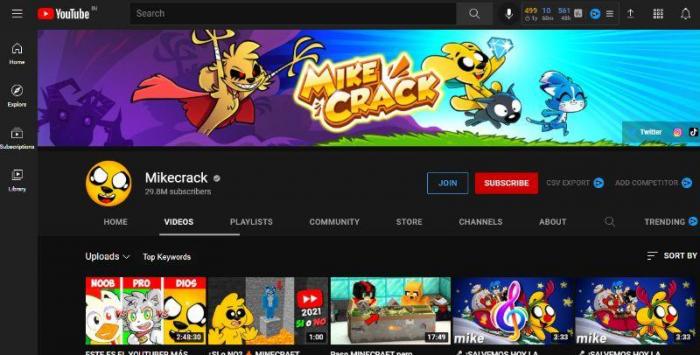 12. DanTDM
DanTDM is a natural gaming Youtuber with an intrinsic love for video games and community-based activities. He primarily plays Five Nights at Freddy's, providing funny reactions to the game similar to Markiplier and he also does the occasional gameplay of Let's Dance, where he records himself dancing to the tunes played in the game. He did once very recently as a Christmas special video. Not to mention that he is very active in uploading videos.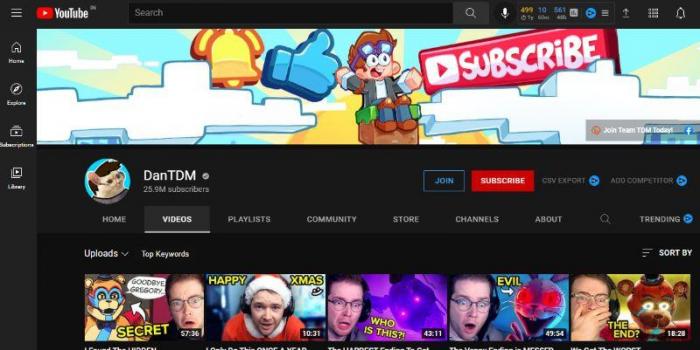 Also read: How To Enlarge YouTube Thumbnail Without Being Blurry
13. VanossGaming
VanossGaming is the type of gamer who would appeal a lot to the kind of gamers who like to either have fun with friends playing a game or test a game and see what you can do in it. A lot of his videos either show off funny or surprising mods in a game or they're just fun videos of VanossGaming hanging out with his group virtually.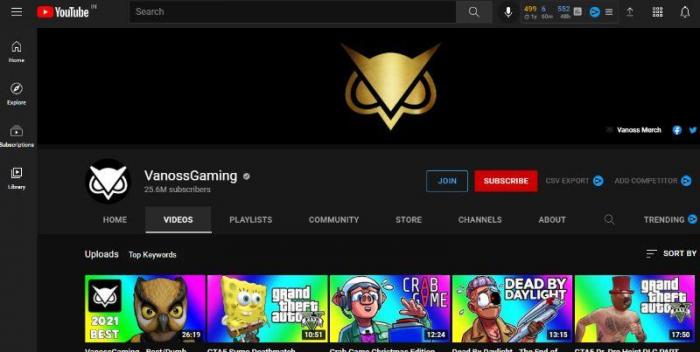 14. The Game Theorists
This gaming channel by MatPat is by far one of the most unique that Youtube has ever witnessed so far. With his talent for researching, coming up with interesting and compelling arguments, and delivery, MatPat dives deep into the complex stories and characters of video games to bring forward theories that rarely fail to impact the audience. Moreover, The Game Theorists can deliver great theories on pretty much any video game, as his most remarkable work has included everything from Five Nights at Freddy's to Pokemon. He also has other channels such as The Film Theorists where he analyzes movies and TV shows as well.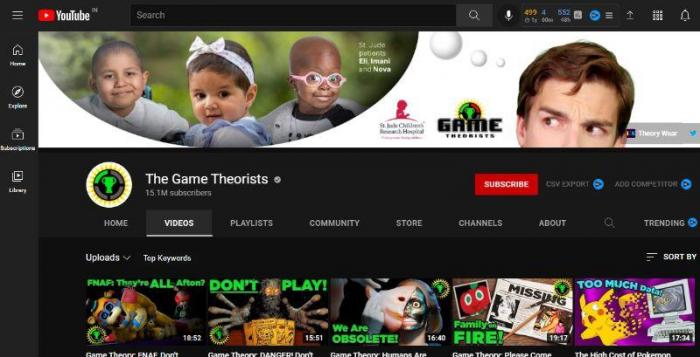 15. H2ODelirious
Not much is known about the "H2O" part but the "Delirious" comes from his supposed laughter. He has been a gaming Youtuber for quite a while now and though his identity is not yet widely known, H2ODelirious still does Let's Play kind of videos with other Youtubers and injects remarkable humor into his videos. He is also someone who engages in different games from time to time, keeping his content fresh.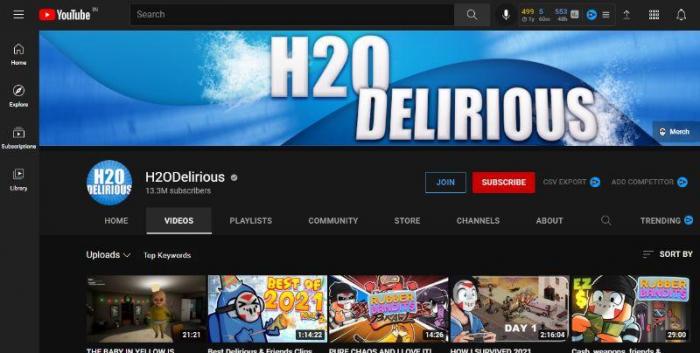 16. CaptainSparklez
CaptainSparklez is a gamer who mostly engages in Let's Play videos and his primary highlight game is Minecraft. The type of content he usually goes for is comedy and he also has his friends over for videos quite often. He has been increasingly active on Twitch as well, streaming whenever he is off Youtube. You can also find him playing other games, though not extensively.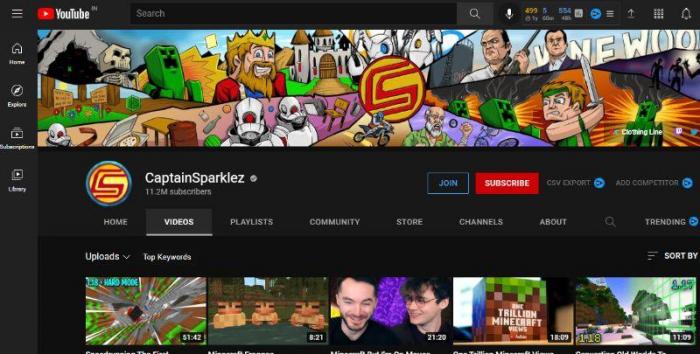 17. theRadBrad
theRadBrad is one of the oldest gaming Youtubers as well and offers a very specific niche of gaming content. His forte lies in proving the audience absolutely long-form walkthroughs with the highest graphical quality possible and making photos HD. He has arguably become the highest authority when it comes to pure gameplay without any skits or drama. He has also been called the king of Youtube walkthroughs, which is absolutely true considering his quality of content.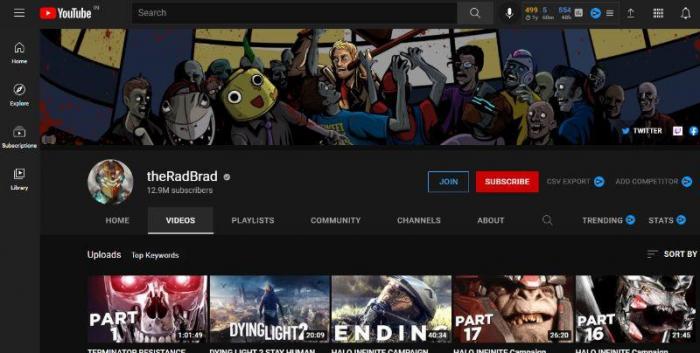 18. SmoshGames
You can consider SmoshGames as an inspiration for WhatCulture since their content and style has a ton of similarities. SmoshGames is a well-recognized group of enthusiastic gamers who engage and create a lot of creative gaming content, ranging from game reviews to having Let's Play gaming sessions with commentary. They also host their own shows, particularly the 'Smosh Summer Games'.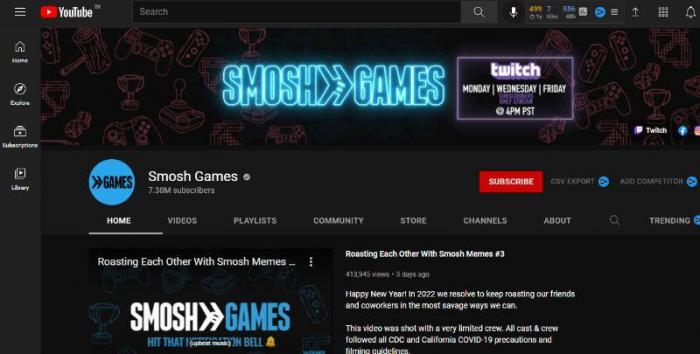 19. LDShadowLady
When you visit Lizzie's channel, you can expect everything about Minecraft. Being highly passionate about Minecraft, LDShadowLady has built a huge fanbase for herself by making years of content revolving around this game. Be it normal playthroughs of Minecraft or testing out the latest fun mods, she doesn't miss out on giving her fans what they want. However, she also does enjoyable comedy videos if she feels inspired.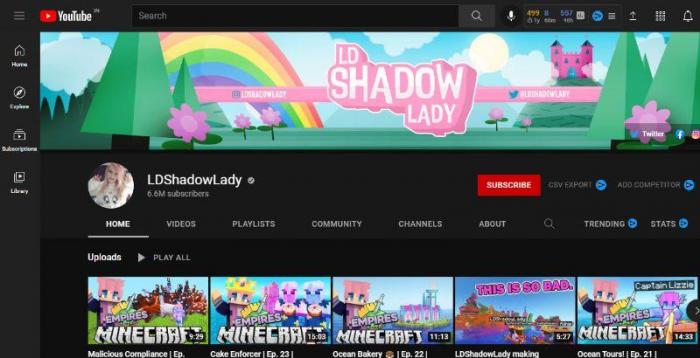 20. TimTheTatman
TimTheTatman is just someone who loves video games and everything surrounding it, though his favourite genre of video games is shooter games. On his channel, you will find ample videos of popular shooting games such as Call of Duty, Valorant, Fortnite, etc. Other than that, he also does exciting giveaways. For instance, he competes one on one with others and offers them a brand new gaming PC if they end up winning against Tim.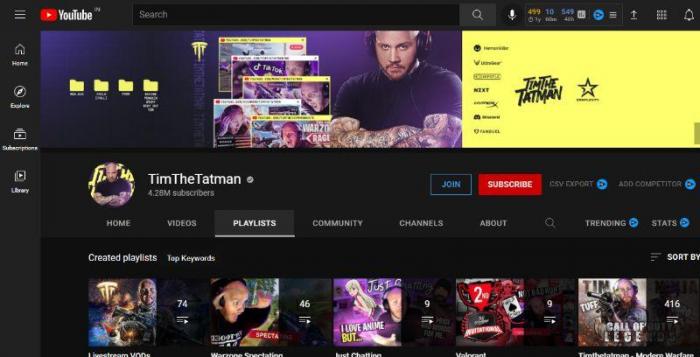 Conclusion
Following gaming YouTubers who generate many interesting guiding or reacting videos becoming popular among young gamers. Watching such videos seems to have a game partner or review of your favorite game. Hope this view will help you pick your favorite YouTuber.
FAQs
1. Who is the most popular gaming Youtuber?
PewDiePie is by far the most popular gaming Youtuber and he has the fourth largest channel in Youtube overall. PewDiePie is extremely genuine, humorous, and personable, which makes people not only stay for entire durations of his videos but also come back for more.
Do you find this post helpful?