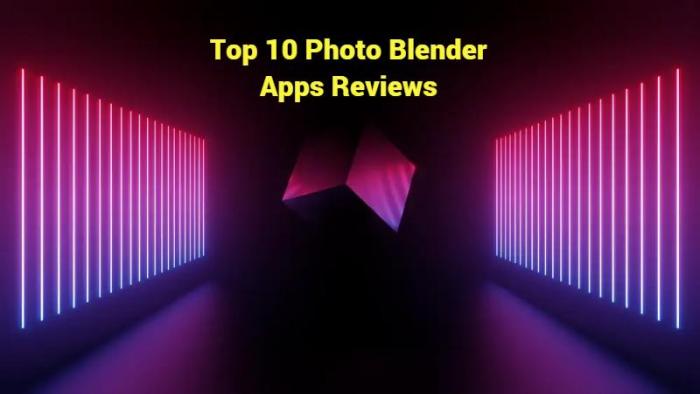 There are numerous ways to transform ordinary images into breathtaking shots and photo blending ranks high on that list. One can use photo blending tools for creating funny, emotional, or surreal kinds of pictures. For example, if you want to create a collage for a special someone on their birthday, photo blending comes to the rescue. To create a double exposure effect or for merging two or more photographs, learning complex Photoshop techniques is no longer necessary. In this article, we are going to be teaching you, step-by-step, how you can create beautiful abstract blended photos in seconds with the help of some non-complex, straightforward mobile applications. Not limited to this, a useful AI image upscaler will also introduced to you.
What is a Photo Blender?
Photo Blender is a tool that allows you to blend multiple photos and create a double exposure effect in a matter of seconds. You can create a collage and mix different photos resulting in your very own artistic masterpiece. You can either remove the background, add an element, blur an unwanted part of the image, drag and drop part of images from other photos, etc. Some photo blending apps allow editing options such as adjusting brightness, cropping, and changing the contrast. Create a cloning effect, motion path, overlay, merge pictures without any hassle. Earlier, to create double exposure effects, you needed to learn advanced photo editing software but nowadays you can do the same with the click of a few buttons.
Best 10 Photo Blender Tools Recommended

Tequnique, available on desktop and mobile platforms, is known for creating multiple blending exposure that was previously limited to DSLR cameras only.

Features:
Supports full-resolution photos.
You can import and export images in your preferred format, such as jpg, png or even bmp.

Pros:
Obtain professional-like editing results even without the know-how of professional editing.
Compatible with Android, Apple, macOS as well as Windows.
Cons:
For best results, a tripod is required to click the photos.
No free version available, costs about $2.99.
The go-to photo blender app for anyone looking to create a photo collage, photomontage or even a scrapbook. Explore your creativity by making artistic collages with the help of cutouts of other images.



Features:
Easily resize each picture by using two fingers to zoom in or zoom out.
Plentiful options of designs, layouts and features to choose from.
Pros:
More than 5 million downloads on the Google Play Store.
Straightforward user interface that allows people who are not tech-savvy to enjoy it.
Cons:
Might downgrade the quality of your high-resolution images.
The app is flooded with ads.
Pic Blender Photo Editor app has a unique takeaway on photo blending. You can create different layering effects with utmost ease. Although a paid application, you get access to use the photo library that contains 400+ images of textures, landscapes, etc.





Features:
Access to a library of 400+ images that will continuously grow.
You can add multiple unique filters to transform your photos.
Take advantage of tools such as Enhance, Brightness, Contrast, Crop, Saturation and more.
Pros:
Think of the app as a one-stop for your editing needs.
Master of the double exposure effect.
Cons:
This photo blender online app is exclusively available for iPhone.
Limited options available for the free version. The paid version is from $0.99 to $2.99.
With over a million downloads and a rating of 4.7, you certainly cannot go wrong with Photo Blender. Suitable for personal or business use or even to create YouTube thumbnails as the app doesn't hamper the quality of the original images.

Features:
Boasts of more than 1000 collage templates.
Blend 2 photos with more than 50 different available styles.
Pros:
Along with the usual photo blending, this app contains filters and many other effects.
Negative reviews are taken suggestively to make the performance of the app better.
Cons:
Contains a bunch of ads
Lacks the option of saving an image in a larger resolution.
Combine photos quickly and creatively. Go beyond regular photo blending with unique options to choose from, such as face changing, photo PIP (picture in picture), etc.


Features:
You're in complete control of lessening or intensifying an effect.
Multiple stickers, fonts and filters are at your disposal.
Pros:
This app is apt for beginners.
Expect a great user experience.
Cons:
Contains many pop video ads.
Only available to download on Android.
If you want to add an artful aesthetic to your photos, the Ultimate Photo Blender/Mixer is the right tool for you thanks to its many creative filters and tools.


Features:
The eraser feature helps you to retouch the image.
The user-interface is friendly which makes it a treat.
Pros:
The tools and filters included in the app are above par.
The edited image gets saved in great quality.
Cons:
To use the application to its full potential, it would cost you at least $0.99.
The app has a bunch of ads.


Go on a photo blending/merging spree with the simplicity of Auto Photo Mixer. Mix or blend two or more images. Create an overlay to make a double exposure effect.




Features:
The app has more creative options than its competitors.
A large variety of backgrounds to choose from.
Pros:
The background can be removed on its own, if you choose to do so.
Fun, easy to use and has a ton of effects and filters.
Cons:
The ads are a turn off.
To create double exposure effects, you must use their preset backgrounds only.
Photo Blend by Simply Entertaining Developers is a great tool when it comes to advanced editing tools such as the double exposure effect, overlays and more.
Features:
You can use premium features by watching ads.
The perfect aid for digital artists and people who are looking to create posters
Pros:
After editing, your custom image gets downloaded automatically.
Fun and easy to use.
Cons:
Limited number of background images.
You cannot blend two of your own images.
Improvise at your best with the help of Blend Photo Editor & Effect app. Create the perfect blend with a wide variety of categories of effects, such as the Bokeh Light effect, Artistic, City, Nature, Colourful, to name a few.



Features:
Helps you directly share your artwork to your social media.
It would set you back $2.99.
Pros:
A smooth interface that hardly ever crashes.
A large collection of templates.
Cons:
Similar to other tools, you cannot blend 2 of your own images.
The eraser size is not adjustable.

Exclusive to iOS devices, you can blend multiple images in a single frame horizontally, vertically and in 2D. If you are looking for a quick blend, this is the right choice for you.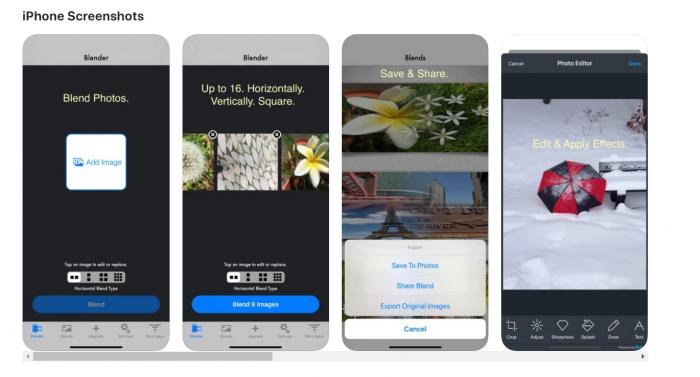 Features:
This photo blender mix up lets you blend up to 16 images.
Considerably faster than other photo blending tools.
Pros:
Your created images get saved on their own.
A recent update lets you choose the crop on the blended image.
Cons:
Lack of personal customization.
A simplistic app that does not offer other complicated editing options.
FAQ
1. How To Use a Photo Blender?
For using the Photo Blender, you just need to launch the application.
Click on "Add image" and select up to 16 images from your photos.
Once done, select the blend type and proceed to click on "Blend image".
You'll see a preview of the blended image. Click on it to view, undo, edit or export.
Conclusion
By now, you must have a fair understanding about photo blending and the differences that set these tools apart. Along with photo blending, an image upscaler is also a prerequisite for an editor. It makes sure that your images are of their best quality.
Do you find this post helpful?
Yes
No