Fog photography, or otherwise called foggy photography, is an excellent type of photography if you want to make your visuals more intriguing and layered. Also, when it comes to foggy forest photography, there are many terrains and sceneries that you can experiment with, alongside fog photography. Of course, taking breathtaking fog photographs takes practice and timing, but with the following fog photography ideas, you will be able to have a strong start and understanding. Not to mention that a good sense of fog photography indicates you also have a better understanding of terrains, timings, as well as positions from where to shoot. You can then complement these skills to many other types of outdoor photography.
How to Use VanceAI for Fog Photographs?
Naturally, there needs to be a balance when it comes to fog photographs in order to highlight all of the elements of the picture and not to overdo with the fog. However, there can be many reasons that may cause fog photos to have excessive haze. Considering that, VanceAI Photo Dehaze can be an excellent remedy to overly foggy or hazy photos. VanceAI Photo Dehaze uses deep learning to remove haze or fog from your images online. It can restore details in hazy pictures for clearer results and correct color of sky, portraits, mountains, cloud and more. VanceAI Image Upscaler, AI Photo Colorizer, etc are some of the other VanceAI products. Here's how you can use Photo Dehaze:
1. Use the link given above and click on Upload Image.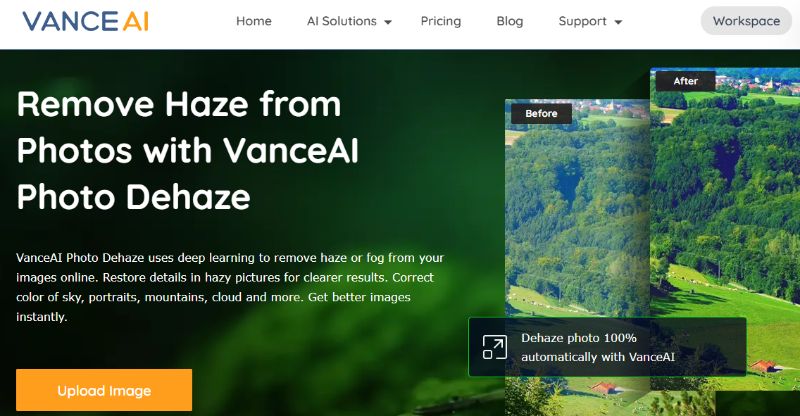 2. Upload the image and click on Start to Process. You can also select Auto Color Optimization if needed.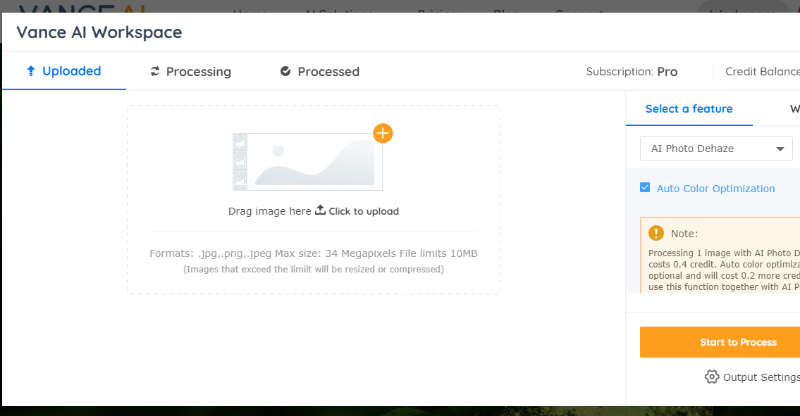 3. Go to Processed > Preview > Download Image to save it.
Best 5 Fog Photography Tips
1. Plan Your Fog Photography Beforehand
Unlike daylight or night, fog isn't something that is consistent and ever-lasting. Not to mention that you also need to have great places in mind where you will get attractive angles to capture the photos. While the ideal time to take part in fog photography is just after a rain, there are still other aspects such as location and subjects you need to plan for. The subject or what you focus on also determines the quality of the photo. As such, it is crucial to decide the object or person you would like to have as the highlight. 
2. Use a Tripod
Tripods can be extremely useful when it comes to fog photos given how they allow you to have a greater focused shot plus other benefits. Considering fog photos, they absolutely need to have as much definition as possible. The terrain and other objects must be refined enough to be visible even with fog and as a result, it becomes important to avoid blurs or camera shakes. A tripod pretty much makes it possible to have the most stable camera position. Not to mention it also allows the easiest way to take longer shots. You can then experiment with different ISO settings and shutter speeds.
3. Shoot with Light
The nature of fog photos is such that it creates a suspenseful feeling or at least when it comes to the pictures, they obstruct a large portion of the visuals, especially the background. When it comes to day time, you can take advantage of this by shooting in the morning or afternoon. What happens at this time is that there will be certain sun rays that will penetrate through the fog and create an amazing effect. At night, you can do the same but focus on objects such as headlights, neon boards, etc in the background with the fog. Both instances create suspense and a feeling of curiosity in the viewer.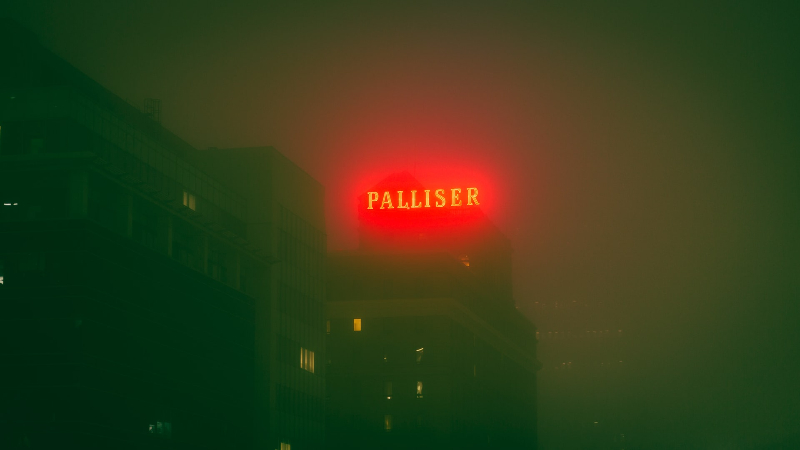 4. Include Silhouettes or People
To add another layer to the previous point of including light sources in your fog photos, you can also certainly consider adding figures into your pictures to provoke a wider range of emotions. One of the most common and consistent fog photography ideas is to take fog photos at night with the fog covering a figure in the dark. This immediately creates a feeling of mystery and horror. However, it is not just limited to horror. You can still have other kinds of visuals, such as a bunch of people visiting a neon-lit restaurant or theatre, showcasing the nightlife during winter.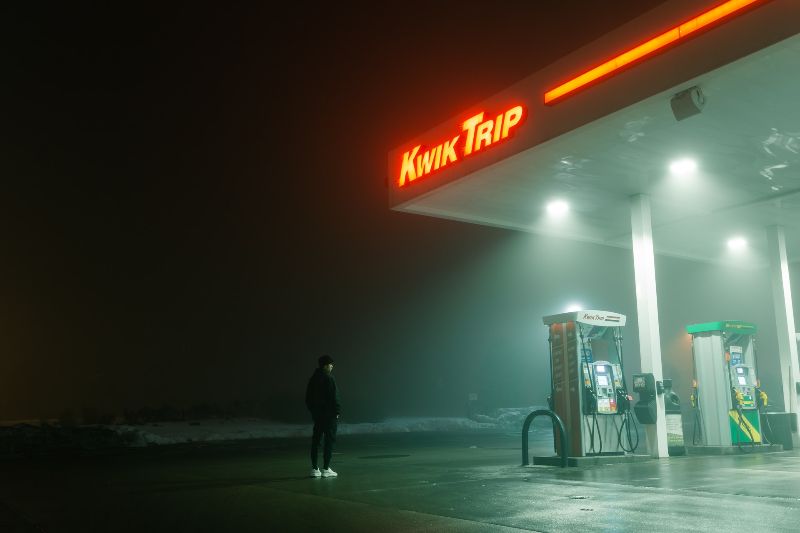 For instance, this visual creates a sense of adventure or night drives.
5. Always Look for Depth
Coming back to the very nature of fog photos, they are the kind of effect that obstruct or cover a huge chunk of a photograph. Therefore, one of the most essential fog photography tips is to always create depth in your photos before considering fog. This depth could be anything from a human figure to inanimate objects such as trees or mountains. Ensure that your shot is well contrasted between the subject and the fog and refine those details as much as possible. When it comes to refining, use the AI image upscaler. 
Best 10 Fog Photo Examples
Let's take a look at some great fog photos.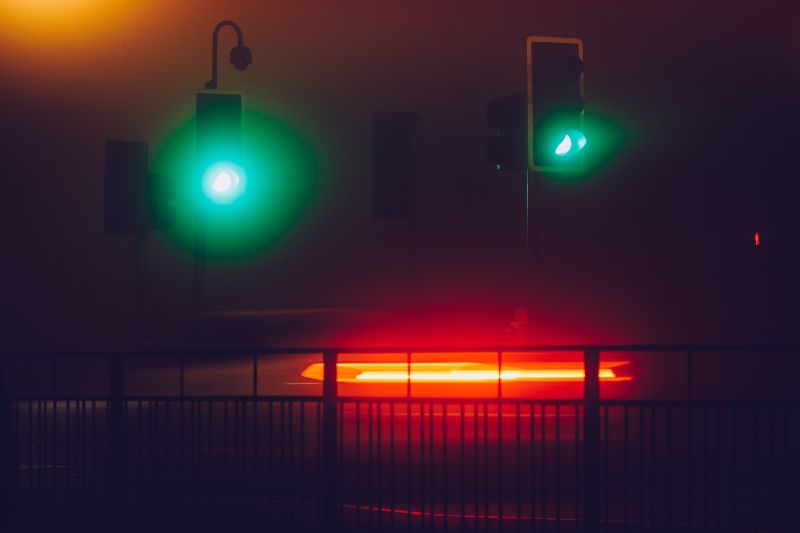 This photo creates an excellent contrast with the obscurity of the fog with the sharp lights.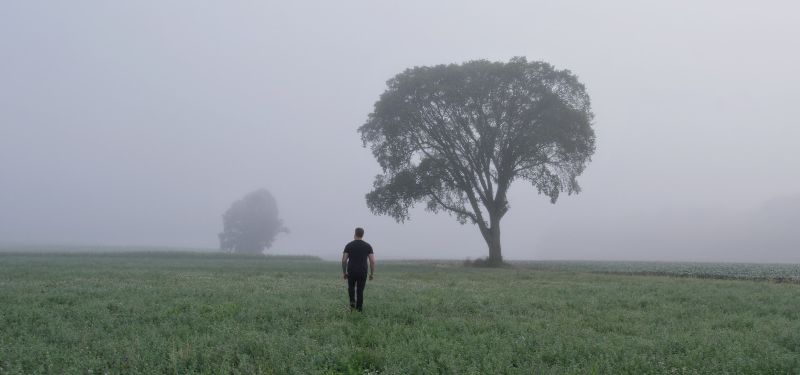 Here, the fog is used to portray a never-ending stretch of land that is also suspenseful.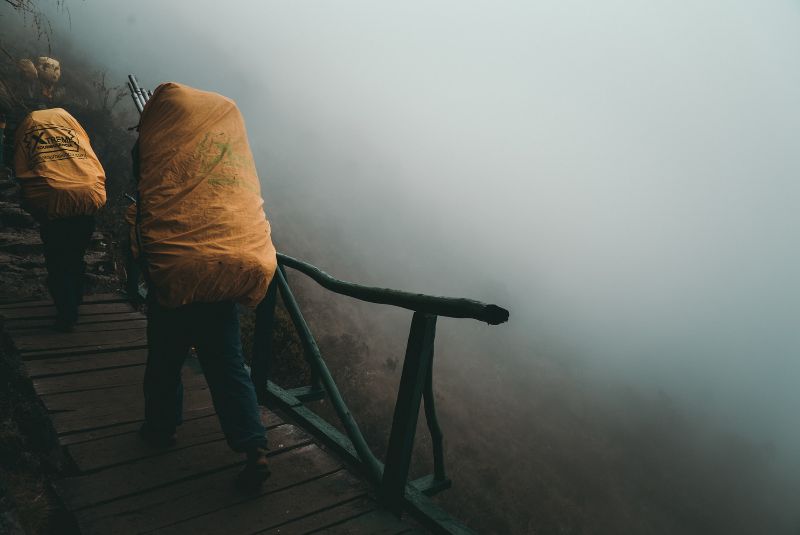 The use of fog coupled with the close-up shot and the angle adds a whole new perspective to the hiking experience.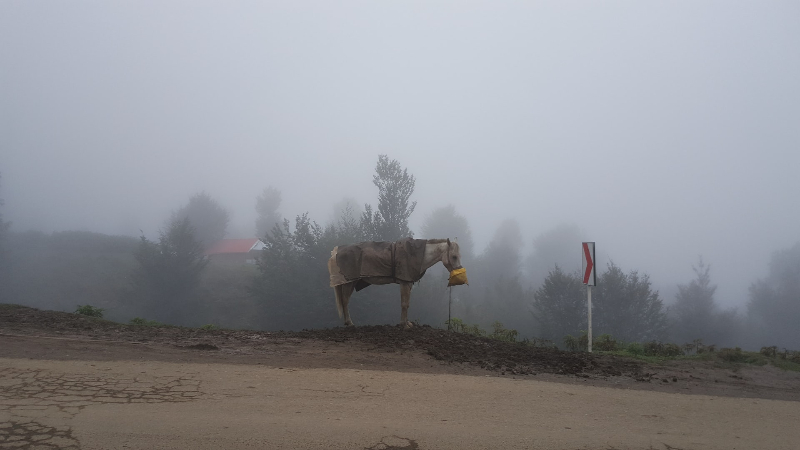 The fog not only covers what seems like a village but it also helps in putting the horse as the main subject.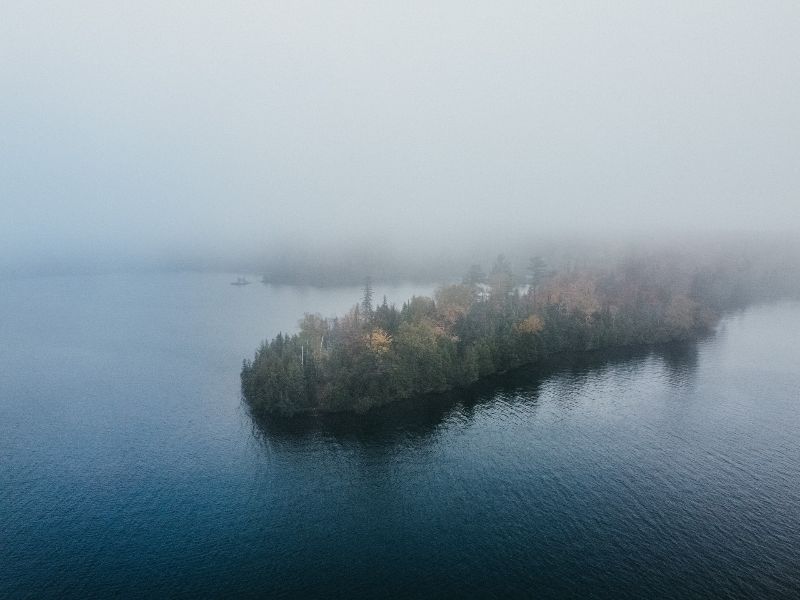 The fog here acts as a way to create mystery around the particular island. This is a kind of shot you'd see in a movie.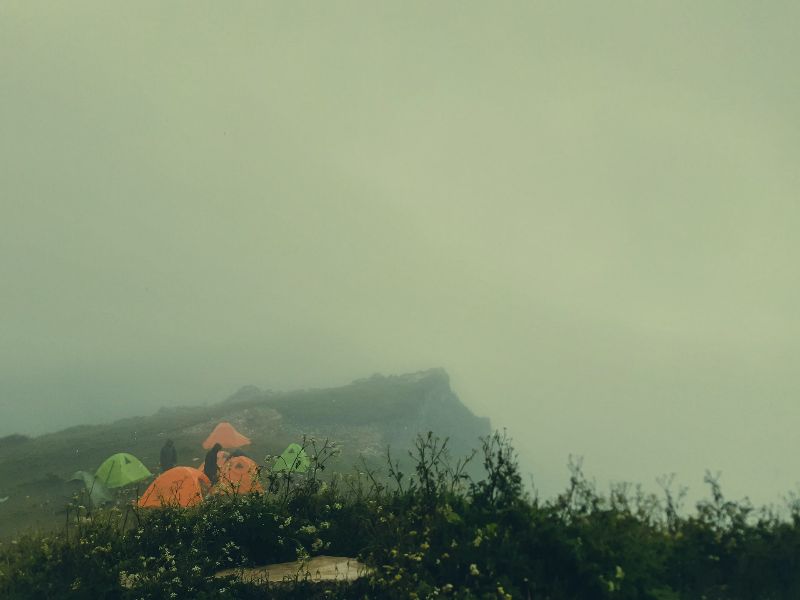 Similar to a previous photo, the fog photo adds a layer of complexity to an otherwise simple idea of camping.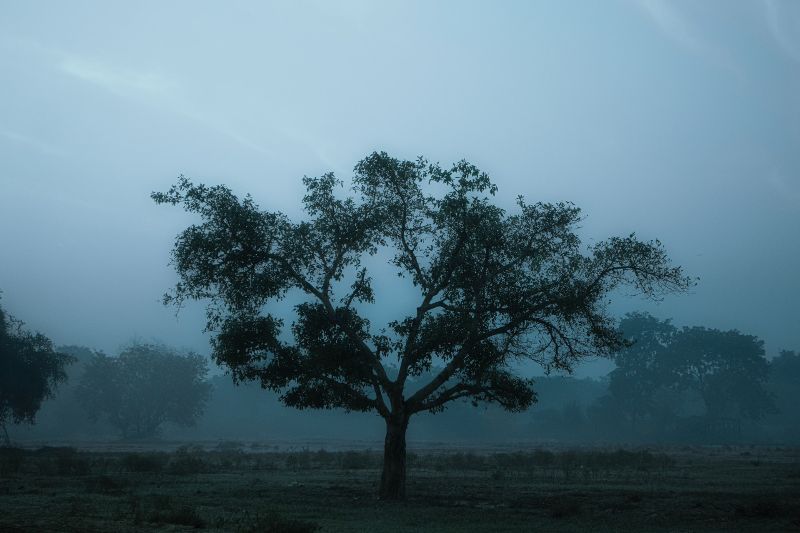 You can use foggy photography to create strikingly aesthetic visuals, as done in this image.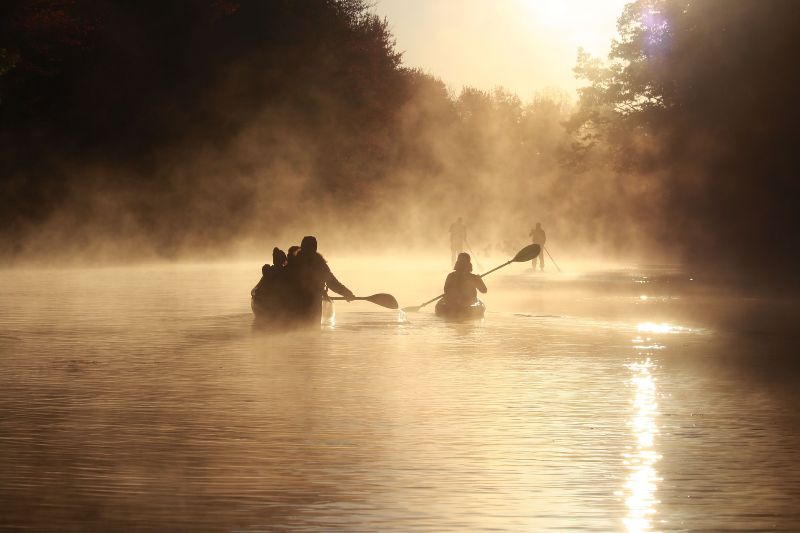 As mentioned in one of the foggy photography tips, you can use fog to create excellent silhouettes. This photo here is a great example.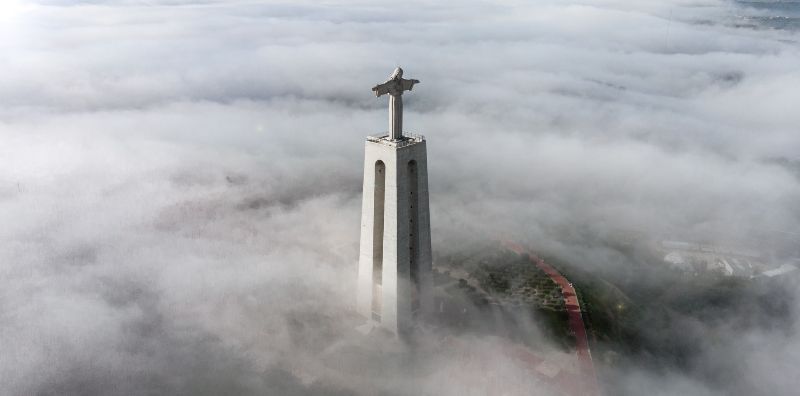 A creative use of fog to cover up the terrain in exchange of keeping the iconic statue as the highlight and main subject.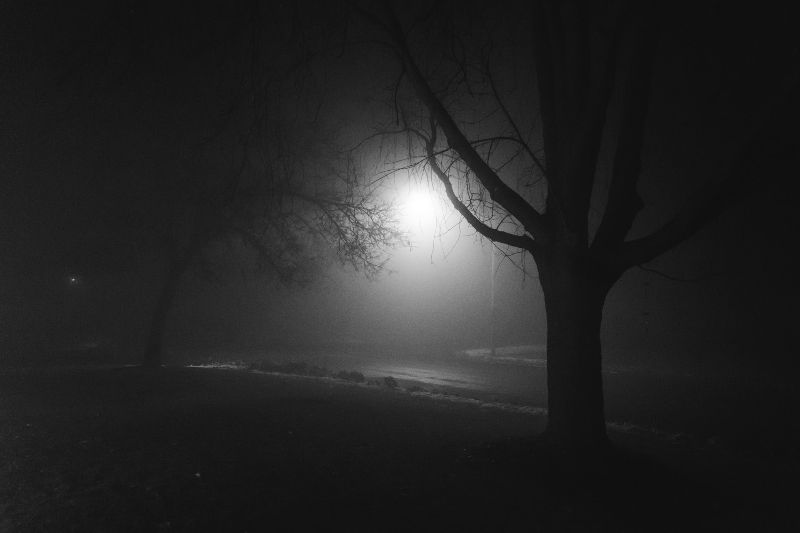 And of course, the classic use of fog at night to evoke the sense of dread and horror.
Conclusion
Fog photography can be extremely fun and useful to your digital platforms, regardless of the work you do. One of the most consistent aspects of foggy photography is its capacity for experimentation. You can start implementing the tips given in this article and have a higher chance of capturing fog photos at the perfect time. In addition, if you want to dehaze your picture, VanceAI Photo Dehaze allows you to see less atmospheric fog and haze in your images. It's super easy to get clearer pictures with this dehaze tool. Just drag and drop a hazy image into the online workflow.AI can remove haze automatically in 5 seconds.  Also read: How to Fix Hazy Image with VanceAI?
Do you find this post helpful?