If you are looking to get recruited or noticed on LinkedIn, that little round sphere on your profile needs your attention. A LinkedIn profile picture is the key element of your brand. If you've had the opportunity of getting a few professional shots taken, you won't have much of a problem choosing the best LinkedIn profile picture for your page. And if you want your profile picture to look crisp, it's better to unblur image first. The photo enhancer tools provided by VanceAI can be a big help.
But if you've had your photo clicked through a smartphone like the majority of the population, you will need to be more careful while uploading your LinkedIn profile picture. Here are 10 LinkedIn profile picture tips to assist you with the best ways to make an excellent first impression.
Best Tips to Make Linkedin Profile Picture
1. Don't Pick a Picture That Isn't You
One of the most obvious LinkedIn profile picture tips is to put up a picture that shows you. People often think it's okay to upload a random generic image off of the internet to fill in that profile picture circle.
Your LinkedIn profile picture should have you in the frame. If you think an employer has no means to verify your picture, you might be proven wrong. Even if you want to work remotely, it's important to put up your own picture.
Prevent the embarrassment of when you have that interview or meeting, even if it's online. What happens when the employer sees it is not you, who is in your LinkedIn profile picture?
2. Make Sure Your Face is Visible
Again, this one kind of speaks for itself. Use a photo where your face is clear and visible. Posting a silhouette or a picture of you posing in a vast meadow, kind of defeats the purpose of putting a LinkedIn profile picture.
Aim to fill at least 70% of your picture with your face. Close-up shots and headshots are your best bet. If there is good lighting on your face, but the picture is clicked from a distance, you can adjust the LinkedIn profile image size and crop the image to make your face the focus of the picture. Or if you want your face to look clear, a high-contrast image would be a great choice. Get one by this link to know how to unblur an image online.
3. Don't Upload a Group Picture
Building on the first two points, you want your LinkedIn profile picture to complement who you are, not your friends and family. Putting up a group picture will confuse the recruiter as to which one is you in the frame.
Cropping the image isn't the best solution since it might distort the photo composition. Plus, you can easily tell when an image is cropped because of the dangling arm around your shoulder, or some other sign of the other person. If you think that the picture would really make a good LinkedIn profile picture, you can take the help of online AI photo editors to aid you in JPEG artifact removal.
4. Get Rid of Random Artifacts in Your Frame
To get the best LinkedIn profile picture, you can use VanceAI JPEG Artifact Remover. It is a jpeg artifact removal app that will make sure there aren't any unwanted objects (or even people) in your picture. The process is pretty simple.

Let us walk you through a step-by-step guide:
Step 1 - Upload your uncropped, group image or image with unwanted objects - all for free.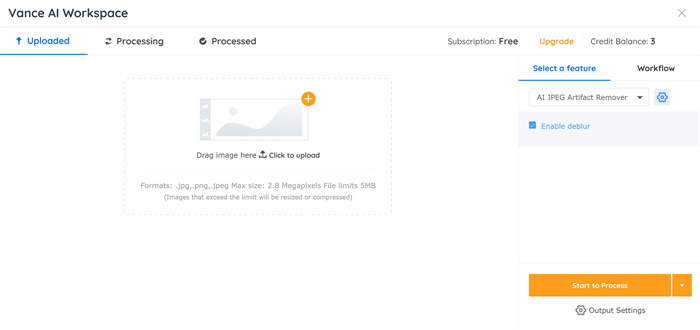 Step 2 - Wait just a few seconds as the VanceAI processes your picture automatically.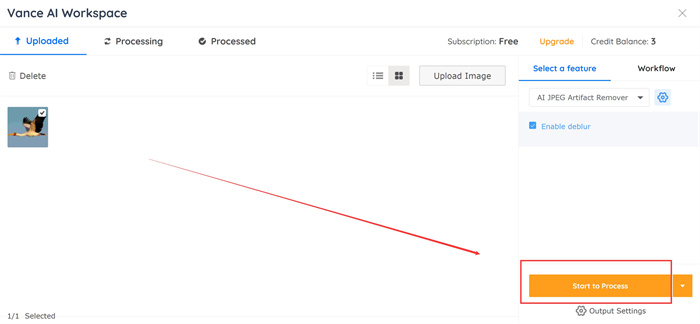 Step 3 - Your processed picture is ready for download!
This is a great way to get the picture you want by letting an AI platform eliminate random objects from your favorite photo without affecting the picture quality of your LinkedIn profile picture.
5. Use Only High-Resolution Images
One of the most essential LinkedIn profile picture tips to remember is to upload images that are of the highest resolution. The maximum size for your LinkedIn profile picture is 8 MB, which is actually quite big. So, if you have an image from a DSLR, go for it.
But there may be a chance that the picture will look blurry, or you will not have a fine-quality picture with a high resolution. In this case, opt for an online photo editor to fix your picture for you. VanceAI's image enhancer tool is an excellent option to consider.
You can heighten the best details in your picture and optimize your LinkedIn profile picture size to ensure that it gives the best quality image.
6. Use The Appropriate Dimensions
A good LinkedIn profile picture size is 400 x 400 pixels. Following the dimension guide given is crucial to achieving your ideal LinkedIn profile picture. The largest size you can upload is 7680 x 4320 pixels.
You can use a photo editor like VanceAI Image Resizer to modify the dimensions specified as shown in the following video. LinkedIn recommends adding a photo that will not require much cropping after it is uploaded. To do this, your original photos should comply with the LinkedIn profile picture dimensions.
7. Don't Upload Selfies
All the best LinkedIn profile picture examples are those taken by somebody else. Selfies might be the most convenient and comfortable way to take a picture but your LinkedIn profile picture is primarily a business picture. So, it's better to maintain a kind of professionalism while clicking the picture.
Front cameras often mirror the image, so if you want to prevent any reversal of text or logos, just ask a coworker to take a quick picture. It will definitely help deliver the best LinkedIn profile picture.
If nobody is available to take your picture, you can prop up your phone and set an auto-timer. This is better than a selfie. Remember - make the best out of the options and resources available to you!
8. Try to Use a Plain Backdrop
The focus is on you. A busy background might distract a viewer from your face. The most appropriate LinkedIn profile background image is a plain white or black background or a wall with any solid color.
If you do want to include some interesting details, you can use the banner space or the LinkedIn cover image to upload an image or collage of your workplace or work-life.
9. Choose a Picture That Represents Who You Are
Your profile picture will represent you and your brand to any potential employers. It's essential to stay true to yourself, so the client or employer gets a better idea of who you are.
Wear what you ordinarily would to work, whether it is a t-shirt, a sari, or a 3-piece suit. Also, make sure the LinkedIn profile picture is updated with the most current image of yourself. Maybe you've recently had a haircut, or gotten rid of that long beard, or gotten new spectacles.
It's always better to have the most current image. This will ensure you have the best LinkedIn profile picture possible, and represent who you are and what you really look like.
10. Edit Your Picture Before You Put it up
This last step is perhaps the most important. Uploading a picture without editing it might be a grave mistake. When we say editing, we do not mean adding filters. Editing implies enhancing the image you already have so that it makes the best possible LinkedIn profile picture.
You can deblur image or do more editing by utilizing VanceAI's image enhancer tool, which will help you balance tone and color, increase detail, and enhance your photo by removing any blemishes or blurriness.
Conclusion
Lighting, background, camera quality, etc., are equally crucial while uploading an image, especially if it's a LinkedIn profile picture. You can use just your Android or iPhone to snap that image. But make sure you follow the tips as well as choose the best AI photo enhancer tools mentioned above to get the best results.
FAQs
1. How to change LinkedIn profile picture?
When you open your account, click on Edit Profile and tap the camera button. Simply choose the photo you want to set as your profile image and click Upload Photo. Before the picture is set, you will get a prompt to crop your image. If your photo already fits the LinkedIn profile picture dimensions, you're good to go. Just tap Save Photo.
2. What are some LinkedIn profile picture tips?
Some of the tips to follow while uploading a LinkedIn profile picture are to have a clear picture of your face with a plain background without any distracting elements or unwanted objects. A great method for the latter is to use VanceAI JPEG Artifact Remover. You can check out our full list above.