Our quality of life is getting higher and higher, and there are strict requirements for both the function and appearance of items. You want the things you use to be both practical and beautiful. Have you ever seen a custom credit card skin? How fun it would be to make your favorite picture your own credit card skin! Personally customized credit card skins can reflect your individual taste and make you a shining person in every aspect of your life.
This article introduces you to various apps that can customize your own credit card skin, and introduces their advantages and disadvantages. It hopes that it will be helpful for those of you who want to customize a unique credit card skin. And there are also introductory tools such as VanceAI Image Enhancer that you also can further process your image that can be the credit card skin, making it more exquisite and nice!
Best 10 Ways to Get Custom Credit Card Skins
There are many apps on the market that can optimize images, you might get confused between the plethora of options available out there, so we have summarized the 10 best websites for this purpose. And we have ranked them according to the editing options and the service they offer. Do give them a try!
| | | | | |
| --- | --- | --- | --- | --- |
| | Need a new card | Permanent or temporarily | various | Easy to use |
| Cucu Covers | √ | √ | √ | √ |
| Wrap Cart | √ | √ | √ | √ |
| Blitz Covers | √ | × | less | √ |
| Swipe Stores | √ | √ | √ | × |
| Vinyl WorksFbfonts | × | √ | √ | √ |
1. Wrap Cart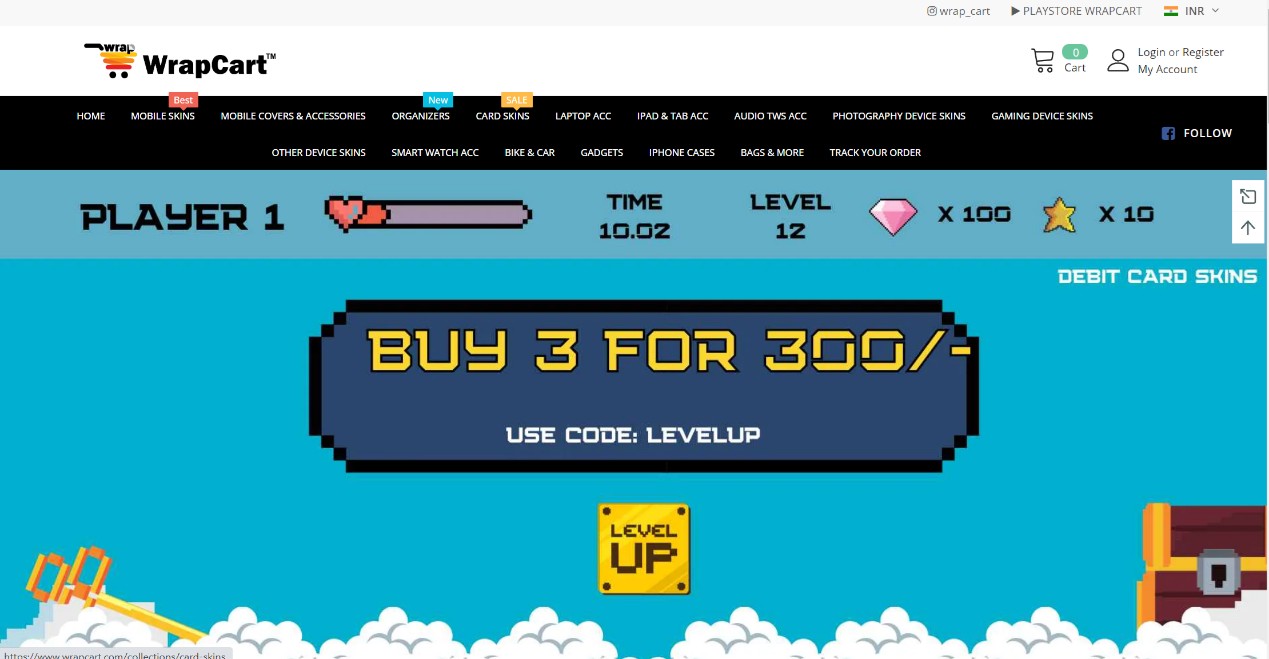 In today's world, personalization is everything, and one of the best ways to express your personality is through your gadgets. Whether it's your phone, laptop, or gaming console, adding a skin can completely change the look and feel of your device. If you're looking for a place to purchase skins, WrapCart is one of the best options out there. They offer high-quality skins at an affordable price, making them an excellent choice for those who want to add some style to their devices without breaking the bank.
Pros:
Offers a wide range of skins for various devices

The skin with high-quality materials

Extensive range of designs
Cons:
Express delivery takes time
2. Wells Fargo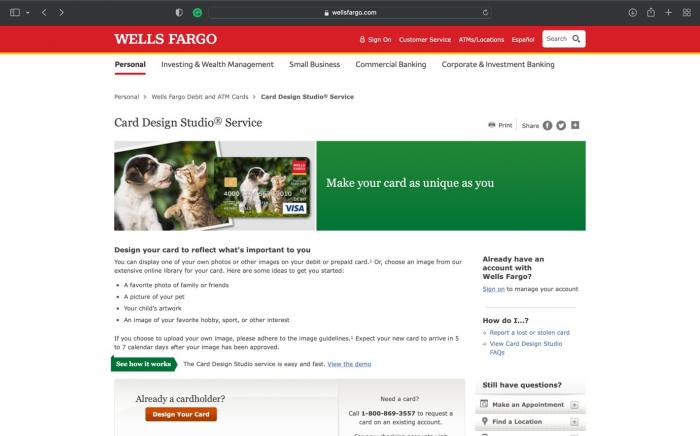 You might have heard of Wells Fargo already. It is one of the top banks out there. It offers a range of services including bank accounts, loans, investment banking services, etc. When you apply for a debit or credit card here, it gives you the option to customize it the way you want to. You can upload any picture ranging from your family to your favorite TV show and Wells Fargo will incorporate that for you! The result is incorporated into the card and is thus of a higher quality and permanent.
Pros
Is a whole bank
Makes a permanent card with your desired template
Cons
You cannot use this if you already have a credit card and do not want a new one
3. M&T Bank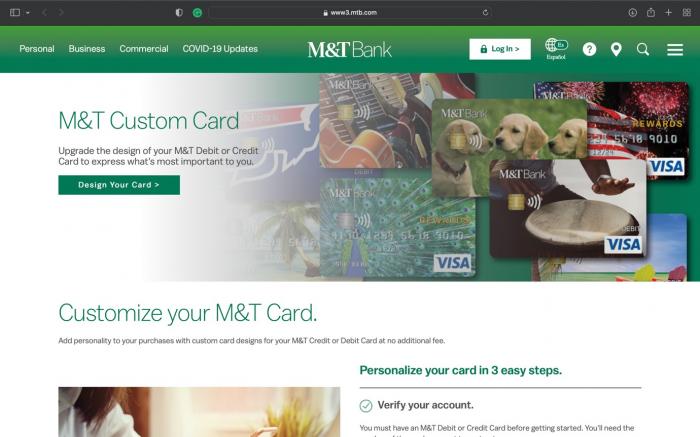 M&T Bank is the second bank on the list. As expected, it does not specialize in making your credit card skins. Instead, it offers a broad range of services such as business and individual loans, banking services. Among these services they also offer their own debit and credit cards. They allow you to customize your own credit cards while ordering. You can choose any design or template and it will come printed on your card. It is not a skin and is more permanent.
Pros
Is more permanent
Cost is imbedded in the card
Cons
You cannot do anything if you already have a card
4. Swipe Stores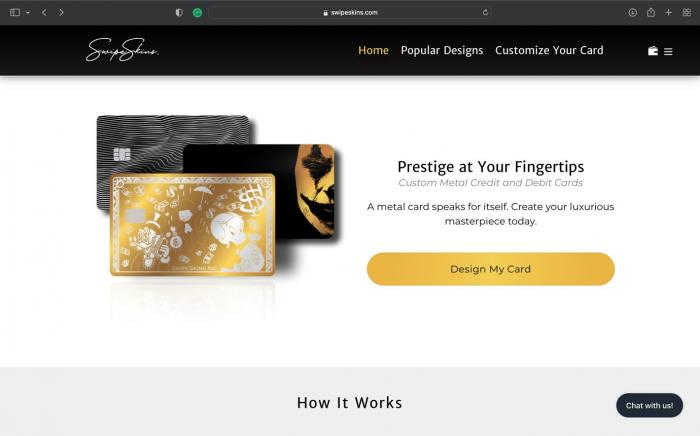 Swipe Stores is a website solely dedicated to creating new credit cards for you. They offer customized and high-quality designs for your credit cards. They are different from other websites because they replicate your plastic credit cards to make metallic ones. These metallic cards have your chip and are relatively stronger, shinier, and can have any design you want. You can choose the design from a large number of options that this website offers or just upload your own design. Then send your plastic cards and get them back along with your new metallic ones after a while.
Pros
Unique service
Long lasting cards
Make a completely new card
Cons
It takes much longer to make these cards
There is a chance of theft of data
Is expensive
5. Vinyl Works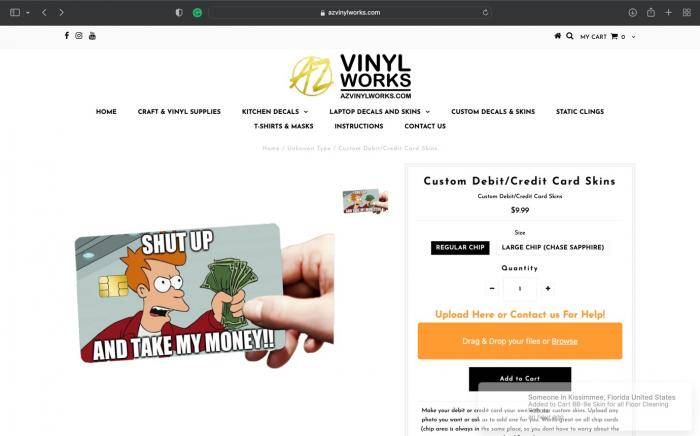 Vinyl Works is a website that creates skins for all kinds of supplies as well as offers a lot of accessories such as T-shirts, clings, etc. They also offer credit or debit card skins. Here too, you can choose from a variety of options or upload your own customized designs. They offer two sizes: regular chips and large chips. Here, making your credit card skin is extremely easy. If you are not satisfied with your original design, you can always use AI Image Upscalers to edit and then upload it here.
Pros
Easy to use
Can make customized skins
Offer a lot of other accessories
Cons
Offer fewer ready made templates
6. Cucu Covers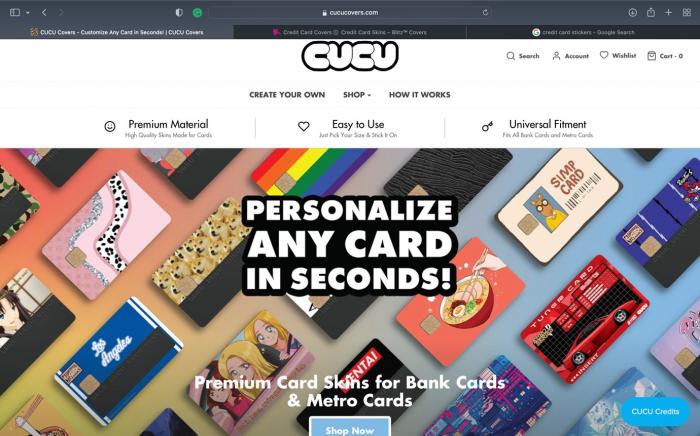 Cucu Cover is a one-stop solution for your design needs. It does not just cover credit cards but includes other options such as debit cards and metro cards. It has a huge number of templates for you to choose from. These include themes from the most popular TV shows too. If you are still not satisfied, you have the option to create your own. Just choose a suitable cover and upload the design of your choice and this website will make it for you! The combination of image enhancer tools will better the final display of the credit card.
Pros
Easy to use
Hundreds of options to choose from
Can make your own design
Cons
The website interface is a bit messy
7. Carbonskins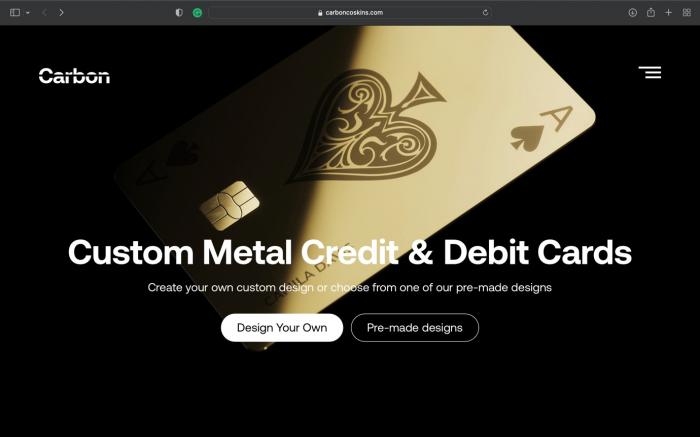 Although it has 'skins' in its name, this website does not make credit card skins for you. Instead, it creates a whole new metal credit card for you. The process is extremely simple. You just choose a design. This can be a customized template that you uploaded, or you can choose from the many options that this website already has. Then you ship your plastic cards to this website and after a while, they send over your original and new metal cards. The whole process is extremely secure and there is no chance of information theft. In fact, the website advises you to block your card before sending it in. However, it does not support certain kinds of chips.
Pros
Makes a more durable card
Offers a lot of designs and templates to choose from
Is a long-term solution
Cons
Takes a while to get it made
Is an expensive option
8. Blitz Covers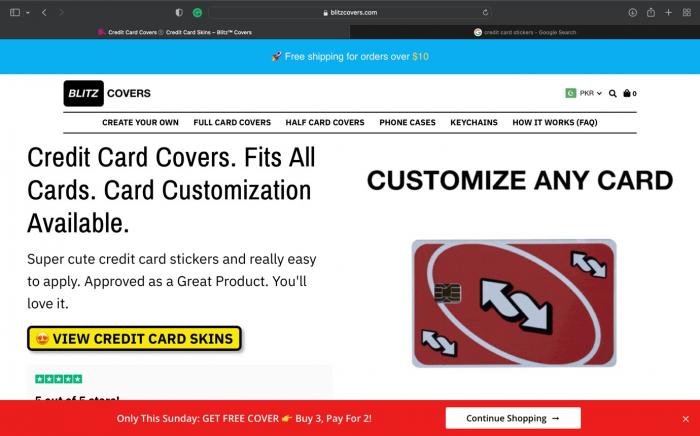 Blitz covers is a website where you can get a lot of accessories such as keychains, phone cases, etc. They also allow you to create your own credit card covers. They give you the option to choose from more than a thousand templates or you could just customize your own through the website. They even allow you to make full-sized or half-sized credit card skins. And you can take advantage of the online image enhancer of VanceAI to ensure the credit card cover's quality. Just go through the website and get your own credit card skin!
Pros
Offers a lot of services
Lots of templates to choose from
Has a lot of deals on the skins
Cons
The website interface is not up to the mark
9. Steelskins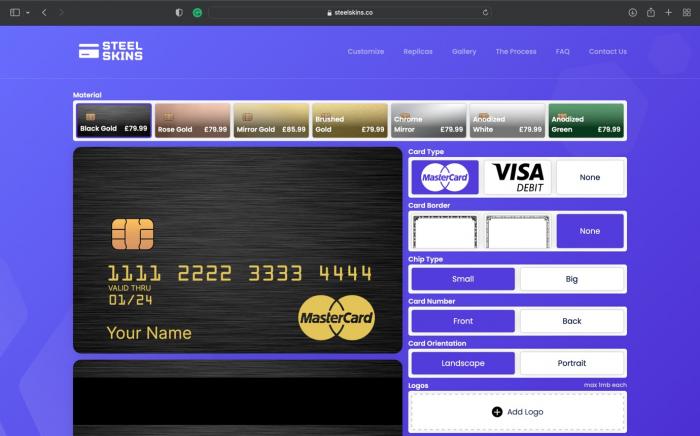 This is just another metal card-making service. Here, instead of simply making skins, they make custom metal cards for you. The process is simple, you customize the card through their website in the panel shown above. You can choose any design for your card. After finalizing the design, you freeze and send your card to them. After a while, they send your original and your metal card to you. If you want to restore the pictures of old cards, you may take advantage of old photo restoration to bring them back to life or read the digital photo repair guide to learn more useful AI tools.
Pros
Permanent solution
Is durable and longlisting
Cons
Very expensive
Might have information theft issues
10. ICICI Bank
This is another website that is not a simple credit card skin offeror. ICICI Bank is a fully-fledged bank offering a wide range of services for its customer. These services include loans, insurance, Forex convertor, investments, etc. These services also include debit and credit cards. While ordering debit and credit cards, its customers have the option to customize them to their will. They can choose any template and order the card. The card comes imprinted with that template. It is permanent and of very high quality.
Pros
High-quality designs
Permanent solution
Offers a wide range of services
Cost is embedded into the card
Cons
Cannot use it if you already have a card
When you are worried about not finding a suitable high-definition picture for your credit card skin, what you need at this time is VanceAI Image Enhancer, which can help you obtain a high-definition and high-quality image, so that you can easily have a nice credit card skin .
Enhance your images with VanceAI
VanceAI Image Enhancer is a powerful tool that can enhance your images efficiently, which gives users good experience to enhance their image.When utilizing VanceAI Image Enhancer, users of VanceAI Image Enhancer can choose from a number of options, including standard, art&anime, and text. These options are provided to indicate to the tool which aspect of the image the user wishes to enhance the most.By the way, when you need upscale an image, you should choose VanceAI Image Upscaler to help you. It can upscale your image while increasing the resolution of the image. Therefore, users can get enlarged high-quality images without loss.
Conclusion
Thanks to these websites and the tools from VanceAI, you can have interesting and customized credit cards which make your credit card nice and attractive among many credit cards.
Do you find this post helpful?
Yes
No