How to Upscale Images with Bigjpg?
A stunning photo can be really attractive to draw more attention to your social media profile, no matter if you are a marketer or an influencer. To ensure a good display effect on the website, adopting a high-resolution photo is vitally important. But when you take one photo you love but in low quality, tools like bigjpg and VanceAI Image Upscaler can help you a lot.
As a new solution to upscale images, AI image enlarger tools like Bigjpg, VanceAI Image Upscaler are becoming more and more popular as they can automatically enhance the photo to better quality to make higher resolution image. In this post, I'll review my experience with Bigjpg and show you the results.
Also read: How to Enlarge an Image to Print with the Help of VanceAI.
What is Bigjpg?
Bigjpg is a free online tool to upscale images. The neural network it adopts is a special algorithm adjusted specifically for the image's lines and colors. That's how it enables this online tool can automatically enlarge the photo and enhance it as well to a better quality. Also, it can also allow you to download and install a software version to your desktops or mobile devices. The step-by-step guides of Bigjpg used both online and offline will show you in the following text.
Best Bigjpg Alternative Review
VanceAI Image Upscaler
VanceAI Image Upscaler is also powered by AI and can serve as the best Bigjpg alternative for you to upscale images to 4k or even more. Different from Bigjpg, VanceAI's image upscaler can automatically enhance your image by removing the blur except for suppressing the noise.
Upscaling Models of VanceAI Image Upscaler
VanceAI Image Upscaler provides 5 different image upscaling models. Follow to see which you can choose to get your desired upscaling effect.
Standard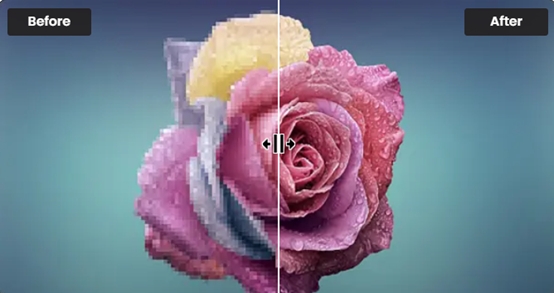 One of the upscaling models from VanceAI Image Upscaler is the Standard model, which is called EnlargeStable. It enables you to upscale any kinds of images, including photos taken by camera, paintings, landscape photography, and so on. If you have a general photo to upscale, never hesitate to try this Image upscaler to enlarge image online or on AI upscaler software.
Anime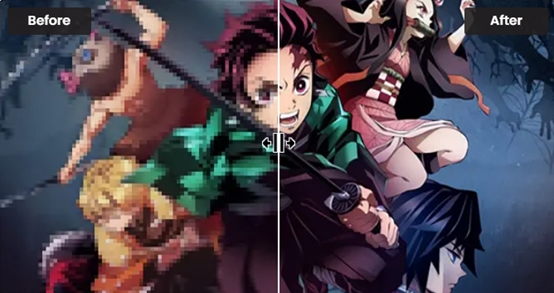 The Anime model of VanceAI Image Upscaler is the best option for anime upscaling. This model can convert old cartoon, anime, and comics to high definition and improve the details. It is divided into 3 submodels: Anime_4x_AnimeSharp, RealEsrganStable and Upconv_7. Simply choose one and start to upscale image from animation to 2K, 4k, or 8K with this AI image upscaler now! If you prefer software, image upscaler software is here for you.
Art & CG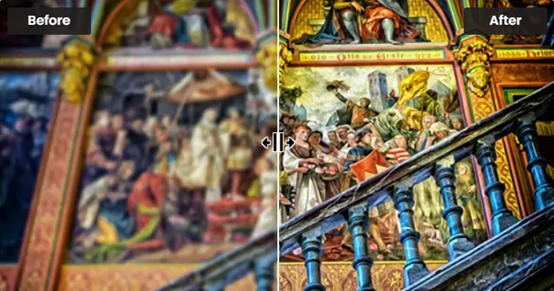 The Art &CG model of this AI Image Enlarger allows you to enlarge CG, art image, drawings or paintings online and restore the original texture instantly. This model is called Universal_UltraSharp_4x. If you want an AI art upscaler to improve image resolution to show the image details more clearly. VanceAI's online Image Upscaler can do this perfectly. And you can have AI image upscaler software to upscale CG images if you need.
Text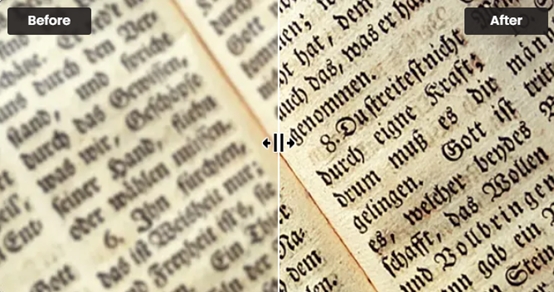 Legible text images can be very essential, including e-signature, e-contract, and scan files. VanceAI Image Upscaler provides you with a text model called Text_4x_TextSharpV1 to AI upscale image with blur text. If you are having trouble upscaling blurred text on a mass of paper documents, this online image enlarger from VanceAI is here for you.
Low Resolution & Compressed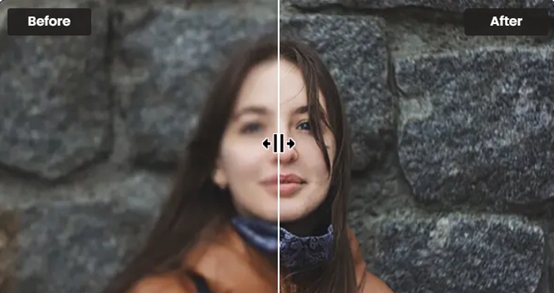 Low Resolution & Compressed model from VanceAI online image upscaler can upscale low resolution and compressed pictures to HD in one click. If you need more delicate product photos, portraits or wallpaper, this model will always satisfy you. It will never be too late to upscale such images online with VanceAI Image Upscaler or with upscaler software for PC!
VanceAI PC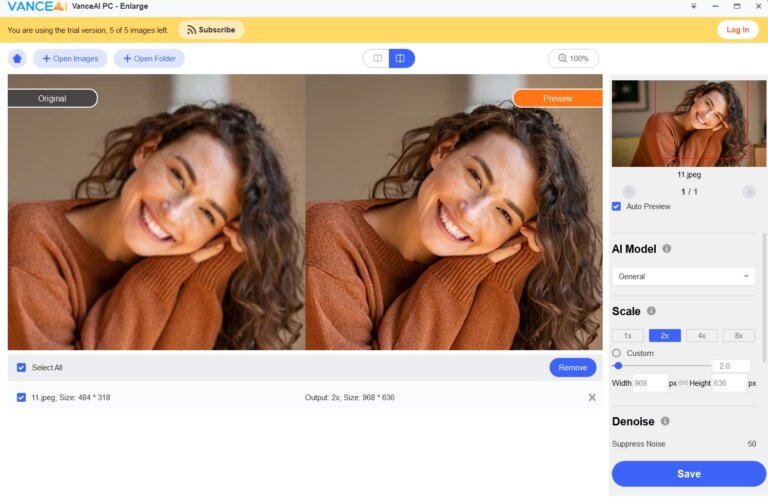 If you need more convenient and professional AI upscaling software, VanceAI PC is your best choice. As AI image upscaler software, VanceAI PC helps enlarge image without pixel loss and improves image quality with 100% precise details with advanced AI algorithms and make photo hd.
Bigjpg VS VanceAI Image Upscaler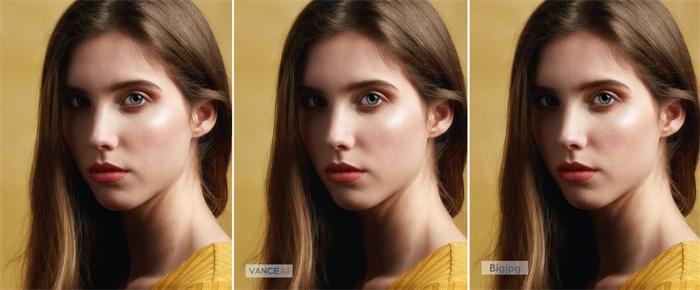 Here, we take a portrait photo as an example to compare the performance of Bigjpg and VanceAI Image Upscaler. Through the comparison, we can see both AI image enlargers generate good results, while VanceAI's Image upscaler performs better in detail enhancement. After enlarging, the girl's skin looks smoother and more glowing. 
How to Use Bigjpg?
How to Use Bigjpg Online?
Step 1: Select an image and upload it to the website
Go to the Bigjpg website and click the green button to select an image and upload it to the website.

Step 2: Set up the configuration of the processing
Then you will see your picture shown below the box. Click "Start" to set up the adjustment that you want to apply to your photo.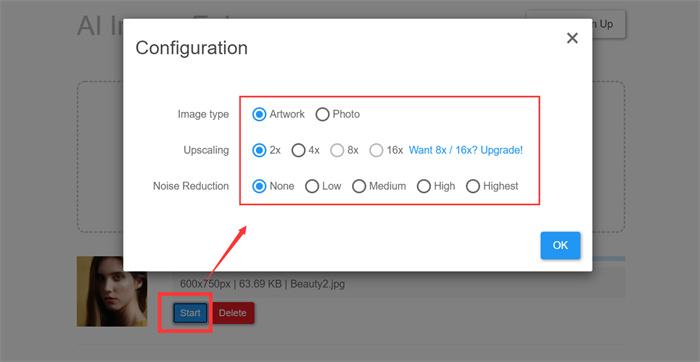 Step 3: Download the result
It will take you several minutes to get the result. Then, click "Download" to save the result.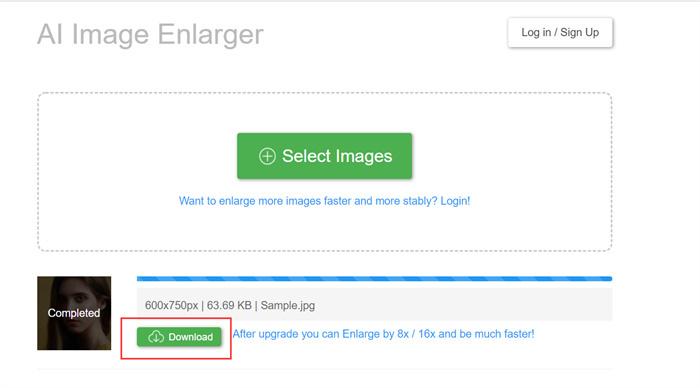 How to Use Bigjpg on Android?
Step 1: Install the APP to your device.
Find the link in the picture and download and install the APP.

Step 2: Select File
Upload an image into the APP.

Step3: Set up the adjustments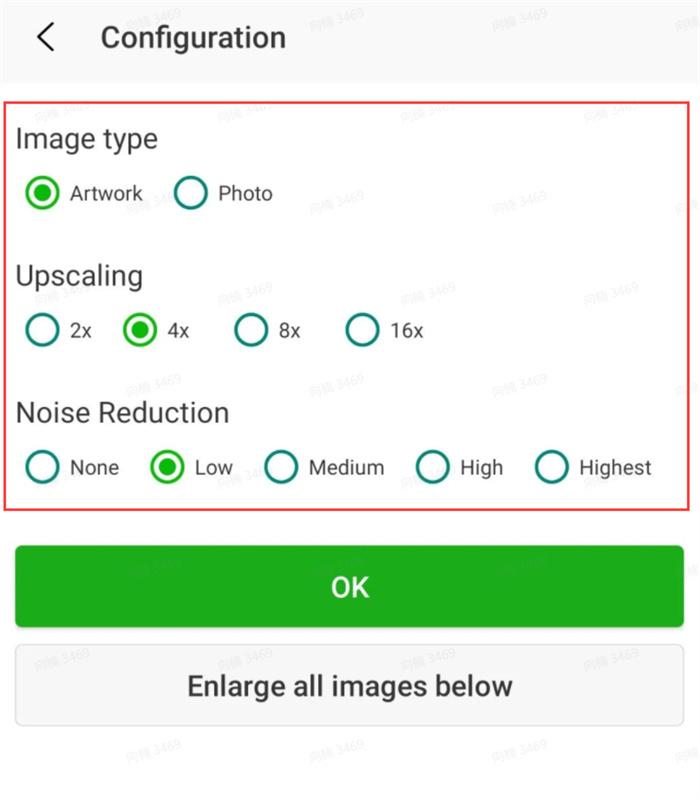 Step 4: Save the result
As this APP allows you to process the photo in batches, you may also download them all with one click.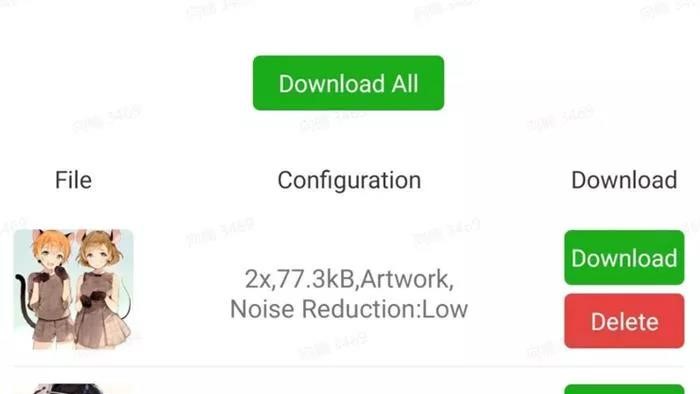 How to Use Bigjpg on Mac?
Step 1: Install the APP to your device.
Find the link in the picture and download and install the APP.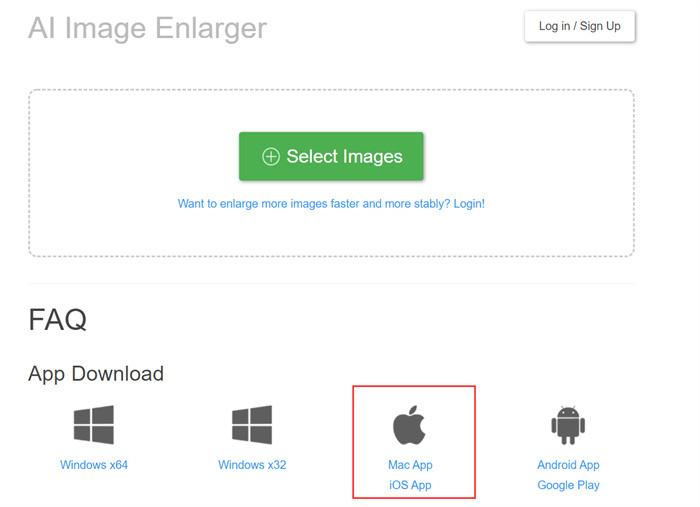 Step 2: Upload your image and start to process
Run the App and upload your image into it.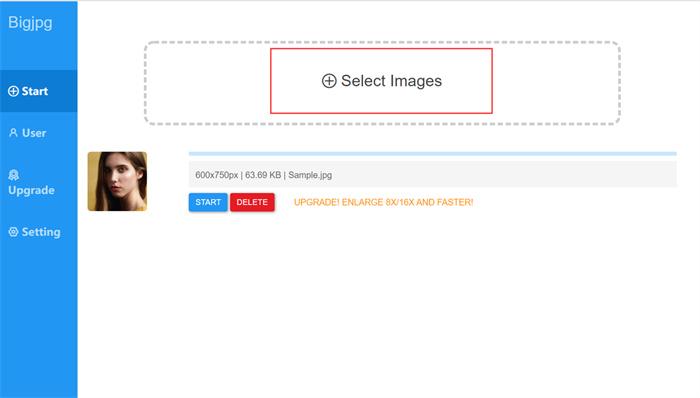 Step 3: Set up the configuration
Hit the "Start" button to see the configuration box. Apply the configuration to your image.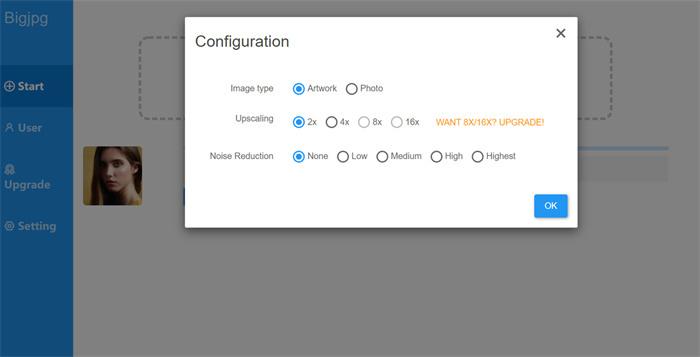 Step 4: Download the result
Also read: How to Enlarge Images Without Losing Quality?
FAQs
1.    Is Bigjpg safe?
Yes, it is safe to upload and enlarge images in Bigjpg. Uploaded images and enlarged images will be automatically deleted after 15 days. It is also worth mentioning that it is very safe to use the picture enlargement function on VanceAI Image Upscaler. The image link is encrypted and no one else can download the image unless you share it yourself.
2.    Is Bigjpg free?
Yes, Bigjpg can be used for free online but with limited functions. If you want to achieve more effects and features, you may pay for it at $6/two months.
Conclusion
I have to say that using Bigjpg to upscale image is a great experience for me. It is free and powerful enough to meet my basic requirements. No matter Bigjpg or VanceAI Image Upscaler, with the help of AI, such image upscaler tool makes image enlarging quite easy. Especially, they can automatically enhance the photo details by suppressing the noise or removing the blur.
Do you find this post helpful?
Read More to Know Deeper: