Cutout.pro is an image enhancement application that also specializes in anime images. It is a software solution that can be used to improve the quality of most kinds of images by removing backgrounds, adjusting colors, and applying other enhancements. It uses AI algorithms to automatically process the images and make them look more polished. Cutout.pro does not really offer a set of tools for image enhancement because its AI based approach takes care of everything on its own.
Similar to cutout.pro reviews, we will examine the photo enhancement app further, but we will also provide a cutout.pro alternative like VanceAI that users may be interested in.
What Are the Striking Features of Cutout.Pro?
Cutout.pro, as a platform, does have some features that can be found commonly in its tools. This article focuses on cutout.pro reviews and cutout.pro alternative in order to help you know this tool better. For instance, the platform is known as an AI based photo editing and enhancement application. Therefore, you will find that its tools are also automatic in terms of image processing. With that said, let's start cutout.pro reviews by taking a look at each of the image enhancer tools from the platform.
Cutout.Pro Image Enhancer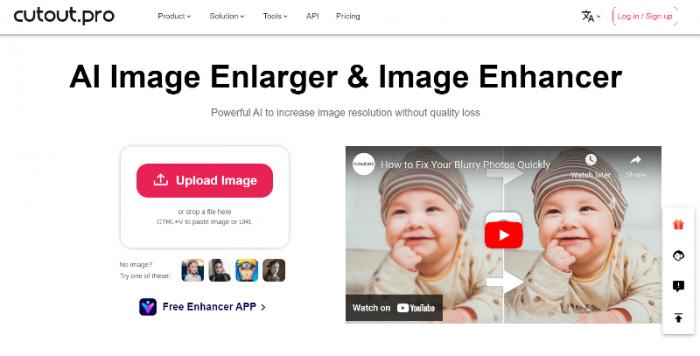 The Image Enhancer from cutout.pro is designed with businesses, individuals, and brands in mind. As such, when you scroll through the page of Image Enhancer, you will see that the algorithm is made for improving images such as product photos, e-commerce centric images, landscape photos, and similar.
The platform also has a mobile application that can be used on iOS or Android. You can gain access to the Image Enhancer on mobile as well, making it easier for many users and more convenient. As for the web version, you can upload images either through the files that you already have in the system or paste the URL of the image.
The image enhancement process is pretty simple. Even if you do not have an image of your own, you can just click on any of the sample photos given there and the tool will start enhancing it. Given its AI technology, you can expect a result to be shown in only a few seconds.
Cutout.Pro Anime Enhancer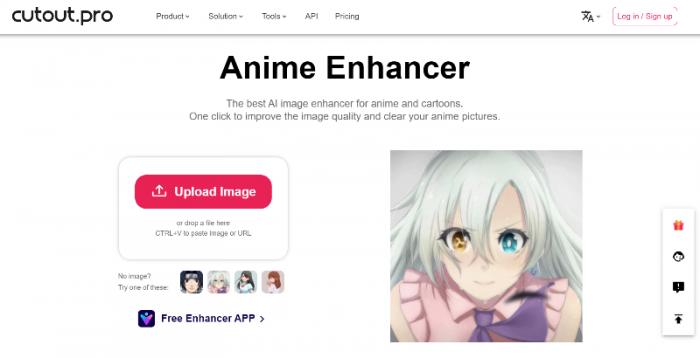 When it comes to the Anime Enhancer tool from Cutout.pro, you will experience similar features from the Image Enhancer tool. However, Anime Enhancer is more naturally suited for anime or cartoon type photos than others. You can also use Anime Enhancer for graphical photos, such as artwork or screenshots taken from animated shows and movies.
Again, you can try this tool out beforehand by using any of the sample images given below the upload function. Anime and cartoons in general are extremely popular, making this tool relevant for many types of users. You can enhance anime photos in order to use them as wallpapers, on social media, as your profile or cover photos, and much more.
What Can the Two Cutout.Pro Features Do for You?
The advantages that the two cutout.pro features and the platform in general can provide are similar to what you can get out of AI based photo editing in general.
For instance, Automatic photo enhancer apps use AI algorithms to automatically adjust and enhance the color, brightness, contrast, and other aspects of photos, making them look more polished and professional. This also goes for Cutout.pro and its alternative application.
How to use Cutout.Pro Image Enhancer? 
Step 1: Click on cutout.pro to access the Image Enhancer tool online. From there, you can either upload an image through your device or paste a link.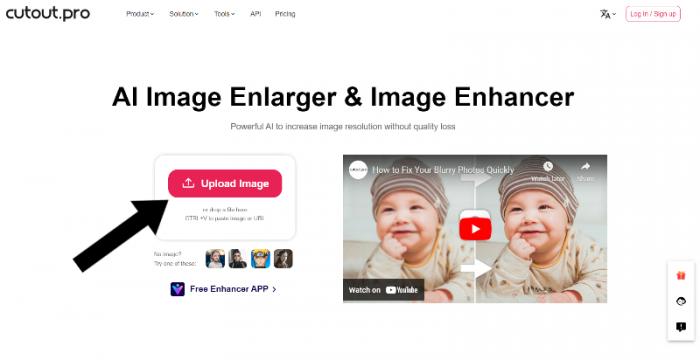 Step 2: The tool will start processing the image and you can simply wait for a few seconds.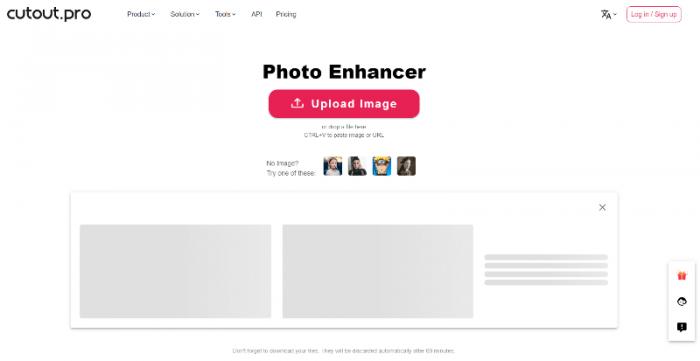 Step 3: Once the processing is done, you will see the image appear on the screen. Click on Download to save the image.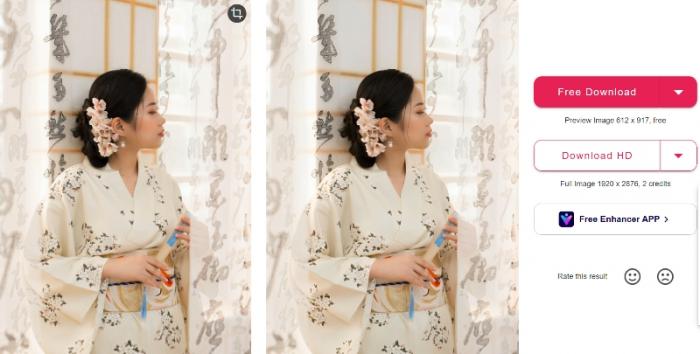 Is cutout.pro safe to use? Absolutely. It deletes images after a certain period of time and with the above guide, the platform is also easy to use.
Cutout.Pro System Requirements
While the website does not offer any detailed system requirements, their download page does reveal that the software supports Windows 64 and 32 bit systems as well as the Mac operating system. Besides that, one can infer from the site that the software is not really demanding, especially when considered against other software options like Photoshop.
Cutout.Pro Pricing
Cutout.pro has different prices for the image based tools and video based tools. When we take a look at the image based subscriptions, you can get the lowest subscription for $5 per month that offers 40 image credits, which goes all the way to 1200 image credits per month at the cost of $69 per month.
You can otherwise choose to pay as you go with the starting price being $2.99 for 3 image credits.
Cutout.Pro Alternative
If you want to try tools that are cutout.pro alternative, this article also prepares some recommendations for you. The following are tools with similar functions as cutout.pro alternative. It can also improve the texture of photos.
VanceAI Image Enhancer
VanceAI Image Enhancer is another AI based tool from VanceAI that can improve image quality without needing user input.
Key features
A useful feature of VanceAI Image Enhancer is that it can enhance photo quality without needing to upscale it.
The "Workspace" is a UI based design that allows users to upload images, check remaining image credits, set preferences, switch between various VanceAI tools, and more.
Users can choose from the options of Standard, Anime, Art, and Text. These options indicate the type of image that you want to enhance, resulting in better outputs.
Pros
Easy and efficient to use due to the Workspace feature.
Offers much quicker processing times than most other applications.
Cons
The platform supports JPG, JPEG, and PNG images only.
How to Use VanceAI Image Enhancer?
Step 1: Use the link given to the photo enhancing app above to access the webpage. Next, click on the Upload Image button to proceed ahead.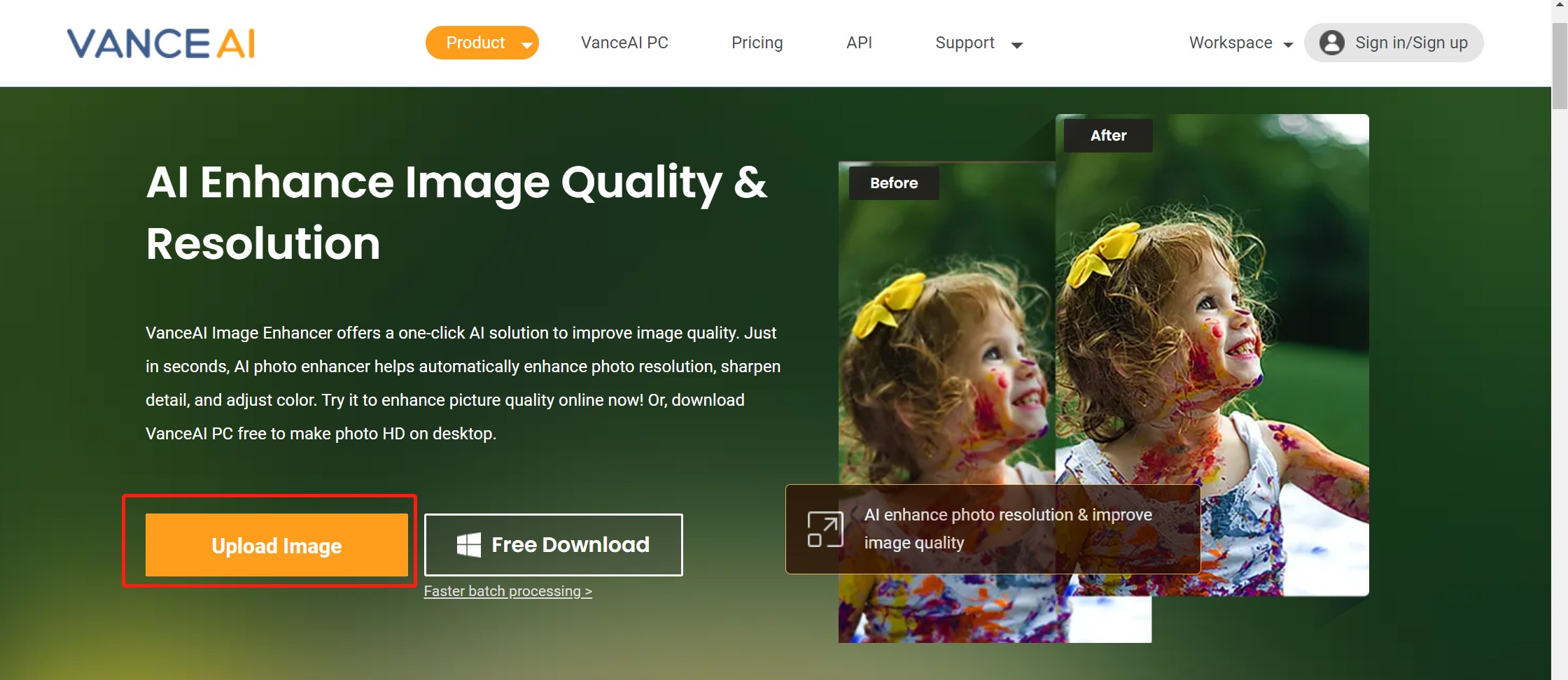 Step 2: Once inside VanceAI Enhancer Workspace, upload the image and set preferences. Click on Start to Process to get started.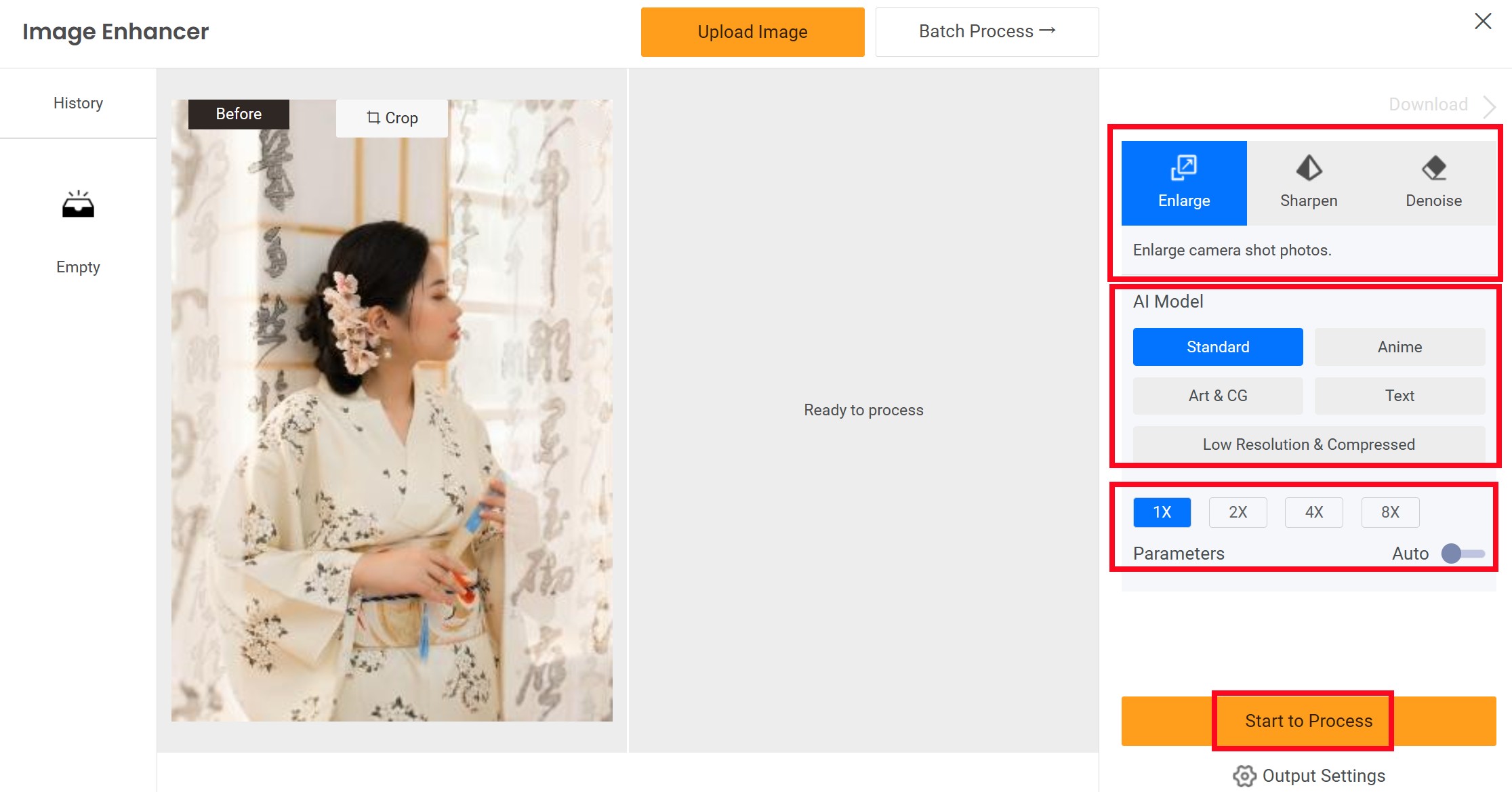 Step 3: Once you see the final image appear, you can use the Download Image option to save the image.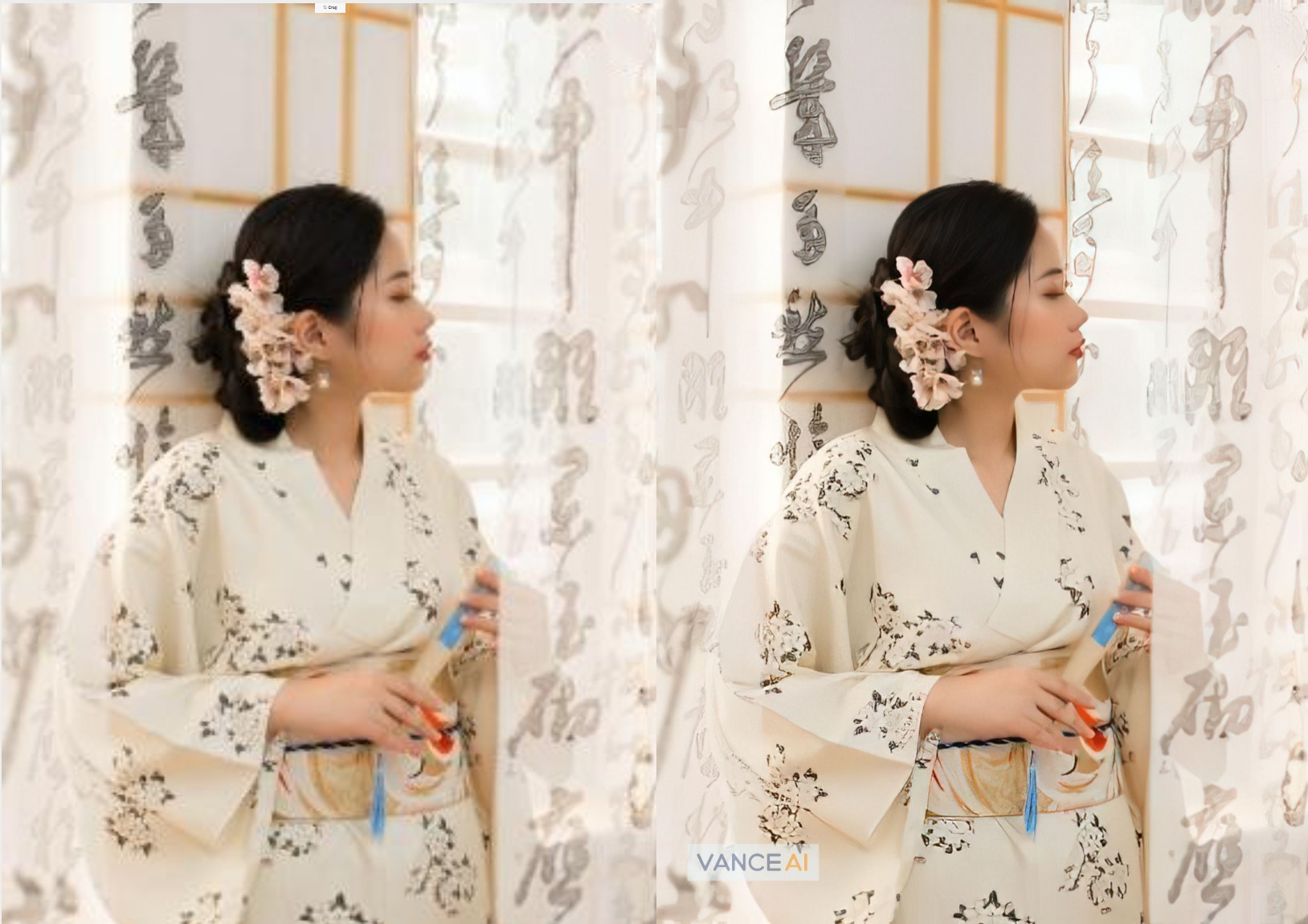 VanceAI Anime Upscaler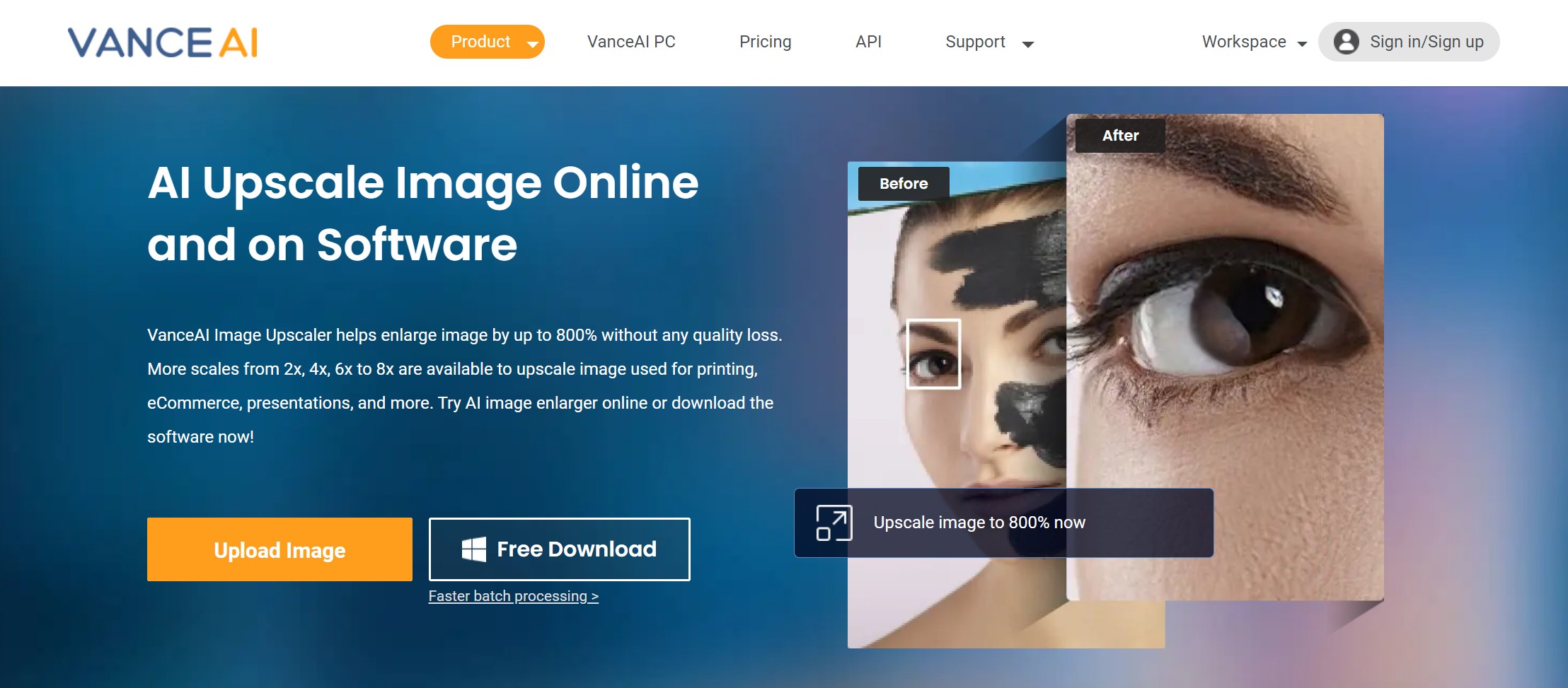 Key features
With VanceAI Anime Upscaler, you can specially enhance anime and cartoon based photos in an instant.
Simply select the "Anime" option on the Enhancer Workspace to use this tool.
Pros
Similar to other Image Enhancer tools from VanceAI, Anime Upscaler offers results really quickly.
It is easy to use and the platform offers a subscription for just $4.95 per month.
Multiple algorithms for anime image enhancement to choose from.
Cons
It can offer more info about its various algorithms that it employs for the Anime Upscaler.
Conclusion
In this cutout.pro reviews, we got to learn all the essential information about the platform and a couple of its tools. With these, you can confidently enhance a wide variety of images without worry. The same also goes for the cutout.pro alternative, VanceAI Image Enhancer.
Both applications are powered by AI and similar technologies, which means that as a user, you do not have to think much about how to enhance photo details. You can upload the image and rest easy as the tools do the job for you. Not to mention that both tools are capable of providing you with excellent results, though VanceAI Image Enhancer came across faster overall. Regardless, both tools are worth recommending.
Do you find this post helpful?