What is VanceAI Photo Restorer?

Photo restorer is one service provided by VanceAI focusing on making old photos look new. You may click here to try VanceAI Photo Restorer. When you access the website, you will find more useful knowledge that can help you repair your damaged pictures. To be specific, the photo restorer tool can help make old picture look new 100% automatically by making old photos look new and using AI photo restoration technology to remove scratches from old photos online, as well as fractures, spots, and sepia. You can also make your old pictures more colorful and high-quality to enhance the effect of processed pictures by using VanceAI Technology. Its technological restorer tool also includes AI face enhancement besides repairing damaged pictures, which can be used to strengthen the facial effects of old pictures. Try VanceAI Photo Restorer, your best photo restorer for how to make old photos look new online.
How to make old photos look new with VanceAI Photo Restorer?
VanceAI Photo Restorer is a convenient tool for you to restore old photos. You just need to follow some basic steps and then the tool will remove scratches, creases, and tears of old damaged pictures. There is no need to worry about the steps because it will be easier for you to master them. What you need to do is drag and drop the picture you want to repair on your workplace. After knowing the essential steps, you can use the tool to repair damaged parts online within several seconds. Don't worry about that. You can also follow the steps below in detail or go to the digital photo repair page (offering a complete guide) if you still don't know how to use VanceAI Photo Restorer.
Step 1: Upload a Picture.
First, you need to go to the official website of old photo restoration. You need to choose the Photo Restorer tool from the AI Solutions menu. And once you're there, click on Upload Image. Now you can select an old picture locally to drag and drop it in your workplace.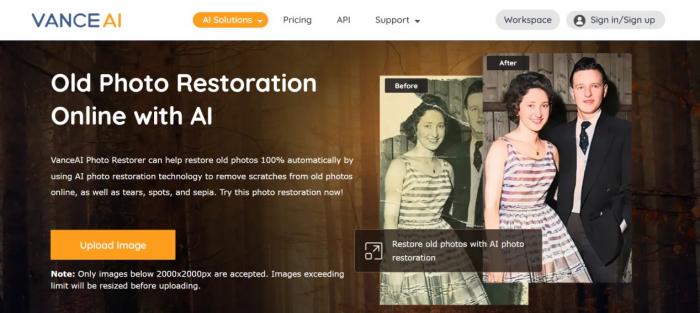 Step 2: Restore the Picture.
Having uploaded your picture, you can see Select Mode or Colorize black and white photo on VanceAI Restorer Workspace. You need to choose the former to start to process. It will enable your picture to be vivid by removing scratches, creases, and tears.
If you are interested, you can try to restore your image now or download it directly from the pop-up window on the right without leaving this article.
Or you can select the latter AI Old Photo Repair & Colorize in the workflow. It allows you to queue multiple pictures for one module. During the process, there are also some additional effects involving color correction and face enhancement in old damaged pictures while imperfections are got rid of as well. But it is worth noting that the additional effect of VanceAI Photo Restorer is not as good as that of VanceAI Photo Colorizer. So if you have a higher demand for the colors of old photos, perhaps you can first use VanceAI Photo Restorer and then use VanceAI Photo Colorizer.
Step 3: Preview and Download the Picture.
In the final step, you can see the real effect of the old picture restored by VanceAI. Take the instance of the picture, severe scratches and creases obviously disappear in the After picture. The texture of the clothes also becomes much clearer. The girl's face also appears much more natural in the After picture as the tool also can detect and enhance human faces in old photos with AI Face Enhancement.

How to make old photos look new with PhotoGlory?
What is PhotoGlory?
If you wonder how to make old photo look new in Photoshop without the complicated steps and procedures, then PhotoGlory can appeal to you. Even though this is a proper image editing software, many of the tasks, such as enhancing an image, can be done rather automatically. When it comes to repairing images, you can simply tap on buttons to apply various repair effects. Although, this app is mostly for repairing and coloring old black and white photos since it does not offer other kinds of image editing features.
How to use PhotoGlory?
Step 1: Download PhotoGlory.
You can see the green button Download after you enter the app's website. Then you just need to download it to your device. Here, take the instance of Windows, you may download it to engage in how to make old photos look new.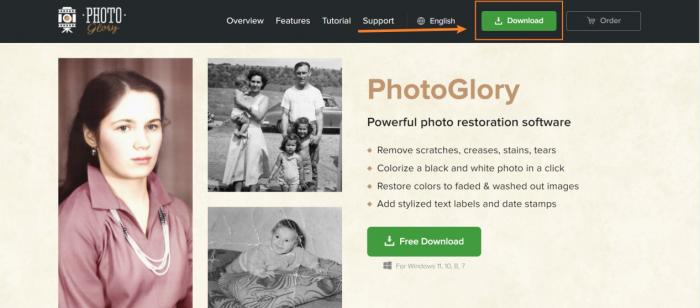 Step 2: Open a photo to get started.
Then you can make old picture look new by using the app. It offers you trial version with 5 days if it is the first time for you to use it. Now upload your photo to the app.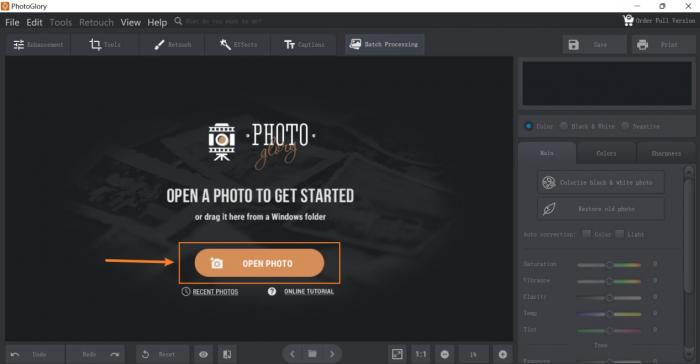 Step 3: Preview the restored result.
Through the picture below, perhaps you have already seen the real effects. You need to know that it will pop up a new window with words (The feature is available in the full version only) when you press the button "Restore old photo". So, the fact is that you can only Colorize black & white photo freely for 5 days.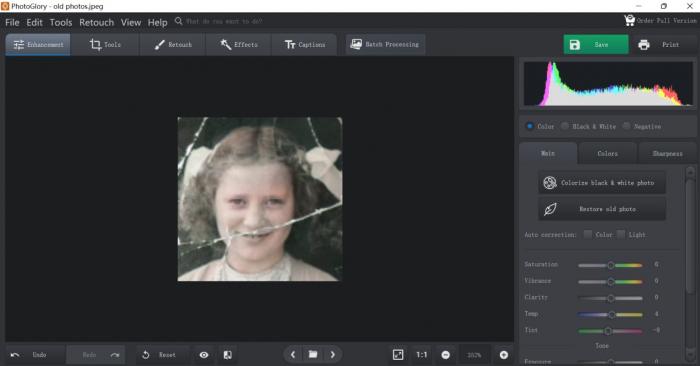 How to make old photos look new with Phowd?
What is Phowd?
Phowd can definitely make an old photo to new photo online with good results though the way it works is different than many other image editing websites. Here, users upload images that need to be processed and enhanced to other people, who are professionals at editing and enhancing. Since it involves professionals, the app is also open to users uploading RAW images, making the process easier. Also, you can directly find professionals and make a team of your own.
How to use Phowd?
Step 1: Click on the Get Started Now button to proceed to the details and overview section.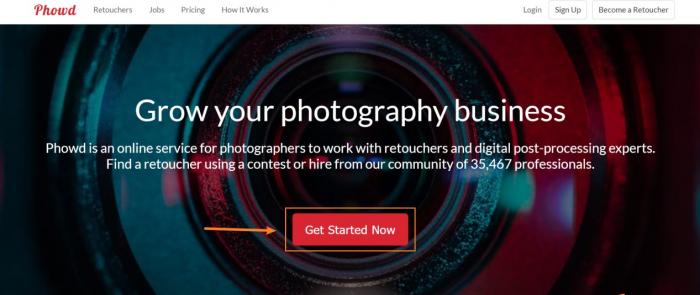 Step 2: Upload you photo and choose proper options.
After uploading your old photo, you can choose to how to edit the photo.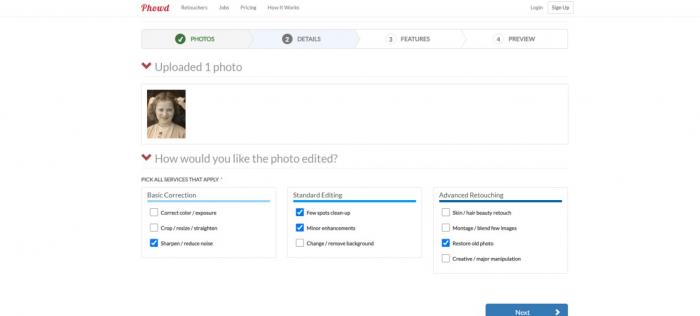 Step 3: Preview the restored result.
In the final step, you can see that this tool indeed can remove the creases or scratches of the damaged picture. But compared with VanceAI Photo Restorer, it requires you to pay for storing the picture. Obviously, the former AI old photo restoration seems much cheaper and much more convenient for you to make old picture look new.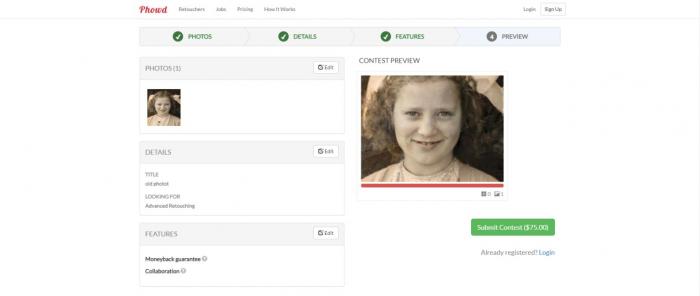 How to make old photos look new with Hotpot?
What is Hotpot?
Hotpot is a handy online website that offers many other photo editing features that can be useful and complemented with the restoration tool, similar to the ai photo restoration tool highlighting how to make old photos look new from VanceAI. Moreover, Hotpot also has a decent level of accessibility as it is available to use as an API. Though the AI in this app isn't as sophisticated, it is good enough to get the job done and offers a few artistic features as well.
How to use Hotpot?
Step 1: Enter the official website by using the link above.
After going to the website, you can upload your old photo with the tool. Then you can also see the choice of Has Scratch? If your old photo indeed has scratches, you may choose it so as to get a better picture without terrible scratches.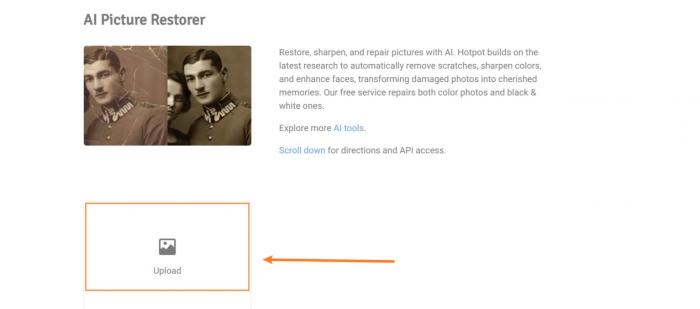 Step 2: Upload and then restore your old photo.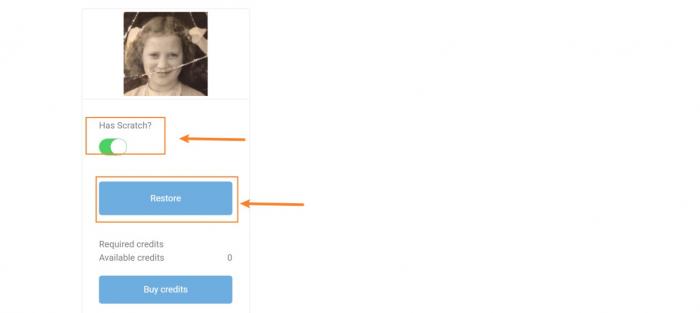 Step 3: Preview and see if you are content with it.
I have to admit that the tool has a much clearer workspace. And it also seems much easier for you to see the restored picture. To be honest, the scratches of the result have been removed. But you may discover that the picture of the little girl has been distorted somewhat. Her emotion seems a little bit weird if you carefully watch the part of the little girl's mouth in the After picture. At least, the restored picture is not as natural as that of VanceAI Photo Restorer, the mentioned photo restorer above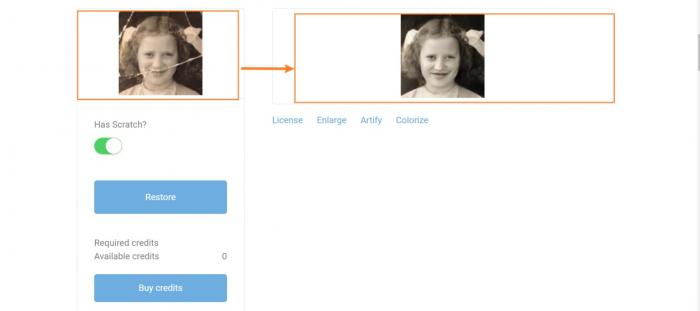 How to make old photos look new with Imagecolorizer.com?
What is Image Colorizer?
Imagecolorizer.com has a decent amount of features instead of just making old photos look new. With this app, you can colorize images, restore them, and enhance blurry photos. This app is powered by image processing AI as well, so you can expect your images to be processed with great detail and speed.
How to use Image Colorizer?
Step 1: Go to the official website.
Scroll below the main page and choose the tool that you want to use. Then you may find the function of AI Repair aimed at repair damaged or scratched pictures.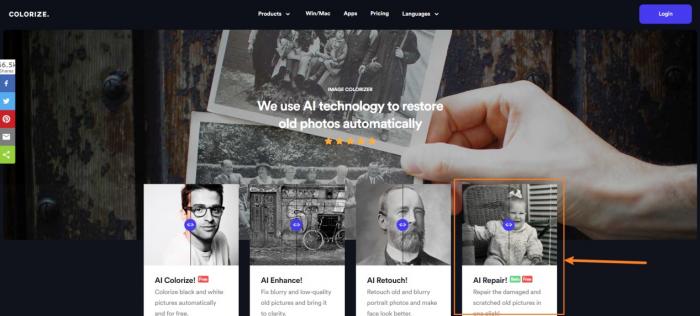 Step 2: Click and drop your photo within the targeted box.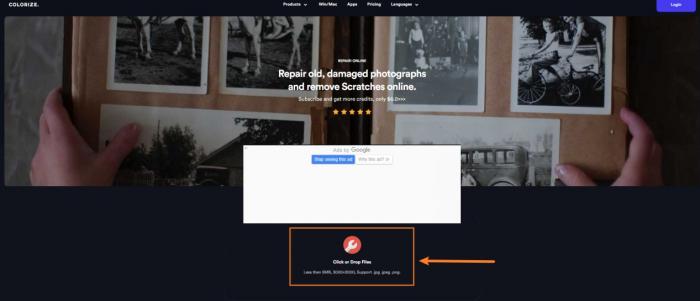 Step 3: Download the restored picture.
After clicking and dropping files, you can also edit your photo. If it is okay, you just need to press the button Start. Remember that this tool does not have the button Preview. So you have to download it to see the final result as follows. The picture becomes more blurry even if the tool originally aims to enhance old photos.
Conclusion
Thanks to all these great applications, it is no longer difficult to remove scratches from old photos online. You can simply upload an image to online tools such as VanceAI Photo Restorer with a focus on how to make old photos look new. And this article actually offers you five ways how to make old pictures look new. At the same time, it also gives you real examples processed by the five photo restorers. So, you may find your best option by comparing those restored photos.
Do you find this post helpful?
Yes
No