In a time where we are always looking at a photo or a visual, we have also elevated our standards when it comes to the quality of the visuals. It is then natural to think how to make an old photo look new, especially if that image is either lacking in quality or is simply too old. Earlier, it would be really tricky to make old photos look new due to the lack of technology. However, with the advent of AI and Deep Learning in image processing, we can give easy answers to the question of how to make an old photo look new. In this list, we will be taking a look at apps like VanceAI Photo Restorer that turn old photo to new without making users go through a lot of effort and time.
Convert Old Photo to New Photo Online - Best 5 Ways
Price: The VanceAI image editing product offers a few free credits every month. As for the paid options, you can either get the Basic or the Pro account that cost $9.99 or $19.99 respectively.
With this application, you can convert old photo to new photo online and do much more. VanceAI is an online image enhancement app that contains many useful tools such as VanceAI Photo Restorer, VanceAI Photo Colorizer, and many more. If you want to restore old photos, all you have to do is select any tool and upload the image. The AI ensures automatic processing of the image and least issues to users. Not to mention that you can use this application offline or as an API as well. Finally, the paid accounts give you access to useful features such as batch processing and advanced AI models.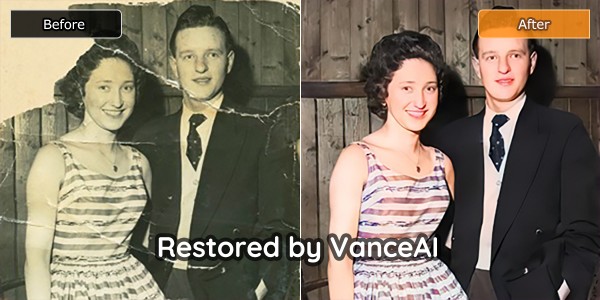 How to use:
1. Use this link to access the Photo Restorer app. Click on Upload Image to proceed.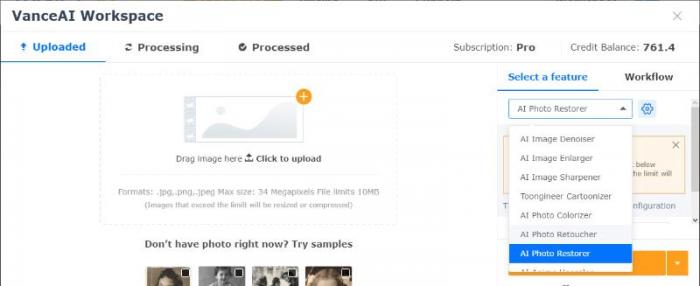 2. The VanceAI Workspace is a versatile space where you can upload images and change the VanceAI tool. For example, you can switch from the Photo Restorer to the Photo Colorizer in a single click. After uploading the image, click on Start to Process.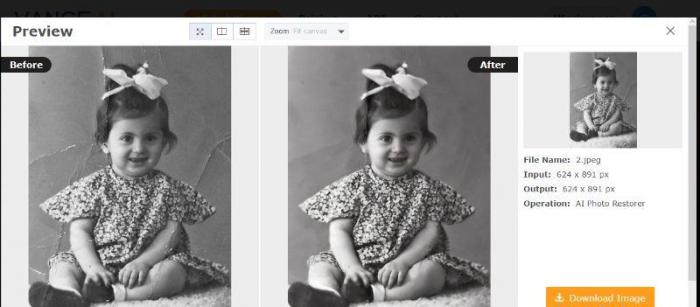 3. Go to Processed > Preview > Download Image to save the image.
Also read: How to Make Copies of Old Photos
Price: PhotoGlory is available for download and use for free with a free trial accessible from the website. It also offers three paid options, starting from the Standard version that costs $19.25.
If you wonder how to make an old photo look new in Photoshop without the complicated steps and procedures, then PhotoGlory can appeal to you. Even though this is a proper image editing software, many of the tasks, such as enhancing an image, can be done rather automatically. When it comes to repairing images, you can simply tap on buttons to apply various repair effects. Although, this app is mostly for repairing and coloring old black and white photos since it does not offer other kinds of image editing features.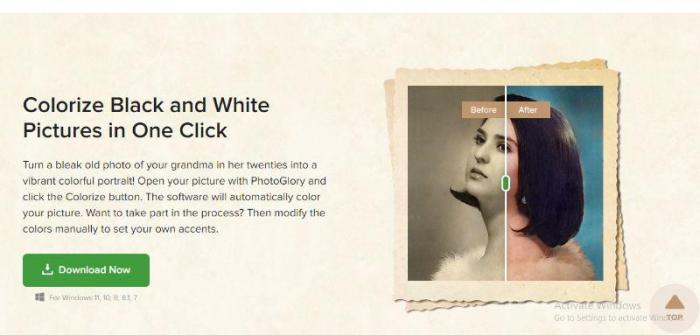 How to use:
1. Click on the Download Now button on the website and install the software. Run it and upload an image to get started.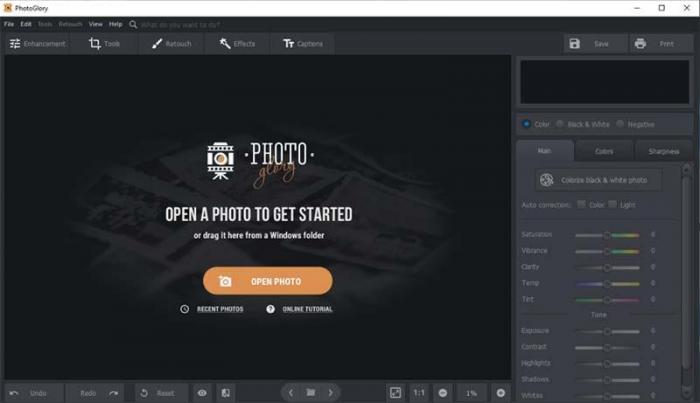 2. Once the image is open, go to the Retouch section on top of the image and use the Healing Brush to make changes.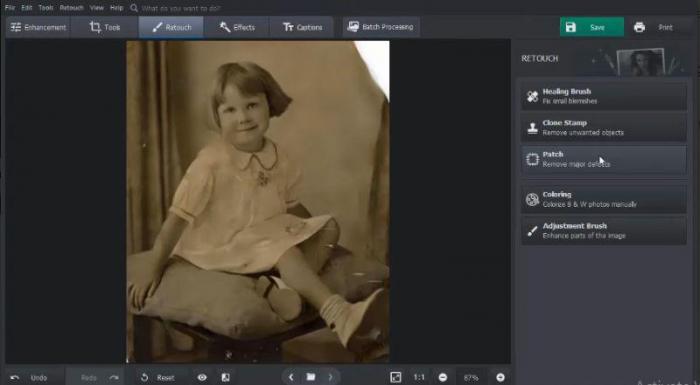 3. Go to File and save your image.
Price: The pricing system at Phowd is sort of dynamic as it charges money to customers for each image that is repaired or processed through the online app. The prices for making an old image look new start from $0.30.
This website can definitely make an old photo to new photo online with good results though the way it works is different than many other image editing websites. Here, users upload images that need to be processed and enhanced to other people, who are professionals at editing and enhancing. Since it involves professionals, the app is also open to users uploading RAW images, making the process easier. Also, you can directly find professionals and make a team of your own.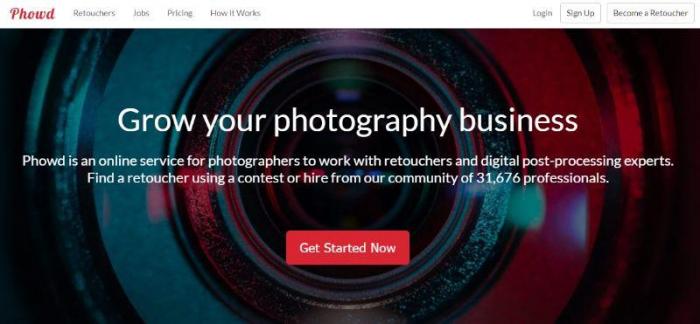 How to use:
1. Click on the Get Started Now button to proceed to the details and overview section.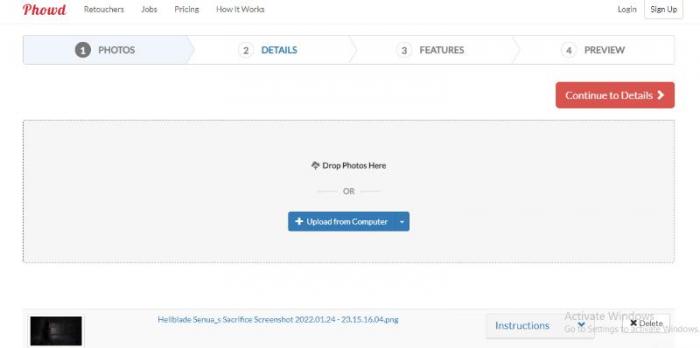 2. Use the upload function to upload an image. Then, choose the type of service you want and how you want to recruit professionals.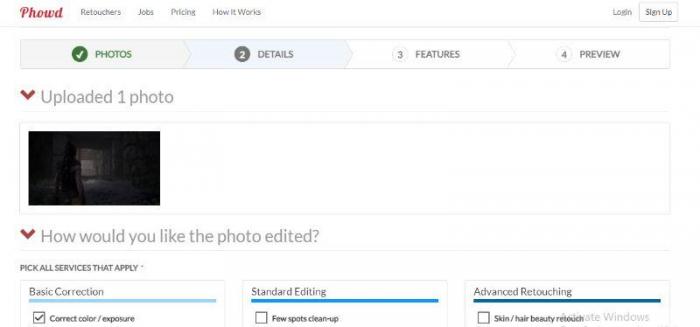 3. Wait for the proposals from the professionals and choose the deal most suitable to you. You will get your results in a short span of time.
Price: When it comes to using the photo enhancement app for basic and personal use, you don't need to pay for anything. The app charges money if the intended use of the images is commercial. Payments start from $10 per month.
Hotpot is a handy online website that offers many other photo editing features that can be useful and complemented with the restoration tool, similar to the AI old photo restoration tool from VanceAI. Moreover, Hotpot also has a decent level of accessibility as it is available to use as an API. Though the AI in this app isn't as sophisticated, it is good enough to get the job done and offers a few artistic features as well.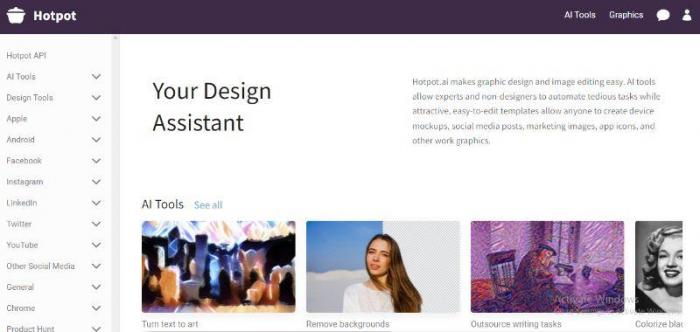 How to use:
1. You can use the link given in the header to access the tool.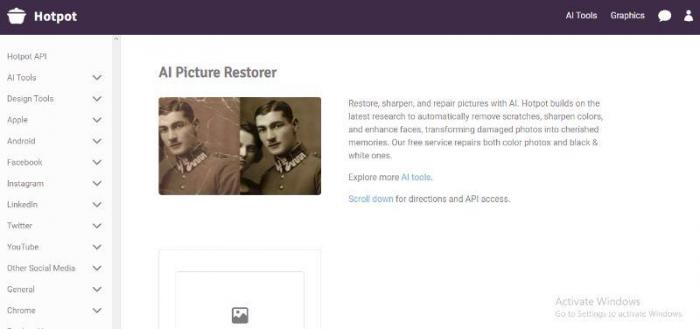 2. Upload an image and select the Scratch option only if applicable. Otherwise, click on Restore.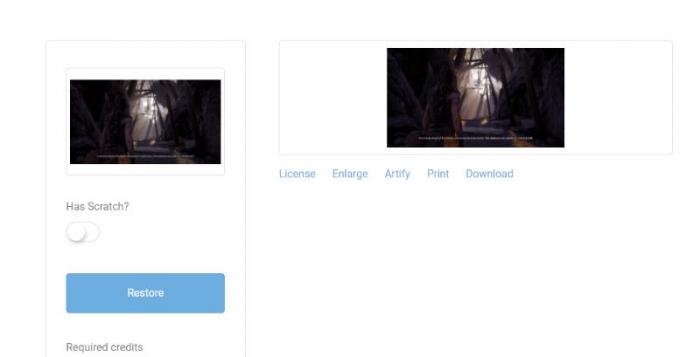 3. Your image will be displayed after a few seconds of processing. Click on the Download option to save the image shown. You can also edit it further through the other options given.
Price: The image colorizer offers up to eight free credits to change old photo to new photo online. After that, it requires users to subscribe to a paid account starting from $6 per month.
Image Colorizer has a decent amount of features other than photo restoration that help in the overall enhancement of an image. With this app, you can colorize images, restore them, and enhance blurry photos. This app is powered by image processing AI as well, so you can expect your images to be processed with great detail and speed.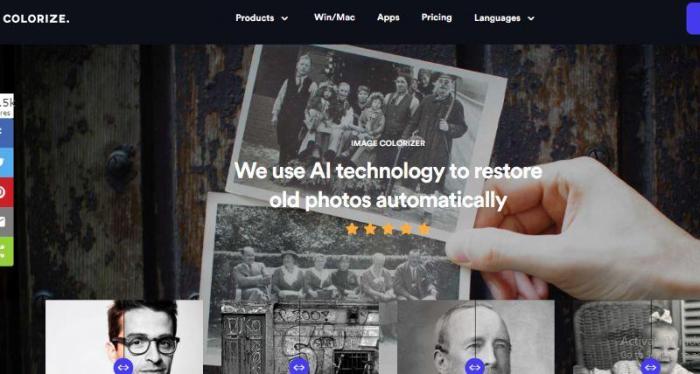 How to use:
1. Scroll below the main page and choose the tool that you want to use.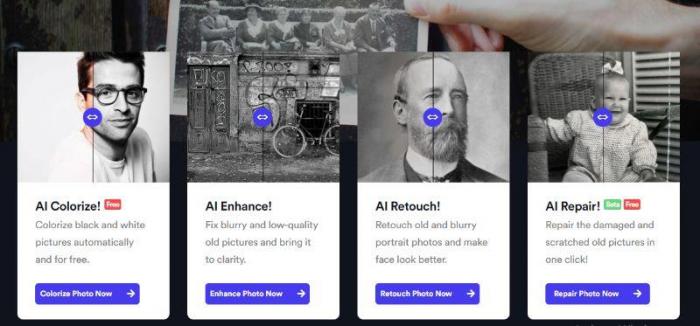 2. Upload the image and start processing it.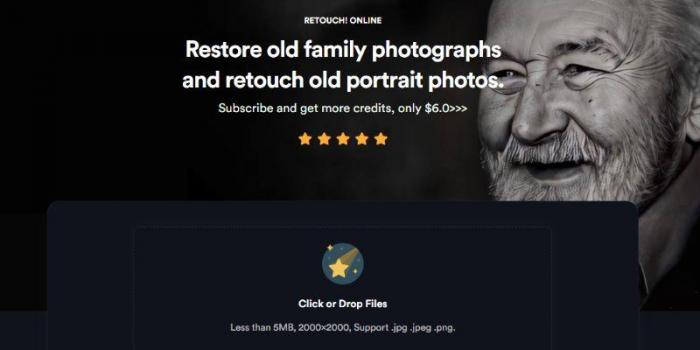 3. Your image will appear below when it is ready for download. Use the download button to save the image.
FAQs
1. How to make an old photo look new in Photoshop?
Though Photoshop is more complex to use in comparison to other automatic tools, you can nonetheless make old photos look new in a few easy steps. First, launch the software and use the File tab to open an image there. Right-click and add a Duplicate Layer. Next, go to Filter and use the Unsharp Mask. Change the settings to see how it affects the image and apply them. Use Export to save the image.
Conclusion
Thanks to all these great applications, it is no longer difficult to make old photos look new. You can simply upload an image to online tools such as VanceAI Photo Restorer or VanceAI Photo Colorizer, select the task you want, and have your image ready within a few seconds. Furthermore, these apps also accompany other useful tools like photo colorizers, background removers, image sharpeners, etc that add value to your images significantly.