Tutorial for Making Gaming Posters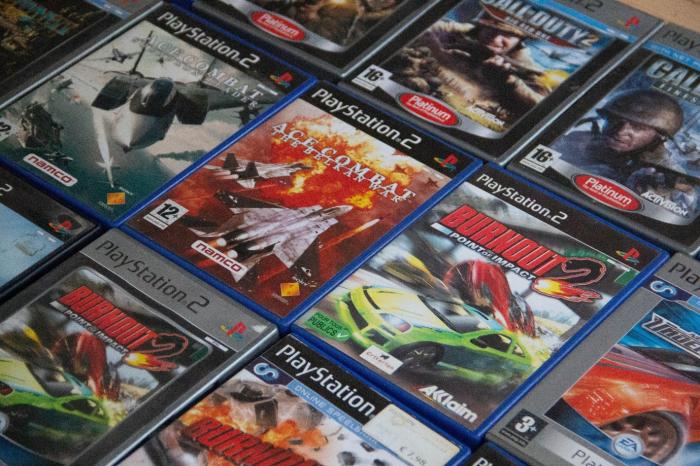 The overall visual style of any game, including gaming posters, is beyond just the aesthetics. It embodies whatever language the game speaks, introducing a form of fidelity and realism into the game alike. Gaming posters are what gamers see firstly – it is what convinces them and creates a feeling of what experience they can expect from the game. As such, getting this right checks a huge box in your game marketing efforts
But what is the essence of a cool gaming poster printed in low quality? It's not better than leaving the page blank. But with an Image upscaler, the concern of low quality can be eliminated as the tool can help bring the quality from poor or close to zilch to the possible maximum. 
Upscale Gaming Poster with no Resolution Loss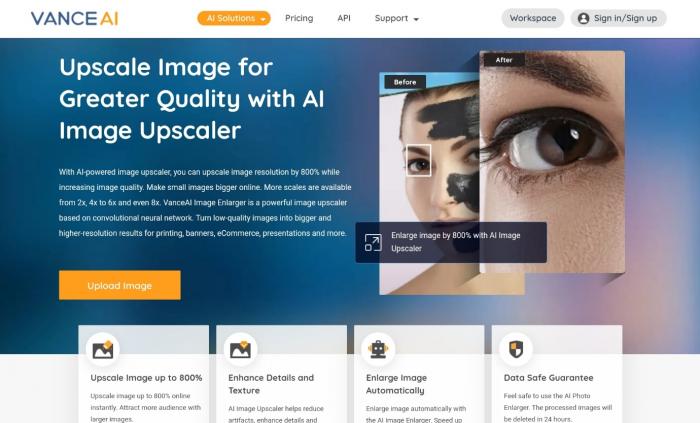 The quality of your game poster can make or break the overall experience. Major games understand this, and this has been instrumental to the success most of them enjoy today. A creative poster is not enough, creativity plus quality is what compels! And this is what the VanceAI Image Upscaler tool offers you. 
This is one of VanceAI's suite of effective tools and can help you upscale your image quality, increase the resolution and help you eliminate every trace of pixelation. The interface is pretty intuitive and straightforward to use. Besides, you can access this feature for free; however, with limited functionality. If you want more features such as resolutions of over 8x, you may have to subscribe to the premium version which is available at $9.99. 
Here is how to use the tool 
Step 1: Visit the image enlarger website and upload the subject image using the available upload options. Wait for the upload to complete and follow the next step.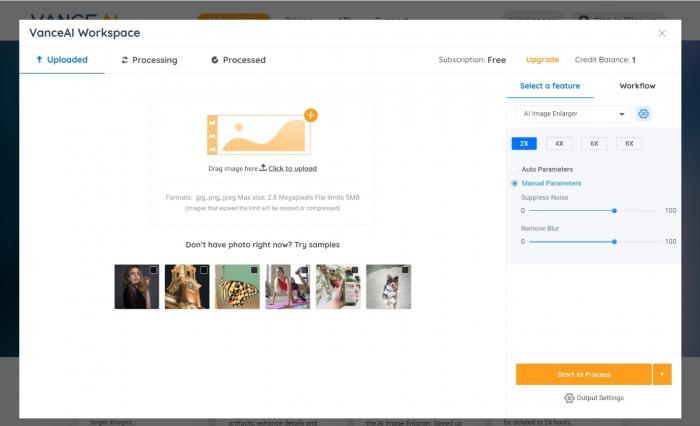 Step 2: did you notice unwanted blurs or noise on the image? There are features to cater to that. So, tweak them accordingly. You can choose two upscale the resolution by up to 8x as well. However, subsequent upscaling may come at a cost. Once you're done, hit the start to process button
Step 3: wait as the process finishes and download the output.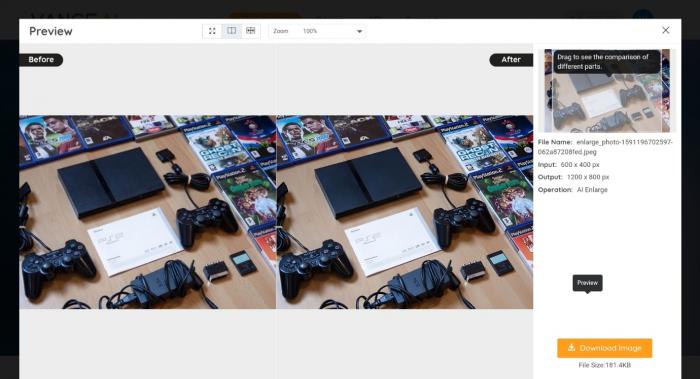 Output performance 
Taking a quick glance at both images, the quality difference is so glaring after AI image upscale. Not to mention the upscaled attention to detail is apparent in the image at the right. The colors are more defined. Not to mention the clearer and more realistic subjects. 
Gaming poster maker recommendation 
PosterMyWall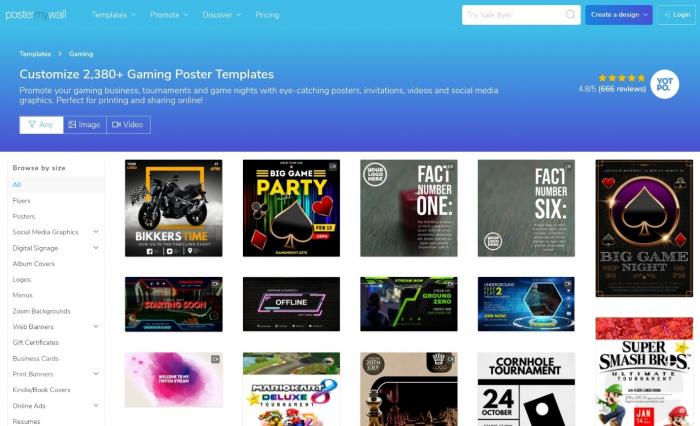 Pricing plan: Free and premium ($8.33 & $26.66 monthly)
Whether you're looking to make retro gaming posters, or metal gaming posters, among others, PosterMyWall offers a great Avenue to achieve that and more. The tool offers a suite of tools that allows you to create your gaming poster even with zero professional graphic design knowledge. It offers a collaboration feature that allows you to connect with other creatives and streamline your workflow. 
Pros 
Team collaboration feature 
Fast, straightforward, and intuitive interface
Attention to user data and security 
A wide array of file formats
Cons 
Limited features are available to free users
DesignCap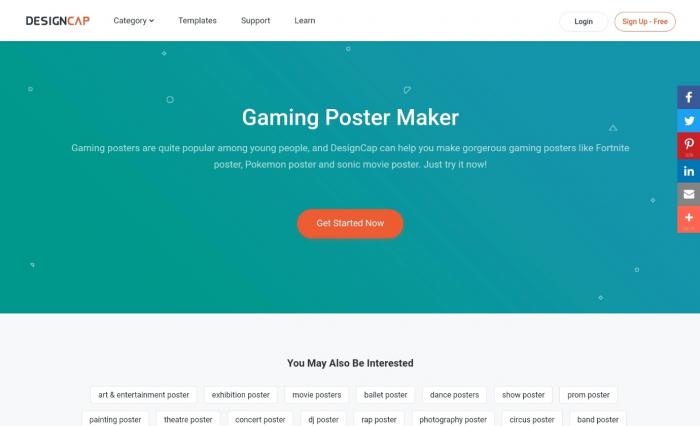 Pricing plan: Free and premium ($4.99 & $5.99 monthly)
DesignCap offers a simple and straightforward user interface, which is instrumental to the quick design turnarounds users enjoy. It offers a range of design templates available for free. However, if you're looking for more, it is better to spend a few bucks on a basic subscription. Not to mention that the free version has a download size cap, which makes it not suitable to create free printable gaming posters. 
Pros 
Immense ease of use 
Relatively cheaper option on the market 
Cons
Templates are limited 
Limited free plan 
 AppyPie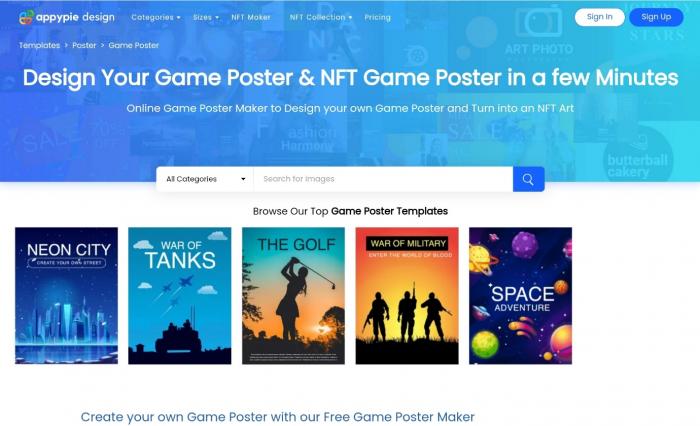 Pricing plan: Free trial and premium ($16 & $36 & $30 monthly)
AppyPie is not only a great tool to create gaming posters for a wide range of intents but also doubles as an excellent tool to build apps. Since its creation, the tool has made is quite big, gaining a considerable population of loyal gaming enthusiasts. And this is thanks to the quality of features it offers. The team support, coupled with the range of design templates and cemented by its design enhancement features makes it the perfect fit for your next gaming poster for room, digital prints, and whatever the intent may be. 
Pros 
Extremely easy to use 
Enough templates to create a compelling gaming poster
Cons 
Restrictions in design features 
Relatively pricey than the aforementioned tools. 
5 tips for creating a great gaming poster 
Looks is everything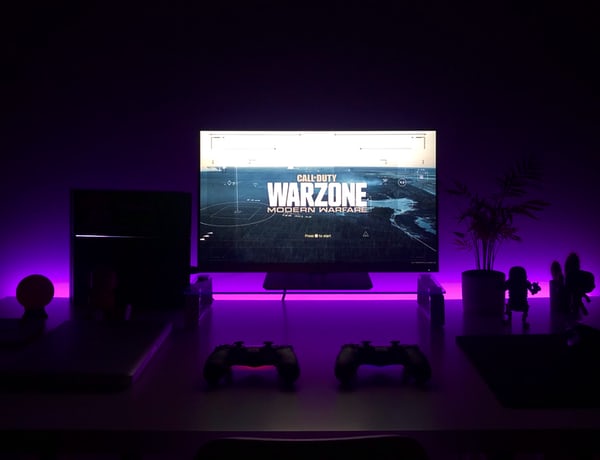 Always leverage bolder color gradients as well as shallow field depths to clearly define the nouns of the game. Have a clear picture of how some choices of images and animation impact the feeling you create with the game and consider them accordingly. Besides, don't underestimate how much impact your visual preferences can have on your prospect's psychology and behavior. Just the look of your plaster should be enough to either attract them or discourage them. 
Work with a uniform idea
Before taking the time to develop compelling gaming posters for your game, it is important to sit down and think of the game's overall aesthetics and visual identity. Is it a 3d or 3d game? What type of feeling are you looking to trigger with the game? Will the gaming posters affect the gameplay in any way? These are questions you must answer before you can create an effective gaming poster. 
Immerse yourself in concept art 
Getting familiar with concept art relevant to the subject game is the first step toward identifying how the poster design aligns with the game itself. So, take your time to draw the concept art yourself or use a range of templates applicable to the niche. And with this, you can better integrate the characters, enemies, environment, and overall gameplay into whatever poster you're looking to design. 
Work with a team with a similar vision 
When seeking whom to collaborate with within the design, always opt-in for individuals who align with your vision and can hammer out creative outputs beyond your expertise. If you've pictured a style for your gaming posters, seek out individuals with similar specialization in this regard. If you can't, settle for a generalist who can work with your idea and create something at least similar to what you want. 
Identify your aesthetics with comprehensive research 
This is one part you should pay attention to, especially during your research phase in the game design process. Make the research as broad as possible. By identifying your aesthetics, you can now take a step further to integrate them into your poster design. Again, be sure that the research isn't limited, and it cuts across every era in history!
FAQ 
How to make gaming posters?
To make a gaming poster, you need the right tool and the right guide 
The right tool embodies a range of templates that allow you to create one seamlessly. Besides you also need a tool to enhance image quality online with the aid of VanceAI Image Enhancer to make it suitable for various intents. 
Look above in this guide and you'll see 3 of the best recommendations to create compelling gaming posters without the hassle. 
Secondly, you'll also find a comprehensive overview of the right guide above in the article below. Summarily, you should pay attention to the looks, the idea, concept, team, and aesthetics.
With these, you're well on the right path to a compelling gaming poster. 
Conclusion 
If you've followed this guide to this point, then we can vouch that you are now a gaming poster design pro! The tools highlighted, coupled with the ideas are enough to set your feet on the right design path. Especially with the image enhancer, you don't have to worry about quality again moving forward. At the same time, it is able to enhance the resolution of your picture to a higher level within several seconds. Make better images with AI image enhancer easily. One click to increase image resolution and get your images crisper, cleaner, and ultra HD.
Do you find this post helpful?
Read More to Know Deeper: