Media.io is primarily an online tool that allows users to convert audio and video files between various formats. It supports a wide range of audio and video formats, including MP3, WAV, AAC, FLAC, M4A, OGG, MP4, AVI, and more. However, it also offers a wide range of photo editing tools as well, which will be the focus of this Media io review. Users can upload files directly to the website or drop down an image, and the tool will convert the file and provide a download link.
The Media editor platform offers many services for free, but users need to be aware of the size and type of the files that they upload. Some of the tools include Media io image sharpener, photo to sketch, image upscaling, and more. In this review, we will also take a look at Media.io alternative tools that can offer high quality results.
1. 
Media io Image Sharpener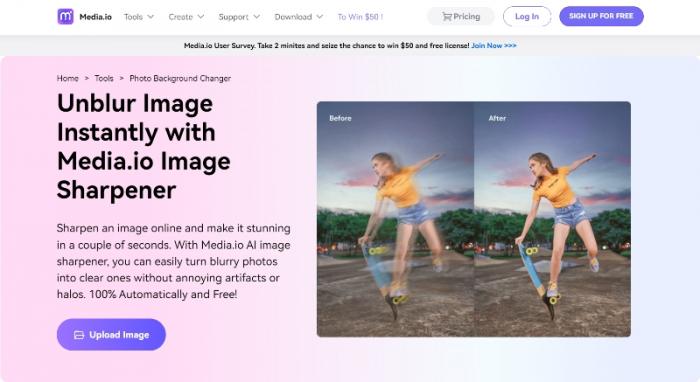 Key features
Media.io is a free online web-based editing tool that can deblur images instantly and is compatible with all devices.
The tool can remove blur from a photo, such as motion blur caused by a shaky camera, and improve image quality with enhancements such as color adjustments and exposure balancing.
The image sharpener tool is AI-powered, which means it can automatically enhance image edges to produce better effects without requiring manual adjustments.
It can sharpen and improve many kinds of images, which makes it useful for a variety of photos, such as product photos, travel images, sports images, and more.
Pros
Offers a great number of features and tools for free.
It can process images fairly quickly as compared to other tools.
Cons
The UI of the website can be improved in terms of presentation and functionality.
Alternative:  
VanceAI Image Sharpener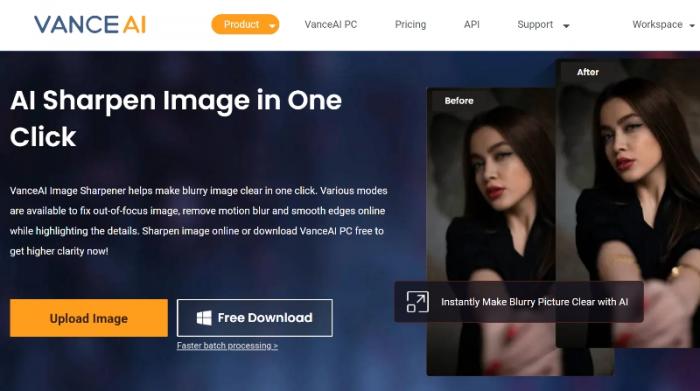 Key features
The tool enables users to customize the sharpening settings according to their preferences. Which means you can adjust the level of sharpness, image noise, and more. It is also possible to select the type of blur that you want to reduce in your image.
 

VanceAI Image Sharpener

uses SSL encryption to secure the data transmission between the user's device and the server. User data is also deleted from the server after the processing is completed, which means the tool doesn't store any user data.
VanceAI makes use of advanced AI and Machine Learning algorithms in order to provide high quality results within a few seconds only.
Pros
Offers many useful features within the image sharpener tool.
Can offer results quickly and with high quality consistently.
Cons
It can increase compatibility with other file formats than JPG, JPEG, and PNG.
If you are interested, you can try to sharpen your image now or download it directly from the pop-up window on the right without leaving this article.
2. 
Media io Image Upscaler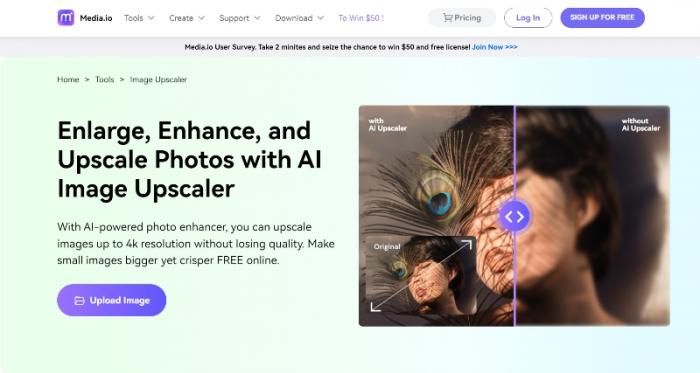 Key features
Media.io image upscaler is a browser-based tool that can be used on any device with a robust internet connection. Users don't need to download any software or configure any settings.
Media.io image upscaler can instantly upscale photos up to 4K resolution, which is usually two to four times the size of an original HD image. This feature is useful for users who want to attract more viewers with larger, high-definition images.
The AI algorithms of this tool are advanced enough to be able to enhance any kind of image, be it a real estate image, portrait, object photography, and more.
Pros
It is easy to use and automatic, hence accessible to a wide range of audiences.
It can upscale images up to 8x times the original size, which is quite enough for online tools and in general.
Cons
Does not offer any other features for the image upscaler tool.
It may take longer to upload some images.
Alternative: 
VanceAI Image Upscaler
Key features
Similar to VanceAI Image Sharpener, the Image Upscaler also offers 4 models named Standard, Anime, Art, and Text that users can choose before processing the image. These options enhance the image in a particular way, focusing on aspects that the user has chosen.
VanceAI Image Upscaler offers image upscaling from 2x to 8x times the original image. This offers users enough options and flexibility as it is possible to create 4K images through this tool.
The image upscale also allows users to adjust the sharpness of the image beforehand.
Pros
The tool offers good customization options along with ease of use.
The Workspace makes everything efficient as it enables users to upload images, switch between VanceAI tools instantly, check remaining image credits, use customization options, and more.
Cons
The output files can be too large for normal usage at times. Compression is recommended.
3. 
Media io Image Object Remover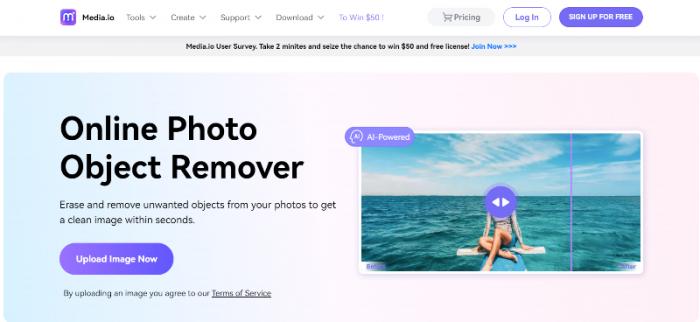 Key features
The Image Object Remover tool from Media.io is useful for a range of purposes. You can use it to edit product photos, object photos, and more. It can be used by photographers, designers, marketers, etc.
The tool can erase blemishes and other spots from a portrait to make it look cleaner. Additionally, it can remove humans from a photo as well.
Users are given a brush tool, which they can use to mark the spots that they want to remove from the image.
Pros
The UI is well-designed and has responsive features.
The brush tool can allow users to edit images with precision.
Cons
It can take multiple attempts to remove the object or human completely or cleanly.
Alternative: 
BGremover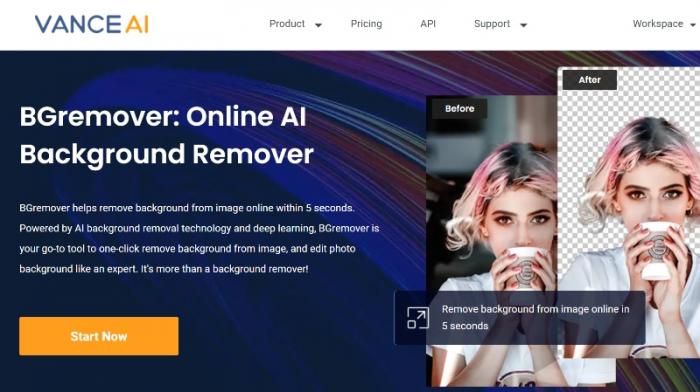 Key features
BGremover

 from VanceAI uses AI and Machine Learning techniques to remove unwanted objects or humans from an image automatically, with little to no user input.
After the image is done processing, users can still use a brush tool to further edit the image. Moreover, the tool also offers a feature named Background Changer, enabling users to replace the transparent background of the resulting image with other backgrounds.
BGremover can be coupled with other tools such as Image Upscaler, Image Sharpener, etc. by using the Workflow feature.
Pros
Offers users enough automatic and manual editing options, which is rare for a background removal tool online.
Provides users with accurate results in most cases.
Cons
It may have issues with complex images and require manual editing.
4. 
Media io Photo to Sketch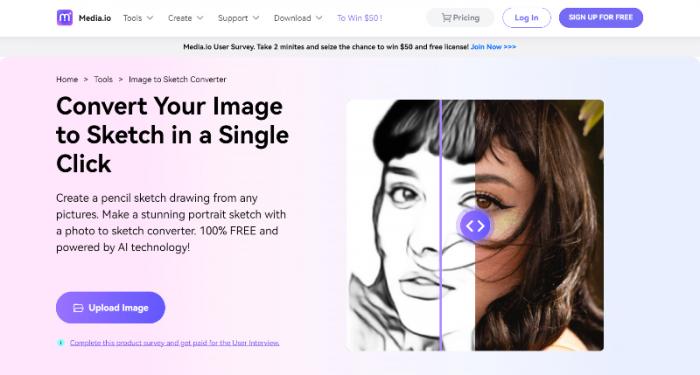 Key features
With this Media io tool, you can share a different kind of portrait of yours on social media and other similar platforms. The Photo to Sketch tool converts photos into line drawings automatically.
While creative photo editing can be demanding, Media io makes it easy thanks to its AI technology. Users simply have to upload a portrait and let the tool take it from there.
The tool can convert pretty much all kinds of portraits, selfies, and headshots.
Pros
Processes images and creates the drawing quickly.
Has an accurate tracing of most details in the portrait.
Cons
Can offer more features and options in terms of the drawing.
Alternative: 
VansPortrait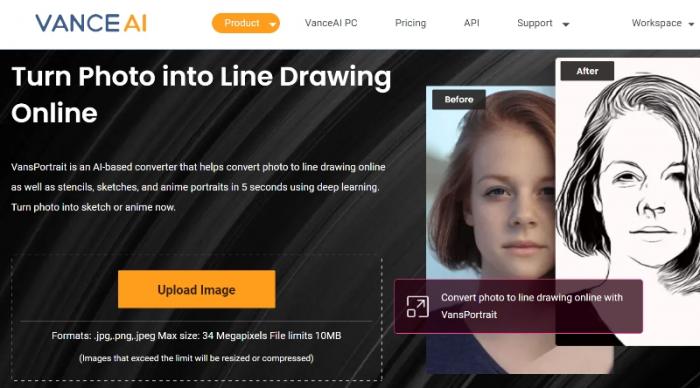 Key features
VansPortrait

offers customization options. When inside the Workspace, users can choose from a variety of line drawings in order to emulate it for their image. Users can choose from complete line drawings to colored sketches.
VansPortrait also converts portraits, selfies, and other similar images into drawings automatically through its AI and Machine Learning based techniques.
With the right options, users can convert the portrait to make it look similar to a cartoon or anime.
Pros
VansPortrait offers automatic processing and customization, making it a great Media io alternative and more.
Provides results quickly.
Cons
Complex images may not look as good in the results.
5. 
Media io Photo to Cartoon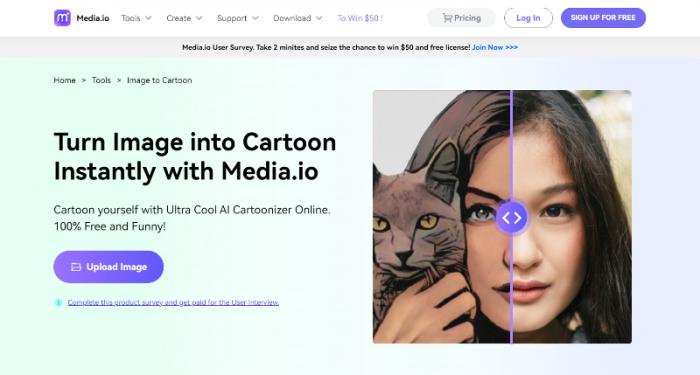 Key features
Makes use of AI technology to fully convert an image into a cartoon style photo within seconds and doesn't require user input.
It can give your photos an aesthetic and creative look, which can be useful for social media, personal websites, portfolios, and more.
Similar to VanceAI, the cartoon photos can be improved further by other enhancement tools offered by Media.io.
Pros
It is able to convert photos to cartoons at a high speed. Users tend to get results within seconds.
The tool is really easy to use, similar to the previous photo to sketch converter tool mentioned.
Cons
There are no other features that are offered by this tool.
Alternative: 
Toongineer Cartoonizer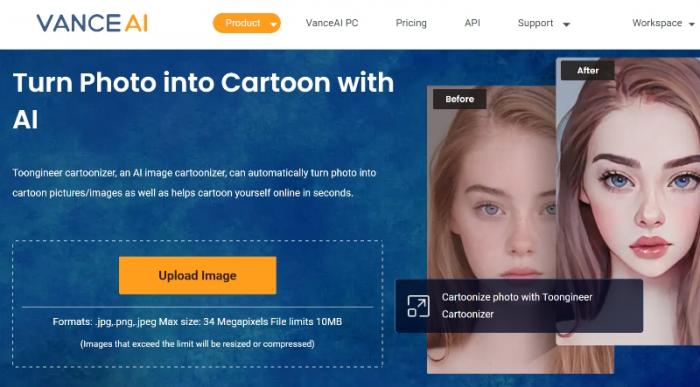 Key features
When using this tool, users can not only convert their entire photo to a cartoon, but also to an anime. The options are just one click away.

Toongineer Cartoonizer

 is also possible to convert just the face portion of a portrait or an entire photo. The tool offers some level of customization to users.
Users can expect to get results within seconds, as Toongineer Cartoonizer also makes use of advanced AI and other relevant techniques.
Pros
Offers many options to users that result in the creation of various kinds of creative images.
Quick processing of images.
Cons
The results can sometimes look less detailed than expected.
Conclusion
Media IO can be a great choice for users who want an AI-based photo editing and enhancement application. The platform offers multiple editing tools and other tools related to video editing and enhancement. As such, it definitely has a lot to offer. One of the best selling points of Media IO converter and editor is that it offers a lot to the users for free. If there could be improvements, it would be in the performance of a few tools and the fact that the platform does not offer much customization.
VanceAI does customization and performance pretty well. While it does not offer as many tools as Media IO overall, it still offers more than 15 tools related to photo editing and enhancement, which is pretty good.
Do you find this post helpful?