The process of manually removing objects usually includes several steps of selecting specific objects and masking them out, while trying to make the main object remain intact.
If you're a relative beginner or you have a large number of photos from which you want to remove certain objects, automatic removal tools are your best bet!
While Inpaint is a go-to tool for many a designer, there are a plethora of free and premium online tools that remove backgrounds, watermarks, and even let you manipulate photos (and videos).
Here's my lineup of the best 10 online alternatives to Inpaint:
Remove object from photo with Inpaint alternatives
1. Fotor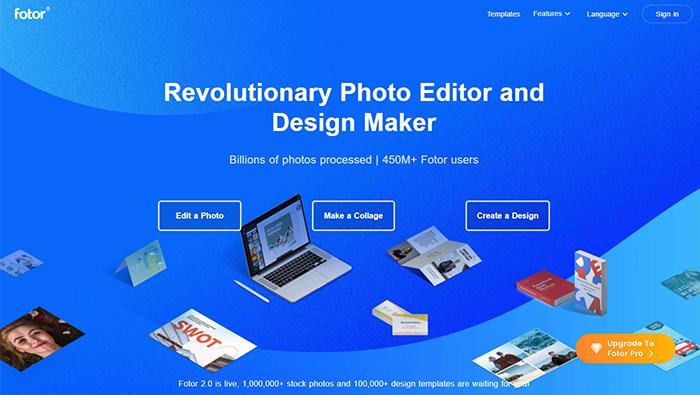 Fotor is a well-rounded online photo-editing tool with several features that resemble Inpaint. Among others, Fotor easily removes unwanted objects from photos with its »Clone« effect. Simply import a photo, go to Beauty and choose Clone, adjust brush size and start applying the effect.
You can choose between three subscription plans, with one being a freebie.
Fotor Basic: $0.00/month
Fotor Pro: $8.99/month
Fotor Pro+: $19.99/month
Beside removing objects from photos, Fotor can perform basic edit adjustments, adds photo effects, retouches portraits, creates collages, provides templates, and offers cloud storage for all your projects.
In conclusion, Fotor makes it easy to remove unwanted content from photos and images with the help of its easy-to-use Clone tool. Moreover, you can do this already with the free plan, giving you an invaluable insight into what the paid version looks like.
Related article: Top 20 Best Watermark Removers [ 2022 Selective]
2.BGremover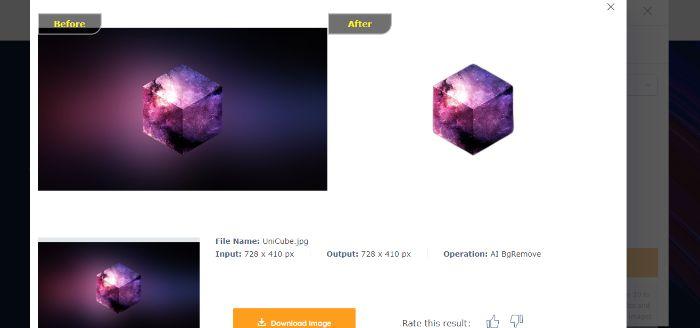 Price: Free to $9.9/month
BGremover from VanceAI is an online tool for removing background automatically. You can remove any background within seconds – all you have to do is to upload your photo of choice. This background remover is available online and thus compatible with almost all modern browsers. It also offers API integration. In conclusion, this automatic background remover is an awesome tool for removing backgrounds specifically aimed at individuals, photographers, marketers, developers, eCommerce stores, media, and car dealerships.
VanceAI PC is full-featured desktop software developed by VanceAI that lets you instantly process local photos in bulk with more customization options, which will significantly simplify your workflow and boost your productivity. Free Download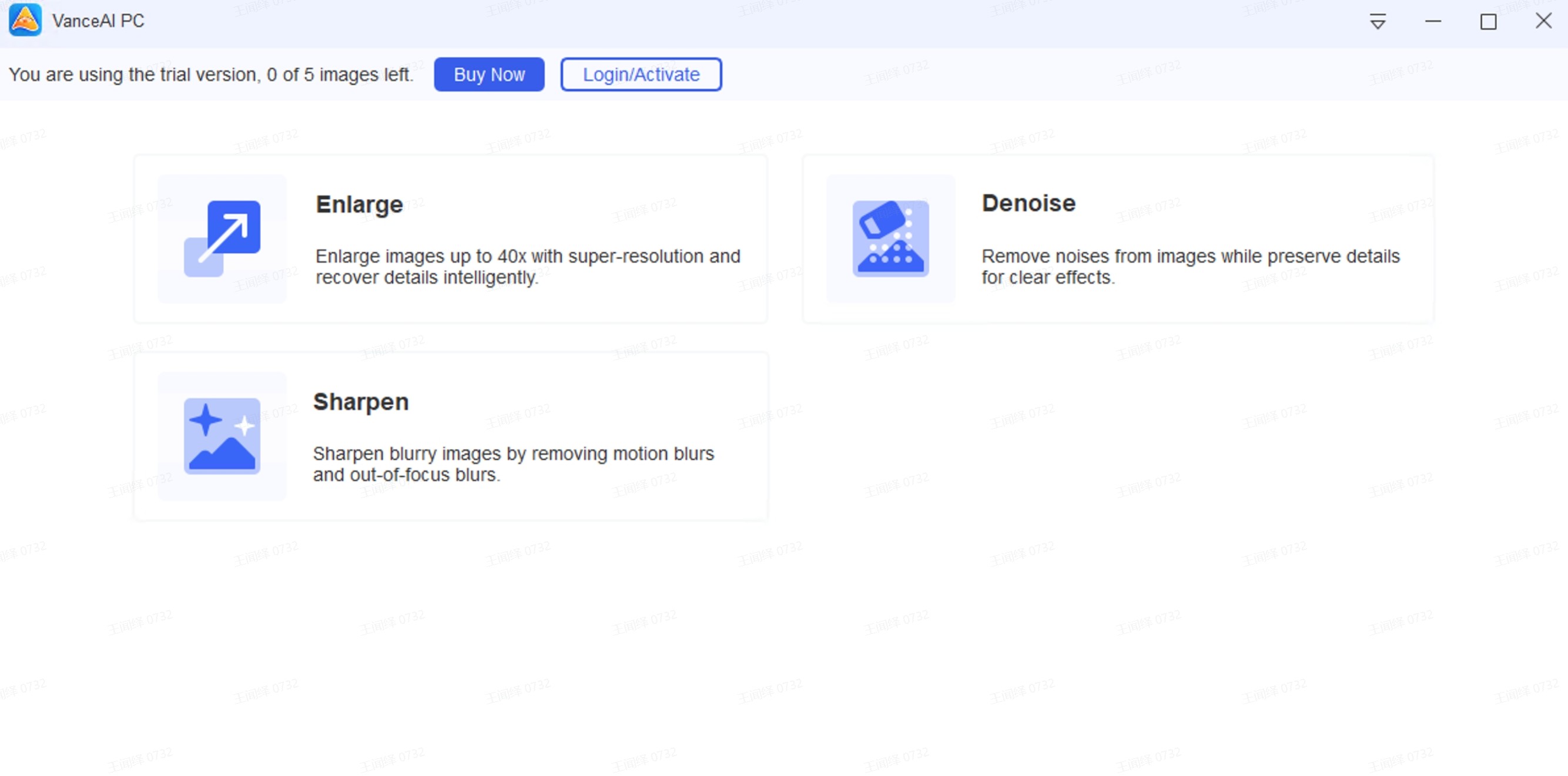 Please read How to remove background from photo with VanceAI for the step-by-step user guide.
3. Unscreen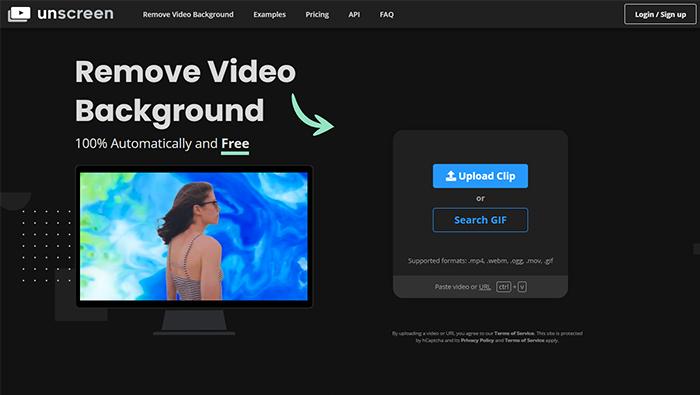 While the previous tool works for photos, Unscreen.com (https://www.unscreen.com/) removes the background from videos.
Unfortunately, Unscreen doesn't offer a free trial. However, there are two ways to get a whiff of what you can expect from this online background removing tools:
Navigate to its examples (link: and check the authentic videos of what its capable of.
Pick its subscription plan and take advantage of the 14 Days Money Back Guarantee.
If you decide that Unscreen is the right tool for you, you can choose between more affordable subscription plans or you can pay as you go. 
In conclusion, Unscreen seems like the best online tool to remove background from your videos and it kind of offers a free trial. Get creative now!
4. BgEraser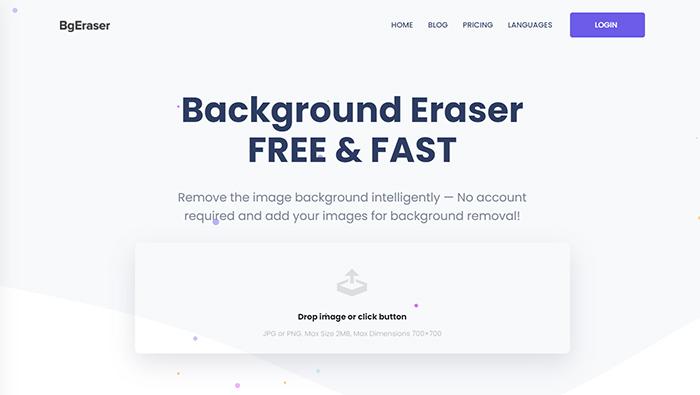 BgEraser (also AI BG Eraser) is an online tool that uses deep learning to remove background from photos, pictures, and images, effectively making it a superb tool for such tasks.
What is more, for such a high-quality tool, BgEraser both a free plan of 5 images per month and a reasonably priced subscription plan of:
50 images/mo - $5.00/mo
199 images/mo - $9.99/mo
999 images/mo - $29.99/mo
The only downside to this otherwise impeccable tool is that it limits the uploads to only 2000×2000px. However, it makes up for it with incredible results, risk-free payments, and 24/7 support.
5. Apowersoft Online Watermark Remover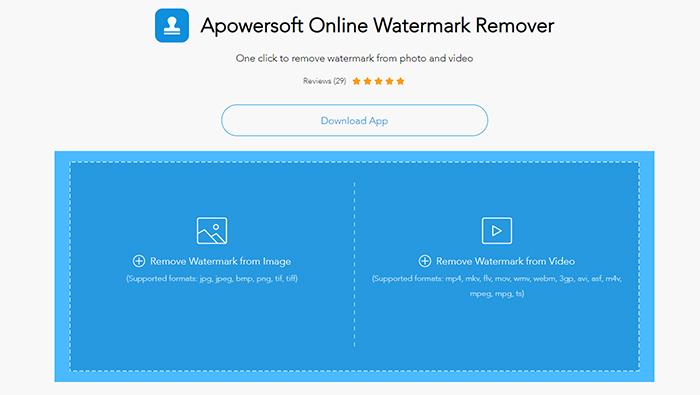 Speaking of incredible tools, Apowersoft is a clever combination of our first two choices – it allows you to remove unwanted objects from photos free & paid. It also removes backgrounds from photos and has a lot of other functionalities, but it requires an app to be downloaded for some tools.
Additionally, all the payments are processed safely via PayPal.
On the flip side, there's no free trial, expect their 30-days money-back guarantee, which you can use to test out the tool and request a refund if you're not satisfied with their services.
6. Cre8tiveAI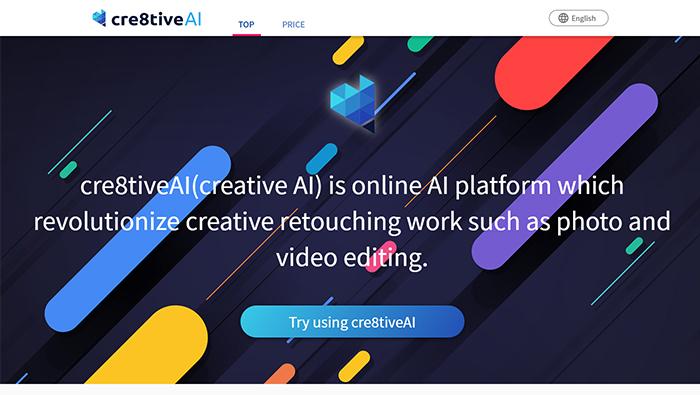 Cre8tiveAI (pronounced: creative-ai) is a collection of online tools, including Photo refiners (increases resolution by up to 16x), SAI (draws face illustrations of characters), Enpainter (transforms photographs to resemble famous artists, such as Van Gogh, Monet, etc.), Moving Photo Maker (convert series of photos into a 3D projection), and Line Drawer (generates line drawings from images).
Crea8tiveAI offers its tools with 6 different plans, so I'm sure you'll find the right one for yourself:
Entry plan - $0.00/month: You can use each tool once (1x)
Lite plan - $48.00/month: 200 credits/month
Standard plan - $98.00/month: 500 credits/month
Pro plan - $297.00/month: 3,000 credits/month
ULTRA plan - $450.00/month: 5,000 credits/month
MEGA plan - $800.00/month: 10,000 credits/month
Your subscription plan starts working immediately and can be cancelled at any time without any troubles.
7. PhotoScissors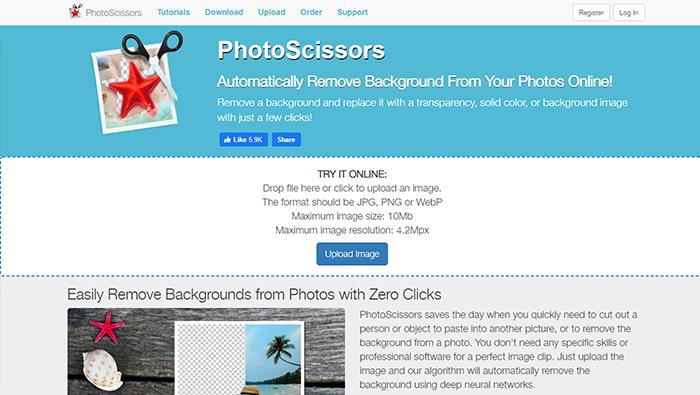 PhotoScissors removes backgrounds and replaces them with either transparent, solid colour or background image panel in a couple of seconds.
Most importantly, PhotoScissors takes into consideration see-through surfaces, such as glass, and knows how to avoid removing hair or feathers that belong to the object.
This tool is completely free and available online from your browser. You can upload JPGs, PNGs, and even WebP images with a maximum size of 10Mb and a resolution of 3.2Mpx.
PhotoScissors is the best used to remove background around hair or from transparent objects and comes real handy when you're trying to create appealing listings for eBay, Etsy, Amazon or other online stores.
What is more, it requires no technical or designer knowledge or experience. Upload your photos and let the software remove your background – that's it!
8. Clipping Magic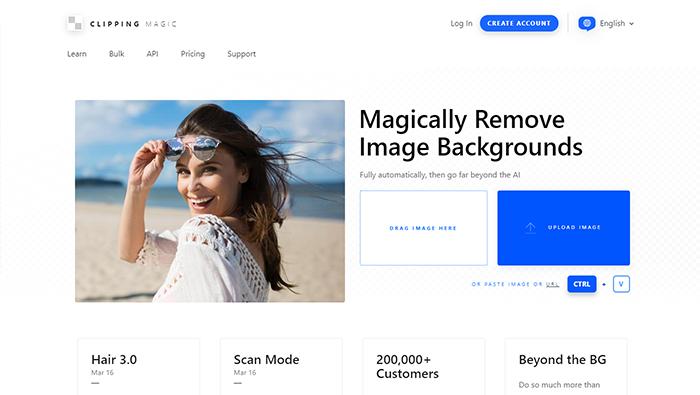 To put your mind at ease; although I listed Clipping Magic 7th on this list of Inpaint alternatives, I don't think it belongs at the end of this list – I just want to keep you on your toes ?.
Clipping Magic is surprisingly powerful and well-programmed software, capable of automatically removing backgrounds thanks to its AI.
Over the 7 years, over 80 million images were processed using this tool, and for a good reason. Beside cleverly removing background from images that include difficult textures, such as hair, Clipping Magic allows you to create shadows, reflections, colour adjustments and offers a wide variety of export options. Try it on!
You can either clip images one-by-one or in bulk, both of which are offered under 3 monthly plans:
Light: $3.99/month – 15 credits/month
Standard: $7.99/month – 100 credits/month
Pro: $19.99/month – 500 credits/month
9. Watermark Remover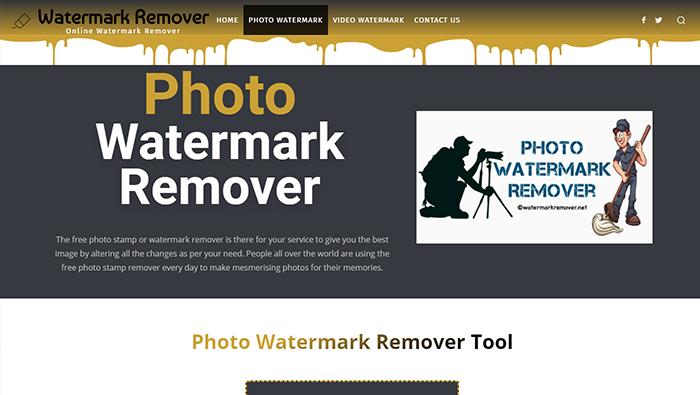 If your goal is removing watermarks only, look no further. watermarkremover.net is a free online service that removes watermarks from photos and video for free.
To use it, simply go to Watermarkremover.net, upload your photo/video, highlight the area of the watermark, and click Run. Within seconds, you'll get a watermark-free photo/video.
Key features of Watermark Remover include removing undesired elements, support of all popular formats (JPG, PNG, GPN, WebP), batch watermark removing, batch processing of photos, and non-destructive removal. Great choice if you want to remove unwanted objects from photos for free. 
10. PicMonkey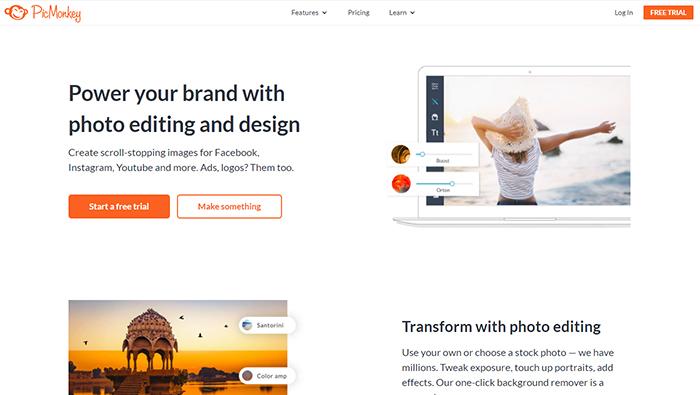 Last but definitely not least on my list is PicMonkey. This online photo-editing tool can do a lot of things, including retouching photos (remove red eyes, blemishes, whiten teeth, soften skin), perform basic photo edits, and more advanced edits such as changing colour, cloning, burning, etc.
You can easily edit anything out of your images using PicMonkey's Clone tool, which can be found within its online editor that is available with any of the three subscription plans.
Basic: $7.99/month
Pro: $12.99/month
Team: $33.99/month
You don't have to make a decision based on my writing only – PicMonkey offers a 7-day free trial that comes with NO commitment.
Conclusion
Inpaint is an excellent online tool to remove object from photo, but some alternatives are just as good or even better. I made sure to cover everything you might need, from tools that remove watermarks only, to tools that remove backgrounds only and finally well-rounded tools that do everything Inpaint does and more.
In this list, you found only online tools, but if you ever need software that you'd like to install on your PC, I recommend Photoshop (paid) and GIMP (free).
Do you find this post helpful?